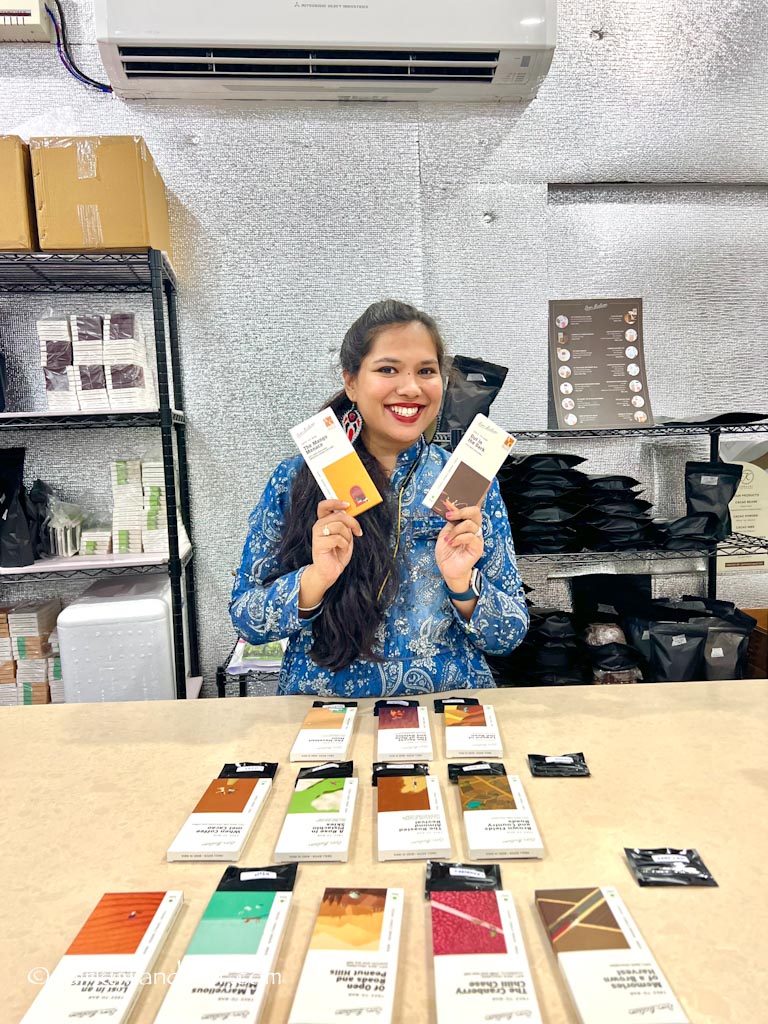 It felt like a dream. Melted chocolate churned in mammoth machines. In a cooler room Harini collected the oozing chocolate in a mould while in another room, chocolate bars were being wrapped in chic, black Bon-Fiction wrappers. The chocolate fragrance was inviting and I was here, living my Charlie in the Chocolate factory dream, at the Bon Fiction factory in Rajahmundry, Andhra Pradesh.
Visiting Cacao plantations is relatively easy. I had been to cacao plantations before.
But have you ever been inside a Chocolate factory?
Watching how smooth, delicious chocolate is made from tiny pods to creamy bars?
When I was invited by this homegrown, artisanal Made in India chocolate brand to their factory and farm in Rajahmundry, I was intrigued. I had tasted these chocolates before. I knew I had to go.
First up, I looked Rajahmundry on the map!
On the banks of the mighty Godavari, Rajahmundry is a quaint temple town, flanked by plantations thanks to a fertile basin.
With plantations including Coconut, palm, cacao, and banana, this region has immense agricultural potential, which was discovered by the founders of this Indian make chocolate brand.
Akhil and Prathina Grandhi had a goal: to make artisanal chocolate in India, which is at par or even better than European chocolates. Did they succeed? Read along!
Proudly Made in India with locally sourced ingredients:
I bit into a chocolate rectangle. It had a burst of spice coupled with the sweet taste of Mango. This unique combo not only won my heart instantly but also the Academy of Chocolate Bronze and rightly so. Like most of their ingredients, the chilly in Mango Menace is locally sourced too, Mundu Chilly from the border of Andhra and Tamil Nadu. It quickly becomes my favorite, surpassing the Roasted Almond flavour which I had tried last year when I was introduced to Bon Fiction Chocolates in May.
I still remember falling in love with the fully Almond loaded Chocolate bark, which came as a delightful surprise, because generally, one has to literally hunt for nuts inside chocolates.
The cacao used in the chocolates is sourced from the fertile Godavari basin, some grown in Bon Fiction's farms and some harvested by local farmers.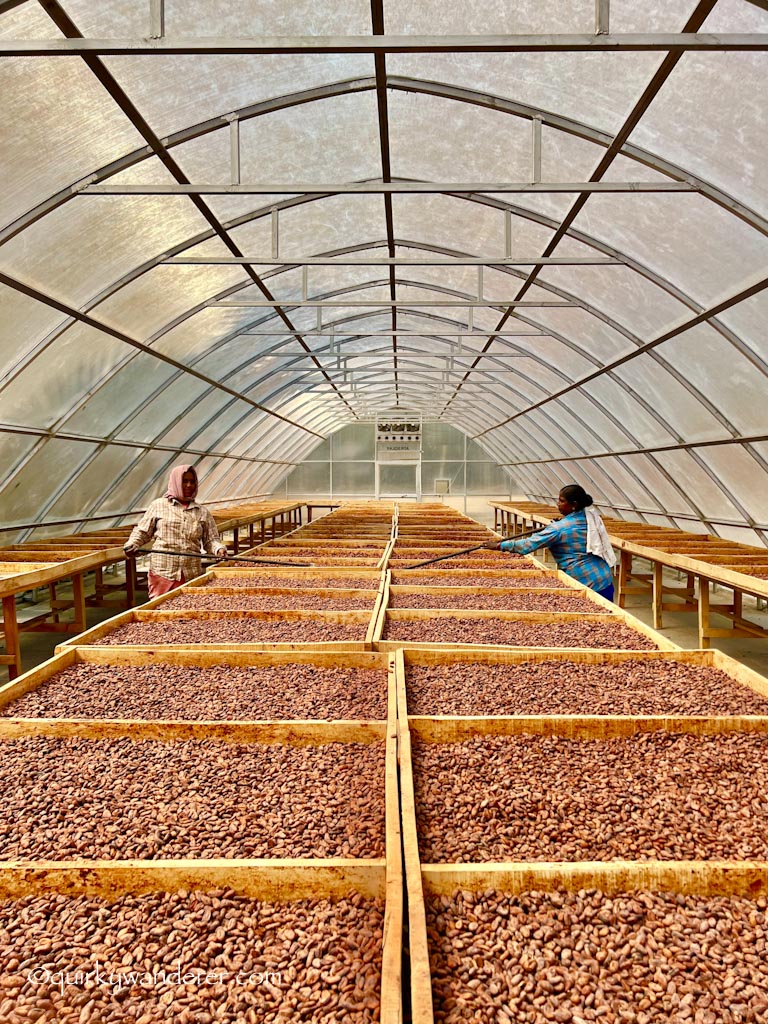 The Bean to Bar process: at a Cacao farm:
This was my first ever visit to a Cacao farm, and the excited kid in me gawked at the ripe yellow pods hanging from the trees. Akhil broke open one of the pods to show me the wet beans inside and suggested I taste one. The texture was very similar to a custard apple and to imagine that this wet bean transforms into a rich, creamy, smooth, delectable chocolate!
Akhil explained how these wet beans are separated from the pods (I saw a heap lying on the farm) and taken for fermentation.
These are then traditionally fermented in wooden crates laced with banana leaves for about a week to ten days and then dried in a solar dryer where temperatures go up to 60-65 degrees!
The key to good artisanal chocolate is the selection of good quality beans: beans that are free of insects, fungi and bacteria, and here is where meticulous quality control done by this homegrown brand, helps Bon Fiction to stand out.
Local employment:
Two women were manually slow-drying the beans in the solar dryer. I ask them if I can try doing it. Two minutes into the process, I give up. Watching and being part of the behind-the-scenes of a fine, single-origin chocolate brand was highly educative.  By following integral farm practices and by eliminating middlemen, Bon Fiction aims to give back to the farming community by offering employment to locals.
In the factory, I see a majority of women taking charge, operating the machines comfortably and confidently being the silent and diligent strength behind the bars that consumers enjoy.
I hand back the roasting instruments to the ladies at the farm with a smile. The beans are drying to perfection. It is time for them to come to the factory.
The Bean to Bar process: Inside the Bon Fiction Chocolate factory:
As someone who loves chocolates, I would rarely read the wrapper of chocolate to check the ingredients. Two visits to the Bon Fiction factory changed my perspective on chocolate. Once I saw the whole process from tree to Bar, I learned how imperative it is for us consumers to be aware of what goes inside chocolates. We cannot visit every chocolate factory, but we can read wrappers and check how much "cocoa" is actually inside, or is it just a mixture of palm oil, cocoa essence, and milk powder?!
The dried, unroasted beans are brought to the factory and as I hold them in my palm, Akhil explains how these are put into a machine and roasted at a stipulated temperature.
Why do I love Made in India brands? The sheer willingness to bridge the gap between Indian traditional practices and International technology to craft something of global quality while maintaining the "Indian essence".
The roasted beans went into the next stage of Winnowing, where cocoa nibs were separated from the husk. The nibs are also used to make Cocoa Butter and I saw that process too. The cocoa nibs are then ground in grinders and this is where the Natural Ingredients for flavour are added.
14 delectable flavours including Orange, Rose and Pistachio, Peanut, Raisins, Almonds, Coffee, and their Classic Dark Chocolate are crafted to perfection in small batches which further guarantees quality checks.
I am offered a bit of the ground, delicious chocolate fresh from the grinder and I am in BLISS! This is then taken for Tempering, a phase where the chocolate is heated & cooled under pressure & dropped into moulds.
The next step is De-moulding. It is therapeutic watching the ladies de-mould the chocolates swiftly and put them in the wrapping machine. The bars slide into the line, being wrapped in the black paper wrapper, with zero hand touch, thus completing the Bean-to-bar process.
Watching this entire process was not just educative but extremely memorable for a chocolate lover. The transformation from a wet bean to a well-packed bar was like seeing the magic unfold in front of your eyes. I was witness to the hard work, the meticulous process, the quality checks, the labor of love, and the behind-the-scenes of 'delicious' chocolate. A bar of chocolate that melts in the mouth, and has a story that melts the heart!
You can view the entire Bon Fiction Chocolate range and order it on their website. I bought close to Twenty-five bars at the factory for friends and family!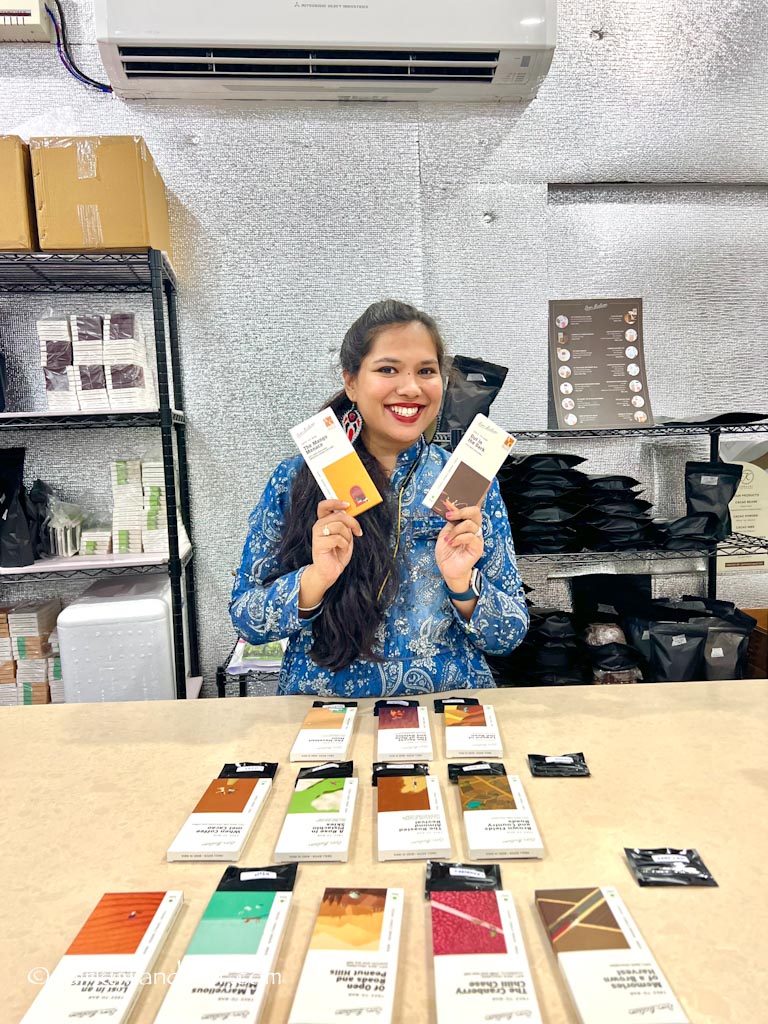 Disclaimer: I was hosted by Bon Fiction for this educative experience, but all the views and opinions are, as always mine! I am a proud Bon Fiction repeat customer.