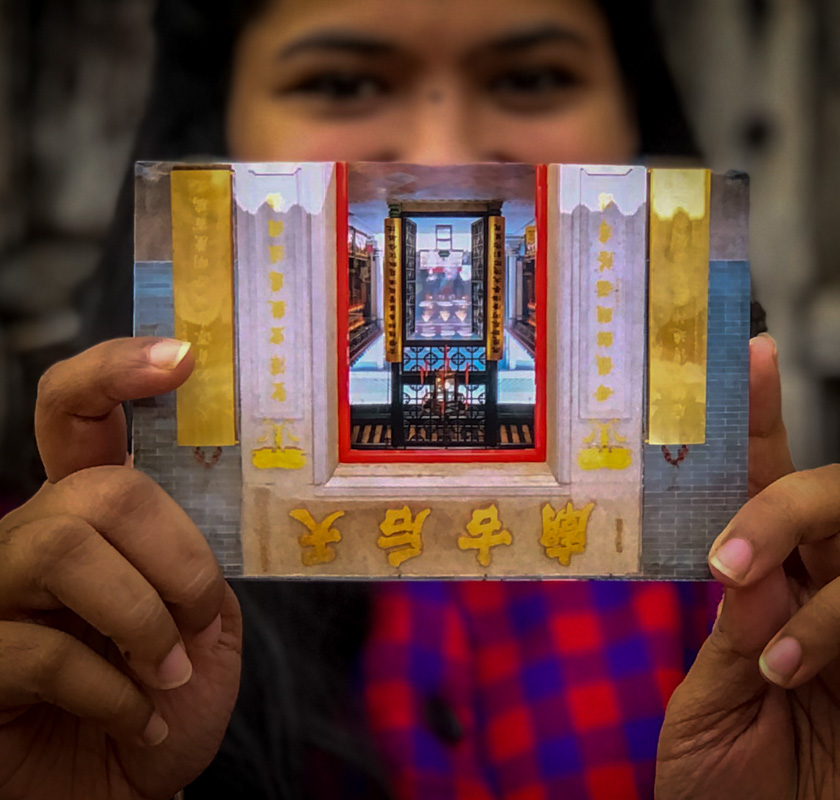 What are my biggest motivators to travel? Architecture. Art. Crafts. Local shopping. Doors. Stories. Offbeat places. Offbeat perspectives. Colours. People. History. Culture. Not necessarily in this order, but this pretty much sums up the list. When I first read about the emerging art and cultural hub of Hong Kong: West Kowloon Cultural District, I was intrigued for umpteen reasons: its architecture and the stories behind it being one of the biggest magnets.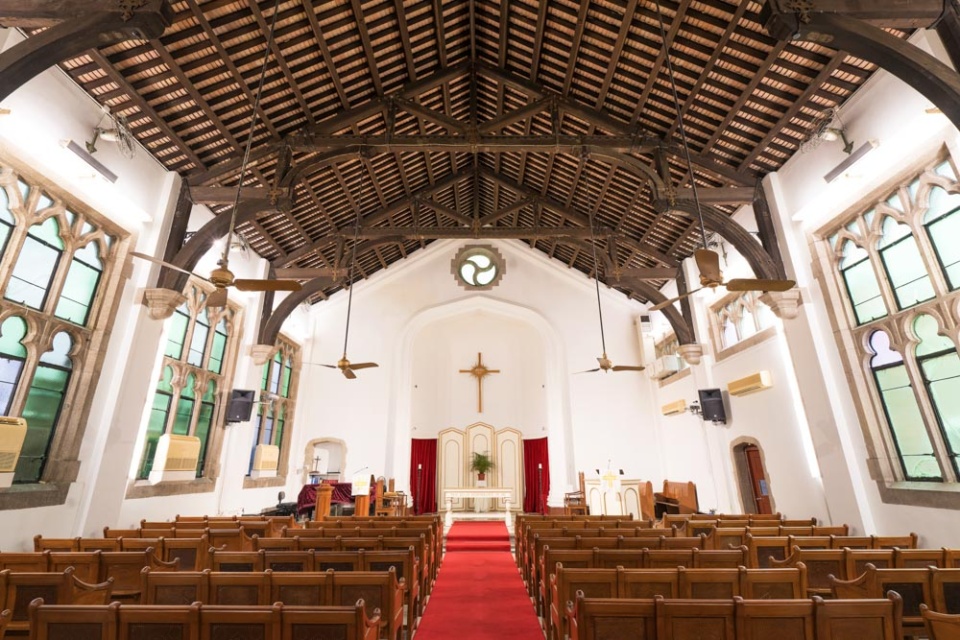 As a traveller, I love exploring cities on foot. I walk in lanes, enter local markets, observe locals, start a conversation with them, grab a coffee, study buildings, draw patterns and let the place wash over me.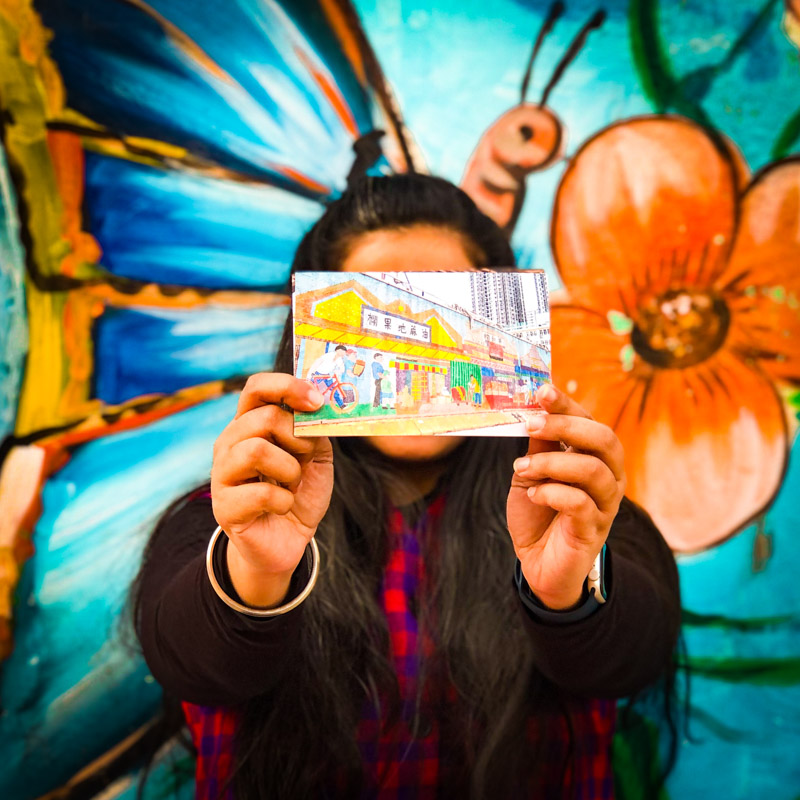 Discover Hong Kong has developed some super interesting itineraries in the West Kowloon Cultural District for the discerning traveller: routes that take you on a journey through architecture, crafts, Urban art, International art, history, and local flavours. One such route represents the beauty of WKCD architecture: the blend of ancient, traditional architecture with modern.
Here are 5 buildings in WKCD that are on my bucket list and why I wish to visit them:
Red Brick Building: the one that withstood the tests of time:
There is something about vintage buildings and the stories they narrate. They have withstood the test of time and technology. The Red Brick building on Shek Lung Street is one such building. As modern buildings mushroom around it, this unique building stands out distinctively, maintaining its character, with skyscrapers for neighbours. This vintage building with arched verandahs is now an office for the Yau Ma Tei Theatre across the street.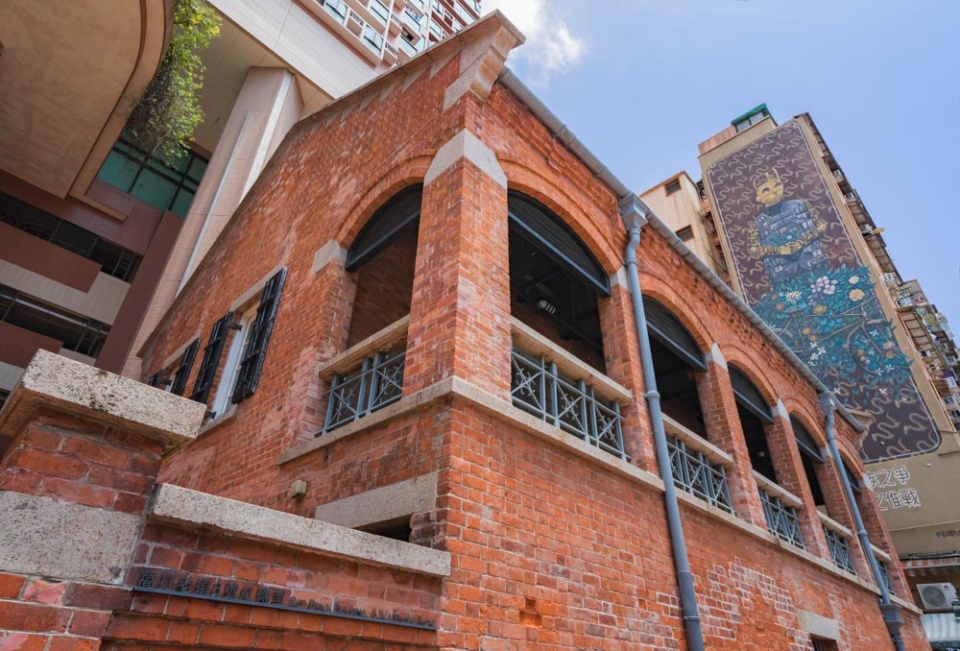 For someone who loves rustic, traditional buildings, the Red Brick building is a huge attraction.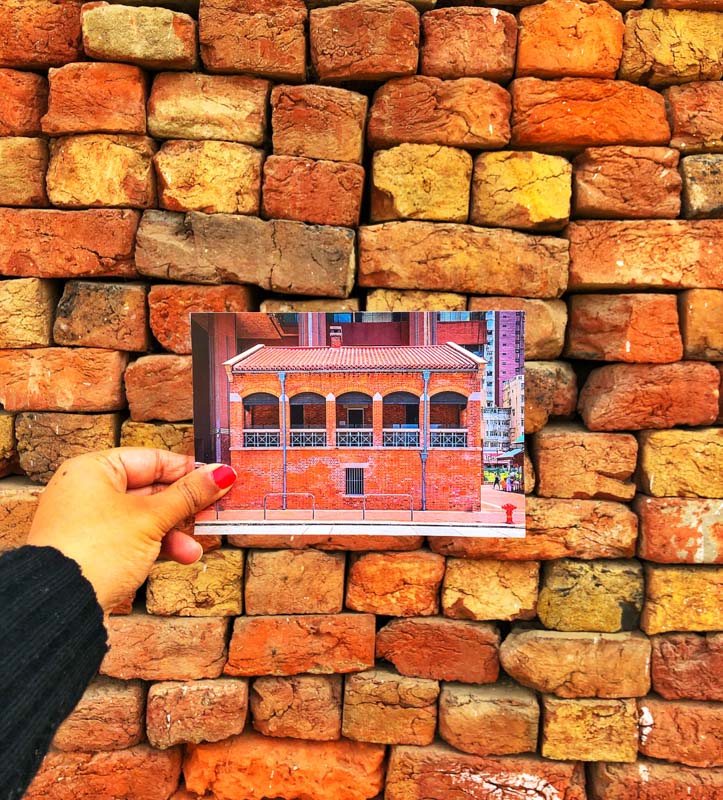 The fact that it is the only structure that remains of the former pumping station built in 1895, makes it even more sought after by architecture buffs.
Tin Hau Temple, Yau Ma Tei: An oasis of peace
There is an inexplicable sense of calm in places of worship. There is a culmination of faith, age-old beliefs, local traditions, and peace.
The Tin Hau temple is the largest temple complex dedicated to Tin Hau, among the many Tin Hau temples in Hong Kong. The temple has a very interesting history. Being primarily a fishing community, locals worshipped Tin Hau and prayed for safety during sea voyages. Built in 1865, this temple is an excellent example of the Qing dynasty architectural style.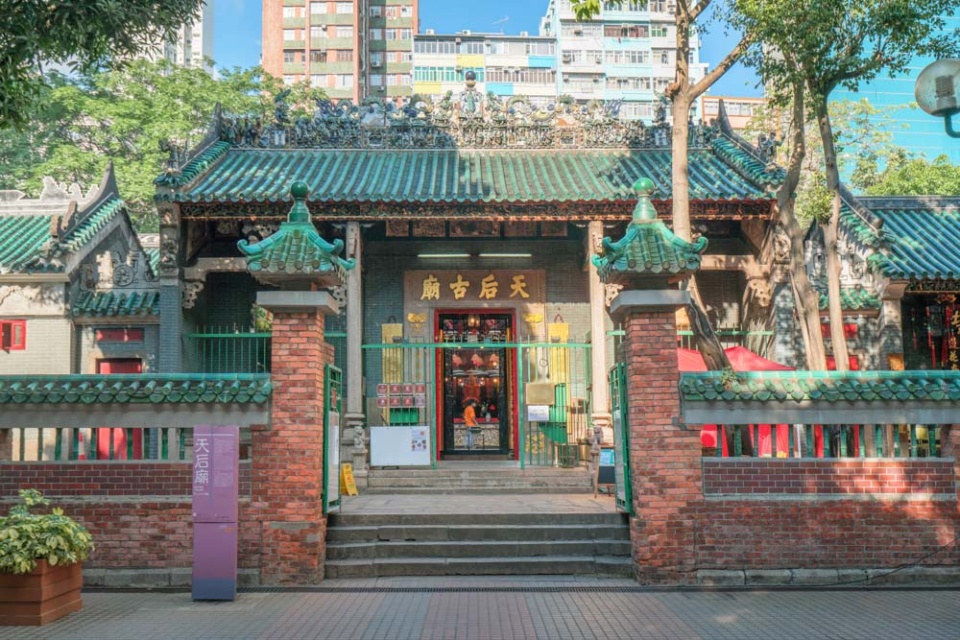 The entrance has a porch with drum platforms and the interiors have two halls, a courtyard, and a self-service book store. Hanging Spiral incense sticks, decorative ornate reliefs of Chinese dragons, Shiwan ceramic figurines, and the Nine dragon wall add to the charm of this ancient temple.
This one makes to the bucket list for all of the above and the famed Tin Hau festival held in May.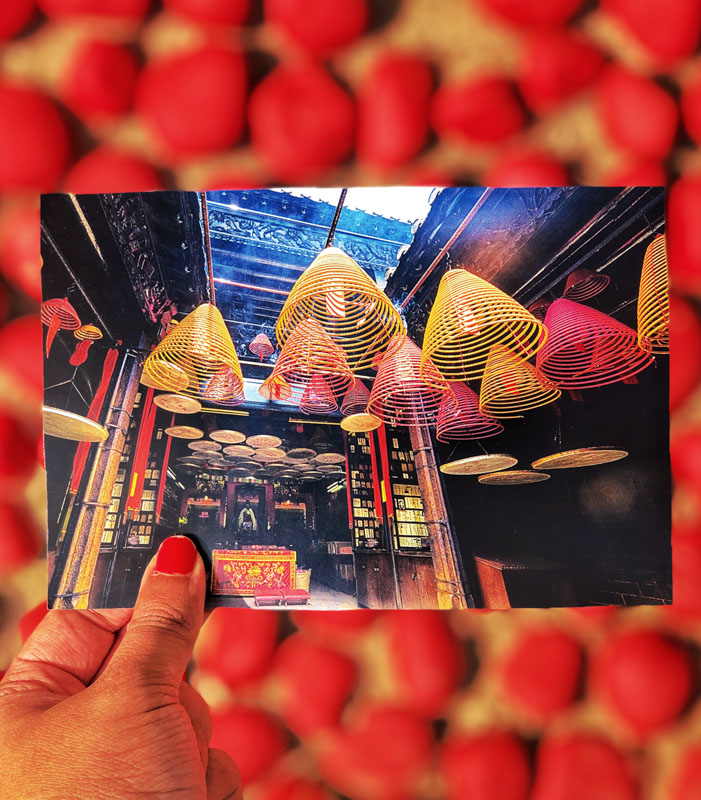 For me, the prime reason to visit Tin Hau Temple is the architecture. Being an architecture buff, I would love to document these stories etched in stone.
Kowloon Union Church: a union of East and West
Imagine ambling about on Jordan road and coming face to face with a building that is Gothic plus Chinese?
The Kowloon Union Church built in 1930, is one such building: a perfect blend of East and West architecture, with Chinese tiled roofs, grey granite steps, red bricks, and Gothic architectural elements of stained glass windows.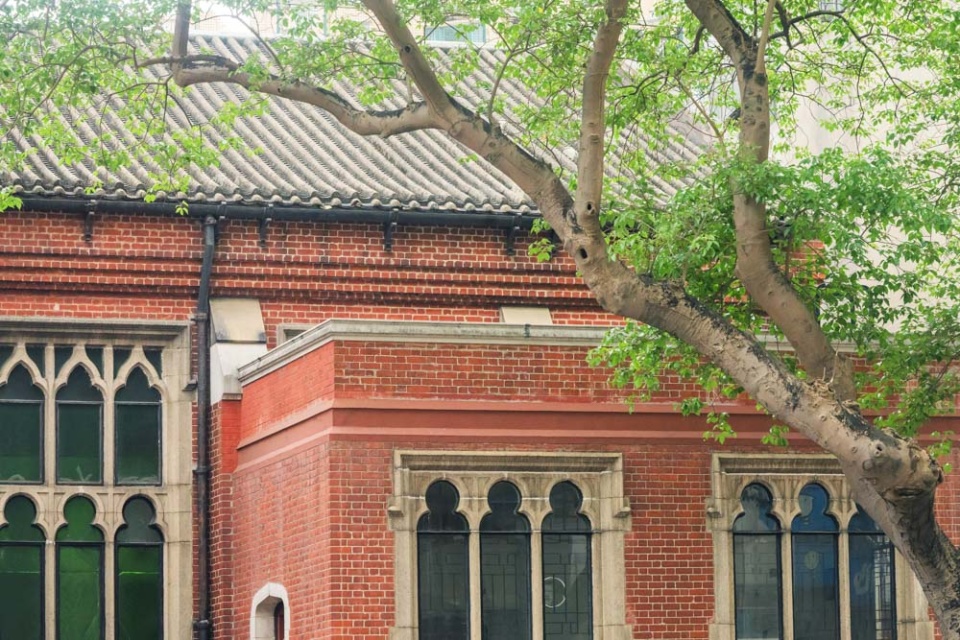 I am always drawn to Gothic architecture, but when it meets Asian elements, it gives a whole new facet to the building, making it a unique hybrid of Chinese and Western, something that is inclusive and what Hong Kong stands for!
Yau Ma Tei Fruit Market: a market that flaunts Art Deco
I adore local markets: from people watching to learning about local dishes to sampling local cuisine, to buying food souvenirs to take back home, local markets give me a sense of a place like none other.
The fragrances, the sounds, the tastes, the flavours, the sights, and markets bring all my senses alive and they are truly an immersive cultural experience for me.
And when a market has historic significance, like the Yau Ma Tei Market, it just adds to the whole experience! The market is classified as a Grade II historic building since 2009.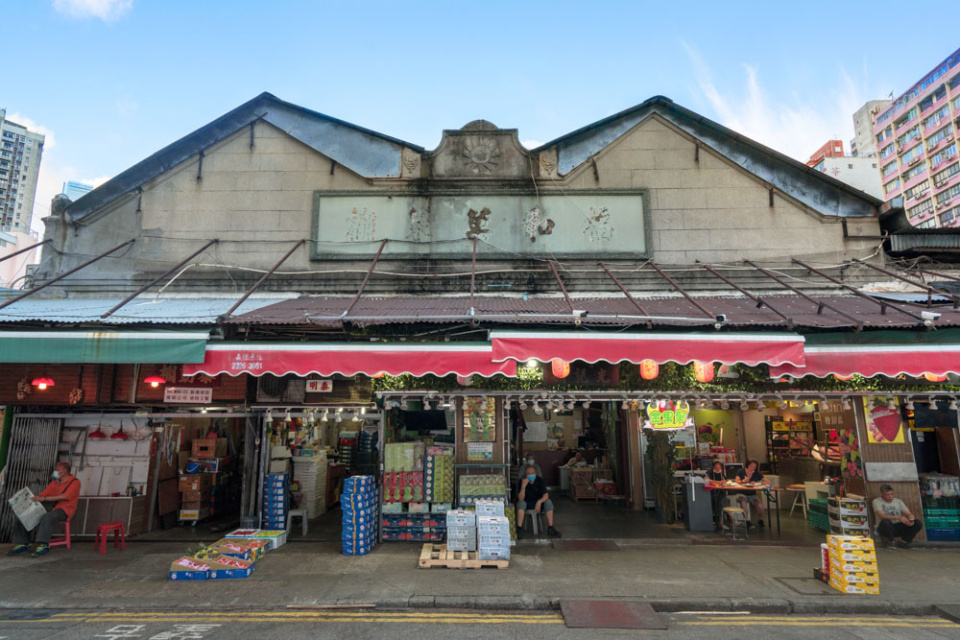 This market is significant for a lot of reasons: it is built in an Art Deco style, with architectural elements that you can rarely see anywhere else in HK neighborhoods. There are brick and stone buildings retaining their character, even as the world around them is getting modernised! What is most intriguing are the carved Chinese signboards, dating back to the Pre-World War II period. It has been an important part of the lives of locals as it was one of the oldest markets, supplying fresh local produce since 1913.
I have mentally made notes of how I would spend my mornings in this fruit market, being one with the locals!
Buildings at 176–178 Shanghai Street: Once upon a time in Shanghai Street
Some buildings fascinate you for their architectural elements, some buildings leave you awestruck with their beauty, and then some buildings stun you with their history.
Once occupied by Chinese merchants, the Tong Lau which translates to Chinese building is one of the few buildings that still remain in Hong Kong that still have a covered terrace on the ground floor, with the style of old shops. Neon signs with Chinese symbols adorn the building, making it one of the best sights for a night walk in the area.
This route has some more fabulous structures: some newly built, some whispering stories of yesteryear.
You can find the entire list here.
The Door Lover in me wants to walk past the intriguing doors of the Tin Hau temple, and the storyteller in me wants to interact with people and collect perspectives and all this is possible when I will take a walk in the lanes of West Kowloon Cultural District.
West Kowloon Cultural District is a living example of creating modern traditions. If you love offbeat experiences and perspectives like me, this emerging neighbourhood, has umpteen diverse gems, hidden in nooks and corners for you to explore and hear the stories. It's simple: Log on to the website, pick a thematic walking guide you like, and follow the maps for a perfectly curated route based on your interests and liking!
Which thematic walking guide would you pick first in the West Kowloon Cultural district?
Let me know in the comments below!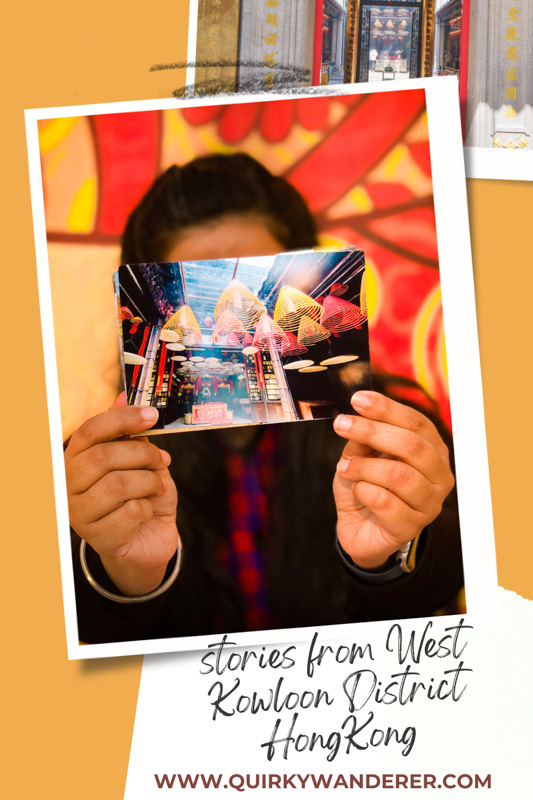 Disclaimer: This post is written in partnership with Discover Hong Kong.