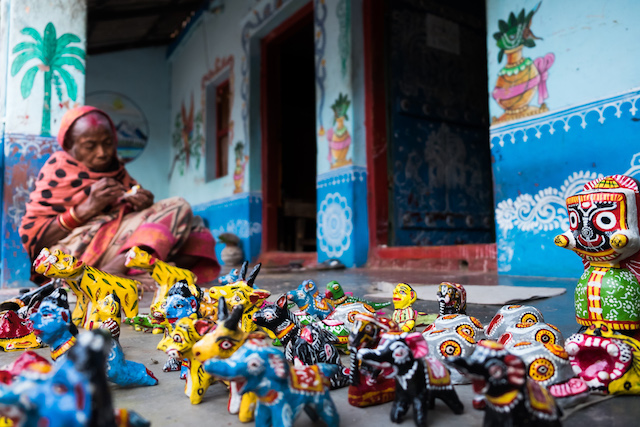 In a tiny town called Pipli in Odisha, last December, I struck a conversation with a stranger who sat on a tailoring machine, stitching colourful pieces of Appliqué together. We spoke about handloom, the diminishing commercial value of arts and crafts in India, faith, life and parted with smiles and warm hearts. Two weeks before the lockdown struck in India, I was writing an article on Raghurajpur for an inflight magazine. A month later, I felt miserable. The story tanked because of airlines being grounded.
It was then I realised what a terrible impact the pandemic would have on the livelihoods of artisans across India, especially on those who depended heavily on tourists. As a bid to talk about them and do my teeny bit for them, I started the Quirky Wanderer Favourite series: Lockdown edition, talking about my favourite Local Arts and Crafts of India.
A fortnight later, PM Narendra Modi announced the Vocal for Local initiative and I was GLAD. The buzz was shifting ongoing local and everyone was talking about it and advocating it. When I published my favourite Local Arts and Crafts of India video, I got a lot of messages and recommendations from people who were as enthusiastic about Indian crafts as I was. This is where the idea of this collaborative blog post emerged.
I, along with twelve other travel bloggers have put together 15 local arts and Crafts of India with specific artist recommendations in this blog post, so this can be a good reference point for people looking to buy directly from these artists and support them and their crafts.
The recommendations are in alphabetical order and most of them have contact details of the artists or the associations supporting them.
1. Applique Art work of Pipli in Odisha: By Divyakshi Gupta
Pipli is a small town on the Bhubaneswar- Puri Highway in Odisha. It welcomes you with a vibrant dash of colours with shops exhibiting colourful pieces of Applique art in the form of lanterns, fans, wall hangings, bags, cushion covers, and the likes. Traditionally, Applique art is called Chandua art tracing its roots to the Jagannath cult.
Applique is a kind of patchwork that is now mostly done on machines, but there are certain artists who are making handmade appliqué pieces in their homes, bleakly hoping for their art to revive and for people and the government to value the craft more along with several other local arts and crafts of India.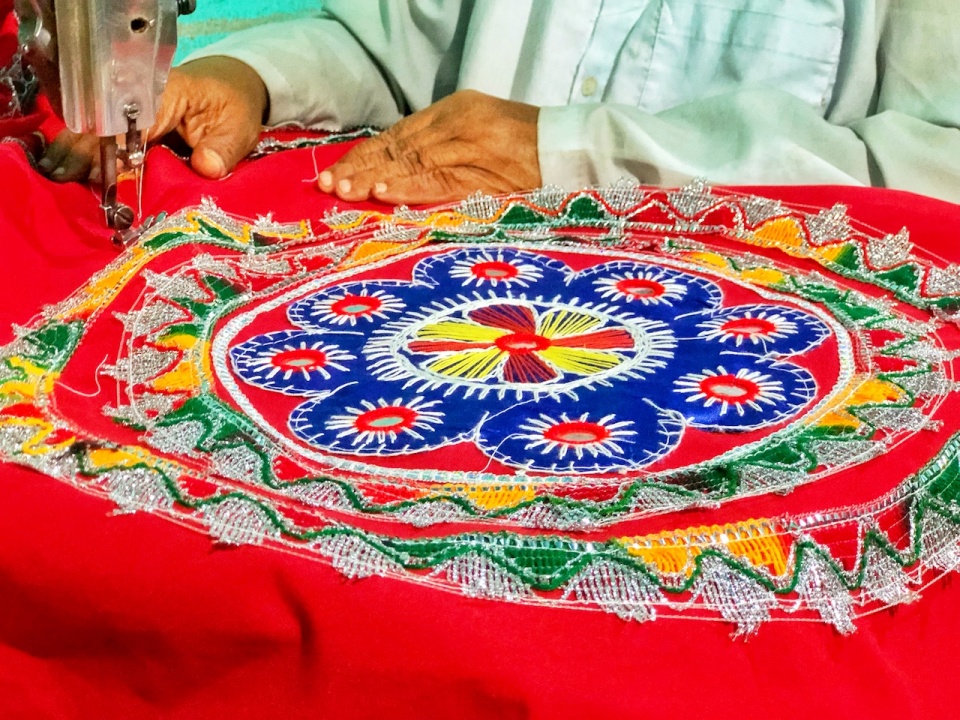 If colourful patchwork wall art interests you, you can contact Mr. Saroj Majhi at 9861340236.
2. Banarasi Craft of Uttar Pradesh: By Divyakshi Gupta
Banarasi weaves are exquisite and no wonder they are so popular amongst all the arts and crafts of India. When in Varanasi, I urge everyone to see the Banarasi weaves on their looms, working with golden zaris and weaving gorgeous sarees which are adorned by several ladies in India and passed down through generations. While there are several brands and shops selling Banarasi weaves, the Gaddidars are the ones who are truly preserving this craft. These are wholesalers who supply to showrooms. I decided to wander into the tiny alleys of Old Banaras where the incessant sound of handloom fills the streets, and meet Mr. Haji Munna.
Their designs are spectacular, colour contrasts are gorgeous and they take pride in sourcing sarees to Bollywood biggies like Jaya Bacchan and the likes. Besides sarees, they sell fabrics, stoles, and Dupattas as well.
Contact Haji Munna Creations: 9889707675
3. Bagh Print from Madhya Pradesh: by Snigdha (GET SET GO)
An endemic traditional Indian handicraft originating in Bagh, in the Dhar district of Madhya Pradesh, is Bagh Print. While most of us are familiar with block prints from Rajasthan, the Bagh print process is unique in its own way.
The process is characterized by hand-printed woodblock prints with naturally-sourced dyes and organic fabrics. Bagh print fabric motifs are typically geometric, paisley, or floral compositions dyed with vegetable colours of red and black over a white background, and is a popular textile printing product.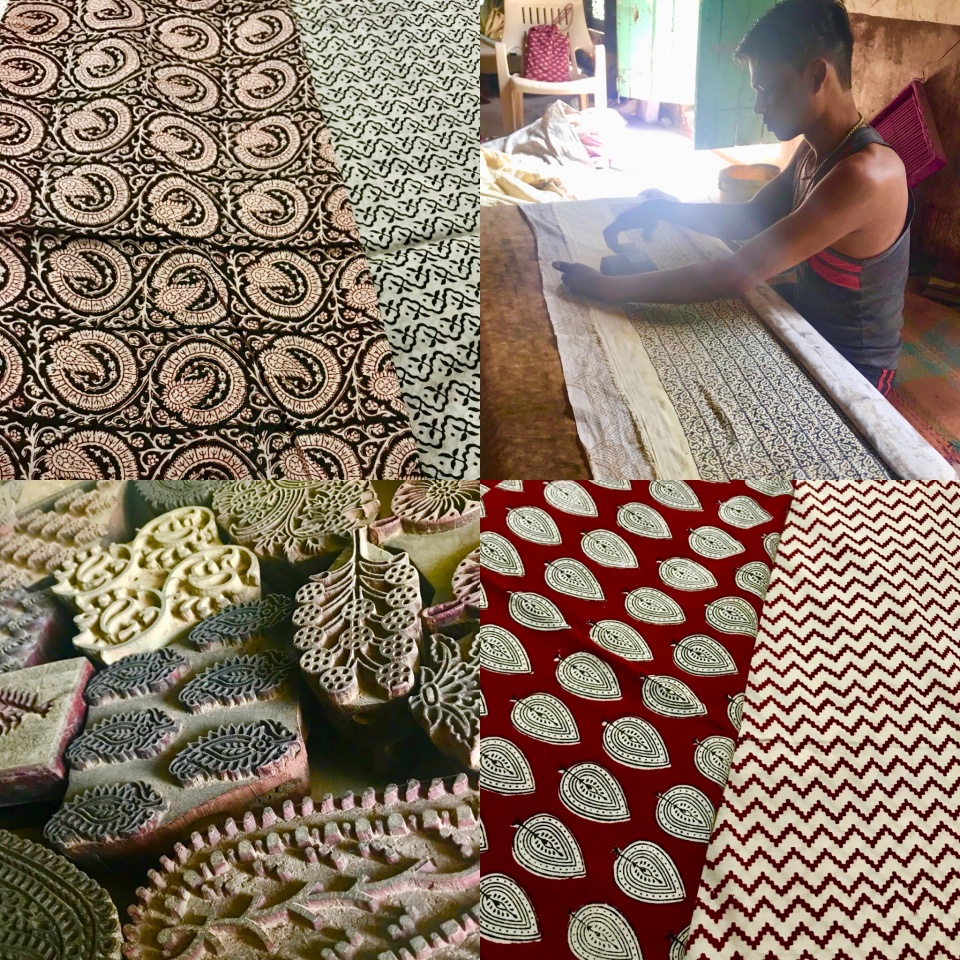 Mr. Yusuf Khatri's family has been in Bagh print trade since the 7th century and each generation has received several national and international awards for their exquisite designs. Their blocks & design combinations are beautiful and I especially love their floral block prints. Sarees, Stoles, Suit Pieces, and Fabric.
You can buy Bagh Prints from Yusuf Khatri's Bagh Prints website.
4. Bikaner Miniature Art from Rajasthan: By Ami Bhat (Thrilling Travel)
Anyone who has admired the artistic walls of the Rajput palaces is no stranger to the Miniature Art of Bikaner. The heritage art form was first practiced on palm leaves and slowly made its way to parchments and finally became the pride of many palatial walls. Prominent among the several Miniature Art Schools that sprang up is the Bikaner School of Arts – one that is being still kept alive with the efforts of artists like Mahaveer Swami Ji.
Mahaveer Swami Ji was trained in this art form as a kid and his paintings have made their way across the world and are a pride of the annual art exhibition that takes place in Mehrangarh Fort.
What makes this art interesting is the details that can be found only when you look closer or under a microscope. Every bit is captured using hand-made colors of gemstones and natural minerals. With the lack of patrons, this art form is slowly fading away. There are very few artists like Mahaveer Swami Ji who are attempting to popularize this heritage art by adapting it to modern media like book covers and calendars. Of course, nothing beats the commissioned pieces that promise to make your wall timeless. Whenever you visit Bikaner next, this is something you can add to your itinerary.
Contact: Mahaveer Swami Ji 094141 39043
5. Blue Pottery From Rajasthan: By Ketki Gadre (Explore with Eco Kats)
Blue pottery is recognized as a craft with roots in Rajasthan and I visited the very popular Jaipur Blue Pottery Art Centre on Amer road. Here I saw the demonstration of this art, the material, the tools, the technique, the colours used for hand painting, and the temperature at which it is baked. After learning about this exquisite art I was escorted into the blue heaven of glazed antiques that included everything from wall hangings, handicrafts, crockery, jewellery, home decor, and souvenirs. I learned from the owner, how this art has traveled from Iran to India in the 14th century. I was shown some pieces that took over 30 days to hand paint with intricate motifs and contrasting color combinations.
Contact: Mr. Anil Doraya, the owner of Jaipur Blue Pottery Art Centre for placing orders, They ship across India. +91 (141) 2635375,
Email: jaipurbluepottery@yahoo.com
6. Cheriyal Miniature Scroll Paintings From Telangana: By Meenakshi J (Polka Junction)
Cheriyal village near Hyderabad in Telangana is home to a medieval 15th-century miniature scroll painting called Nakshi. These paintings share their similarity with the paintings at the Lepakshi temple and other sacred spaces built during the Vijayanagar rule, making it indigenous to the region of Telangana.
Shri. Vaikuntam (National Award Winner), an expert in Cheriyal paintings and master craftsman, along with his family, is involved in reviving this ancient art form. He now works from the confines of his home in Hyderabad after migrating from the village Cheriyal. The womenfolk of the household have learned the art over the years thus making a foray into this once male-dominated profession.
The endowment of the GI tag on Cheriyal paintings in 2007, was the first step by the Indian government towards the revival of Cheriyal paintings. This has encouraged the Vaikuntam family members to regularly conduct workshops. They now teach the nuances of this art form to art-enthusiasts. Meanwhile, the generation next of this family is involved in popularizing the Cheriyal Street Art across Hyderabad
The Vaikuntam family conducts workshops on demand and could be contacted through their FB page .
7. Kalamkari Craft from Andhra Pradesh: By Manjulika Pramod (Pendown)
'Kalam' means pen and 'kari' signifies craftsmanship. This traditional pen craft is an ancient Indian art, safeguarding the concept of organic fabric painting using natural dyes. Unique patterns and themes are inspired by nature and mythology.
It is practiced in a couple of regions of Andhra Pradesh but Kalahasti and Machilipatnam are two major places. There are two ways of imprinting the design on the cloth: Srikalahasti style is about hand drawing inspired by 'Hindu mythology' while the one in Machlipatanam is based on hand-carved blocks, with intricate designs. Fabric and natural colours both play an important role in this art form. Following age-old practices, the cloth is washed with cow dung/goat dung and milk, before the real painting, so the colours don't spread.
A visit to the Pedana village is a must for art lovers. You can meet Mr. Pitchuka Varun Kumar, an artist who has converted his house into a Kalamkari Museum to learn the nuances of the art. One of his best works, "Tree of life" hangs in there.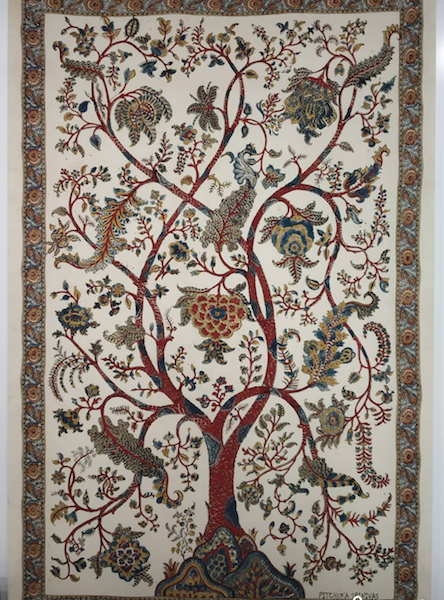 Contact: Mr. Pitchuka Varun Kumar  9441370498
8. Kinnal Craft, From Karnataka: By Rashmi Gopal Rao (Rashmi Notes)
The mention of toys in Karnataka is more often than not synonymous with the lacquered wooden toys of Channapatna. But about 370 km from Bangalore is the sleepy town of Kinnal, which is also home to the ancient Kinnal wooden craft that is used to make colourful dolls and religious idols. A tradition that dates back to the 15th century, the art of doll making in this town was patronized by the rulers of the Vijayanagar Empire.
Passed on from generations, while this is a dying art today, Kinnal is home to about 25 families who are into this profession. The artisans or Chitragars as they are called are incredibly talented and produce some awe-inspiring idols from the wood of a locally grown tree called "Ponkhi" tree.
The process is laborious and totally handmade and the materials used include tamarind paste and jute fibre apart from bright paints. The latter is in fact a highlight of these dolls and the paint makes these idols waterproof too. Many idols have a stunning finish of gold and silver that is typical of Kinnal idols. A special technique called "lajawara" painting is employed for gold and silver.
Contact: Santoshkumar Chitragar – Mobile: 7090543541
Instagram: @kinnalart
9. Madhubani Art from Bihar: By Amrita Das
Madhubani is a small town, about 175 kilometers away from Bihar's capital city.
I have been fascinated by this region because of the world-renowned Madhubani art that is produced from here. What added to this was the fact that this district also has a long list of women Padma Shri awardees.
I walked into Mahasundari Devi's house and introduced myself to her daughter-in-law, Bibha Das. Mahasundari Devi won the Padma Shri in 2011 and Bibha Das is also an award-winning Madhubani painter. When the French documentary filmmaker, Yves Vequaud, bought her paintings and happened to show it to Pablo Picasso, he fondly wrote, 'People tell me that I am a great artist; but when I see your art, I find you a far better artist than me.' This has been the impact of her work.
Only a kilometer away, I drove to the 'Dori' or the workplace of Shilp Sangh. A co-operative society, Shilp Sangh, employs and empowers local women who are adept in Mithila art. These women work for 5-6 hours every day painting on various textures. They make saris, stoles, wall hangings, and other home furnishing and stationery products. These are made on orders and are further sold to national and international markets.
Contact: Shilp Sangh: 9905215961
10. Pattachitra Art of Raghurajpur, Odisha: By Divyakshi Gupta
Pattachitra literally translates into Patta (canvas) and Chitra (painting). This traditional art form is one of the oldest and widely practiced art forms in Odisha, used to depict popular mythological themes like Ramayana and Mahabharata. Traditionally, the canvas is made from layers of cloth, assembled with natural adhesives like dried tamarind seeds and stone powder. Coconut shells being used for palettes for colours caught my attention and intrigued me even further to trace back the origins of this centuries-old art form.
The themes are inspired by the Jagannath cult and Vaishnava sect, depicting the life of Krishna, scenes from Bhagavatam Purana, the ten avatars of Lord Vishnu, and the forms of Jagannath, Subhadra, and Balabhadra.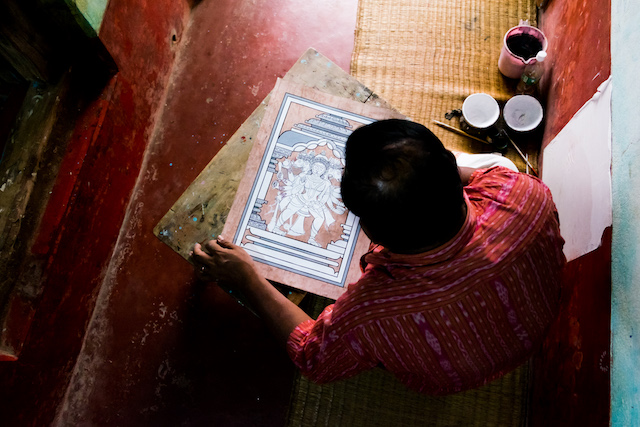 Contact: Mr. Ajit Swain from the organization Dedicated to People to order a custom made Pattachitra painting. Mobile: 9937810487
11. Terracotta Horse Of Bankura, West Bengal: By Madhurima Chakraborty (Orange Wayfarer)
Bankura is a part of the Rarh region of Bengal. The earth here is hued with an uncanny color of florid red. While the Terracotta temples of Bengal are famous, let us learn more about Terracotta Horses.
Horses in the region represent "Dharmathakur", revered by the locals, tribals, and Hindus of the region. These animal figurines are rustic and usually not hollow. With the increased demand for Terracotta art pieces in urban homes, local artists started to create terracotta figures of horses of Bankura.
One can make a day trip to Panchmura, where the terracotta horses are usually created or shop in Lalbazar, Bankura. An artist named Jiten Sutradhar owns a small shop full of artwork. The terracotta horses measure in height from inches to feet. Their eyes, round-shaped, the fulmoni on the head, armored demeanor are testimony to the exquisite artistic capability of local artists from the hinterlands of India who seldom they get showered with praise and media attention.
Contact Mr. Jiten Sutradhar: 8670526396, 6294447617,
Shop Name: Akash Deep Terracotta, Lalbazar, Bankura.
12. Thanjavur Hand Crafted Veena from Tamil Nadu: By Shoma Abhyankar(Astonishing India)
In the South Main Street of Thanjavur, in the courtyard of his house Rajendran, a third-generation artisan sits head bent carving an image of Goddess Saraswati on a stringed wooden instrument, the hand-carved Saraswati Veena of Thanjavur, which has been given the Geographical Indication tag. Thanjavur Veena is made from pieces of jackfruit wood joined together and hollowed with hand to make a bulbous shell. The jackfruit tree wood gives veena its peculiar twang, which is missing in the machine-made veena. With machine-made veenas flooding the market and jackfruit wood dwindling, this art is dying now.
While beginners prefer to buy cheaper alternatives from retailers, the descendants of veena crafters are moving away from the craft in search of better paying work in bigger cities. If you are a music connoisseur wanting to support this craft, do get in touch with Mr. Rajendran.
13. Traditional Mask Making Craft of Majuli, Assam: By Parnashree Devi (My Travel Diary )
Practiced since the 17thth century, the traditional mask-making craft of Majuli, was introduced by the great visionary and social reformer, Sri Shankardeva. Masks were traditionally used in the theatre called "Bhaona" (in Assamese) by the performers to depict the Puranic characters of Srimad Bhagwat. The "Bhaona" is an integral part of Satya Culture and it is performed to convey religious and cultural messages in an entertaining way.
The New Samaguri Satra of Majuli is the only place where the craft is practiced. The materials used for making the masks are bamboo, clay, cow dung, cane, cloth, and natural colors. The best part of this traditional craft is that each element to make the masks is locally sourced and biodegradable. They conduct workshops for mask making as well.
Award-winning, renowned artist, Dr. Hem Chandra Goswami, has contributed immensely in keeping this age-old tradition alive and he has been acclaimed nationally and internationally for making life-size masks.
Contact: Dr. Hem Chandra Goswami
Mobile: 9707351218
14. Usta Art of Bikaner, Rajasthan: By Nisha Jha (Lemonicks)
Usta art is a combination of Naqqashi and Manoti art practiced by Usta artisans from Bikaner. The term "USTA" has come from the Persian word 'USTAD' meaning master. Since the art originated in Iran, the various patterns which are used in Usta art are influenced by Mughal designs.
One can see the craftsmanship of these artists in different rooms of the Junagarh fort in Bikaner. Glass, wood, marble, and camel hide are the most popular bases to showcase this art. It is a gold emboss work in a way.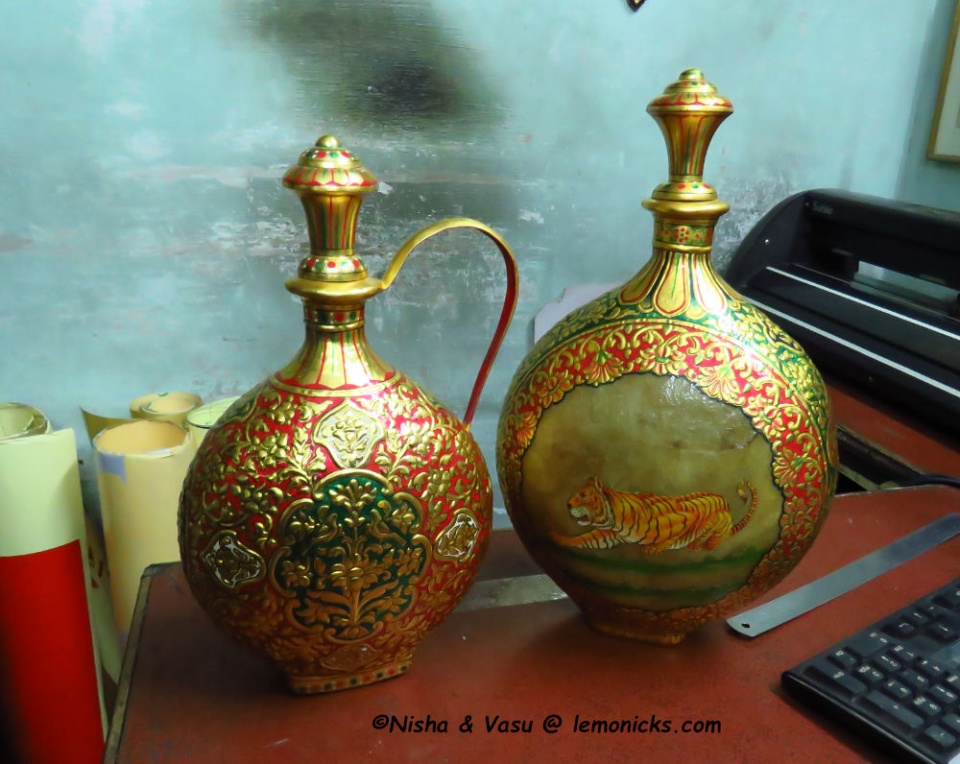 This traditional art has passed and survived several generations but in today's time, like most local arts and crafts of India, it has started to diminish. The current artist Ajmal Hussain Usta has been working on this art since his childhood and he has learned the skills from his father. He also conducts workshops since people have also started taking interest in it after some intervention by the government.
Contact: Ajmal Hussain Usta
Mobile: +91 9413467471.
One can buy photo-frames, jars, decorative pieces, plaques, earrings, jewelry set from him.
15. Wood sculpting craft from Nagaland: By Avantika Chaturvedi (Wayward Wayfarer)
In the Mon district of Nagaland, there is a small village called Longwa located on the Indo-Myanmar border. At the very beginning of this village, is a big house that looks no less than a museum. The house boasts of a traditional Naga log drum sitting in the porch and the doorway decorated with intricate woodwork depicting ancient folklore. Take one look inside and you will find wood sculptures of all shapes and sizes lining the walls, eagerly waiting to be bought by the tourists that frequent here often.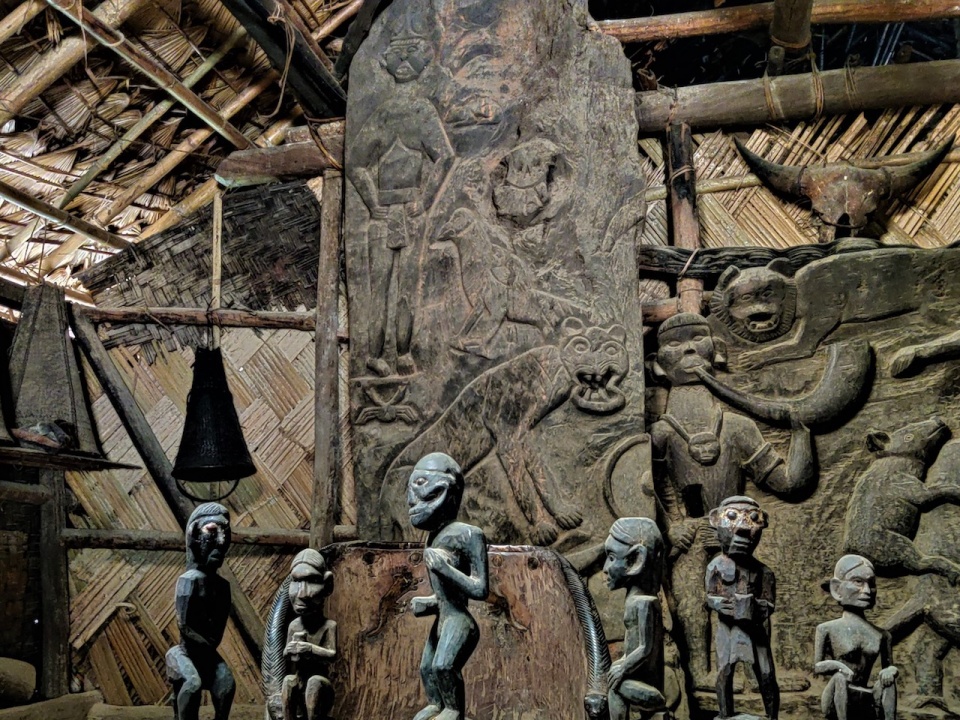 Depicting the Konyak lifestyle and the ancient tradition of headhunting, these sculptures and wood art have been carefully created by a member of this large family named Akhah Khatwang. Having his art displayed in museums in both Kohima and Delhi alike, Mr. Khatwang can be often seen so at ease under the sunny sky, working on the various pieces of wood lying at his feet. A medium-sized sculptor takes him a couple of days to complete while the larger pieces can take up to a week. His artwork can be bought from the house called "Longha's Homestay" and make for the perfect souvenir to take back home.
Contact: Longsha Konyak, eldest son of the family and owner of the homestay.
Mobile: 8974390751
If Local Arts and Crafts of India interest you, I strongly suggest you follow Kavya's A-Z of Indian Handicrafts series on Instagram.
When it comes to the Arts and crafts of India, just mentioning 15 is not enough. I am yet to cover the vibrant crafts of Kutch and so many more from different nooks of India, but this is a start. I hope to showcase many more artists and craftsmen from India in the coming blog posts. If you wish to recommend a particular artist or weaver or craftsman, please do let me know in the comments below. Also, please do share this with people who are interested in and value the local arts and crafts of India so these artists can benefit exponentially. The least we can do is spread the word.