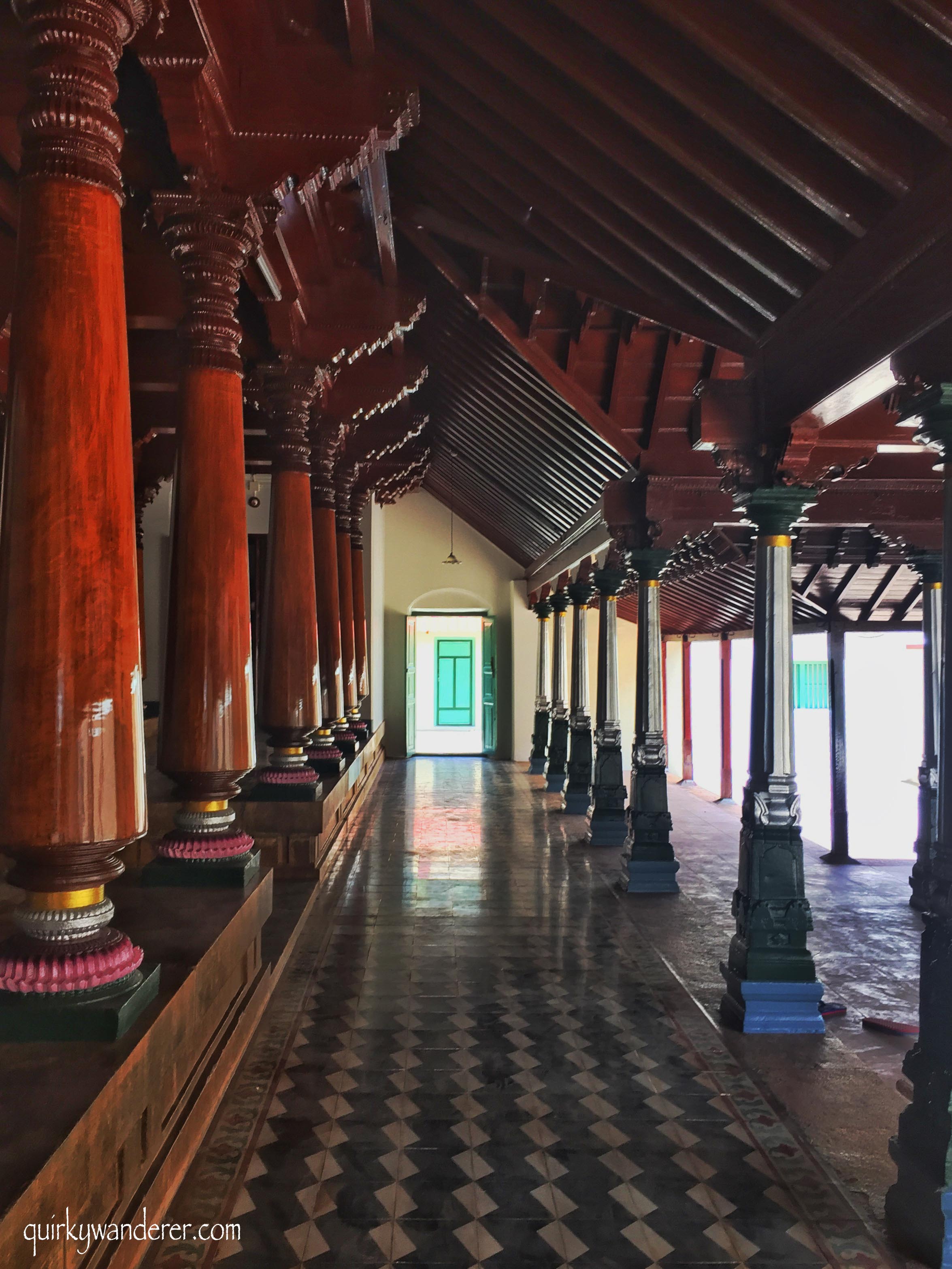 My voice echoed across the deserted corridor. The only noise is of the sweeping footsteps of the caretaker of this Chettinad mansion in Karaikudi. Numerous colourful pillars flank the enormous courtyard as the scorching sun bakes the already scalding floor, devoid of cover.

The stone pillars were freshly painted and they shone in a regal glory like none other.
I don't know why but my heart refuses to call this mansion empty.
Not when 20 odd doors are staring right in my face and dainty windows lure with their bright colours!
2 hours away from Madurai, in the interiors of the southern Indian state of Tamil Nadu, lies Karaikudi , a small town part of the Chettinad region.
While Chettinad is primarily known for its delectable albeit extremely spicy cuisine, it is also known for its grand mansions, displaying the wealth of the Chettiars ( merchant community).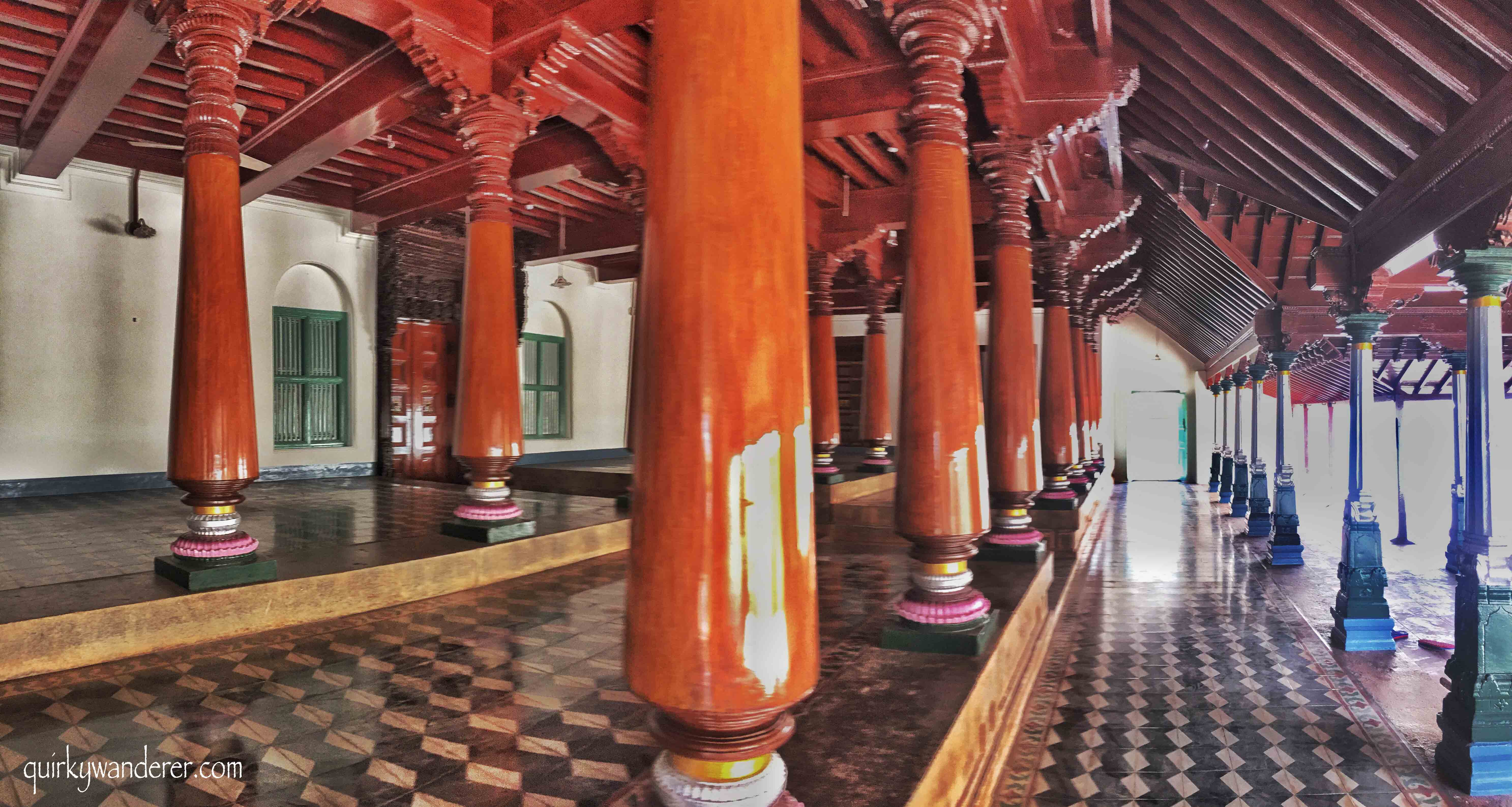 This trading community flourished in the 18th century amassing wealth through trade in foreign lands namely China, Burma, Sri Lanka, Malaysia and that explained the opulence in building these extravagant mansions that have stood the test of time.
For a first timer, gaining access to a private mansion wasn't an easy task. But thanks to Mrs. Meenakshi Meiyappan, the owner of the hotel Bangala, I was here reliving history.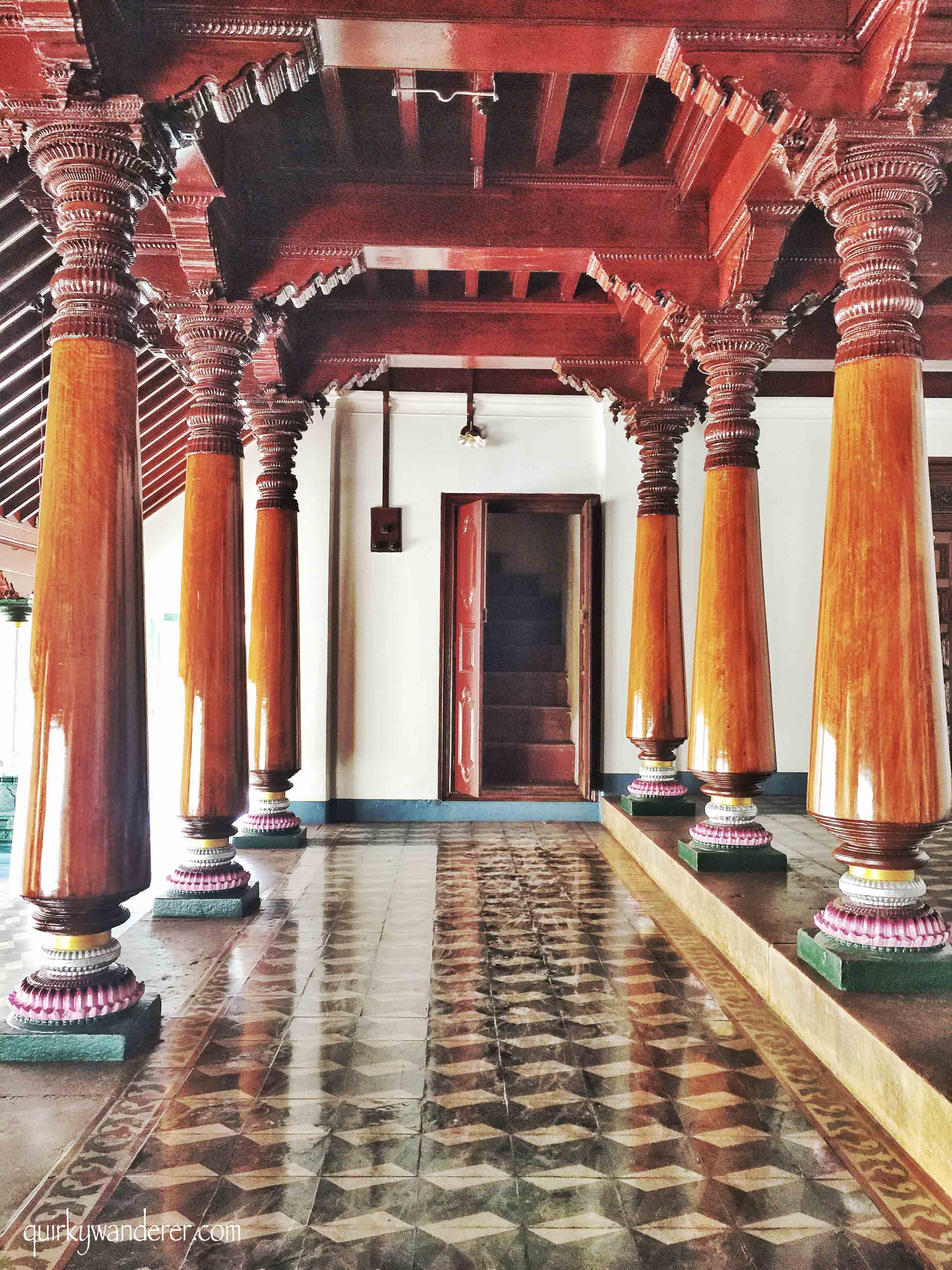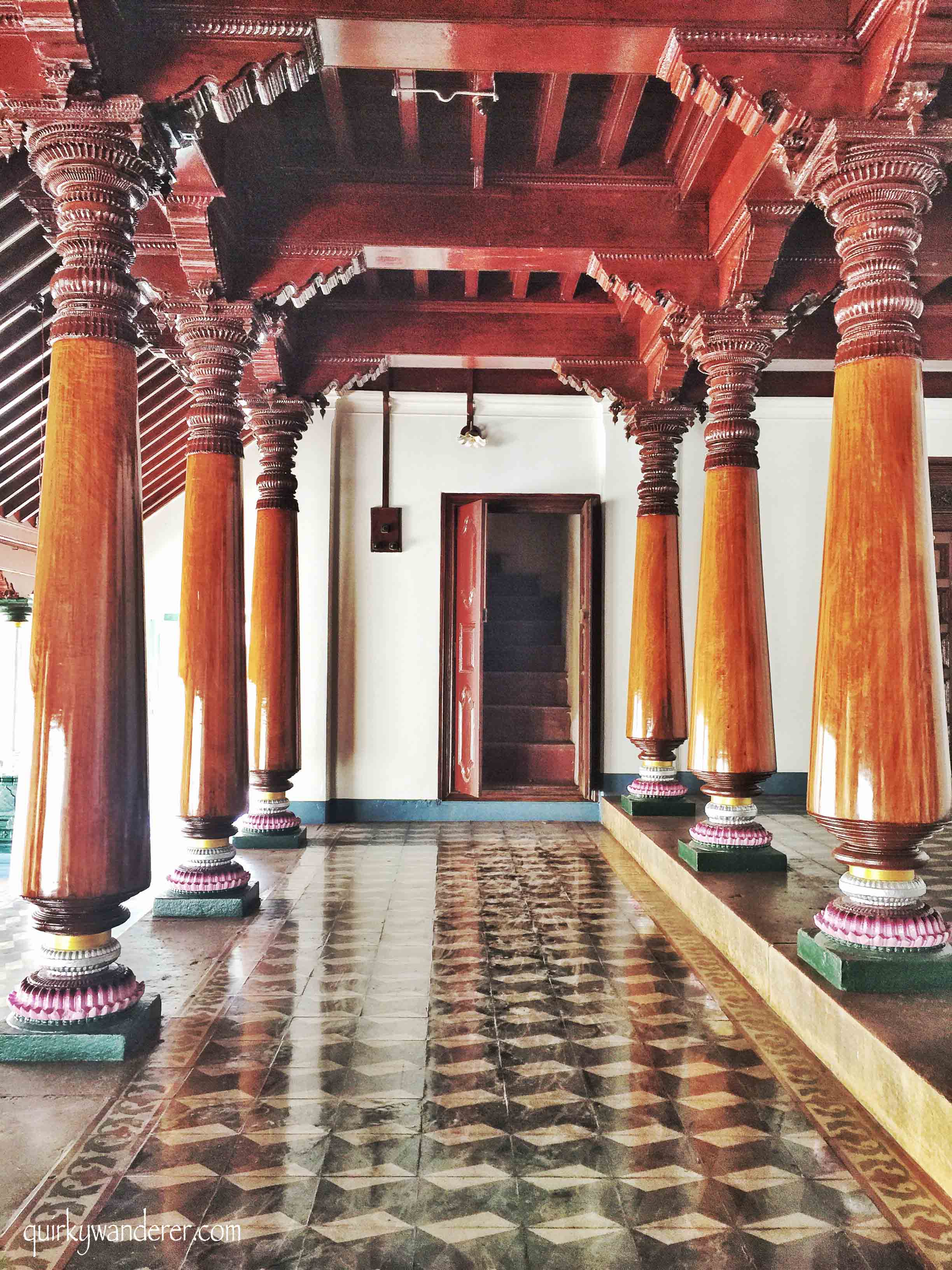 A phone call to the reception of the hotel and an earnest request to talk to Mrs. Meiyappan landed me with a conversation with one of the sweetest ladies I have ever met.
For the #doorsOfIndia campaign, it was imperative for me to cover the grandeur of Chettinad. What better than the intricately carved doors of these mansions that have seen it all?!
She hasn't ever met me. She doesn't know me but she's called me twice while I am enroute Karaikudi to check where I have reached.
As I walked into her room to meet 'Aachi ' as she is fondly called by her staff at The Bangala, the first question she throws at me, takes me my surprise.
"Have you had breakfast? Go and have some. I have told them to keep it ready."
My heart melted and the charm of Chettinad hospitality had just started to creep in. Post what I can call a Breakfast for the Kings, I sat with Aachi to hear all about the Chettinad mansions in the vicinity.
She spoke about her childhood in Sri Lanka, her marriage into a Chettiar family, the memories of her dad's house in Karaikudi with it's exquisite Rosewood carvings and how Burmese teak was used extensively in the architecture of the Chettinad mansions.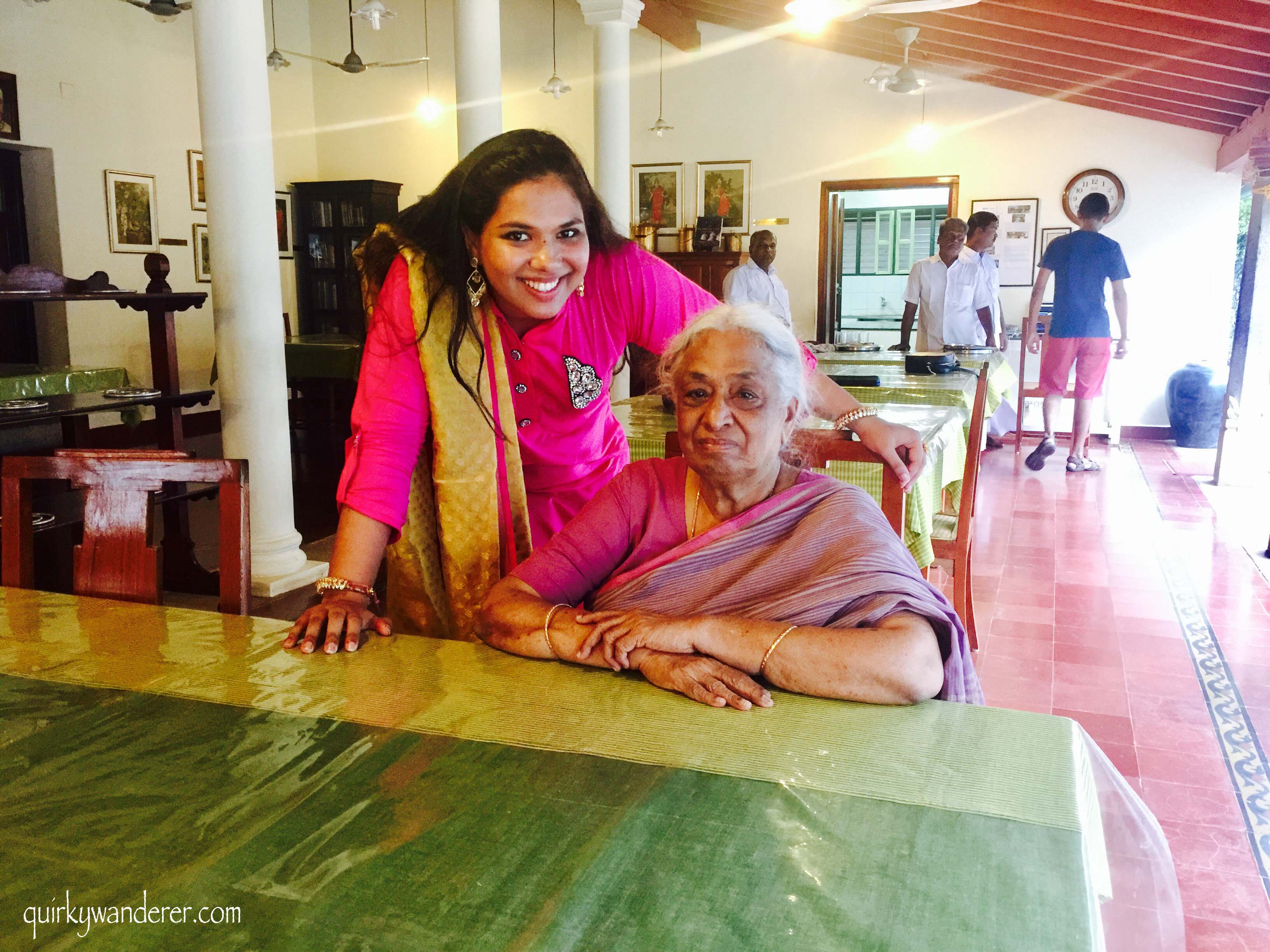 She was gracious enough to send someone from The Bangala to accompany us to the private mansion of her daughter in law and this is how I was standing in this courtyard. The mansions reeked of opulence breeding in simplicity. Quite ironical isn't it? The owners have such a simple, non flashy lifestyle and the mansions are lavish!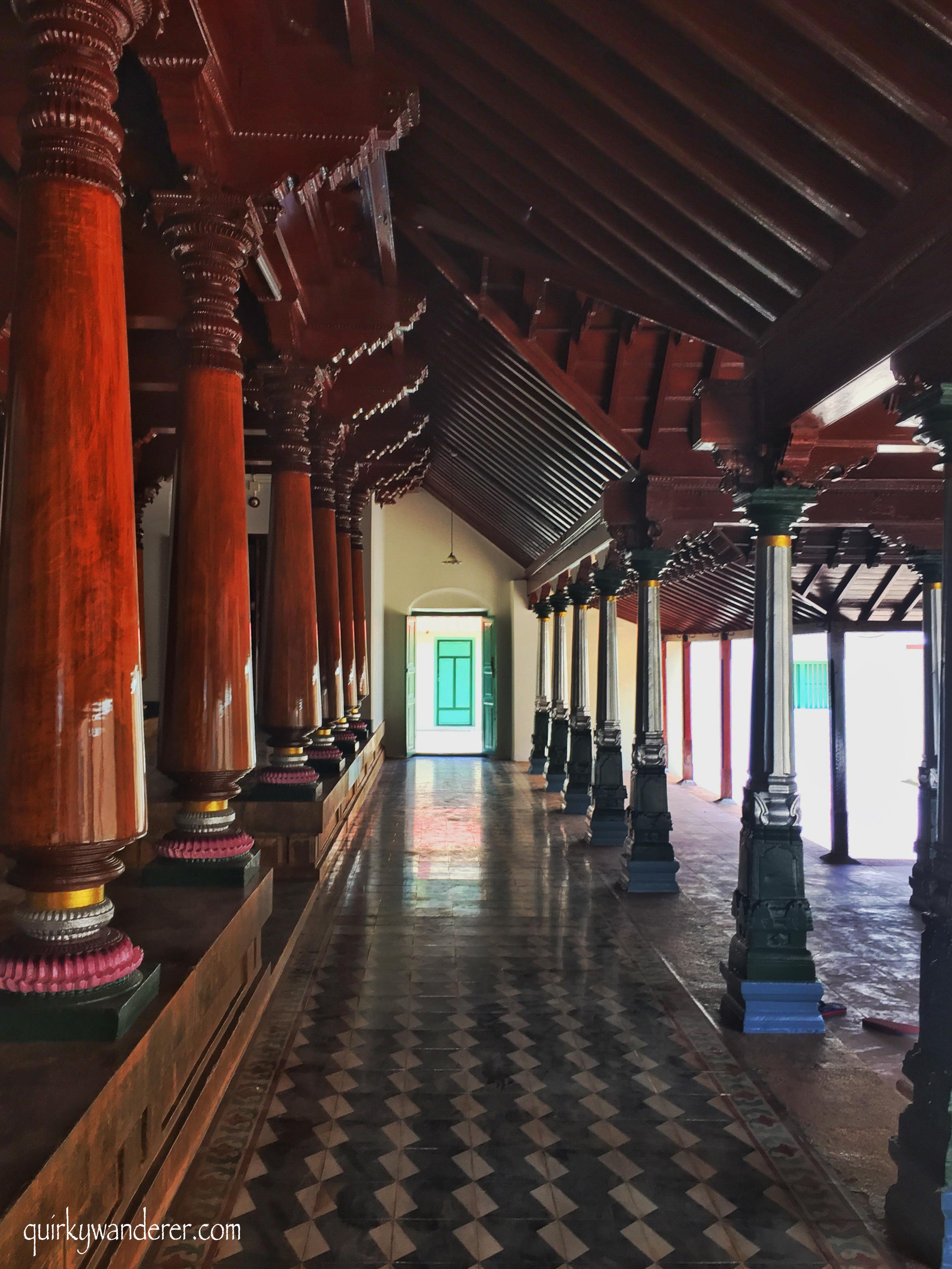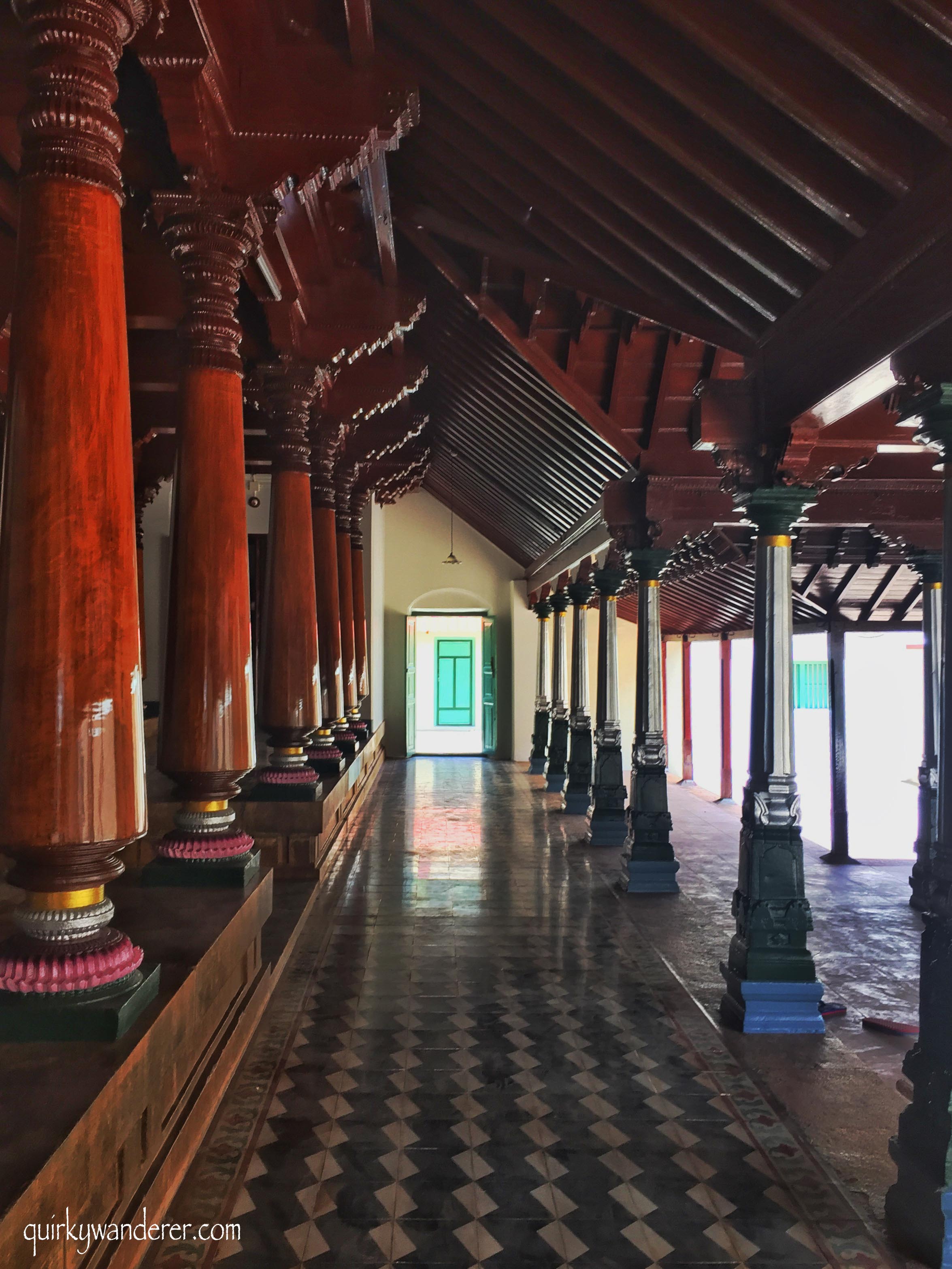 Due to paucity of time and a very tight shooting schedule, I could visit just two mansions. But both these left me spellbound. For an architecture lover, this tour is delightful! From antique door knockers to colourful floorings.
Chettinad is also known for its famous Athangudi tiles. Unlike normal tiles, these tiles are made over glass surfaces and the combinations are extremely eye catchy!  Most of these hand made mosaics have traditional designs and some have geometrical patterns.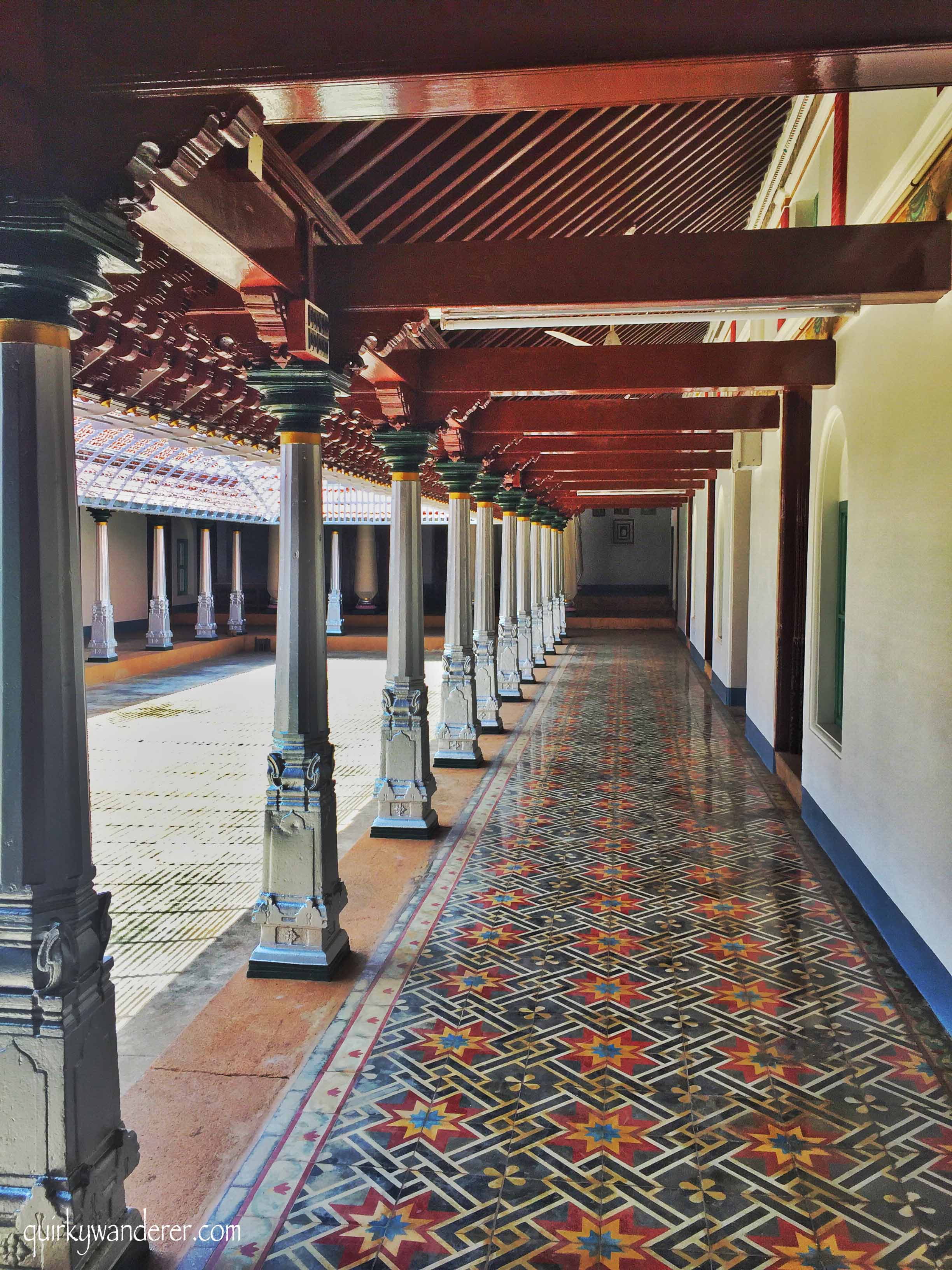 The tiles certainly have an influence of the west as well as the east. I wonder why as Mr. Chidambaram one of the owners of the mansion explains. The Chettiars were known to travel abroad and bring with them ideas and decorative pieces from abroad. That explains the presence of mirrors and chandeliers from Belgium, Bohemian glass, Italian marble and ceramic tiles from Minton in these mansions.
But there was a problem: whenever there was breakage, it was inconvenient to source it again. The villagers of Athangudi started producing these exotic tiles. Soon these gorgeous, locally produced mosaics became the face of Chettinad.
The mansions I visited had such a plethora of Athangudi tiles that I couldn't resist a From where I stand picture! These tiles actually require very little maintenance and last a lifetime!
The blend of Indo -western styles is evident and that is what makes the architecture so unique. The egg tempura walls shine brightly decade after decade, not losing their gleam. The doors are short in height and the caretaker explains that they were deliberately designed in this manner. It was believed that the wealth of the Chettiars shouldn't make them proud so they had to bend down to enter these doors.
While we are at the doors, it wouldn't be wrong to say that the doors of the Chettinad mansions in Karaikudi are pieces of art. Each door is approximately 150 years old, built in rock solid Burma teak and it took close to 2.5 years to built one. The carvings on these ornamental doors are impeccably intricate and have elaborate panels not the top. Flanked on either side are statues : On one hand is a British soldier riding a horse and on the other is an Indian Sepoy. I was astounded at the triple security system of the door, which made a bell sound every time the key turned!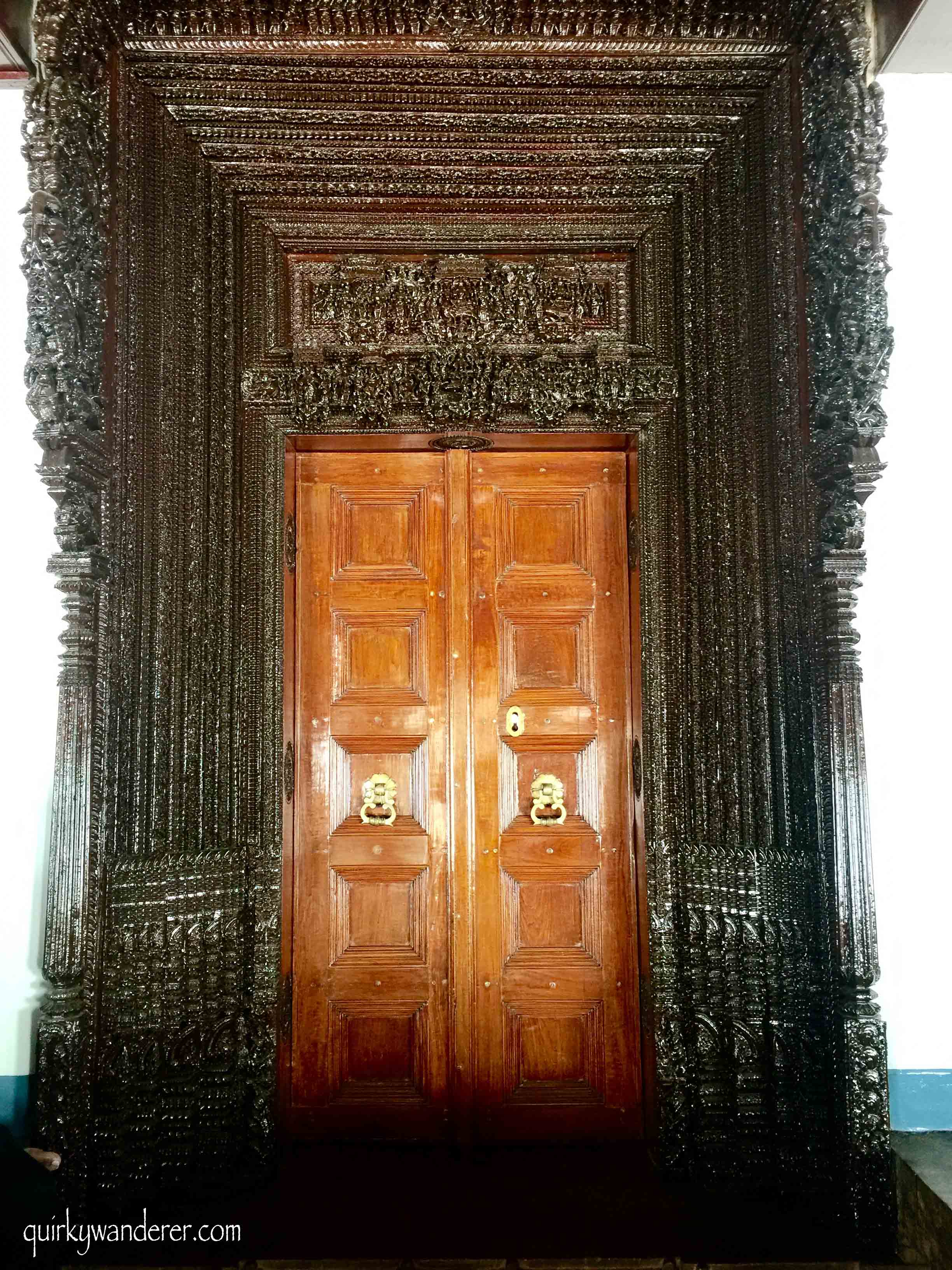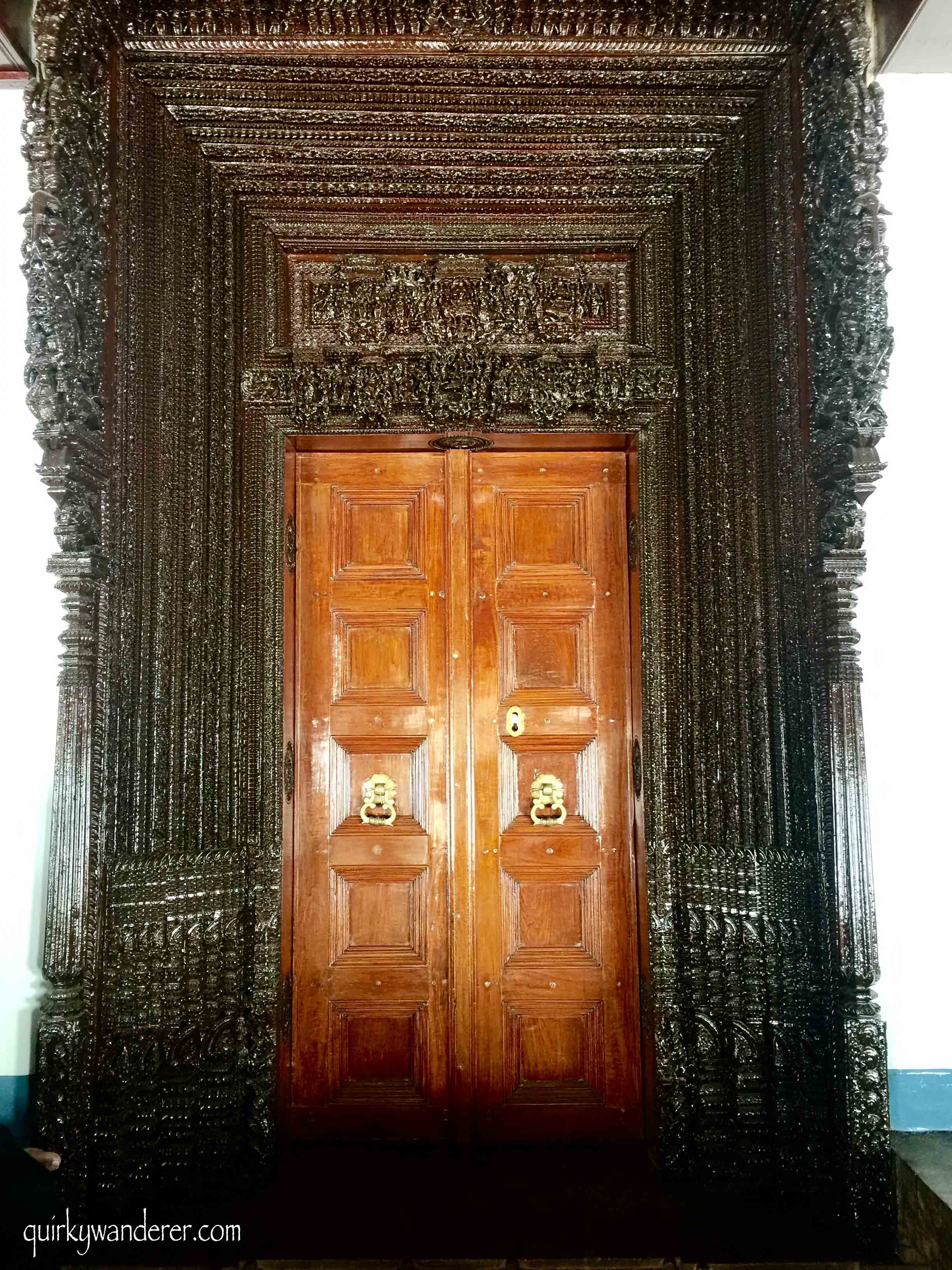 A walk in these mansions felt like a stroll in an open museum. No wonder this town has been declared as a Heritage town by the Government of Tamil Nadu.

Most of these mansions are no more occupied as the owners stay out of India and these are ancestral homes where they return once a year.In their absence, these are looked after by caretakers. I can't imagine the sense of nostalgia that these corridors would bring.
For Mrs.Meiyappan, who stayed in Chennai for some years, the home reminds her of her roots and she says, "As one grows old, they get increasingly fond of their roots."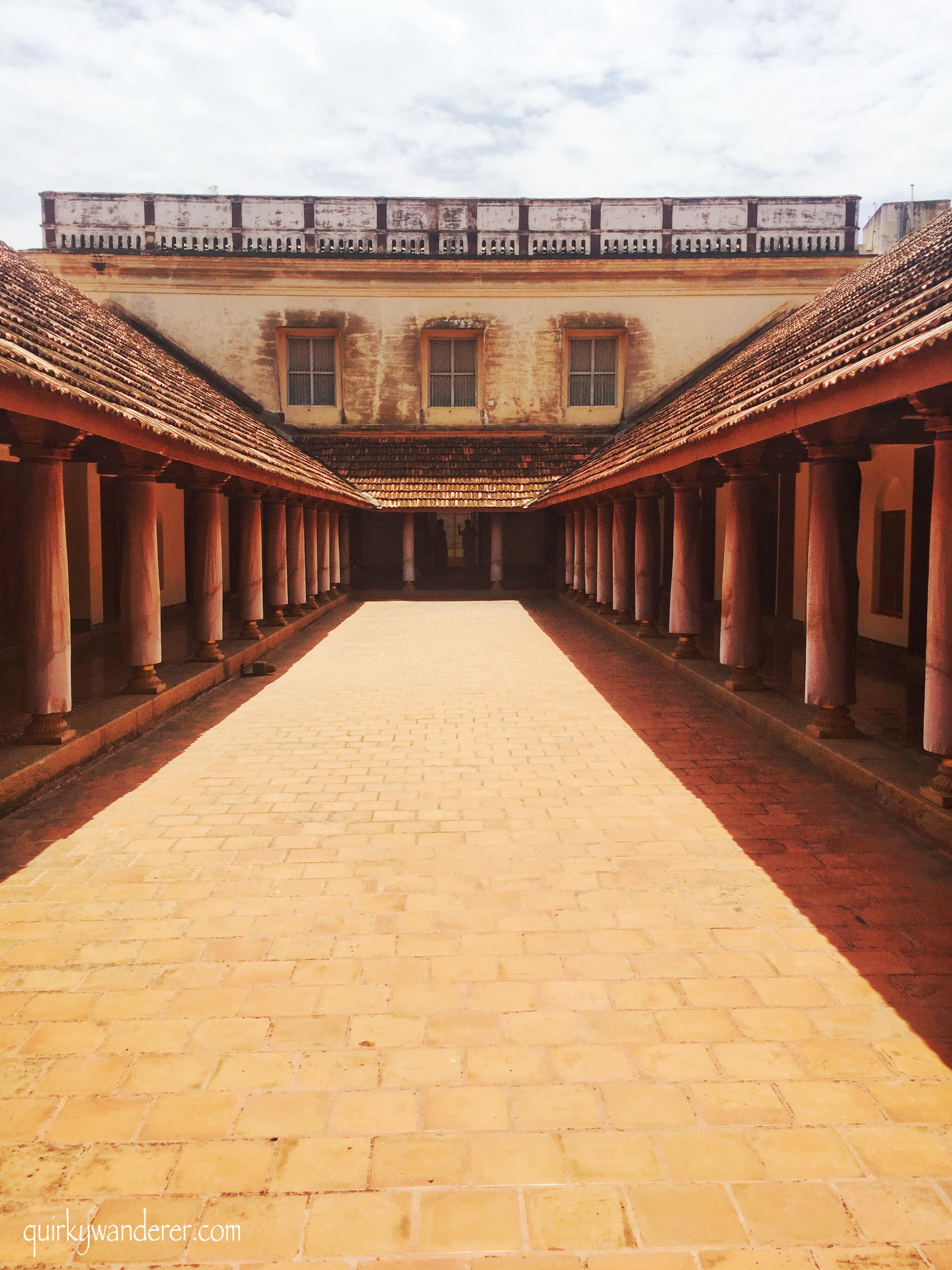 As we packed up to get back to Madurai, she insisted that we have lunch at The Bangala. The food was sumptuous: a unique menu designed by Mrs. Meiyappan herself with local flavours of Chettinad that made me vow to visit it again. Just to stay in the elegant villas of The Bangala and gorge on those irresistible meals.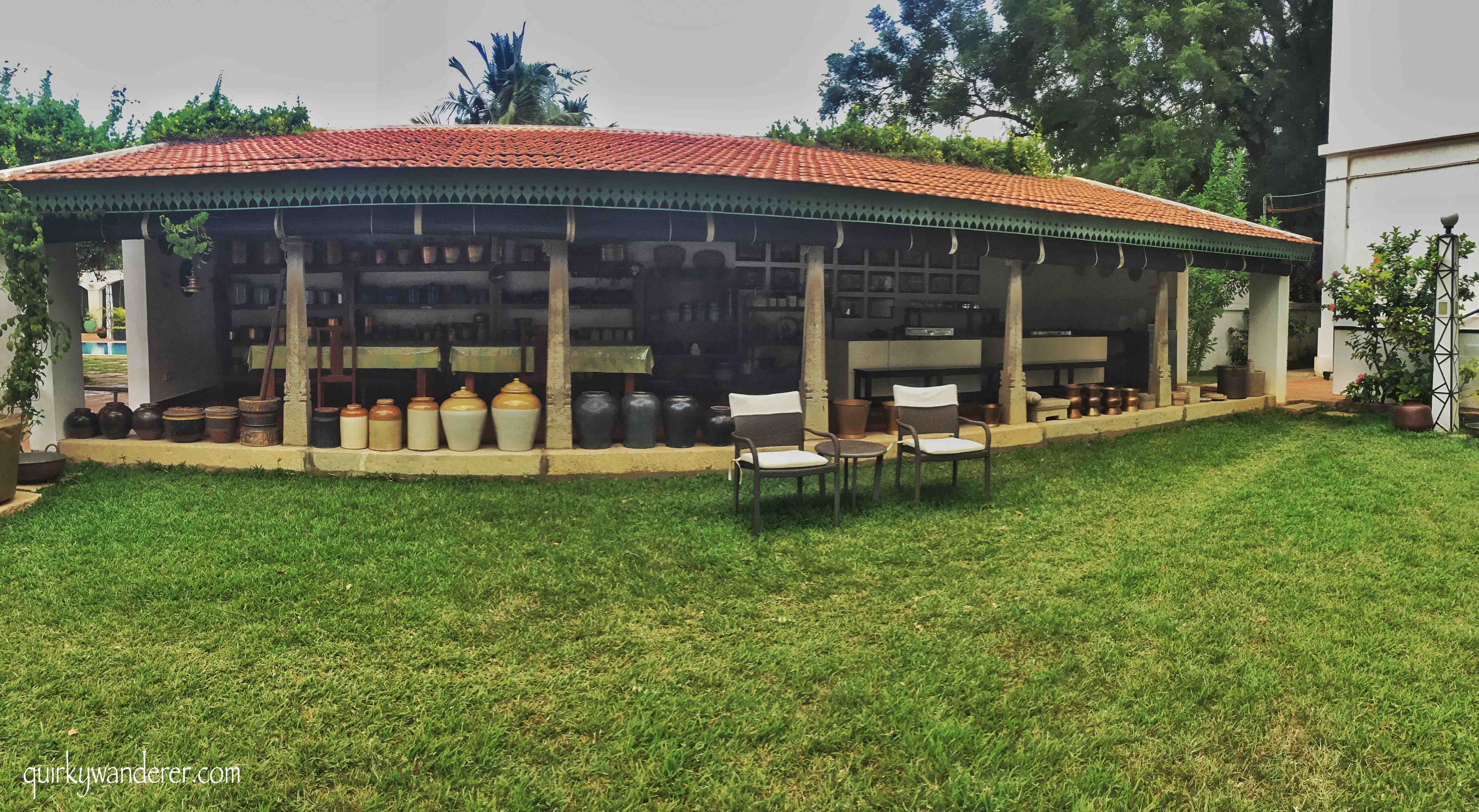 I have to come back. One visit to these palatial mansions wasn't enough. I have to visit the Rajah's Kanadukathan palace, I have to visit the Athangudi tile making factories, stroll in the antique markets and most of all I have to buy Chettinadu Kandangi sarees!
Until then, I have fond memories of the hospitality of the staff at The Bangala, the astounding architecture of these Chettinad mansions, the rustic charm of the streets of Karaikudi and the balmy conversations with Mrs. Meiyappan for keeps!
How to reach:
Karaikudi is 82 km from Trichy and 76 kms from Madurai. Both these cities have airports.
From Chennai, Karaikudi is 418 km by road and 7 hours by train.
Where to stay: The Bangala is an exquisite property run by extremely courteous staff with a homely feel. The rooms are traditionally done and the hotel is nestled in greenery. It has an open dining area where cookery classes are conducted too!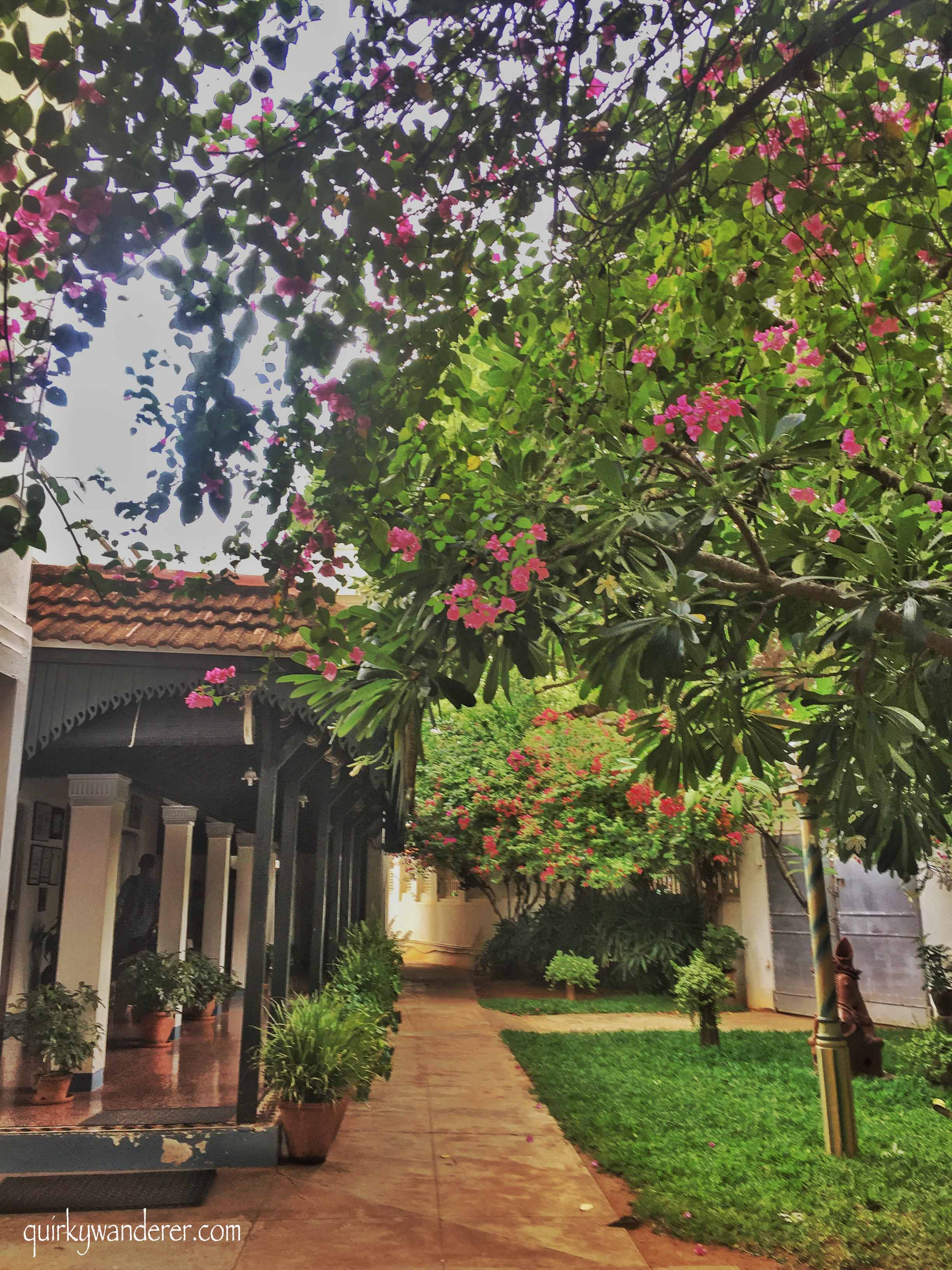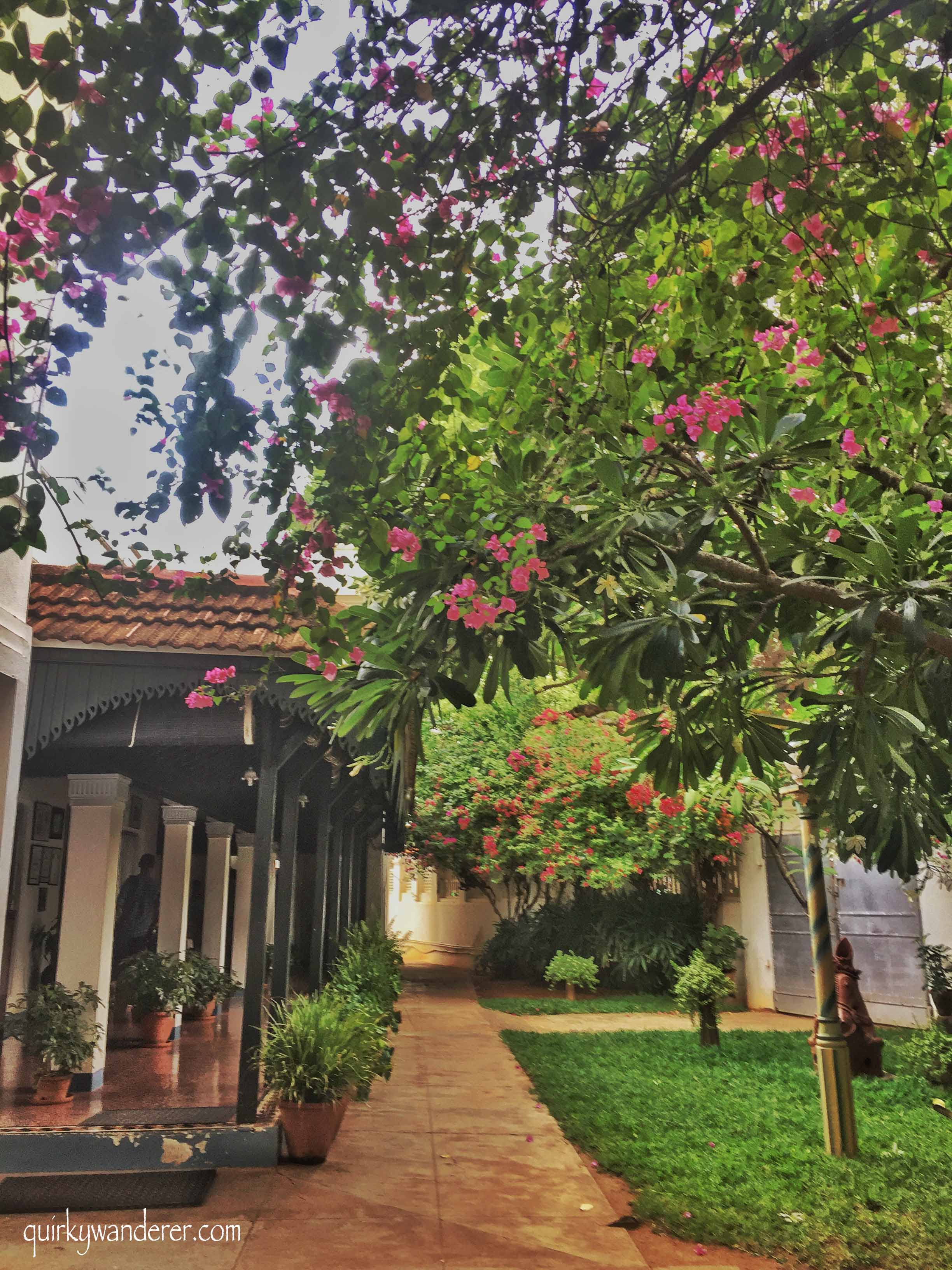 This trip was part of the #DoorsOfIndia campaign for Tata Pravesh.