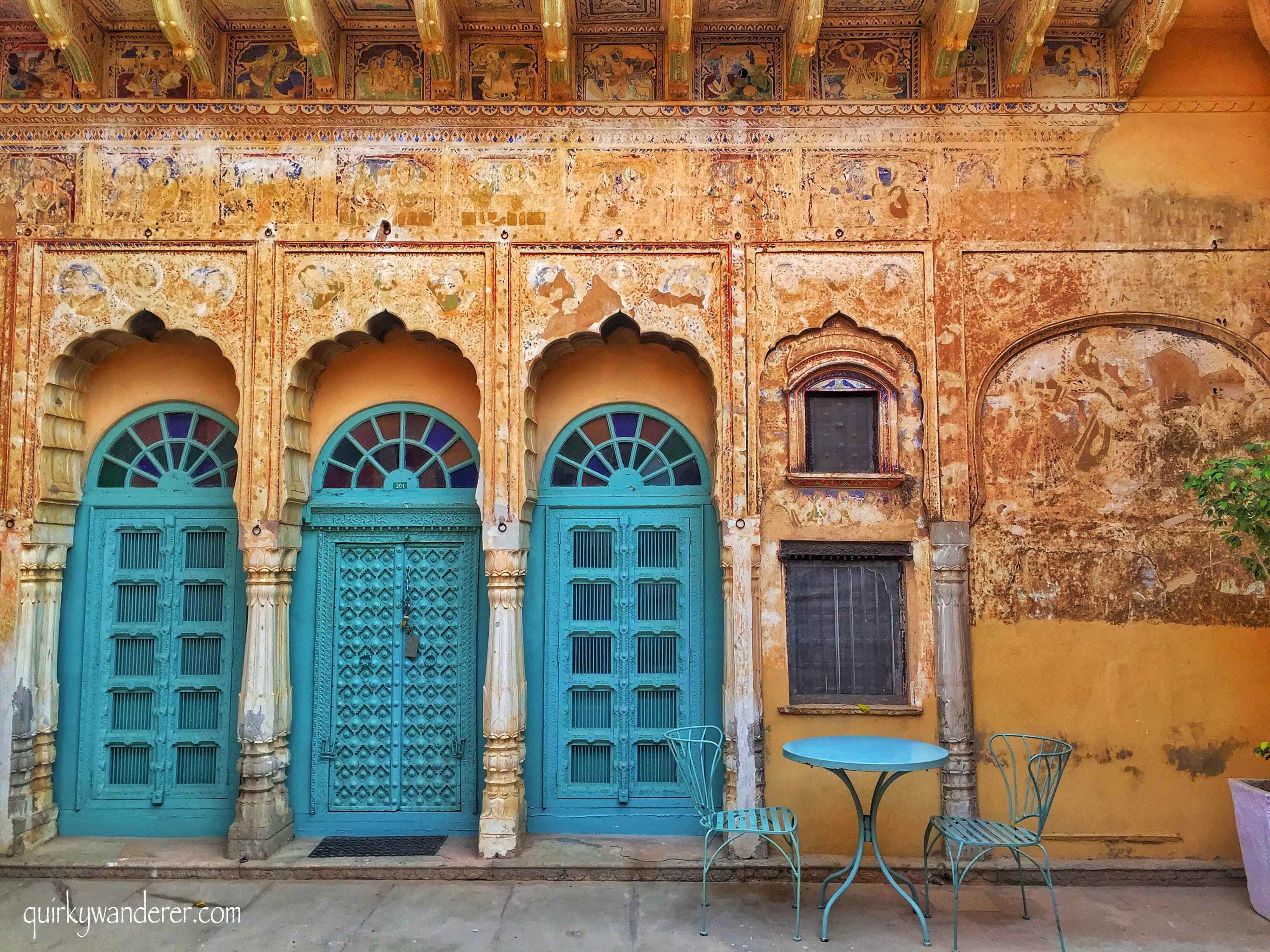 It was at the fag end of the lonely street. Camouflaged under unkempt creepers and easily missable. A sign covered with cobwebs and dust read "Poddar Haveli" and as I tread over a pile of creaking dried leaves, my jaw dropped in awe.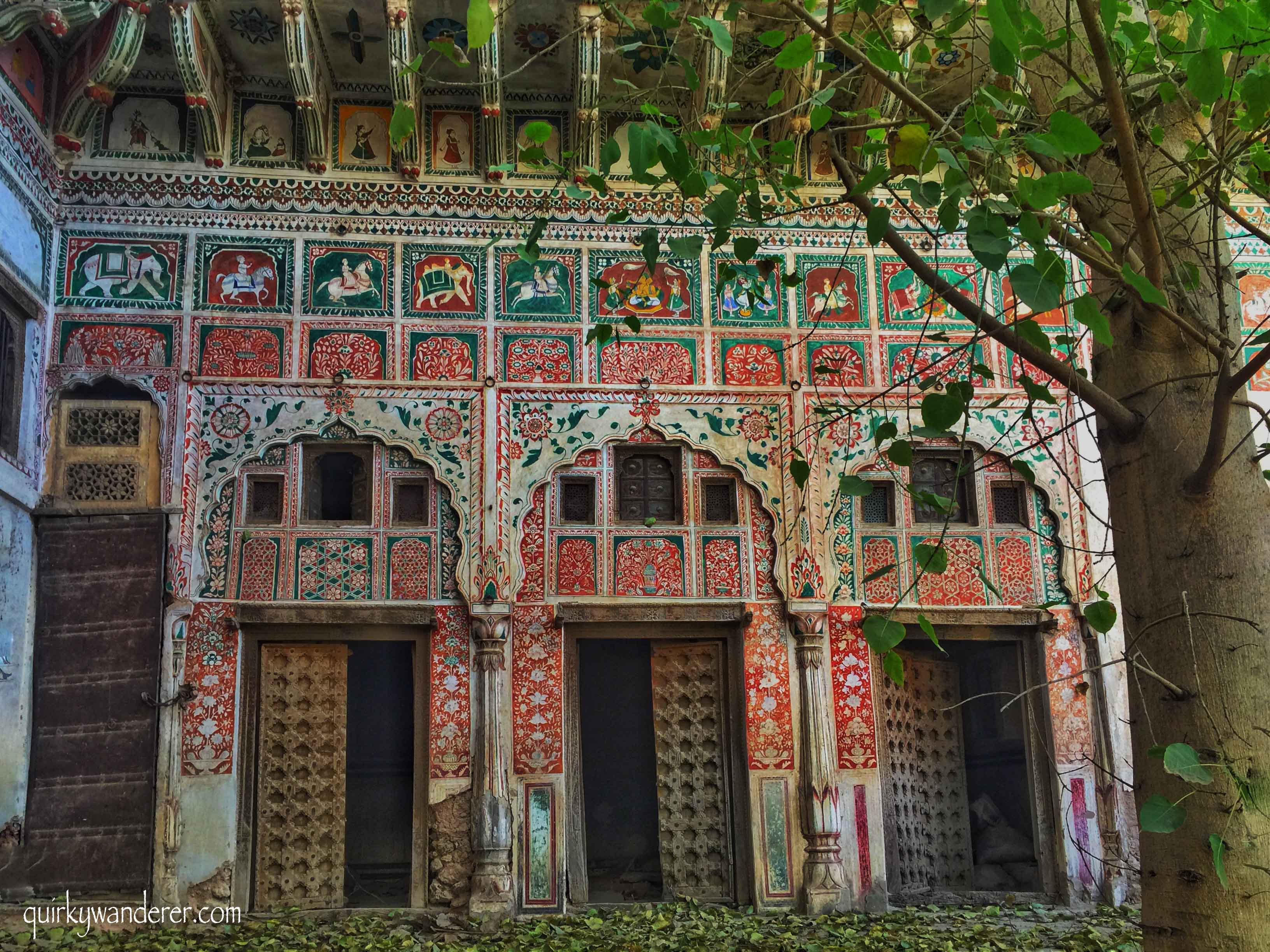 An 18th century haveli stood ceremoniously, with a rustic, iron lock on it's intricately carved wooden door. The frescos around it vied for my attention, but my eyes scanned the length of the door.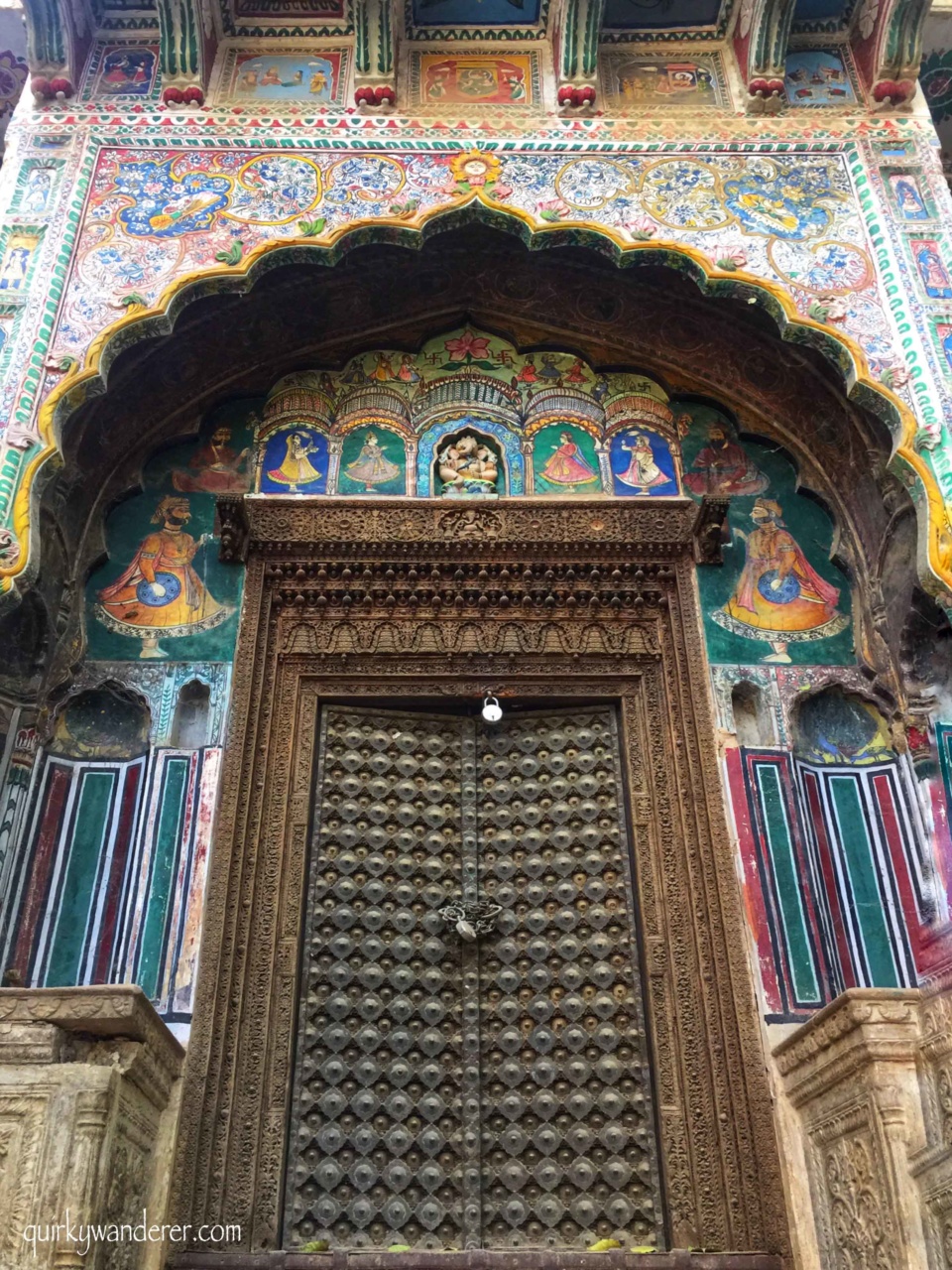 The door that looked like a foreword to a long forgotten novel. The novel was the haveli, locked and bat infested and for a moment, I felt a rush of emotions for this beauty. The red and green paint was fading but still looked outrageously royal.
Little did I know, that I would feel this way too often in the next couple of days.
I was in Shekhawati in Rajasthan , a region known for its ornate Havelis, vibrant frescos, and gargantuan doorways.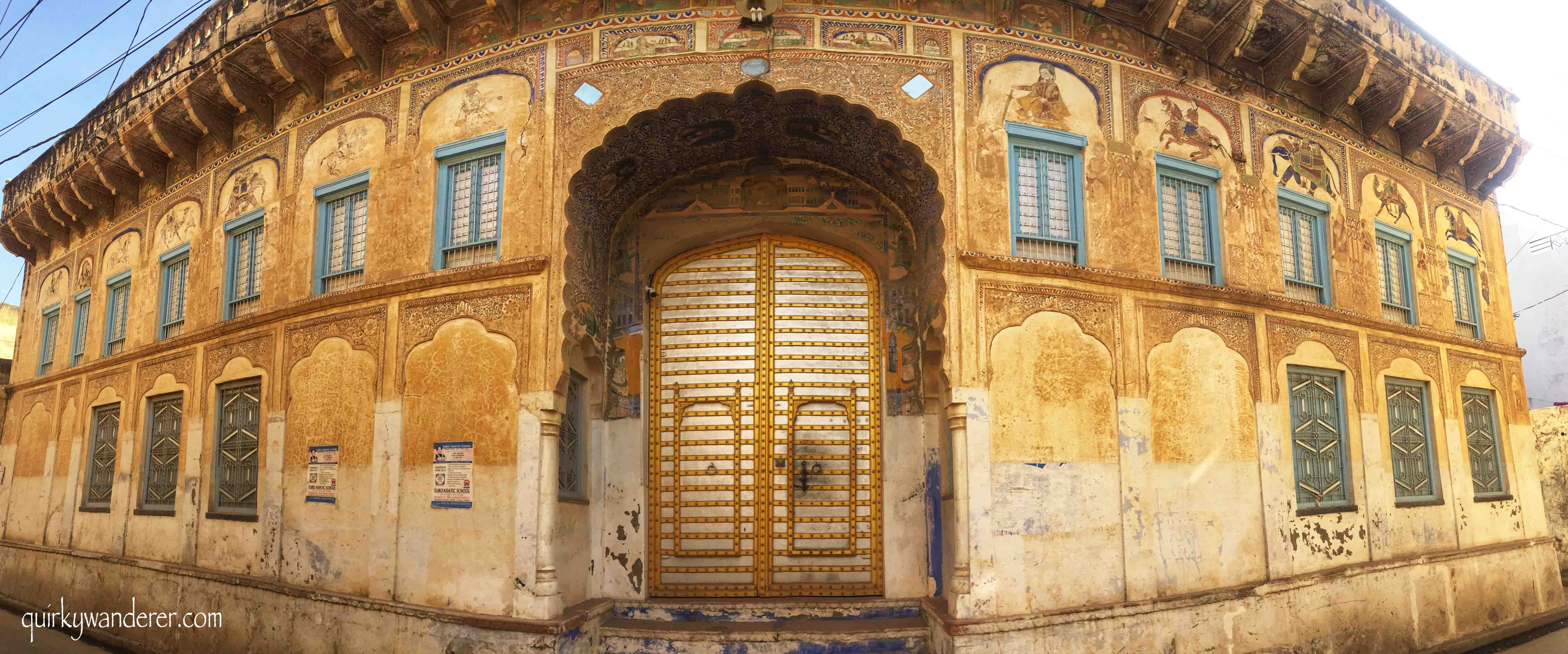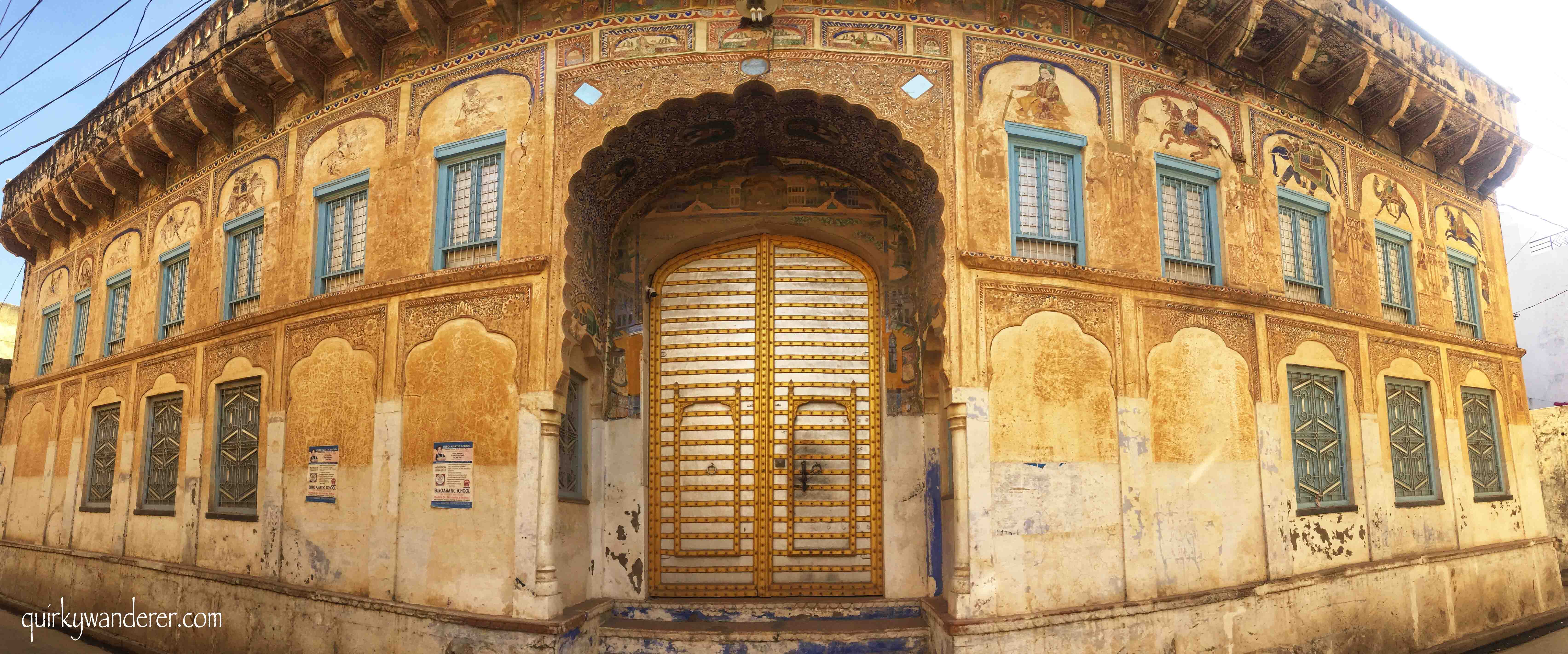 Once upon a time, in it's palmy days, Shekhawati was on the Silk route: the trading route that streamlined the trade of cotton, tobacco and silk between the Arabian ports and the Gangetic plains. While the kings built impregnable forts, the merchants amassed wealth (through all of the above and even mines and opium)  and built palatial homes to showcase their opulence, of which the present day havelis are living proof.
The region was christened Shekhawati ( Shekha's garden ) on it's founder's name. Maha Rao Shekha ji was a chieftain in Amber, where he refused to pay tribute to the Kachhawaha rulers of Amber-Jaipur. Breaking away, he proclaimed sovereignty in 1471 , thus forming Shekhawati.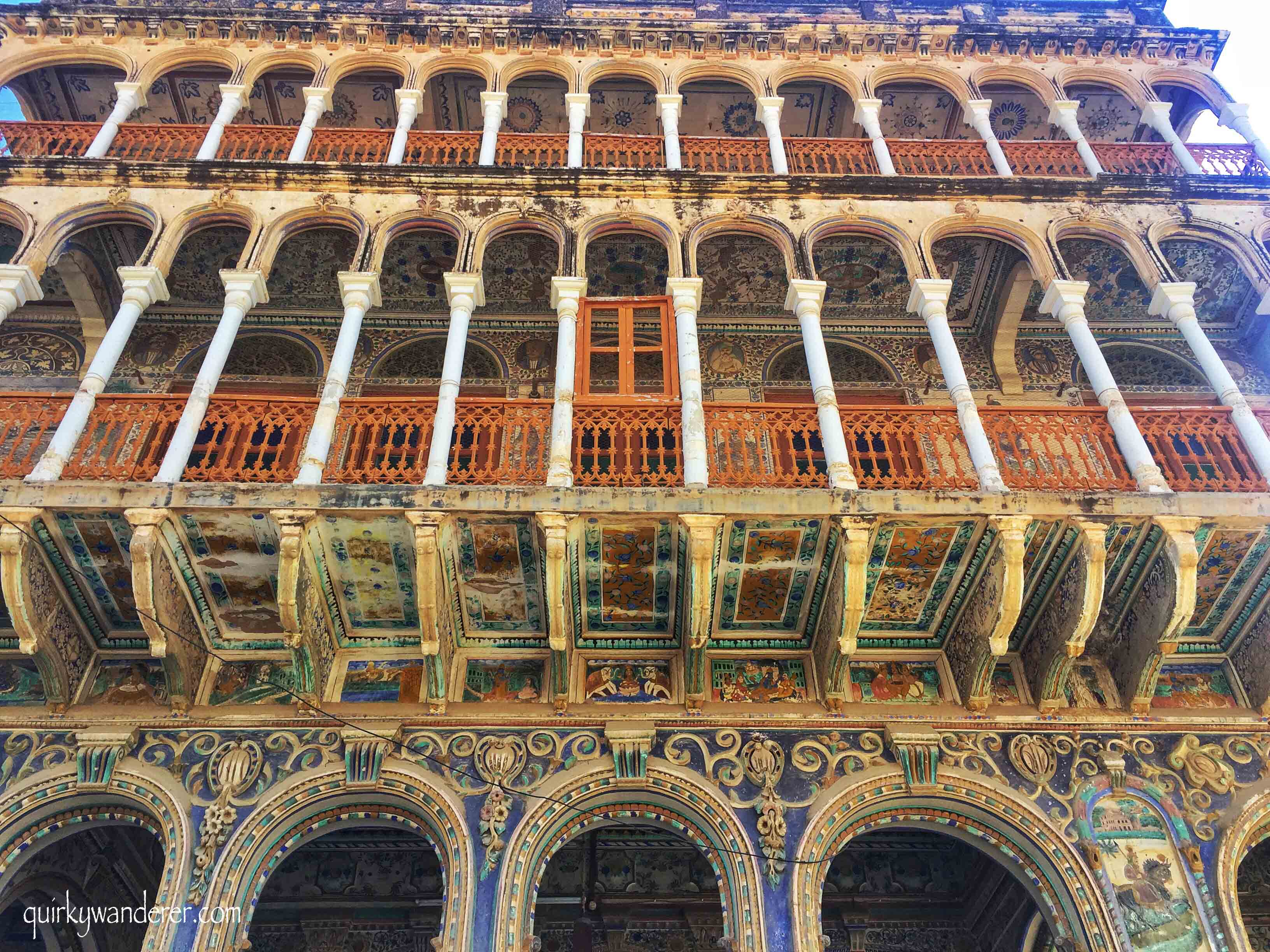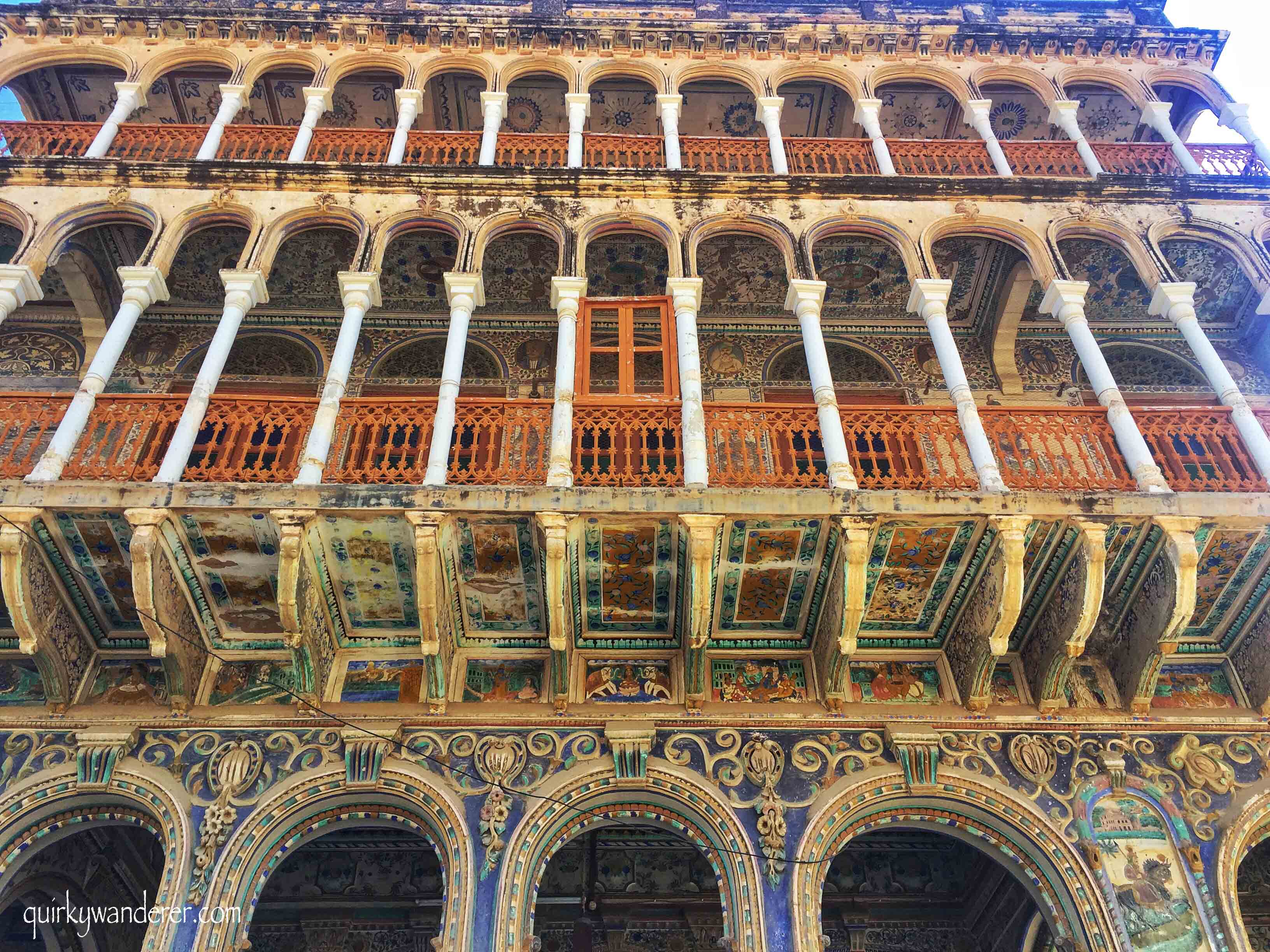 The villages in Shekhawati are scattered and connected by potholed roads. I decide to stay at Mandawa, a central location and visit Ramgarh, Fatehpur, Churu and the lesser known Mahansar.
My quest was not just for the murals or the architecture of the havelis, but also the guardians of these regal homes: the arched wooden doors of Shekhawati.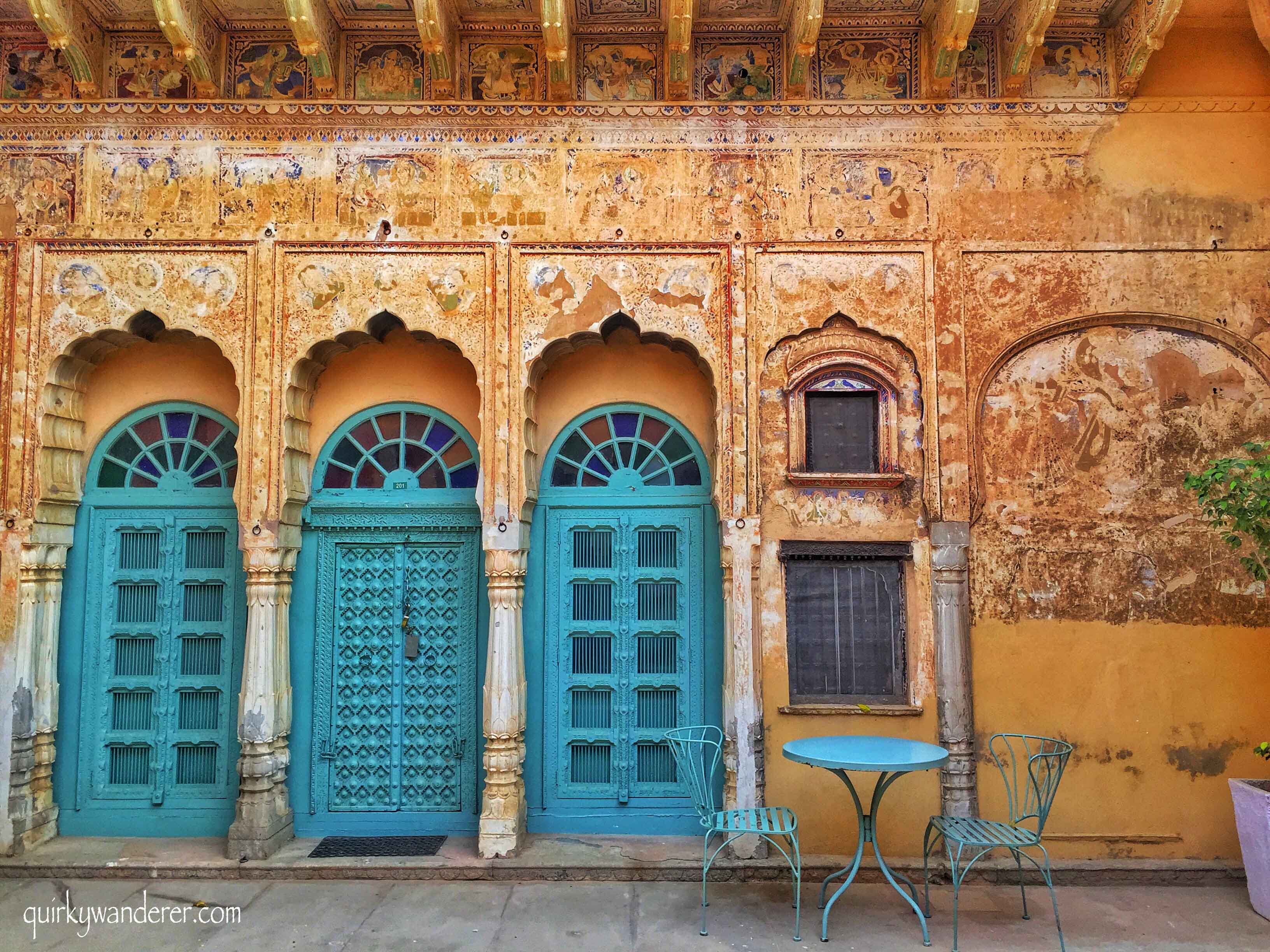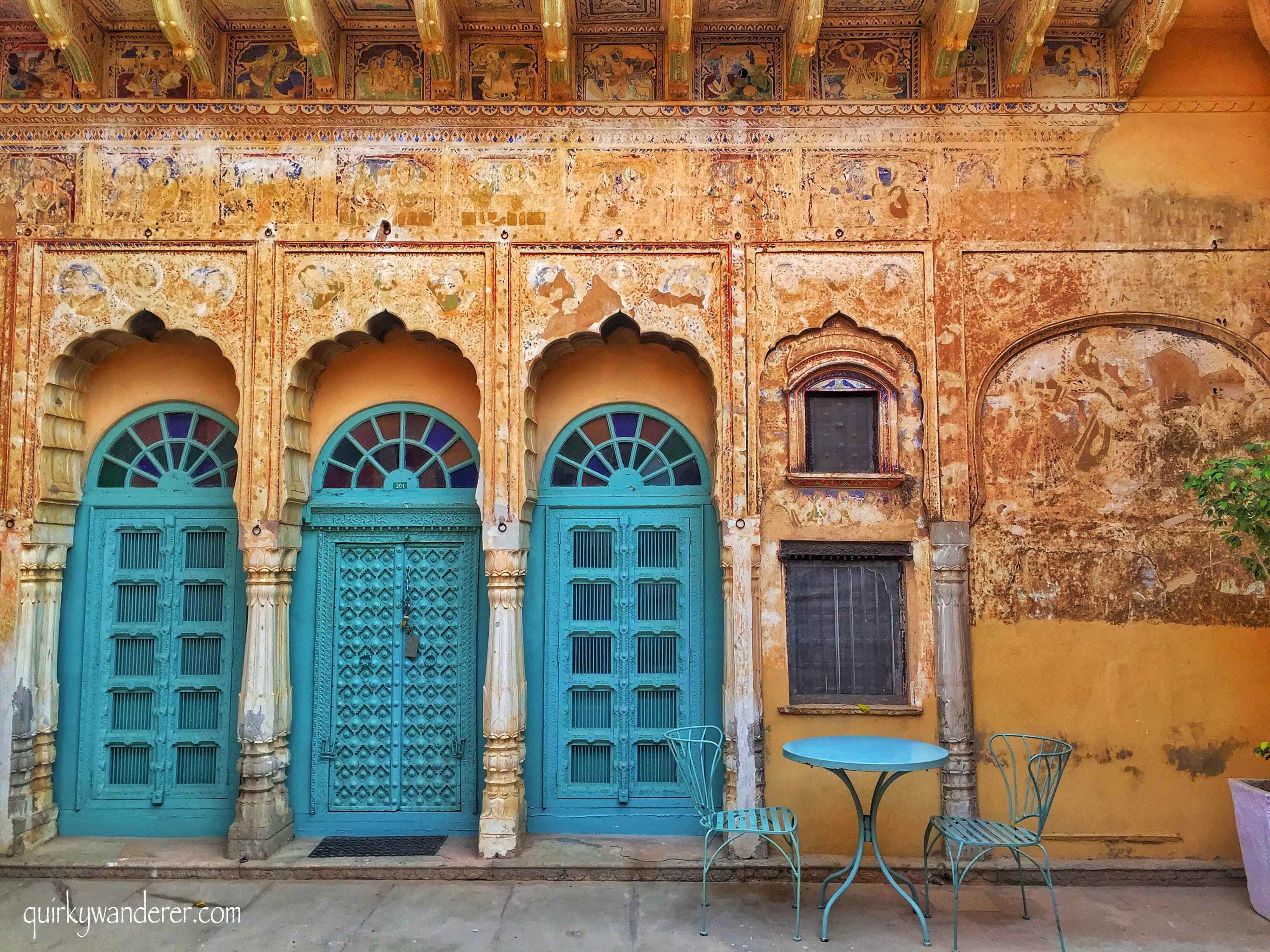 Churu and it's old world charm: 
After feasting on the local delicacies: Ker sangri and Gatte Ki sabzi at the 100 year old Malji Ka Kamra in Churu, I asked their in house guide Lal Singh if we could do a Haveli walk. It was a brumal afternoon and Lal Singh knew the havelis like they were his own. He had access to some of the Havelis and while he exchanged pleasantries with the caretakers of the Surana haveli, I wandered about in the courtyard.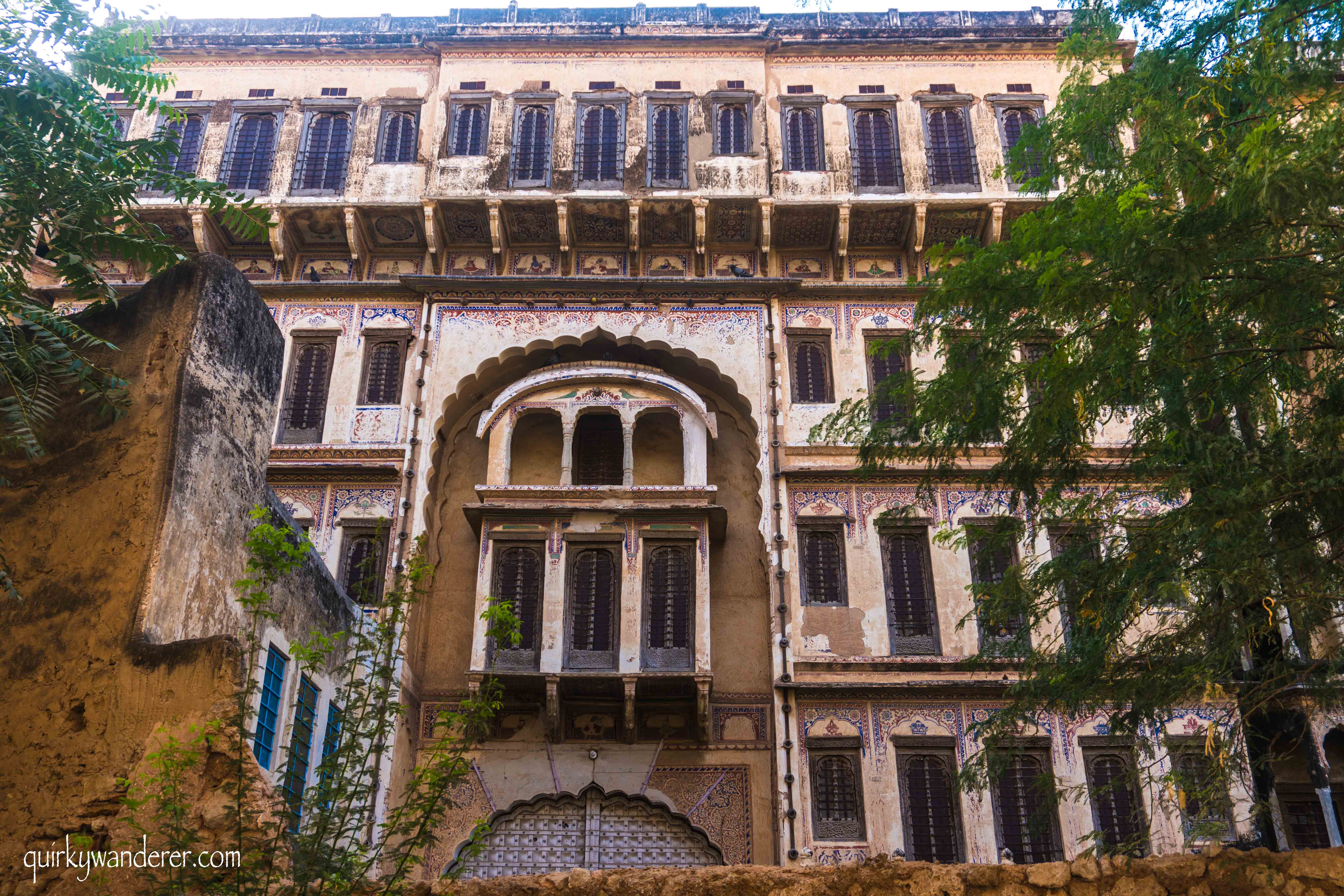 Almost all the havelis had a similar architectural pattern. A giant arched doorway which opens to a wall that acts like a veil for the inmates. A small latticed window in the wall allowed the women folk to see who has arrived and only a select few gained entry into the inner courtyard. The Havelis were two storeyed and flights of stairs led to the upper section.
There were frescos on the walls inside as well, albeit faded. Lal Singh, tells me that this is due to the fumes from the kitchen present in the courtyard and the weather of course. Most of these giant doorways had paintings of the merchants in the the arches.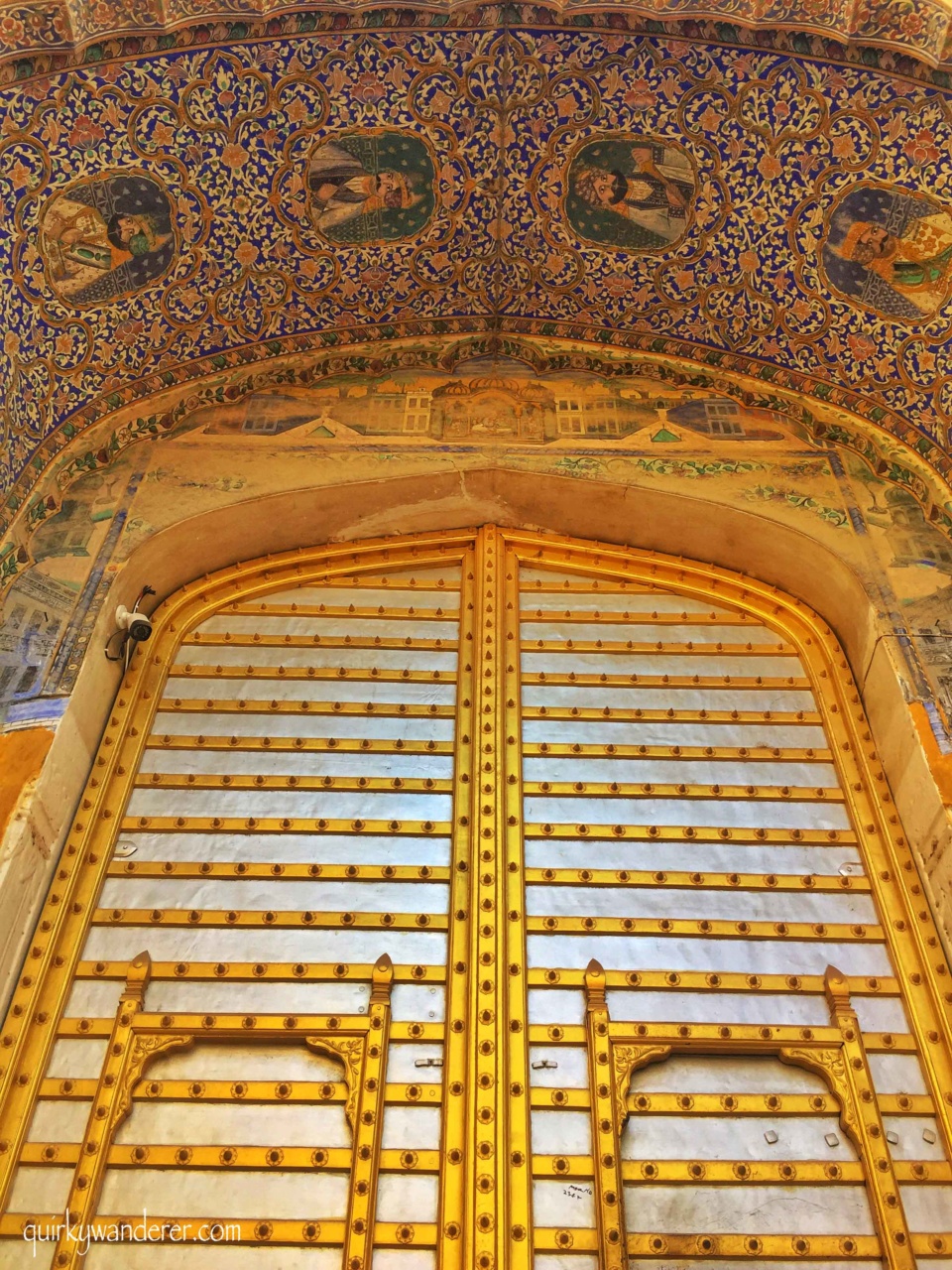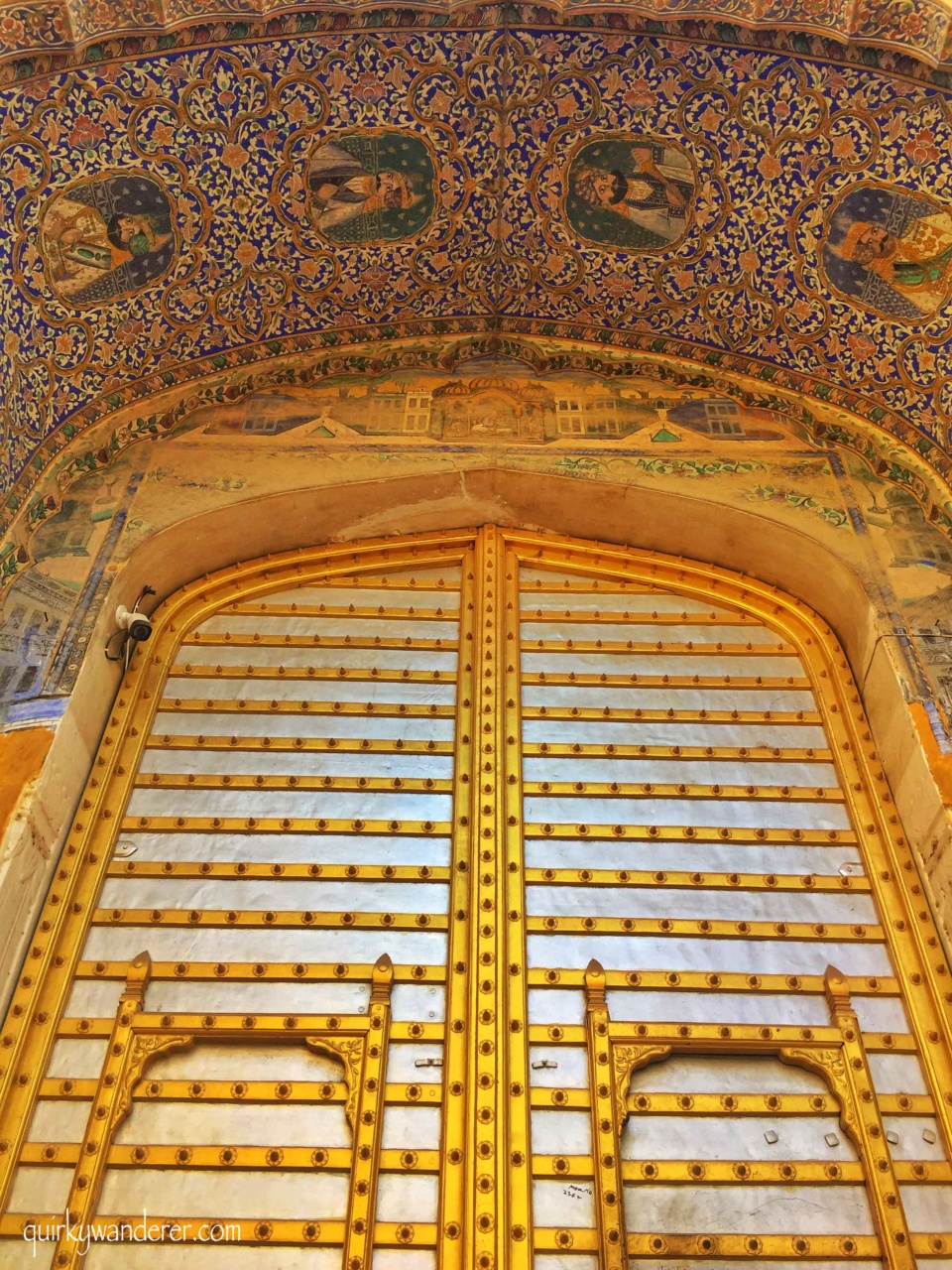 As we explored a bygone era through the havelis of Suranas, Lohias and Kotharis, Lal Singh enthralled me with tiny bits of history in every street. There were classic Art Deco pillars, scenes of Mahabharata and Ramayana, frescos of Jesus,  Krishna and Maharaja Ganga Singh of Bikaner. The two hour walk had ended, but not my curiosity to fathom the untold stories of these treasures of Shekhawati.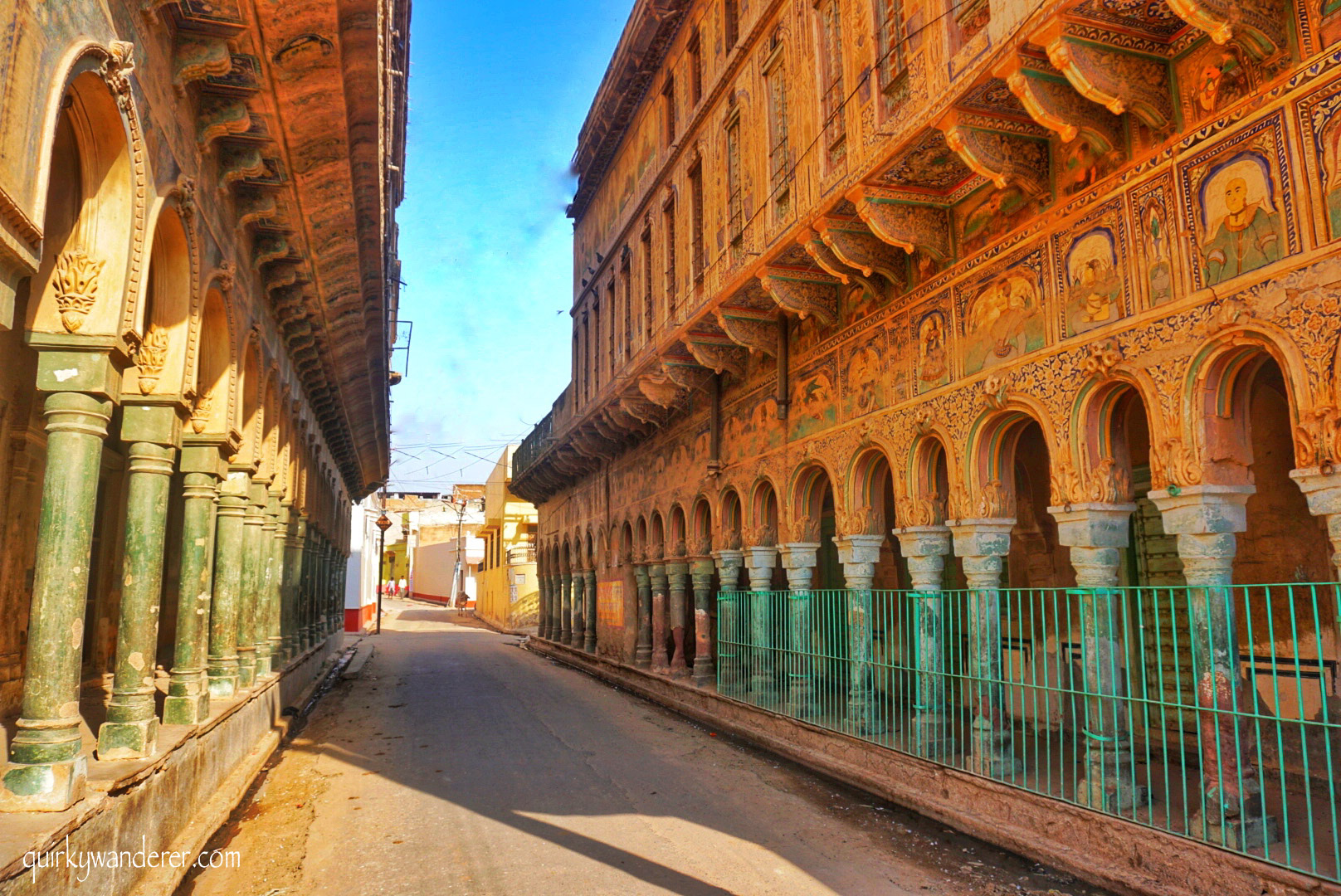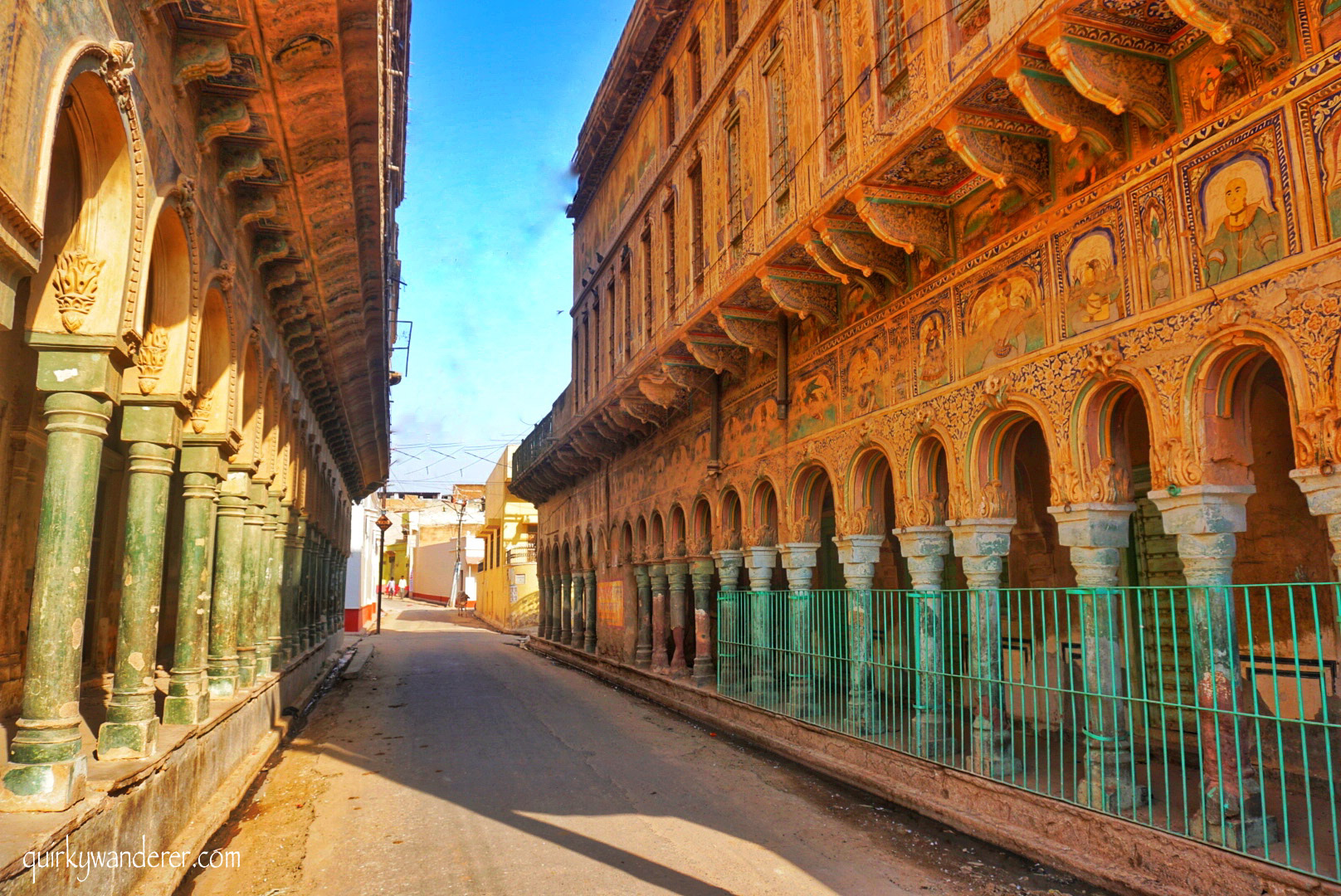 Ramgarh and the door collector:
Hidden under flowering bougainvillea, lies Ramgarh fresco, a 150 year old haveli turned hotel, run by Raghavendra Rathore. He is as enthusiastic about Ramgarh as he is about the Papad ka Parontha, one of the specialities of his hotel.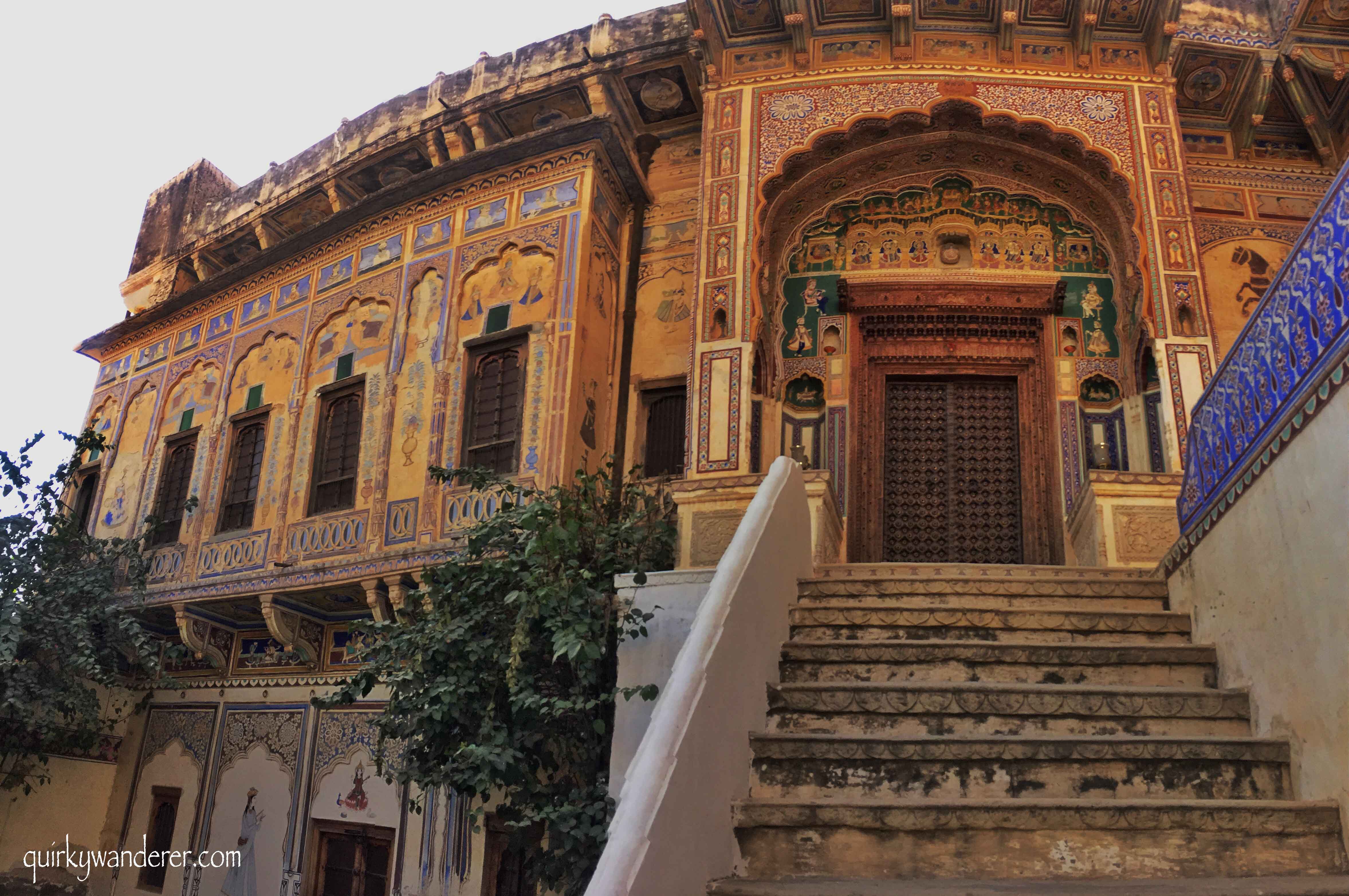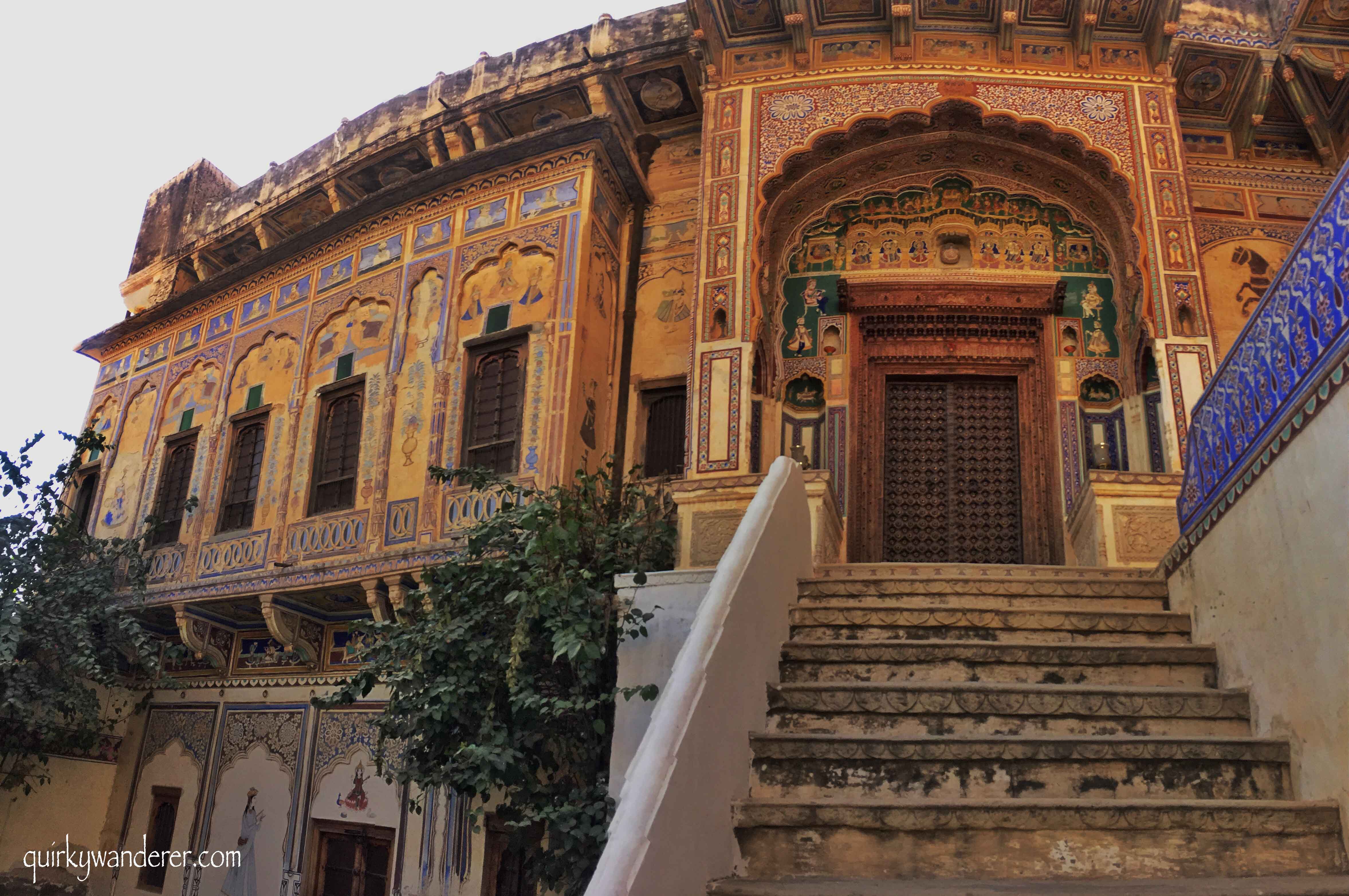 As we set out to explore Ramgarh, we visit the Chattris or Cenotaphs of Ramgarh. As we walk in the lanes, he tells me most of the Havelis are out of bounds to visitors. When I click the exteriors, Raghavendra notices my bias towards doors. He asks me if I would want to see a unique collection of doors.
An hour later we are at what looks like a furniture factory. I am led to a room where doors of dilapidated havelis are collected, stored, refurbished and sold for approximately 1 lakh! 
Some have been creatively converted into table tops enclosed in glass. The highlight is a door with 32 different types of carvings, built with mica making it fire resistant.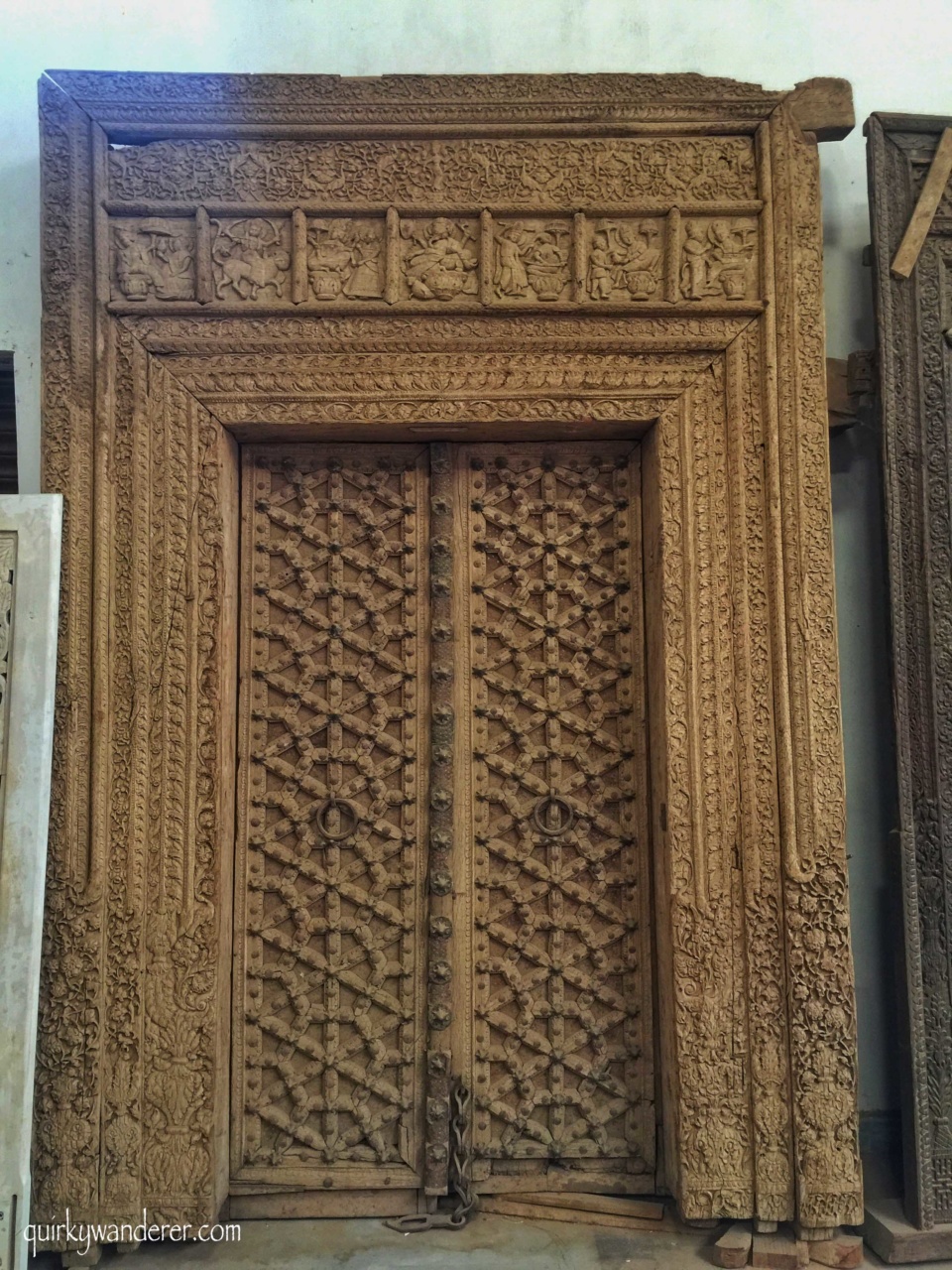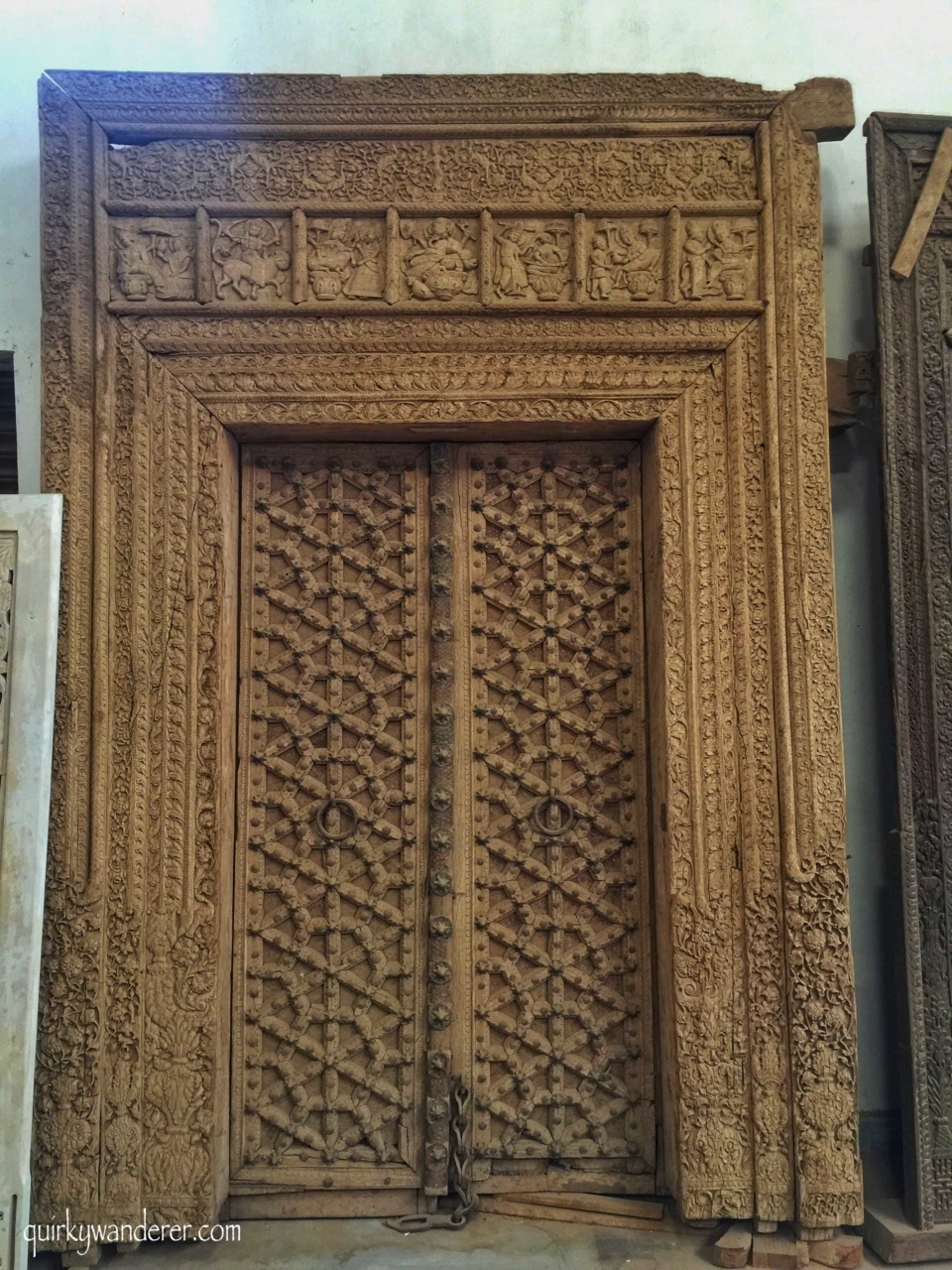 In a room full of doors, I ponder over the architectural intellect of Indian artists.
Fatehpur and the Haveli restored by a French artist:
Fatehpur is probably the first village of Shekhawati, you will reach from the highway. One minute you are speeding on the National highway and the other minute you have entered a narrow, dusty road that takes you into a labyrinth of old, dilapidated buildings. And suddenly you halt, seeing a wall of a Silver coloured Haveli, full of frescos at a crossroad.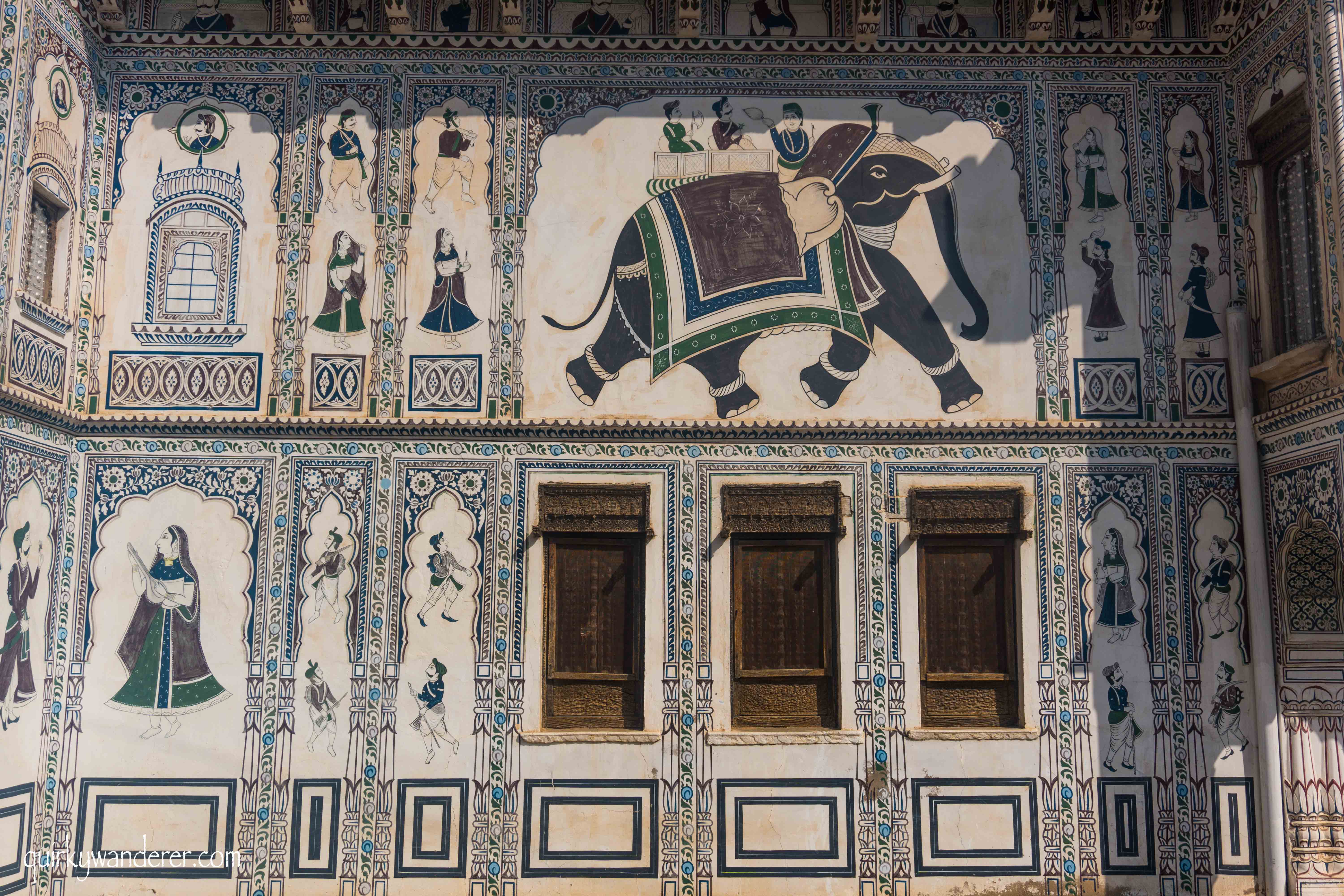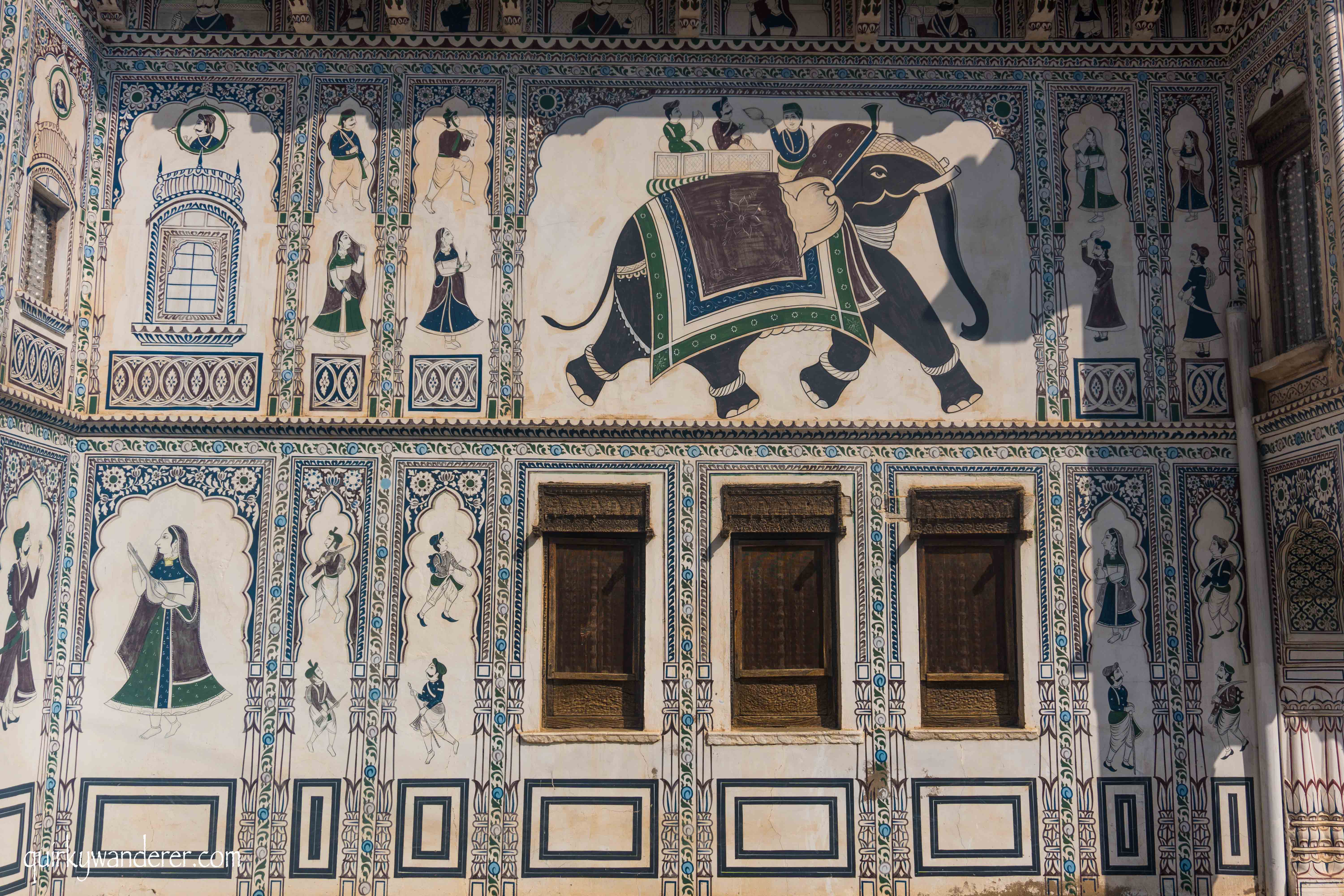 Havelis here in Shekhawati are scattered as if it is no big deal. Opposite this Silver haveli is another restored haveli: one with a unique history.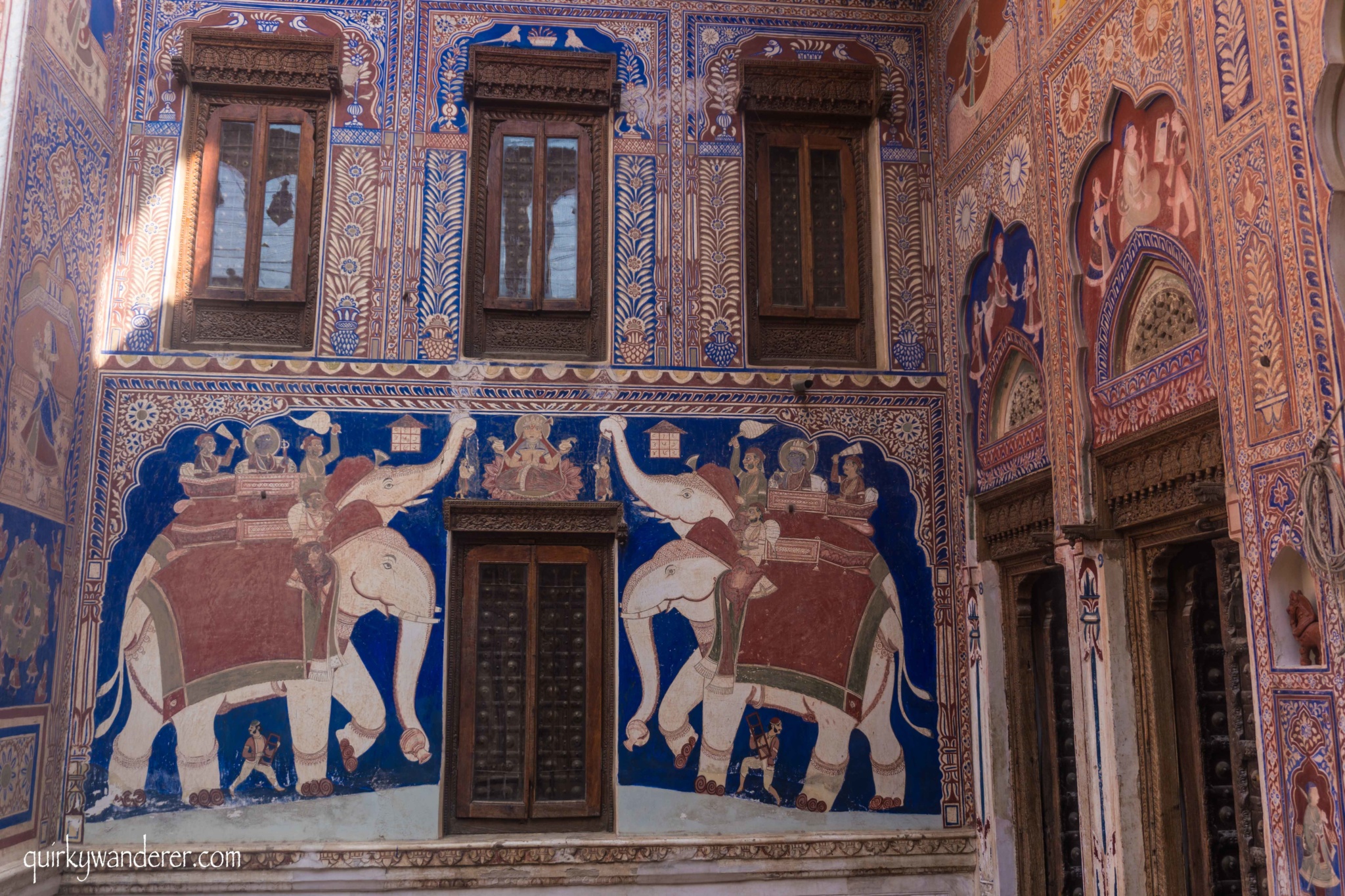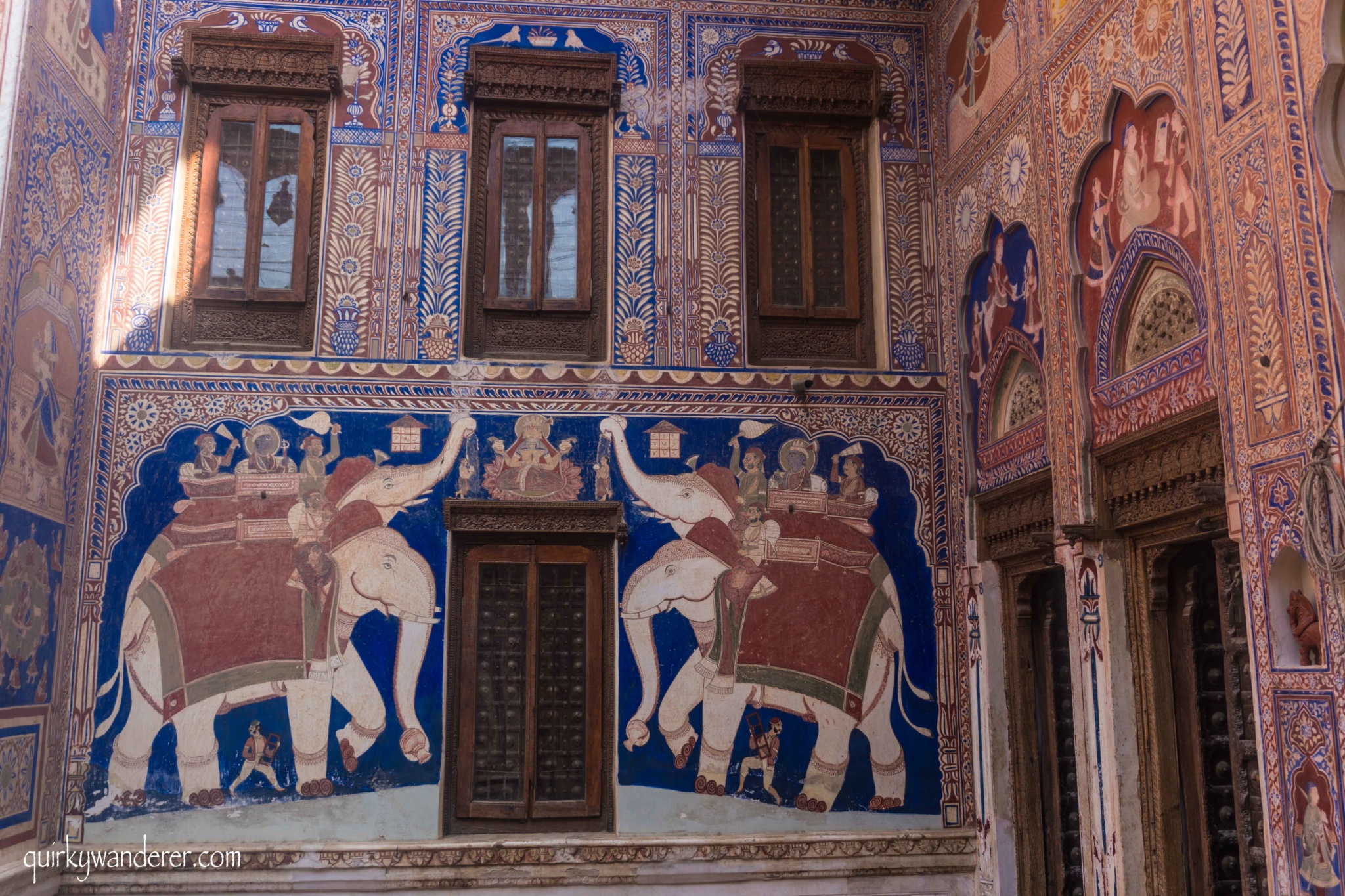 Built in 19th century, by the Nand Lal Devra family, this majestic Haveli was abandoned in 1950's, left to the mercy of it's caretaker. In 1998, a french painter Nadine Le Prince visited Shekhawati and fell in love with the architecture of this Haveli.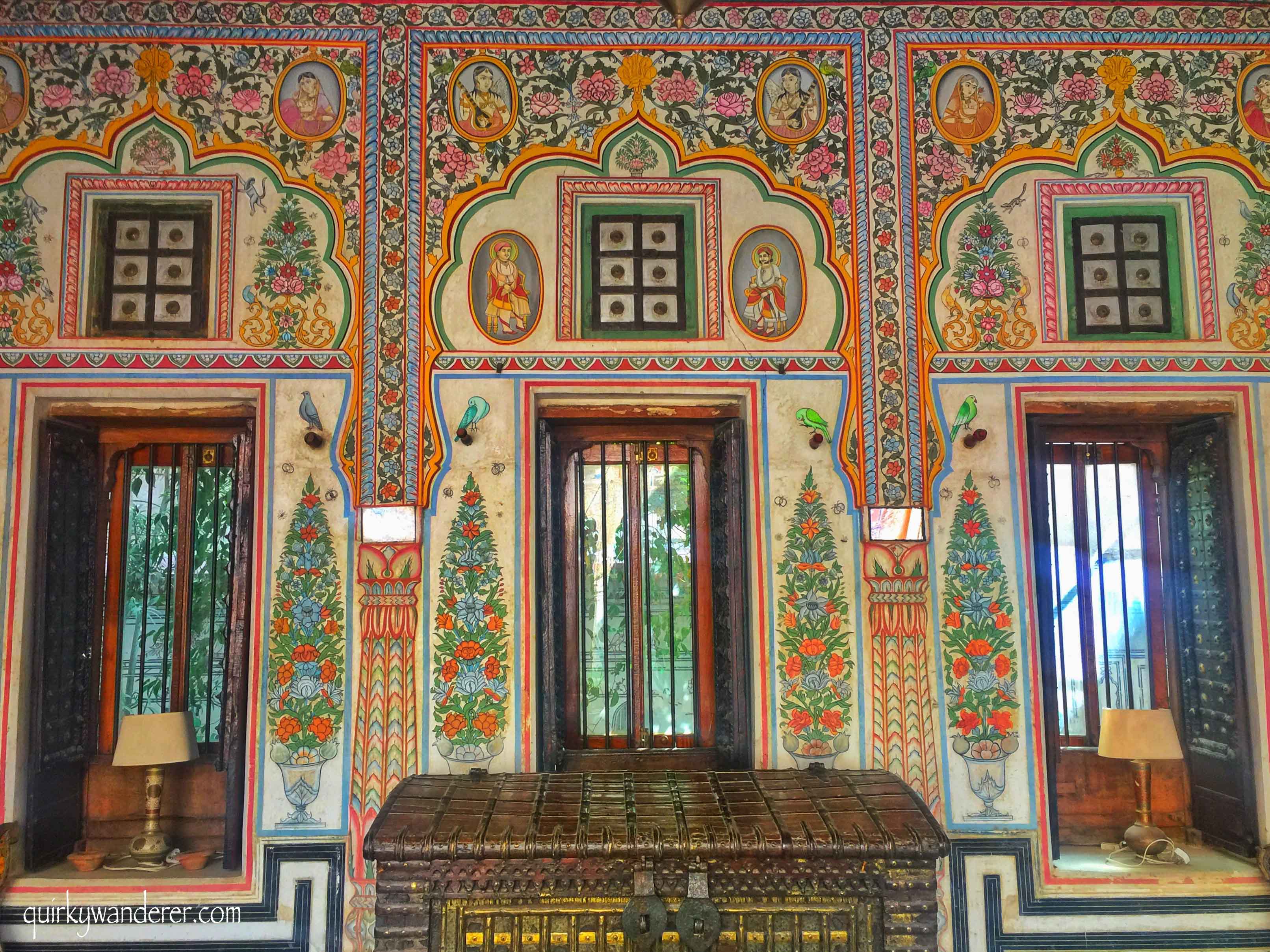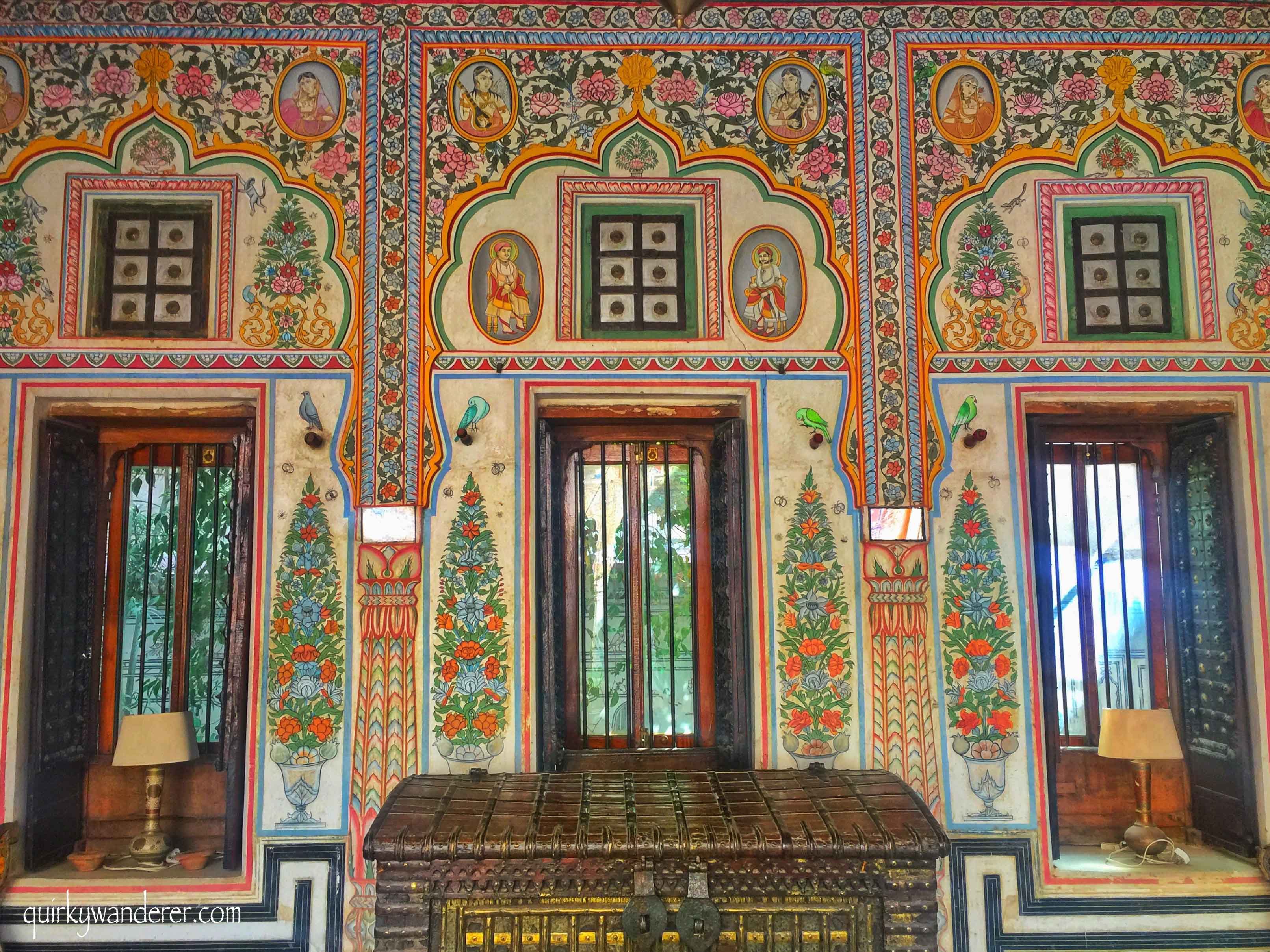 She bought it from the Devra family and spent years restoring the Haveli to bring back its lost grandeur. This charming haveli has dashes of blue and the passion of a painter who worked to conserve heritage of a land that was not hers. The courtyard has antique furniture and lamps and one can visit it by paying an entrance fee of Rs.200.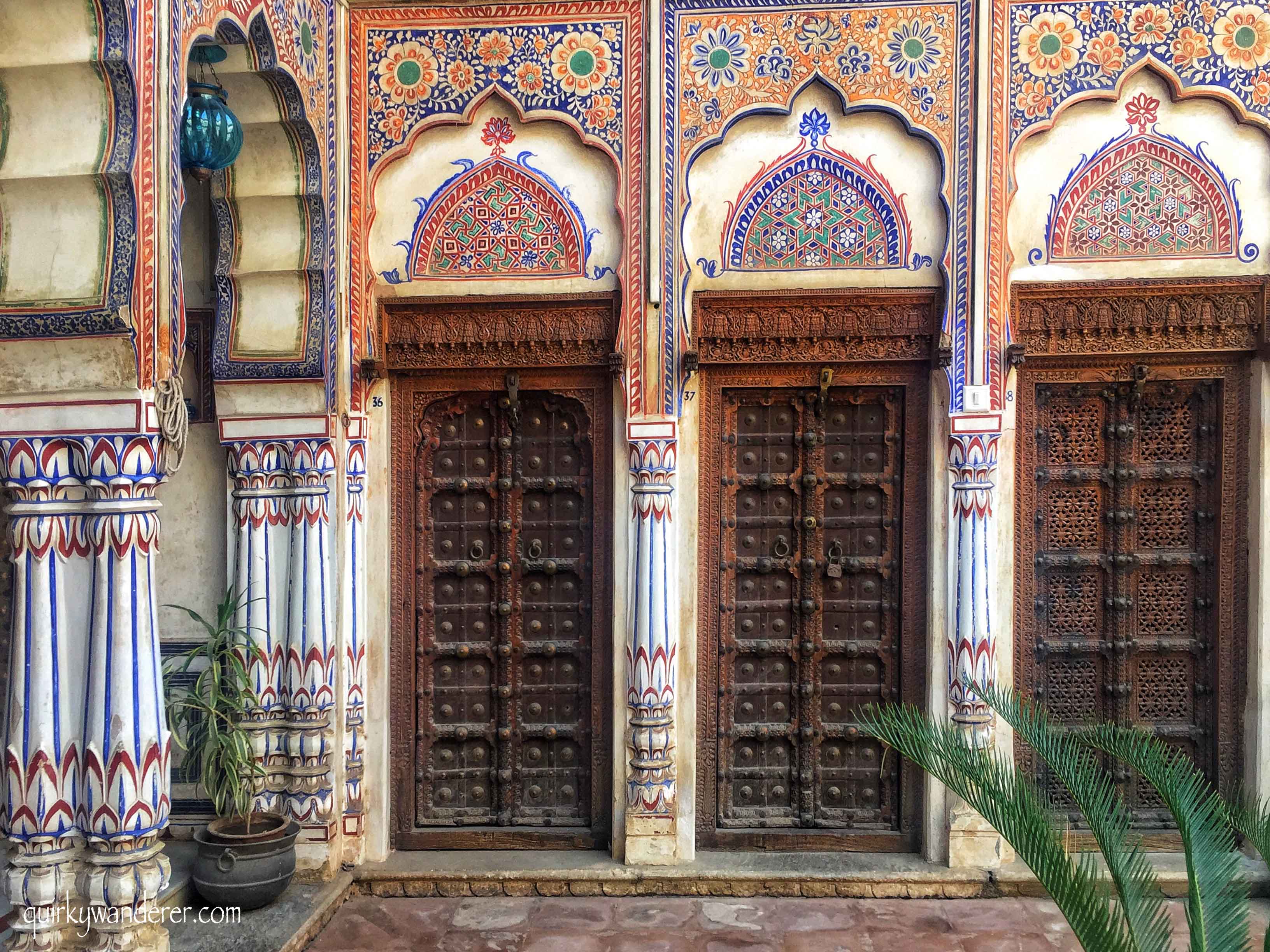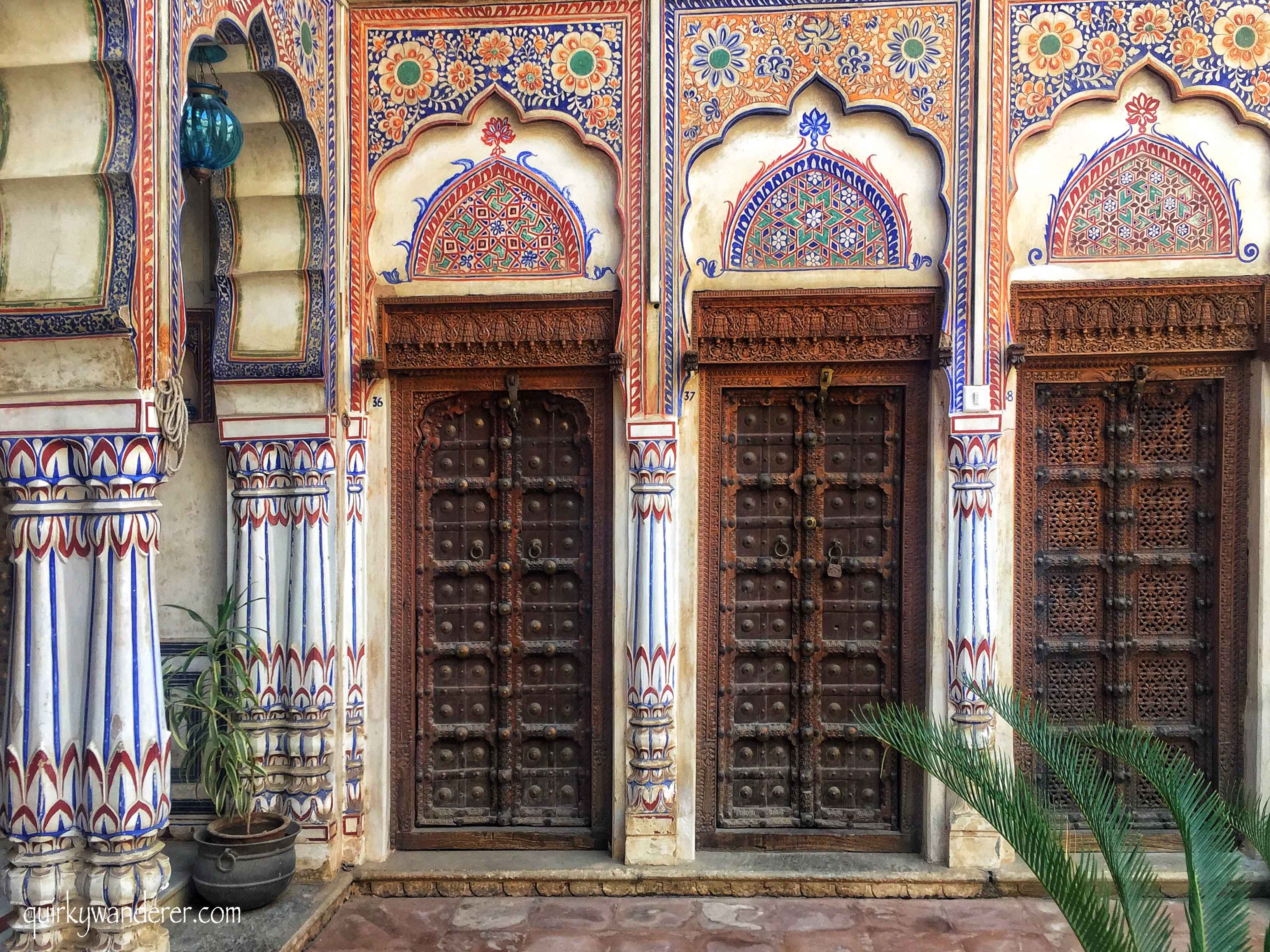 Mahansar and the Sone Chandi Ki Dukaan: 
Mahansar in Shekhawati , was like any other Indian village: unpretentious and simple. Locals who saw a tourist instantly knew where they were headed. All fingers pointed to a grocery shop, nestled below the Raghunath temple, where the grocer had keys to the famed Sone Chandi Ki Dukaan, an 18th century Haveli.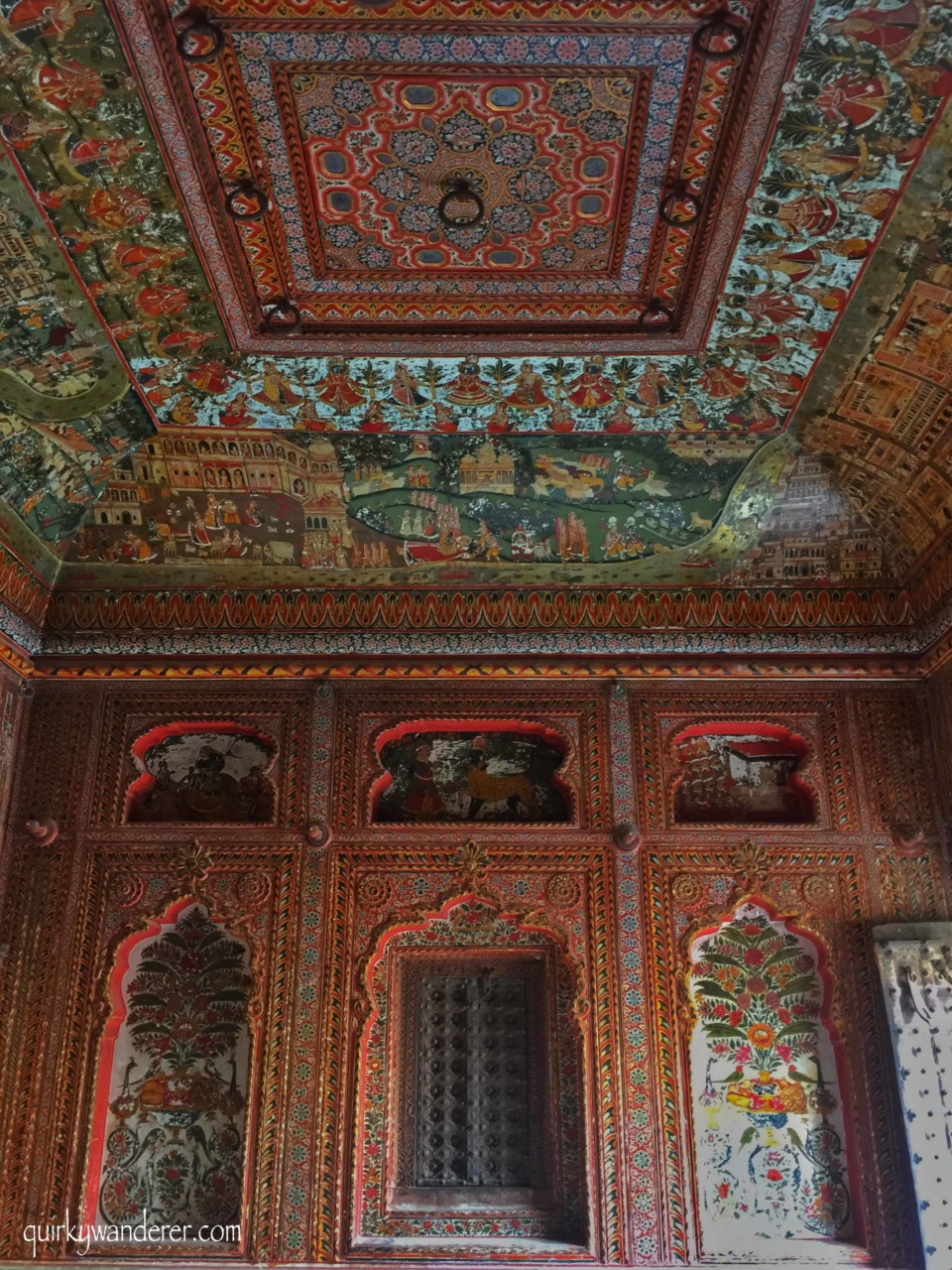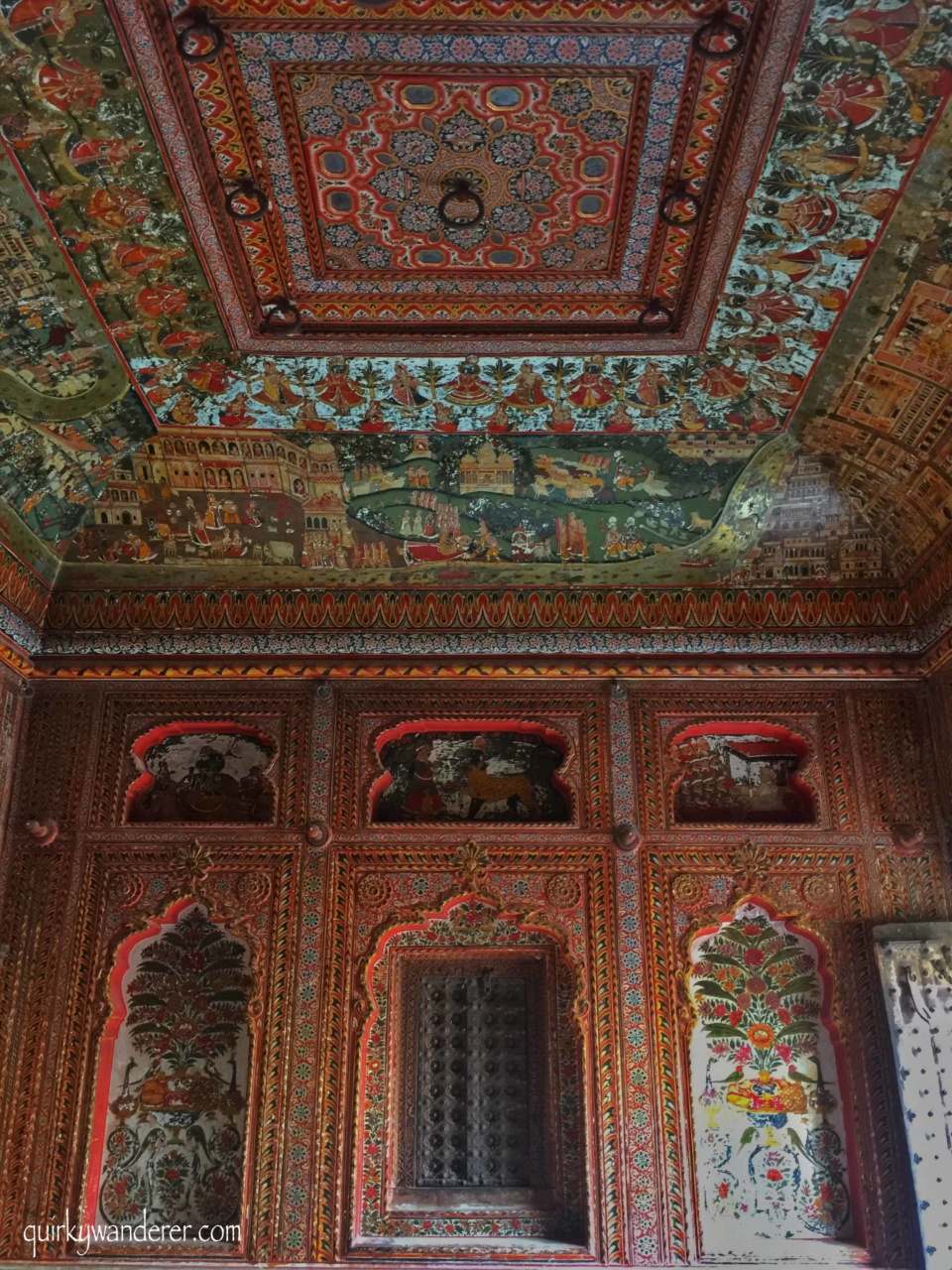 His domestic help opened the door and I entered a room full of elaborate paintings. I run out of adjective laced praises for this, as I see scenes of Indian mythology: mainly Krishna and his dancing gopis, painted seamlessly with gold leaves in every square inch of the Haveli.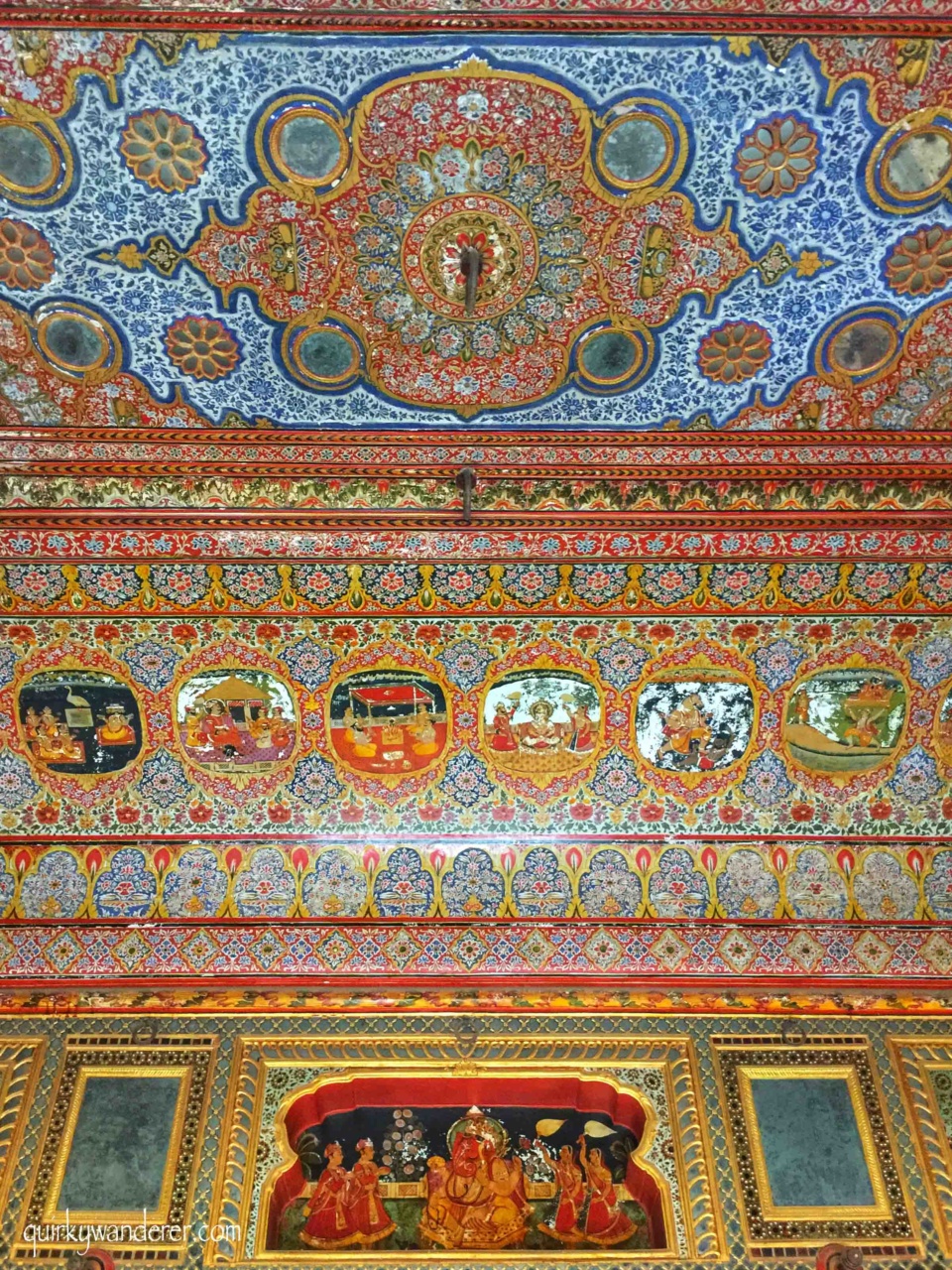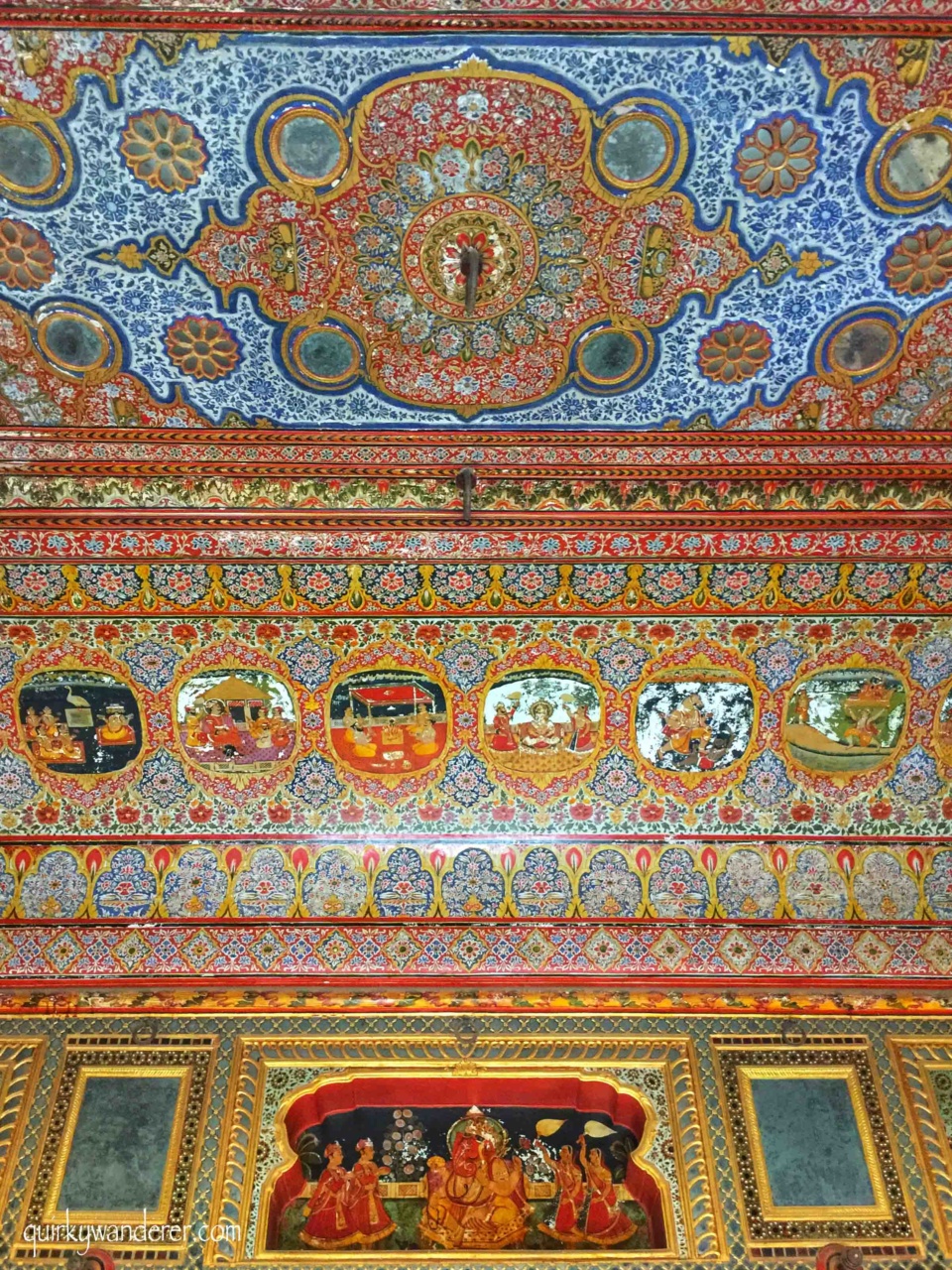 What was the purpose of this room? Who painted it so intricately? Was it actually a jewellery shop? The facade on the exteriors fooled me to think this room to be a godown of sorts, but once I entered the door and I was left spellbound.

A priceless treasure in an unheard village.
The treasures of Mandawa: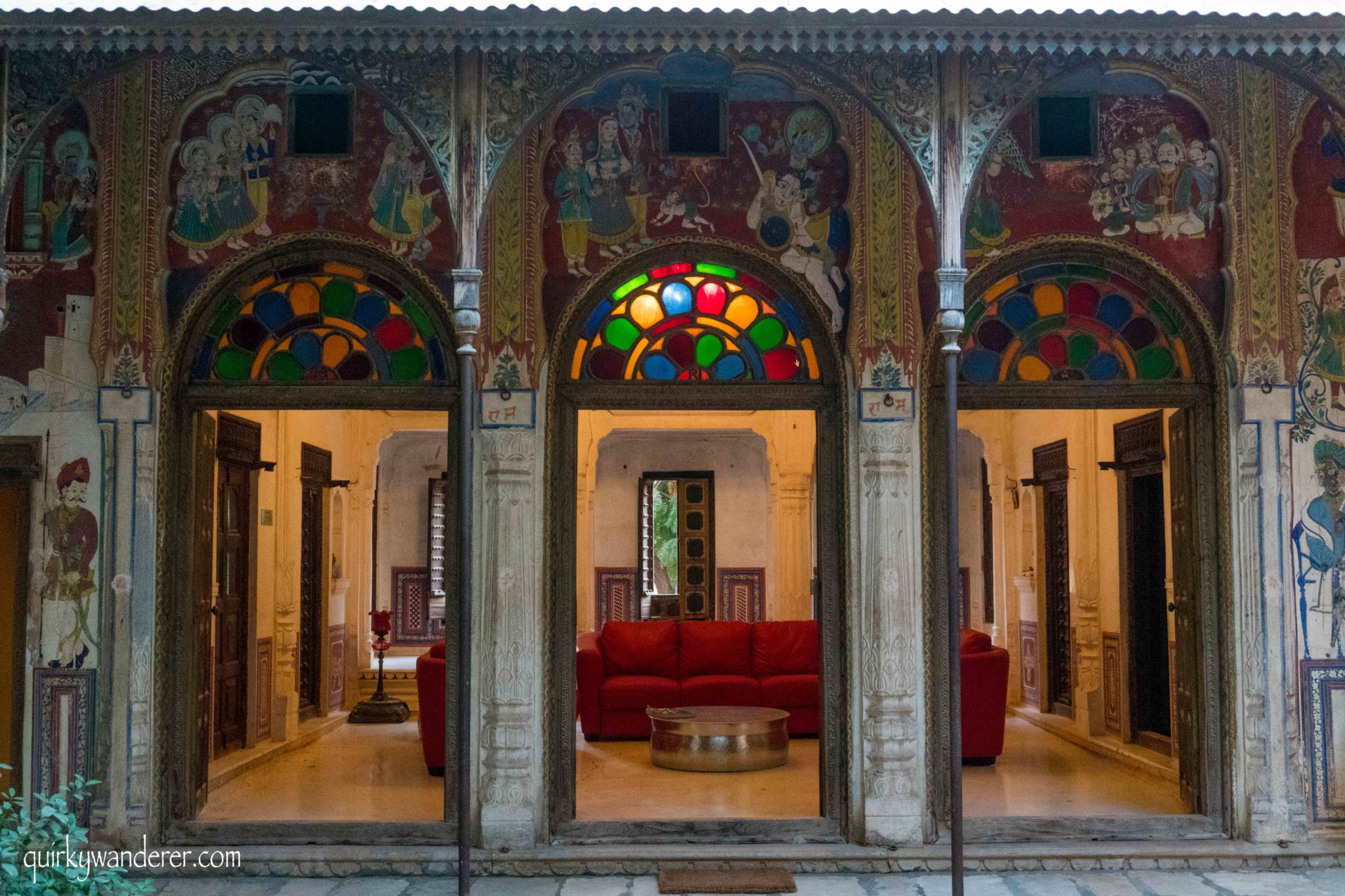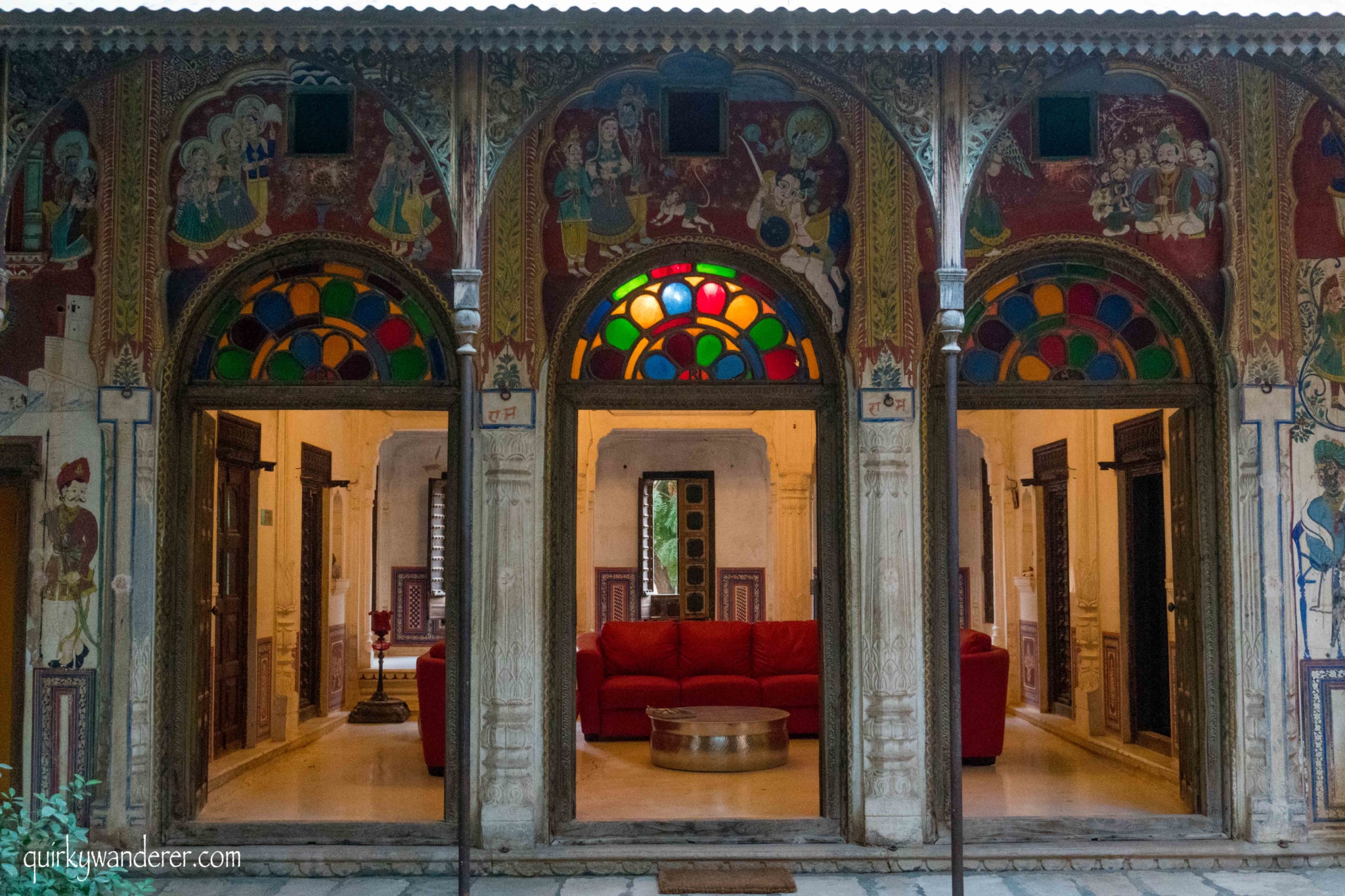 As if the doors of Viviana Culture hotel weren't enough, my Haveli hopping in Mandawa, led me to the majestic doors of the Golden Haveli, the Jhunjhunwala haveli, the Saraf Haveli and the Lakshmi Narayan Ladia haveli.
These ancient havelis had exemplary murals and doors with mirrors. Elephants, ladies and Indian sepoys were a common feature on the walls. Most of these had a host of buried treasures like the Goenka haveli, from where 99 kg of gold, 28 kg of diamond jewellery and 1850 kg of silver was excavated. No wonder this region is called an open art museum.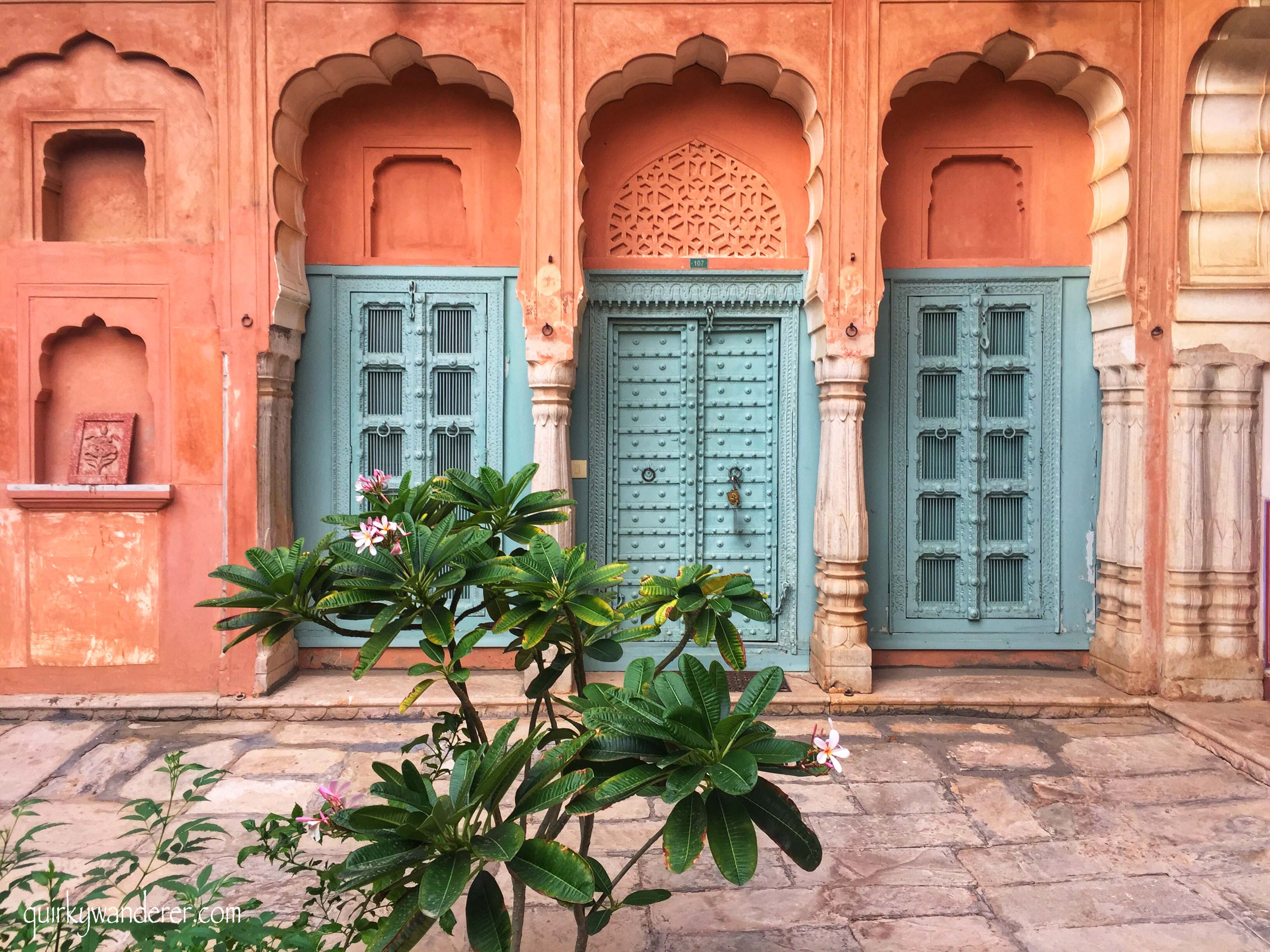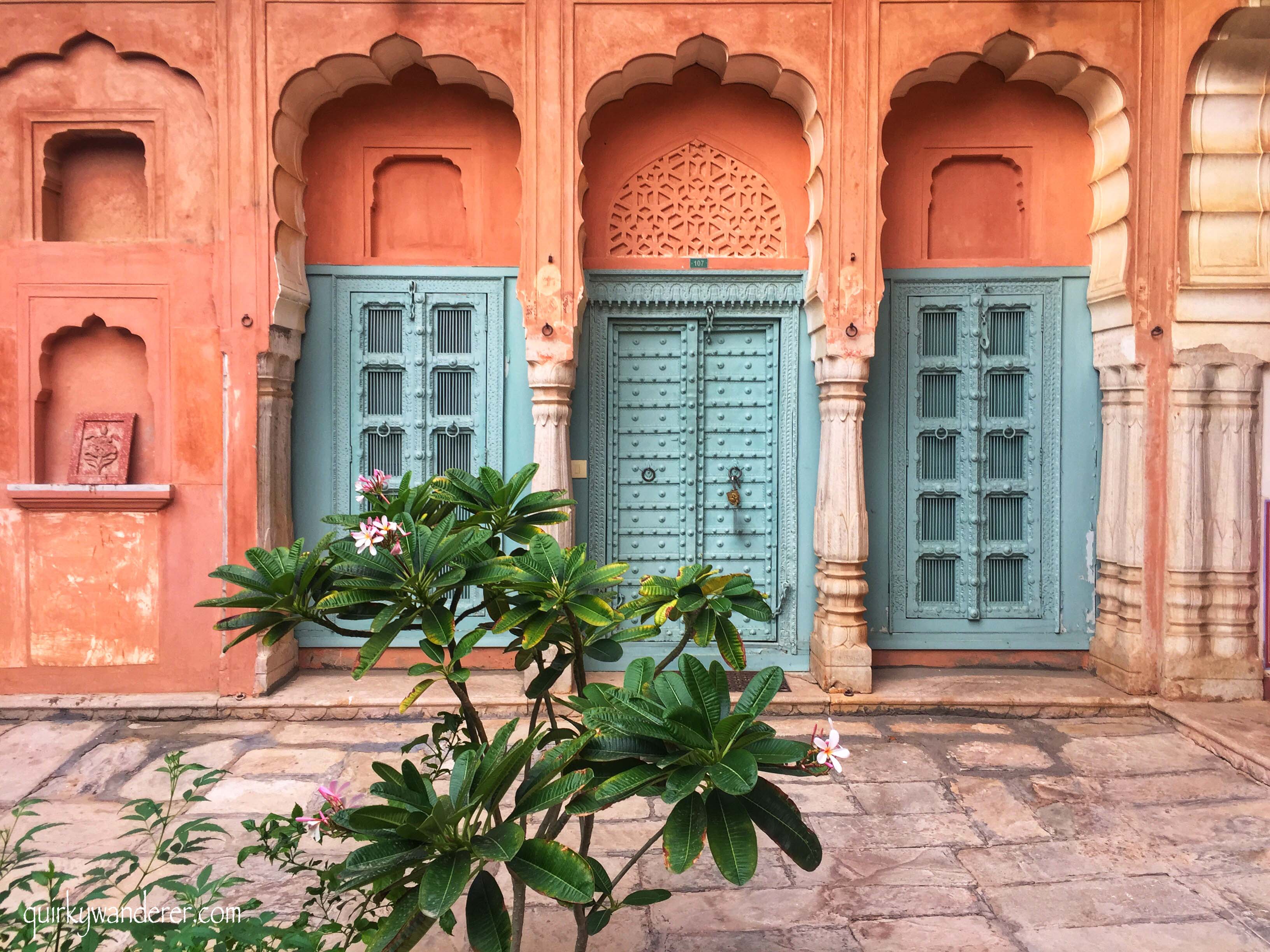 Most of these havelis had metal torans hanging on the doors. My curiosity led me to question my guide, who explains that these are symbols of marriage. The number of Torans outside the house signify the number of daughters who got married!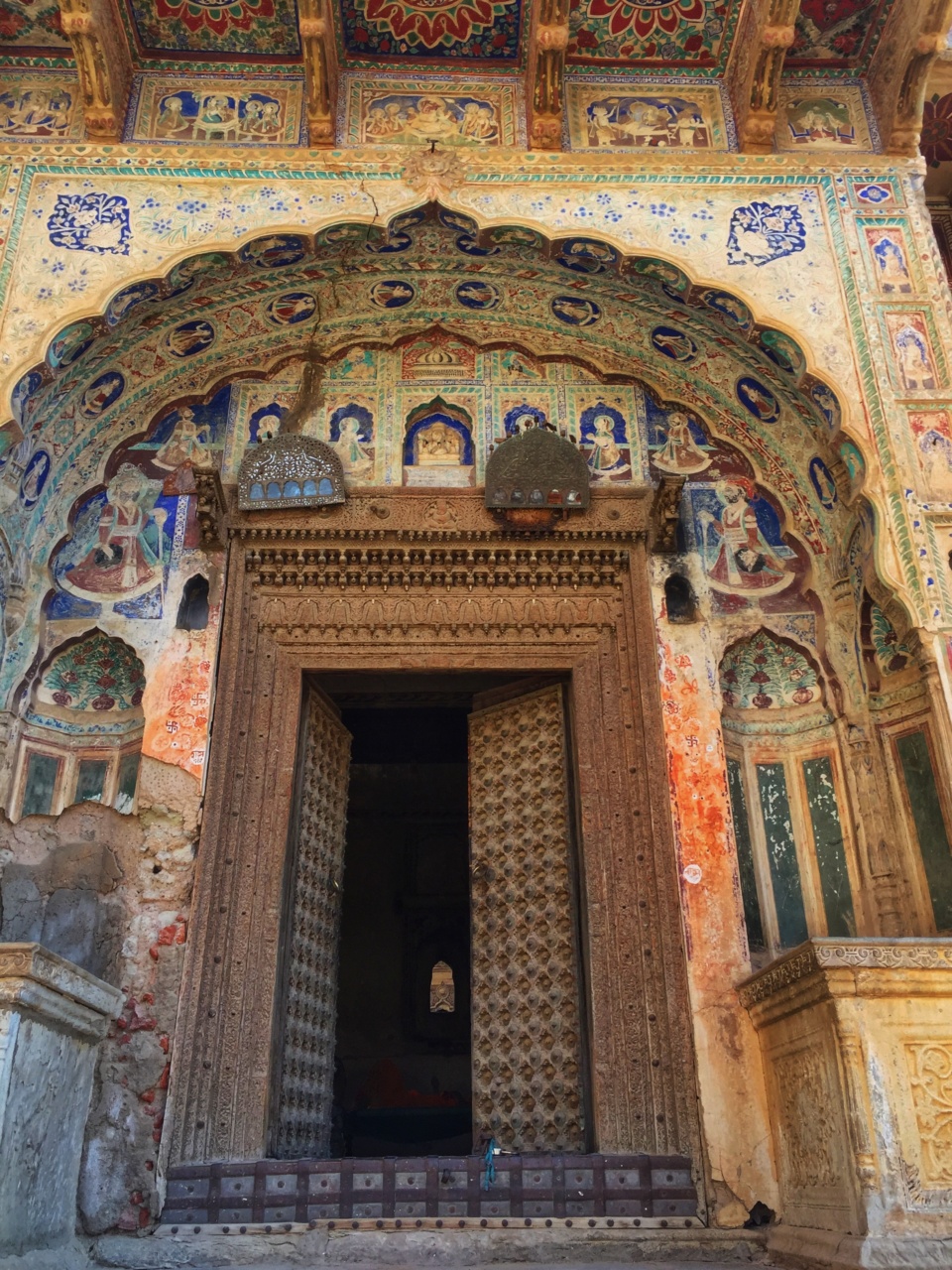 While the Marwari traders flourished and settled in coastal towns, their abandoned homes, lie in an unending wait for their owners. While a lucky few have been restored, others fade away in oblivion and crumble in dust, holding umpteen stories in the labyrinths of their frescoed courtyards.
How to reach:
Shekhawati is a region with scattered villages.
The best way to explore it is through a hired vehicle from Jaipur. Public transport between the villages can get inconvenient.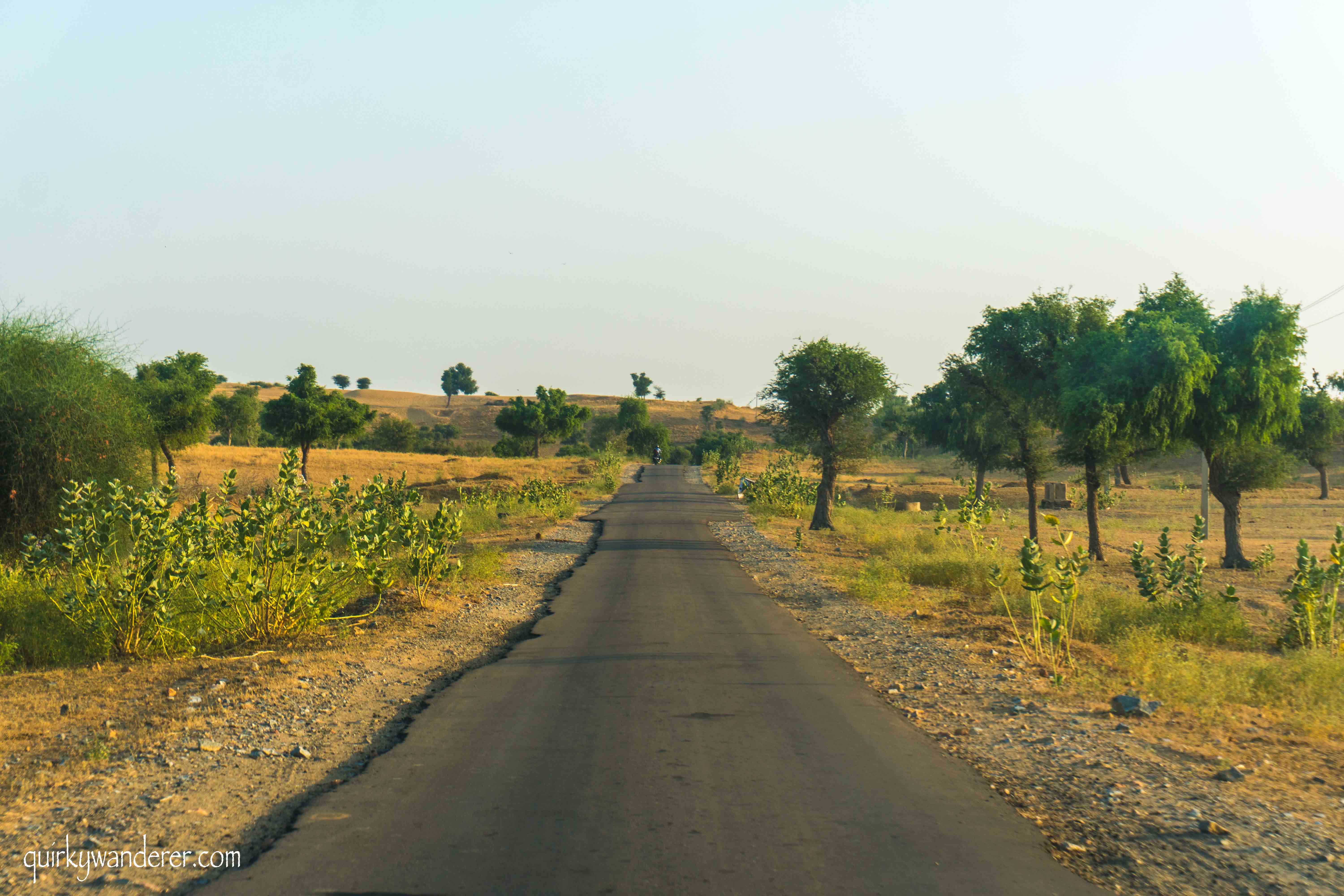 From Jaipur, Fatehpur is 166 km (3 hours), Churu is 203 Km (3.5 hours) , Mandawa is 170 km (3.15 hours)
It is advised to stay in Mandawa or Churu or Ramgarh and explore all the villages as day trips. Mandawa has the most variety of hotels and inns.
Would be advisable to at least spend 4-7 days to see Shekhawati's grandeur.
---
Where to stay: 
Mandawa: Viviana Culture hotel: a luxurious property ,10 kms away from Mandawa in Churi Ajitgarh, with heritage rooms and modern amenities.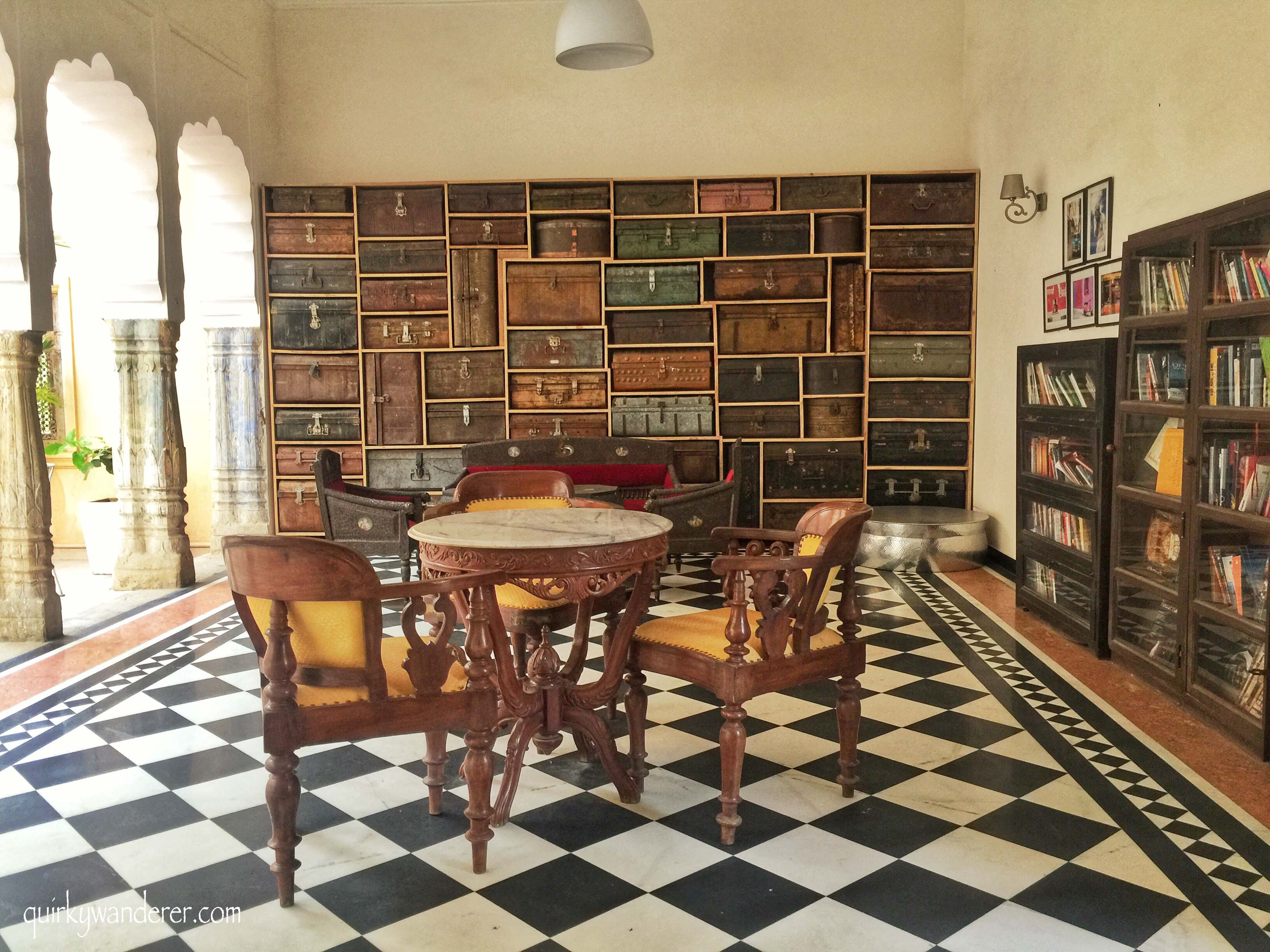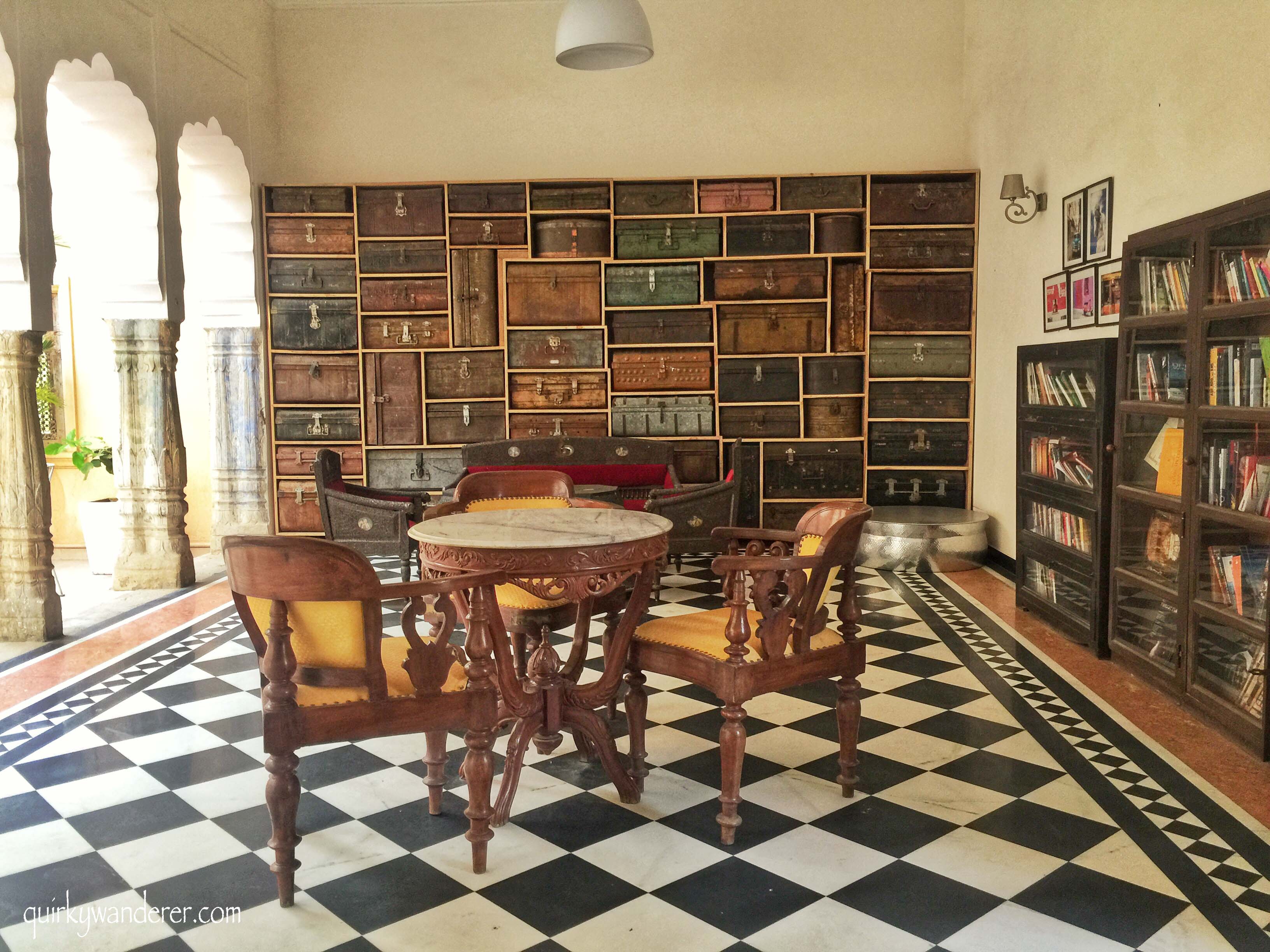 Ramgarh : Ramgarh Fresco, an ancient property with an old world charm and a homely hospitality.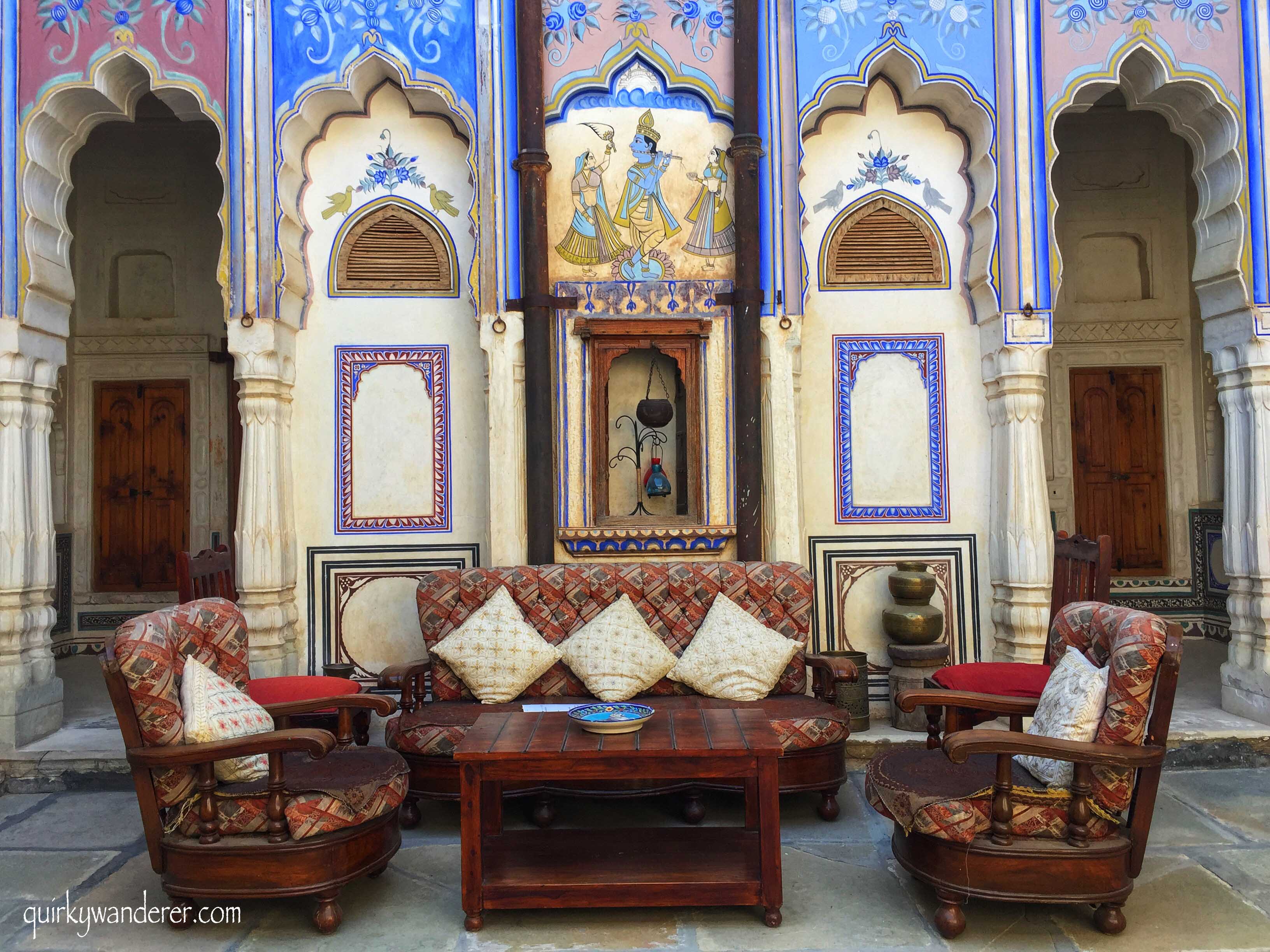 Churu: Malji Ka Kamra: a grand Haveli hotel with rooms for every type: fresco rooms, family room and simply done elegant rooms with balconies.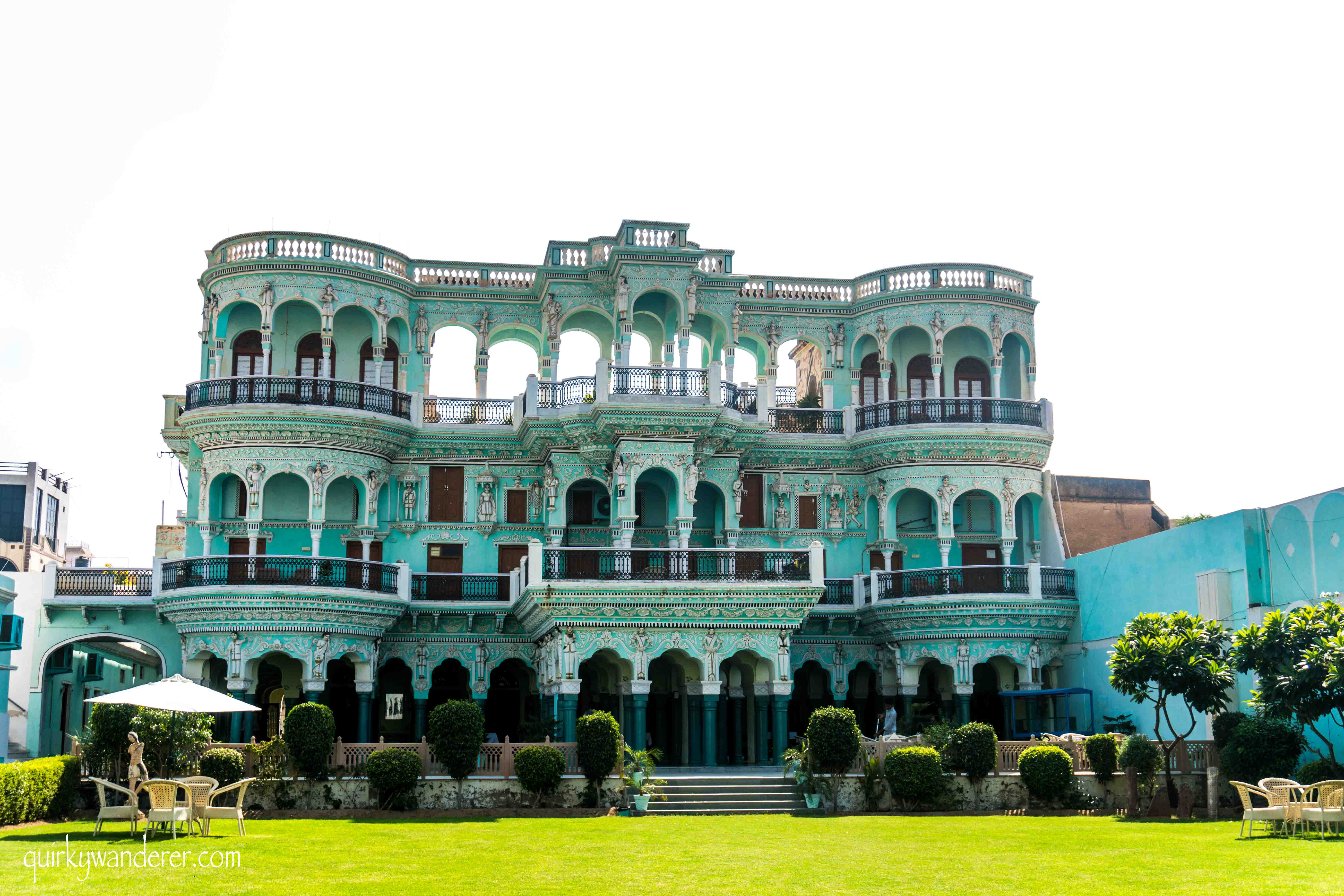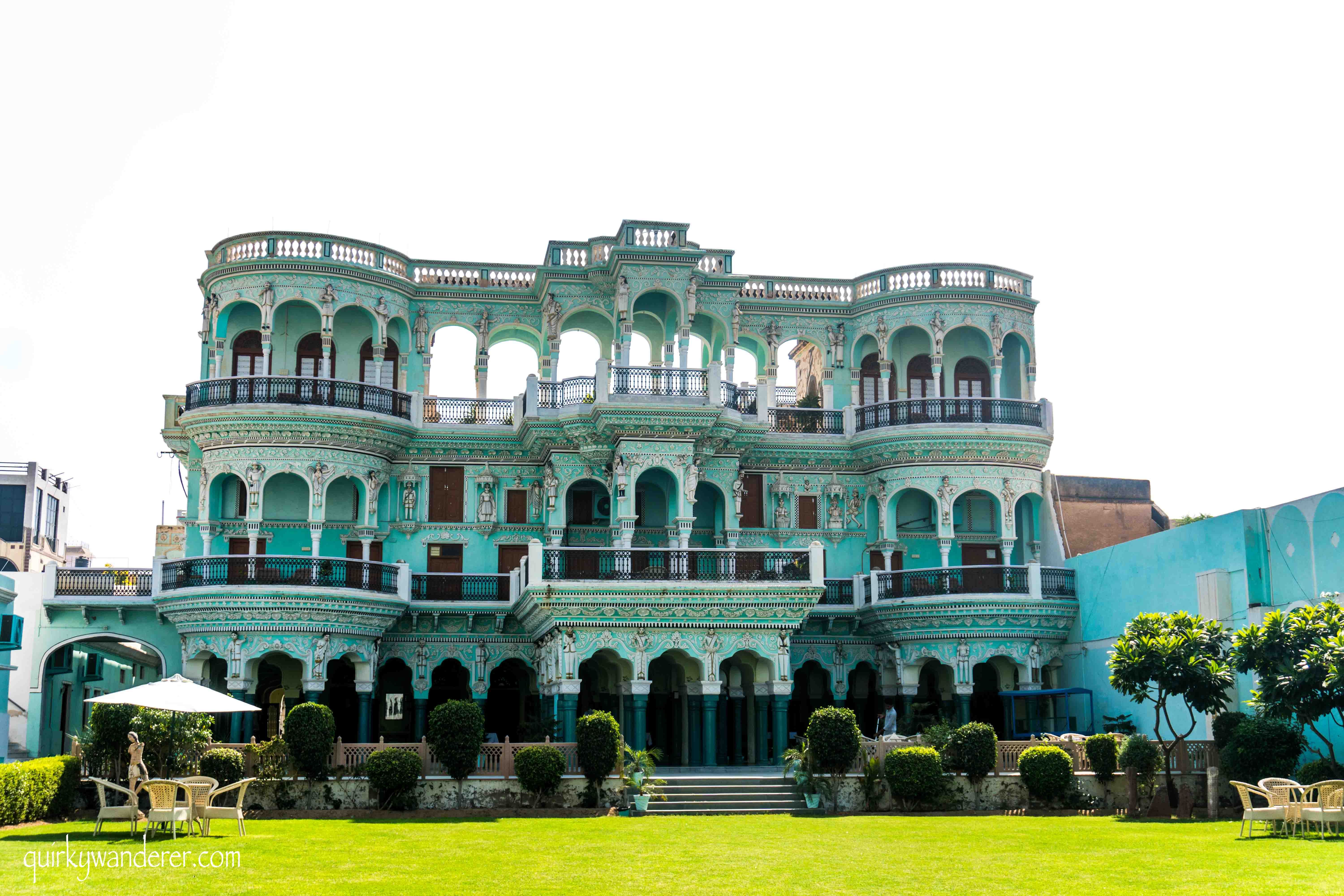 The word Haveli is derived from Persian, it means enclosed space.