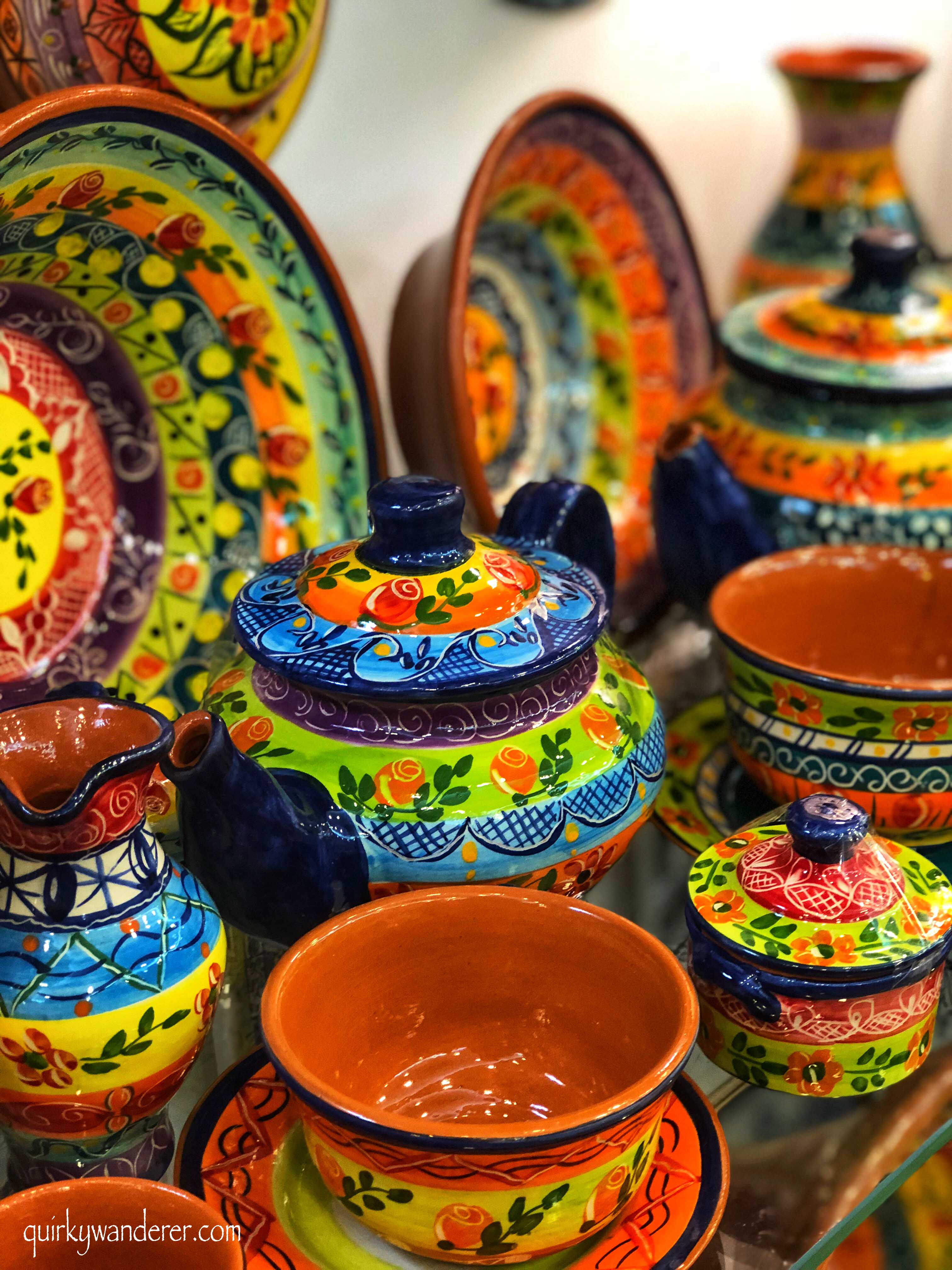 In Lisbon, Portugal on Day 1: "Let me get a feel of Lisbon city before I actually start my shopping in Portugal" me talking to myself.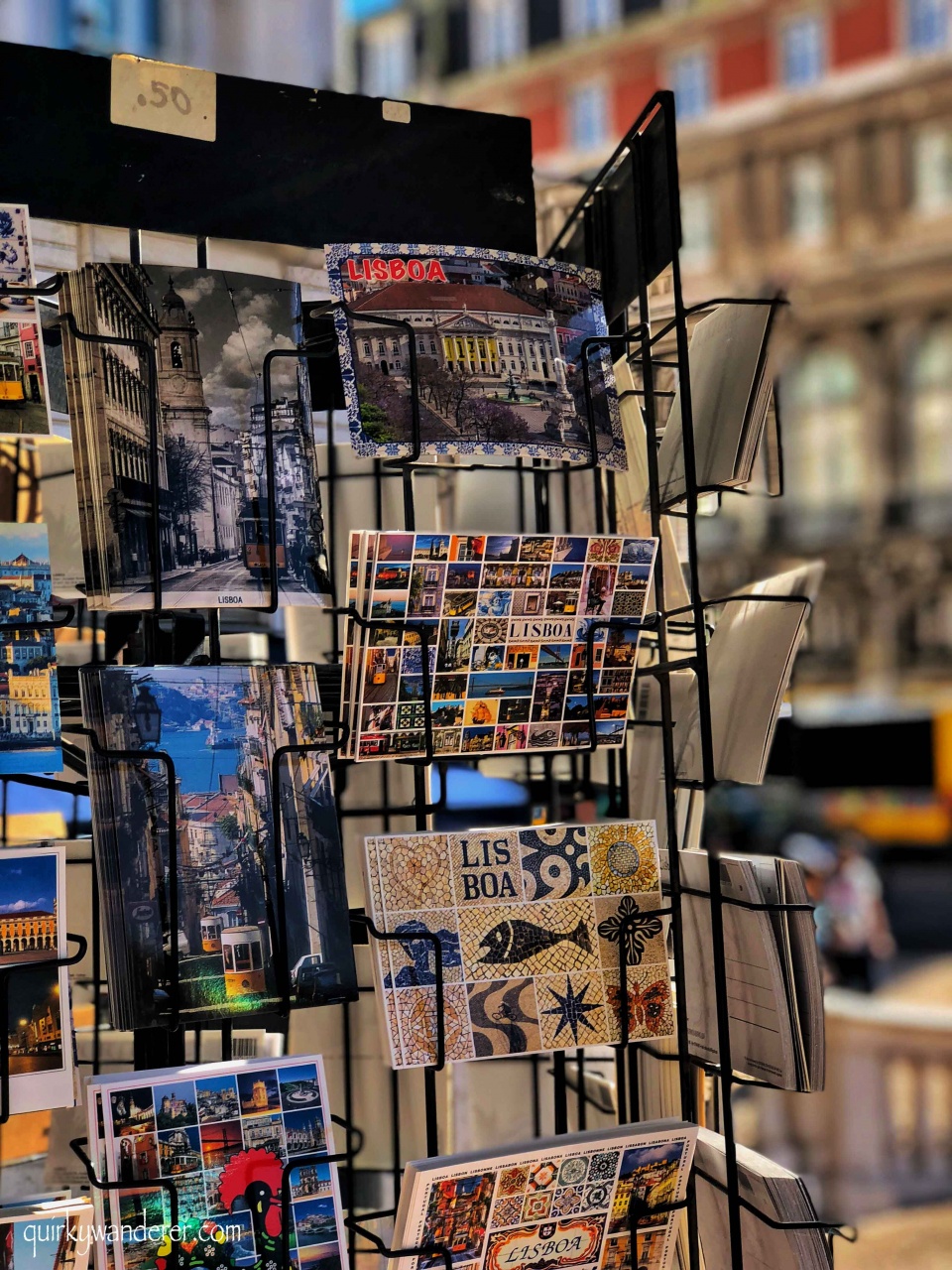 Ten minutes later: Walks out of the very first shop I enter, with a bag full of souvenirs. Shopping in Portugal is a guilt you cannot resist. I am a tad bit guilty in the beginning but the guilt drowns in the music played by a smart, lanky guy on the street with mosaic tiles. Lisbon, is a city that warms upto you in no time. It is vibrant, full of life, friendly and extremely walkable, thanks to its size!
If it is your first visit to the country, here is a handy guide on Shopping in Portugal that can be used to pick up some memorable souvenirs ( local to Portugal!)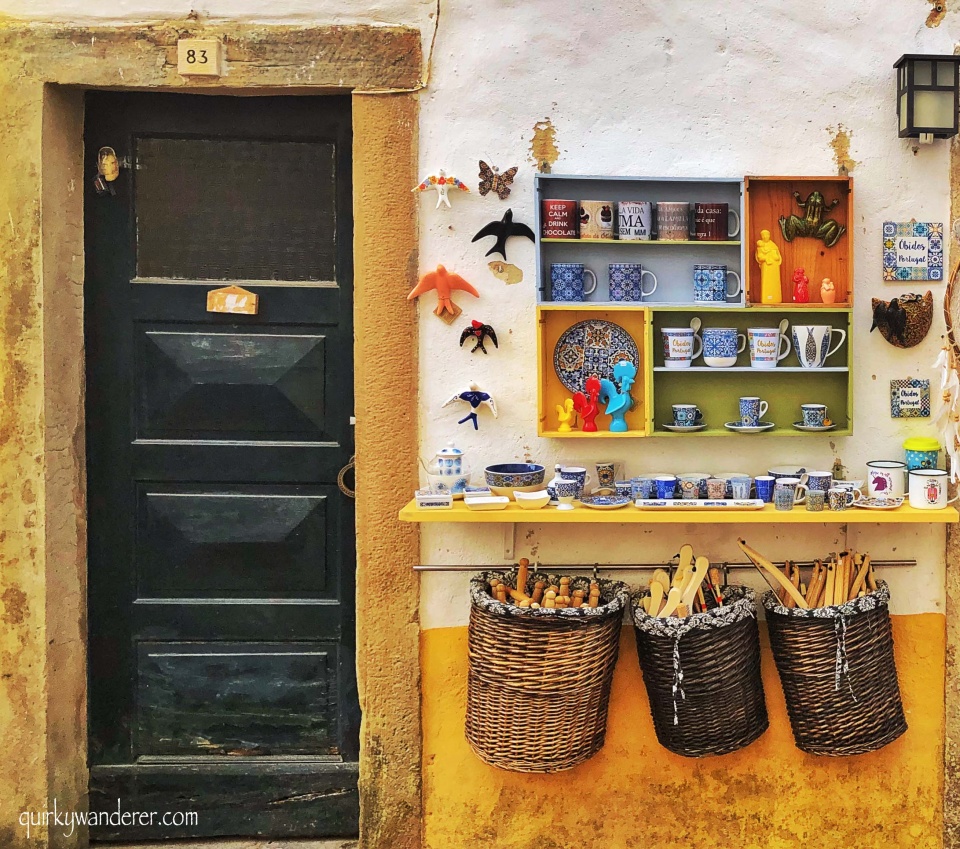 Azulejos :
This is the first thing I saw in the markets of Lisbon and many other cities in Portugal. Azulejos are traditional ceramic painted tiles, used in Spain and Portugal. These can be found on the exteriors of stations, buildings, homes, churches and the Portuguese markets are flooded with Azulejo souvenirs: fridge magnets, crockery, hot plates (these are absolutely gorgeous!), mirrors and what not! You can even buy yourself a cute pair of Azulejo earrings as a memoir if carrying heavy pieces of crockery isn't your thing.
Cork products:
Portugal is the largest producer of cork in the world. What does that mean for your shopping in Portugal? You get to hoard some absolutely unique cork items: from classy handbags made out of cork to eye wear covers to caps and even pens.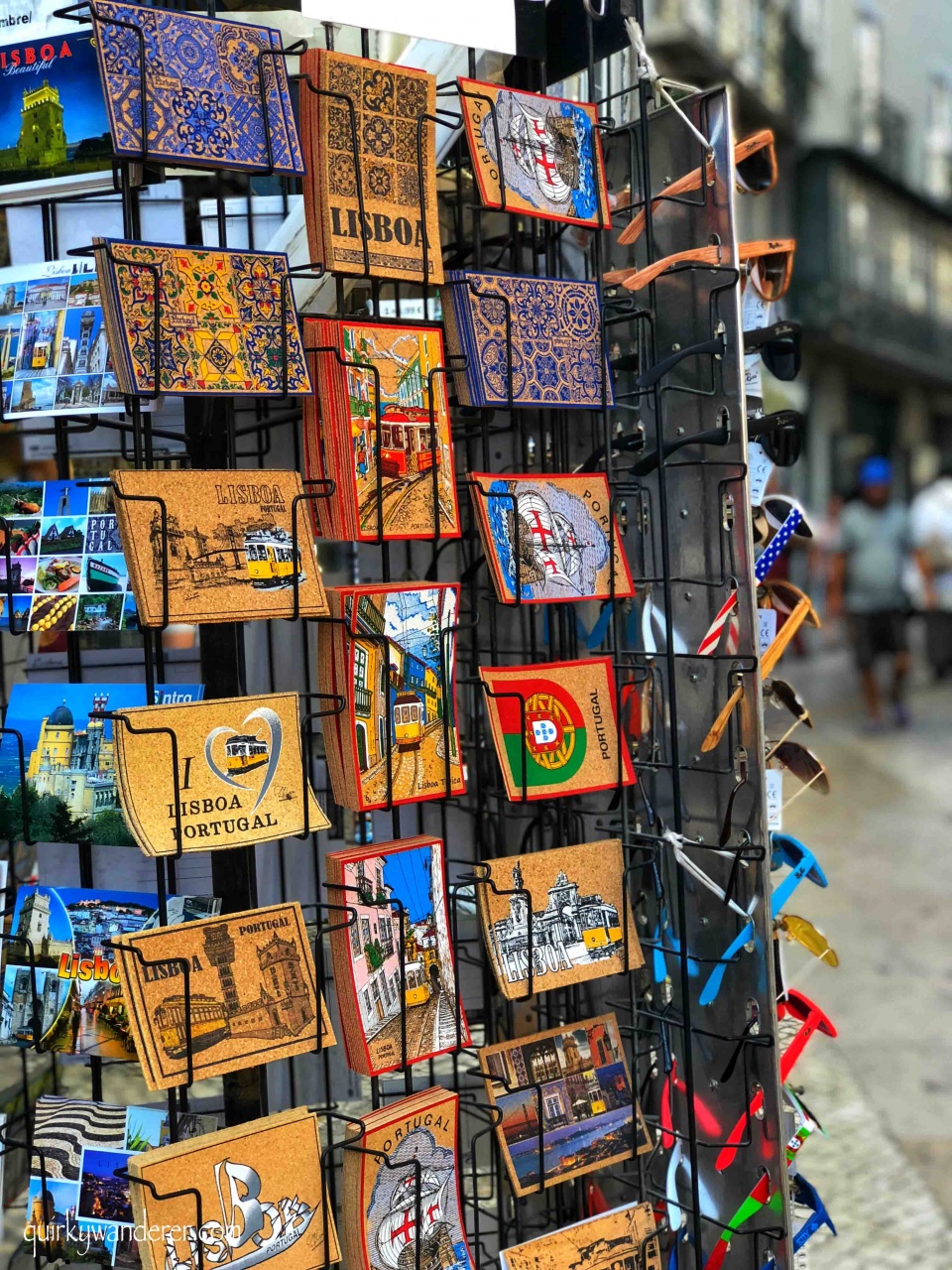 A good tip while shopping for cork products in Portugal is to look for the authenticity mark that says "Made in Portugal" to avoid landing up with cork lookalike products. Another tip is to buy these from proper shops at famous landmarks of Portugal rather than roadside vendors (who are generally not local vendors but immigrants). Authentic Cork products will be rarely available in any other colors except dull brown and skin.
Embroidery: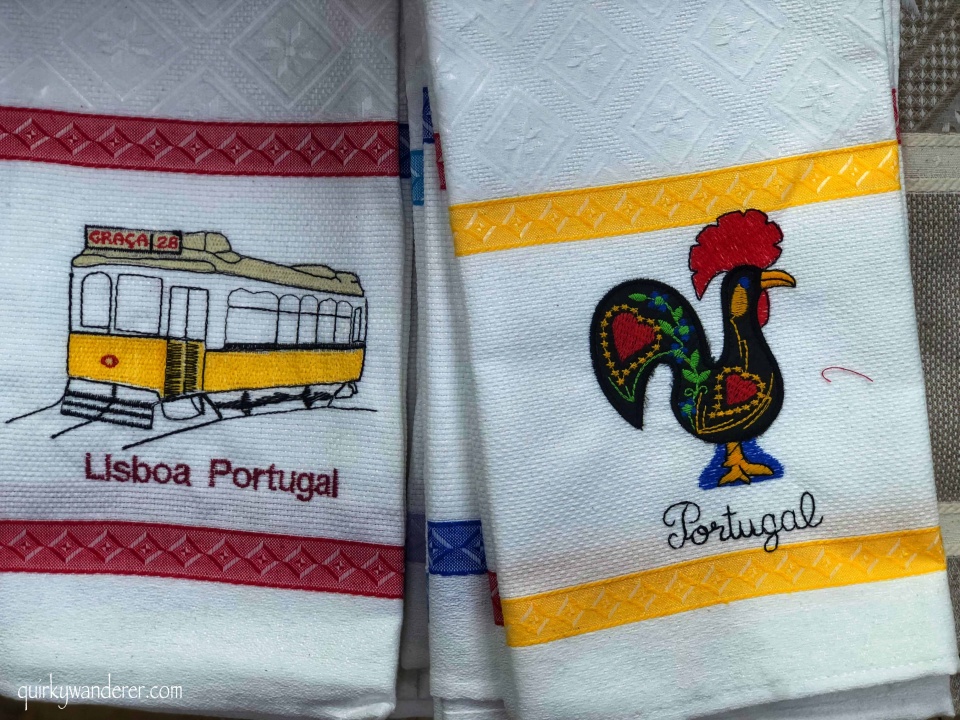 Another must have category in your Portugal shopping list are Portuguese embroideries: these are intricate and make for super charming gifts. From elegant table cloths, to napkins, to bedsheets, handkerchiefs and cushion covers, there is something for everyone who wishes to take back a little bit of Portugal back home. Most of the traditional Portuguese embroidery is coloured (red, green, blue being most common colours) on white cloth.
Rooster souvenirs:
Rooster is a common good luck symbol in Portugal and it is the unofficial symbol of the country. Said to bring good fortune, it is an addition to every Portuguese home. So if you're wondering which local product to shop for in Portugal to gift your friends back home, there cannot be anything better than a Rooster souvenir: pocket mirrors, keychains, pens with rooster heads, fridge magnets are some popular Rooster products available all across Portugal.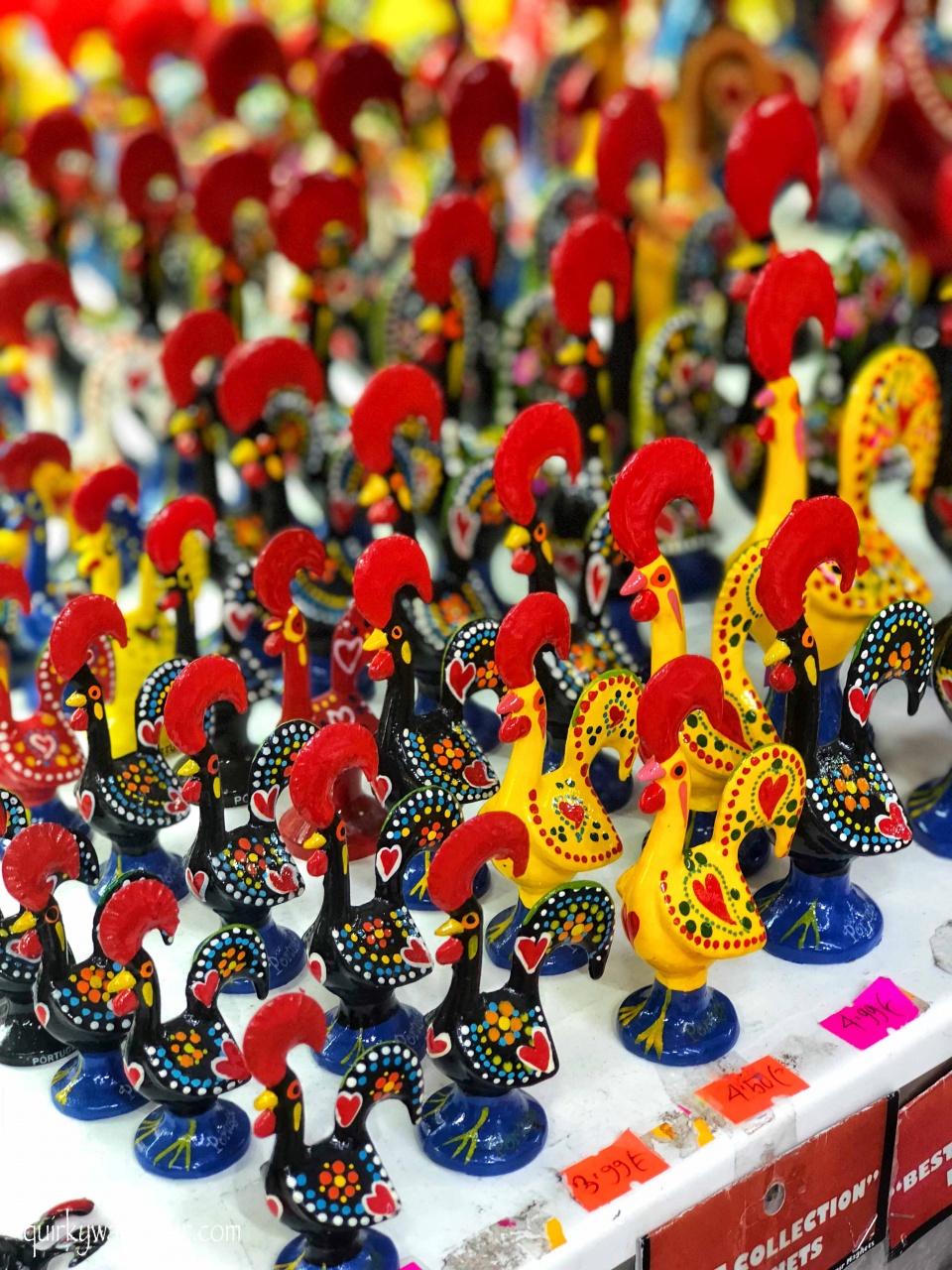 Castelbel Soaps: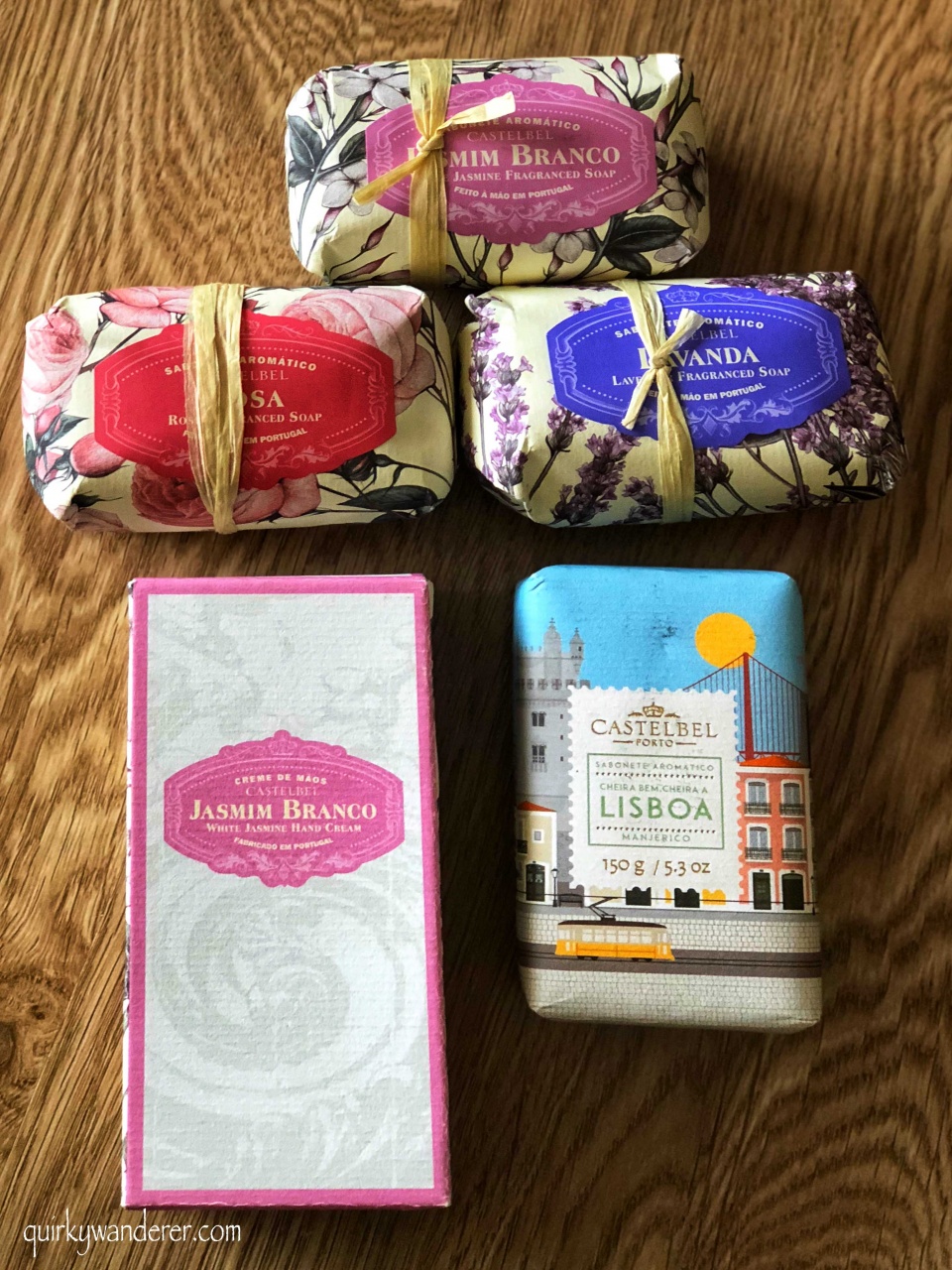 One of the most fascinating inclusions in your must buy list while shopping in Portugal are Castelbel Soaps! These luxury soaps are famous even with Hollywood celebrities and are following a 300 year old tradition of producing the finest triple milled soaps in the world. These are hand crafted with exotic fragrances and olive, palm and coconut oils. Prices start at 5 Euro and there are categories for men as well.
Ceramics :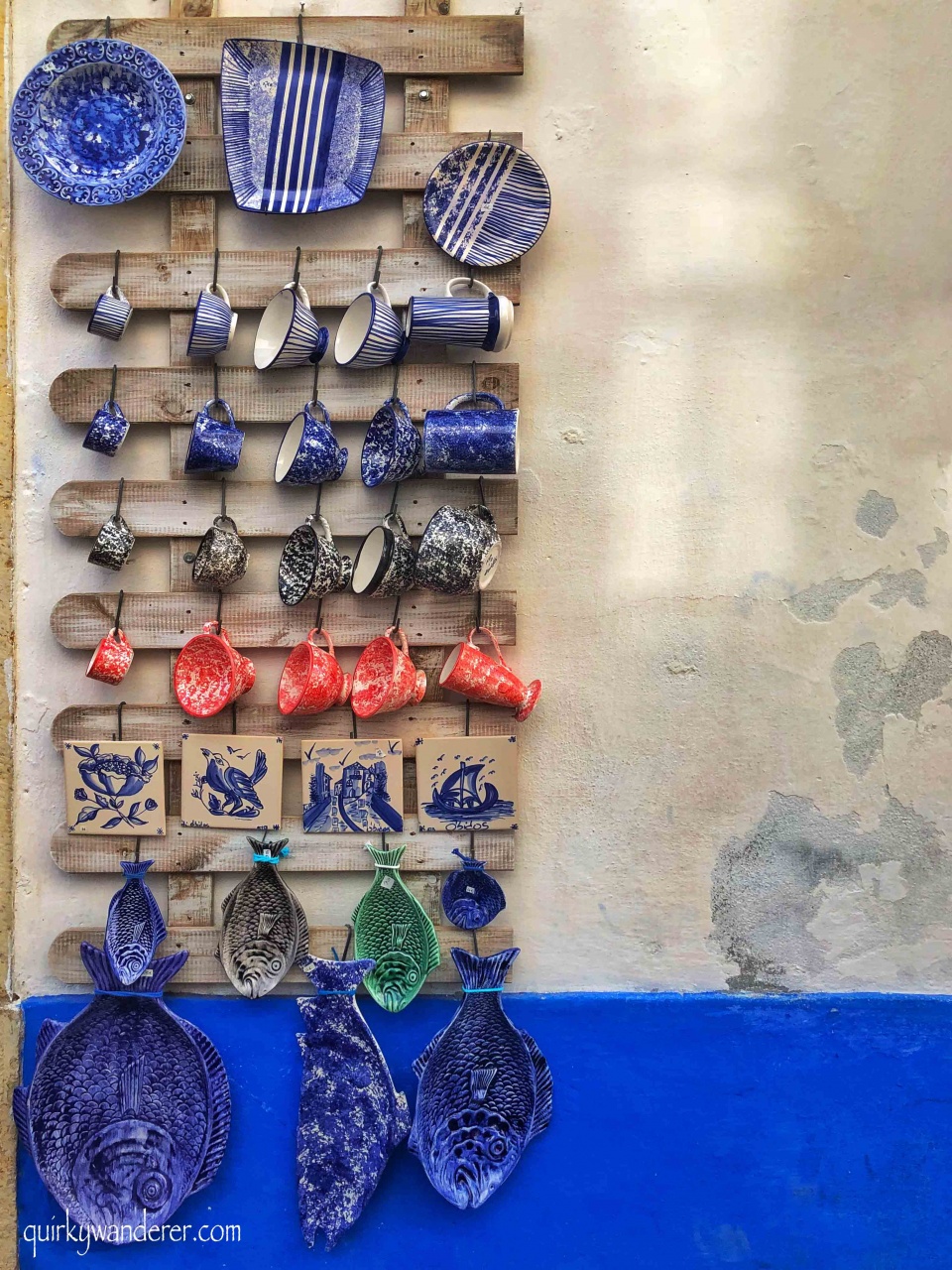 If have a penchant for home decor, the ceramics of Portugal will tempt you to buy them, no matter the difficulty in packing them in layers of clothes so they come back undamaged. These hand painted, vibrant ceramics are nothing like Azulejos, but are glazed and of different hues. Definitely for those who can manage to carry them in their hand luggage or master the art of packing them in the right way with clothes.
SUGGESTED READ: Shopping in Nepal : A complete guide
Leather Shoes and Bags:
Portuguese shoes are well known across the world for the quality of their leather. Portugal ranks second in Europe in show manufacturing. For a big feet girl like me, Portuguese shoes were an instant hit, because their shoes aren't as narrow tipped as Italian or Spanish shoes. Besides, their boots have a lacy touch to it, which may tempt several women as it gives the boots a feminine touch. For inexpensive, affordable and good quality footwear, hop into Seaside ,which has branches all over Portugal.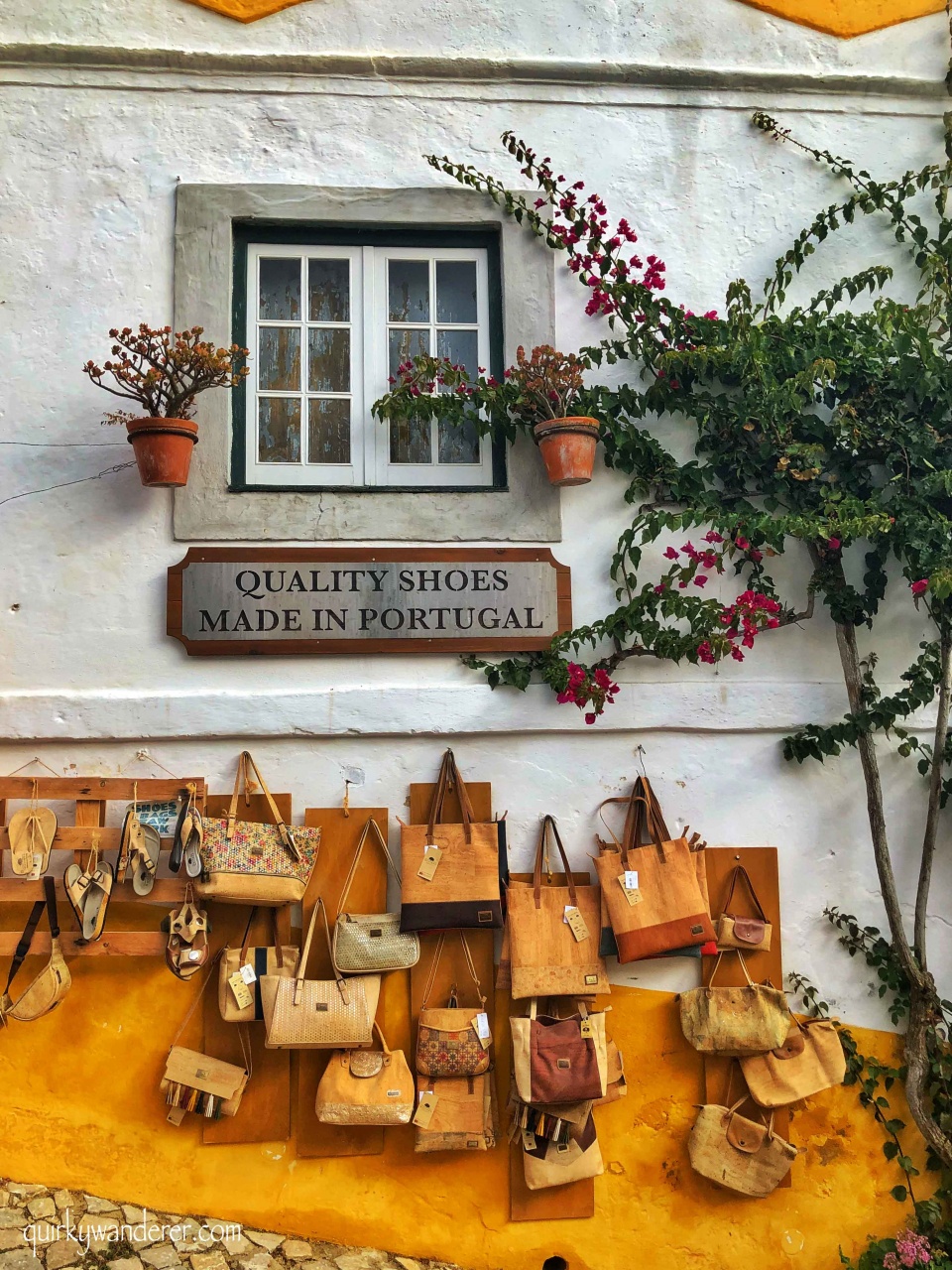 Ginja and Port wine :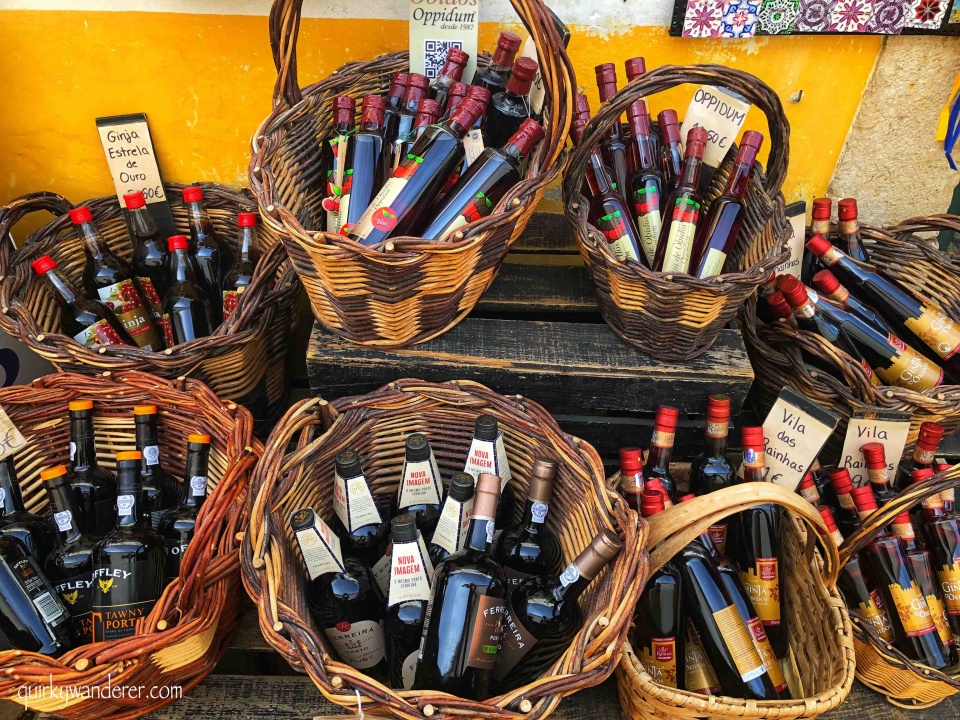 Enter the charming alleys of Porto and you will find how Port wine (dessert wine) is ubiquitous. This wine is produced from grapes grown in the Douro valley of Portugal. It is a typical sweet, red wine served as a dessert and if you are a wine connoisseur, what better than include a bottle of Port wine in your bag, while shopping in Portugal.  Similarly, when you visit the quaint town of Obidos, make sure you pick up the famed Ginja ( Cherry liquor). Here Ginja is served in edible chocolate cups, so you get to drink the liquor and eat the chocolate too! It is easily available in any of the local shops lined up in Obidos Main Street and most even offer a sample before you buy the bottle.
Cheese:
Cheese lovers rejoice! Portuguese have some of the best, well kept secrets of cheese with endless textures and varieties! If you want to carry back a lingering, authentic Portuguese taste back with you, try some of the local varieties served at the traditional restaurants and make sure to add them to your shopping list. From the hard and salty Quejo de Cabra Transmontana which is slightly yellow and made from goat's milk to the creamy Queijo De Azeitao, which is made from sheep's milk, is vegetarian friendly and available almost in every grocery store. There is also the ultra creamy Queijo de Serra Da Estrela that has a very pungent flavour but is perfect for crackers and the cheese of Azores: the Queijo De Sao Jorge made from cow's milk.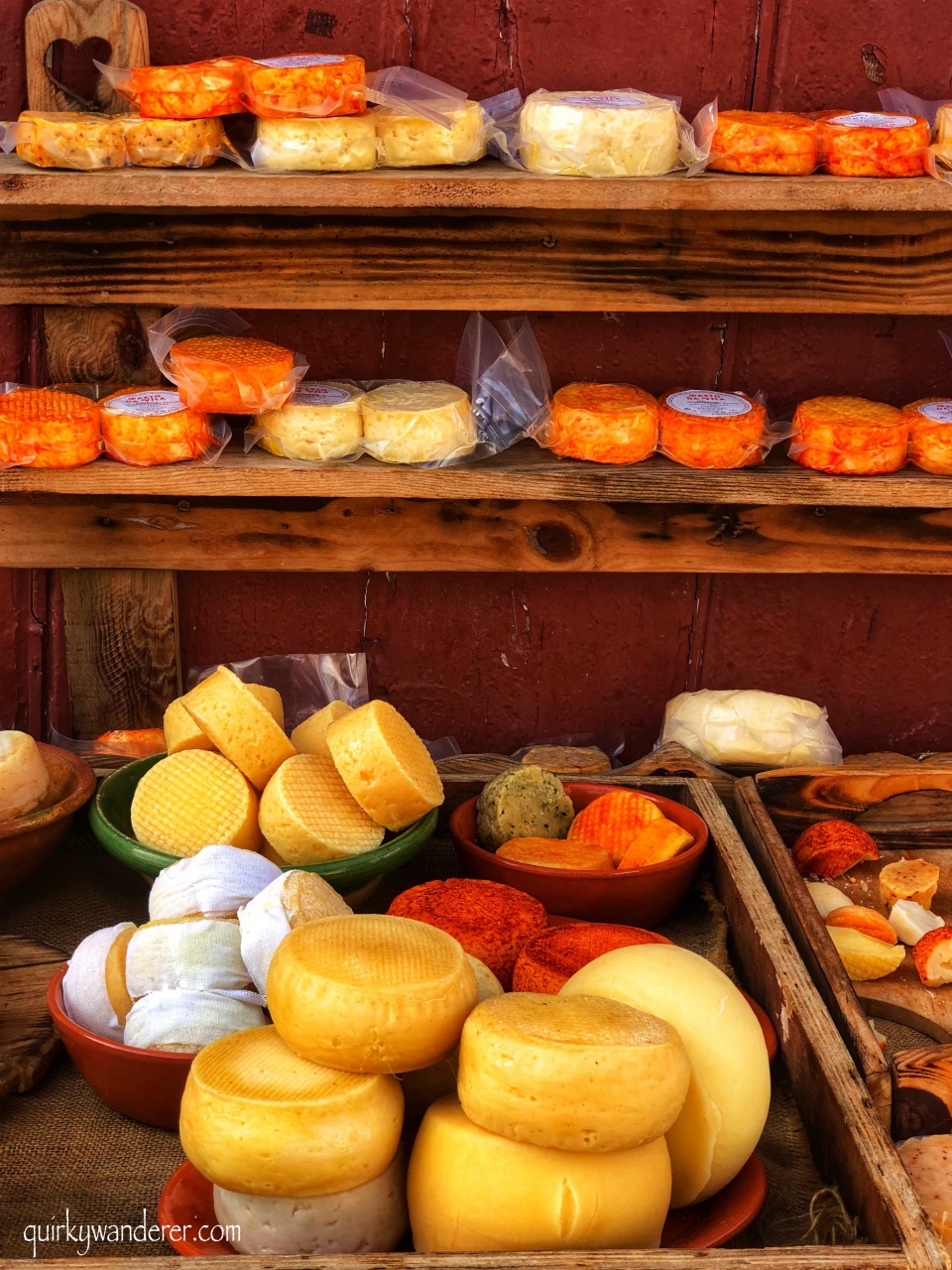 Vintage toys and cars: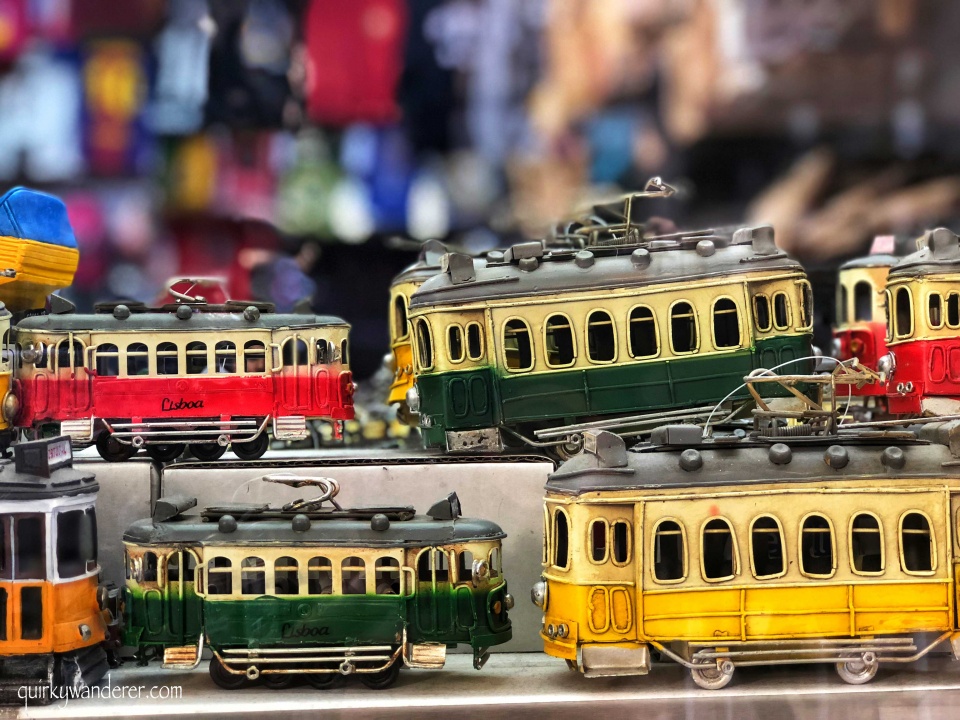 Fancy classic models of vintage cars as a collector or enthusiast? You can add a nostalgic element to your bag, while shopping in Portugal by buying model trams, cars and trains in souvenir shops. Not very overpriced, these make for great souvenirs to take back, especially the vibrant Trams, that can remind you of the iconic Tram 28 ride, which you will definitely be on during a Lisbon city tour. Do not forget to visit Antes E Depois in Bairro Alto. This shop sells classic wooden, metal, plastic and even cloth toys toys and car models.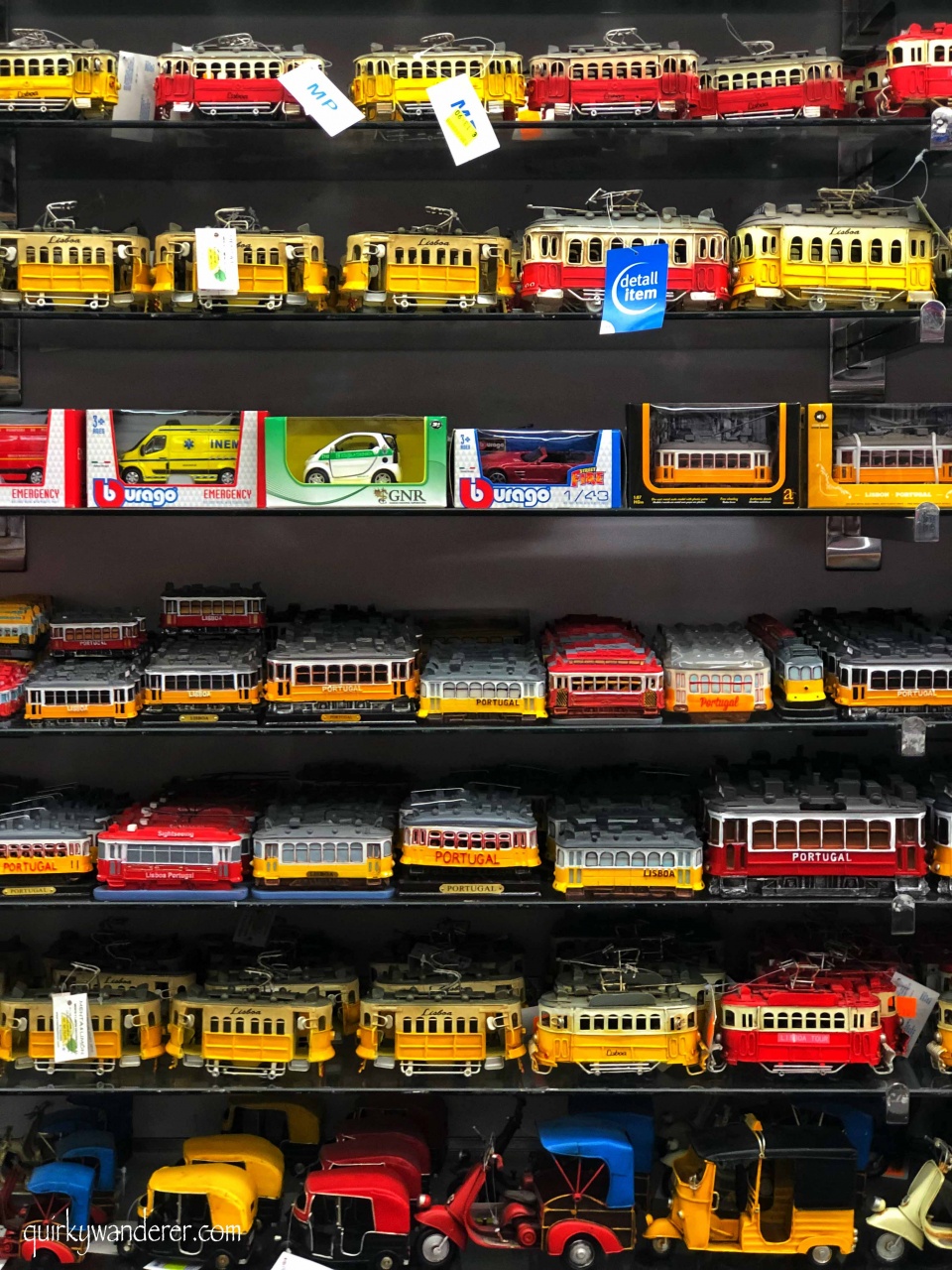 Shopping in Portugal is a colour riot! Even if you do not actually buy, the gorgeous blue Azulejos, the Insta-worthy shops of the charming Obidos and the intricate embroidery are a treat to the eyes. It is also reasonable as compared to shopping in Italy or shopping in Spain and if you buy local products, you are bound to find value in your purchases!
Parting tip: Buy ceramics on the last day of your travel,( if you are keen to buy them). This helps you to not lug the ceramics around on your trip and you can carefully pack them into your suitcase with used clothes as a buffer!
Have you been to Portugal? What are your favourite must buys while shopping in Portugal? Let me know in the comments below!