In the tiny alleys of the island of Crete in Greece, the sun's rays fell dramatically on the long, wooden table of Hanim Lounge. Here in the quiet of the morning, we wait with bated breath for the much anticipated " Sokrates breakfast".  It is my 17th day in the country and the vegetarian food in Greece has not disappointed me one bit.
Sokrates is the owner of Hanim Lounge in Chania, Crete and we are his guests. He is cooking breakfast for us in his immaculate kitchen, with a passion which a scientist has for his dream project and a painter has for his muse.
Little did I know, this will be one of my best meals in Greece.
Like a magician, Sokrates dished out a four-course breakfast: freshly baked bread with homemade seasonal marmalade of apricots and strawberries, served with sheep and goat milk butter on the side. This was followed by Cretan rusk with three types of tomatoes, peppered with homegrown basil,  olive oil, peppers, zucchini, cucumber loaded with sour cream and Meseta cheese with a generous sprinkling of sea salt from Balos (a beach in North Western Crete). The third course was an omelette made of natural eggs served with fresh green zucchini and anthotheros flower cheese ( which has a shelf life of three days). On the sides was bruschetta with green sour tomato, a flower of oregano and helpings of Graviera cheese (the most popular Cretan cheese).
My stomach was satiated. Sokrates wasn't. He had the proclivity to not just make these dishes but also serve them with impeccable presentation and utmost love. Then came the dessert: Greek yogurt with cardamom flowered water with a dash of cinnamon, lemon zest, and honey, served with dark chocolate and fresh strawberries. Needless to say, Chania sightseeing plans were canned, as I got up, languidly making my way to my room only to snooze for two hours straight.
Finding vegetarian food in Greece is extremely easy. You need not stick to "Indian" restaurants (I had Indian just once in twenty days!) If you're experimental, the local Greek cuisine has ample to offer. We discovered this on the second day when we went on the Athens for Foodies Tour and were treated to Greek bagels and pies and Gemista and so many meatless options.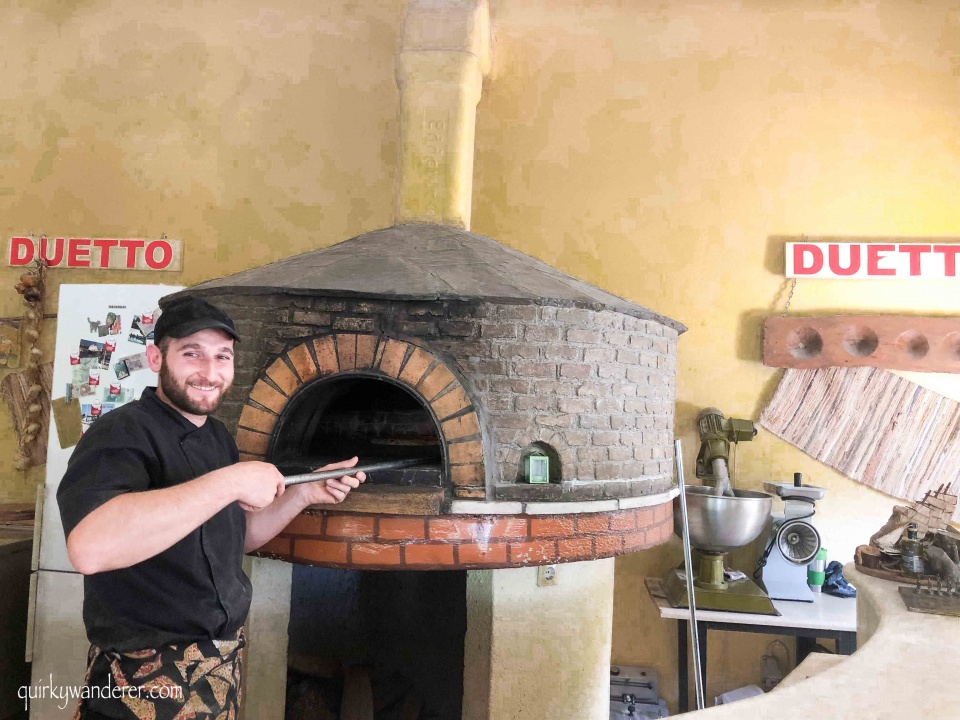 So this post is about all about vegetarian food in Greece: some commonly found dishes and some city/ island wise recommendations of finding great Greek vegetarian options.
Popular Vegetarian food in Greece:
Hop into local restaurants and ask your servers for these vegetarian-friendly dishes. Most places will have meatless options and you will be surprised to find that most Greeks understand what is vegetarian and some even have vegetarian sections in their menus! As English is widely spoken, even in the islands, communicating no egg, no meat, no fish is easy and in case you see a problem, the translator app works like magic. I also found vegetarian food on Polco's cruise boat in Milos!
Gyros: These are wraps with stuffings of vegetables (tomatoes, cucumber, lettuce, onions), fresh fries, mayo, and ketchup.
Pies: The easiest vegetarian option in Greece is Spinach and Feta Cheese pies (Tiropita). These are available almost everywhere and are truly local!
Gemista: Stuffed Bell peppers: These are baked peppers with stuffed rice, beans, vegetables, and spices. Again an authentic Greek specialty that is filling too.
Greek Yogurt: This local speciality is omnipresent. What Gelato is to Italy, Greek Yoghurt is to Greece. Interesting toppings available, ranging from nuts to honey to chocolate to berries.
Greek Bagel: Locally known as Koulouri, this bagel is your best snack option especially in Athens. The classic one has sesame seeds and there are several other options available too. It goes extremely well with a variety of cheese.
Greek salad: With Feta and Olives and the company of tomatoes, onions, and cucumber, this salad is unmissable. Again easily available anywhere you go in Greece, this salad is a boon for vegetarians.
Dolmas: Stuffed vine leaves, these are available in Tavernas ( local bars) and the vegetarian ones are filled with rice and cheese with a drizzle of lemon juice and olive oil, often served with a yoghurt and garlic dip.
Fritters: Another common vegetarian dish on most restaurant menus is Fritters. While Tomato fritters are mostly available in Santorini, Zucchini fritters are found mostly everywhere.
Dips: Greek dips are worthy of special mentions. The Tzatziki (herb-infused yoghurt) is most popular while Tirokafteri ( spicy feta dip) and Fava ( Mostly found in Santorini) are a must-try as well.
Destination wise recommendations for vegetarian food in Greece:
Mykonos:
This expensive party island has innumerable spots to hang out for coffee, drinks and most of these are right on Little Venice: the promenade which offers incredible views of the sea. The most popular ones are Kastro Bar, Rhapsody, Negrita and Nice and Easy. (Tip: Reservations recommended during sunset).
But my best vegetarian meals were found off the tourist radar while ambling away in the picturesque streets.
Captains, Old Harbour: The best breakfast joint, right opposite the old harbour where you can sit out under the Mediterranean sun and have delectable sandwiches, fresh waffles and pancakes, omelettes (if you eat eggs) and ample of freshly squeezed orange juice!
Healthilicious: A small cafe tucked in the innards of Mykonos old town that serves healthy options for the calorie counters. There are smoothies, juices, salads, but my favourite was the Burger ( chef recommended and made right in front of you)
Popolos: When you walk in the old town early morning, you cannot miss the smell of baked goodies from this tiny bakery that does not offer seating spaces but is perfect for takeaways. Vegetarians have several options of croissants, cakes and sandwiches.
Gyro corner: At one of the popular intersections in the maze of Oldtown, is Gyros corner with limited outdoor seating as well as take away options. Falafel wraps with a choice of your favourite toppings is a winner for vegetarians.
Naxos:
The largest island in the Cyclades is primarily agrarian. So vegetarians are in for a treat. Especially because potatoes in Naxos are a BIG thing. If nothing else, relax, there are always Naxos potatoes!
Su e Giu: Most waterfront places are considered to be tourist traps, but this Italian gem had a separate vegetarian section on their menu!  With many options for pasta and pizzas, it has good portions and some delicious desserts. Loved the service and the server offered us chilly flakes knowing we are Indians! Being bang opposite the waterfront, it is inevitably pricey but absolutely worth the value.
Maro Tavern: Fancy a meal where locals eat? Head to the no-frills Maro Tavern for authentic Greek flavours and a lively ambiance. Here locals sway to live music while servers dish out inexpensive Greek food in really large portions. Loved their stuffed peppers with cheese.
Soulatso: Perfect for breakfast with it's quick, jovial service and a decent spread of savoury pancakes, sandwiches, omelettes, and cold chocolate.
Scirocco: Adjacent to Soulatso, this is a popular dinner joint with many options for vegetarians, including Naxos potatoes, Gemista, and Giant beans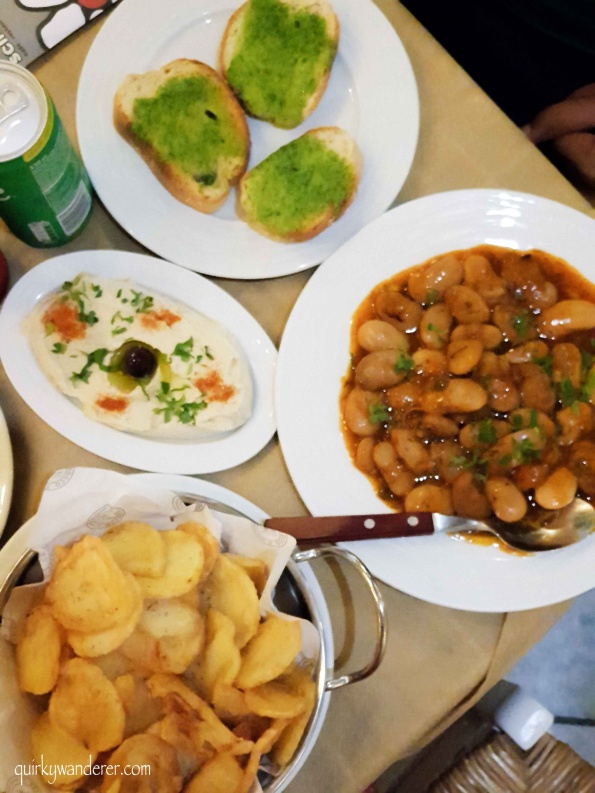 Villages of Naxos: When you tour Naxos villages, here are some of the top places to grab a bite or simply laze around with a cup of coffee.
Halki: Caffe Greco for freshly squeezed juices
Filoti: Duetto for pizzas and salads.
Apiranthos: Micheal's cafe ( Indians will love this Greek guy who can converse with them in Hindi and his cafe has an entire menu written in Hindi!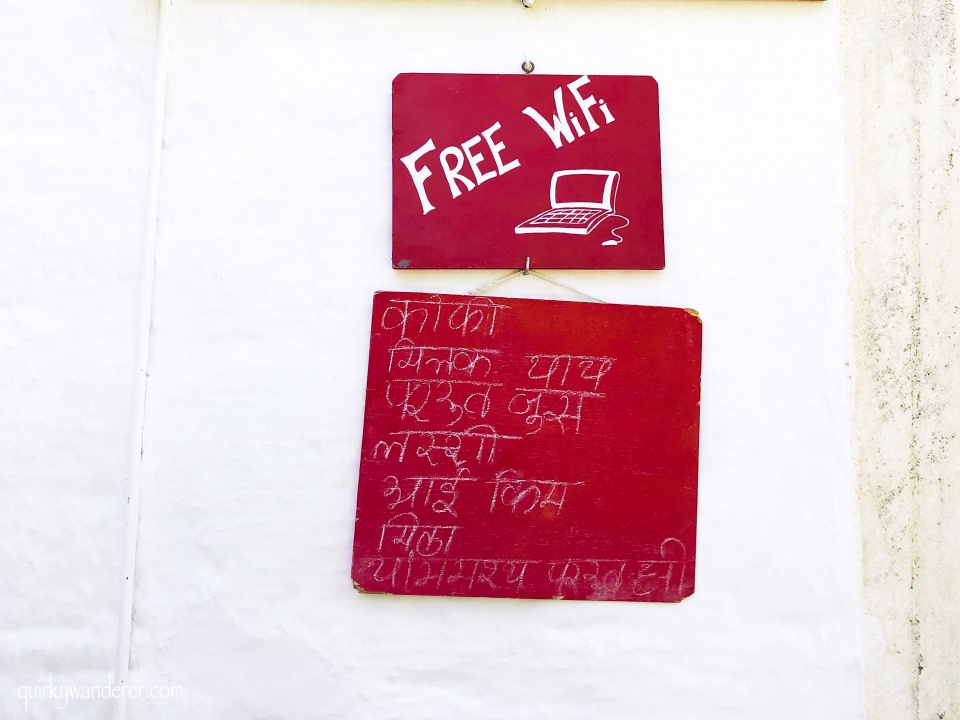 Santorini :
The most popular island in Greece is home to Fava (split pea dip) and Tomato fritters, proudly listed in every guide for vegetarian food in Greece.
Jaipur Palace: It was in Santorini that I craved Indian food the most, so off I went to Jaipur Palace, ten kilometers before Fira, but worth the trip. One of the best meals I had in Greece, definitely unlike the greasy, overrated and expensive Indian food you get abroad. The icing on the cake? They served Gulab jamun!
Paradox, Oia: The Happy Cow app led me to this one and I cannot be more grateful to them. On the main road to Oia, this Asian restaurant serves the best vegan and vegetarian meals in Santorini. Almost any dish on their menu can be made vegetarian provided you communicate this to your server. They have Asian curries, soups, appetisers, rice, and noodles and fully understand what 'vegetarian' is.
Falafel land, Fira: Though Fira has many eateries, this one is a vegetarian-only busy restaurant, mainly serving takeaways. Three euros for a generous wrap with quick service. What else does one need in a busy island?
Pelican Kipos, Fira: An oasis in the center of Fira, this restaurant has a lovely garden setting with creepers as roofs. A gorgeous place to relax, unwind and have a meal away from the chaos of tourists clamouring in Fira city center.
Chania, Crete:
The largest island in Greece has not only restaurants with vegetarian options, but vegetarian-only restaurants as well. Here ends the ultimate search for vegetarian food in Greece. Apart from the fantastic breakfast at Hanim's lounge (where I stayed), these are my favourite vegetarian-friendly restaurants in Chania, Crete.
Pulse: This family-run vegetarian eatery is very near the Venetian Harbour, opposite the parking space behind the Maritime Museum. Serving a plethora of snacks, from Manchurian balls to burgers, to quinoa salads to even vegetarian Moussaka (with eggplant and zucchini).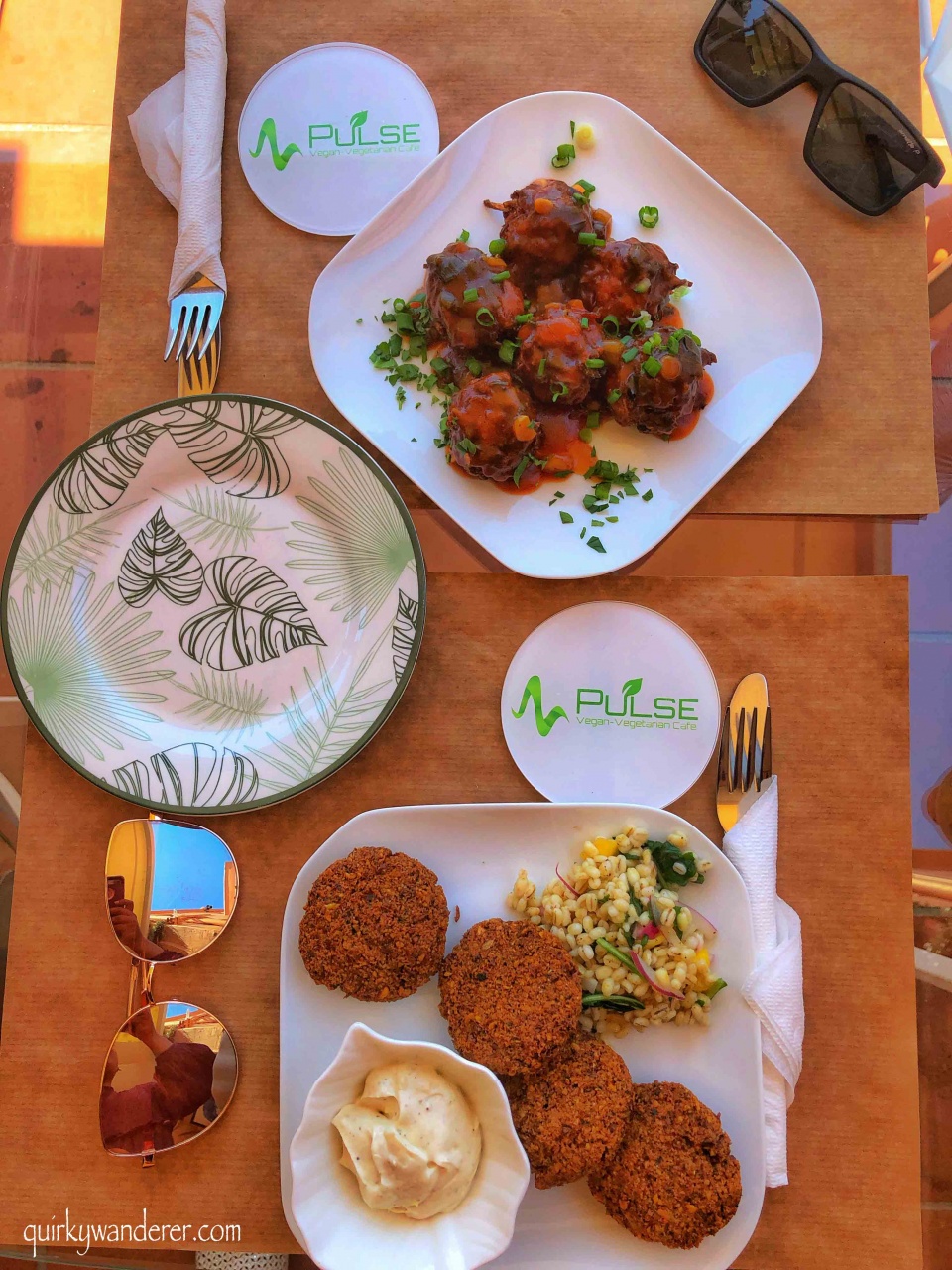 To Stachi: Slow cooked, organic food at its best. Another vegetarian-only restaurant, again family run by Stelio, his wife and lovely daughters. They have several local Greek dishes on the menu including Moussaka and Pastitsio and the chef comes to you suggesting what you can order and what is his special dish for the day. The principle behind the restaurant is extremely special and this is communicated throughout the dining experience.
Asian Bistro: An Asian eatery near To Stachi, where servers understand what vegetarian is and the food is simply amazing! A welcome break from Greek cuisine (if you have had enough of it). Do not forget to collect your Fortune cookies at the end of your meal.
To Steno: a community-run eatery by local youth that serves snacks and drinks. Don't miss their cold chocolate!
Athens:
In the capital city of Greece, finding vegetarian food is not at all challenging. Street stalls are selling a plethora of snacks to munch on the go, Gyro corners offering falafel wraps, Bagel vendors selling Greek Bagels and fruit stalls selling fresh cherries, peaches, and strawberries.
Apart from the amazing eateries, I visited with Greeking.Me on the Athens for Foodies tour, here are some of my Athens favourites: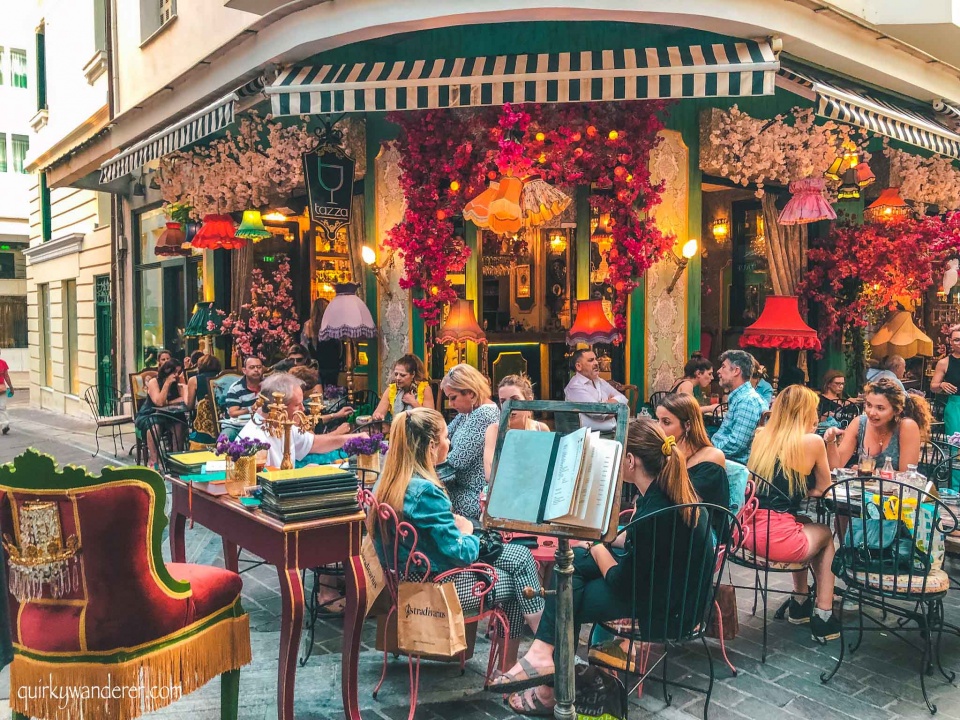 Tazza cafe: One of the most Instagrammable cafes in Athens, in Petraki square, Tazza is a great place for Pizzas, Bruschettas, Ice teas and more. Full marks to their friendly and quick service and quirky decor.
Black Duck cafe: A cafe where locals go, where you are surrounded by greenery and a calm that is rare to find in Athens. Do not miss the Freddo cappuccino in Athens, a cold black coffee with milk and ice. (This is a local favourite).
Little Kook cafe: A themed cafe in Psirri, where themes keep changing, ranging from fairy tales to Disney themes to Christmas decor. Another Instagrammable cafe with dazzling interiors, ornate exteriors, colourful props and an assortment of decadent cakes.
Acropolis museum cafe for lunch with an Acropolis view: suggested by a local, this cafe is on the 2nd floor of the museum. In case you want to visit it without a museum pass, you can simply inform the representative of a free ticket to go directly to the cafe. Amazing coffee, delicious desserts (do try their Cretan strawberry cheesecake) and an unobstructed view of the Acropolis are the main reasons for you to visit this cafe.
I hope this guide will help you find vegetarian food in Greece effortlessly! If you think you have got enough of the authentic Greek cuisine (you certainly won't), you still have other European cuisines to fill in your cravings. Safe to say that vegetarian preferring Indians can leave those 'theplas' behind!