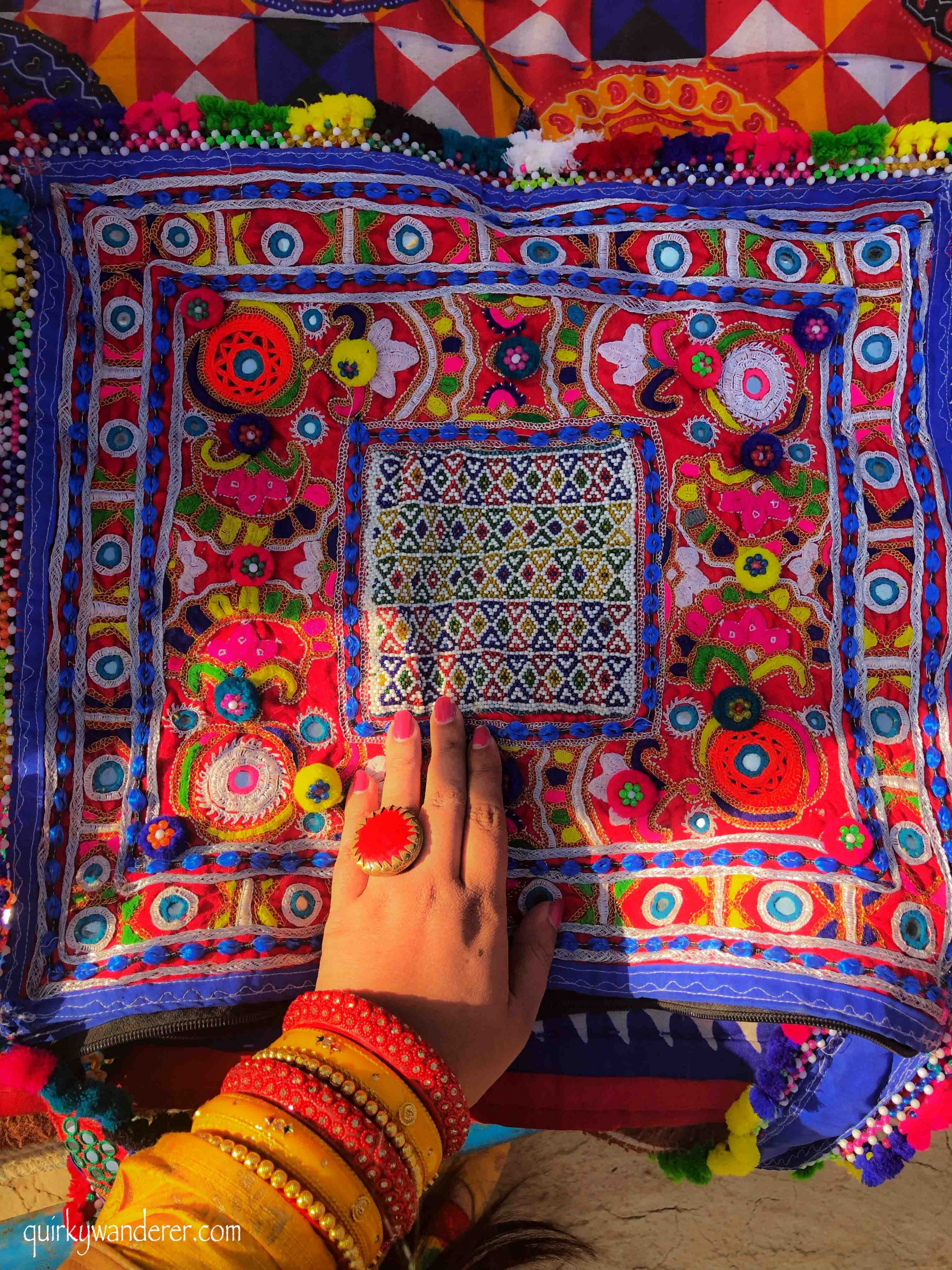 Folk tunes fill the air as the sun is ready to dive into the infiniteness of the white desert of Kutch. It is a chilly evening but the classic backdrop of the Rann, with the orange hued skies and vibrant folk dances being performed on the stage is a sight to behold. On the stage, a group of ladies perform 'Gajiyo' a traditional Kutchi folk dance, in perfect unison. I am at the very popular Rann Utsav in Kutch, Gujarat and there is no dearth of colours here. When nature painted Kutch in a dreary beige, the tribes of Kutch splashed an array of colours, making it one of the most vibrant regions in India.
This wasn't my first visit to Kutch and as I travelled further into this district from the city of Bhuj, I encountered endless stretches of arid land, under the sweltering heat, with scattered habitation of nomadic tribes: the Rabaris, the Meghwals, the Wadas, the Harijans and many others. There are traditional Bhungas or mud houses on either side of the highway, with elaborate mirror work on the walls and bright patchwork quilts adorning the low seating areas. Ninety kilometres from Bhuj, is a kaleidoscope of colours: The Tent city of Rann Utsav.
Folk tunes welcome you: be it dhol beats or the lilting tunes of Amrit Lal Barot's musical instruments and as you manoeuvre your way inside the 'Tent City', you will find arty installations, quirky props, rustic 'Bhungas' (huts), vibrantly decorated modes of transport making the place extremely 'Insta-worthy!'
The tent city is a perfect blend of luxury with rustic touches, making it ideal for families, couples and luxury travellers. Enter a giant hall for seamless check in (with meal coupons for Breakfast, Lunch, Dinner and High tea) and hop into a vibrant rickshaw to your tent cluster. The tent city has something for everybody, albeit it is touristy.
A haat (market) for locally sourced handicrafts, textiles, bags, shoes, jewellery and the likes, for shopping, (and no, it isn't overpriced, contrary to our usual beliefs!), an activity centre for recreation with camel carts, cultural programmes (music, dance, humour, magic shows) held every night and small pop ups like pottery, star gazing with a telescope as leisure activities. Meals are vegetarian and are served in a dining hall close to the clusters. Internal commute is through rickshaws, decorated buggys, colourful tractors and the likes!
Sunsets and moonrises: 
The first time you set foot on the white desert, you cannot believe what you are walking on: SALT! Hardly ten minutes away from the Tent city, crystals of salt are spread over like a massive blanket, spreading infinitely as far as your eyes can see. The White Rann extends from Gujarat's Kutch district to Pakistan's Sindh region, spreading over 30,000 sq. km. You will find it immensely crowded and not without a reason. Everyone wants to witness that EPIC sunset over the White Rann. I walk over the marshy salt flat, away from the crowds: the college goers, families, pre-wedding shoots, to find a small piece of this hypnotic expanse to myself. It is enormous and it isn't hard to find a place where I can bid adieu to the sun for the day, in solitude.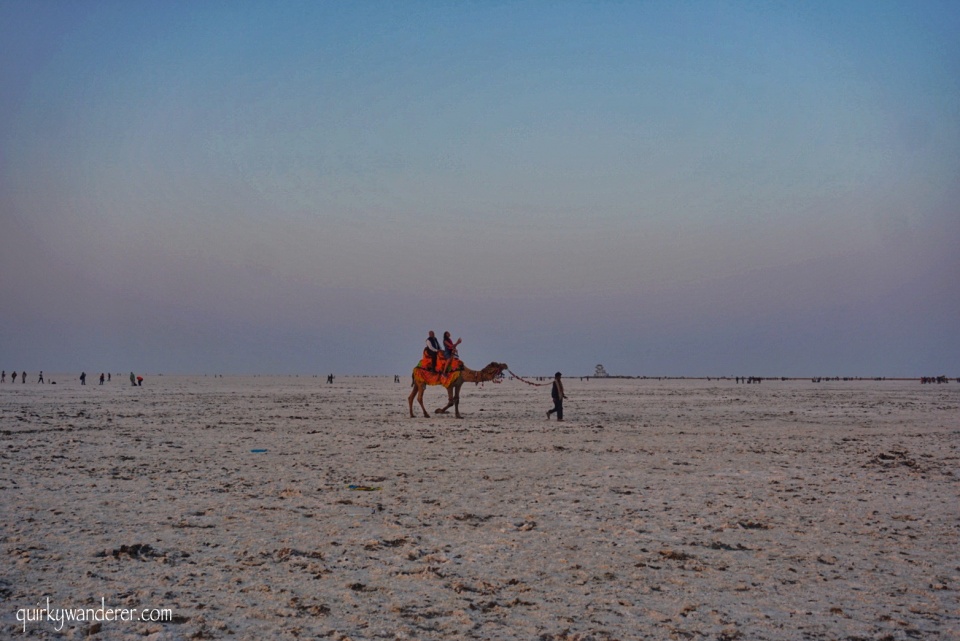 Tangerine, auburn and a melange of the two and then it's gone. Swallowed by the white expanse leaving behind a brilliant aftertaste in the sky. Sunsets are always special, but this one is bucket list worthy.
In January 2018, I was privy to a similar sunset, where one hour later: the chatter died down, people vacated the place, my sitting direction changed. I now faced the east and sat in complete darkness. Everyone sat together, yet apart awaiting the spectacle. It was a full moon night but the icing on the cake was the lunar eclipse. I began to savour the silence as the temperature dipped and a light breeze rustled in my ear. A faint red blot appeared in the sky, which darkened. In pitch darkness, we welcomed a tiny illumination, resembling a ring on the moon, slowly it brightened, lighting up the entire sky. The serenity and magnitude of this sight won us all over. In pin drop silence, moonlight washed over us as we all captured the surreal spectacle in our eyes and etched it forever in my minds. Two years later, it still is a memory for keeps.
Colourful Craft villages:
While visiting the Tent city and Rann of Kutch, do not miss the vibrance of the craft villages. Ajrakhpur, Hodko, Nirona, Bhujodi are villages where you can see craftsmen at work and buy directly from them. While Bhujodi and Ajrakhpur are near Bhuj, Hodko and Nirona are enroute Tent city from Bhuj.
If you are short on time and have time JUST for one craft village, let it be Nirona. It gives you the feel of an unpretentious, real village set up besides allowing you a sneak peek into the life of the artisans. Also, you are acquainted with three crafts in a single village: Rogan Art, Copper Bell art and Lacquerware.
A detailed post on these crafts will be up soon.
Sightseeing in Bhuj: Mahals and Cenotaphs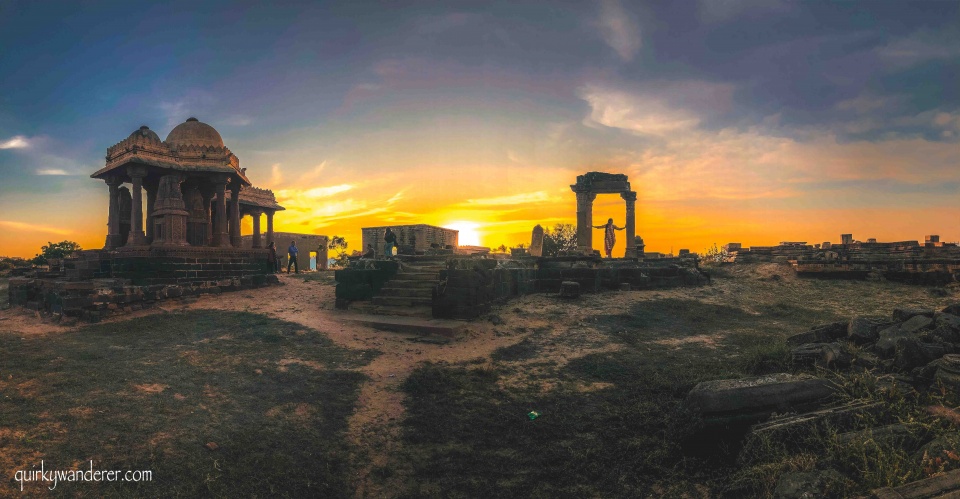 While in Bhuj, as it will be your entry point to Kutch, make sure you spare a day visiting some architectural gems. Museum lovers can visit the Kutch museum, heritage lovers can visit the Aina Mahal and the Gothic styled Prag Mahal.
Those looking for an offbeat experience can visit the lesser known Ramkund step well and catch the sunset hues from the Royal Chattardis. The Royal cenotaphs were worst hit during the Bhuj earthquake, but even then the place offers a serene sunset experience, with pillars, columns scattered across a massive compound and silhouettes of cenotaphs in the orange sky. An added advantage is that it isn't crowded, but the flip side for photographers is that tripods are not allowed.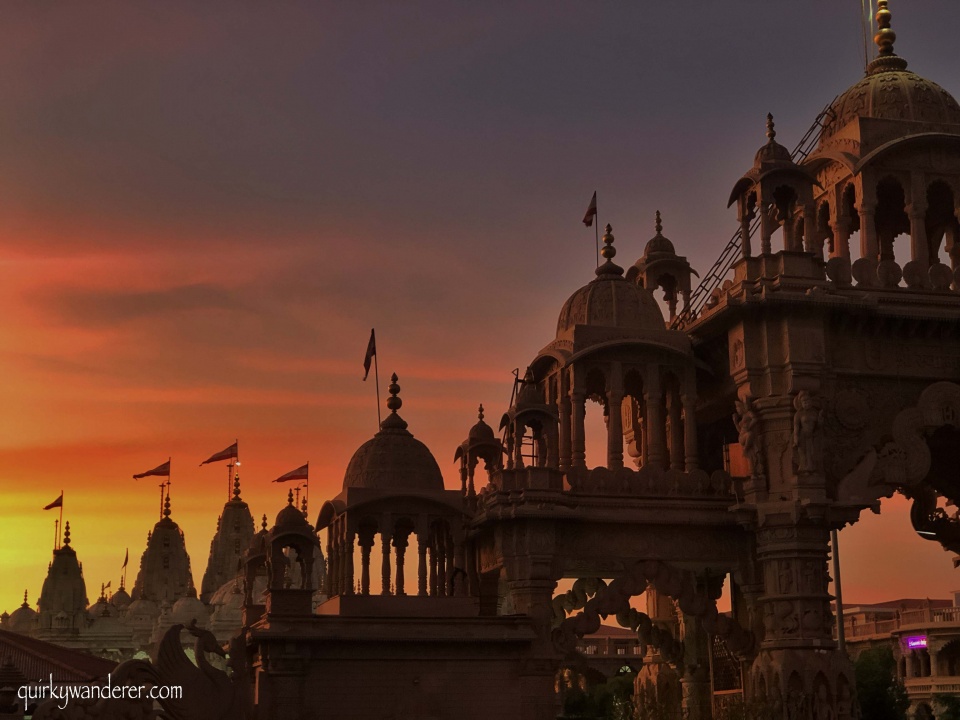 Additional detours: 
If you have the luxury of a few more days, you can explore these popular, additional trip options based on your interests.
Mandvi: For beach and architecture lovers: 
Barely an hour away from Bhuj, is the ancient port town of Mandvi, known for its clean stretch of beaches, where the sand is so soft that it doesn't stick to your feet. Mandvi is also the 'birthplace' of the famous street snack Dhabeli, readily available at all the street side vendors.
Heritage lovers cannot miss the opulent Vijay Vilas Palace, famous for its fusion architecture, influenced by Kutch, Bengal, and Rajasthan. Constructed as a summer palace for the royal family of Kutch in 1920 with stone jaalis, giant domes, spiral staircases, intricate arches and royal furniture, this red stone palace overlooks the Arabian Sea. The palace was also used for many Bollywood movie shoots like Lagaan and Hum Dil De Chuke Sanam.
Kalo Dungar: For view hunters
Approximately 100 kilometers ahead of the sparkling White Rann, the terrain changes drastically as winding roads lead to the highest point in Kutch. Being approximately 460 meters above sea level, the place provides a bird's eye view of the Greater Rann of Kutch. Kalo Dungar literally translated to the Black Hills are known as magnetic hills, with one point said to have a magnetic effect on the cars passing by.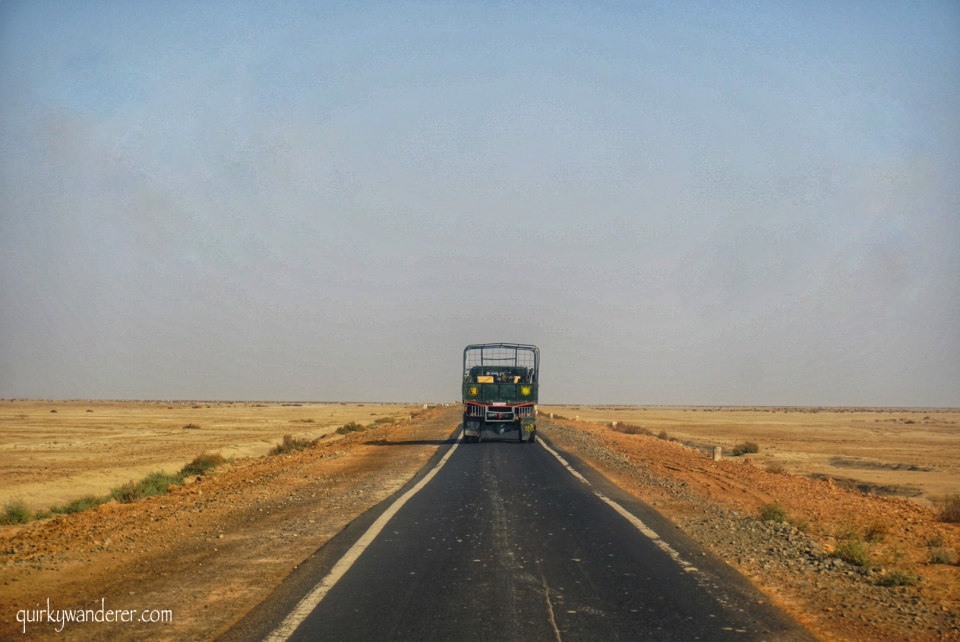 The Kalo Dungar is a regular tourist spot, with local vendors coaxing you to get on a decorated camel, scores of tourists swarming the 'sunset point'( flanked by desert cacti) and a few adventurous ones, venturing further away to isolated spots to see the infinite expanse of water merge with the horizons, in the company of layered hills, devoid of vegetation.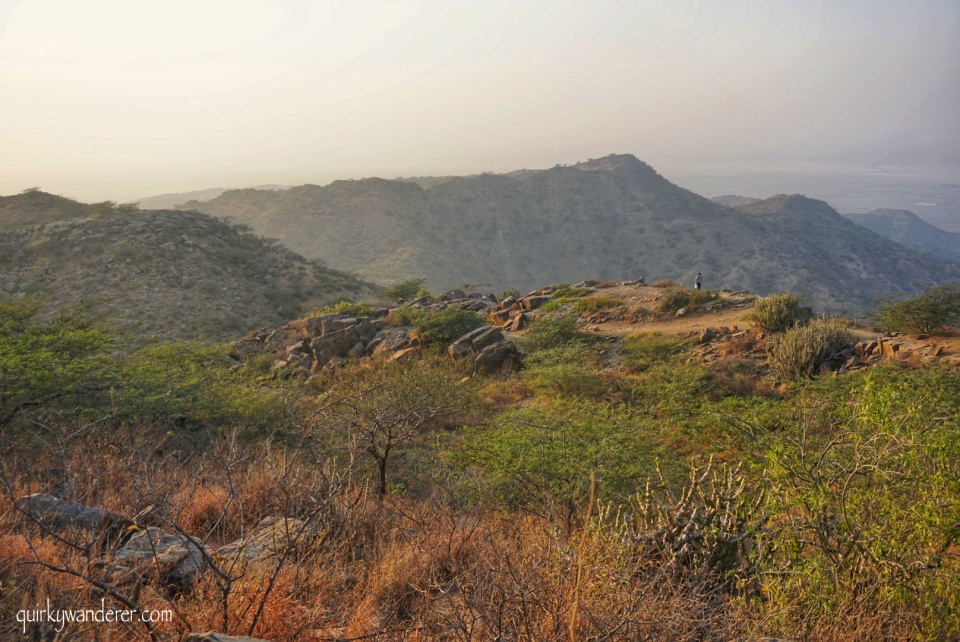 There is a Dattatreya temple as well, which offers free food to travellers. According to a legend, Lord Dattatreya rested on these hills and encountered a pack of hungry jackals, to whom he fed his own body. As they fed on his body, it started regenerating miraculously. As a practice, temple priests offer food to jackals every noon and visitors flock the temple to witness this spectacle.
Dholavira: for history buffs and lovers of archaeology 
One of the two largest Harappan sites in India, the ruins of Dholavira bring the pages of history books to life.
Dating back to 4500 years, the ruins were discovered in 1967, but the process of excavation started in 1990. The site explains the seven stages of civilization from birth to decay and gives great insights into the study of the Indus Valley civilization.
A trip to Dholavira is a must for lovers of history to witness the learnings from a lost civilization and unravel the mysteries of undeciphered signages and stone inscriptions.
Dholavira can be reached by a 250 km drive from Bhuj with occasional sightings of Chinkaras and Nilgai. Pro tip: Doreen D'sa for Doe's Ecotours organisers fabulous trips covering Dholavira and offbeat sights of Greater Rann of Kutch.
Little Rann of Kutch: for avid birders:
330 Kms from Bhuj and 130 Kms from Ahmedabad, lies the dusty Wild Ass Sanctuary offering mirage like views of what actually is barren land, camouflaging a variety of birds: from the Greater Hoopoe-Lark to the Cream-coloured Courser to birds of prey including the Marsh harrier to the Steppe Eagle. The Little Rann of Kutch is a flat, salty mudflat, with the highest population of Asiatic wild ass. There are sparse water bodies too, in an expanse full of Mesquite trees, where water birds thrive.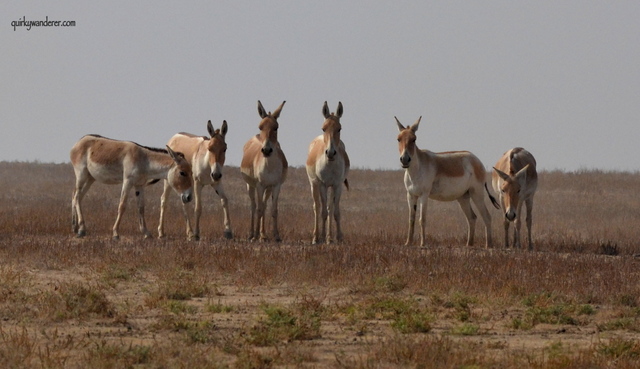 The sunsets against the cracked marshland are phenomenal, especially when a flock of pelicans stands silhouetted against the orange sky. 
How to reach the Tent city and Bhuj:
By Air: Bhuj has a defence airport and is connected by air from Mumbai through Air India flights operated by Alliance Air.
This is certainly the fastest and most expensive option to reach Bhuj.
By Rail: Bhuj is well connected to major stations on the western line.
By road: The distance from Ahmedabad to Bhuj is 330 kms and takes about 6 hours.
The Tent city is approximately 90 kms from Bhuj and can be reached by road (cabs, autos are the most convenient modes of transport).
Best time to visit:
The best time to visit the White Rann is after it dries up in October.
The Rann Utsav begins in October and goes on till March. This year it began on 28th October, 2019 and will be on till 12th March 2020. You can book packages directly on the official website. All packages include fixed complimentary transfers from Bhuj to the Tent city as well as complimentary sightseeing. They also have tour packages that include sightseeing of Kalo Dungar, Bhuj and Mandvi. More information on those packages is listed here.
Disclaimer: I was hosted by Gujarat Tourism during this trip. Needless to say the opinions, experiences and recommendations, as always are mine.