"Is this for real?", I think, when I walk over the Indian Ocean in my room at Mövenpick Kuredhivaru in Maldives. I look at umpteen fishes wading joyfully in the blue waters through the glass bottom flooring in my ocean villa. Ten feet away, I can slide a glass door and walk over an elevated, outdoor deck to hear the glistening waves calling out to me.
Haven't we all wanted to be marooned on an island at some point of our lives? A picturesque island fringed with coconut trees, powdery beaches and surrounded by crystal clear waters? Mövenpick Kuredhivaru is one such private island resort in Noonu Atoll, which offers this and a lot more.
As a traveller, I have often wanted to squeeze a lot of exploratory trips into one, making the trip a lot more hectic, stressful and leaving me practically drop dead tired by the end of the journey. But Mövenpick Kuredhivaru is a property, where you can stay in one place and enjoy not just leisure activities but also undertake day trips to see the exquisite marine life of Maldives thanks to a set of well curated experiences, designed by the team.
So you have the chance of gazing at marine gems, practically everywhere in the resort (including your room), pristine beaches (with sun beds) are a 2 minute buggy ride away, you can kayak and snorkel into the house reef from the resort (they provide the equipment) and you can indulge in a rejuvenating spa over the ocean. All at one single place. Tempted to be marooned on Mövenpick Kuredhivaru? Read along!
Rooms and their interaction with nature:
The most unique aspect of my water villa, was the proximity to the ocean. My villa faced the lagoon and I was just one ladder away from plunging into the teal coloured waters. Even if I didn't physically enter the lagoon, I could perch myself in the hallway near the glass floor and watch the underfoot marine life, still keeping my interaction with the ocean intact.
It took three years to build this new property, acquired by Accor hotels in 2018. There are 72 such overwater villas, designed in a way to not just offer endless views of the ocean but also privacy to the guests. The adjacent villas will not be able to see your villa, thanks to this creative zig zag design.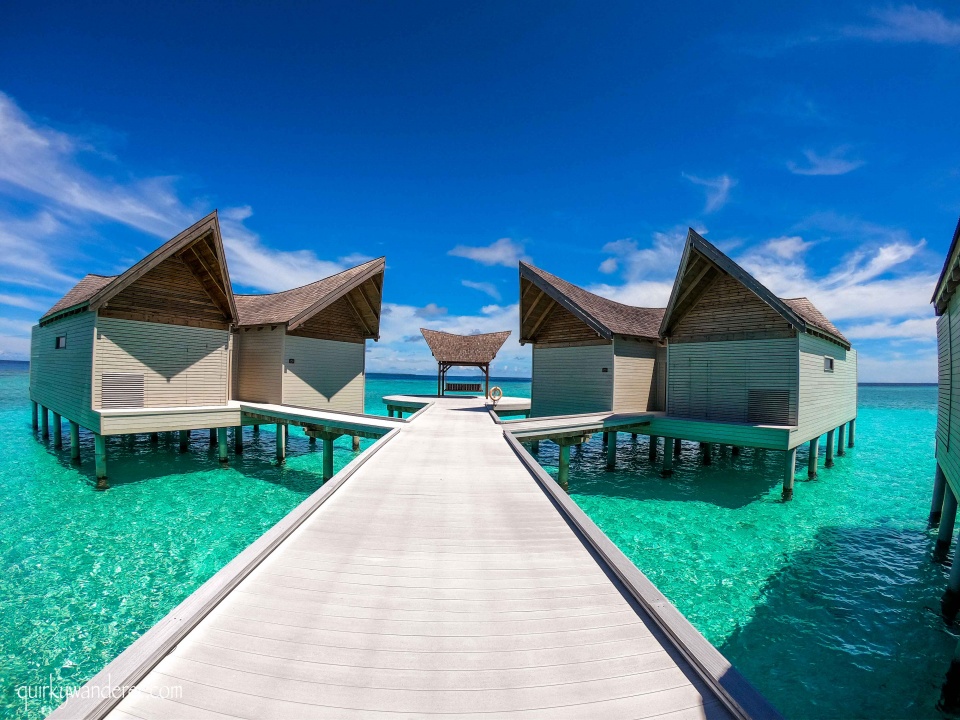 Not once did I feel I stayed in a concrete hotel, because of the extensive use of wood, bamboo and coconut in the room and stone in the basins and bath tub. Besides, each villa has a shaped roof that blends seamlessly with the natural environment of the tropical island.
Beach pool suites: For those who love being nestled in nature, there are 30 beach pool suites, that have a direct access to the beach, open shower areas and are enveloped by native Maldivian palm trees. There are also three Beach Spa Pool Residencies, each having three rooms and large green areas, perfect for families.
Each villa has a private pool ( both ocean villas + beach suites). My ocean villa also had a hammock over the ocean, where I lay reading a book with the sounds of the water as constant company.
The Joys of a Green Hotel :
It was delight to see NO plastic in the resort. Seeing bamboo straws being used in beverages, glass bottles for water and no single use toiletries, warmed my heart. Mövenpick Kuredhivaru is a green hotel and this can be seen by the sustainability.efforts taken by the hotel.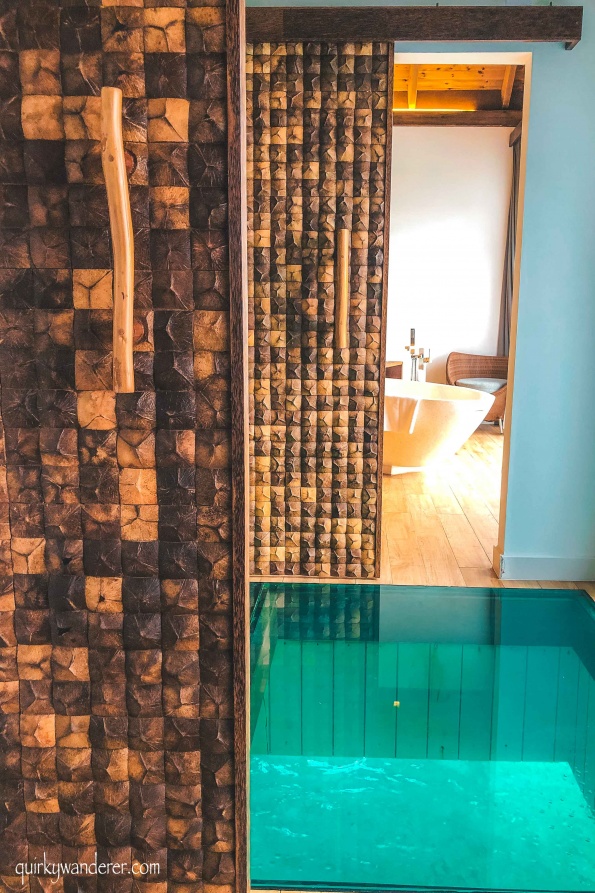 When I left my water villa and headed towards the spa, I was awestruck by the dense, green canopies on the island.They felt natural, endemic and untampered.
For once, I felt I was transported back to the tropical greenery of Andamans. This went to show, that the Polish architect firm MOTIV, who have designed Mövenpick Kuredhivaru, had retained the natural beauty of the island and built villas around nature, thus integrating it seamlessly with the island ambience.
No wonder rooms had doors made up of hand made square shaped coconut tips, wooden fans and furniture made up of coconut wood, to keep the resort as close to Maldivian heritage as possible.
Adventure Activities:
One of the first things I spotted when I arrived at the Mövenpick Kuredhivaru jetty, was a pathway that led to a structure called Dive Butler. This got me intrigued.
A meeting with Silvio, a certified instructor and the manager of the diving related activities, made me learn that the house reef of Mövenpick Kuredhivaru is one of the richest in marine diversity.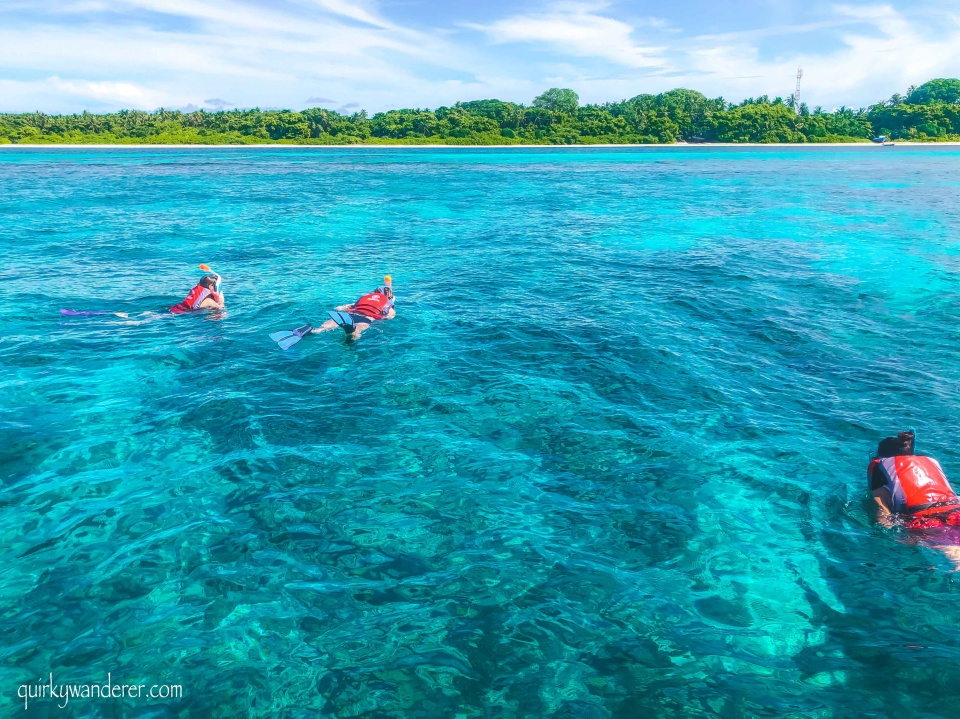 So not only can one snorkel to see schools of different varieties of fishes including black tip sharks, but also dive and even do a diving course at the resort with classroom sessions! You can kayak in the tranquil waters, indulge in stand up paddle boarding and snorkel with the equipment provided (all these are complimentary).
The chargeable activities are sea turtle and dolphin excursions, water skiing, wake-boarding, jet-skiing, banana boat or tube rides.
Relaxation by the ocean:
I tried very hard to keep my eyes open, to see the school of parrot fish under me. But Sumi's hands worked their magic and no matter how hard I tried, I drifted to a relaxed, undisturbed sleep. Opting for the detox massage at  Sun Spa was one of my finest decisions. The spa villas are further away and can be reached through a canopy of trees and dense foliage. Each spa therapist is from a different country and Sumi is from Bhutan. My spa room faced the ocean and while I lay head down on the bed, I could see the tranquil clear waters below, making the experience ever so blissful.
There are signature treatments like Jewel of Maldives, The Spice of Life, Soul mate escape, Island Hideaway that are specifically designed to offer a truly holistic wellbeing experience. Besides the Sun Spa, you can relax by the picture perfect beaches, laze on the swings, practice yoga at the ocean facing Sala, workout at the gym, or take a sunset catamaran cruise to unwind.
Mövenpick Kuredhivaru is not just for couples. There are activities for kids as well, at the very vibrant Little Birds club facing the ocean.
Dining in four unique restaurants:
At 4 pm, you are likely to see every guest in the hotel huddle inside the coffee shop. The door opens and you are hit by a whiff akin to a chocolate shop and all you do is grin widely because it is the Chocolate hour!! From macaroons, to truffles,to Swiss chocolates to creamy ice creams to delectable cakes to lollipops and cookies, the spread is enormous. This is a daily ritual where guests can pick up what they like and sit on bean bags relishing the sweet meats.
Enter the resort's main restaurant, ONU Marche and you will be welcomed with a wide bamboo roof, reminding you of Indonesian architecture. This multi cuisine restaurant serves practically everything (including Indian food) and this is where you can have breakfast by the sea.
Chef Beral whipped up a local Maldivian vegetarian meal, treating my tastebuds to flavoursome curries, chutneys and coconut bread.
Visit Bodumas (meaning big fish in Maldivian), with a roof inspired by seashells, for local sea food cooked by Chef Kader and the beach facing Latitude 5.5 for oriental and Italian lunch.
Vegetarians will not starve, provided they inform their meal preferences to the team in advance.
Multi lingual Staff and impeccable service with smiles:
In my four day stay I interacted with people from different countries: Silvio from Brazil, Youssef from Egypt, Sumi from Bhutan, Shaima from Tunisia, Brian from India and so on. It was heartening to meet staff from over 30 countries: Maldivian , Indian, Sri Lankan, Russian, Filipino and several others. Each time I called Jauziee for the buggy service, he was there with a wide smile and so were all the other staff who went out of their way to help. Living in an island isn't easy, but this bunch made sure every guest was served with a smile, never saying no to anyone. Thank you Rifa, Jamila, Jenna, Ja Mie and Vaibhav!
The sky is overcast, rain drops are falling pell mell, the otherwise quiet lagoon is teeming with waves. The skies are only a reflection of what we all felt while leaving Mövenpick Kuredhivaru. The speed boat has arrived at the jetty. The  team has huddled together to bid goodbye. As I get into the boat, my heart tugs a little at the sight of their waving hands. I am going to miss this. The clear waters, those fiery sunrises and sunsets and their smiles. With these indelible memories, I wave goodbye till they are out of sight, but not out of mind. Never.

Fact file:
Mövenpick Kuredhivaru is an Accor hotel and you can book your stay here.
It can be reached via a 45 minute sea plane flight from Male airport. It is better to opt for the all inclusive package of the hotel for seamless, no hassle transfers via the TransMaldivian airways.
You can fly Male Non stop, thanks to GoAir's direct flights from Mumbai, Bangalore and New Delhi with unbelievable  return fares for the winter schedule that is on till January 31st , 2020.
Disclaimer: I was hosted by Accor, Mövenpick Kuredhivaru and Go Air during this trip. Needless to say the opinions as always are mine.