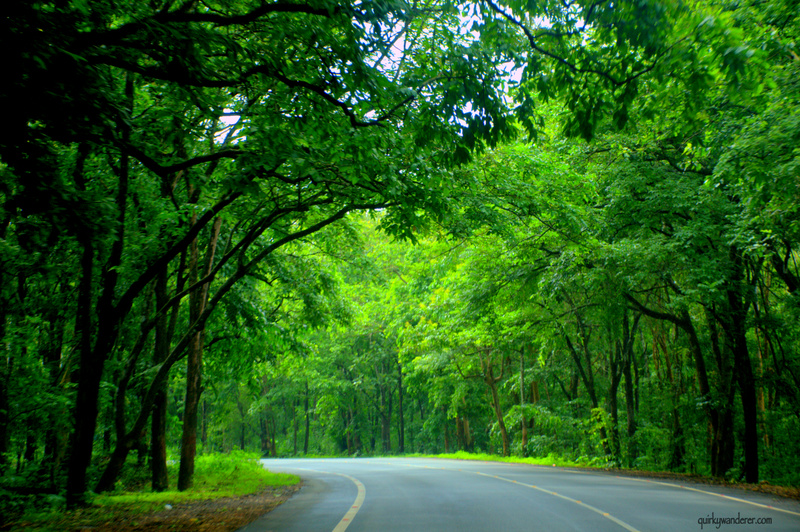 I love road trips.
The changing contours of the sky, with cotton-like clouds leading the way. Fields acting like stoic companions throughout, though the vegetation keeps changing every few miles.
Its thrilling and tiring and arduous and adventurous and a treat to the eyes and therapeutic and more.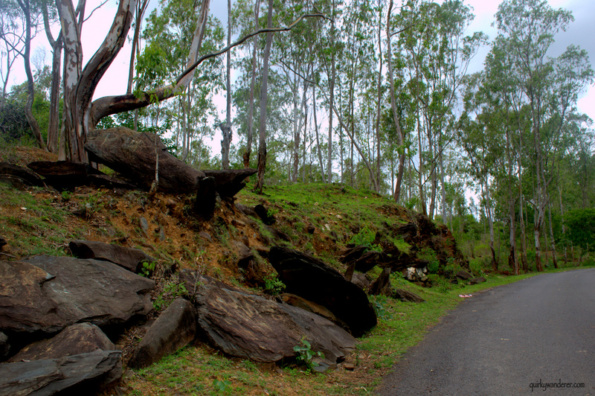 So with one week in hand, one Innova and 3400 kms (that was the final count, totally unplanned), we were off to explore Karnataka by road from Mumbai.
I looked at the Map online. It seemed an effortless journey. A smooth, no-fuss NH 4 sprawling from Mumbai to Bangalore. The plan had everything: comfort, pre-booked hotels,  great roads, timely arrivals.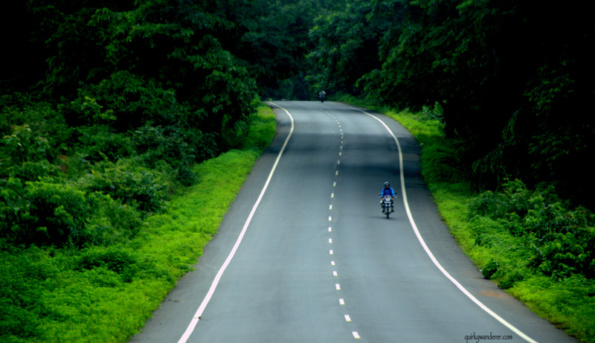 BUT what is a road trip without last minute changes and deviations and cancellations and frantic phone calls and last minute recommendations from a superb fellow travel blogger?
So on Shrinidhi Hande's suggestion, a few last minute changes were made and the route was diverted from NH 4 to the much more scenic, much narrower and winding state highways of this gorgeous state of Karnataka.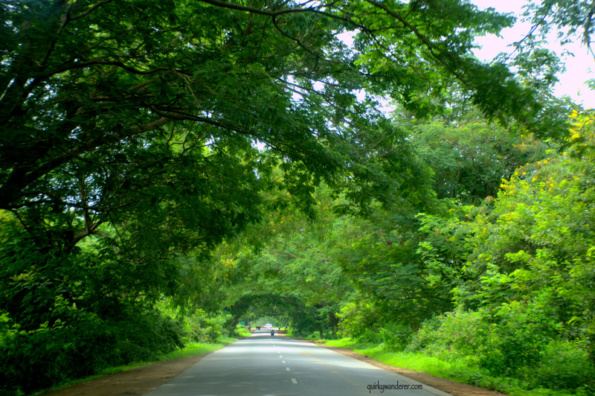 The new route of the 3400 kms journey (some of it planned, some totally impromptu) mapped as follows:
Mumbai- Hubli- Jog falls- Shimoga- Chikmaglur- Belur- Halebidu- Madikeri – Mysore- Bangalore- Tirupati – Horsley Hills- Lepakshi – Bangalore- Kolhapur -Mumbai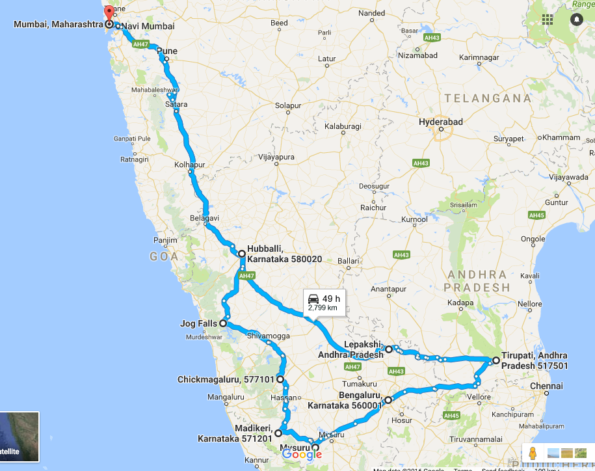 Phew!
The trip had everything: from picturesque views, to lush green fields, to rural houses scattered into the distance.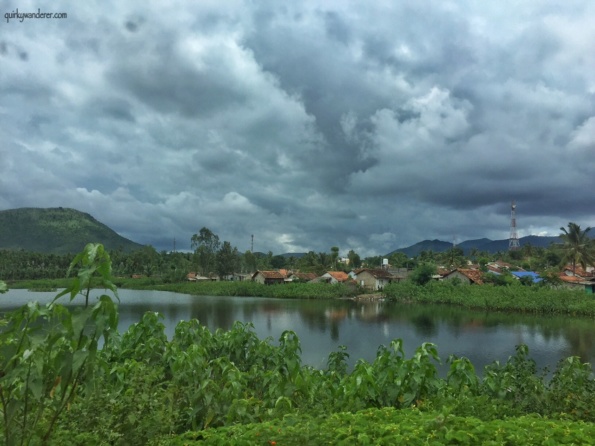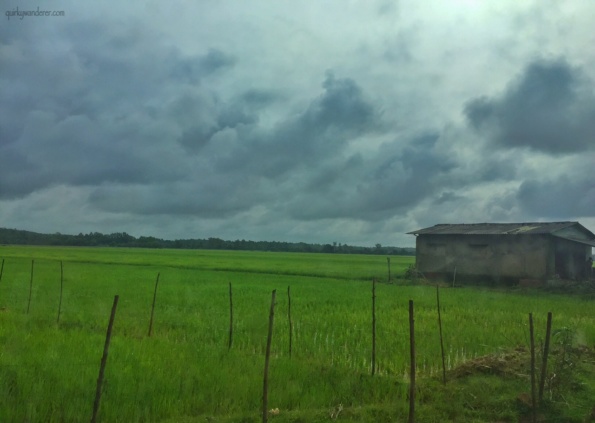 From archaeological wonders, temple ruins and historic temples to rocky mountains and fragrant forests. From palaces of a lost Kingdom and  different variants of Sambhar and Rasam as we travelled from the north of Karnataka to the south.
The first in this series, this post is about the magnificent roads of Karnataka, giving you every reason to drive this stretch during the monsoons for the views it offers.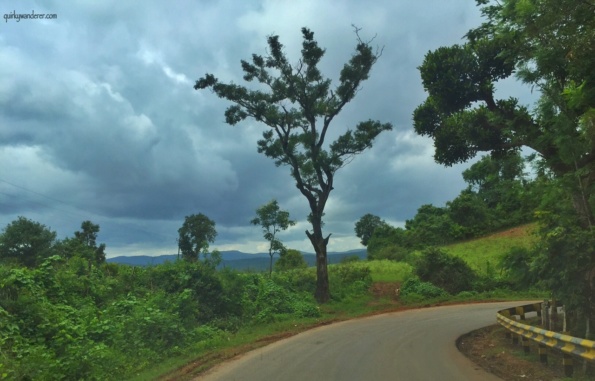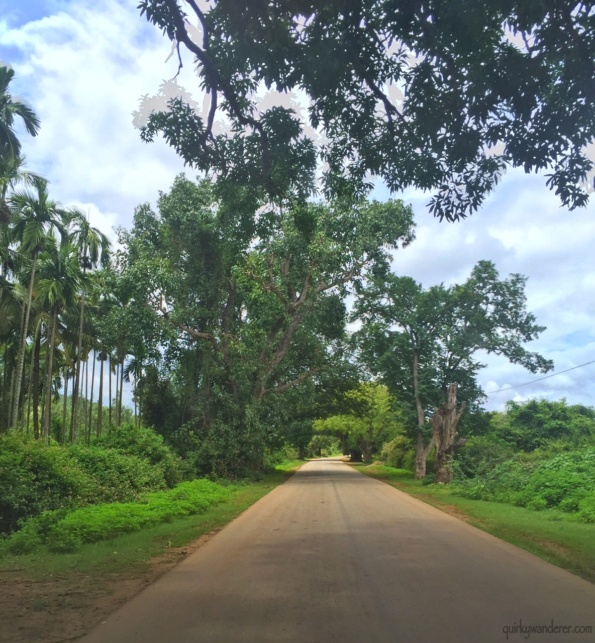 From Mumbai to Hubli, the drive is a highway drive. Lush green during the rains, 4 laned , extremely comfortable, with the Western ghats and windmills of Satara for company.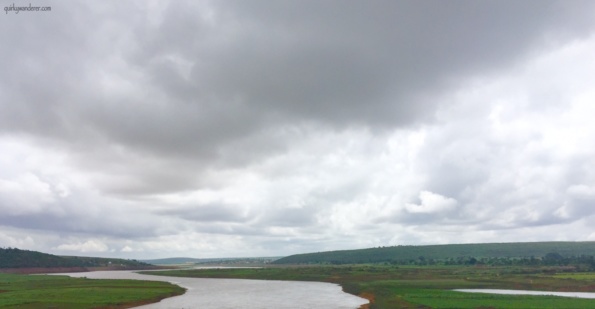 It is from Hubli that you bid goodbye to the comforts of the NH and nature welcomes you with open arms.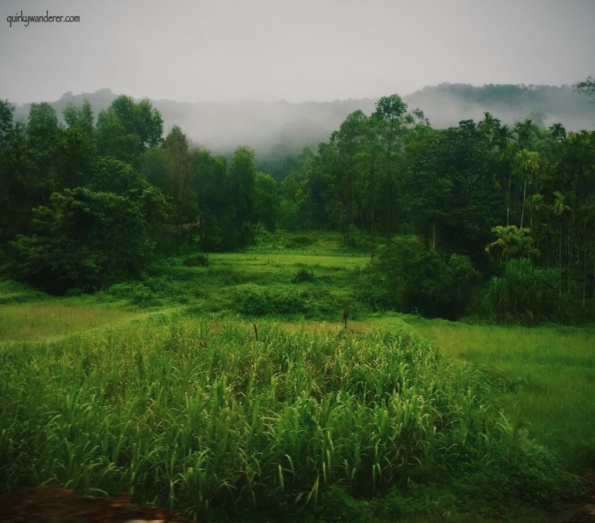 The journey from Hubli to Jog falls is through Sirsi, a small hamlet nestled in the heart of the Western ghats. The journey is through dense forests and the road is a single lane but extremely well maintained up to Siddhapur.
Throughout the journey to Jog falls, you see thick plantations of areca nut and paddy fields. After Siddhapur, as you are closer to the falls,  the road is a tad bit bumpy.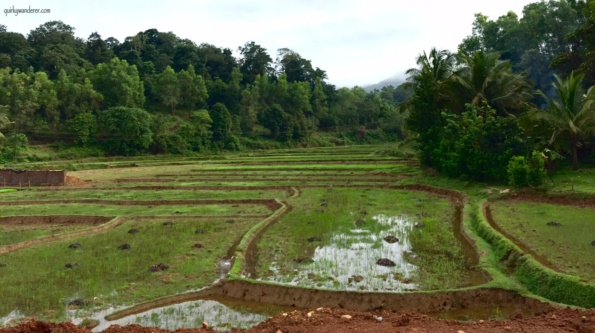 Jog Falls are the second highest falls in India and the splendor needs to be seen to be believed.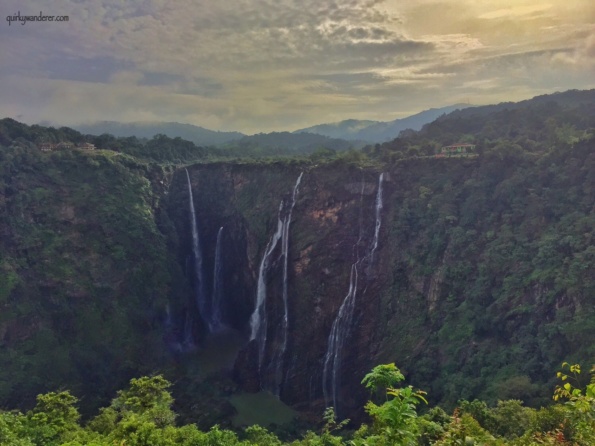 Tips:
1. Visit ONLY after considerable rains to see the falls in their full glory and when there is a fog prevalent for excellent photo ops.
2.  There are 1000 steps to the base of the falls. Make sure you climb down at least 150 for a better view.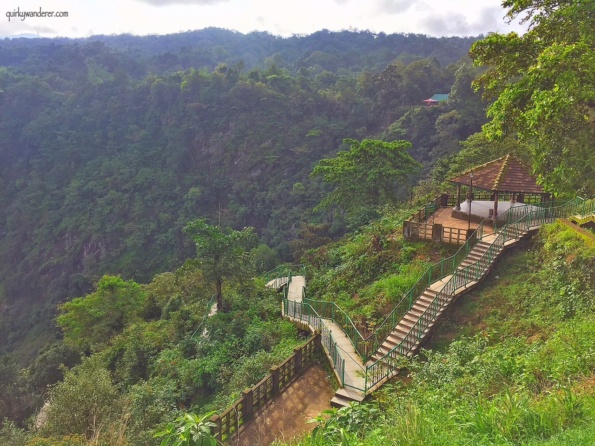 3. The gate to go down opens mostly after 10 AM. On some days it opens at 9.30 AM.
4. Once you are near Jog falls, there are two entrances: One is an old entrance which is actually the backside. There are absolutely no railings and this is a secluded area.
Make sure you enter the front side of the falls via a huge complex, which is a few KMs away.
5. Photo enthusiasts: Please carry your tripod for some slow shutter shots!
Post the visit to the falls, the scenic drive continued. Shimoga was bypassed and as the distance to Chikmaglur decreased, the countryside was akin a picture postcard.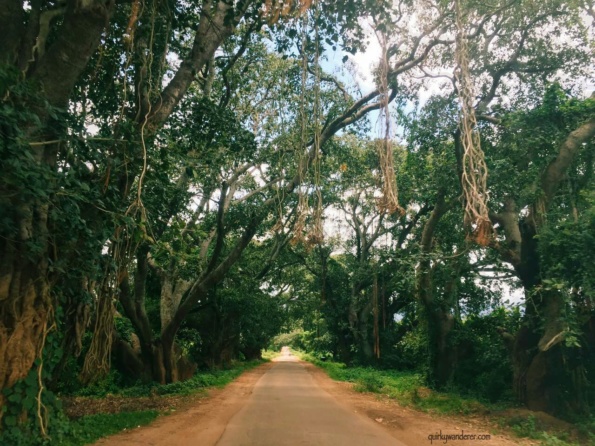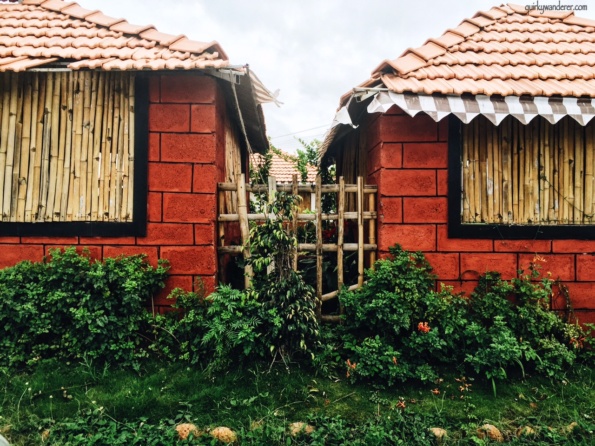 Winding roads overlooked green pastures for a few kms and then the view simply vanished!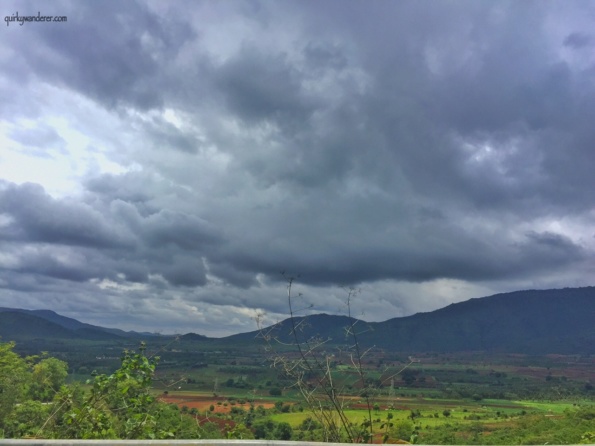 Because now we were enveloped in coffee plantations! Chikamaglur is the Coffee capital of Karnataka and the next 30 minutes (before the actual town arrived), we whizzed by the dense coffee plantations with pepper wrapped around the trees in abundance.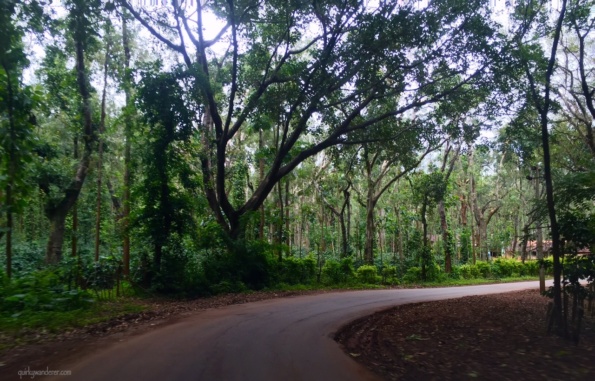 The place is an ideal retreat for nature lovers. A sign board reads Mullayanagiri : 13 Kms.
It is a very tough choice. The journey ahead is long and tiring. Temples of Belur and Halebidu need to be covered as well. But then you cannot really see 'everything', no matter how close you are to 'everything'.
Just a small coffee break in this small paradise. No, I definitely haven't seen Chikamaglur. But then I have seen a place I know I will return to. For its dark, surreal views with sunlight barely filtering in.  For its mountains colored in various shades of green and for its 'Kaapi' like no other.
This day was insanely hectic, yet beautiful and still not over. Belur-Halebidu temples just 25 Km from Chikmaglur require ample of time for exploration and are totally worth it.  After Belur we were on the road again, back to intermittent network and gorgeous views.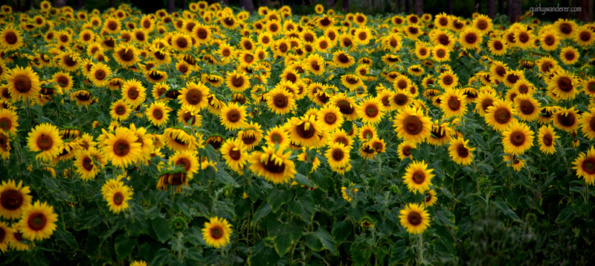 The distance from Belur to Madikeri (coorg) is 123 km.
It is almost dusk. Coffee estates on either side of the curvy roads.
The jungle is mesmerizing. With the cacophony of birds outside, I sit with windows rolled down, taking in the sights and the sounds of the forest.
It was fragrant and refreshing.  The forest can appease the senses in ways we cannot imagine. With the scents of sandalwood wafting through my window, I wonder if anything else could be more therapeutic, as an eventful day on the road comes to an end.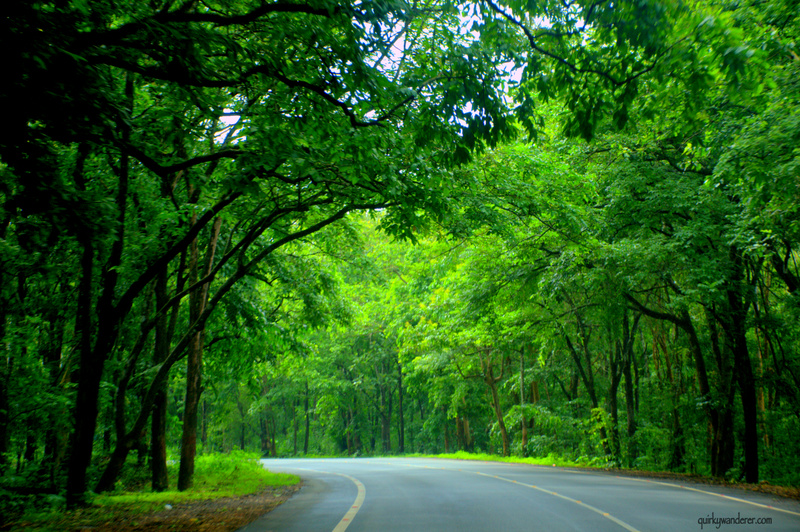 Distance covered in day one: Hubli- Madikeri : 506 kms.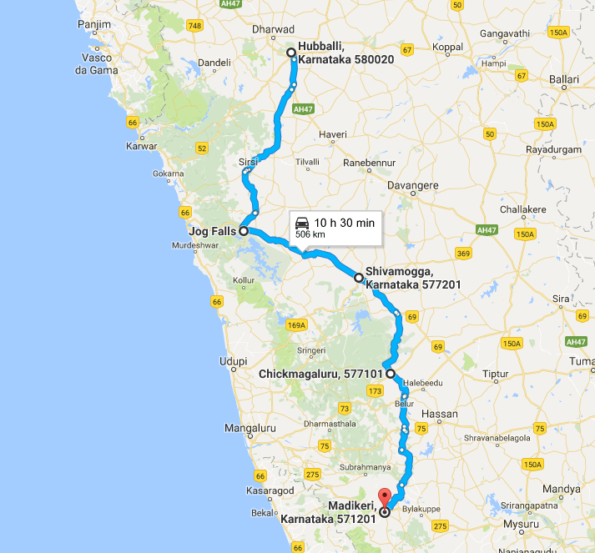 Note: Stay tuned for the entire series of posts on the destinations visited.
Also the site has been revamped! 🙂 Please subscribe again so that you don't miss upcoming posts 🙂