One cloudy afternoon in Belur, as I explore the 11th century Hoysala temple of Chenna Keshava, a dancing lady carved in stone welcomes me with a smile.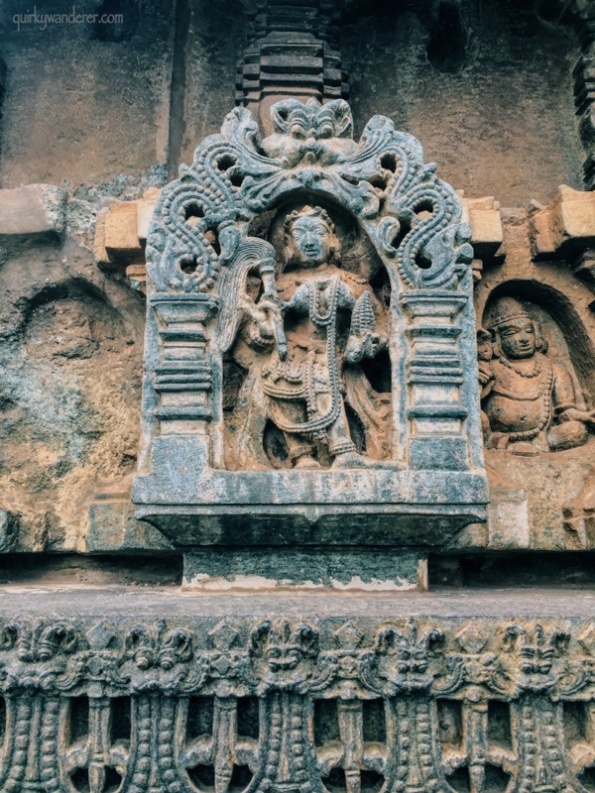 My eyes dart to her left and another lady vainly gazes at her reflection in the mirror. While I gaze at her, another one ignores me completely talking to her parrot. A few others are completely engrossed, some playing drums, some playing the flute, others singing and performing the 'Tribhangi Nritya'.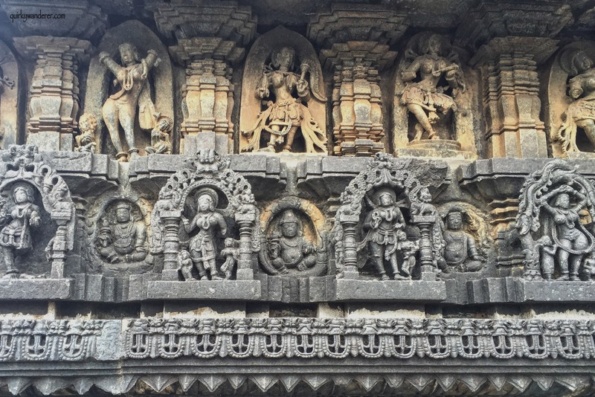 I quietly tiptoe this musical ensemble and move a little further only to find myself face to face with a huntress, aiming at birds. There was a story in every stone sculpture.
And I had traveled back in time.
The highlight of my second day of the Epic Southern Road trip were the Hoysala temple circuit of Belur, Halebidu and Belvadi.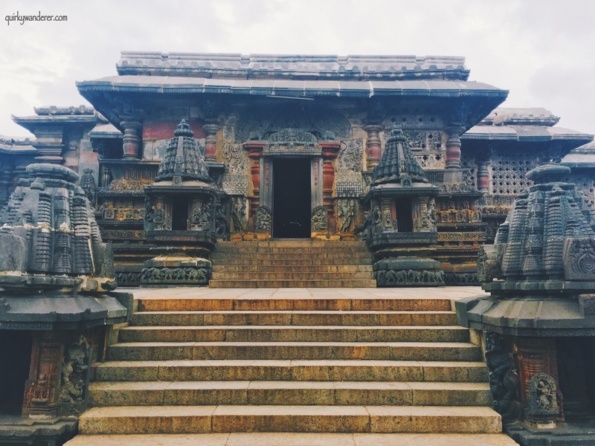 To be very honest, I was fairly ignorant about these before I visited them. Of course, being a history lover, I was always fascinated by the architecture built by various dynasties, be it the Cholas , Chalukyas or Hoysalas.
Reading about these in my school history book was different and seeing them with my eyes was radically different.
Because the beauty of the Hoysala temples needs to be seen to be believed.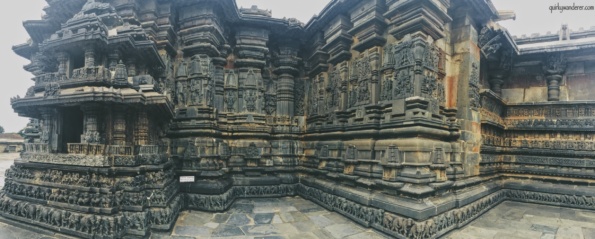 With stories in every corner and carvings that will leave you stunned, these temples are an exemplary example of how rich and terribly underrated India's architectural heritage is!
The Hoysala kings surely were great patrons of art and architecture and if today we see such magnificent temple architecture in Southern India, we need to know whom to pay our gratitude to.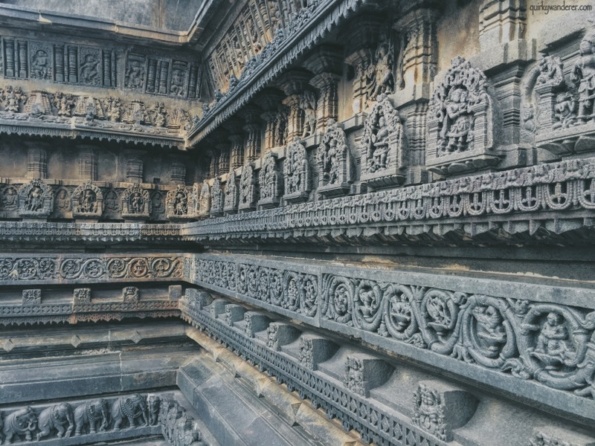 Belur is a sleepy town and the Chenna Keshava temple is tucked away in its interiors. I spot a tinge of gold and instantly know I have arrived.
The temple has a star shaped structure and is built on a platform with ornate carvings on every possible, visible inch.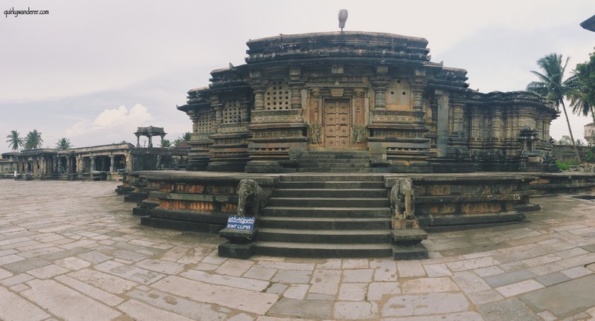 Unlike most southern temples, this temple doesn't have a towering height. Most of the vimanas were destroyed and what we see today is a flat structure devoid of any domes or gopurams.
This stellar temple was built to celebrate the Hoysala victory over the Chola kings. The construction began in the 11 th century, with sculptors working with all their skill and finesse.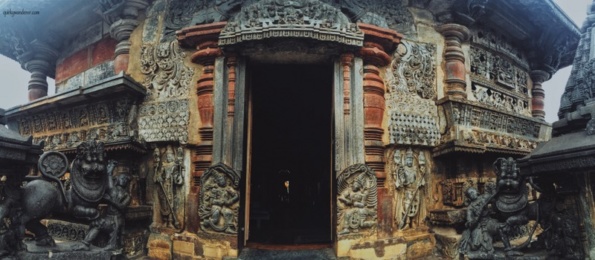 They carved relics from Mahabharata and Ramayana, beautiful women called the Madanikas, they carved animals and they carved the various characters of Hindu mythology, including Ravana, Shiva, Arjuna and many others.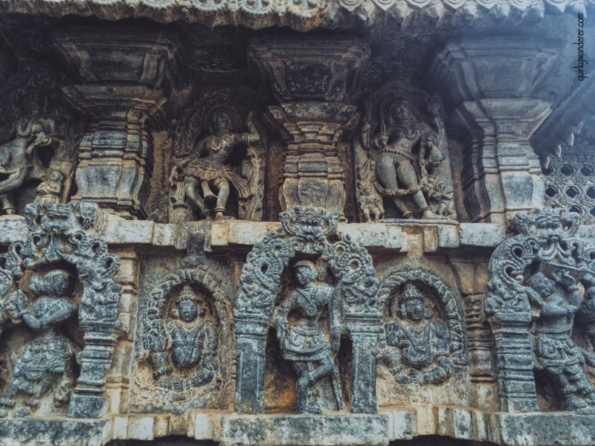 I can picturize it clearly, the fierce competition between the sculptors , each crafting his masterpiece and signing his name under the carving, copyrighting it!
Every artisan sculpting his imagination in stone, reiterating the era that celebrated dance and music.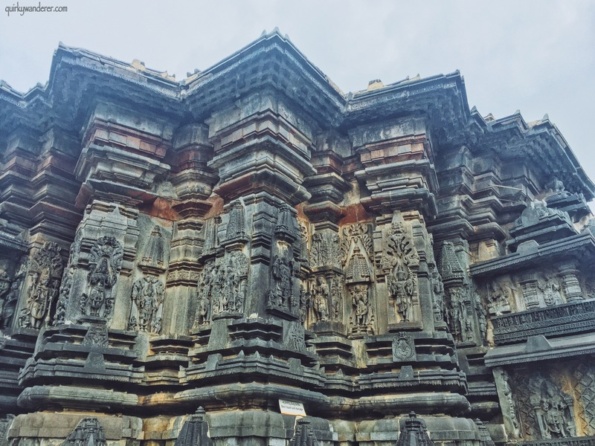 At the entrance, an unusual sculpture grabs my attention. This depicts the story of how the Hoysala empire was founded. The chieftain of the tribe, Sala saved a Jain saint's life after battling a tiger courageously.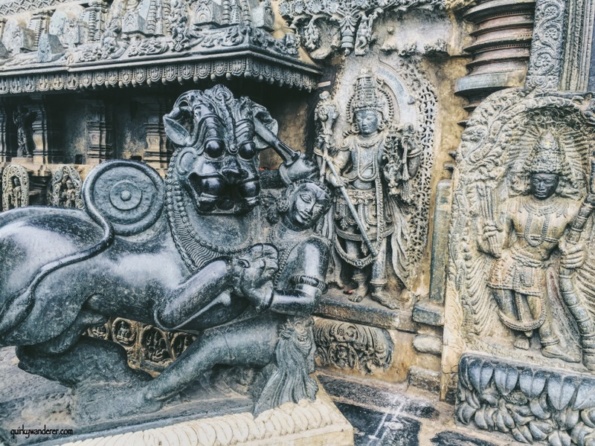 Hoy Sala, literally translates into "Strike! Sala!", these words were shouted to him during the duel.  The Hoysala royal emblem is that of a tiger, thereby giving a face to the valor of Sala, the founder of the Hoysala dynasty.
As I move around the temple, I realize how intricate the carvings are. Rows of elephants, horses and lions are carved in a black stone, which makes me wonder why they haven't eroded, despite the exposure to natural elements.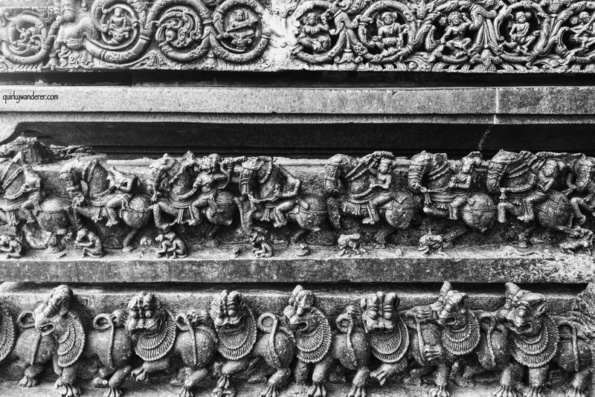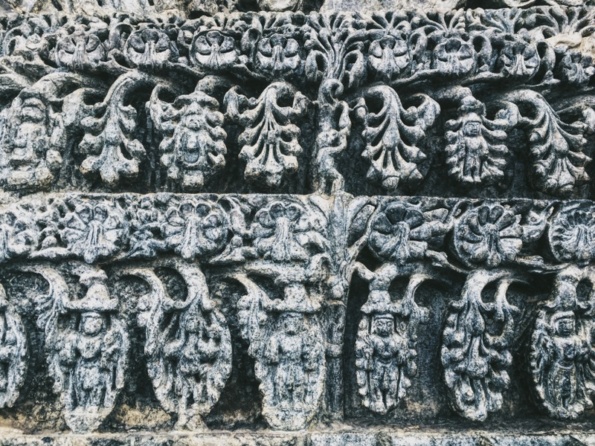 They all look similar but to my utter surprise, they aren't.  No two rows of friezes are alike! There are richly carved screens giving the temple a palatial look.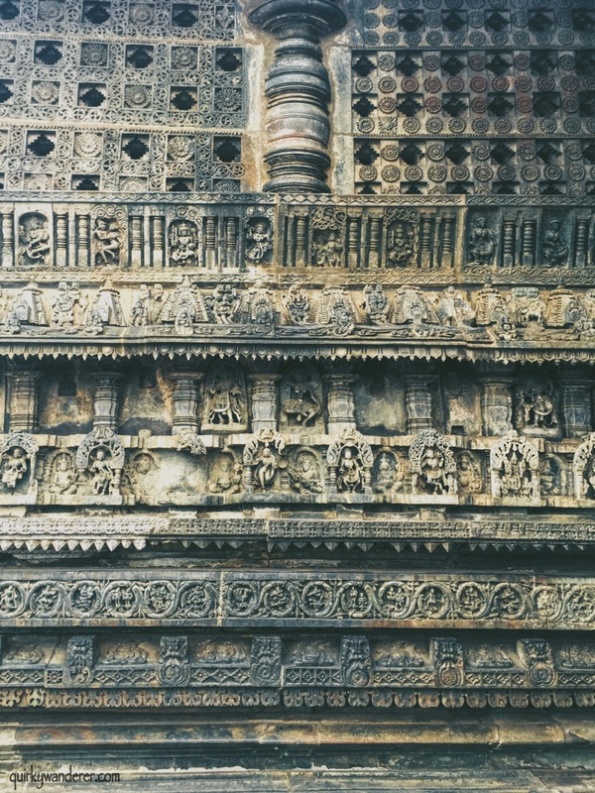 The temple is built with steatite (soap stone), which is easy to chisel and hardens with exposure. Most of the sculptures and carvings are in excellent condition, which is a relief, knowing how 'valued' heritage structures are in our country.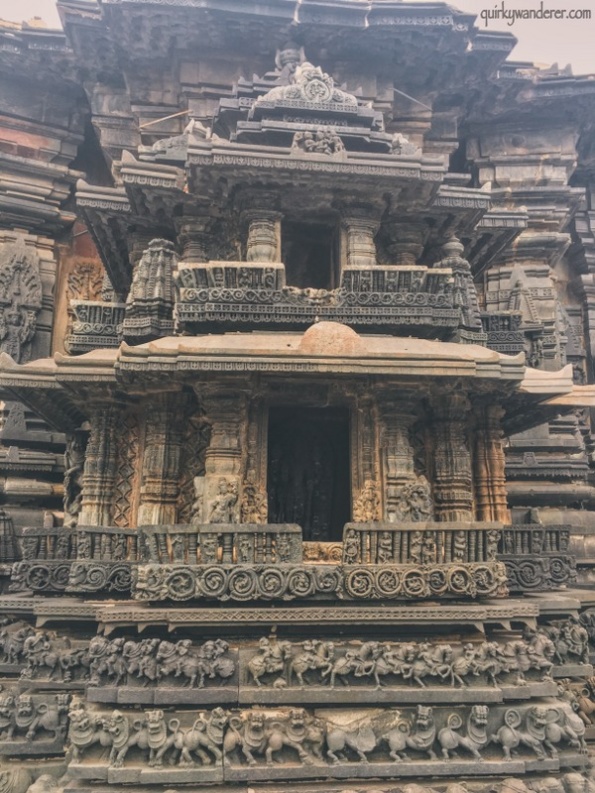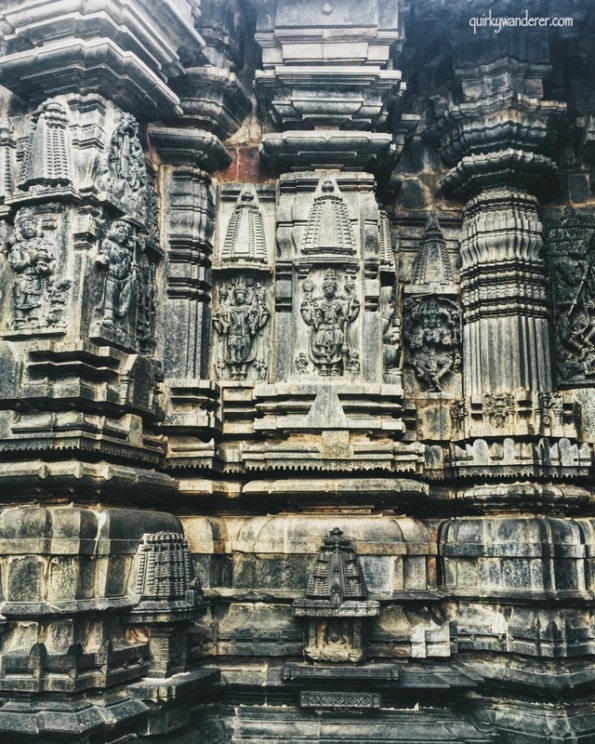 Periodically, these sculptures are polished with wax, thereby preserving them.
The inner hall is dark and pillared  with a huge torch which is rotated 180 degrees to show the profuse carvings of dancing ladies in different postures. The craftsmanship of the Hoysala sculptures is impeccable.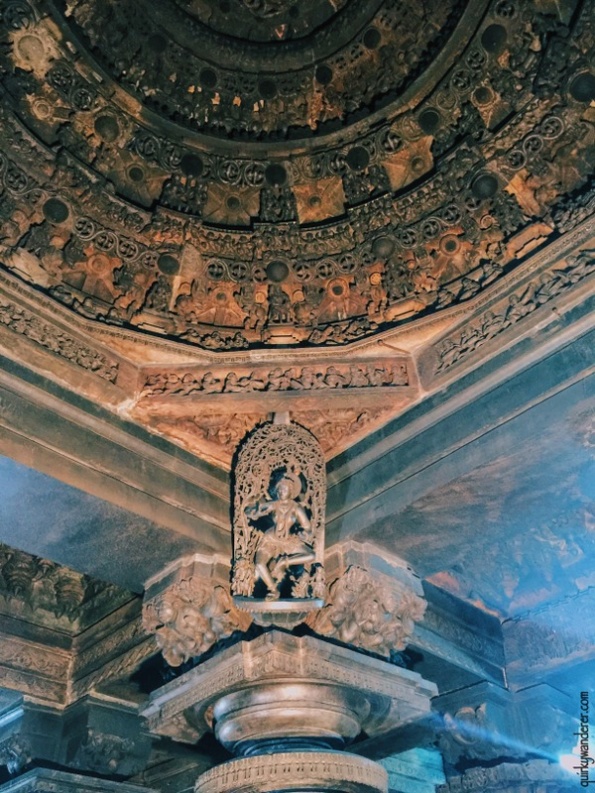 Each pillar is sized differently and some are carved so finely. The sculptor has intentionally left one tiny space on the pillar, challenging anyone to fill the space (he honestly hasn't left any!)
The statue of Chenna Keshava (handsome Keshava) is housed in the sanctum sanctorum of the temple, where pooja has been regularly done since approximately 850 years.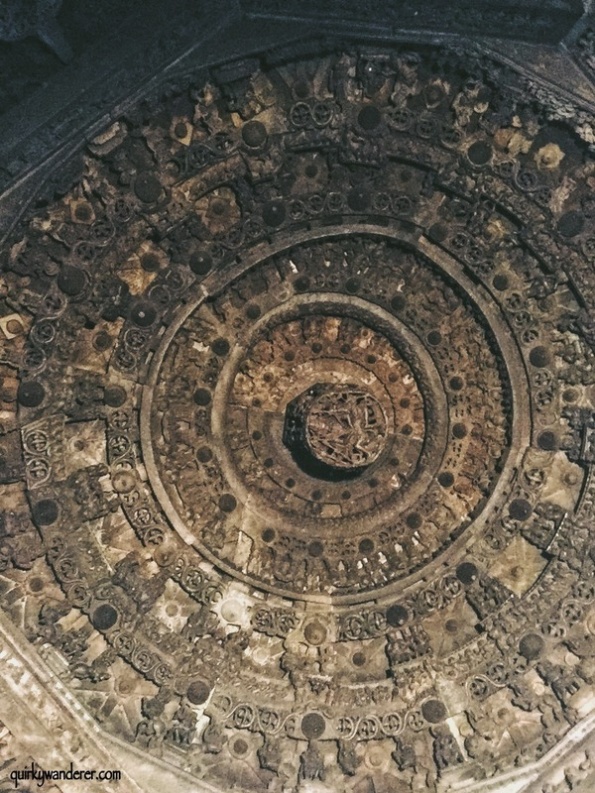 According to the legend, King Vishnuvardhana dreamt of Lord Keshava in his dream, asking him to build a temple for him in Belur.
It is believed that Chenna Keshava walks frequently to the hills of Baba Budan nearby, to meet his consort. This is why the cobblers of the town offer footwear in the temple, which are said to vanish miraculously.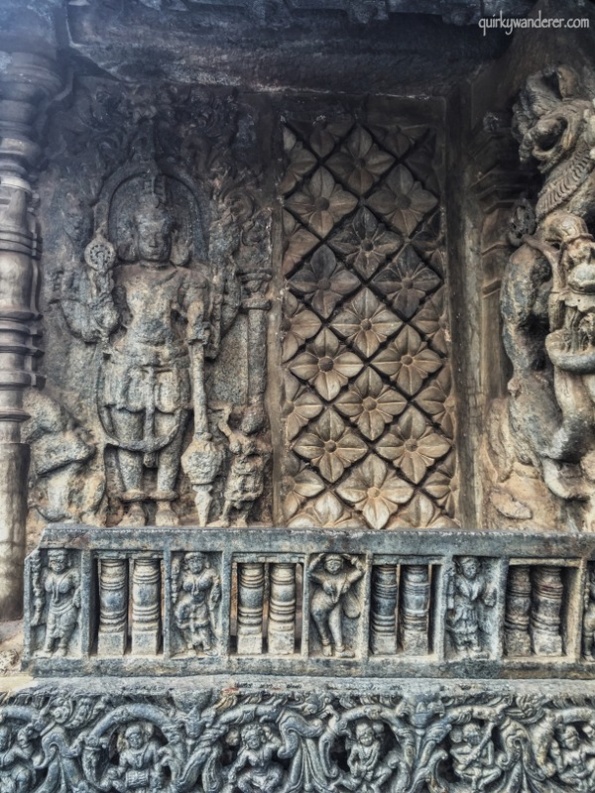 The time travel continues, as I move in the complex, some ladies returning my smile, some feigning ignorance, some indulging in narcissism, but all of them proving that their sculptors were the lost Michelangelos of their time.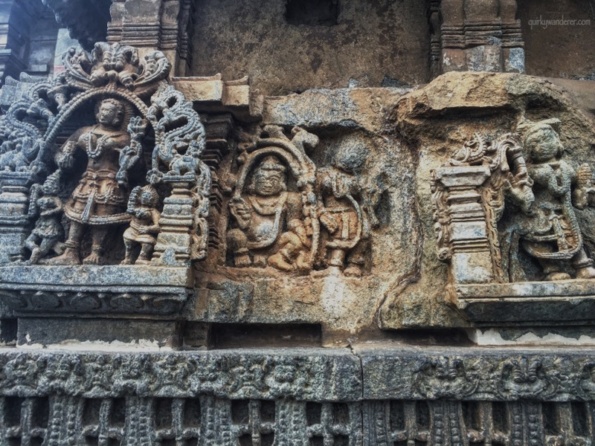 As I exit into the mad chaos of the 'real' world, I utter a small thank you to Dasoja, Malloja, Nagoja and their tribe for crafting these masterpieces for us to see in this lifetime!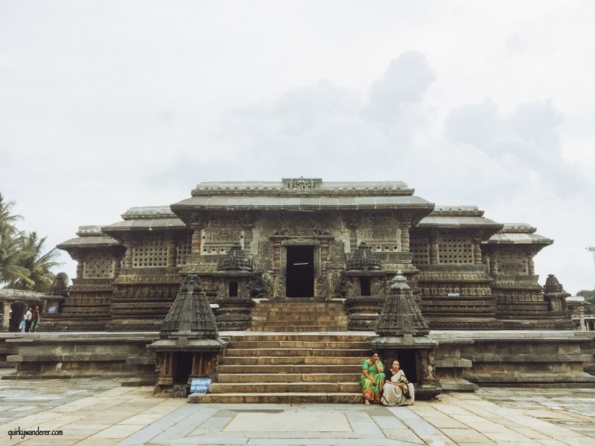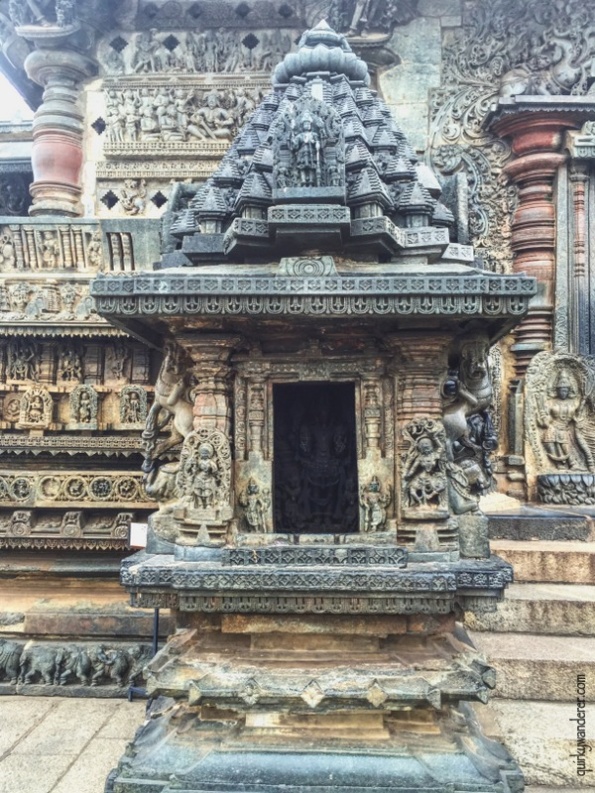 Fact File:
1. Belur is 240 Km from Bangalore and it makes an ideal weekend getaway.
2. Make sure you do the entire circuit of Belur- Belvadi- Halebidu together.
3. The Jain shrines of Shravana belgola are 91 km away.
4. The Belur temple circuit can be combined with a visit to Chikamagalur.
5. Temple timings: 7.30 am to 7.30 pm with a one hour break from 1 pm to 2.30 pm.
6. Entry is free, photography inside is allowed for a fee of Rs. 40