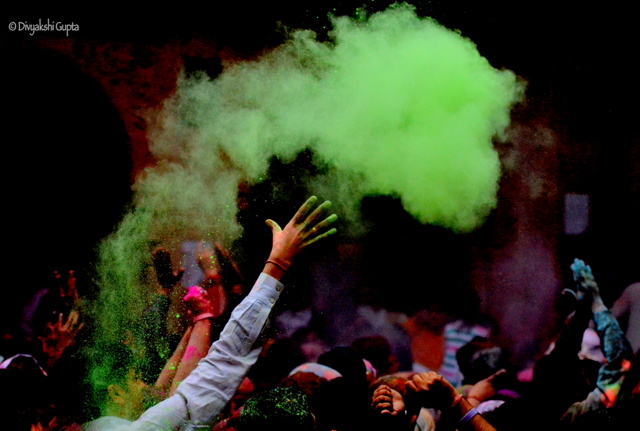 I have been visiting Vrindavan since I was a kid, running through the tiny lanes , knowing the shortcuts, being wary of the monkeys and gorging on the Birla Mandir tikkis at Mathura.  The connection with Vrindavan is deep rooted.
Everything is magical and divine about Vrindavan and cannot be summed up in a single post.
As a kid I remember, during holi how I was  allowed right in front of the idol and the pandits poured Tesu flower water with huge pichkaris over the devotees. I loved getting drenched there. Even though I hated the holi kids play in cities,there was something divine about the Holi at the Bankey Bihari Temple, Vrindavan. Devotees played holi with their beloved Krishna. Clouds of Dry color , wisps of pink gulaal and flowers, Holi at its purest best! Getting drenched here was like drenching in his love.
This year for the first time, I witnessed this festival as a "photographer". So instead of being a part of the crowds , drenching in the color , I was capturing them getting drenched. This was an experience in itself too.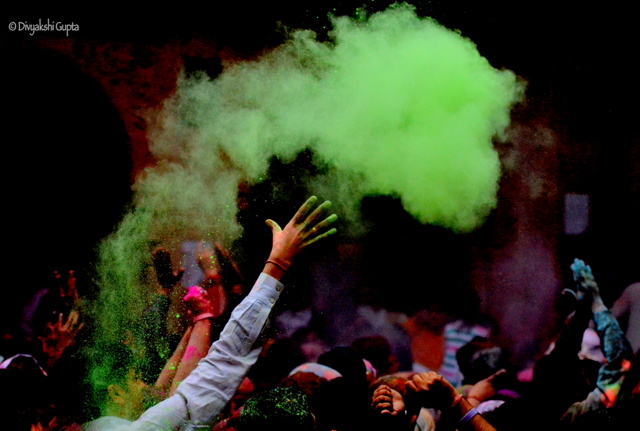 Holi in Vrindavan is a big, big thing! Here the festivities start way before the rest of the nation.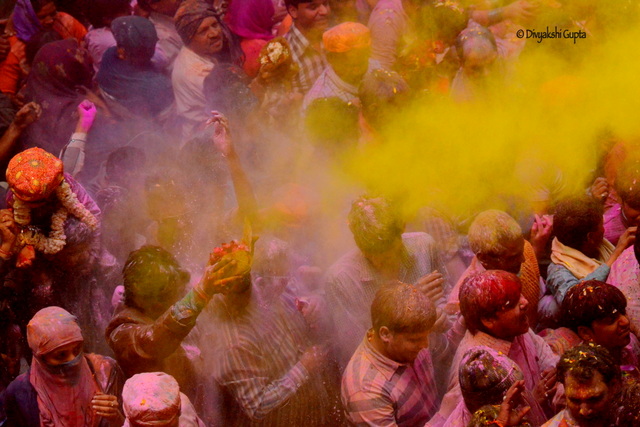 What makes the Vrindavan Temple Holi so different?
1. More than playing Holi amongst themselves, people play Holi with Krishna. So there are colors all around. People throw fistfuls of color on their beloved Bihariji ( form of Radha and Krishna ) . In return they are rewarded with color thrown by the priests. This color is dry as well as wet color filled in silver pichkaaris. (long tubes). There is no escaping the color. The whole hall is full of a plethora of colors.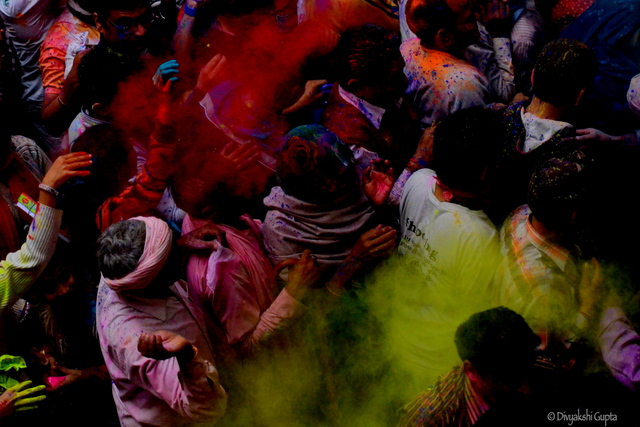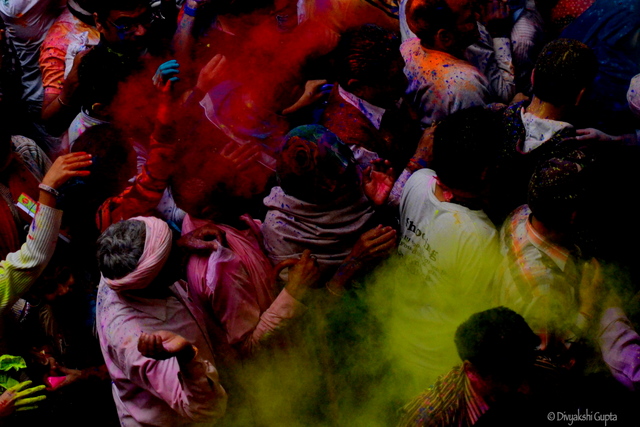 2. Ekadashi Holi: Holi with Flowers
The festival is 5 day long. On the Ekadashi day, lakhs of people do the Vrindavan Parikrama. So not only are there crowds due to Holi but also crowds due to the parikrama.
People walk through the town and throw colors on the way. These are mostly dry colors.
But the highlight of Ekadashi Holi is the Phool Holi: Holi with flowers.
For 15 minutes , non stop , the devotees in the temple witness the most stunning display of Holi. As soon as the darshan opens, flowers are showered on the devotees. The flower rain is sheer beauty! I froze for a second, not clicking. Such sights need to be captured with your eyes and they remain etched in your minds forever.
3. Tesu flower water: Organic Holi
The color poured on the devotees is not chemical color but pure, organic color. The tesu flowers are boiled in huge cauldrons and then natural color is extracted and used in the temple holi.
But the colors brought by the devotees are market colors. So one needs to be careful of those.
TIPS for photographers:
While it is fun to capture all these moments, there are quite a few challenges.
1. Crowds:
The first challenge is the crowds. The temple is a quadrilateral hall and there are 3 entrances. People keep pouring in and out and there is really no line for darshan.
Not only is it crowded inside, but also all the lanes leading to the temple during darshan hours are extremely crowded.
Keep a note of the timings. Reach well in time so you can secure your shooting spot.
2. Permissions:
Photography of the Idol is strictly prohibited and the guards can be really a nuisance.
To avoid any trouble, get official permission to click from the Manager of the temple. They would ask you to sign a declaration stating you would follow the rules and ask for a Photo ID and thats about it!
3. Low light:
They might sometimes open the roof top, sometimes no.
Be prepared for the low light situation and carry a fast lens.
4. Camera protection:
It is very very important to secure your equipment. Use a rain cover for your camera as well as lens and secure it with tapes and polythene sheets.People are bound to pour water and douse your camera with colors.
Lastly, chances of changing lenses and batteries are almost NIL due to the crowds.
It is a crazy experience and a lifetime one. Its best to go there, have fun and get drenched in those moments.
You may get photographs , you may not. What is important is you get to witness a color riot like never before! 🙂
How to get there:
Vrindavan is 160 Km by road from New Delhi.
One can also reach Vrindavan from Agra via the Yamuna Expressway. ( 73km)
Nearest railway station is : Mathura (12 km)