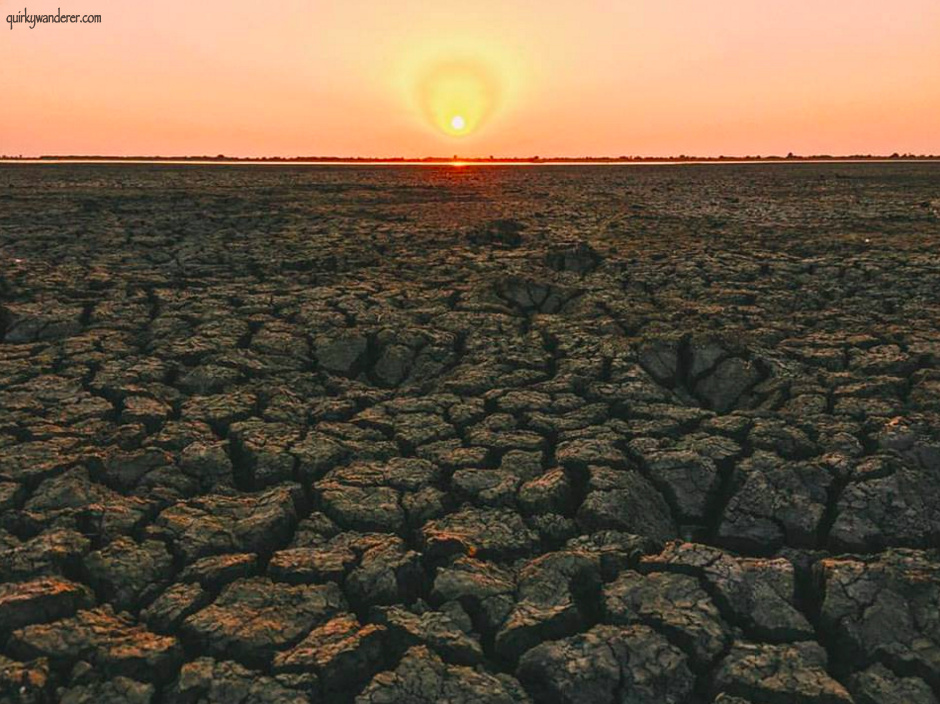 The jeeps race ahead of each other into no mans land, each trying to out run the other.It is indeed a "Rann Race".
As the dust clouds clear, I lower my face mask to gaze at the never-ending stretch of barren land.
Our jeep looks so minuscule in comparison to this vast earthy stretch. I look in all directions. No one in sight.
Just the two elements of nature amalgamating at the horizon: Infinite earth and the boundless sky.
What we have for company are thousands of shrubs (Mesquite trees), perhaps the only green that can be found in this 5000 square KM reserve, welcoming us to India's largest wildlife sanctuary.
A herd of wild asses trot past us.
I earnestly request Ayub, our guide to ensure I get a good close up of this beautiful animal, locally called the Khur.
He turns on the engine and as the vehicle picks up speed, a dozen wild asses gallop in front of my eyes,not only giving me ample of photo opportunities, but also render me speechless for a while, as I soak in this beautiful phenomena.
Nestled in the Little Rann of Kutch is the Indian Wild Ass Sanctuary which is home to thousands of Wild asses, endemic only to this region.
One of India's most successful conservation story, where the population has risen from 362 in 1960 to 4500 in 2015.
With a mix of marshy wetlands with a salt cover and arid barren land, the Little Rann of Kutch may not excite you with its bland topography, but it is a birder's delight
Considered as one of the best birding sites in India, it is probably the only place in India where you can spot the endangered Macquein's Bustard or the Hubara (which we did spot for a moment when it was in flight)
Gear up to witness the flights of flocks of flamingoes (Greater and lesser) , pelicans (Dalmatian and Rosy), painted storks, Demoseille Cranes, Sarus Cranes and Common Cranes.
The list of birds we spot is increasingly getting longer as we spot birds all around. Some perched on bets, some on the mesquite trees, some waddling in the water bodies, while some simply camouflaged in the earthy color of the Rann.
We drive past shrubs and water bodies, each jeep leaving behind a trail on the earthy Rann, creating concentric circles. We continue driving and I wonder how easy it is to get lost in the Rann with mirages as illusions.
After an hour of non stop driving, we spot a Pallid Scops Owl, nestled among branches and leaves. Clearly, it was tired of the paparazzi disturbing its afternoon siesta, so it got grumpy and gave me a real hard time.
One morning was spent watching a flock of lesser flamingos trot by in the wetlands, soaking in the calm of the Rann, with the only noise being the song of birds and the buzzing of insects.
Ayub is a determined man. He is all geared up to show us the Desert fox. Under the beating sun, we encircle a vast cluster of Mesquite bushes, with a bleak hope of finding the elusive fox.
After half an hour, we see it scurrying away from one scrub to another.
The chase ensues. Finally we see two of them. While one has absolutely no interest in getting itself clicked, the other promptly sashays in front of us, just for a while.
It is almost dusk and we decide to walk to the nearest salt marsh to capture the flamingos.
Suddenly its just me and the three elements in play: the dusty earth, clear skies and the loud yet silent wind.
Surrounded by endless earth,walking over cracked earth, I realize how beautiful barren can be. How we have taken this element of nature for granted.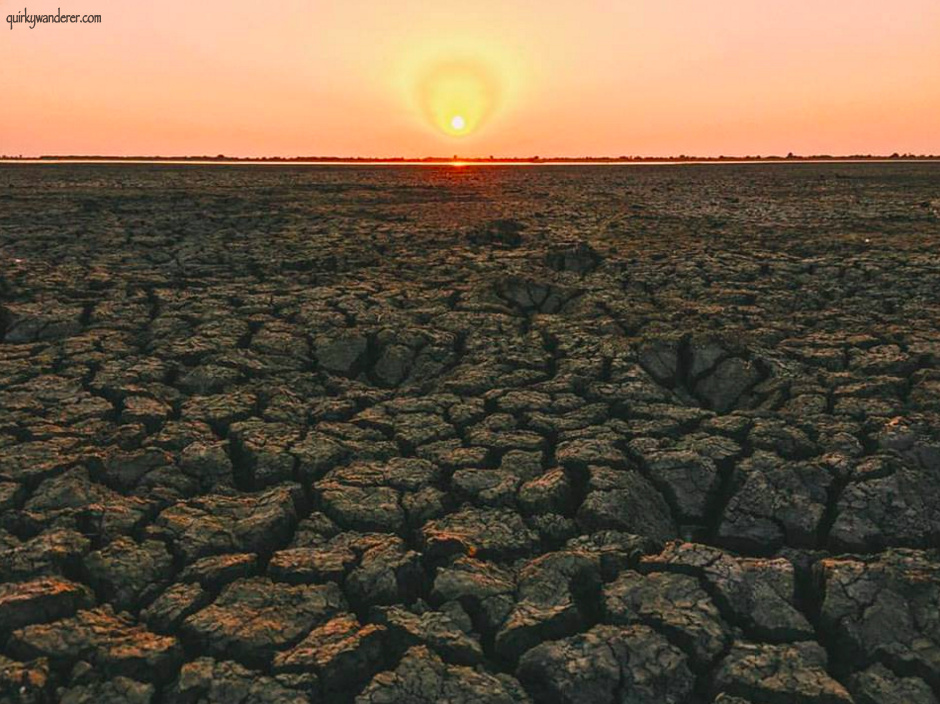 The sun has now begun to drown into the horizon, painting the sky with gorgeous hues:pink, orange,tangerine and a deep red.
The silhouettes of the flamingos walking across it make for a perfect memory.Something that will not fade away too easily.
Overhead, birds are in flight, on their way back home, creating various formations, flapping away, as if in the sheer excitement of going back home.
Its time to go.
I come back with a bunch of vivid memories.
Of bumpy rides in the Rann, with the wind hitting my face, dust all around but the sight of a glimmering mirage dancing before my eyes.
Of lone shepherds with their herds of cattle, walking through the infinite stretch of barren land.
Of smiling Rabari women with a cluster of white bangles, vibrant clothes and traditional jewelry, sometime shying away from my camera, sometimes calling out to buy their wares.
Of excited school kids screaming "Tata" whenever our jeeps whizzed past them.
Of boundless cracked earth, barren yet beautiful.
Where to stay:
The Wild Ass sanctuary is about 10 Kms away from a small village called Dasada.
A wonderful Accommodation option is the Rann Riders Resort, located right in the heart of the Dasada village, owned by the Malik family.
Staying in the eco huts, traditionally decorated with Rabari work is an absolute delight.
It is a pet friendly resort with many dogs, cats and a stable with horses.
Meals are served in a buffet style and are multi cuisine.
The resort is a wonderful place to unwind, with its natural surroundings.
How to reach:
1. By Road: The Wild Ass Sanctuary is 130 km from Ahmedabad, 175 Km from Rajkot and 265 Km from Bhuj.
2. By Rail: Nearest stations are Dhrangadhra: 16 Kms, Ahmedabad: 130 Kms, Rajkot: 175 Kms.
The Sanctuary has three main access points: Dhrangadhra, Range Bajana, and Range Aadeshwar.
Tips:
1.It can get really dusty. It is best to carry face masks, hats and a good lens cleaning kit.
2. It is advisable to go with experienced guides as the Rann is vast and it is extremely easy to lose your way.
3. Carry a good pair of binoculars for birding and a tele lens for photography. (The birds are at a great distance).
4. If you're doing this as a birding tour, club it with Nalsarovar lake.
5. If you're doing this as a culture tour, club it with the Sun Temple at Modhera and Rani Ki Vav at Patan.