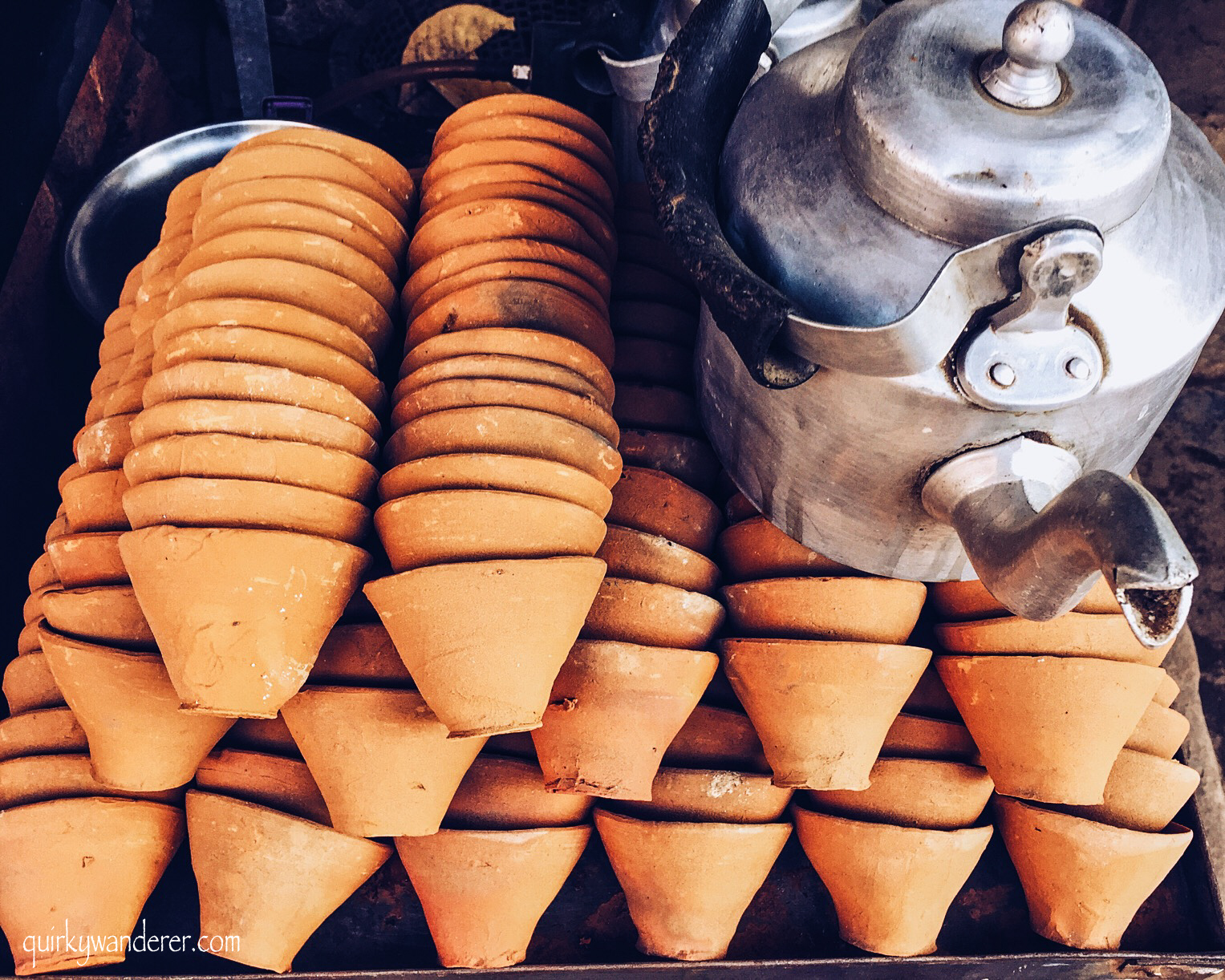 The puris swam in the sweltering hot kadhai while the Aloo Sabzi was being hastily filled in the 'dunas' ( bowls made from leaves). In any corner of Varanasi, this breakfast is ubiquitous.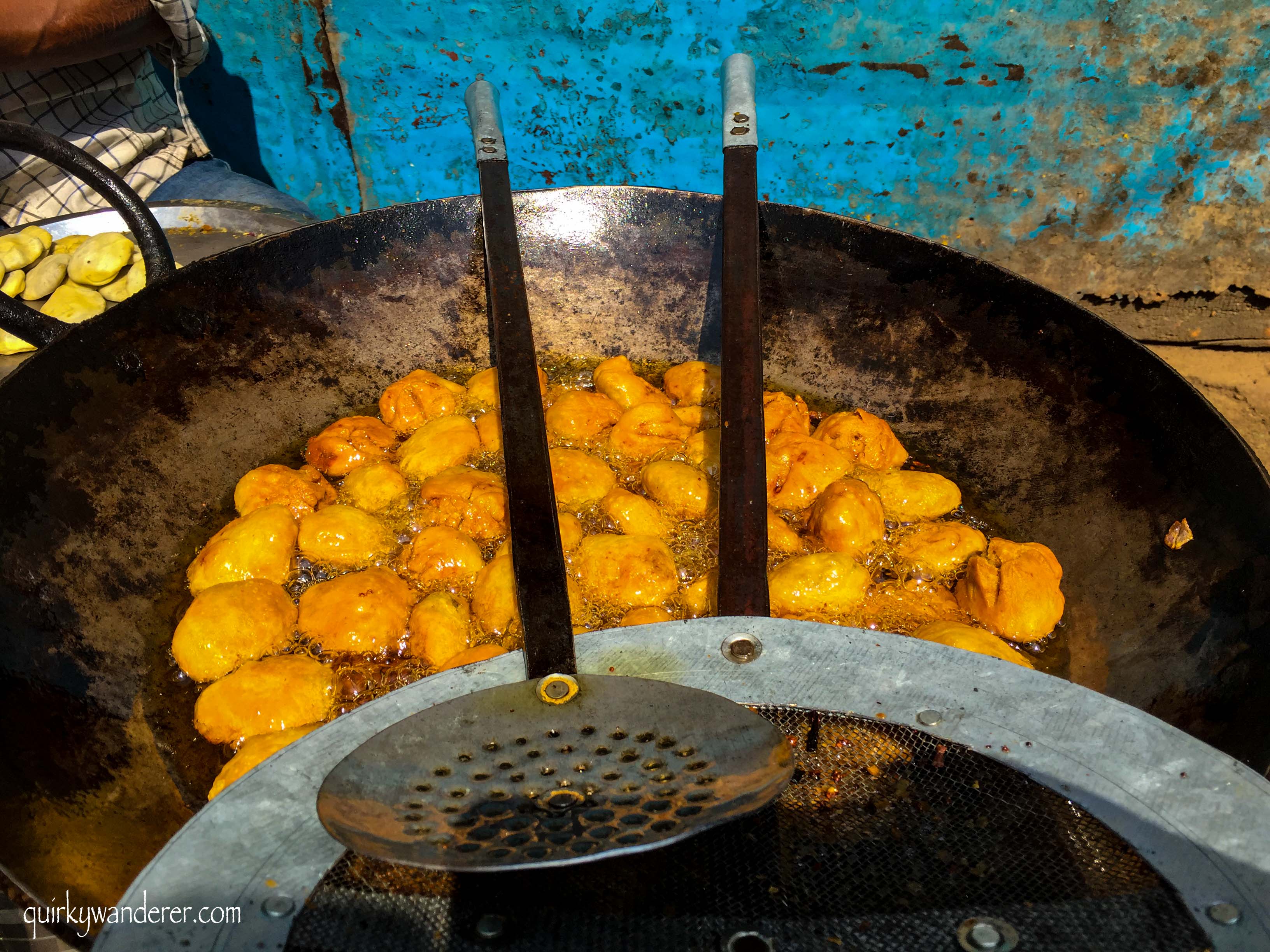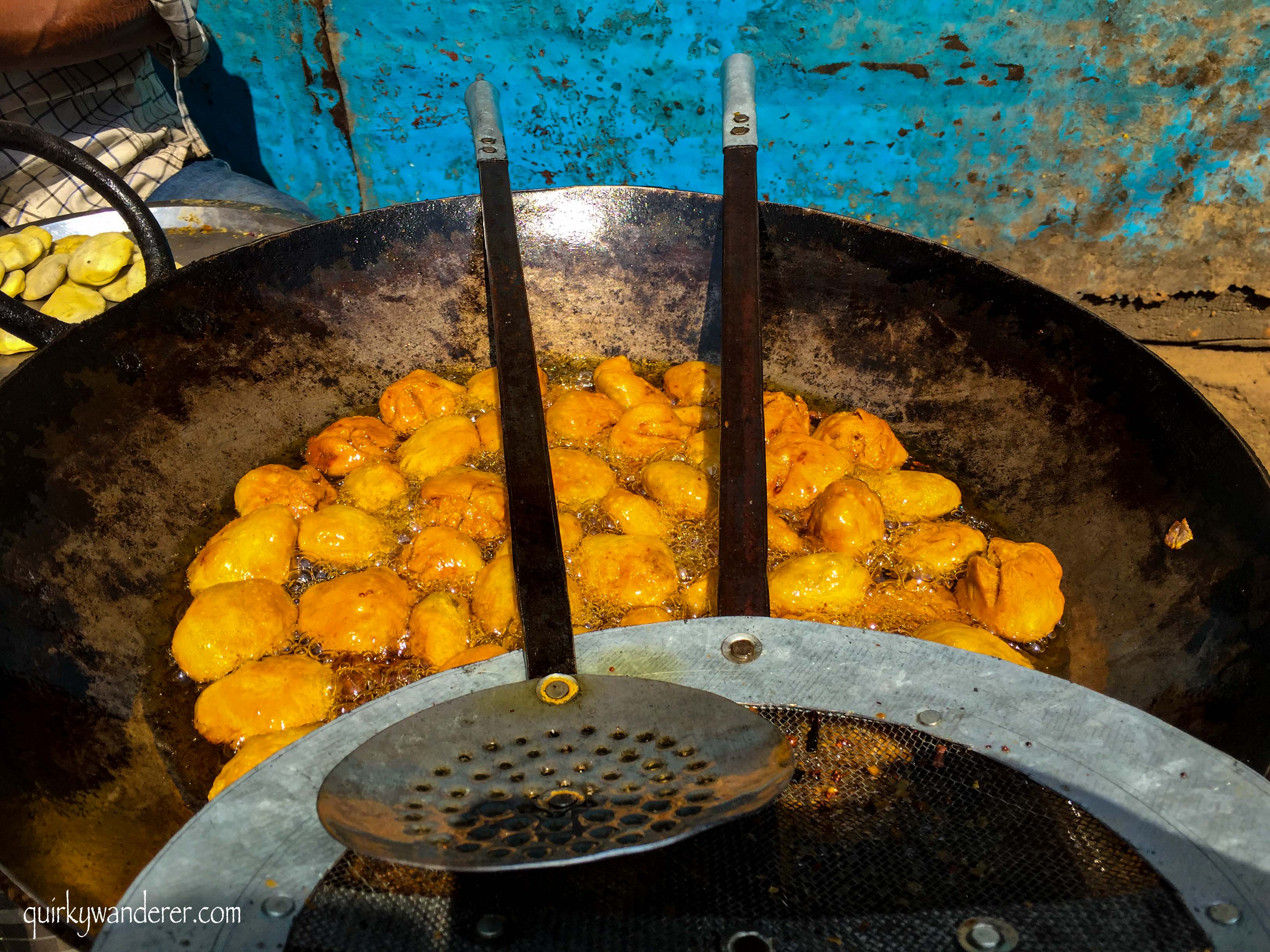 No frills, affordable and extremely filling. Occasionally accompanied with stuffed kachoris ( deep fried, and with a pinch of hing) and downed with sweet lassi, frothy with cream of course.
In the adjacent shop, a pot bellied man is on an auto mode: frying jalebis and transferring them in the sugar syrup.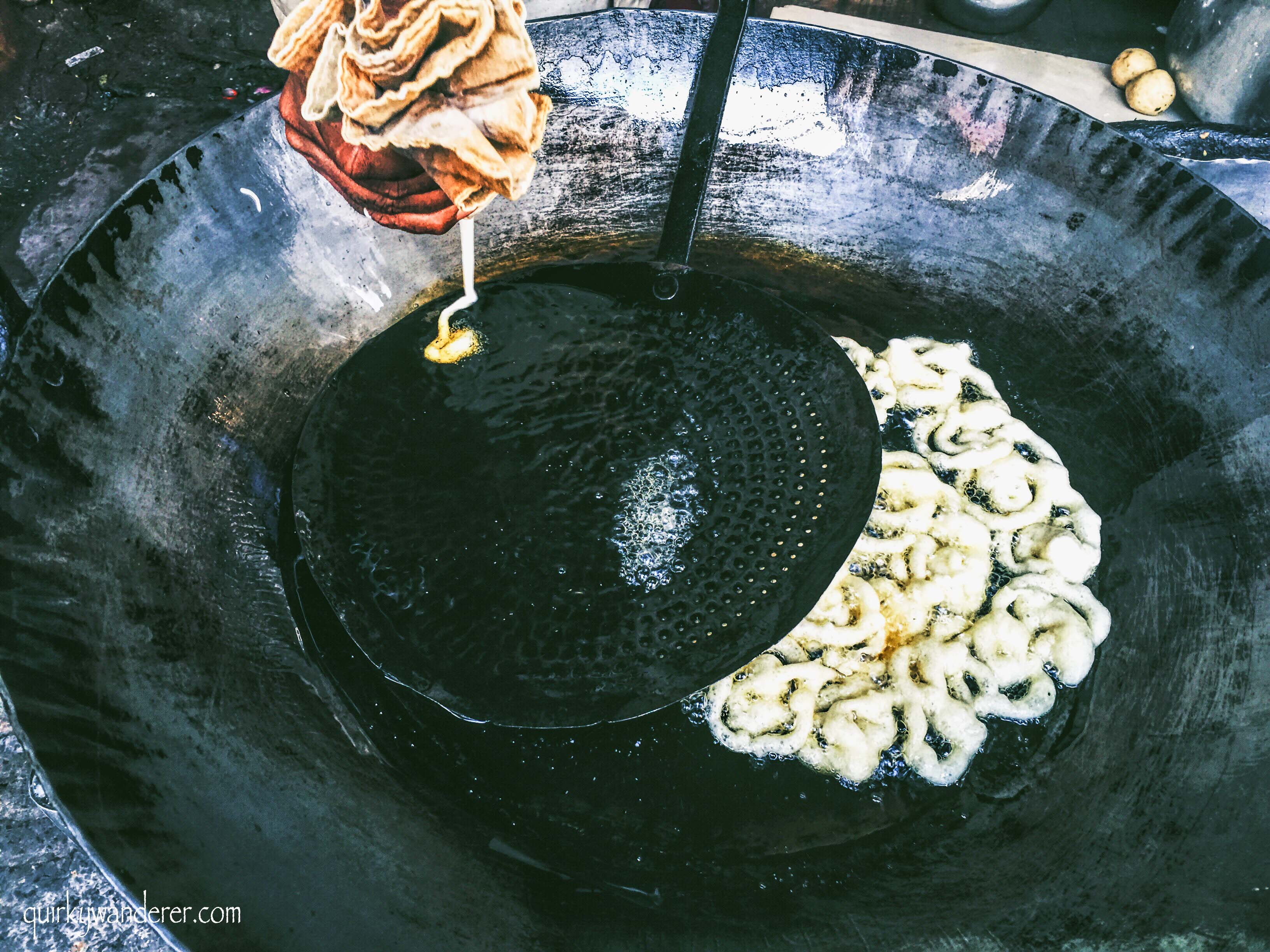 There isn't any dearth of them in this paan stained street.
I fetch my tiny diary where I have meticulously listed over a 100 must eats in my 3 day visit to this spiritual city, famed for street food.
Determined to try as many as I can, I set out on my food exploration in one of India's oldest city.
Before I dish out my findings, here's a word of caution:
[Tweet theme="basic-full"]Your street food trials in Varanasi are directly proportional to your stomach's risk-taking ability.[/Tweet]
Spiced with hing ( asafoetida) , choti kachoris near Jaipuria are a hit with the locals.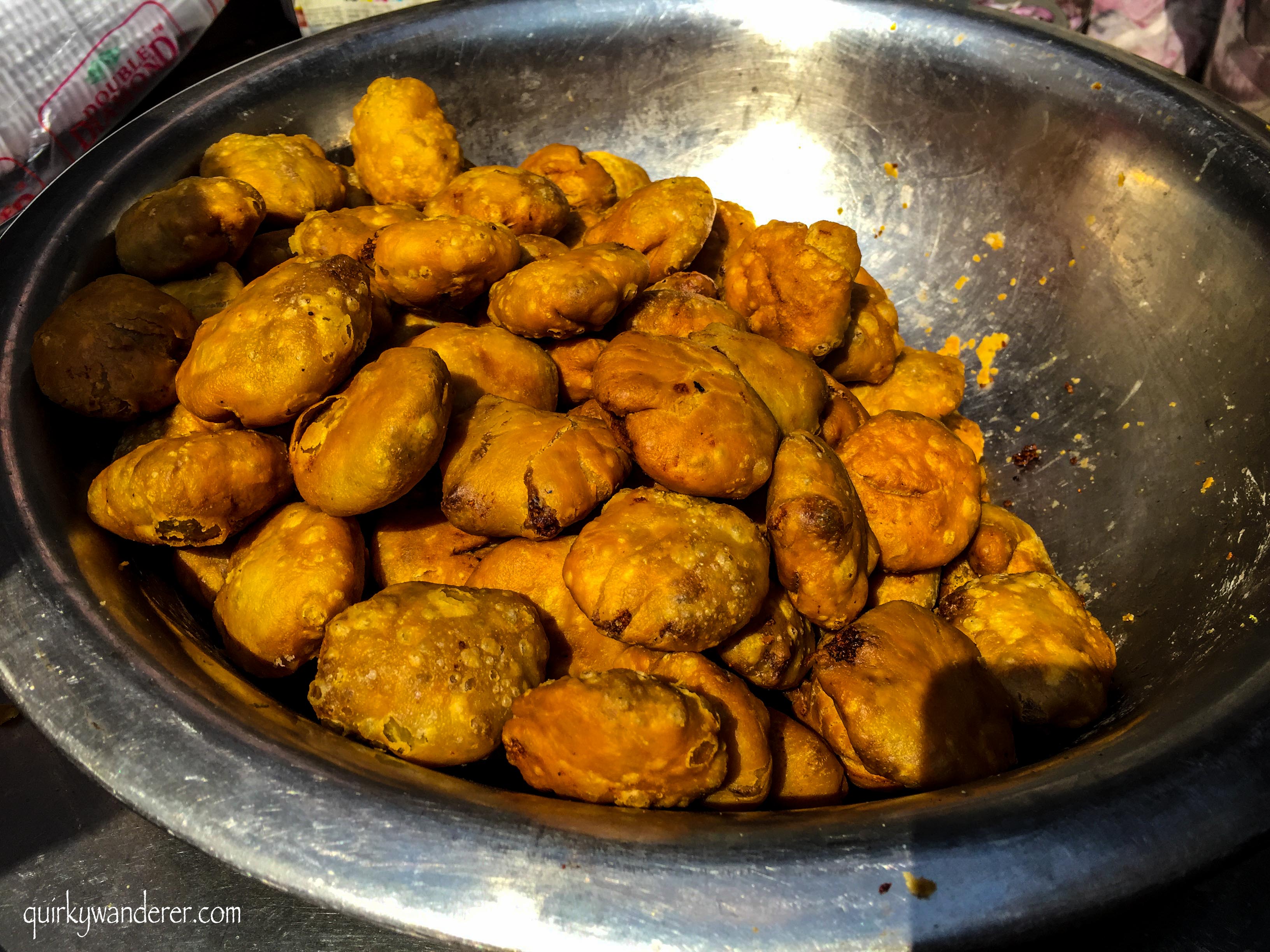 Another breakfast favourite is the "Sabzi Kachori".
Budhiya Ki Kachori at Ravinder gate has people waiting every morning for their share of Kaddu Ki Sabzi and deep fried kachoris served with jalebis.
Toss your weight concerns aside and bite into this pure desi Banarasi breakfast. (Pro tip: Don't count calories!)
Paan and Paan stains are ubiquitous in Varanasi. It is difficult to find a person without a Paan in his mouth. In fact, it is said that because they constantly chewed on their paan while talking, a newer dialect emerged.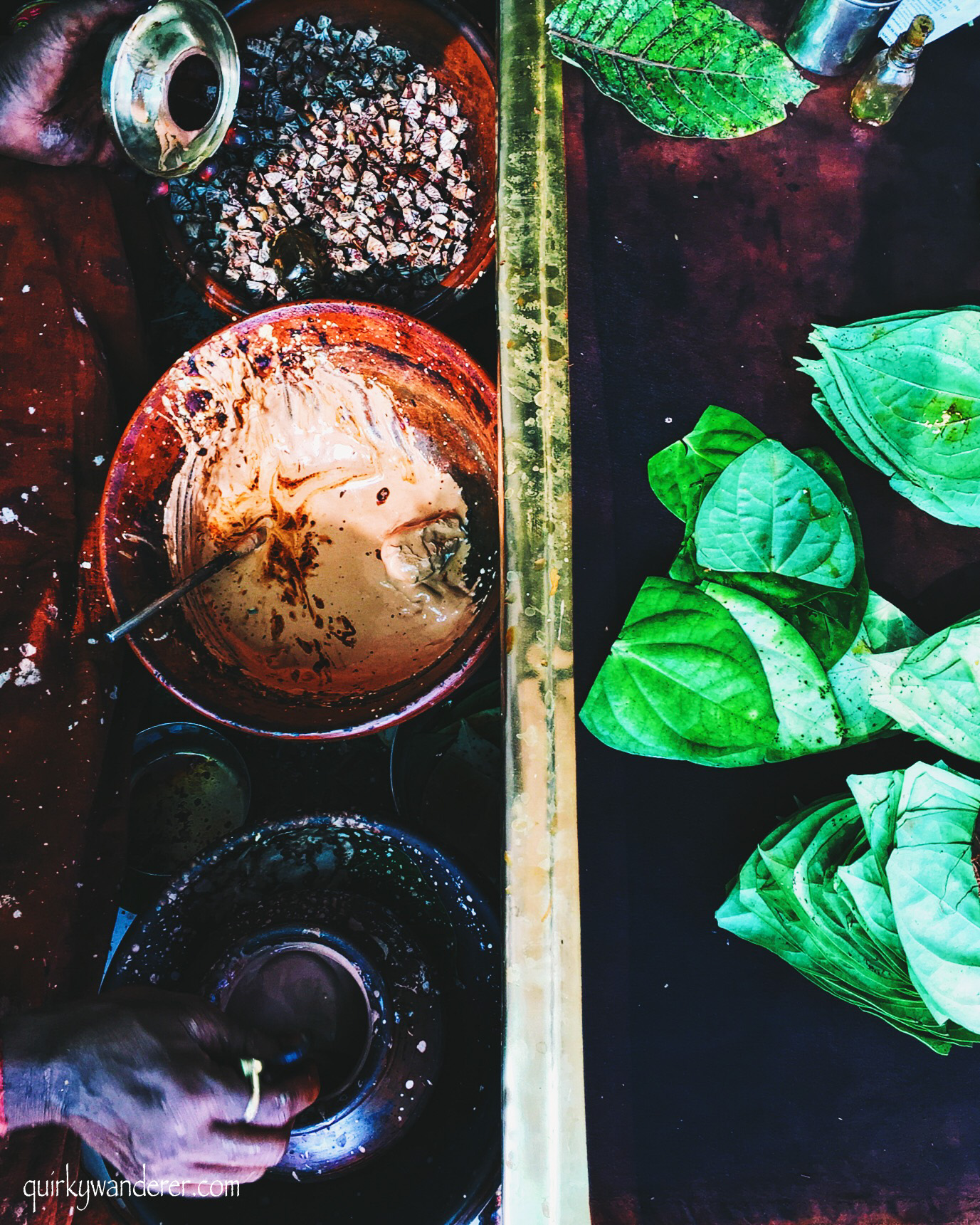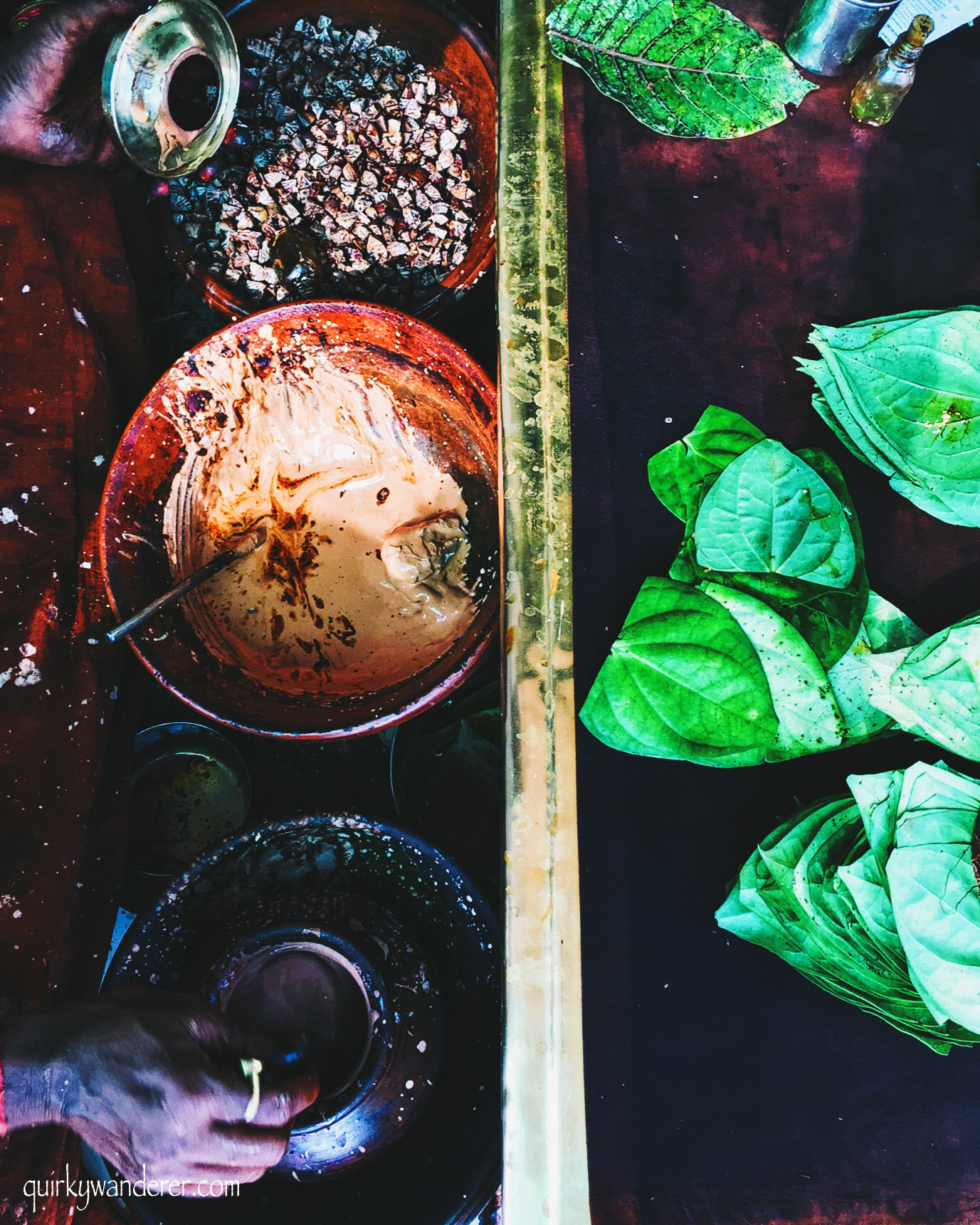 The winner for me was the Meetha paan made with love and served with stories near the Chowk area.
This distant cousin of Rabri and doppelgänger of lassi is available in the wee hours of the morning and vanishes in a couple of hours.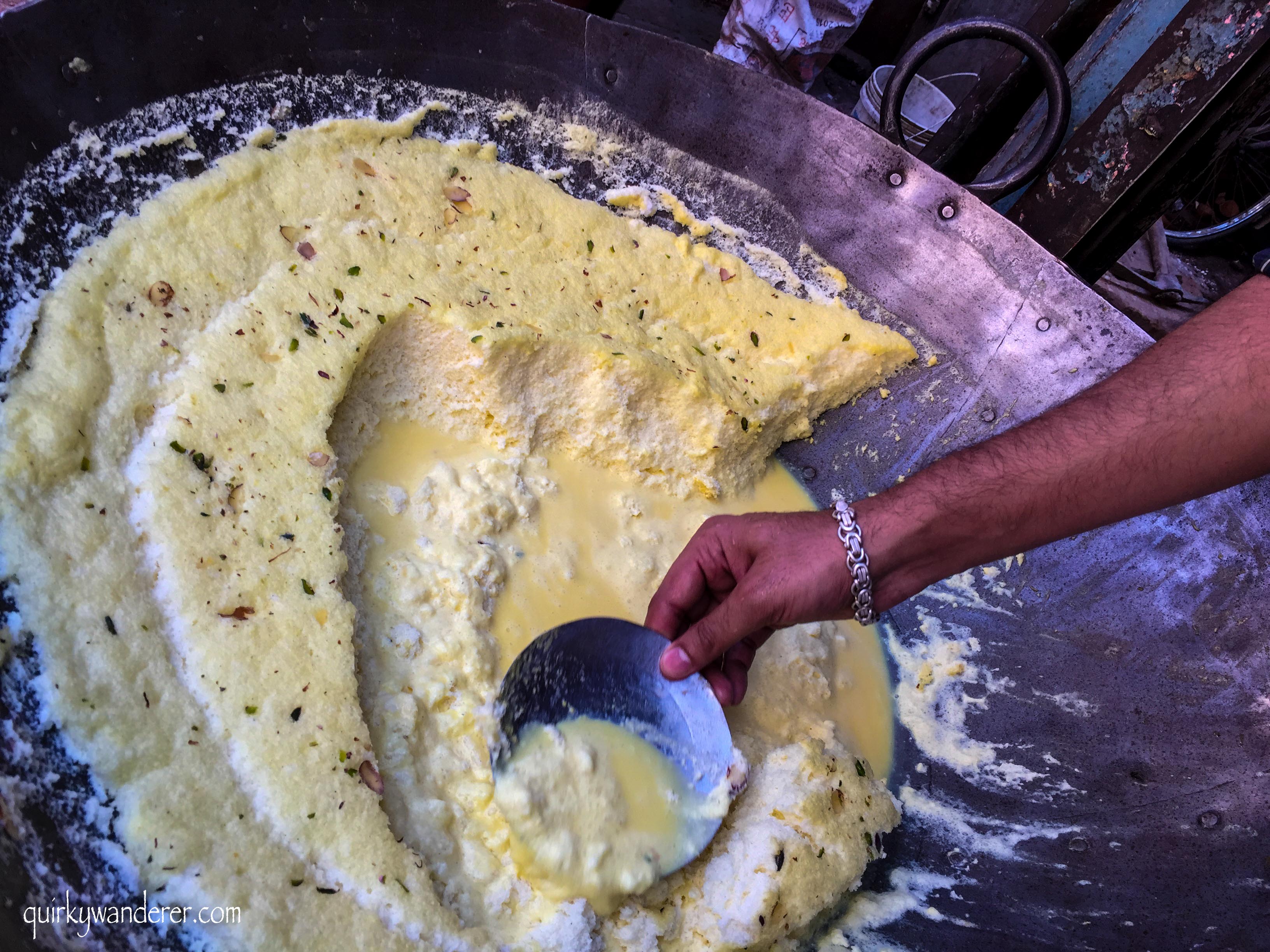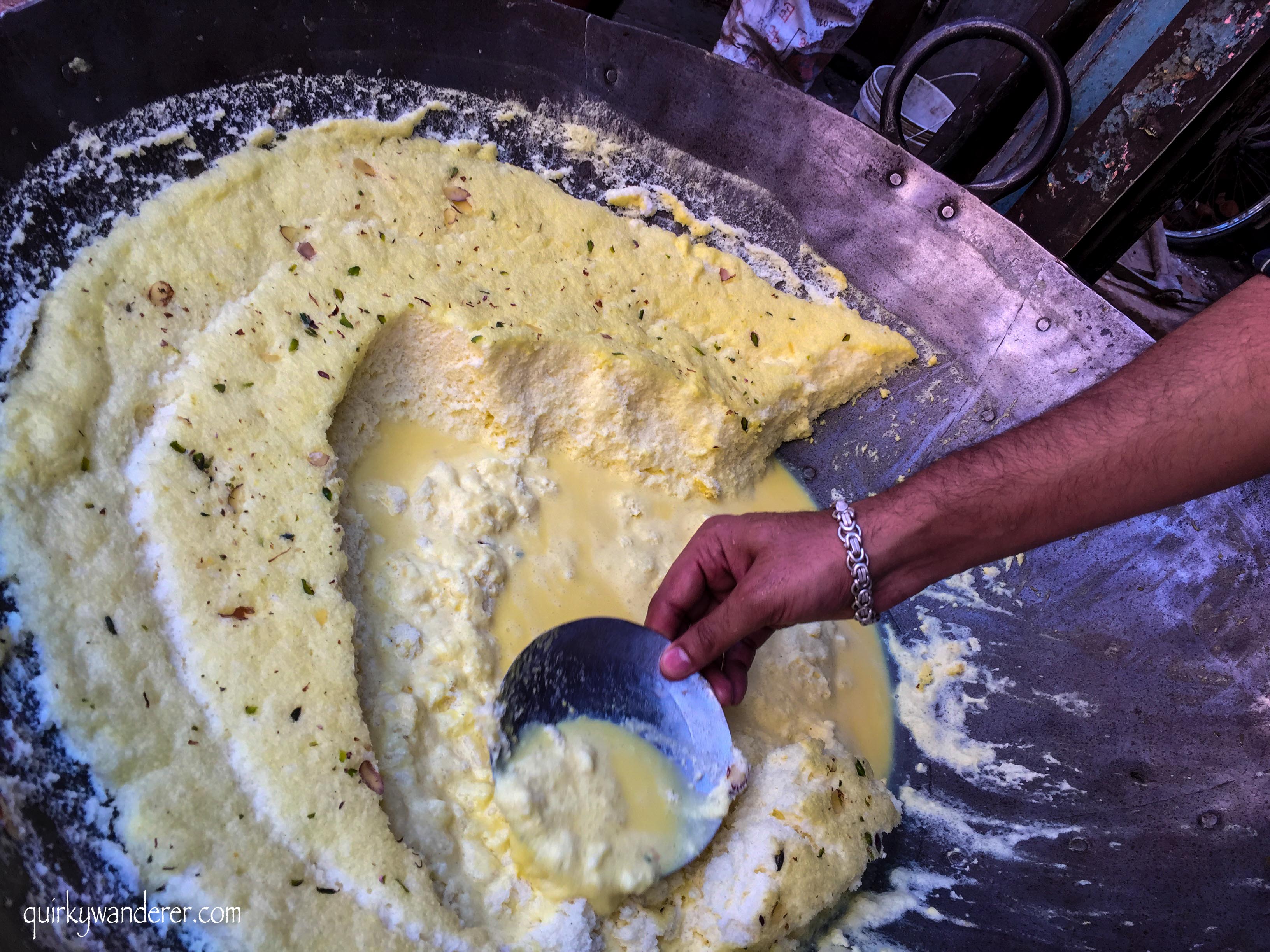 Served in earthen kulhads, this is cream which is whipped endlessly.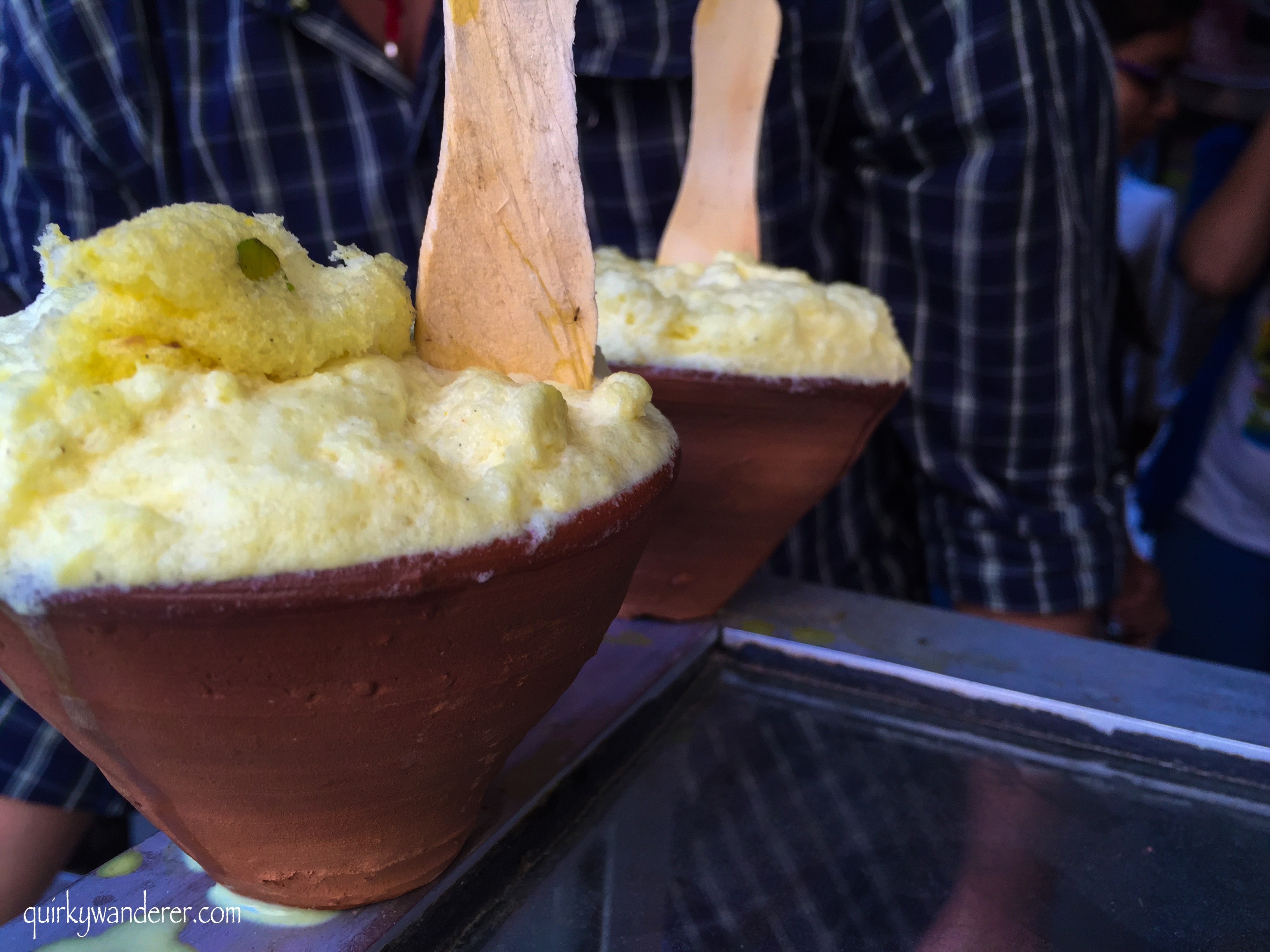 The ones with a sweet tooth will love this. But if you strained your milk to get rid of the malai as a kid (like me), you'd probably skip this one.
Another option is the Bhaang lassi! Read all about the Bhaang Lassi of Varanasi  as tried by Lost with Purpose!
Deena chaat bhandaar or Kashi chaat bhandaar?
I keep asking locals and the score is always 50-50.
At the end of the day, you can go to any, because to be honest I was disappointed by both.
Maybe because I went with very high expectations or maybe I kept comparing it with the street food of Amritsar.
The famous Tamatar chaat is mashed tomatoes with spices and condiments. ( At Deena chaat, the guy even put gulab jamun sugar syrup in it).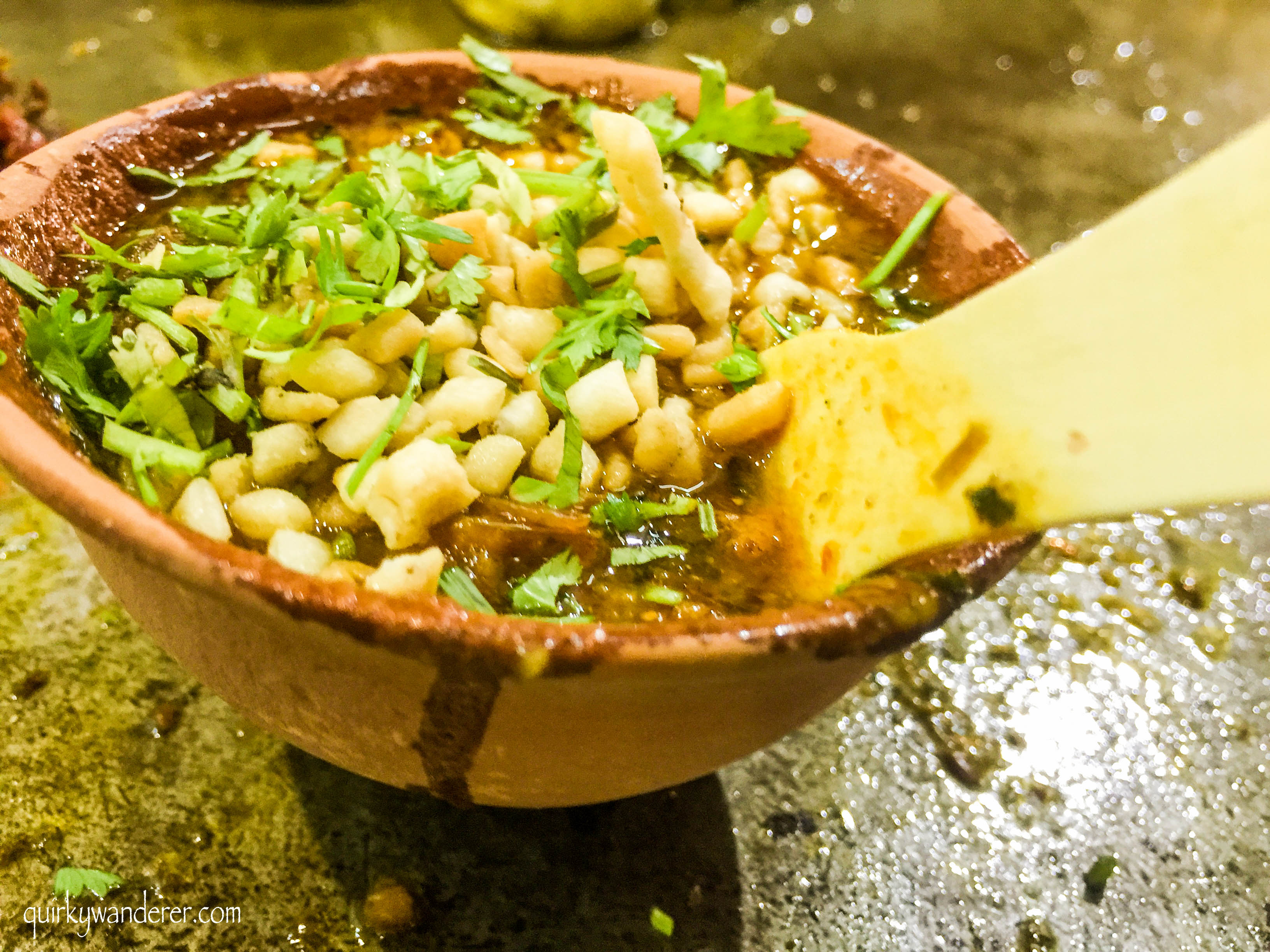 There are a host of other chaat items too. Tokri, aloo Tikki, Bhalla papdi and the likes and sweet meats like Falooda kulfi and Gulab Jamun.
Local cuisine at Taj Gateway,The Ganges:
I hopped in at Taj Ganges gateway to try the famous Satvik Thali at The Varuna restaurant. To my utter dismay, the restaurant was reserved for a group.
As I turned to go, the manager asked me if I would like to sample the local cuisine at the coffee shop.
He actually offered to serve dishes from Varuna's kitchen. Delighted, I sat down to have what turned out to be my most memorable meal at Varanasi.
After a tiresome search for Banarasi local cuisine, I finally find it served with heartfelt hospitality and a genuine will to serve.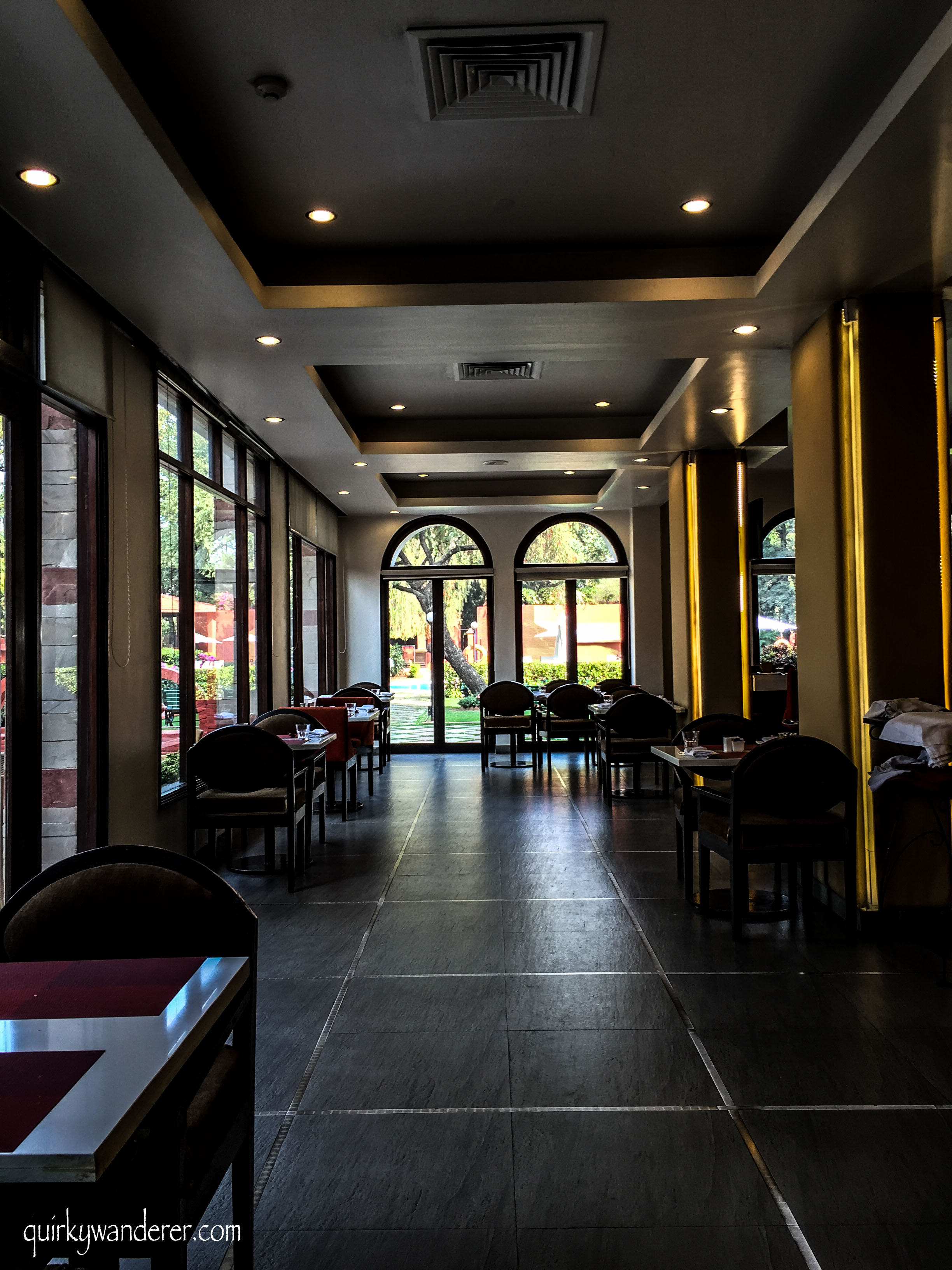 Chef Dubey dished out the very unique Nimona ( a vegetable made of green peas) served with boiled rice and the local red chilly pickle. Another speciality is the Dum Aloo Banarasi, accompanied with set curd in kulhads ( melt in the mouth) and piping hot Tawa paranthas.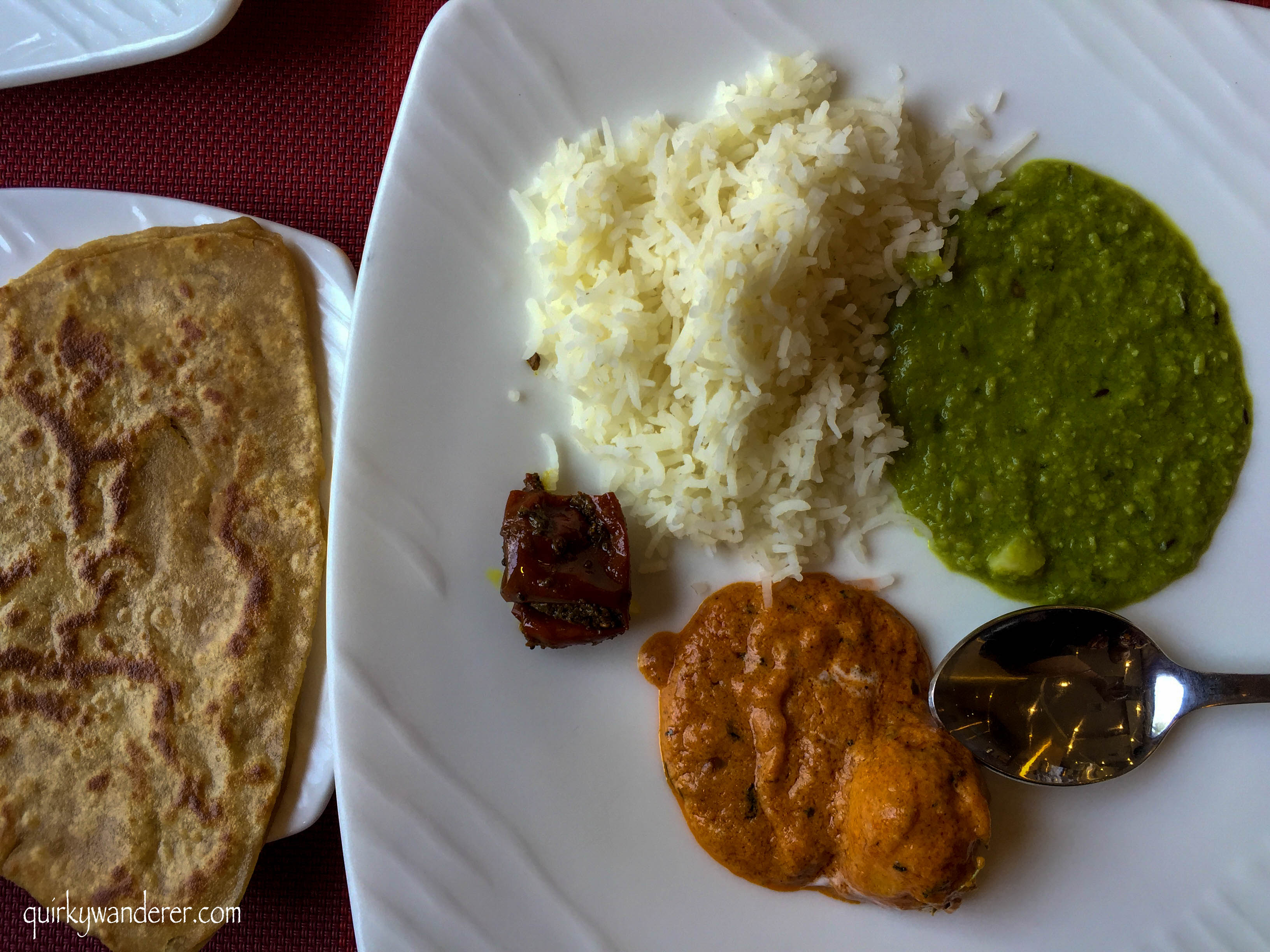 The meal is homely and flavoursome and conversations with Chef Dubey make it totally worth the visit.
The Gateway promotes the concept of home chefs. Two housewives whip magic in the kitchen, bringing their secret recipes to the world.
One such delicacy was Phirni. The icing on the cake was the 'Malai Peda', ( I downed 4 of these).
Everything about this place is commendable. My stomach and me can rave endlessly, it is truly truly recommended.
I am going again. Next time for the Satvik Thali!
Marwari thali at Jaipuria:
When all the street food finally gets to you and you start getting home food sick, head straight to Jaipuria.
The simple, unpretentious setting welcomes you as you sit cross legged, in front of a massive steel thali.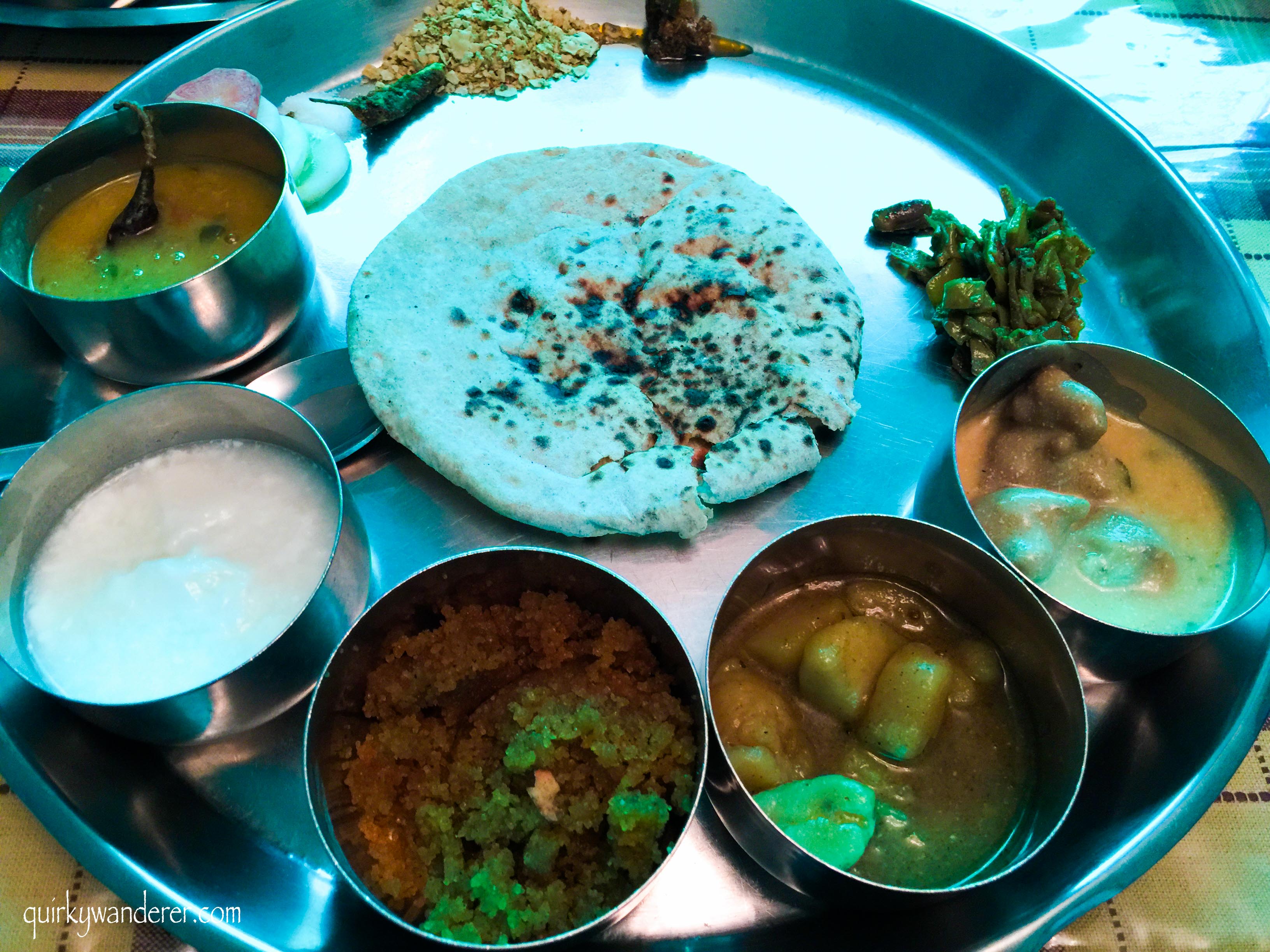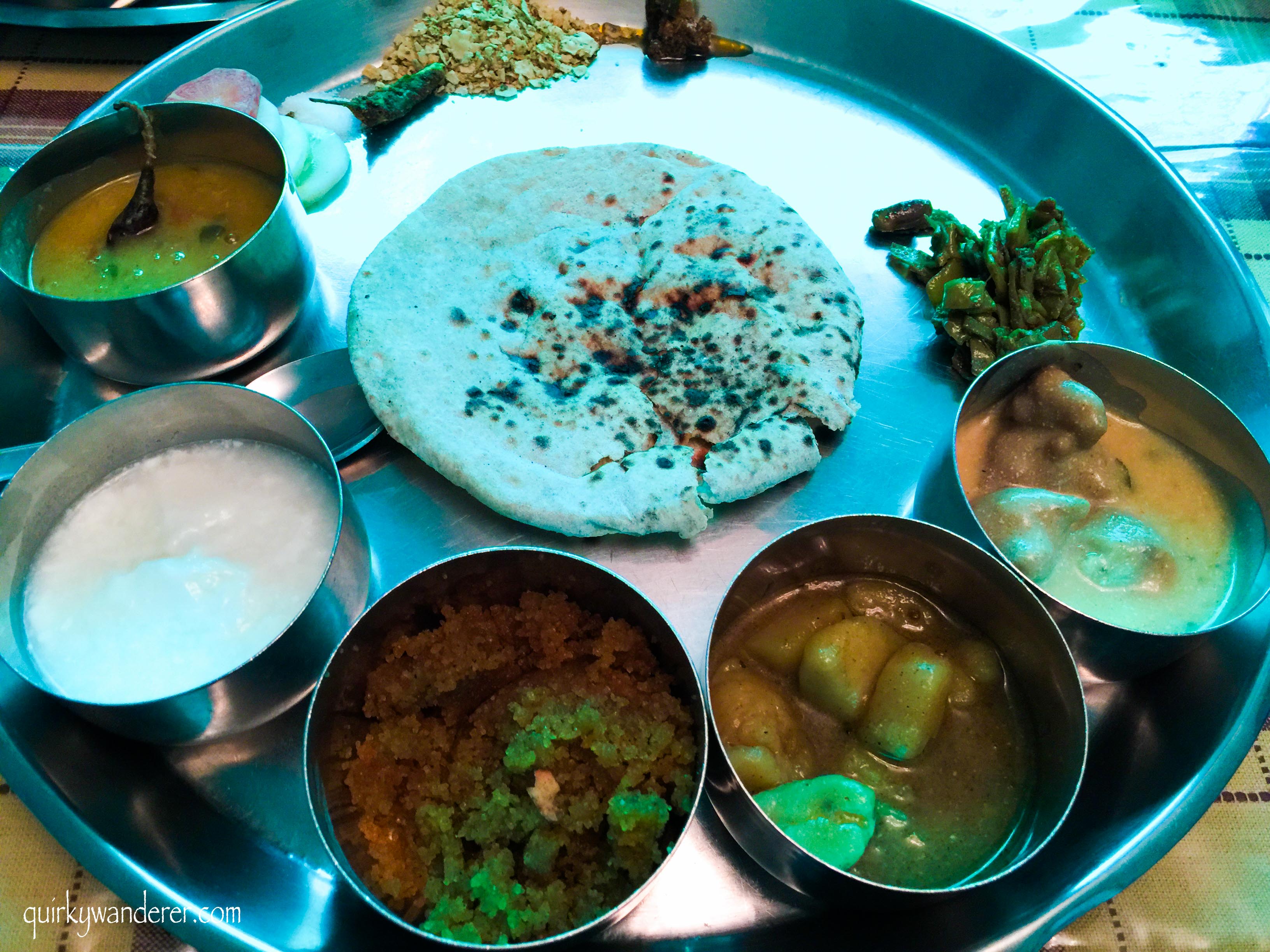 The food is homely, not over the top but extremely tasty. Full marks to their hygiene and quantity.
It is a guest house which offers food service to outsiders too.
Baans ka Murabba at Chowk :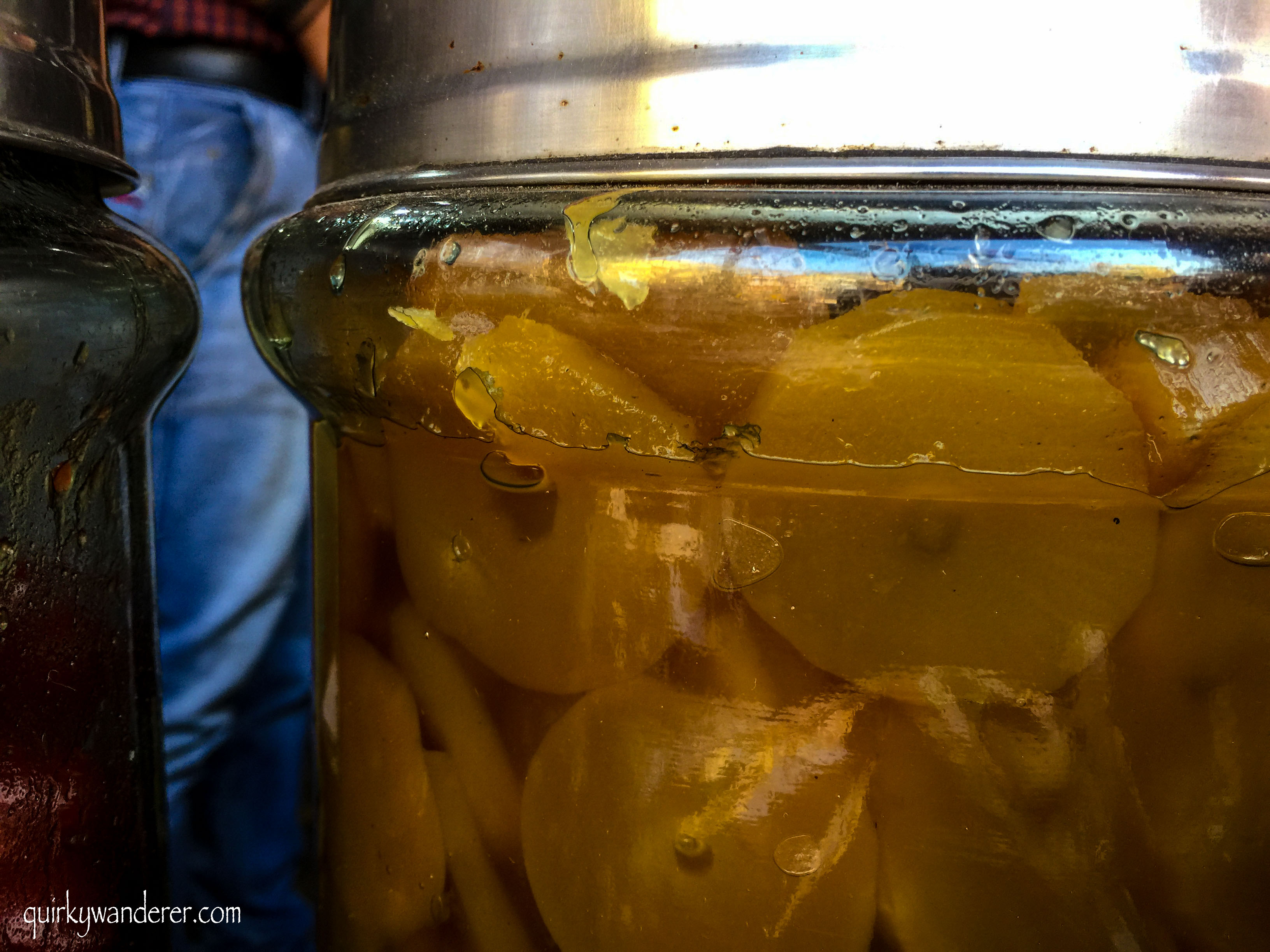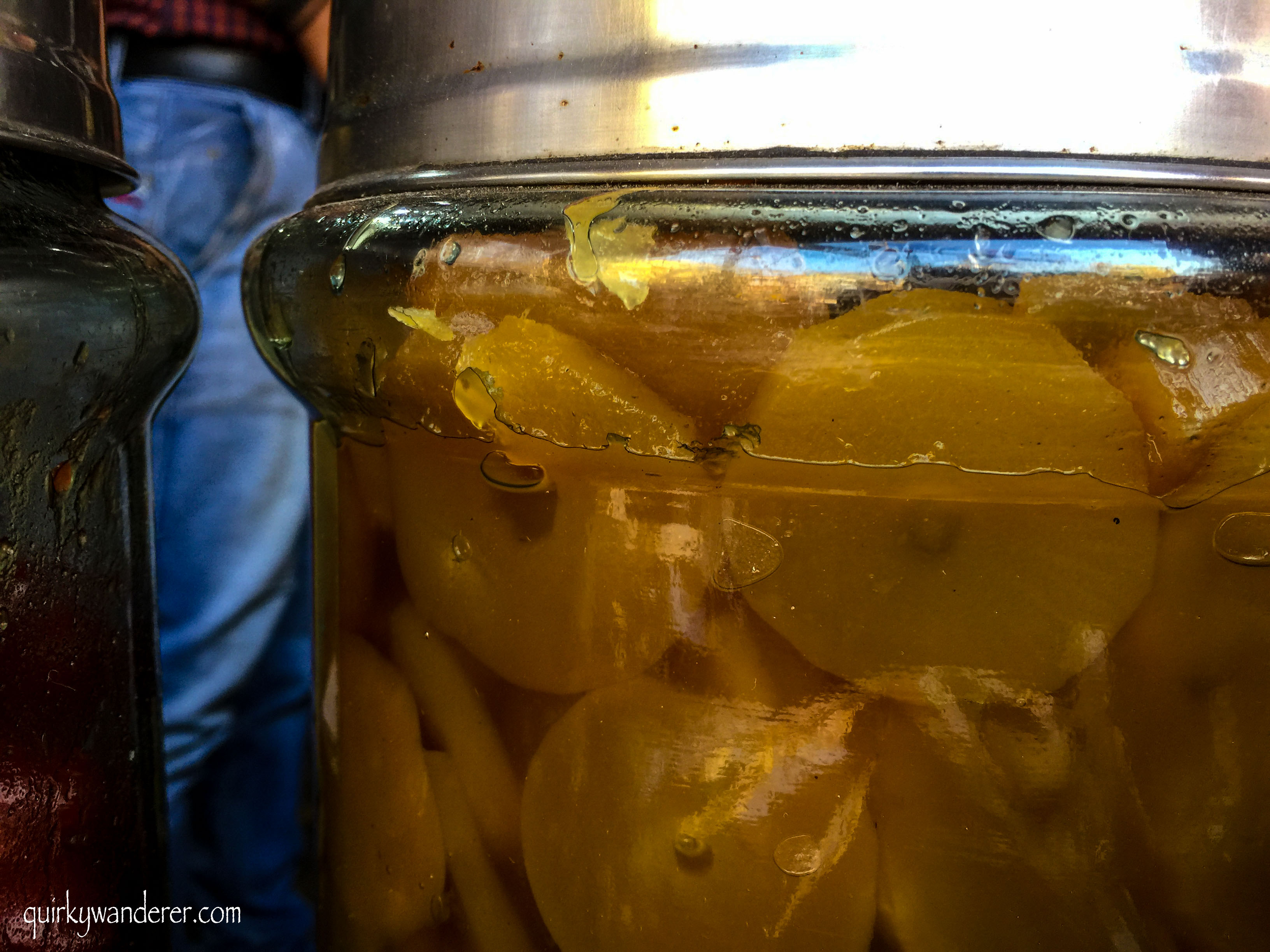 While you are at the Chowk area, do not miss the umpteen varieties of Local murabas to carry back home.
My favourite was the baans ka muraba ( bamboo muraba). Another favourite is the aam papad.
The streets of Varanasi have a host of Mukhwaas options. Bottles of colourful saunf adorn shelves and shopkeepers are more than willing to invite you to taste some.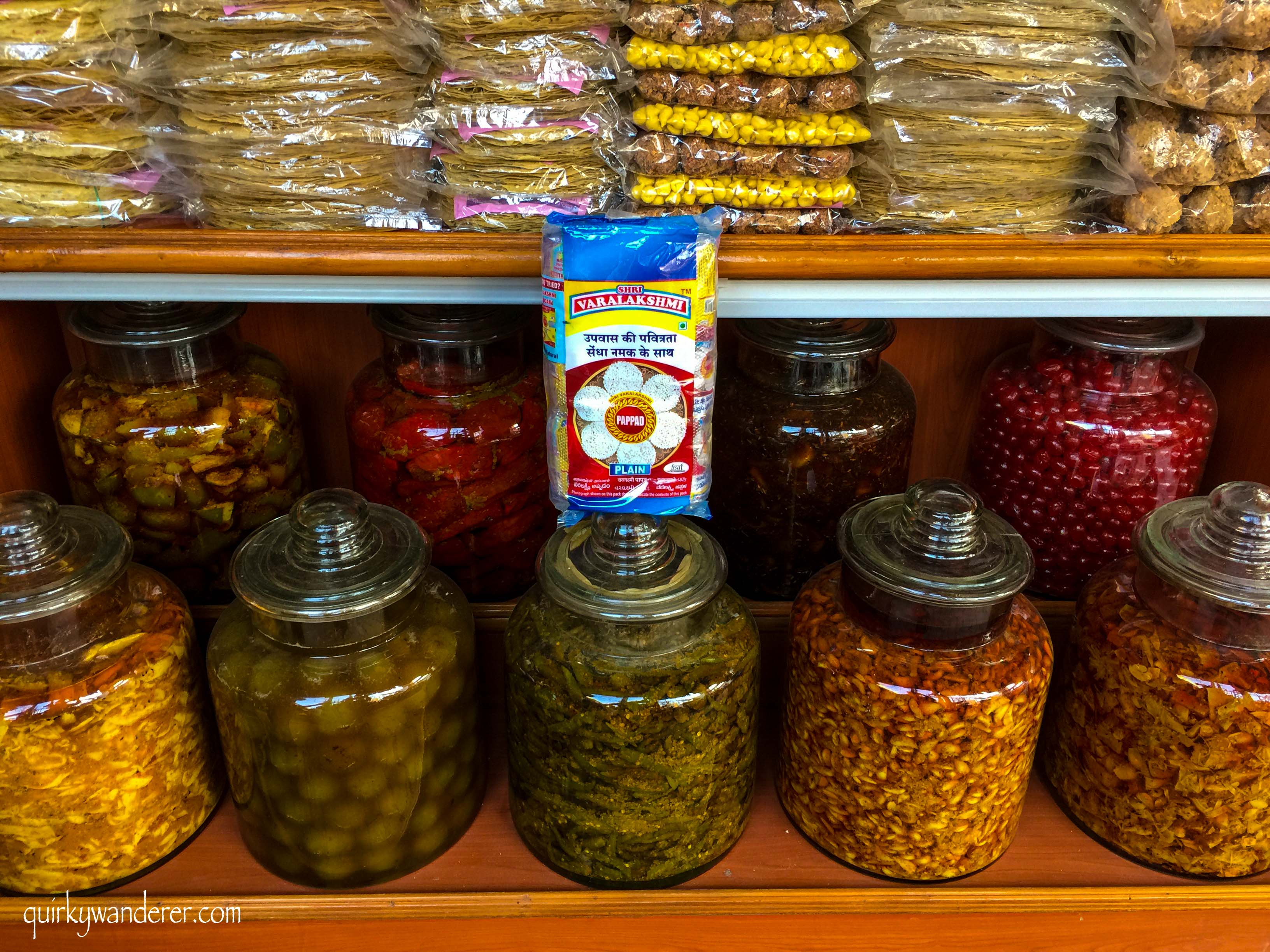 Childhood memories of granny's bharwi Mirch ka Achaar were relived as I sampled the local red chilly pickle in Varanasi. Pick up a jar at the Vishwanath Galli or the Chowk for nostalgia's sake.
Make sure you get you get your daily dose of Kulhad wali chai on the streets of Varanasi. There's one at every nook and corner. Get a cup, linger on and a local is bound to catch hold of you to narrate a dozen stories.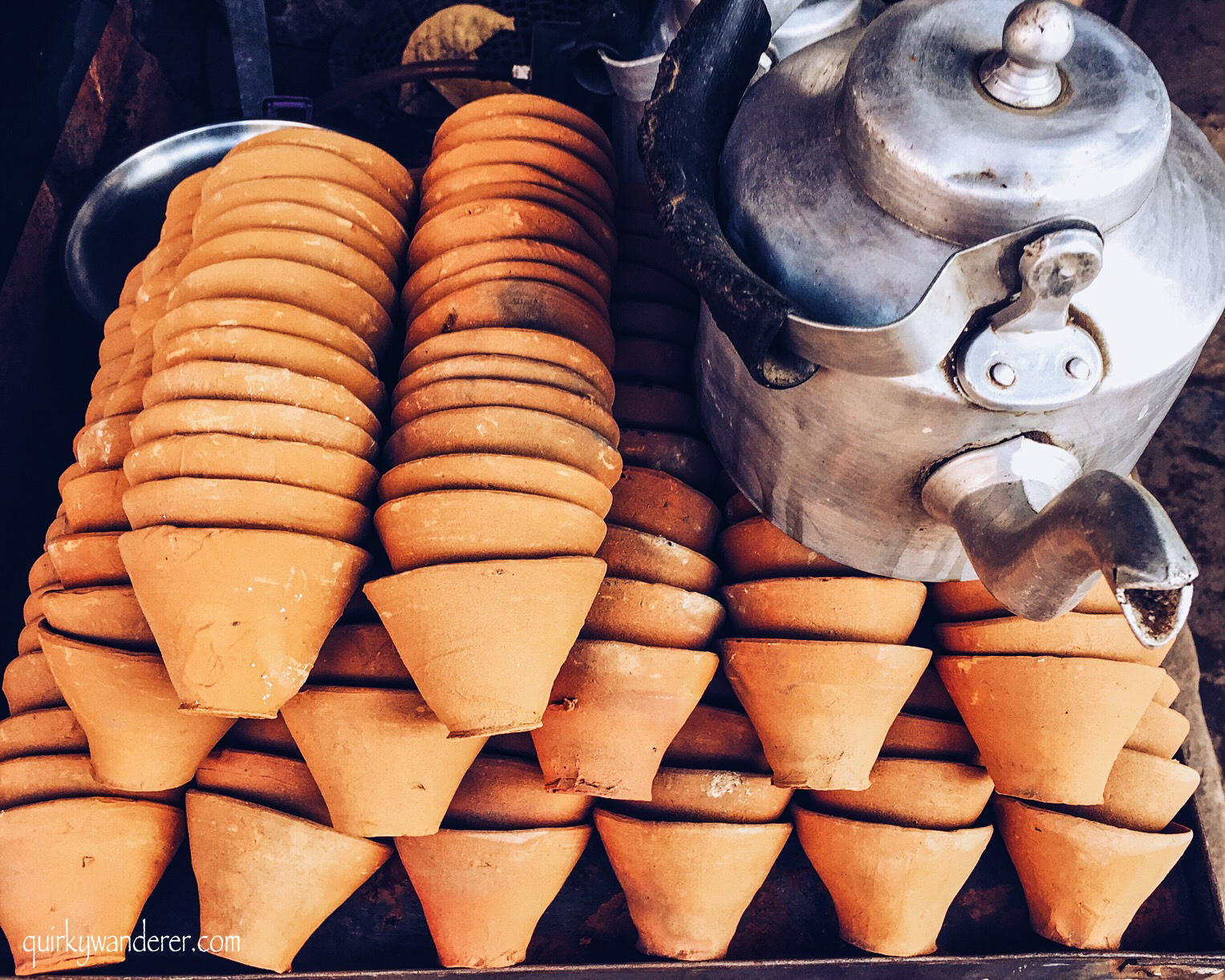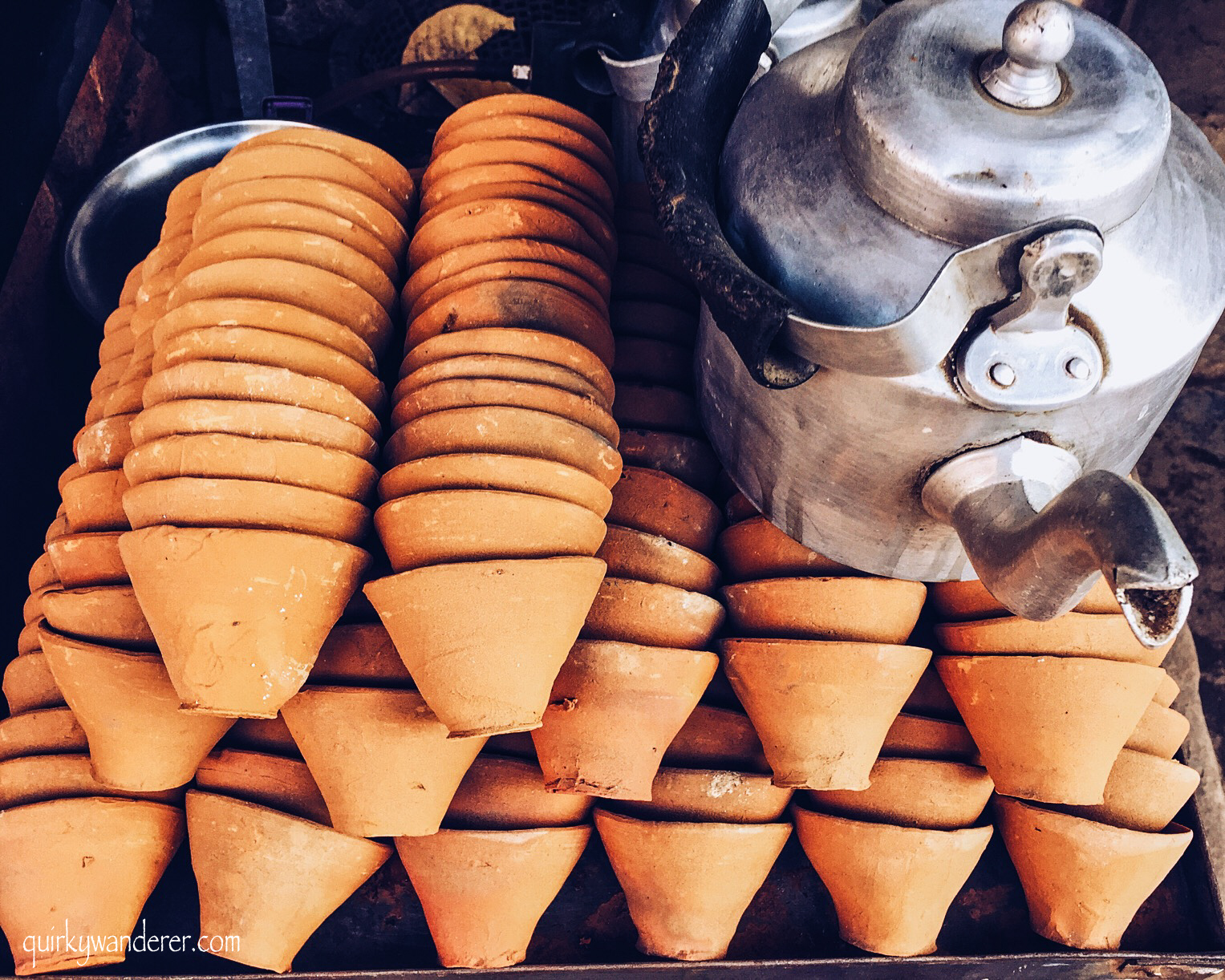 Other recommendations:
Pathak ji Ki Thandayi: for seasonal flavours
Rajaram Lassi Wala : Thateri gali
Vatika pizzeria at Assi Ghat
Have you been to Varanasi? What are your favourite eateries? Would love to know!