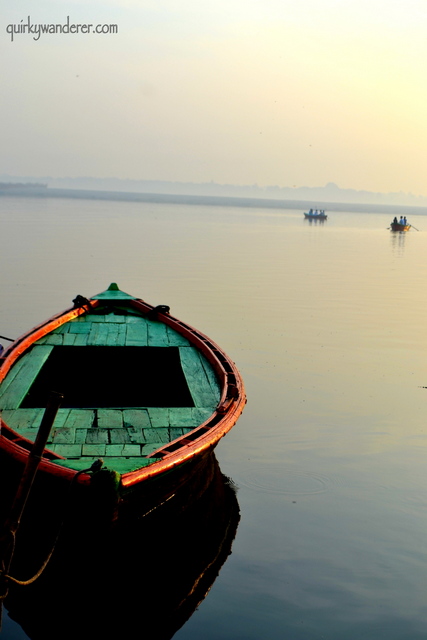 Banaras or Kashi is every traveller's dream. One of the oldest inhabited cities of the world where a river is revered to the extent that many seek death at its banks, where Shiva is ubiquitous and where Hindus and Muslims live in perfect harmony, each religion colouring the city in its unique grandeur.
It was my first visit to the city. There were food trails done, bazaars were thronged, temples were visited, the quintessential boat ride was done and the grand Ganga Aarti was witnessed.
Door were clicked too! (Obviously!) Full post on this coming soon.
Here is Part one of my initial experiences in this Holy City.
1. Gallis and Chaos.
One word that describes my first encounter with a Banarasi market: Chaos.
Honking. Two wheelers almost killing you. If you survive, you battle with the rickshaws. Bravo! You're alive. Almost. But not before the din wrecks your ears.  Standing in the epicentre of all the action, I gape at the ruthless two wheelers barging in and out of narrow gallis. In the background a calm ensues. At every nook, a paan Waala's chunna stained fingers, dish out a Banarasi paan every minute. People savour their paan over conversations amidst all the din. Not too far away is piping, hot jalebi being made and kullad wali chai being served.
Just like paan, even Lord shiva is ubiquitous. Found at almost every bend is a shiv ling or a Shiva Graffiti, proof of the fact that Kashi Vishwanath is indeed the ruler and protector of this holy city.
Stand in the Chowk area and let the city wash itself upon you. A melange of incessant ringing of bells, the evening Azaan from the nearby mosque and bodies being carried to the cremation ghats. It's a normal phenomena, treating death to be as routine a thing as sitting at the Chowk and drinking chai in a kullad.
The markets are abuzz with activity, selling anything and everything from mouth freshers to jewellery to local itars.
Glimpses from the Bazaars and Gallis:
The gallis are narrower than you can think and turn faster than you can imagine.
There is no time to stand and stare as a two wheeler honks in your ears and you jump over piles of cow dung. Each galli looks just the same and unless you have a local with you, you will end up landing where you started.
Do not forget to engage in a conversation with a Banarasi. Be it a policeman or a rickshaw wala, they absolutely love to talk and converse!
2. Ghats and activities.
So if you thought the ghats were only for poojas, Pandits, aghori sadhus and cremations, then you might consider rethinking. Ghats are buzzing activity grounds.
Home to the Banaras cricket league, which has its own interesting set of rules. (Throw the ball in the water and you're out). Masseurs give demos of their massages by shaking your hands and easing your muscles and if you're game they make you lie down and give you a body massage( men only!)
A stroll on the ghats and one can witness the essence of the city.
Boatmen almost chasing tourists for boat rides, locals washing clothes, teenagers playing cricket, men in huddled discussing politics, some playing chess.
There are 84 ghats in Varanasi  (Named after kings and rulers ) and each has a unique story to it. Each has a distinct architecture and design.
While witnessing these from the boat is a great option for photographers, people watching at the ghats can be a great option too.
3. Shimmering diyas and the evening Aarti.
It's 6.45 pm and crowds have started to pour in. Everyone wants a good spot to see the famed Ganga Arti at the Dashashwamedh ghat. Boatmen will offer VIP seats in their chair seater boats. While local priests will not let you sit on their wooden panels unless you pay 25rs per person. Young girls hover in and out of crowds selling diyas and flowers to devotees to float in the Ganga as an offering.
7 priests dressed in finery walk up to the Arti spot and take their positions. At the sound of conches, the Ganga Aarti commences, as all these priests worship the revered river.
With shimmering lamps, conches, flowers, peacock feathers, and smoke blowing out of cauldrons.
Drums, bells and the holy smoke leaves the hundreds of devotees in awe as they move in perfect unison. Completely in sync.
Devotees sit wherever there is space. Even boats are completely packed. After about an hour, there is complete silence. While majority of the crowds leave as soon as the Arti ends, a few walk down the steps of the ghats to float shimmering diyas nestled in flowers. I watch hundreds of these bobbling up and down, little bundles of prayers floating away, their destination unknown.
P.S: I explored the Ghats and Gallis with Ayush from Roobaroo Walks. They do a fabulous job of conducting walking tours in Varanasi.
P.P.S : It isn't over yet. Stay tuned for Part 2 of this post for a rendezvous with various other aspects of this mystic city!