My mind knows I can't do it.
It's an arduous trek. With poor stamina levels and a sorrowful state of health, I try to convince myself that it is perfectly okay if I don't attempt the six hour treacherous journey.
But of course there is a tempting option of horses or mules that can be taken up midway, till the cafeteria.
And deep down inside, my pounding heart has something else to say.
If I do it, I do it on foot or not do it at all.
To climb or not to climb?
The battle ensues till the morning of the trek.
The Tiger's Nest or the Taktsang Trek is on every Bhutanese pilgrim's must- do list. According to the legend, Guru Rimpoche (The Second Buddha) also known as Padmasambhava had flown on a tigeress to this small monastery, hanging off a cliff and meditated here.
Padmasambhava is said to have brought Buddhism to this Himalayan kingdom in the 7th century.
With a blank mind I stand at the base. Doreen's words echo in my mind. "Small steps, only standing halts, rhythmic breathing."
I start walking. Within 10 minutes I am panting, gasping for breath and stopping every now and then.
A tiny voice in my head sarcastically smirks and says " Told you!"
I promptly ask it to shut up and trudge along.
Slowly people start leaving, turning back to base. A few have sprinted ahead.
Now I am all by myself.
An empty, rustic path lies ahead of me. Surrounded by pretty rhododendrons and oak trees camouflaged with spanish moss.
There is a song being played. I don't know the source of this music, whether it is in my head or emerging from somewhere in the trees. But it is soothing.
I feel enveloped in a peaceful calm. The air is energetic, full of positive vibes, like a burst of vibrant laughter.
I close my eyes and breathe. At every step I feel someone is pulling my hand and urging me not to stop. It is an irresistible pull, coaxing with conviction.
The path is steep and not in the least smooth.
I breathe in and out, matching my breath with each step.
It is the best meditation I ever did.
I am now fully aware of each breath I take. Something I took so often granted, was being valued meticulously.
Till now I have met and made friends with so many fellow climbers from Germany, England, Tibet, India and China. We meet for a few minutes, greet and continue our respective journeys.
This only reiterates the fact that our life journeys are ours alone.
The monastery keeps teasing by appearing and disappearing time and again between the forests, as if peeping through your journey, making sure you don't quit.
A grinning local asks me if I am a Hindu. I give him an affirmative smile, to which he replies by asking if I am alone.
Before I can shake my head, he says "He is there with you, pointing in the direction of the monastery. The Guru's blessings are with you."
Faith. Resounding faith. There is a brush with spirituality at every bend in this trek. Not just in the wonders of nature, but the soul enriching experience it provides.
After 2 hours I reach the last leg of this breathless climb. The 700 terrifying steps. By now it is easy to be acclimatized to the altitude.
There is a mad rush at the viewpoint as people take selfies and pictures of the Tiger's nest, which seems at an arm's distance.
I stand in awe. Watching this beauty hanging off the cliff, suspended like a miracle amidst rocky hills and deep gorges.
With the destination so close, there is a sudden adrenaline rush to reach, but at the same time, a mad desire to stop the moment and soak in it, slowly relishing this feat.
The sight was breathtaking. A huge waterfall gushing down the mountains, clouds hanging over the monastery and a mystic silence even though there were scores of people around.
Sprinting up the stairs, my heart breaks into a victory lap as I stand stunned at the entrance of the monastery, 10,000 feet from sea level.
Overwhelmed I break into tears, because I have outdone myself.
The tiny dissuading voice is now silent. The universe seems to echo my emotions as a down pour begins.
The monastery has ten lakhangs (temples), the tiger's cave, the stone where Guru meditated and a room where butter lamps are lit.
Half an hour later, my knee crunching descent begins. At some points of time, my legs begin to wobble in pain. But I am not complaining.
The satisfaction of doing it from scratch, all by myself overruled the pain and made it too minuscule a phenomena as compared to what I experienced.
Our group guide asks me if I lit butter lamps in the monastery. I do not even remember if I had said a proper prayer.
But then wasn't the entire journey a conversation with Him? A 6 hour meditation with open eyes and truly an unforgettable spiritual experience.
Tips:
1. Do not carry a camera or lug around lenses:
Cameras are not allowed inside the monastery. A heavy duty cam will only increase the weight of your backpack. Opt for a Go-Pro, a compact camera or any good phone camera.
2. Be a responsible traveller :
Whether you are spiritual or not, at least for the love of nature, maintain the sanctity of the place by avoiding to opt for a horse/mule.
The mule track till the cafeteria reeks of dung, courtesy the many 'tourists' who opt for these.
3. Be equipped:
Carry a small bottle of water, a poncho (can rain anytime), energy bars, nuts and chocolates.
There is also a cafeteria mid-way.
4. Be positive:
"I am positive, energetic, enthusiastic" This is what Doreen chirped happily in our ears. It always helps to be positive. If you think you can do it, you certainly can.
5. Don't rush:
Avoid timing yourself with others. Everyone has their own pace, though the average time taken is usually 3 hours to climb up and lesser during the descent.
Enjoy the mystic journey without tying yourself to a time limit.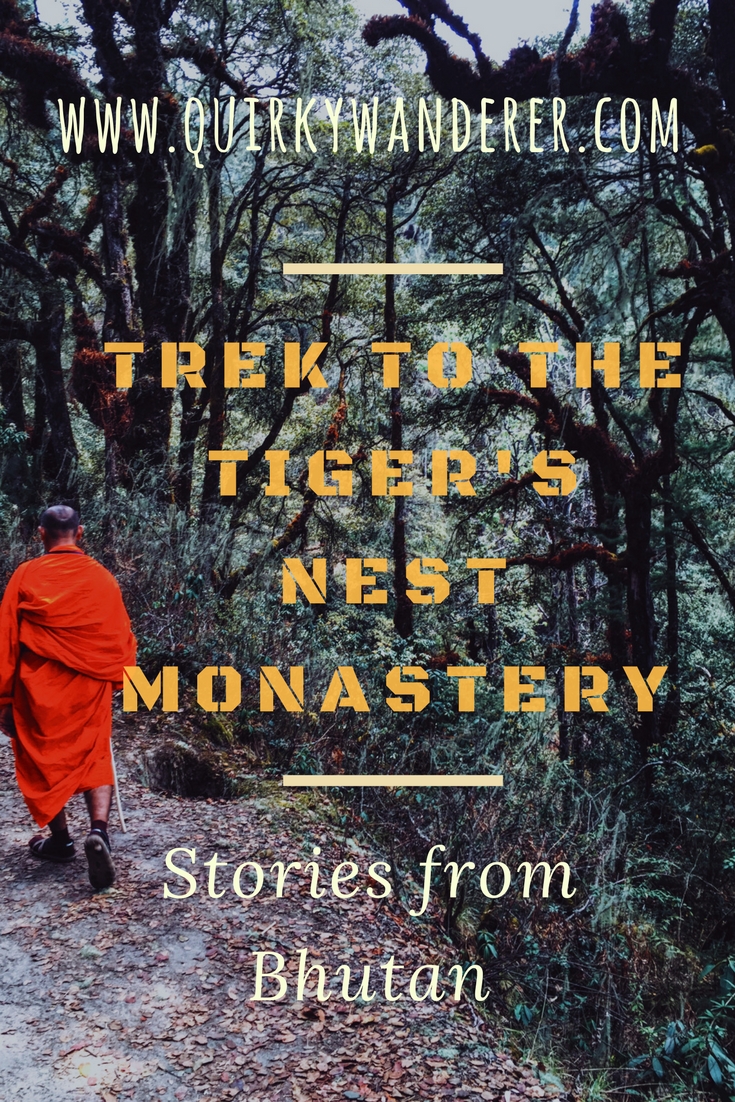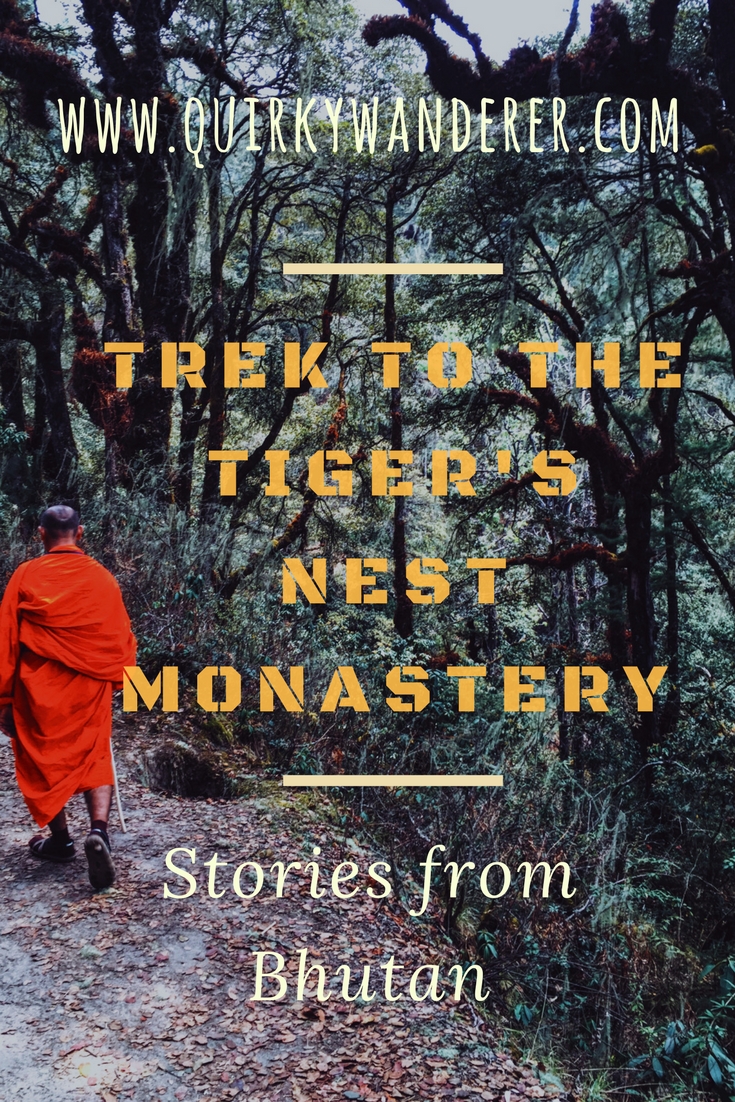 The Tiger's nest trek base is 10 Kms from Paro, nestled in gorgeous pine forests. For those who do not wish to trek, there is a wonderful shopping arena right where the trek starts, where a variety of Bhutanese handicrafts are sold.
Also the base is fantastic for birding: birders can easily sight yellow billed blue magpies, rufous sibia, white throated laughing thrush and so on.
 Lastly, a big thank you to Doreen for believing I could do it and all the tips and tricks!