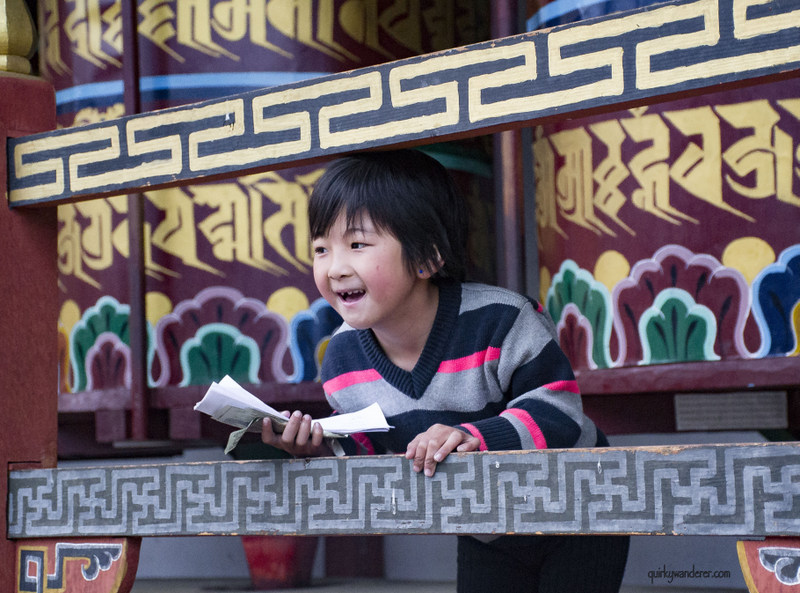 In my quest for happiness in Bhutan, I encountered innocence. I didn't quite go looking for it, I happened to bump into it.
Where? Amidst a playful pandemonium, it blossomed shyly.
The playground of Jigme Losel Primary school in Thimphu is abuzz with activity. Young lads indulge in an intense football match, while their teacher's helpless whistles cannot be heard in the din.
Parents have turned up in huge numbers to cheer for their kids.
As I struggle to find a vacant place in the stands, I notice a pair of cheeky eyes following me. I look at this stalker from the corner of my eye.
But my stalker isn't a professional at all. My confrontation is not met with denial, it is met with the cutest, sheepish smile I have ever come across.
My stalker is twinkle eyed 6 year old, whose new found hobby is waving bye to my camera.
In the corners of this playground, I find the most innocent, playful and genuine smiles.
Happiness is innocence, bundled in blue and red school uniforms, coupled with bubbling laughter and an infectious enthusiasm.
In Bhutan I came across a host of true smiles. No not just smiles pasted on lips. Smiles that reached up to the eyes.
Smiles that were genuine and heartfelt. Smiles that made me smile, involuntarily.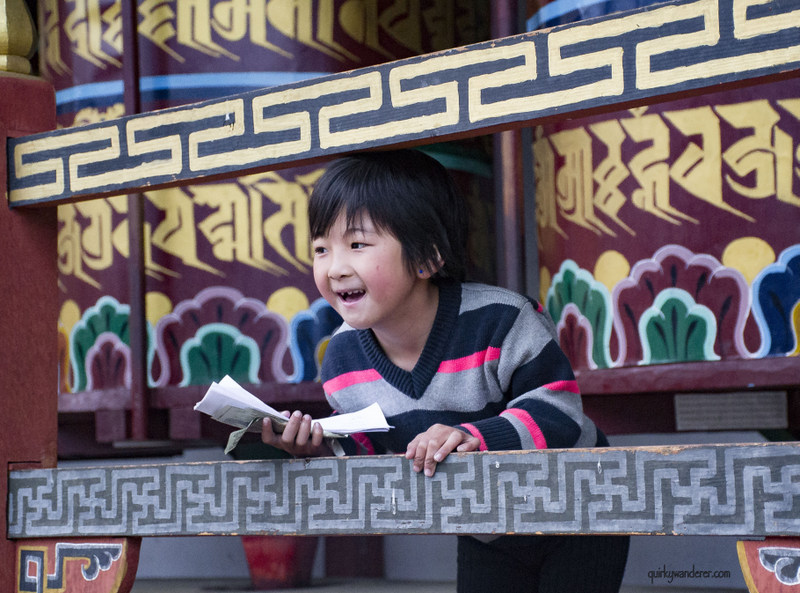 Spiritual happiness:
I always thought monastic schools housed stoic, young monks who were absorbed in studies, detached from 'worldly' distractions.
Nurturing this strong misconception, I enter Thimphu's Dechen Phodrong Monastery, a monastic school with a Lhakhang (temple).
Impish grins welcome me.
It is break time and the scene in front of my eyes can be described perfectly in two words: Disciplined chaos!
Adjusting their deep red robes while battling the breeze, these young monks make sure their 15 minute break is utilized well. Some playfully wrestling, some shying away from cameras, some engaged in cheerful banter.
The flurry of activity unfolds so many real, candid moments. When they realize I am clicking them, some pose with a stylish swag!
Some hide their coy smiles.
No, I do not ask them to pose for me.
I sneak in to capture their unadulterated smiles, unaffected by the knowledge of someone watching them.
The bell rang and they all retreat to their classrooms.
In those fleeting moments, I realize how 'disciplined' their spiritual happiness is. Calm, unruffled, balanced happiness stemming from pure joy. No, not the joy of being clicked by a stranger, the joy of a full 15 minute break.
The love for sports:
The cheers outside Changlimithang stadium, intrigued the cricket lover in me as I saw scores of men wearing the traditional 'gho' huddled together.
The crowd cleared a little and I saw the cutest game I have ever witnessed: Archery.
Chewing 'doma' (betel nut), these men have their eyes focused on the 'other end'. (read: other as something that looks half a kilometer away).
The archer knows what he's doing. With brimming confidence he steps ahead, lifts the bow, breathes in, focuses at his 'aim', (I wonder how he can even see it!), pulls the arrow and in a flash the arrow whizzes by, while I am left blinking my eyes.
Its a bullseye! How do I know? I see them all jumping and dancing. The celebration is amusing, yet adorable!
Archery is Bhutan's national sport and is a part of their everyday life. Small tournaments are held in every village and town.
More than a mere sport, it is often seeing as a social event, with singing, dancing and celebration. The bows are traditionally made out of bamboo and targets are made of wood, colorfully painted.
There are teams on either side, howling and shouting. I am curious to know what this is about. Mr. Dorjee, the stadium facilitator, explains that most teams distract their opponents by teasing them and mocking their shooting capabilities.
He chuckles, "Traditional archery also involves a lot of Ara! (Local Bhutanese alcohol)"
As bamboo arrows whiz by from one end to the other, Doma smeared lips break into grins. The archer has missed the Karey (target) and the opponents rejoice, singing and breaking into a dance.
Its not frenzied happiness. Nor delirious cheering. But the passion for the sport is heartwarming!
Besides, archery, darts and football are also played actively.
Happiness is waking up early to not miss a local sport you have never seen before. Quietly choosing your favorite player because you like his 'gho' for some insane reason.
Not understanding the game at all, yet cheering seeing them cheer.
Songs and Dance:
I always wanted to see a Tsechu in a Dzong. Tsechus are dance festivals held annually at various districts across Bhutan.
These social gatherings draw huge crowds especially for their Cham dance performances. (Masked lamas in colorful attire, recreating incidents from Padmasambhava's life).
There wasn't any Tsechu happening anytime soon and Mr. Pradhan, the cordial owner of Hotel Sambhav in Thimphu was gracious enough to organize a special show for us.
A group of six dancers took centre stage and performed nine different forms of Traditional Bhutanese dances.
Accompanied by instruments like the Dramnyen (Lute), the Chewang (the fiddle), the Lym ( bamboo flute), the graceful dancers sung and danced filling the room with an air of infectious energy.
Starting with Joenpa Legso (a welcome dance), the troupe changed costumes within minutes for the Mask dance (Drametse Ngacham), performed with drums and cymbals, wearing masks of different animals.
While the girls mesmerized by singing the classical bhutanese song : Zhungdra, the boys enthralled the audience with the Dance of the Gings, also called the drum dance (wooden masks of leopards and tigers worn).
It was a color burst, vibrant costumes, melodious songs and energetic dancing. The 2 hour performance transported us to remote villages where people perform dances to show how they weave cloth from wool and to Eatern Bhutan where people dance while pounding the soil during construction of a traditional bhutanese house.
As they skillfully swirled, in perfect harmony, their zest for life came alive. Evident in every step. It was infectious, because it creeped into the audience and five minutes later everyone was a Bhutanese, dancing away, hardly knowing any step.
The Bhutanese love to sing and dance. No, not just dance troupes nor archers, even the locals.
Ask for an impromptu dance on a cantilever bridge and a group of youngsters oblige. It isn't the local bhutanese dance, but hip hop!
Under a starry sky, local boys, Sajan and Tanden sing away Hindi songs, peppy Bollywood numbers and slow romantic tracks.
They pull in people to dance with them as if inviting everyone to share their favorite meal.
Happiness is singing a Karaoke with a Bhutanese guy on a Hindi Song, where you fumble with the words, but he doesn't.
When I started searching Happiness in Bhutan, I never realized how it caught onto me, without a warning.
Like what I was seeking, was already seeking me.
The Bhutanese do not do an ostentatious show of happiness.
Their happiness is simple. It is content. And without a doubt, it is contagious.
Gorgeous smiles from the Land of the Thunder Dragon:
How much ever I would like to believe that this was the district court guard's childhood picture, it isnt!