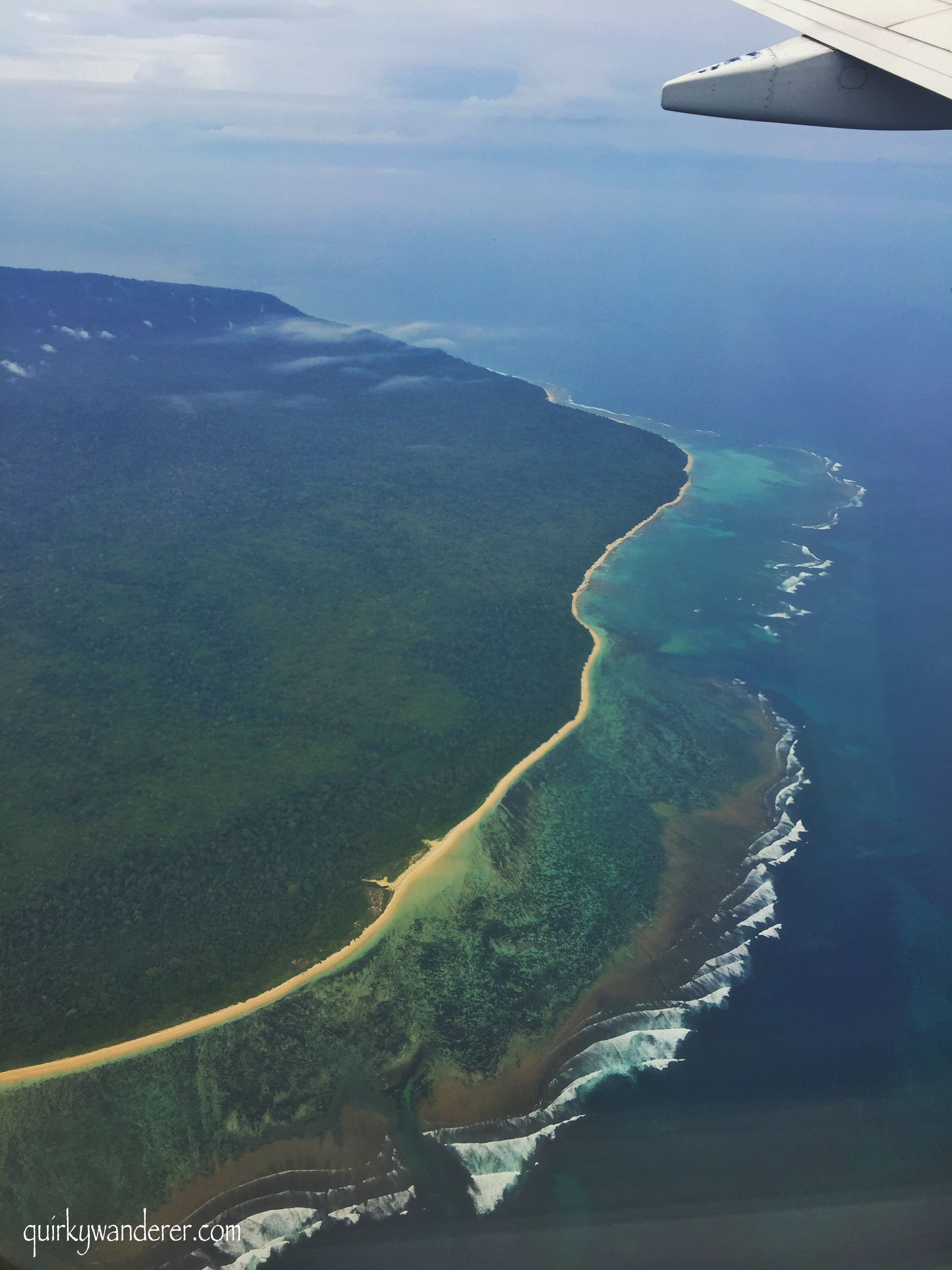 It was the first time, I was flying Garuda Indonesia, the official airlines of Indonesia.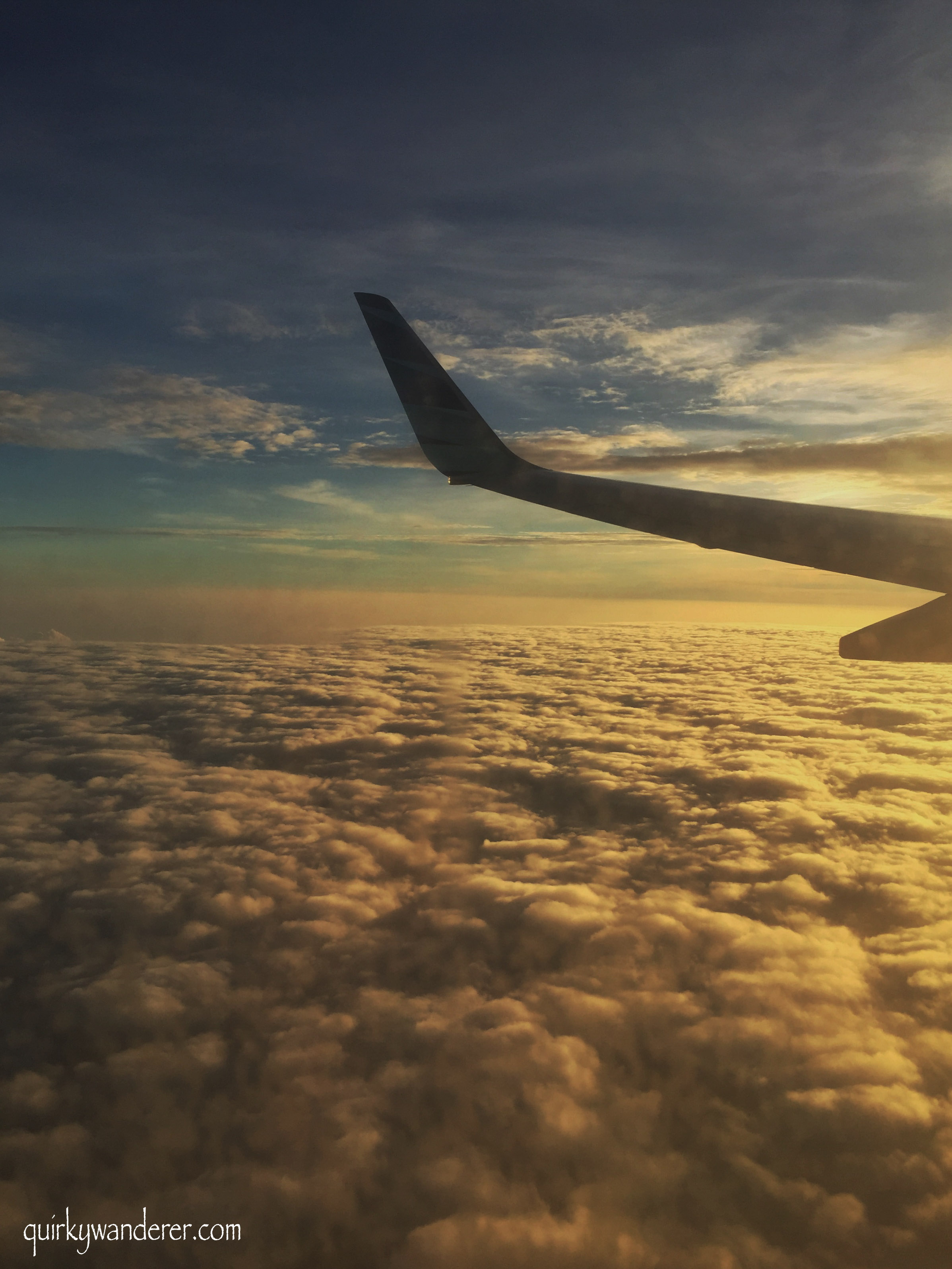 As I entered the Mumbai Airport and checked in the luggage for my flight to Bali, little did I know that this will be one of the many firsts in my journey to Indonesia with Garuda.
If you thought this review is merely based on a return flight between Mumbai and Indonesia, then here's a clarification : it is based on my experience of flying Garuda Indonesia a total of seven times throughout my Indonesia trip.
In 2016, Garuda Indonesia was ranked a 5 star airline, after years of continuos improvement. Here is my detailed account and review of each parameter as a passenger.
Food: 
Usually, the food lover and vegetarian in me is extremely apprehensive of the food served in a South East Asian airline. So I immediately grabbed a sandwich before the departure. It was clearly not a very good decision.
Why? 
Forty minutes post take off, when the crew served us the inflight meal, I was in for a pleasant surprise. 
I was face to face with piping hot Samosas, Chhole (chickpeas) served with buns and assorted chutneys. The icing was being served  Gulab Jamun at 12 am.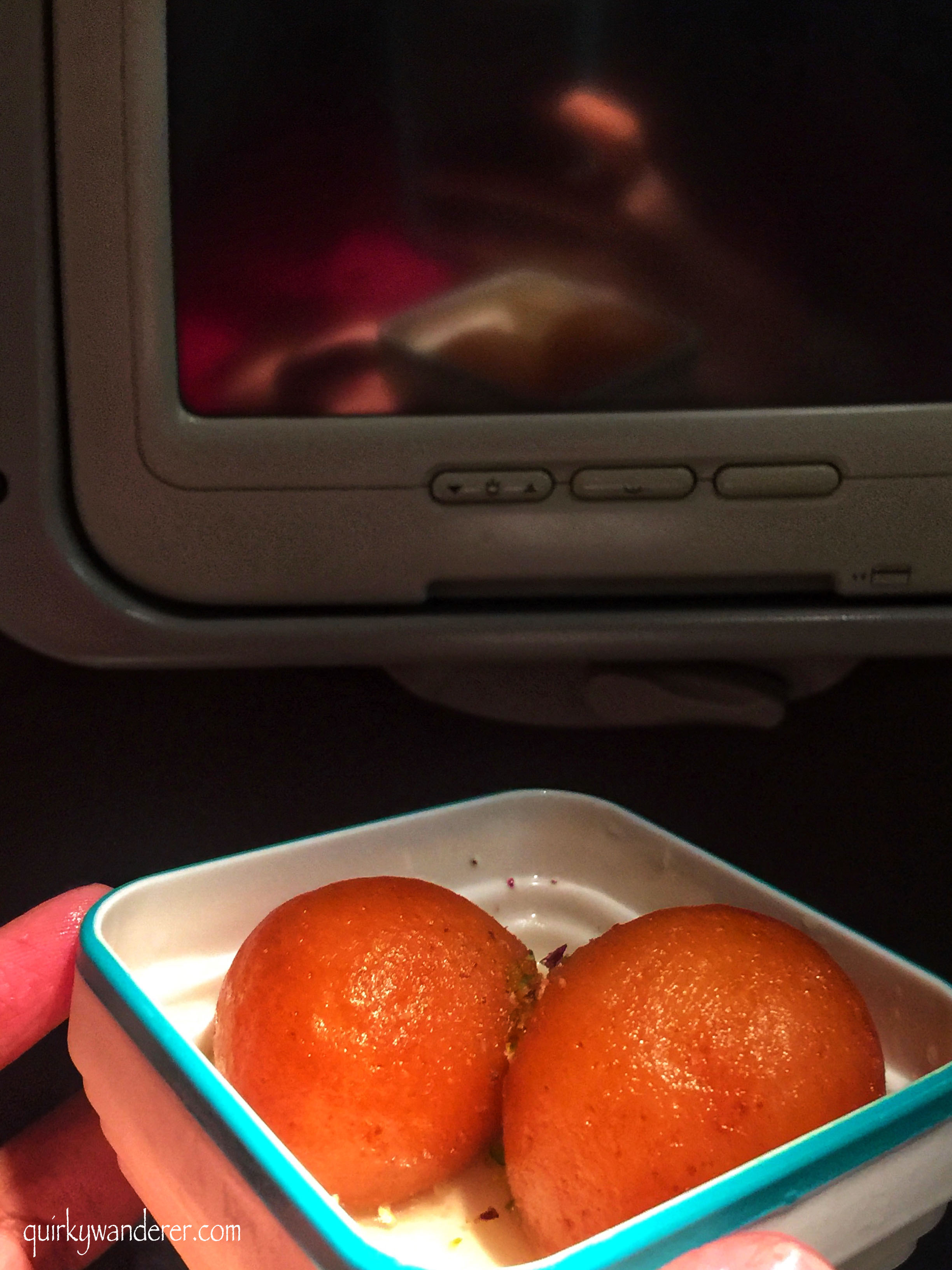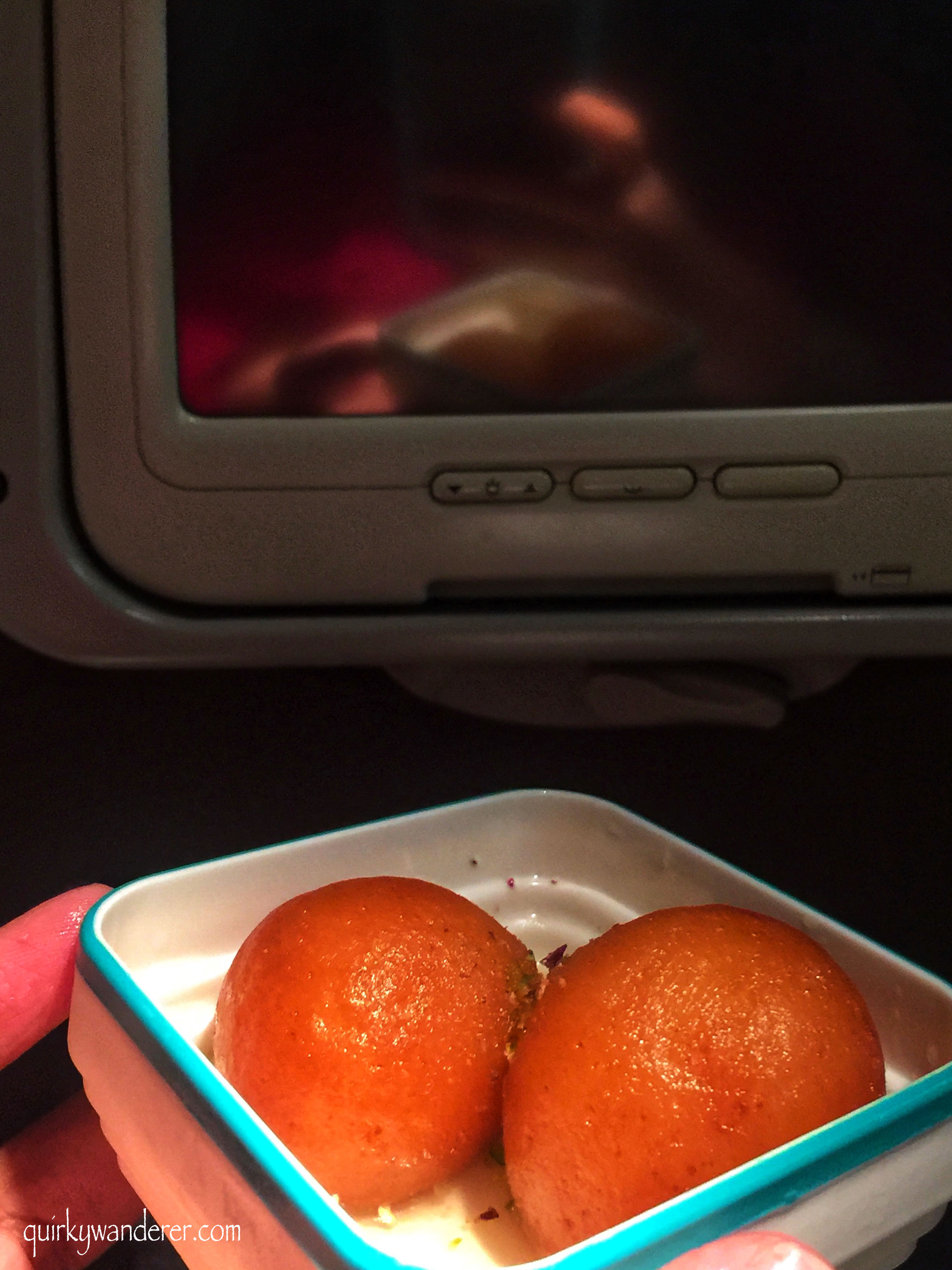 Need I say more?
The food served on the Bangkok-Jakarta sector was also Indian (it was a pre-booked meal) – Parathas with Aloo Subzi and fruit yogurt with fresh fruits served separately. 
On the Jakarta-Bali sector, another delight awaited– pesto sauce pasta! 
Not once was I disappointed with the meals served on Garuda Indonesia.  And this comes from a person who has  never managed to complete a meal in a flight. 
The shorter flight from Denpasar to Lombok had a snack, the rest had meals. Beverages were served on all flights. 
On the Jakarta- Bangkok sector, we were served chips with a mango dip, fresh salad, Baingan Bharta (brinjal) and spinach, while the next and final leg was home style rajma (kidney beans), Gobi aloo (cauliflower) with fresh salad and cut fruits.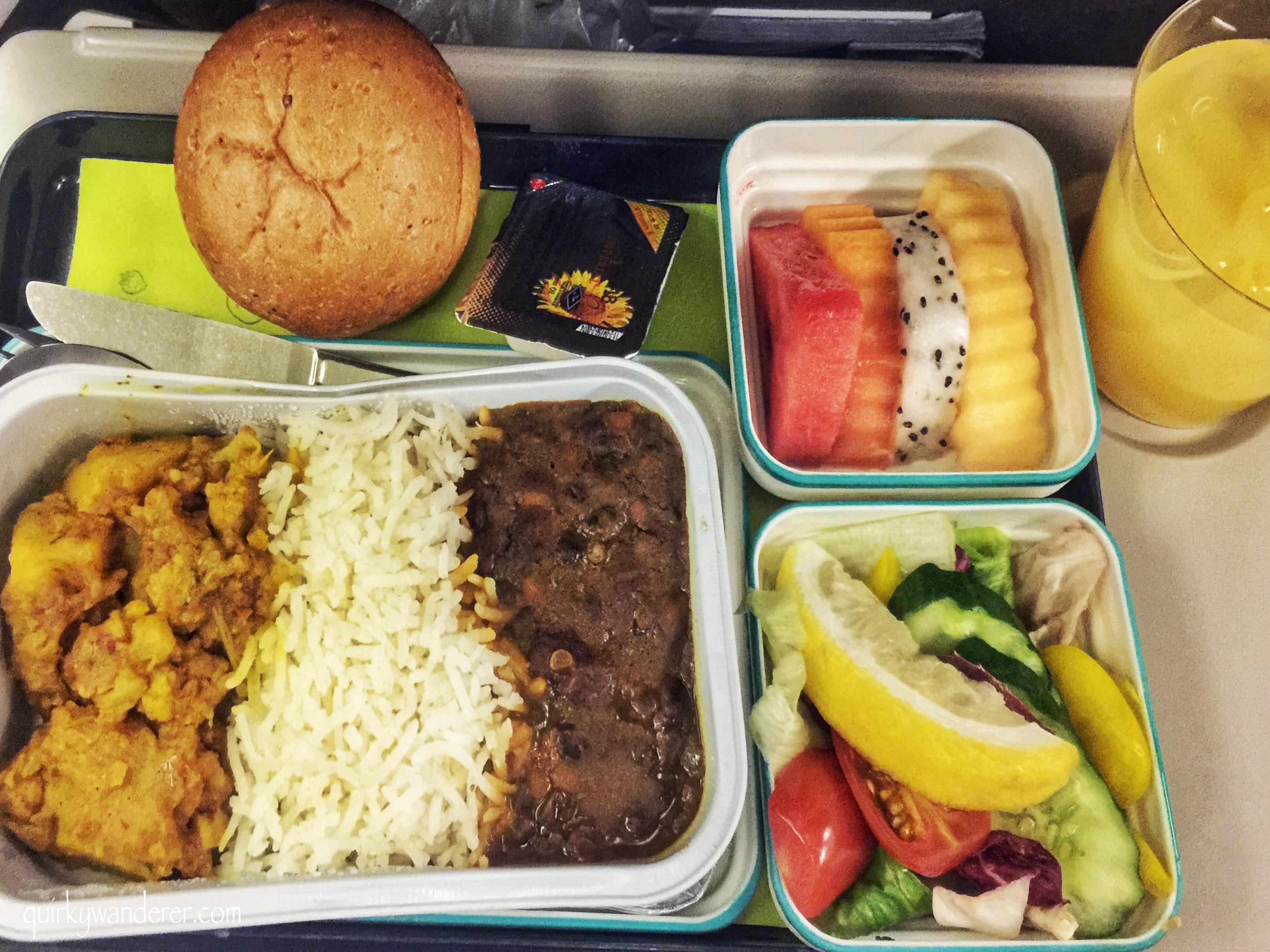 The plate was wiped clean. A first ever for me on a flight. 
Service:
Somewhere between Jakarta and Bangkok,as I curled into my seat snuggly, post my meal, I feel a gentle pat on my head. She has read my 'Thank you' note , a small one that I left on the tray, expressing gratitude for their stellar service. 
This is how I felt about the service on board Garuda Indonesia.
I flew economy throughout and the cabin crew had no idea that a review is going to be done, hence I was treated as just another passenger and the experience justified why Garuda's crew is rated as the no. 1 cabin crew in the world for the fourth year in a row.
The on ground service is impeccable too. At the Lombok airport, post Check in , I realised I left my jacket in the bus. As I sprinted out and tried communicating with the security guards, a Garuda on ground staff, guided me, not only did he call the bus back, but assured me firmly that I will not miss my flight as long as he is there. I was escorted right till the boarding gate by him and my heart melted at this hospitality.
The icing on the cake of my journey was when a gentle request was made to the ground staff at Jakarta for a window seat and I got the entire row to myself. Another first in any International flight for me. 
Flight timing and Boeing type: 
We flew Boeing 737 which departed from Mumbai at 11 pm. I felt the departure time of 11 pm is a very good time for an international flight as I could sleep 6 hours in a row on my way to Bangkok.
The seats were comfortable with sufficient leg room and each seat had a pillow and blanket for all passengers by default.
Seat configuration is 2-2 on the Explore branded aircraft (Denpasar -Lombok ) and 3-3 on the 737 aircraft.
Seat width is 17 inches in all 737 aircrafts and 18 inches onboard the A330 and 777 aircrafts.
Flights taken were:
Mumbai- Bangkok- Jakarta
Jakarta- Denpasar
Denpasar to Lombok
Lombok- Jakarta
Jakarta- Bangkok-Mumbai
From the above , all the planes were Boeing 737 except the short flight from Denpasar to Lombok that was an Explore jet.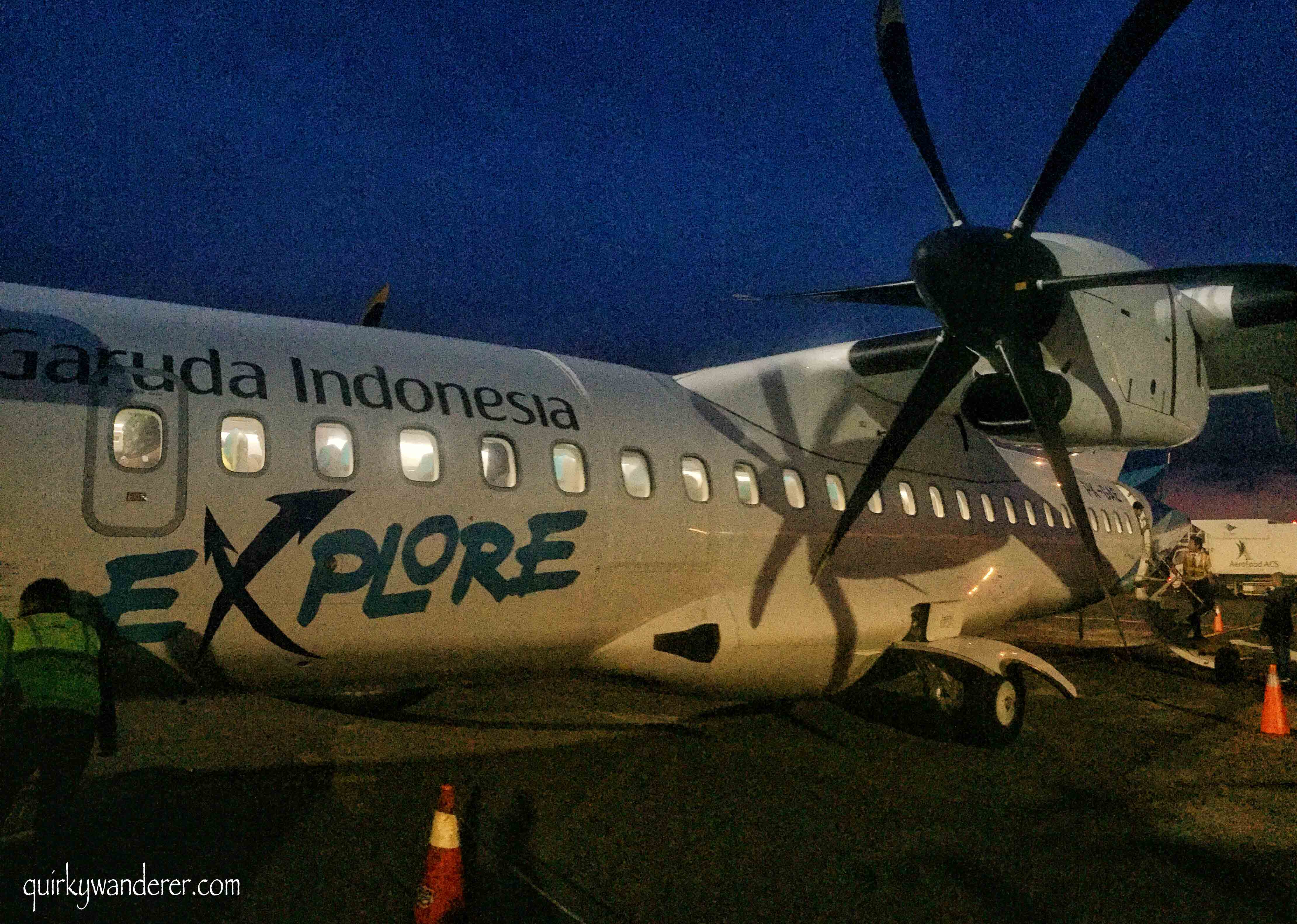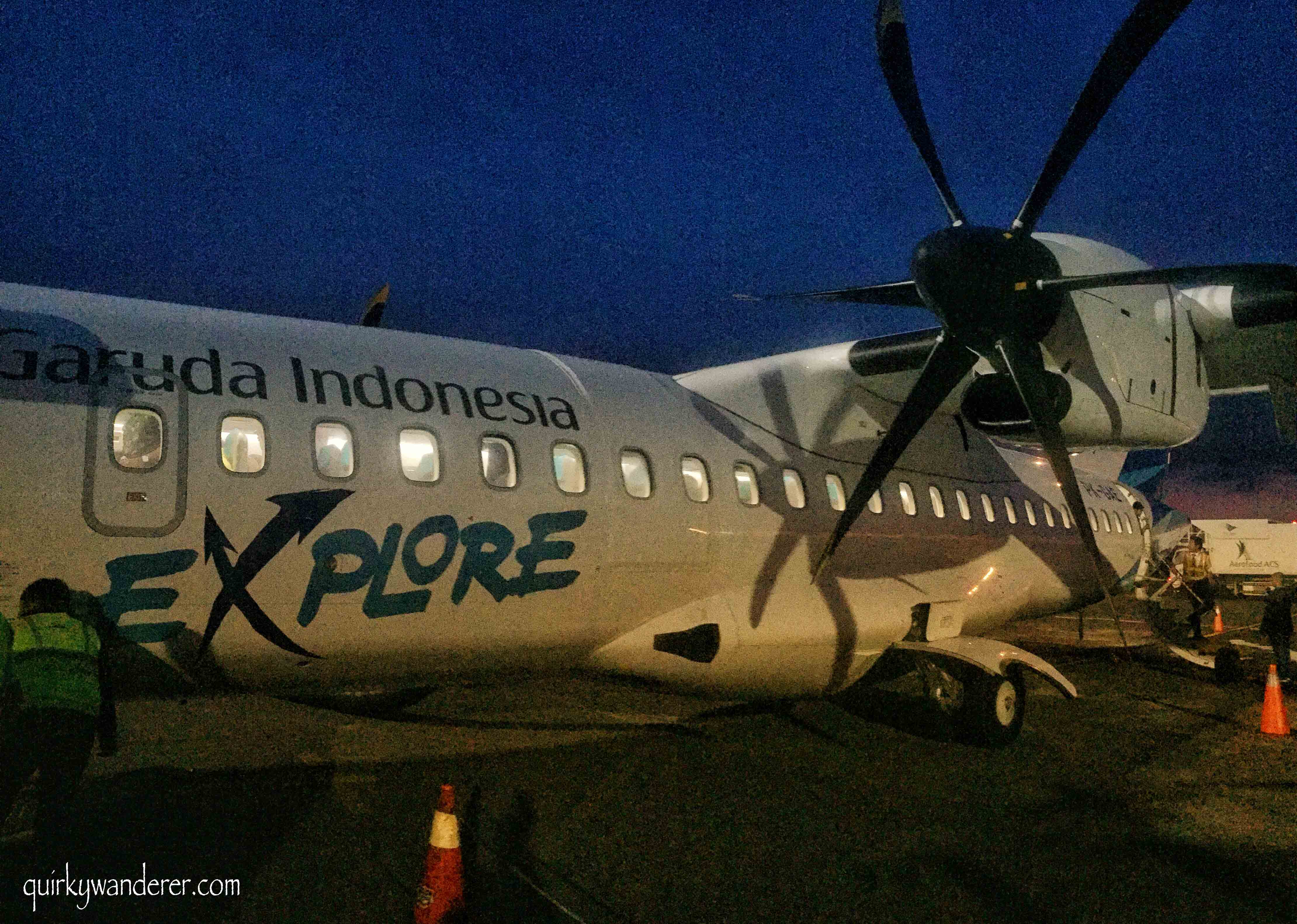 Almost all the flights were exactly on time except the Lombok one, which came as a surprise even to local guides, as they say "Garuda is never late!".
The Garuda Indonesia fleet (140 aircrafts) majorly consist of A330-200, A330-300,  Boeing 737-800 and ATR-72.
Connectivity:
Garuda Indonesia operates flights to over 133 destinations across 14 countries of Asia, Australia and Europe. There are approximately 500 daily departures from Jakarta, Denpasar, Medan and Makassar and the airline is well connected to Bangkok, Singapore, Shanghai, Tokyo, London, Amsterdam.
Flights to Moscow, Los Angeles (via Tokyo) and Manila are planned to resume soon.
From Mumbai , the route is Mumbai- Bangkok- Jakarta.
UPDATE : There are now DIRECT flights to Bali from Mumbai! 
Garuda Indonesia will be starting flights from Mumbai to Bali effective 23 April 2018 twice weekly on Monday and Thursday. From 02 June onwards, they will be increasing the frequency to thrice weekly on Monday, Thursday and Saturday.
Currently, this flight commencement makes them the one and only non-stop carrier to Bali from Mumbai.
Economy class fare BOM – DPS  starts form INR 22,956 (USD 350) for sales now till 30 Apr and travel up till 31 May 2018.
Garuda Indonesia is a member of the SkyTeam airline alliance, thus helping them expand across Asia, Middle East and Western Europe. It shares a code sharing agreement with Jet airways of India.
Inflight entertainment :
Long flights need fool proof methods of killing time.
Garuda Indonesia's in-flight entertainment comprised of a host of options including a variety of movies Hollywood, Bollywood, and local (with sub-titles), a great collection of music, games for children and  a whole lot of factual information for those who wish to know more about Garuda.
On most 737s, seat-back inflight entertainment is offered, while  all A330s and 777s have it.
Every seat has a 9 inch seat-back touchscreen.
What caught my interest immediately was that passengers to scroll through e-versions of past issues of the in-flight travel magazine. So it is not just the current print issue that you can read, but also the past issues.
The safety instructions are also displayed on the screen.
What you need to know: 
An entire terminal in Jakarta is dedicated ONLY for Garuda Indonesia flights.
You need to check out the signature cologne in the lavatories. A unique fragrance developed for Garuda Airlines.
The boarding pass has a code that offers you discounts on various retail shops for a week.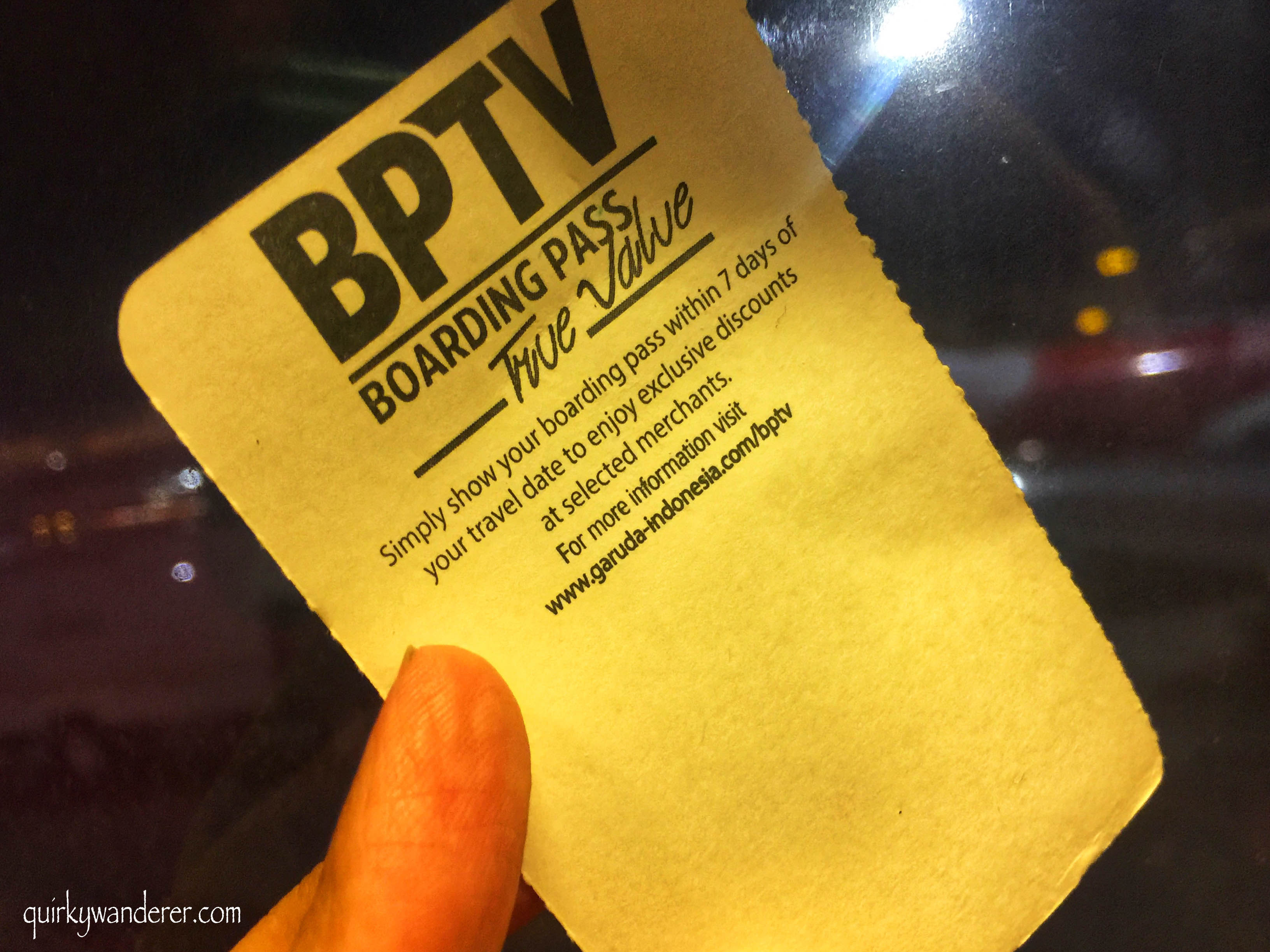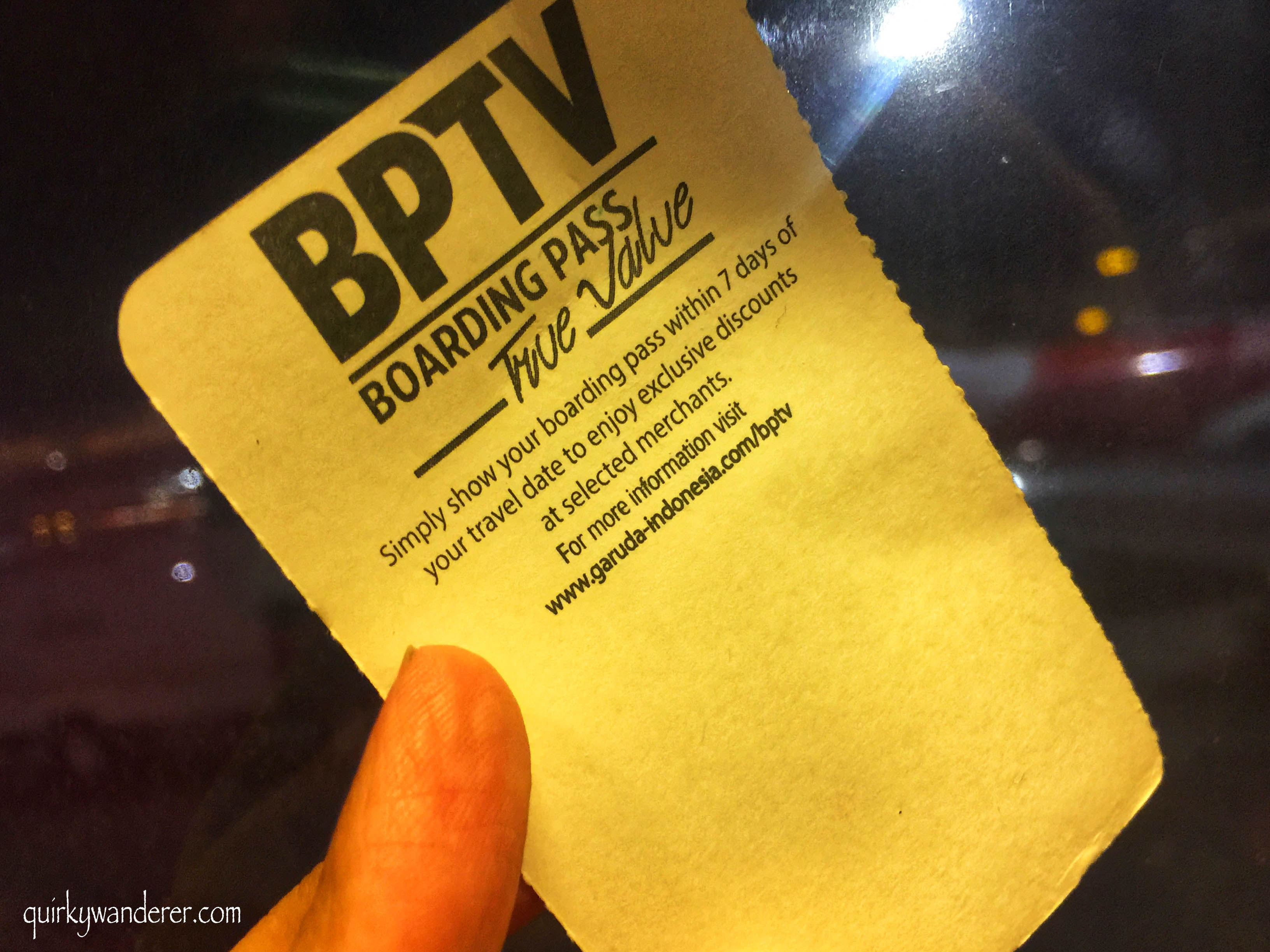 GarudaMiles is Garuda Indonesia's frequent flyer program, which allows members to earn miles on domestic and international flights and has four tiers of membership covering GFF Junior, Blue, Silver, Gold, and Platinum levels. Passengers can earn GarudaMiles, by flying on any of the codeshare airlines flights like Korean Air, Jet Airways, Etihad airways.
There is Executive class in almost all the aircrafts, with a spacious 2×2 seating, in seat laptop power supply, free Wifi and signature Indonesian cuisine. 
The Business class passengers have access to the Garuda Lounges at the airports.
In case you want Veg Asian meals, you need to pre book meals so you can be rest assured of being served veg food on board.
Verdict: I am definitely flying them again, now that direct flights have begun, there are lesser stops!
Absolutely pleased with the experience!