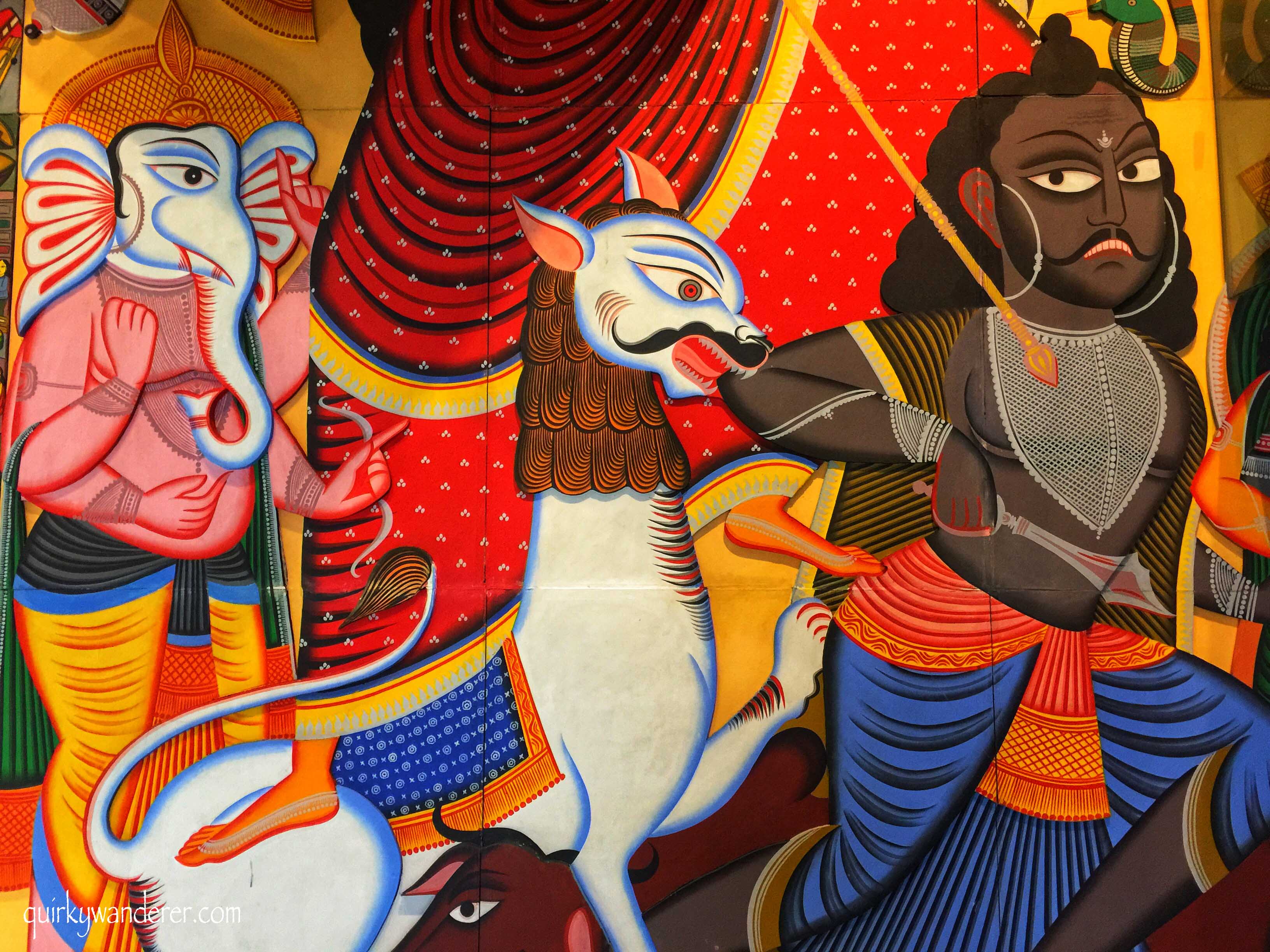 It was another rushed day at the Chatrapatri Shivaji International Airport (CSIA)  in Mumbai. 
I was running late, as usual. Sprinting past those plush eateries and the super tempting shopping arena. I noticed a burst of colours as I rushed towards my boarding gate. 
The blurry memory of colours stayed on for a long time.
Two months later, as I embarked upon my Doors of India journey, I got a longer glimpse of the artefacts near my boarding gate. I saw intricate doors exhibited in the lower level lobby, their story unknown. 
On my return from Sharjah, at the arrivals, I was delighted to  come across an array of arty installations panelled across the walkators , making me gaze at them infinitely almost forgetting about getting off the walkator in time.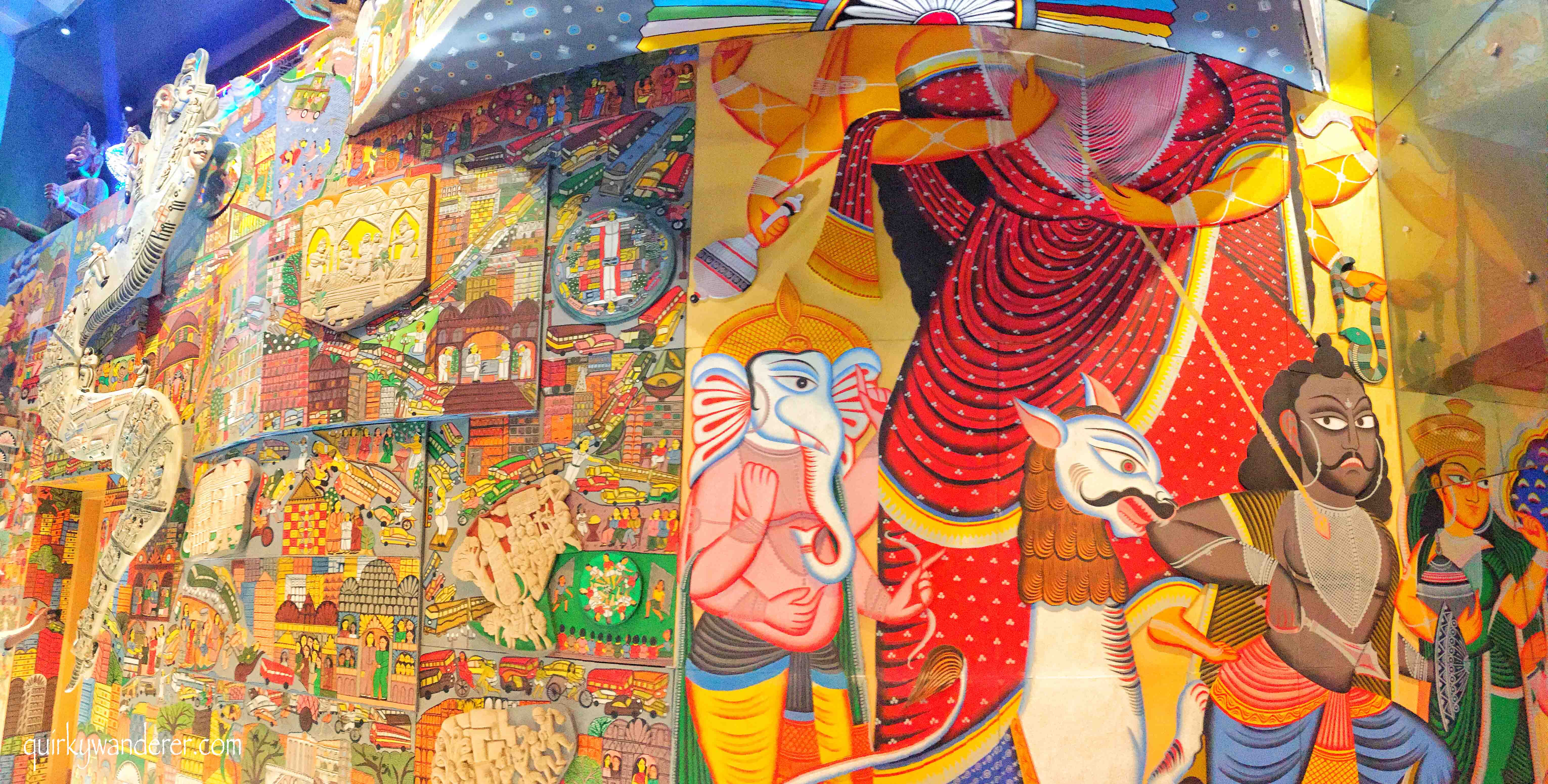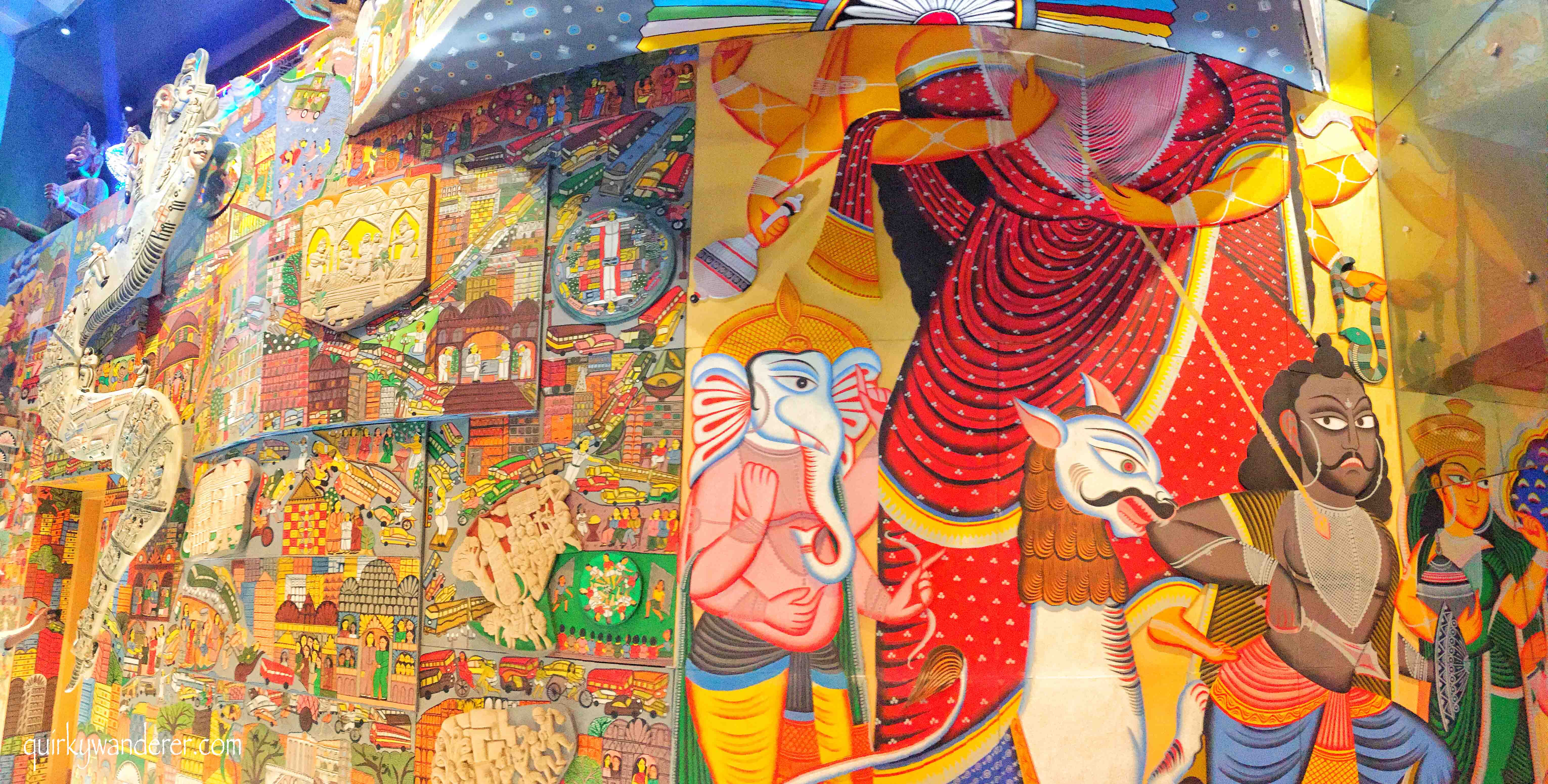 But today was different. I walked into the CSIA not as a passenger but as a visitor. 
It was a very special visit. A privileged one. Was invited to visit the Jaya He GVK museum, through a guided walk organised by the Jaya He team and Mumbai Instagrammers, 
A celebration of the gorgeous artefacts, showcasing the culture, art and vibrance of India as a nation to the millions of travellers who enter and exit this airport. 
Ashwini from the Jaya He GVK team greeted us and explained about the guided tour that can be availed by passengers who depart from the CSIA. 
This Jaya He Museum Safari can be pre booked on their website and is a boon for transit passengers who are traveling from Mumbai and wish to see timeless India from the eyes of several artists across the country.
A vision of Mr. Sanjay Reddy and a confluence of artists, designers , painters, architects, conservators who worked under the guidance of Mr. Rajeev Sethi, a renowned scenographer.
India Greets: Doors, windows and more:
We walked past the thematic composition India Greets: where doorways , facades and arches greeted us. Some from Rajasthan, some from Gujarat. Each narrating a story of yesteryears, of the curators who seeked them, of the conservators who refurbished them and of the nation they represented. 
Thresholds of India: India silent sentinels 
This section had various architectural and sculptural elements that are traditionally features at the thresholds of India homes , like the montage Celestial Realm from Kerala: with traditional brass lamps, terracotta roof shingles and the Kodi ( Mughapu) , the gable that served as signboards. 
A unique canvas montage caught my eye: Theatrical screening from Maharashtra  that pays homage to he dying art of painting sceneries that were once used as backdrops in Maharasthrian theatres. There is also a Fortress of Clay: which pays homage to the rural, rustic households of India made of mud , cow dung and with rice paste motifs. 
India Global: India from the eye of contemporary artists :
A recycled map of Mumbai made from e-waste, a large assemblage of run down houses evoking a sense of nostalgia and other such artworks made from acrylic, granite, wood and MS steel enthral the visitors with the immense thought behind the creations.
Every minute detail I missed as a passenger came to the fore when I saw it on the walk. The intricate Chikankari patterns were imprinted on the tall glass walls of the airport , glimmered as the sun rays passed through them.
The ornate chandeliers which always caught my attention , represented the Phulkari work of Punjab.
Furniture from Nagaland displayed majestically with stories of the Naga tribes and their traditions. 
There was a little bit of India present everywhere in a building that seemed so modern and state of the art. 
India Elemental:
The walk was getting more interesting by every installation we visited. Water, Air, Space, Fire, Earth all of these elements known as the Pancha Bhoota were creatively displayed at the India Elemental section. 
A musical fountain where visitors could pass every spout, yielding a unique sound. 
Right below it, earthy excavations with see through glass panels, representing the element Earth. 
A collection of brass Diyas to represent fire succeeeded it. 
A few steps ahead what looked like a white Rajasthani turban was actually a picturisation of the Iconic Hawa Mahal in Jaipur representing the element Air. Unbelievable but true, the montage is made of Bhutanese paper and Fibre glass.
Awestruck, I moved further to find panels with starry elements signifying space. 
What looked good to the eye certainly had a thought behind!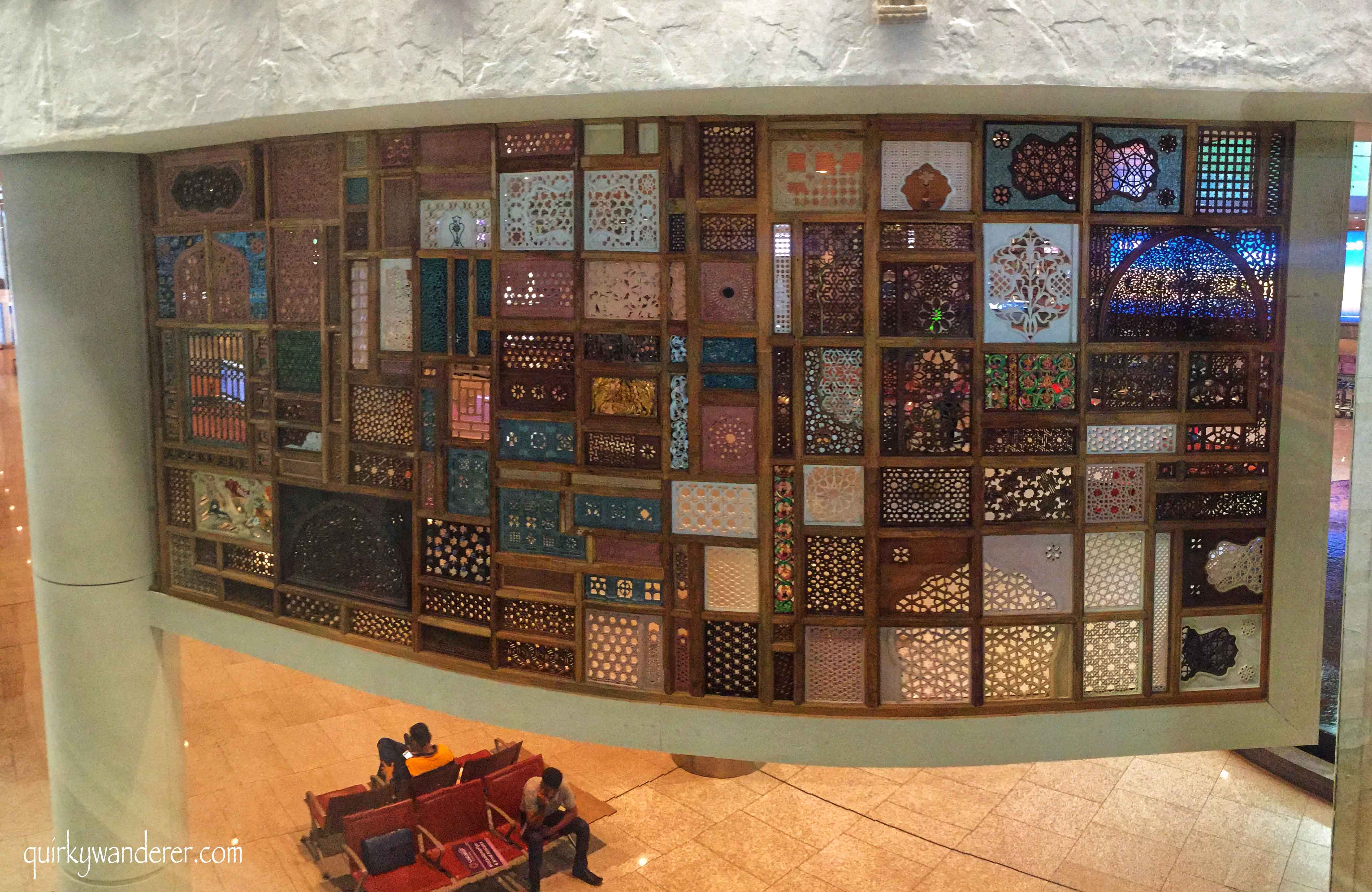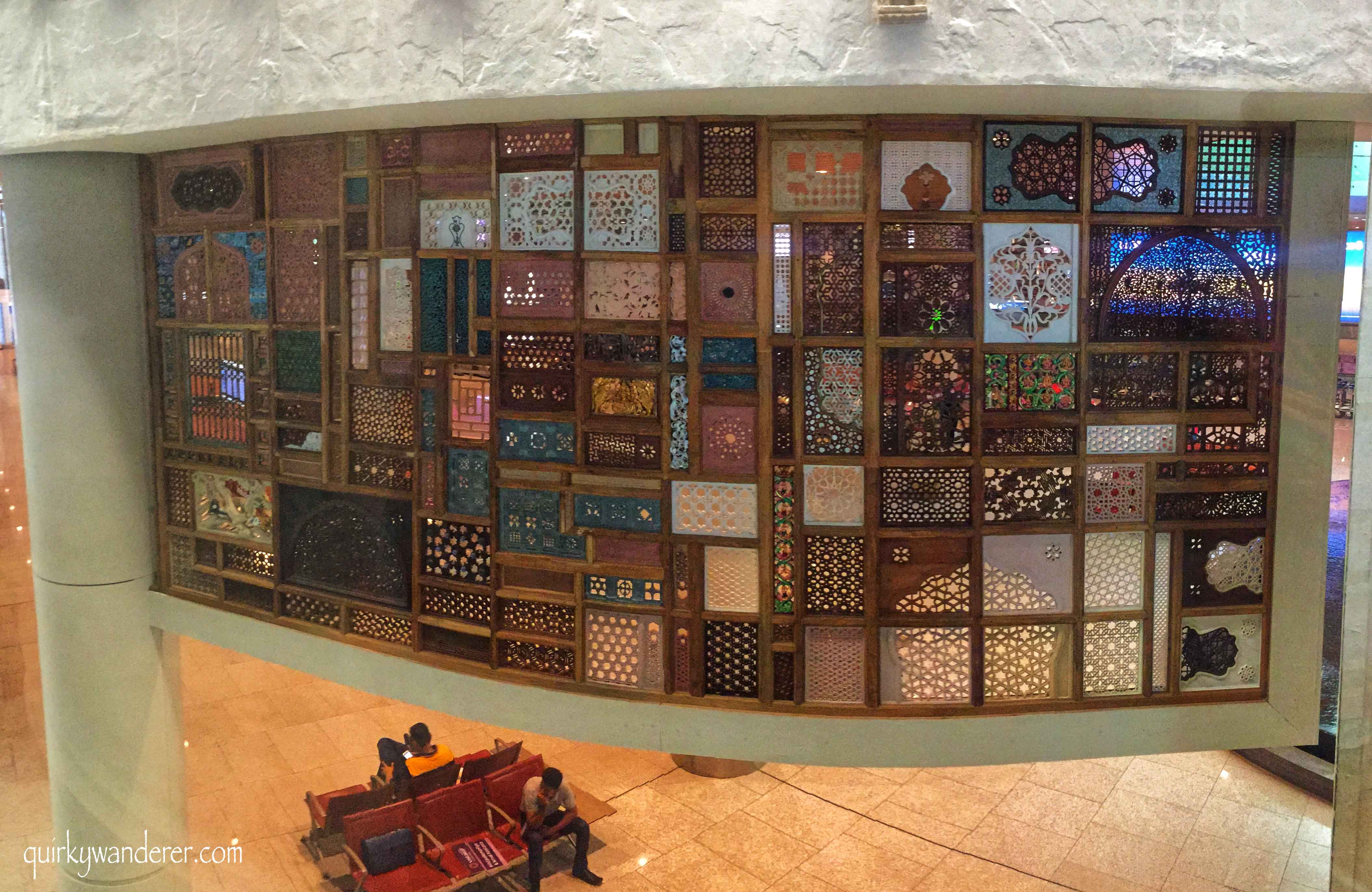 The museum is spread over 3.2 kms and is seamlessly integrated within the airport premises so that the exhibits can be viewed by passengers on their way to the boarding and exit gates.
With over 7000 artefacts handpicked from various regions of India, some dating back to the 11th century, the Jaya He museum represents the cultural diversity of India and showcases the traditional skills of artisans and the contemporary thought of modern artists. Thus making it India's largest public art initiative. 
India Moves: 
With vibrant hues , hanging artefacts, stylish bullock carts and an array of colours, the section India Moves caught my attention. 
What looked like a palatial Shekhawati haveli ( I was reminded of my recent visit to the region), was actually depicting the several ways India has been moving across centuries. Different forms of transport: from trains, to palanquins to hot air balloons have been painted onto the facade.
A little further are rustic bullock carts , wooden boats that pay tribute to India's maritime history, flying locomotives and royal carriages.
The Jaya He Museum has initiated not just an exhibition of India's rich cultural heritage but also showcased rural art and encouraged artists by giving them a platform to showcase their work to the lakhs of passengers passing through the CSIA. 
Like any project this one faced hurdles too.
The challenges were to procure and transport these artefacts to Mumbai, built them seamlessly in a way that it doesn't obstruct passenger movement, some were extremely delicate like Charmi Shah's installation.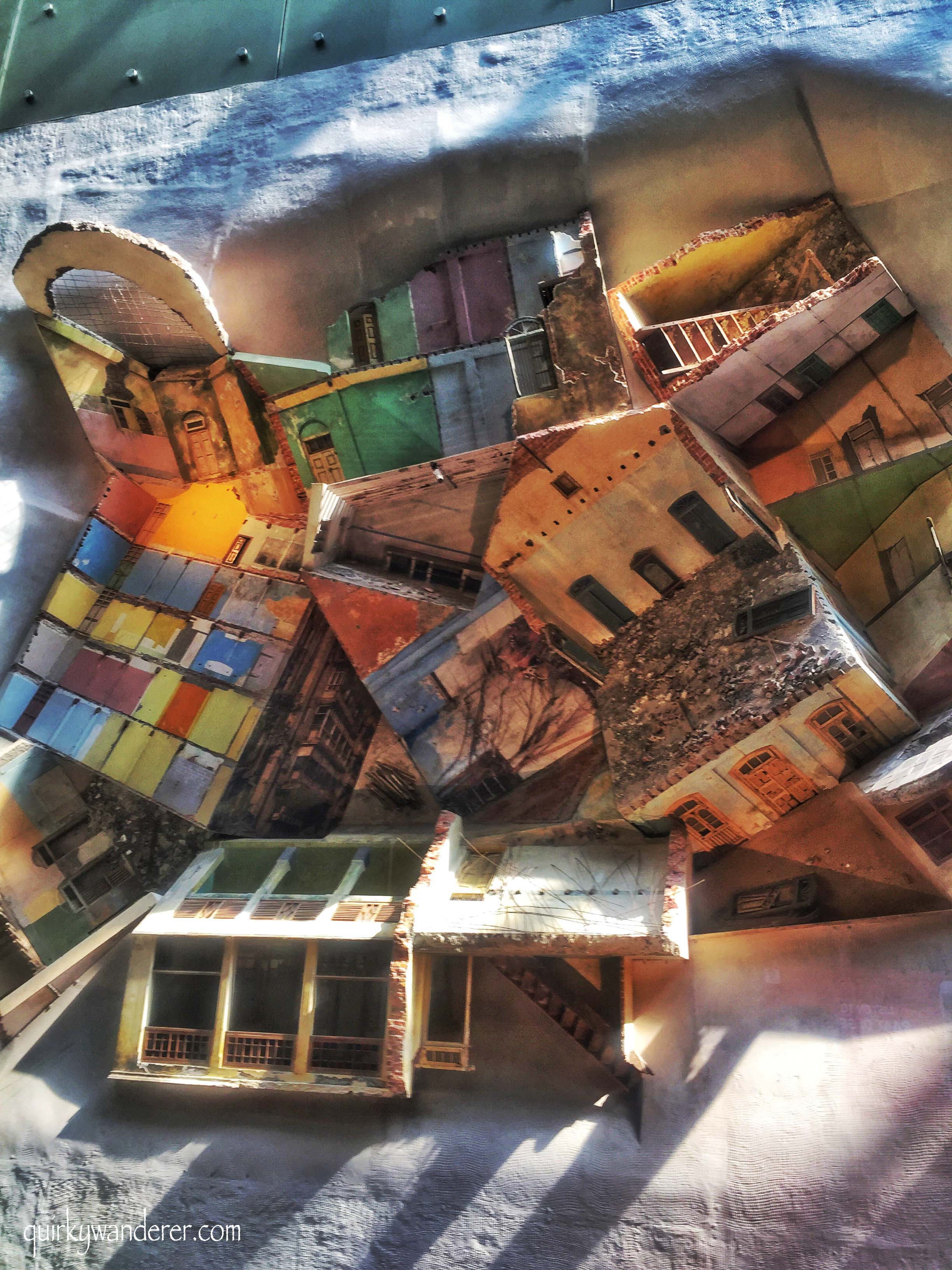 Artists worked on such a magnitude for the first time and here is where engineering met art.
Other exhibits at the CSIA Jaya He Museum:
The painting from Palitana: 
It came in pieces. Broken, in a way that it required immense restoration. A team worked on getting the painting together, fitting pieces like a jigsaw puzzle. When one looks closely , fine lines can be seen where the pieces were joined meticulously. The 1932 painting stands proudly making visitors awestruck. 
While the installation Moving constant transports you to Tanjore with it's ornate paintings and vibrant figurines, the colourful Durga forms from the east are a treat to the eyes!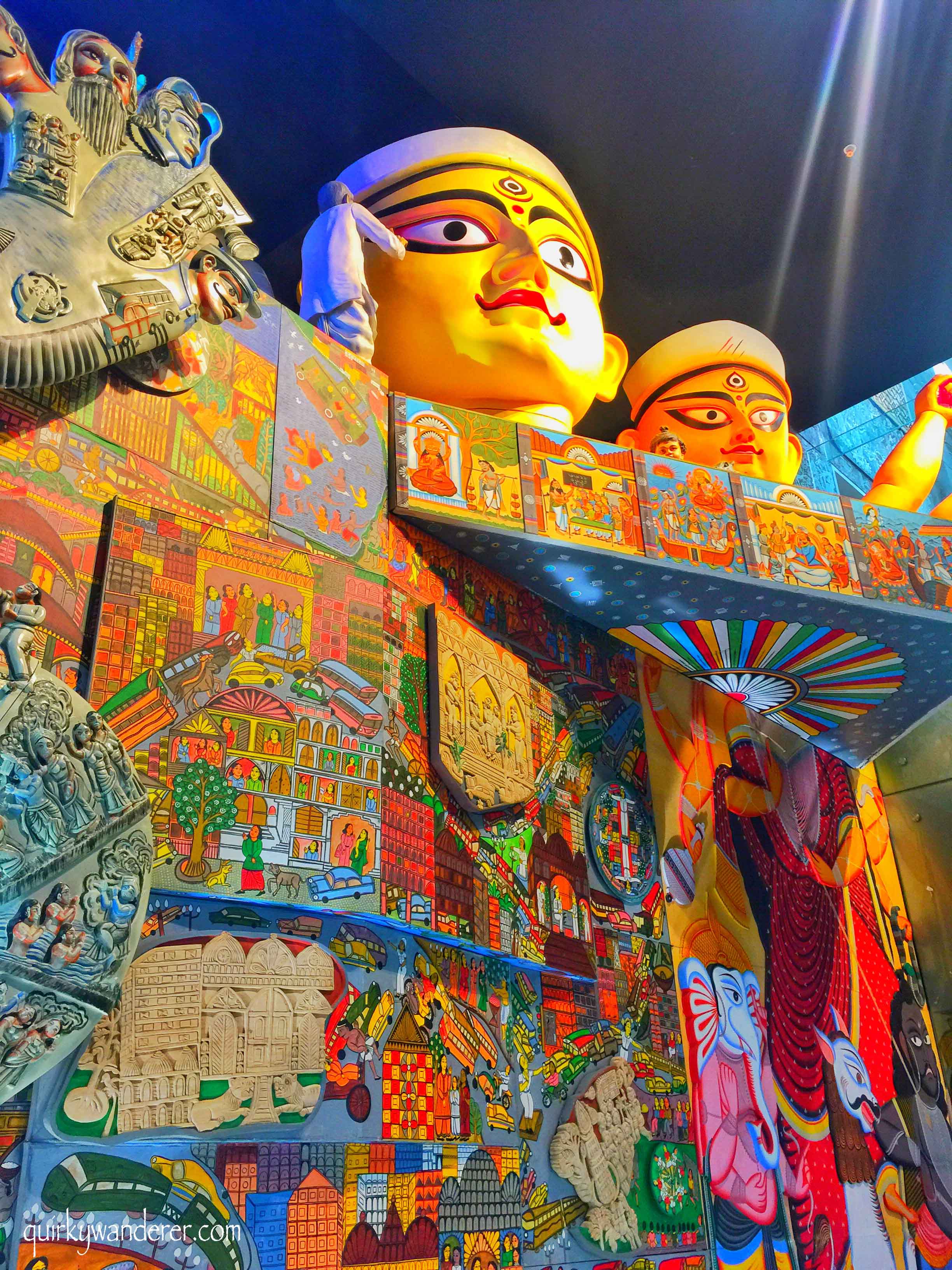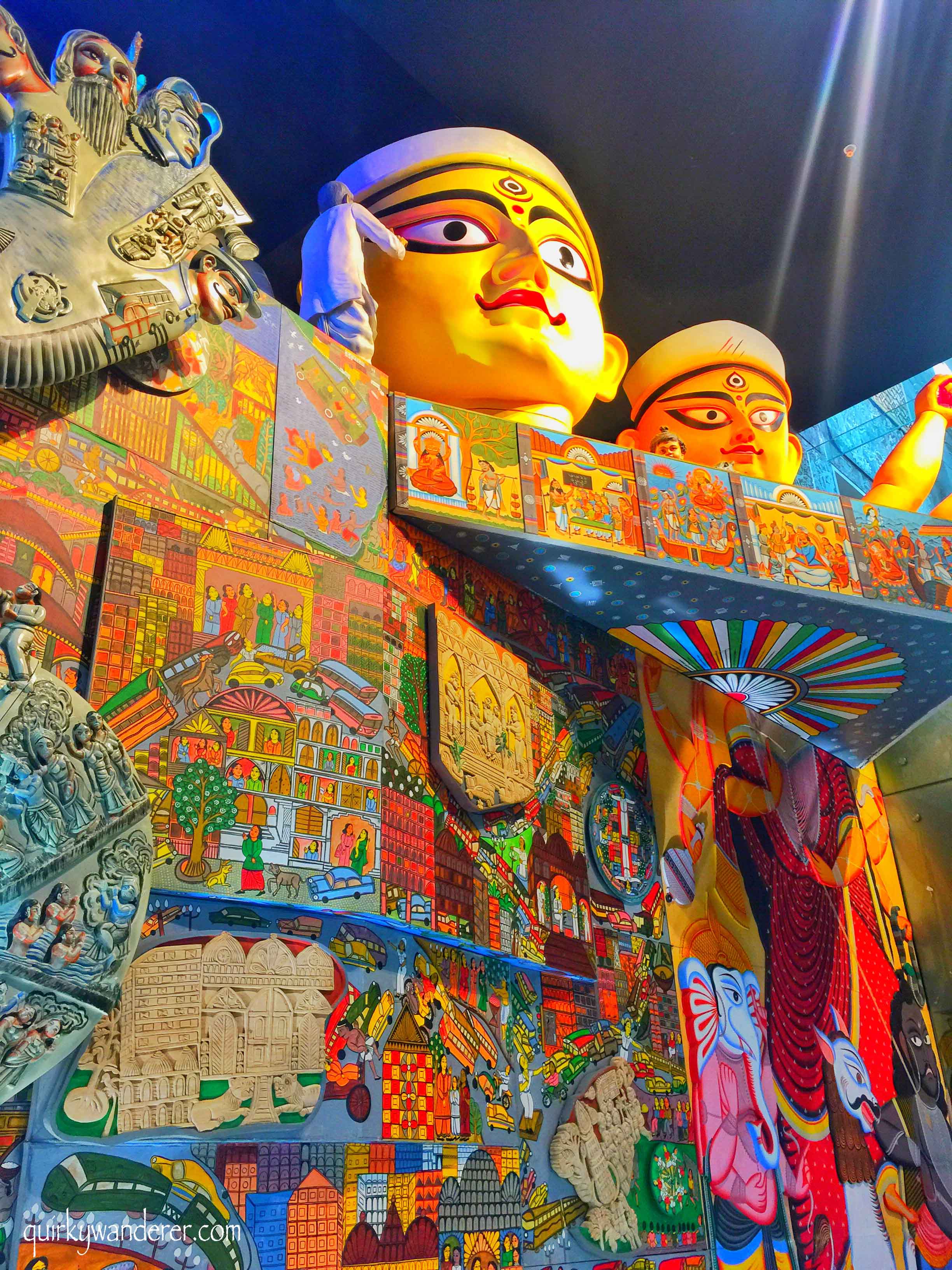 Each exhibit here tells a story. We may not know their exact origin, we may not know the secrets they behold, we may not know how many hands have touched them before ours, we may not know their past owners, but we know they capture the essence of Indianess and are symbolic of the warm hospitality of India.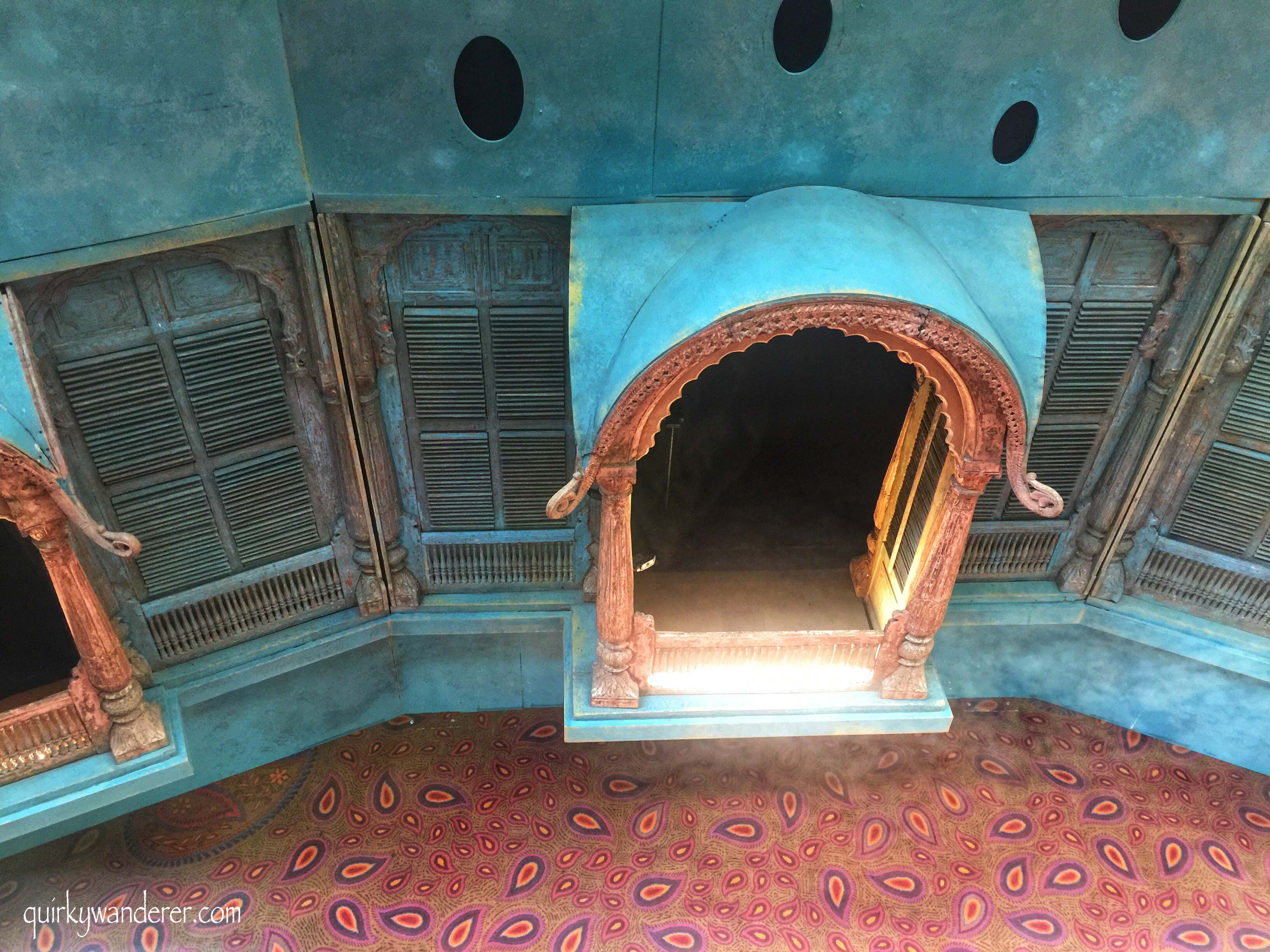 Things to know:
The Jaya He Safari can be pre booked by any passenger departing from T2 of CSIA. It is a free guided tour depending on the time at hand and the area of boarding. Probably the best way to kill time at an airport! Free of Cost!
Most installations have placards describing the installation, the artist behind it, the region an artefact was procured from and how old the artefact is. 
There is also a Jaya He shop present in the airport, where art connoisseurs can pick up products make by local artists and help them earn while appreciating their skills!
 
The maintenance and upkeep of the museum is a very tough task in the busy CSIA. It is our duty to not unnecessarily touch the artworks and damage them.