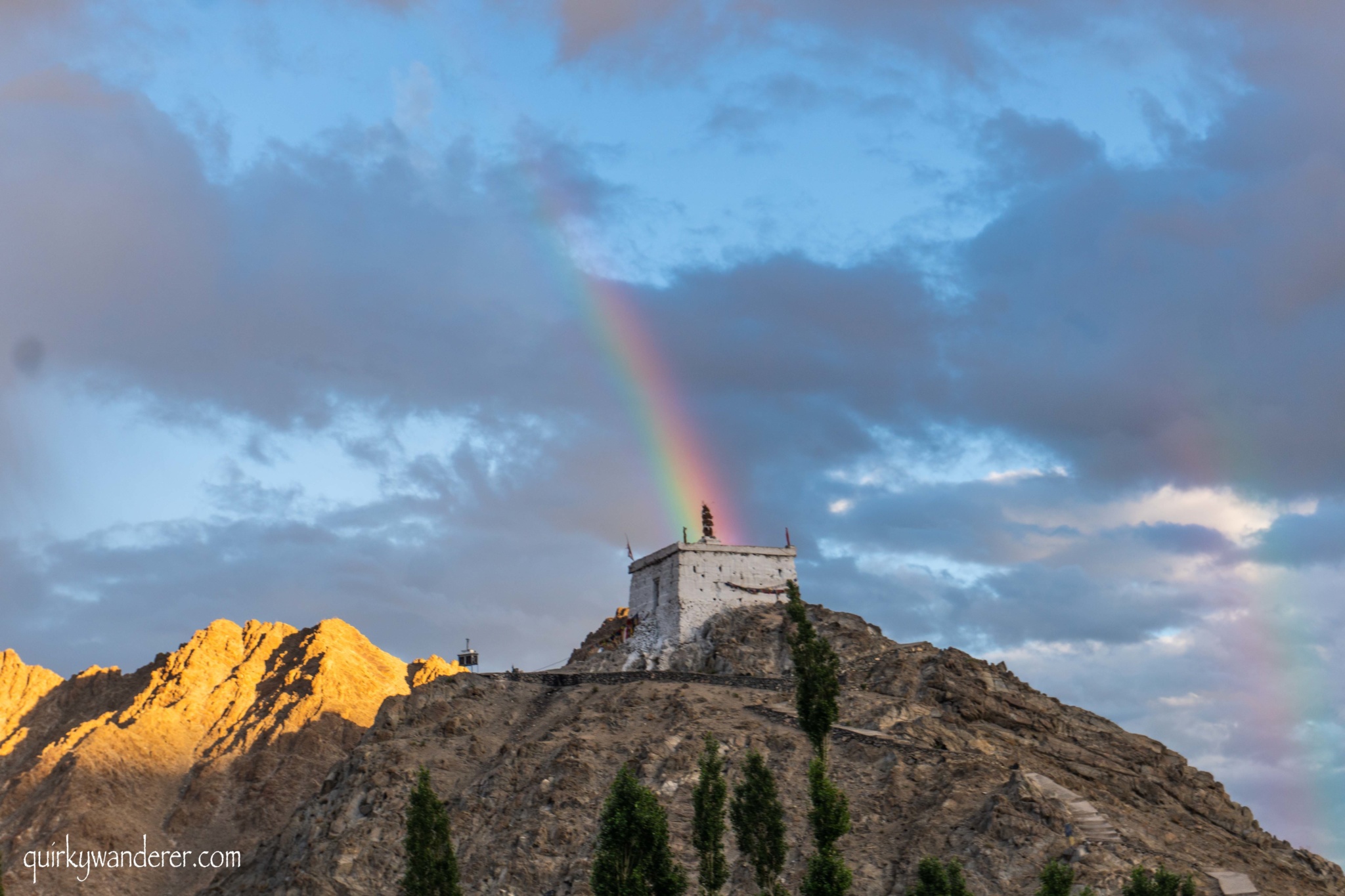 "So what has been your most magical moment in Ladakh?" , S asks me as we sit by the gurgling stream on a cold night in Tso Moriri. It is a tough one to answer. This is my last day in Ladakh and tomorrow I will be off to the greenery in Himachal, bidding farewell to the barren landscapes and high altitudes that kept me company for two weeks.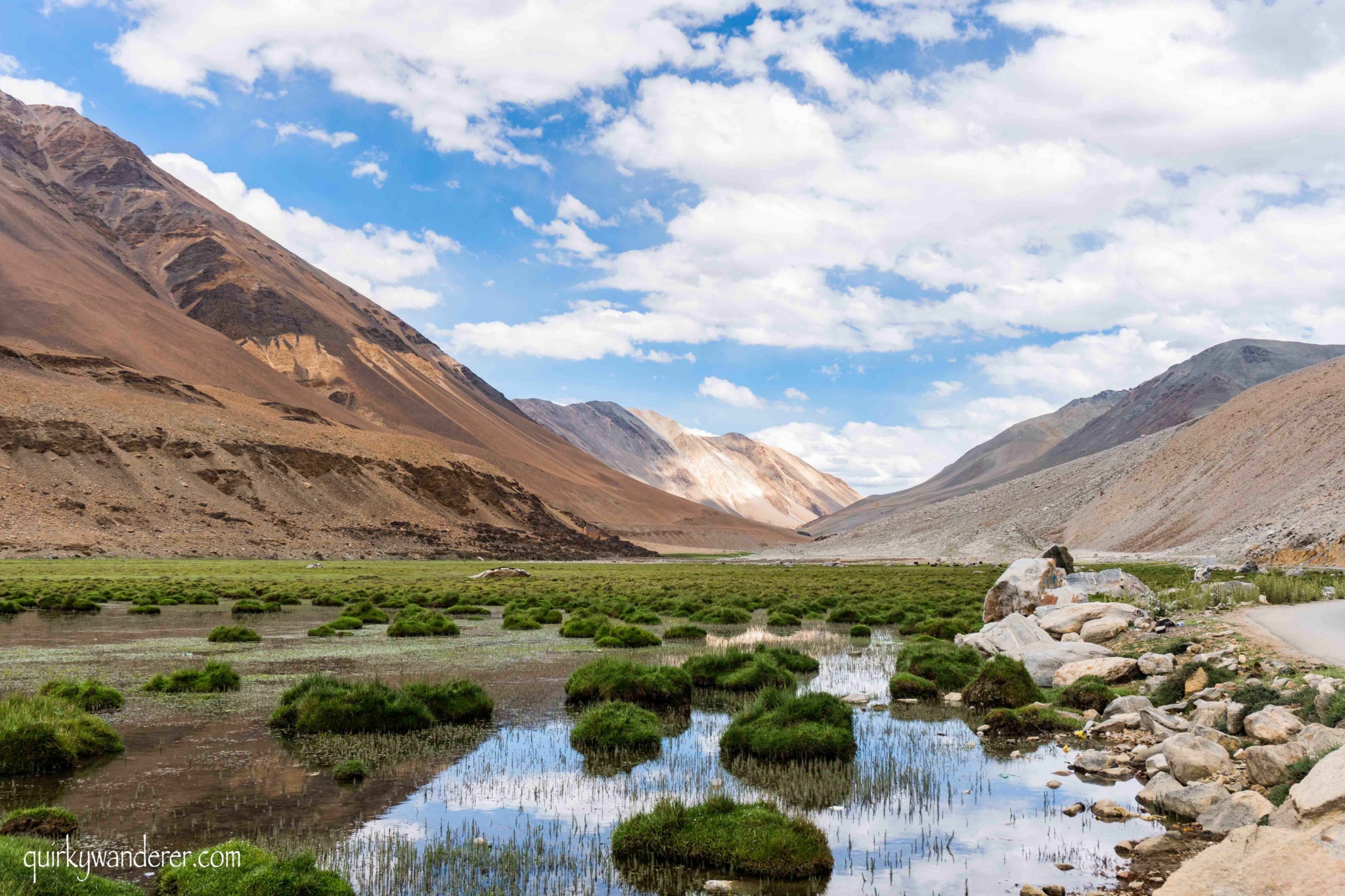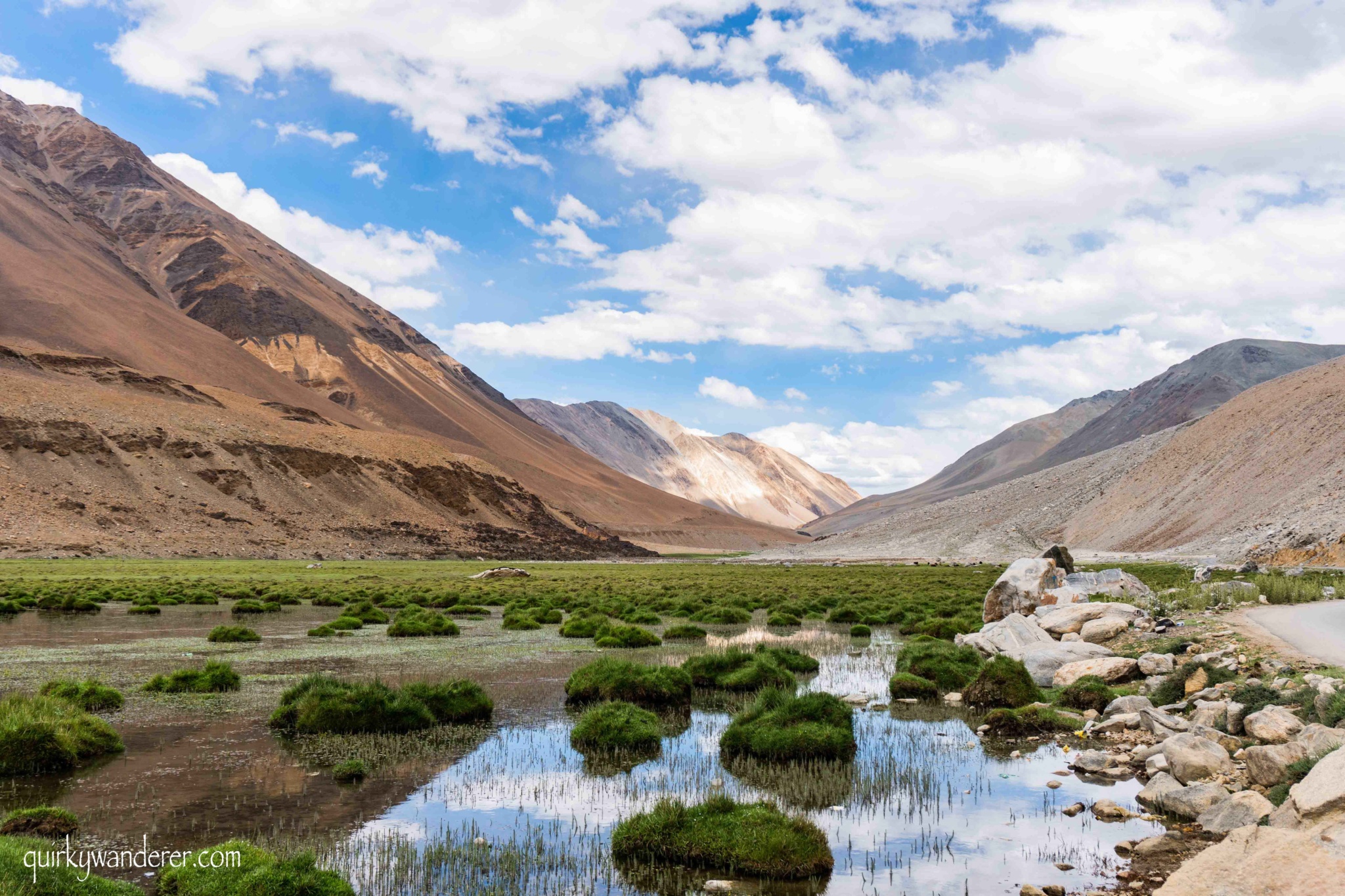 I ponder, peering into the darkness, searching for an answer.
My mind whizzes past the experiences of the past two weeks I spent in Ladakh. I recall them one by one: seemingly ordinary moments that were yet so extraordinary. For a city dweller, these were those rare moments that one wishes to bottle up in a jar and get back to civilisation and take a whiff occasionally, opening the lid prudently.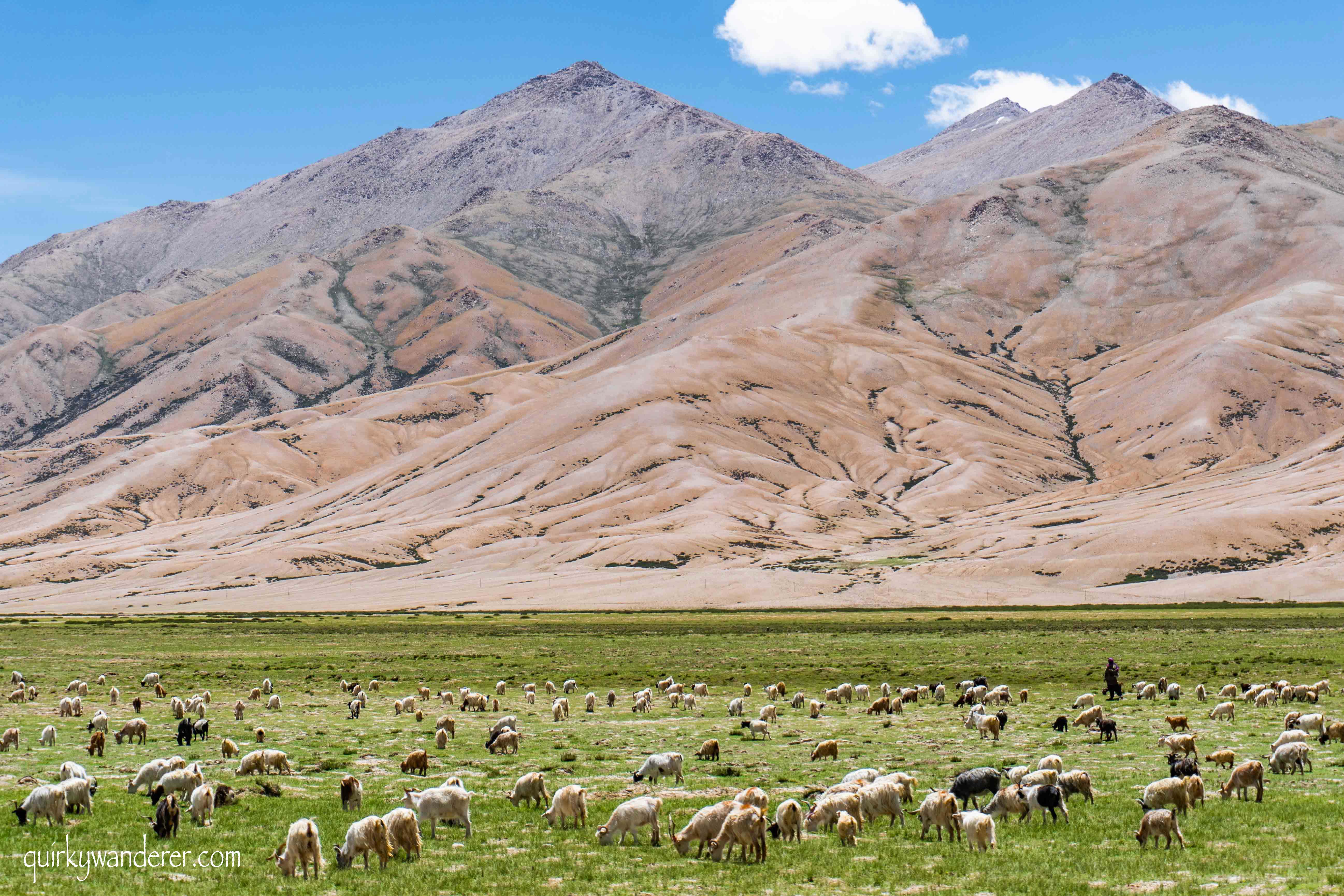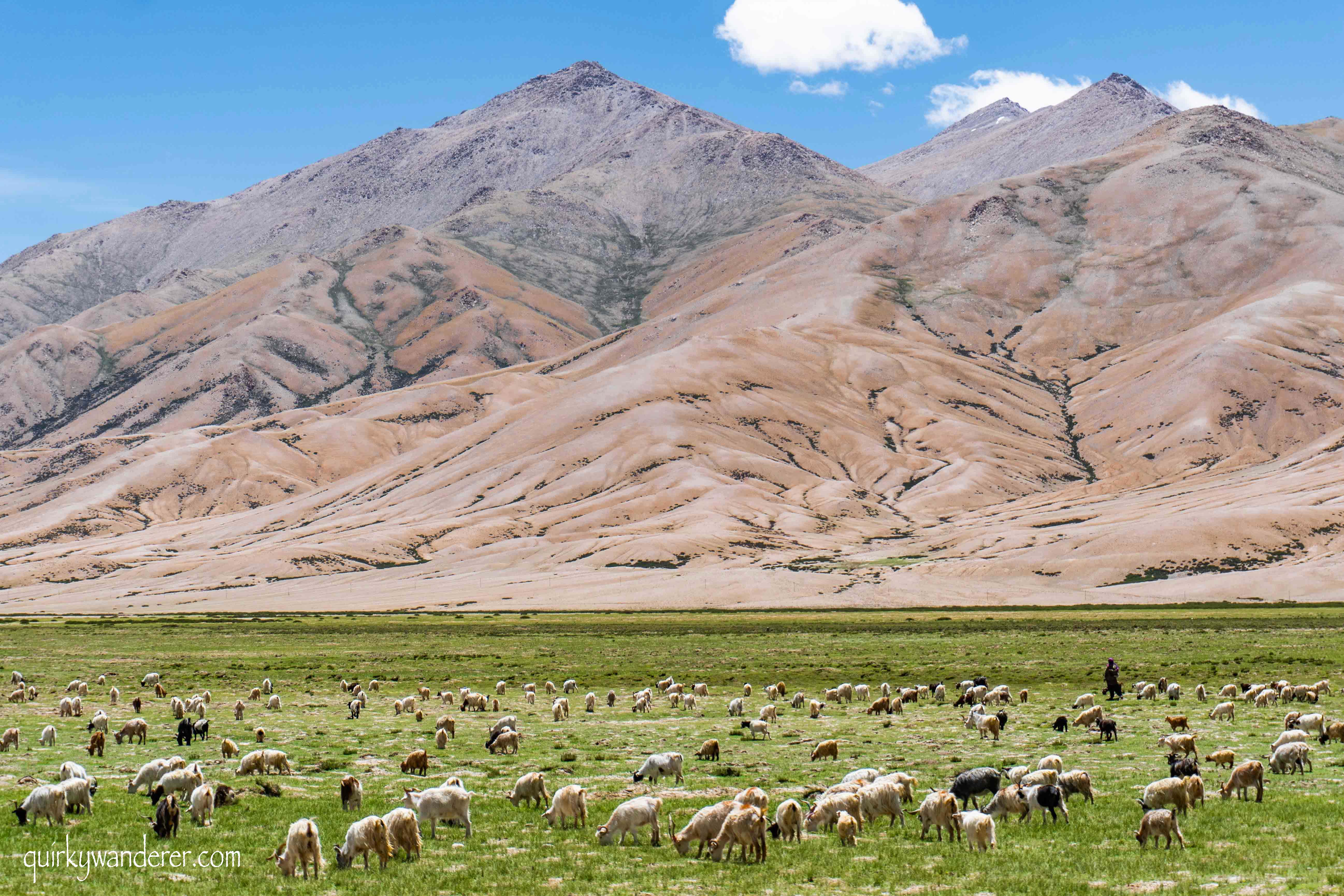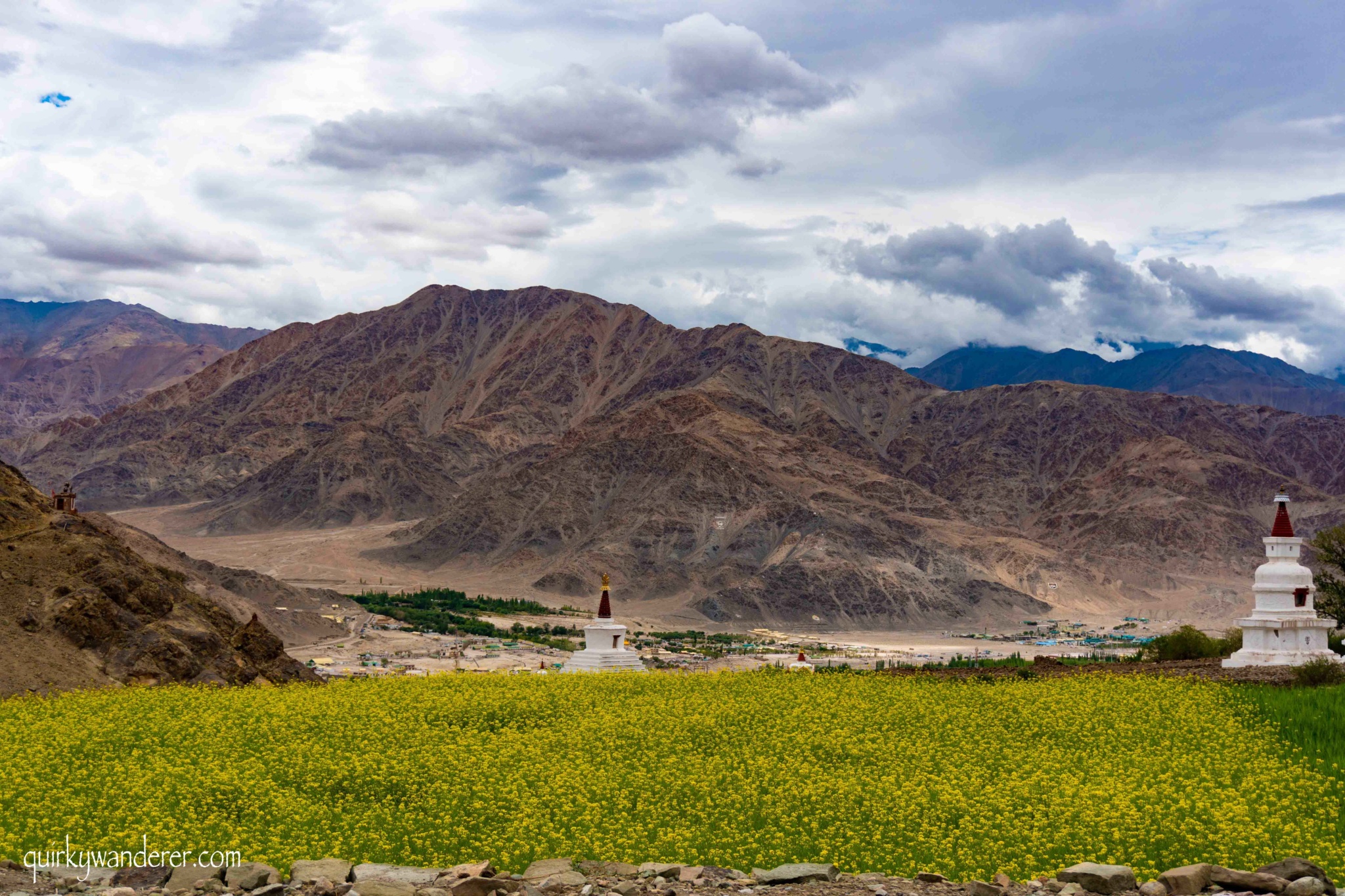 I start narrating to him, reliving the magic and how it unfolded…
The Double rainbow at Shey Palace:
It was another climb. At 5.30 pm, right after climbing 200 + steps at Thiksey, we stood on the base of Shey palace, looking at the rickety pathway up to the Gompa. Bracing the wind and the raindrops, protecting the camera, I climbed up practising the breathing technique Doreen taught me. "Was the camera even needed?" I chide myself.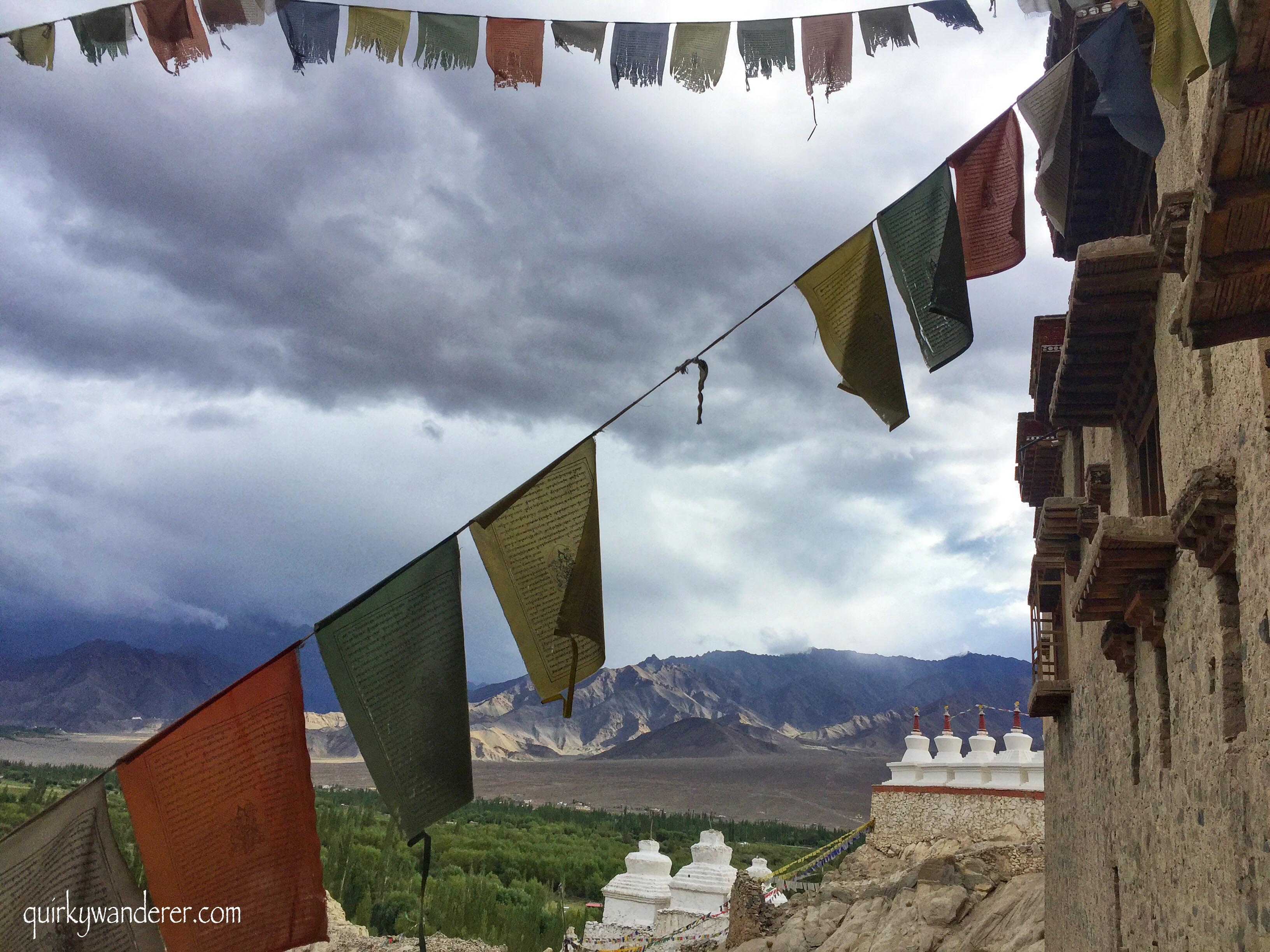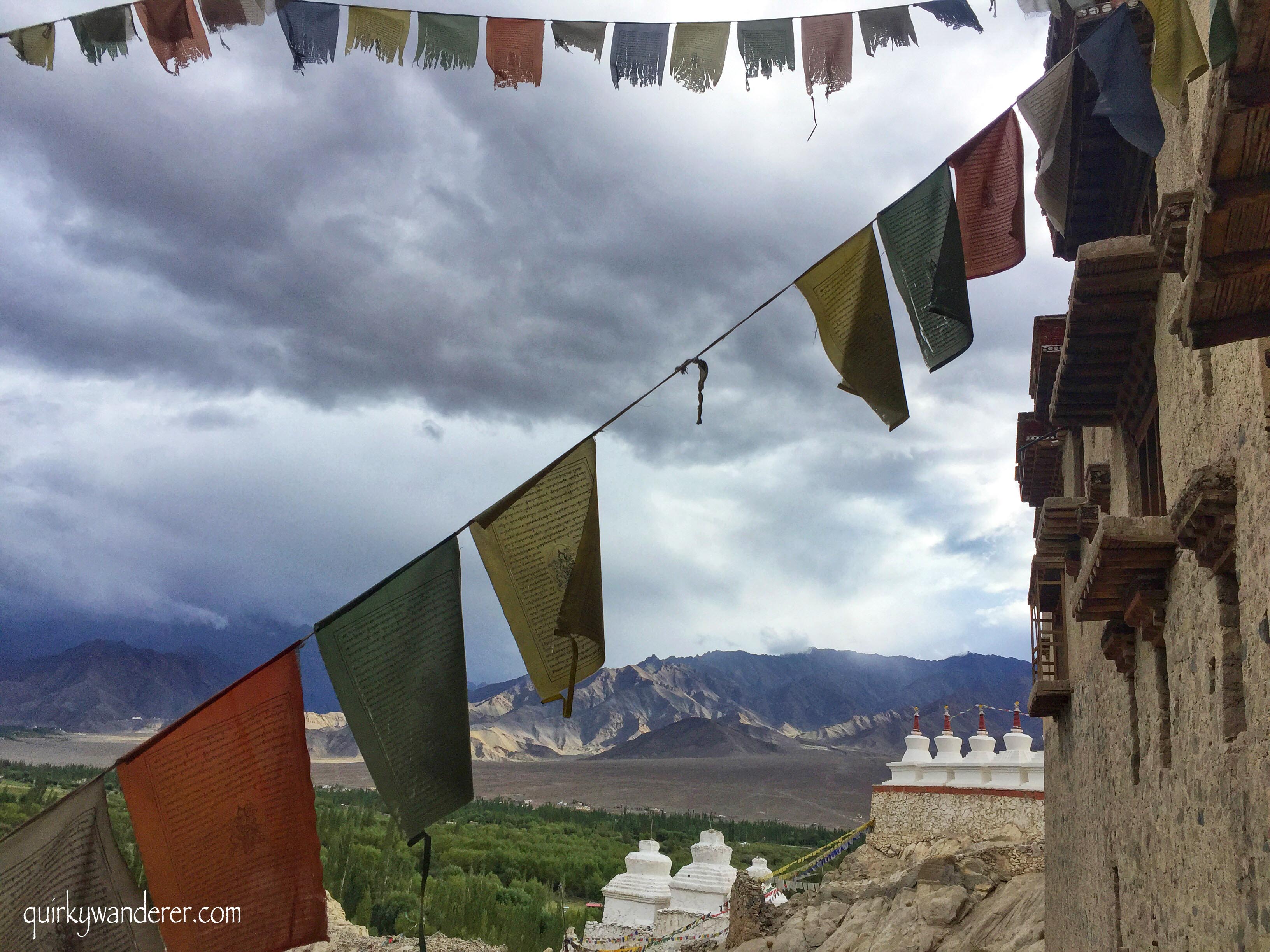 The raindrops hit harder as I take shelter in the Gompa that houses the copper guild statue of Buddha, where the chants of a monk and the beats of his drum sync perfectly with the rain outside. As we step out to descend, ten minutes later, the rain ceases for a while. Right at the corner, amidst all the chatter of the tourists, lay a surprise.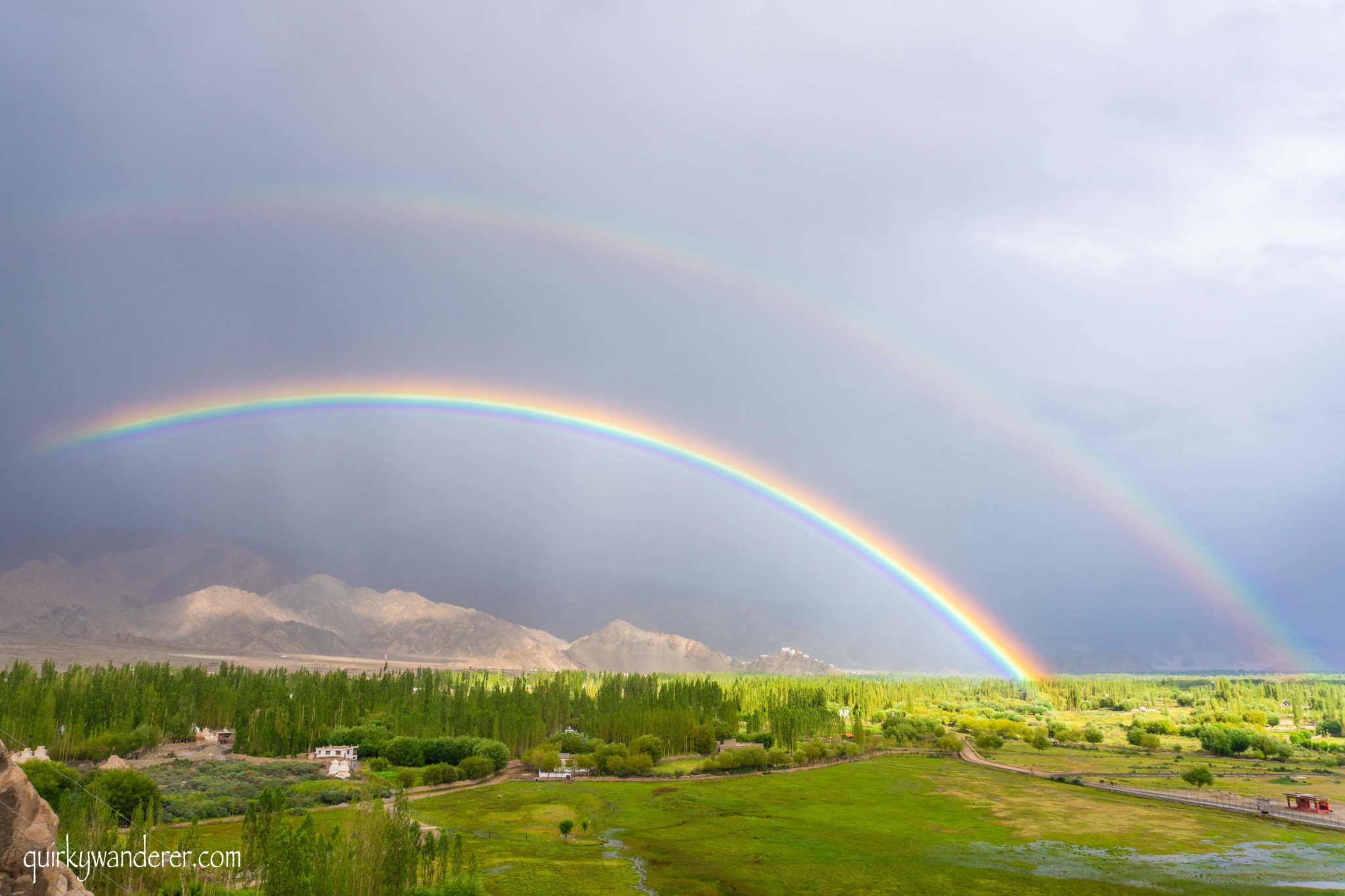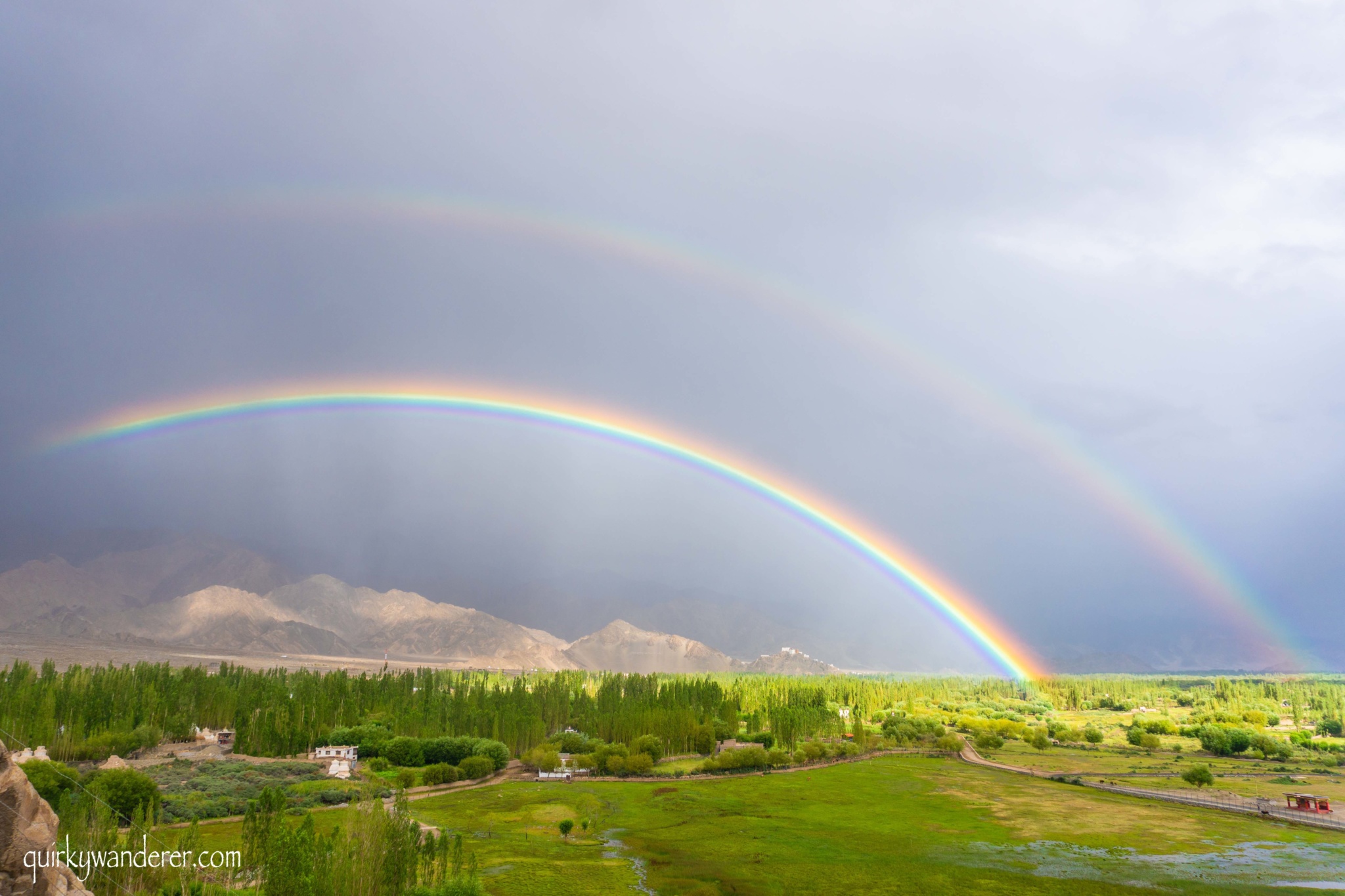 Nature's surprise. I gasp as I see a bright, crystal clear rainbow spread over the horizon, brightening up the landscape with its vibrance. As it grew brighter, we stood transfixed, seeing how it illuminated the trees and mountains below it, while another one emerged, lighter but as magical as the first one, clearly segmenting the dark clouds above it.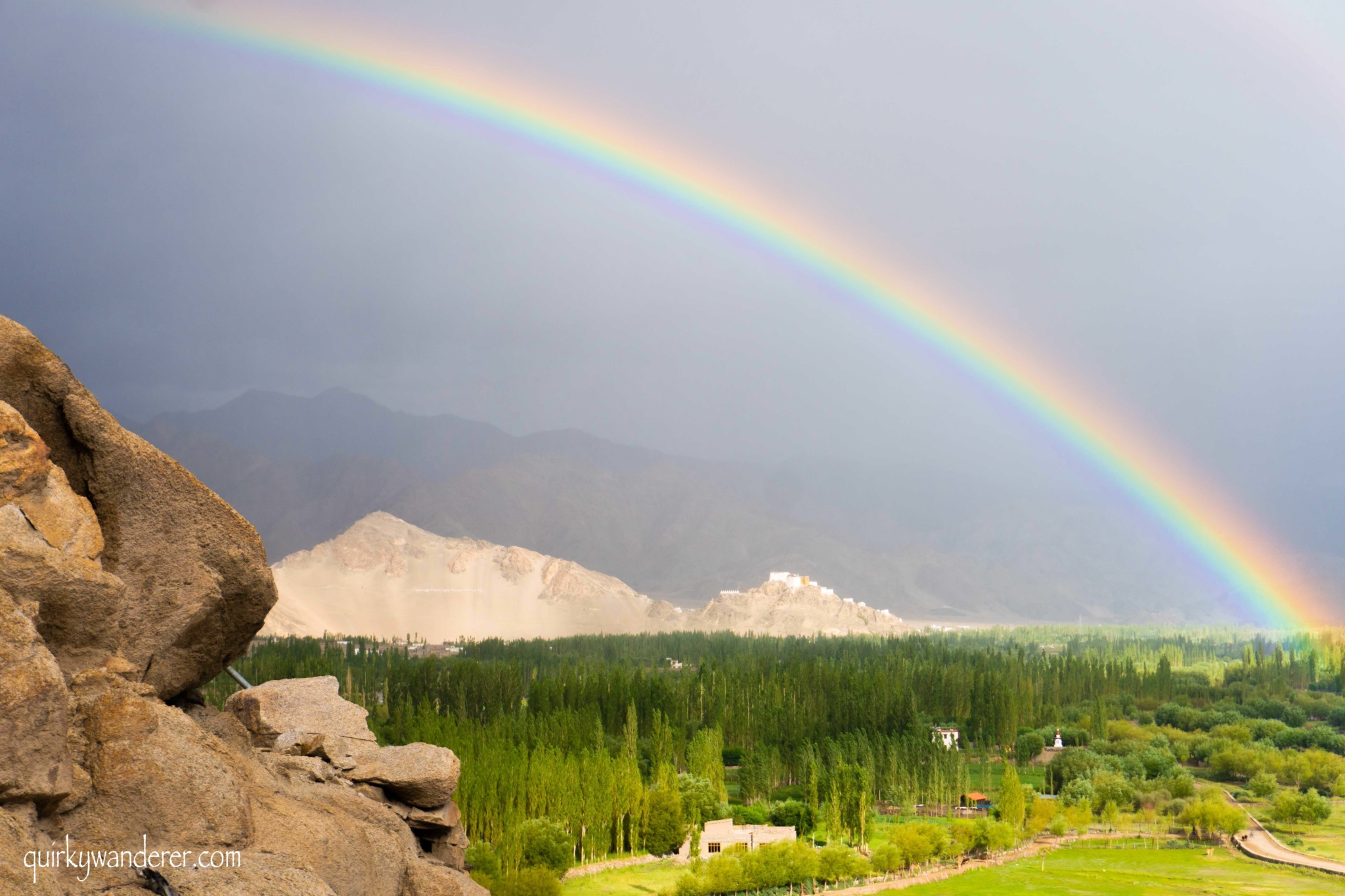 The magic lasted for fifteen minutes. My camera chuckled, affirming why it was brought as I clicked the sight and savoured it with my eyes.
Rainbows bring immense joy, double rainbows double that joy, now I know why.
The Ancient monasteries at Alchi:
One and a half hours from Leh, tucked away in the Indus Valley is the tiny village Alchi. Here, in the ancient monasteries, one time travels. Under a massive cluster of Apricot trees lie a host of Buddhist temples in a monastic complex. Cobbled pathways lead you to gompas with short gateways and as you crouch and get in, you travel to another era.
Murals and wall paintings welcome you. These intricate paintings are the oldest in Ladakh and cover every square inch of the wall from the floor to the ceiling. The wooden carvings and details outside are built in Kashmiri style, providing an interesting glimpse into the  Ladakhi culture of yesteryears, where rulers invited special artists to paint these striking murals and how!
When you plan your Ladakh trip, make sure you choose among those Leh Ladakh tour packages that can make you experience Alchi.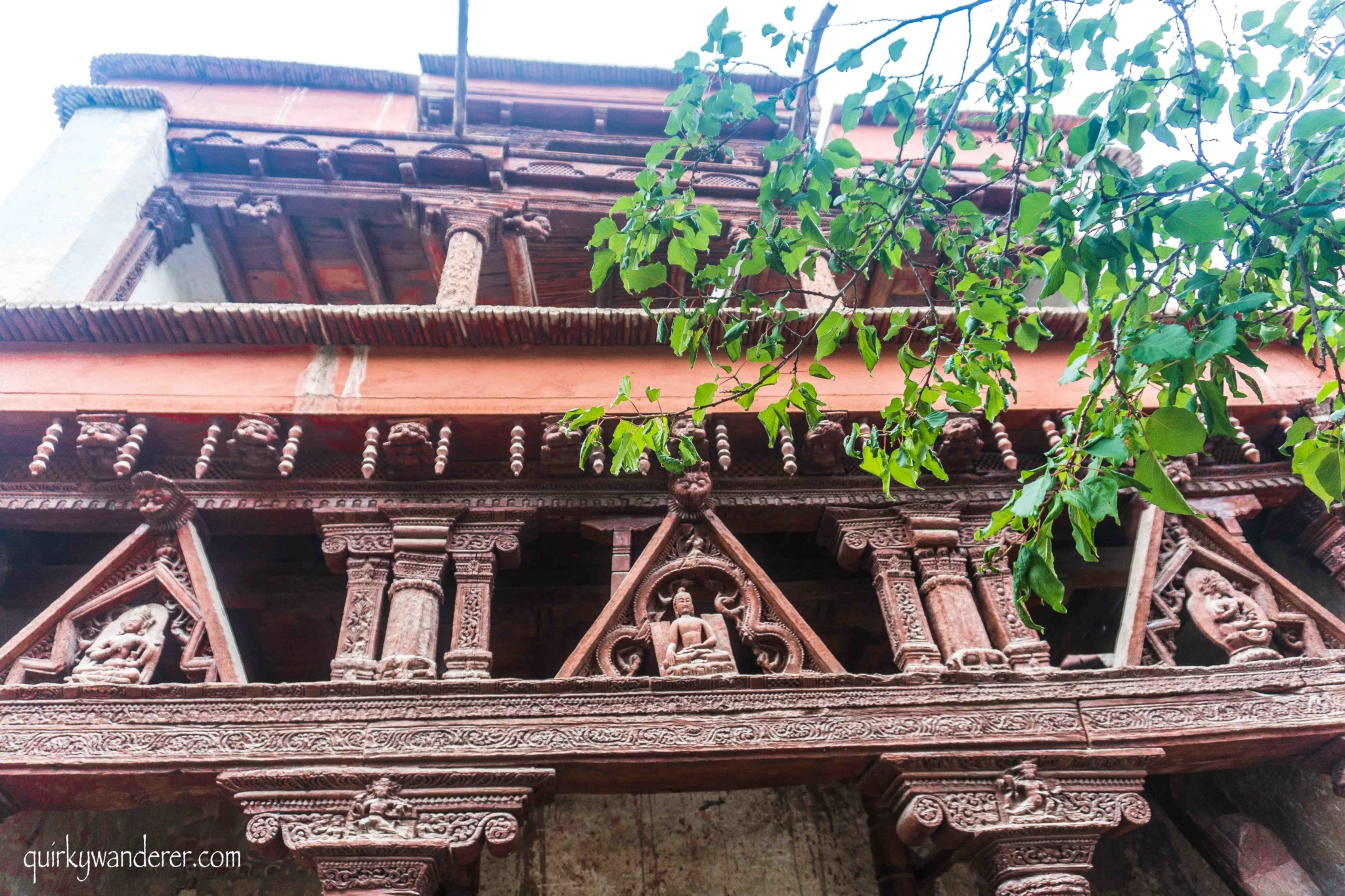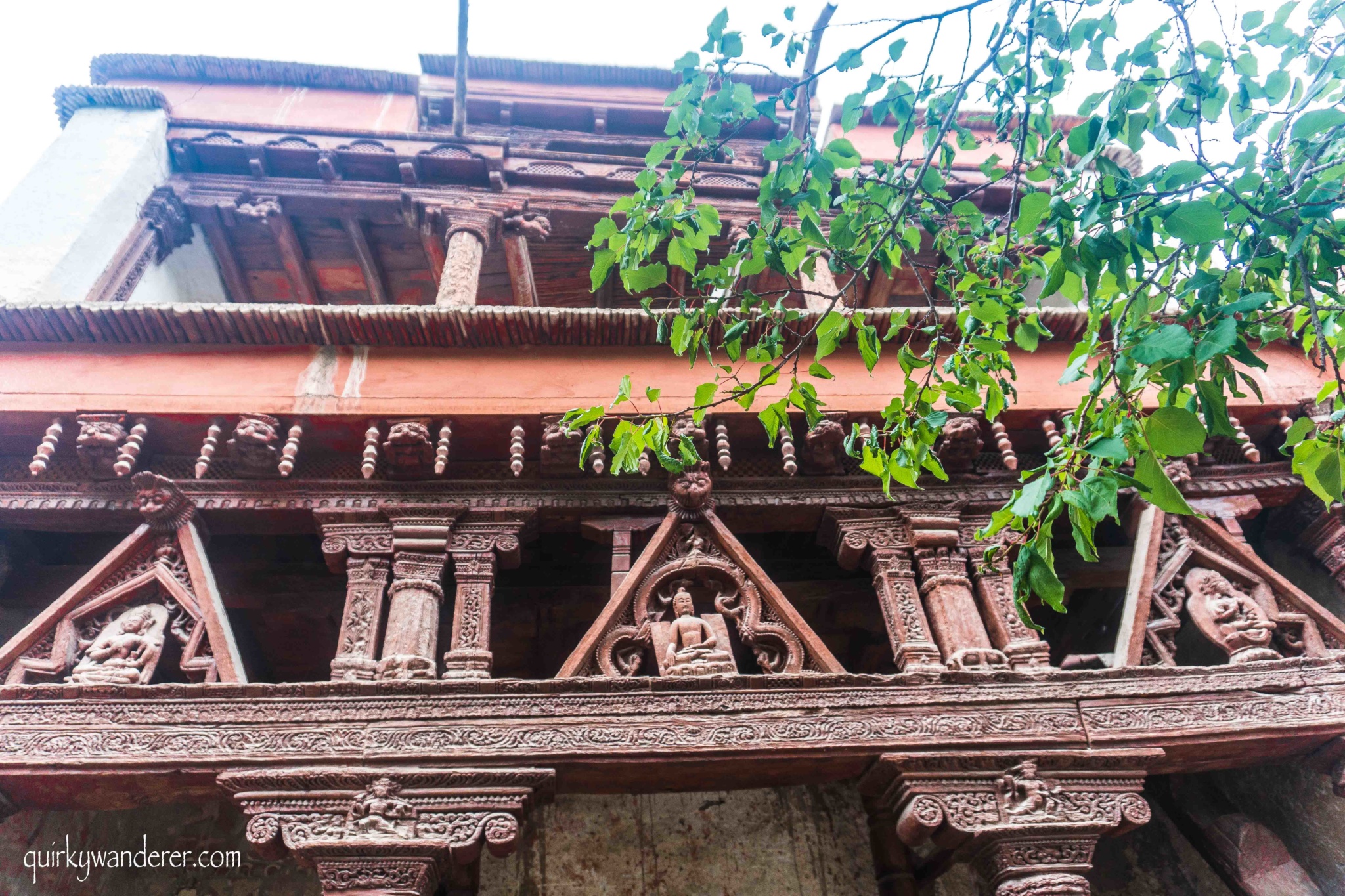 Photography is prohibited inside and for once I didn't mind it. This was sacred. A memory for the mind and not the lens. Giving just a privileged few, a sneak peek into the magic behind these wooden structures.
The Blues of Pangong Lake:
The first sight of the famed Pangong lake did not awe me. No, not one bit. I felt underwhelmed when I saw the place where 3 Idiots was shot (Which made Ladakh so popular). As I crept into my tent, I wondered what the hype was about.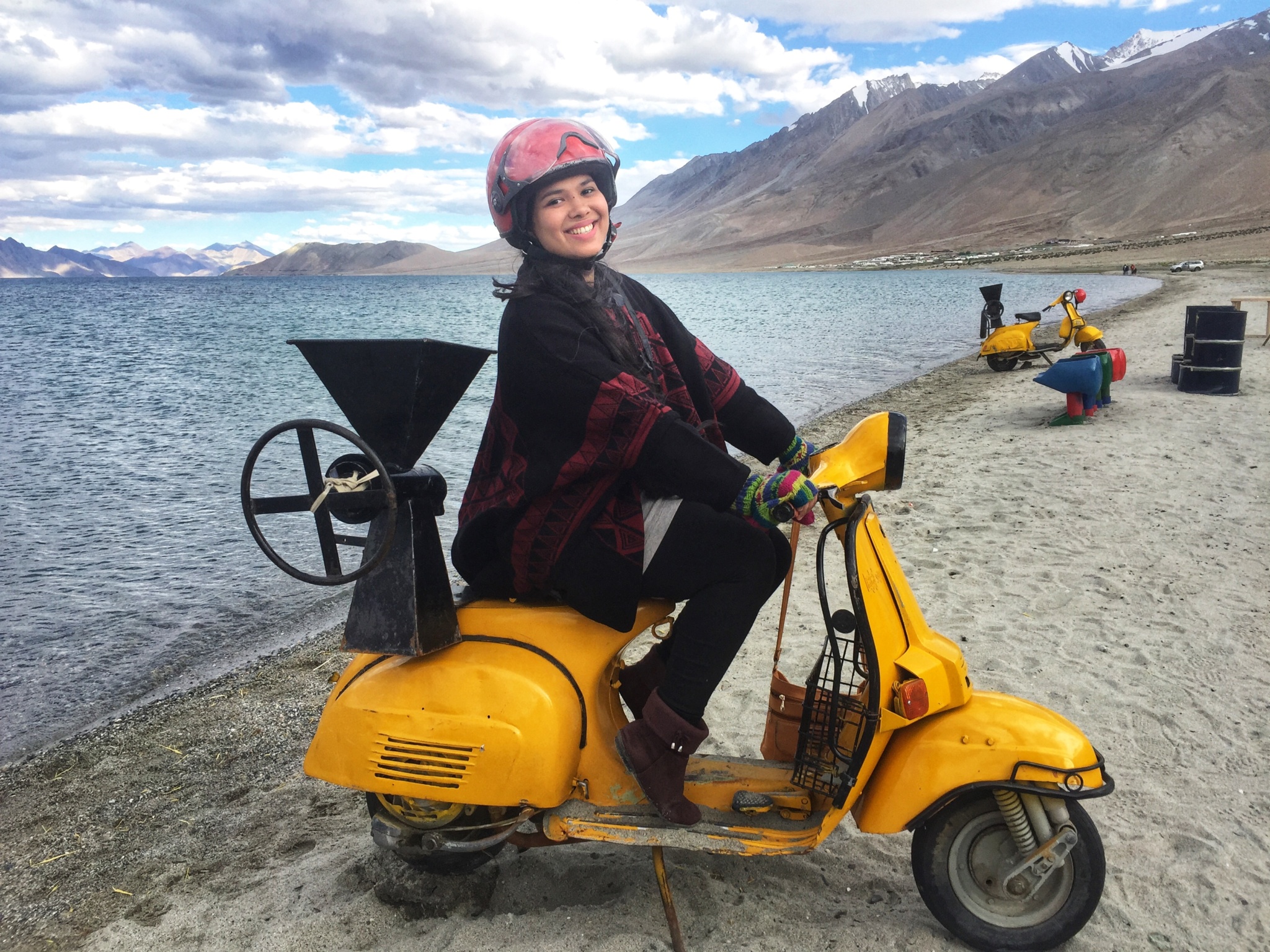 Pangong answered the very next day.
As we drove parallel to the lake (that seemed like a sea), en route Hanle, the lake glistened. It was the sun's rays of course.
But as it shimmered and the rays felt like pearls on the water, the lake changed it's colour. From turquoise to azure to cobalt to deep indigo, it showed me what Monday blues should look like. A part of me wanted to stop time, the sight too intoxicating to let go of.
Majestic mountains overlooking the blue waters of the never-ending lake, fluffs of clouds hovering over the lake, dotted on the bright blue skies and their refections in those calm waters, making you wonder for a moment if nature has tricked you into believing a flip image to be real.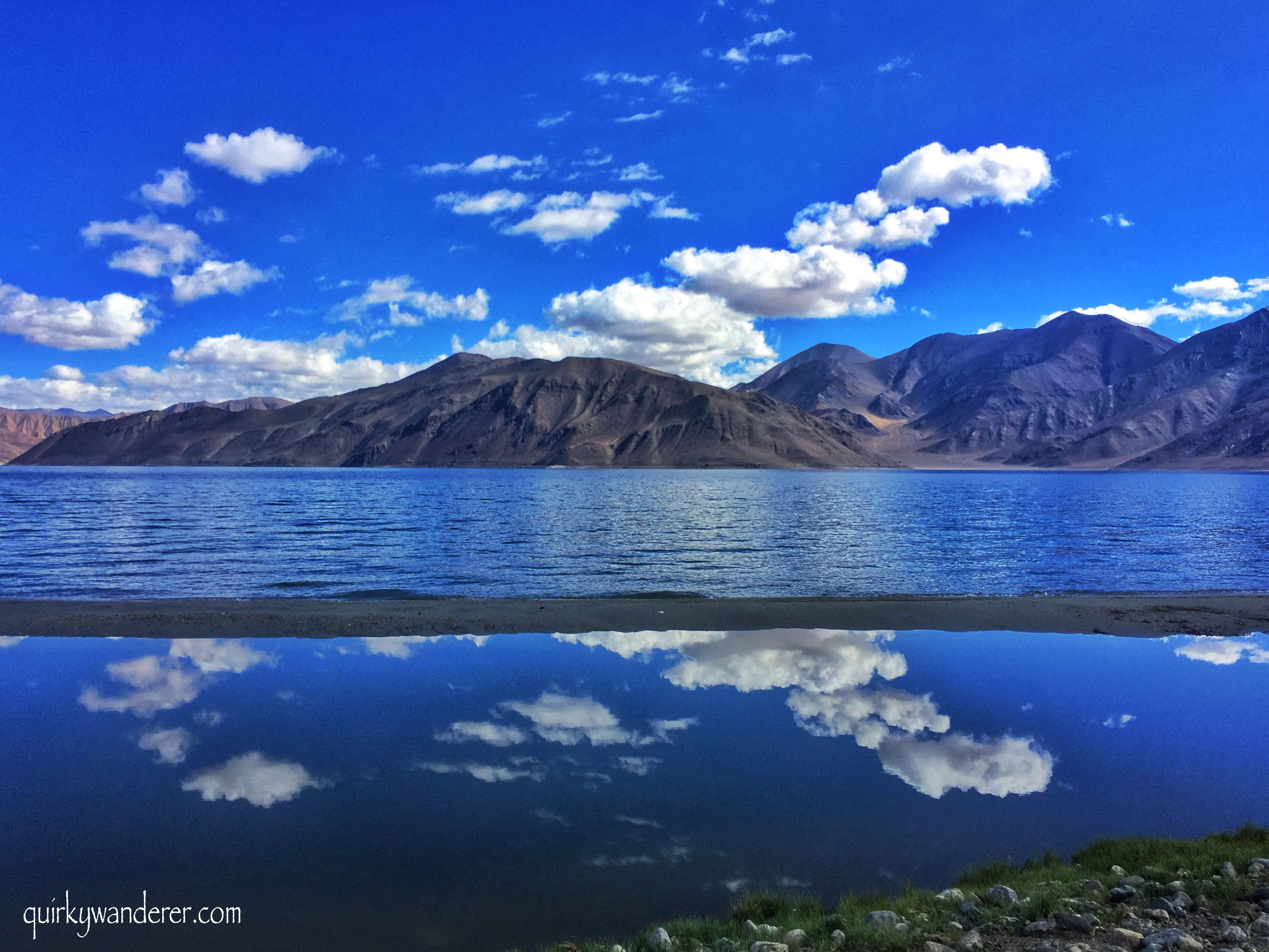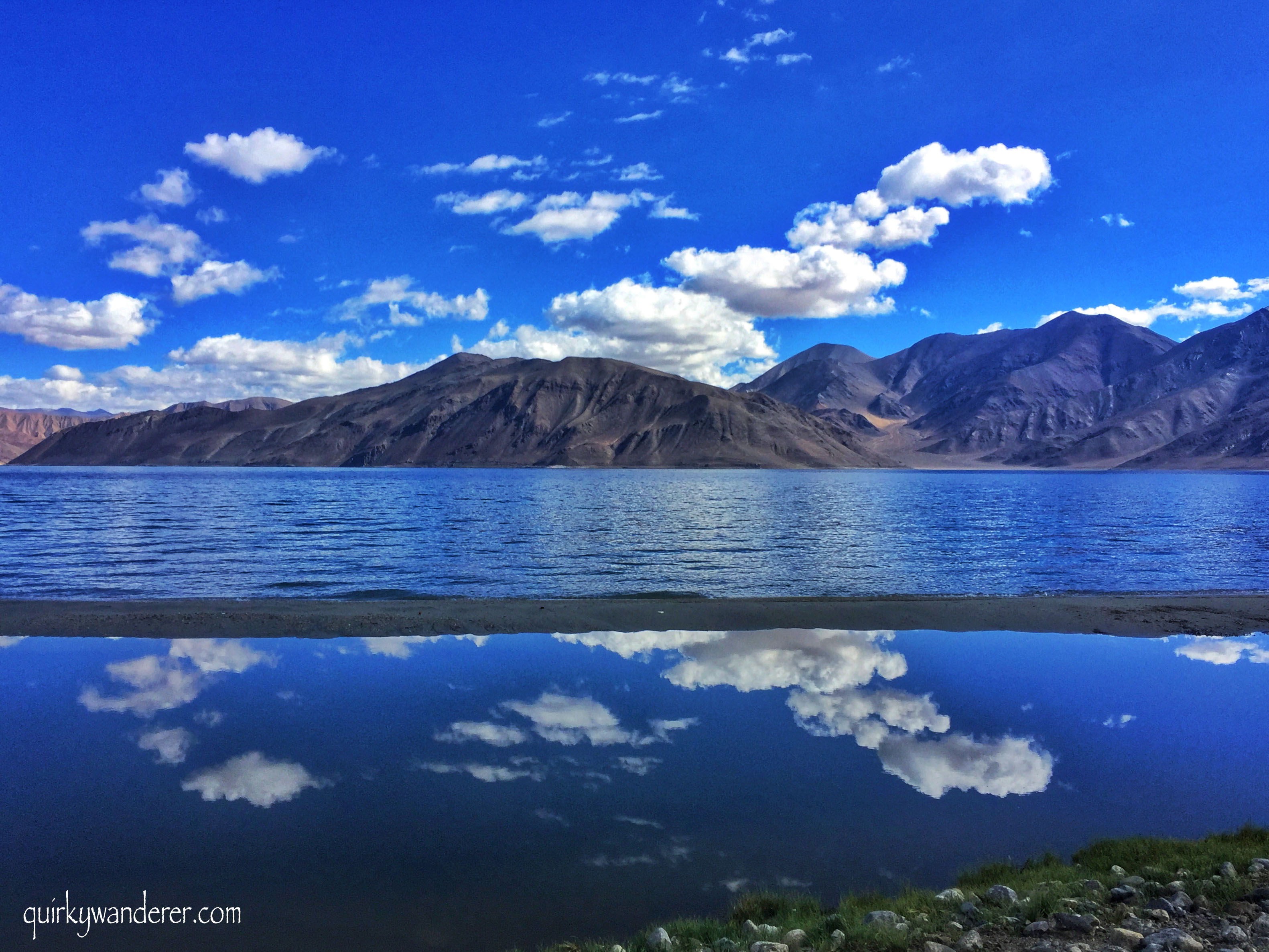 For a second, for the first time in my life, I was envious of China for having a larger share of this beauty and as I walked along it's shore and the waves surged and came to me, I felt them comforting me to be content with this sight. This brush with magic which was beyond boundaries and most importantly beyond 3 Idiots!
The Apricots at Nubra valley:
They looked like tiny little bulbs on the trees. As I perched myself under the gigantic apricot tree in Hotel Karma Inn in Hunder village, in Nubra valley, it felt heavenly.
The breeze ruffled the leaves and these delicious fruits called Apricots (Khumani) danced, tempting my senses. It was the apricot season in Ladakh and one could find apricots in abundance in the months of July and August.
Ripe, with pink cheeks, these little balls of joy invoked the kid in every onlooker. What followed was a puppy face request to the manager and then rampant plucking and fiercely guarding the loot from privy eyes.
The magic was right there. Carefully and tightly tucked in my hands.
I had experienced this in Kashmir too. In Kargil, when a local lady stopped my car and greeted me with a bucket full of fresh apricots from her orchard. This is the magic of Kashmir and one of the reasons why Kashmir tours are on most traveler's bucket lists!
The Beauty of barren landscapes :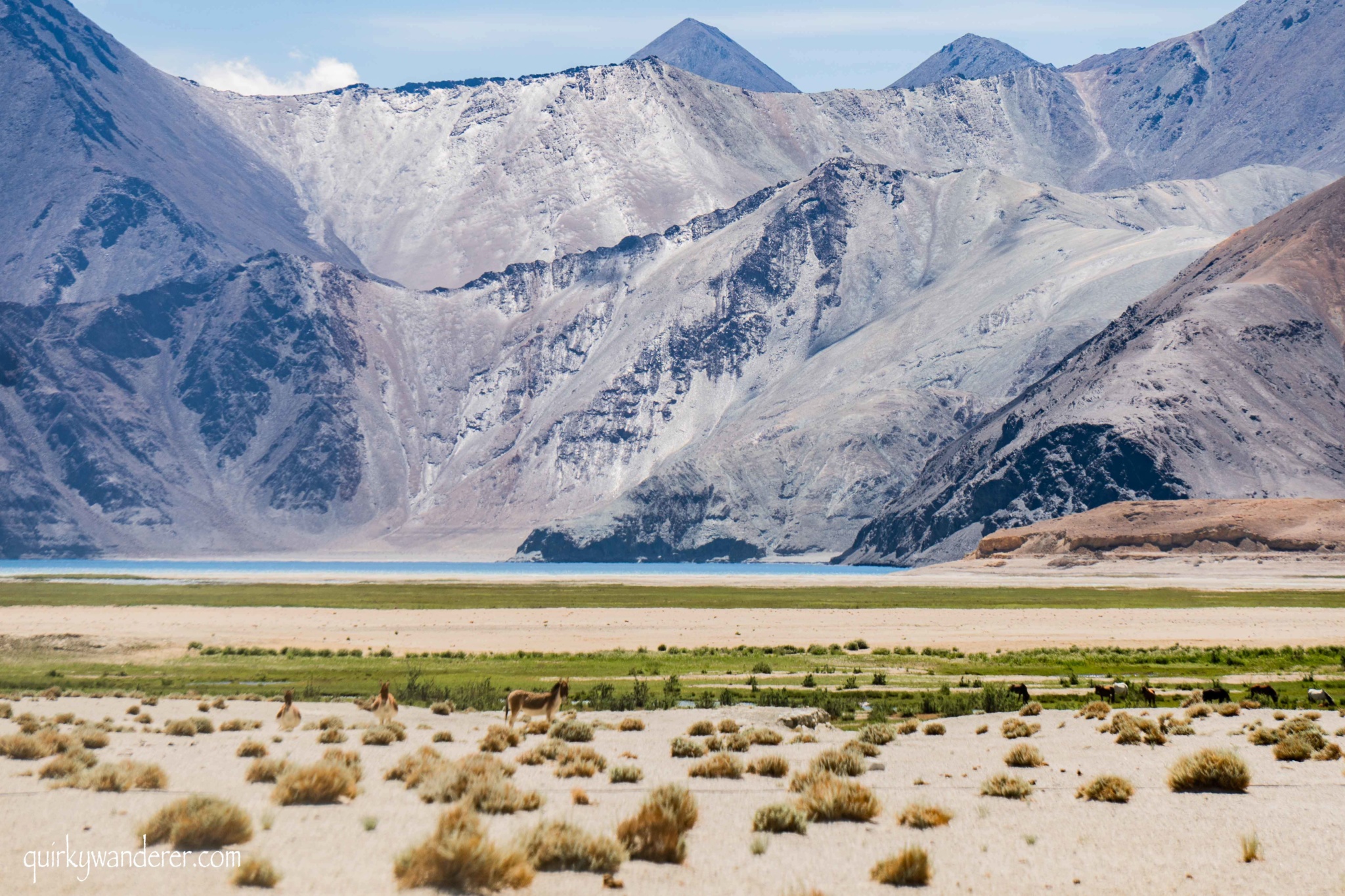 "But it is all barren", I hear someone say. Yes, it is all barren, I think. As we crossed barren lands in Ladakh for two weeks, the landscape comes across as repetitive ONLY if you don't observe carefully. (Please view the pictures in Fullscreen)
It was barren, yet beautiful. It was similar yet starkly different. There were mountains, mighty ones, some craggy, some smooth, some layered, some with a trillion folds. They were anything but boring.
Some even had purple hues on the slopes, some flaunted wrinkles, some had sand dunes and some basked in the glory of the sun.
But each had a character of their own. And when they had the company of bright blue skies and the biggest clouds I have ever seen, they made even barren look magical.
The Starry night of Hanle:
Four giggling girls climbed the terrace of their homestay in Hanle at 10 pm. Hanle, a village in the Chanthang plateau , Eastern Ladakh boasts of the clearest skies in India.
A visit to the Observatory left me intrigued. There was clear science involved with the telescope taking pictures and sending it to the Indian Institute of Astrophysics in Bangalore for research. Yet, it seemed extremely fascinating to see the hazy Milky Way, even when we were a part of it!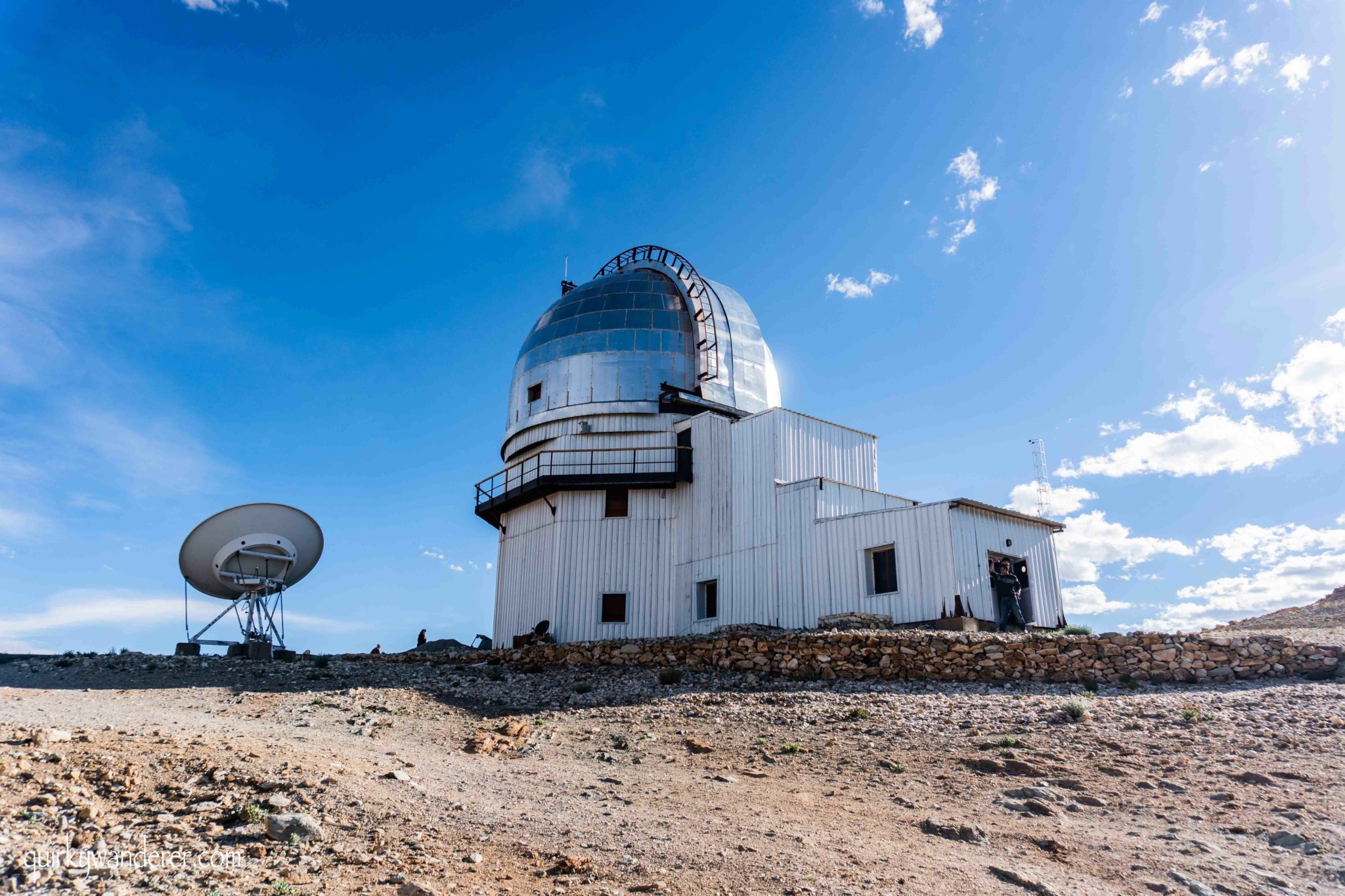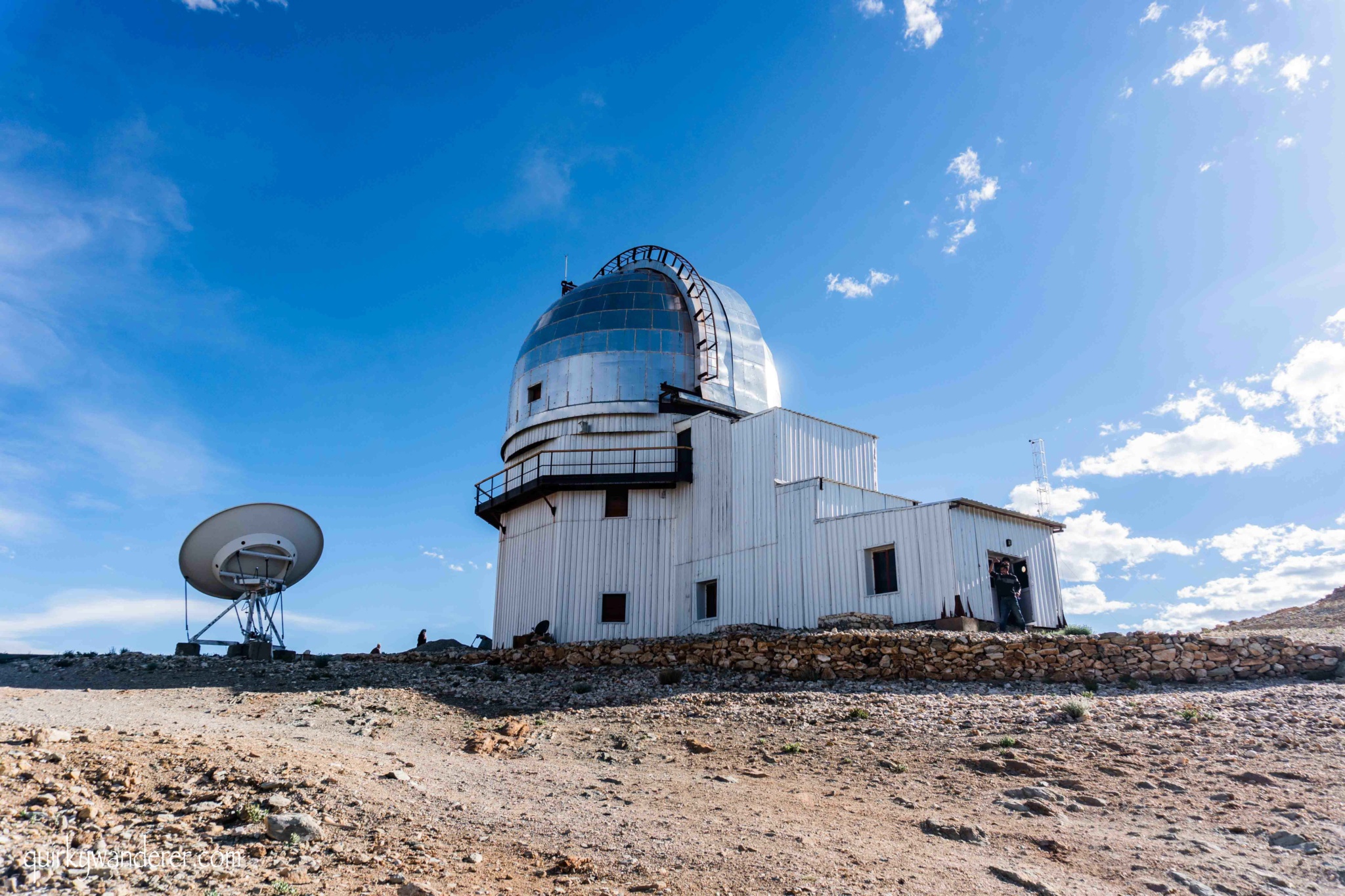 As I attempted to click stars for the first time in my life, my fingers numb with the cold, I was spellbound. A million stars twinkled at me and how does one freeze this phenomenon in their cameras? I waited for a shooting star, but the sky had other plans.
It was the clearest sky I ever saw. Perhaps, the universe wanted to reveal it's magic one layer at a time.
************************************************************************************************************
As I finished narrating, there was silence. None of us spoke as we looked up at the blanket of stars. It was pitch dark, with the sounds of the gushing stream in front of us. If Hanle was cold, this was a superlative of cold. But I was determined, today I had to see shooting stars. Resting my head on the chair, I looked up at the celestial sky. It was a meeting place, a fine one: where millions of stars came and met those who braved the cold to meet them. That is when I saw them, one after the other. It rained Shooting stars, as we excitedly jumped in our seats , trying not to miss them (making wishes super quick lest we miss another when our eyes were closed).
That night, the stars obliged. I lost count of shooting stars (and wishes made).
To celebrate that heavenly night, the moon rose, illuminating the mountains and the stream and it felt like a time of the hour when it wasn't the night nor the day nor twilight. I wish time could stop and I could freeze this fleeting moment.
So there I was, reliving my most magical moments to a Ladakhi in Tsomorori, not realising that I was living through one, right there.
I did not capture it in my lens. It was sacred. A memory for the mind and not the lens. Giving just a privileged few, a sneak peek into the magic of that starry night.
**************************************************************************************************************
*Do You Know?* : One can now reduce carbon footprints while traveling to Ladakh?
If you are keen to not just reduce taxi costs but also be a more responsible traveler, shared taxis are a great way to travel around Ladakh; they are available for tours to Nubra valley, Pangong lake and Tso Moriri. The cost is shared equally between all the passengers and it helps reducing the pollution by leaving no empty seats in cars.