French street names, Colonial buildings, bright-colored windows, cobbled pathways, graffiti splashed on walls, old-world cycle rickshaws meandering in a whitewashed town.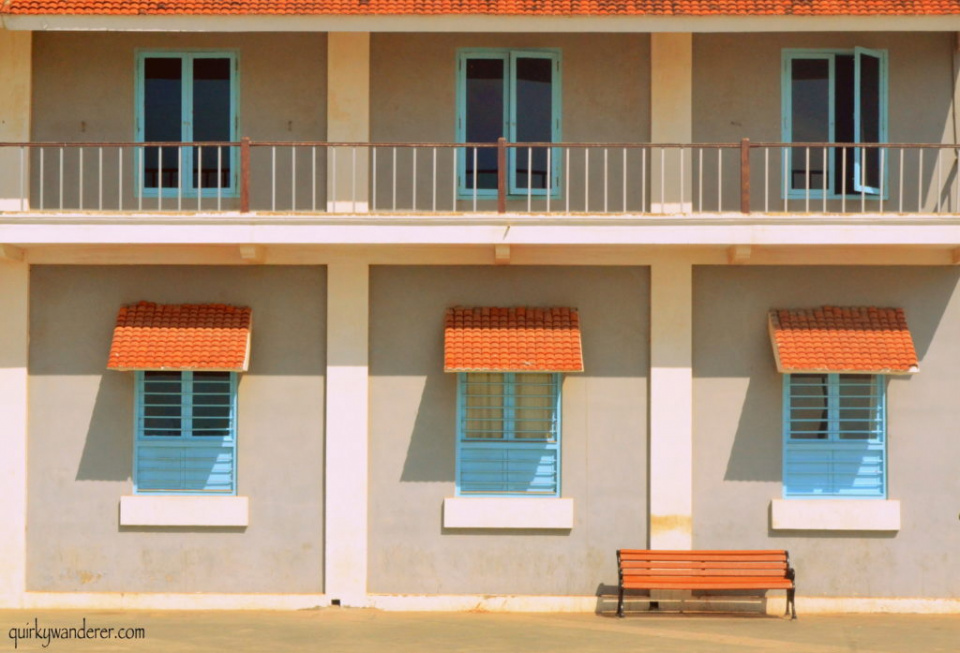 Welcome to Puducherry or Pondy as it is colloquially called.
A quaint French-inspired Union territory with gorgeous views of the Bay of Bengal, tucked away in Southern India, yet having a distinct charm of its own.
Perfect as a quiet, peaceful weekend getaway with its serene beaches and dainty cafes, Pondicherry is just a 3 hour drive from Chennai.
The drive via the ECR (East coast road) is picturesque and enchanting with a surprise at each bend.(It won't get you bored even a tad bit)
Here is my Must-do list if you happen to visit Pondy:
1. Walk.Cyle.Repeat:
The best way to explore the white town (French quarters) is to rent a cycle or simply walk through the perfectly angled lanes with pretty houses and their bougainvillea-covered gates.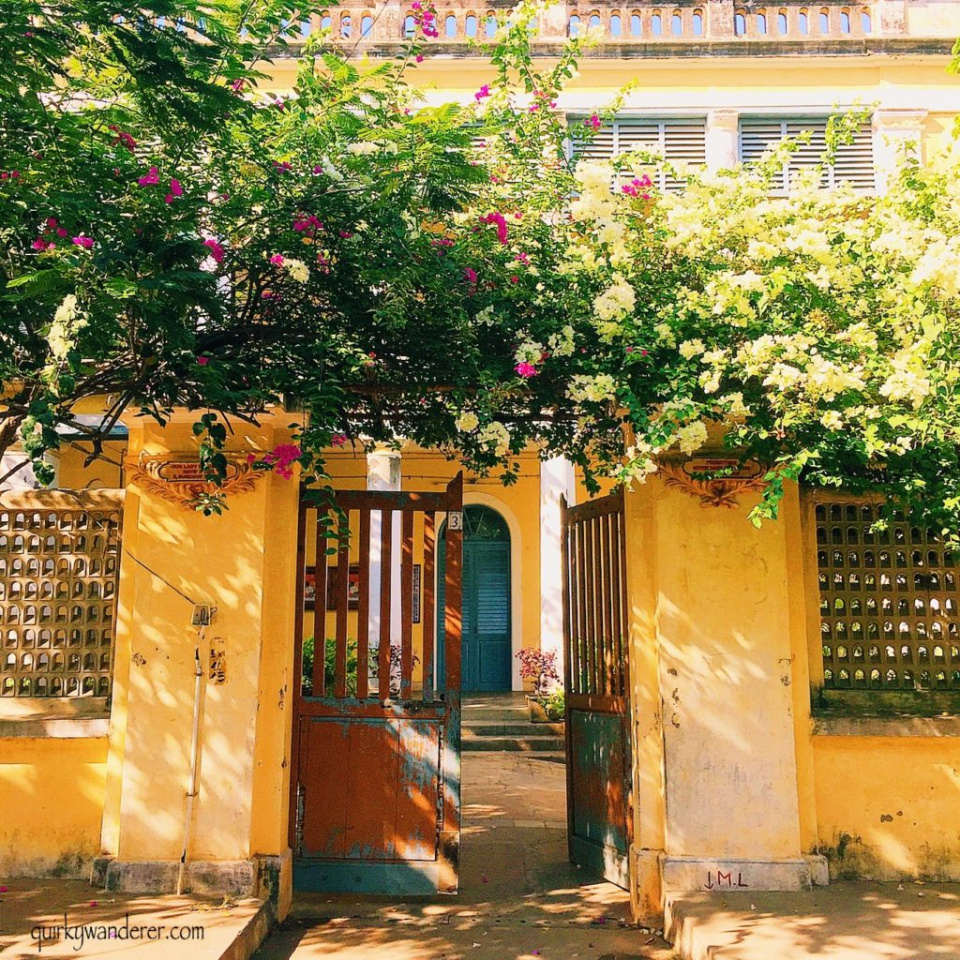 The entire French quarters is a convenient walkable area and the colonial buildings are a treat to capture, especially the windows painted effusively with yellow.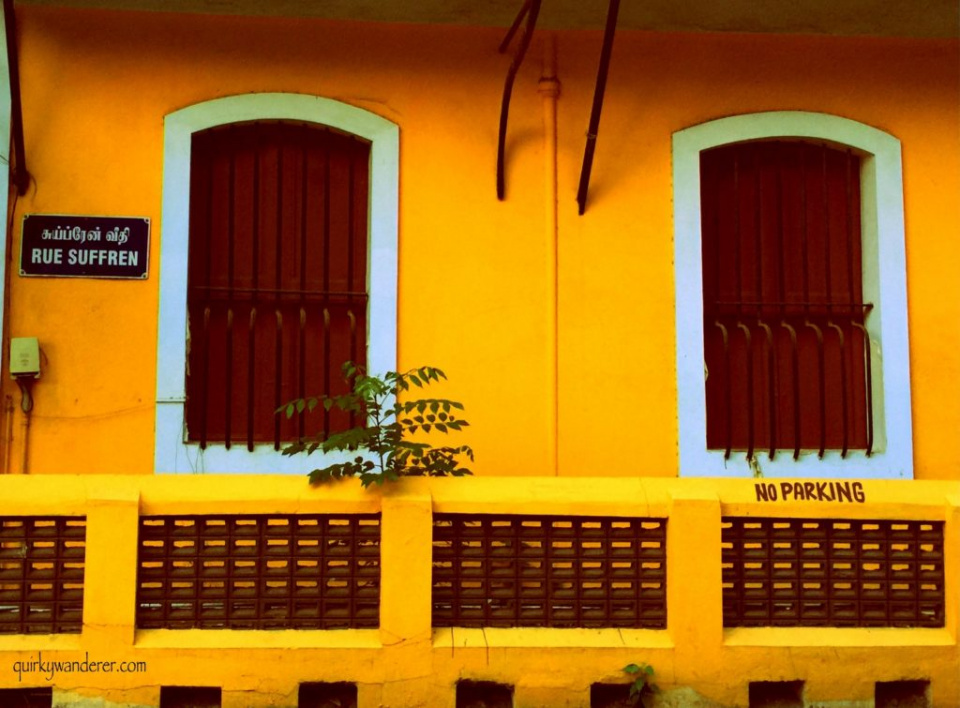 The streets have French names and a translation in Tamil right underneath. So get hold of a map and walk away. This is definitely a walk to remember.
2. Cafe hopping:
Quite ironic to point No.1 but yes, Pondy has too many irresistible cafes to tantalize your taste buds.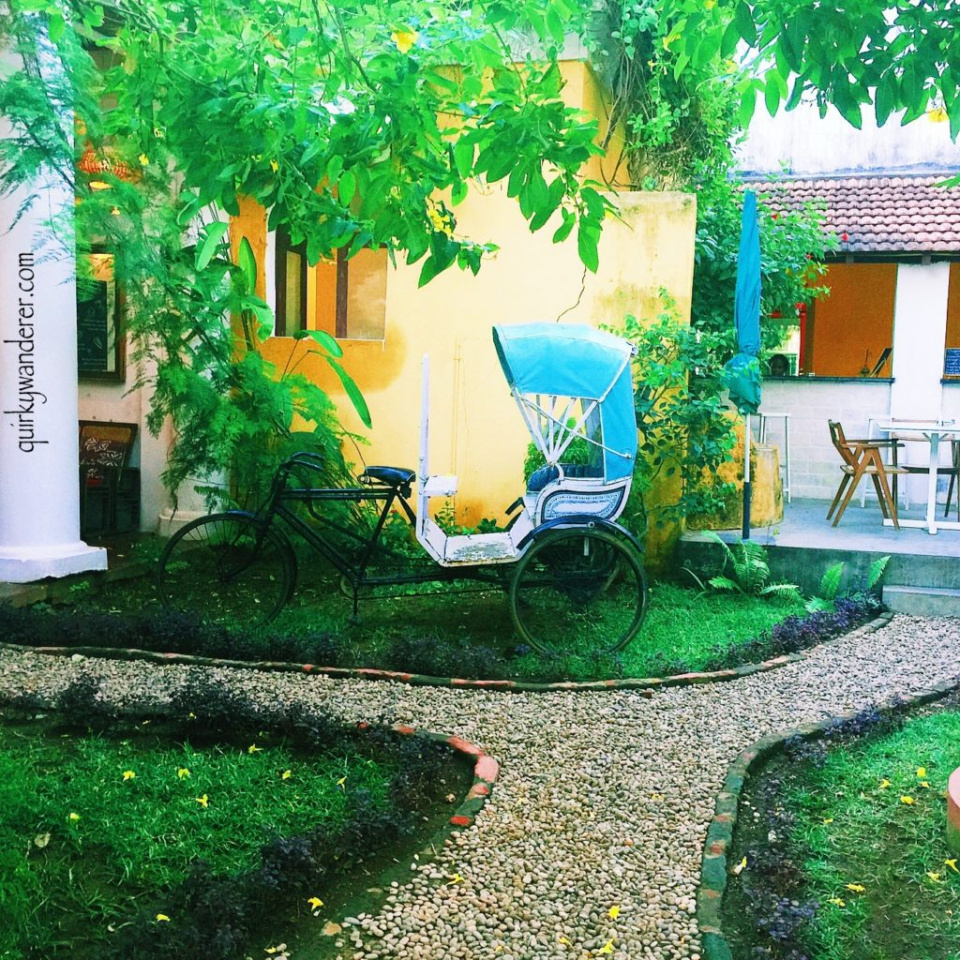 From the quirky Cafes Des Arts at Rue Suffren to the plush La Maison Rose to the French Bakery at Bussy Street. A complete post on Pondy Cafes Coming soon!
3. Stroll on the promenade before the crowds rush in:
The promenade is to Pondy what Marine drive is to the Mumbai wallahs. Watching the waves lash at the rocks in solitude is the best form of mediation and tranquility.
Extremely crowded in the evening, the best time to visit is early morning when you wouldn't find a single soul on the street!
Whats' better! You can even witness the gorgeous sunrise over the Bay of Bengal!
4. Go boutique shopping!
Pondy has some arty boutiques for shopping. Tucked away in an old Tamil Mansion is Kasha Ki Asha.
Hop in for some beautiful apparel made by the local ladies, who will show you around with such alacrity, that it is sure to bring a huge smile to your face!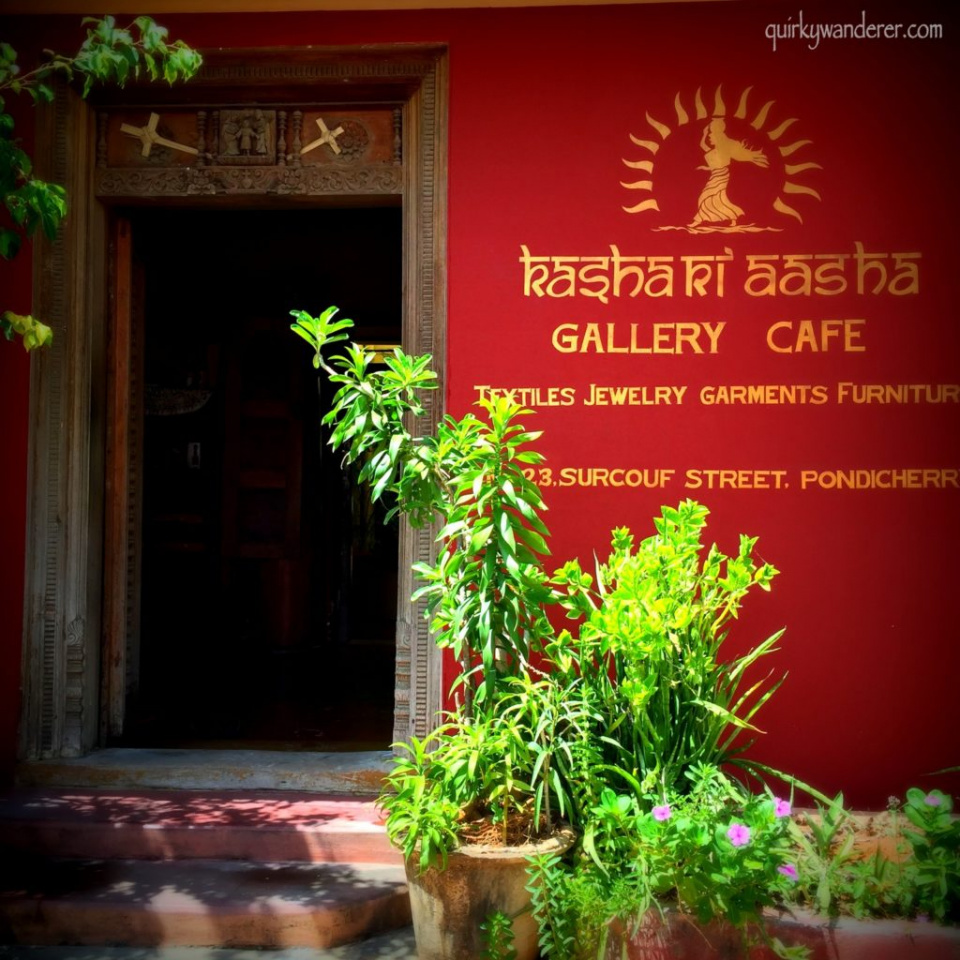 The next is Ooh La la at the La Maison Rose, owned by Agathe Gerin Lazaro. The boutique sells dainty umbrellas and chic cotton apparel designed by the French lady herself. A little overpriced but the umbrellas are totally worth it!
Right next to Ooh La la is a boutique called 'Domus', selling exquisite crockery and artifacts.
Apart from these, Nehru street has a bustling market selling a variety of things.
For those looking to buy specific Ashram products( fragrances, agarbattis, soaps, and candles) head to Senteurs at Rue Saint Gilles.
5. Manakula Vinayagar Temple for Laxmi's blessings.
I was roaming about Nehru street when my GPS indicated the Manakula Vinayagar temple just a street away. When I walked in, my jaw dropped in awe.
The temple dedicated to Lord Ganesha is magnificently beautiful. Dazzling in gold and a dozen colors, photography is a strict no-no! (That left me sulking!)
The attraction is the female elephant Laxmi who is brought out every evening at 4 to bless devotees. But alas blessings are not free after all! Give Laxmi a bunch of Bananas and she stays put.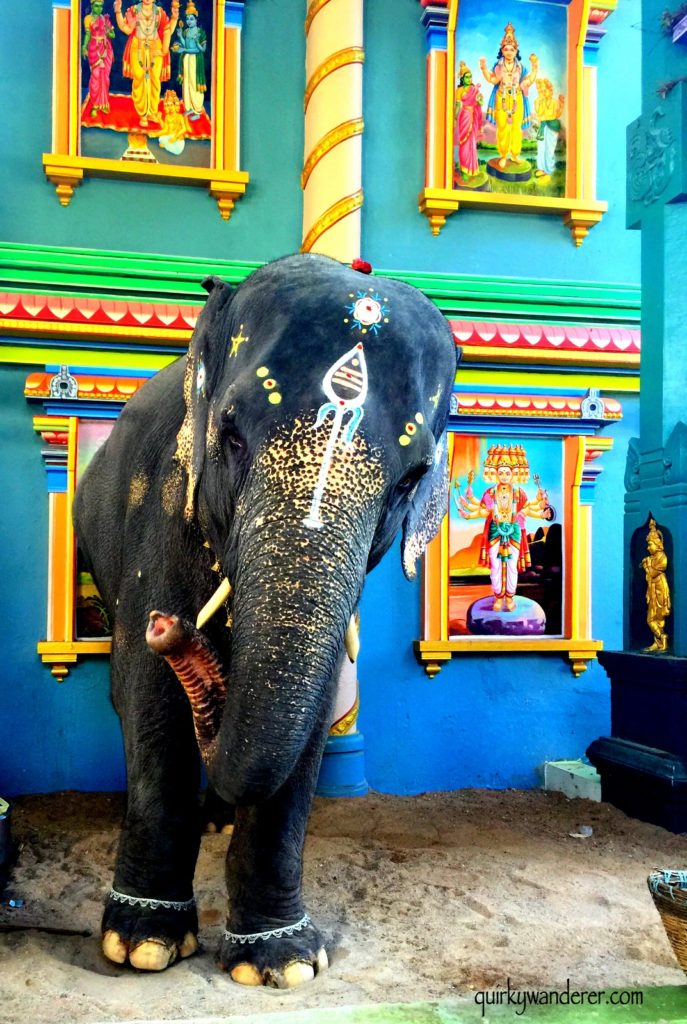 Give her a coin and there goes her trunk lashing on your head as a blessing!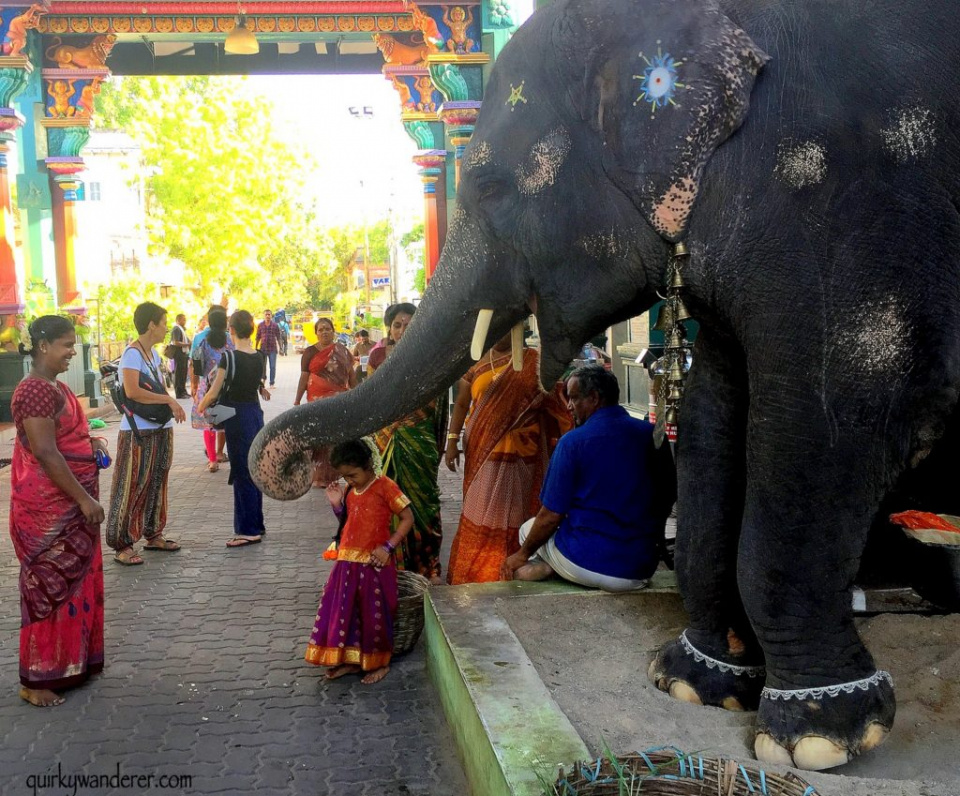 6. Meditate at the Aurobindo Ashram
A place where silence has a language of its own. Nestled amidst beautiful flowers, the place is has a certain melody attached to it. Cellphones need to be switched off and cameras are strictly prohibited.
The place, in its silence, makes you aware of your surroundings which go largely unnoticed due to the constant intrusion of cellphones.
7.Spend an evening by Serenity Beach
True to its name, the beach (10 mins away from Pondy) is tranquil and serene.
Not crowded on weekdays and almost secluded after 6 pm, the beach is extremely clean and there is nothing more peaceful and therapeutic than dipping your feet in the sand and let the waves curl onto your feet.
8. Visit the quaint Churches.
The French architecture of the Eglise de Notre Dame des Anges church is captivating. The colorful, tinted windows and the gorgeous ceilings are a treat for every photographer's lens.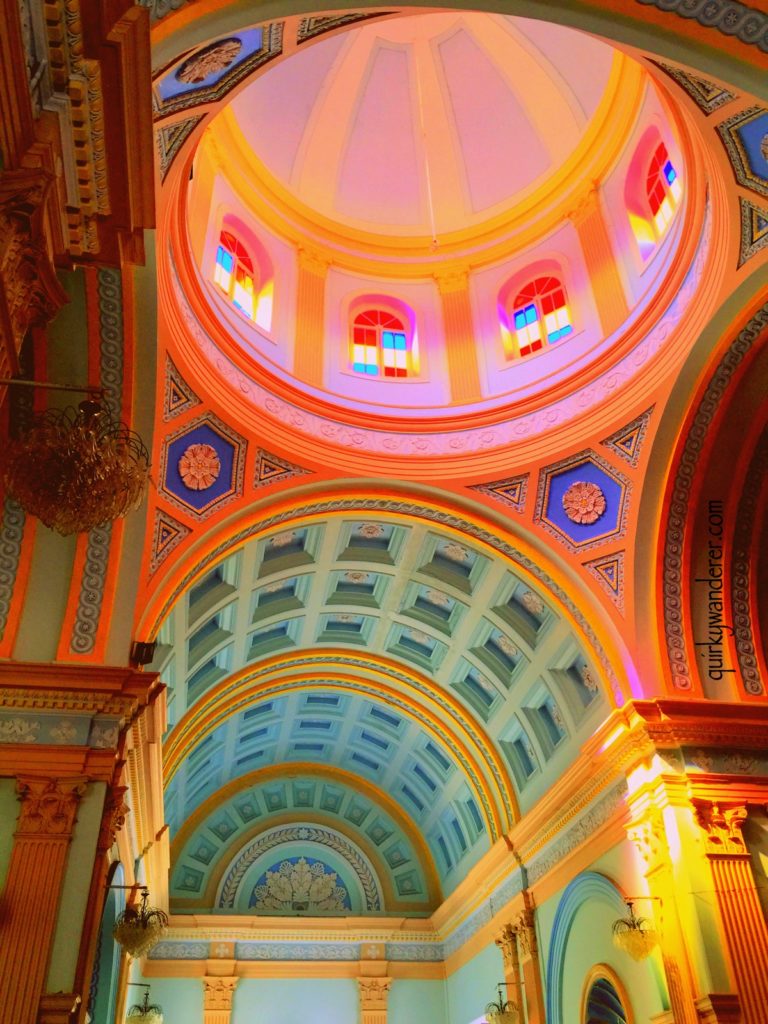 Another church nestled between the Tamil and French Quarters is the Immaculate Conception Cathedral with Roman Architecture.
9. Escape to Auroville:
Auroville is synonymous with peace. A one-day visit to this place is absolutely unjustified.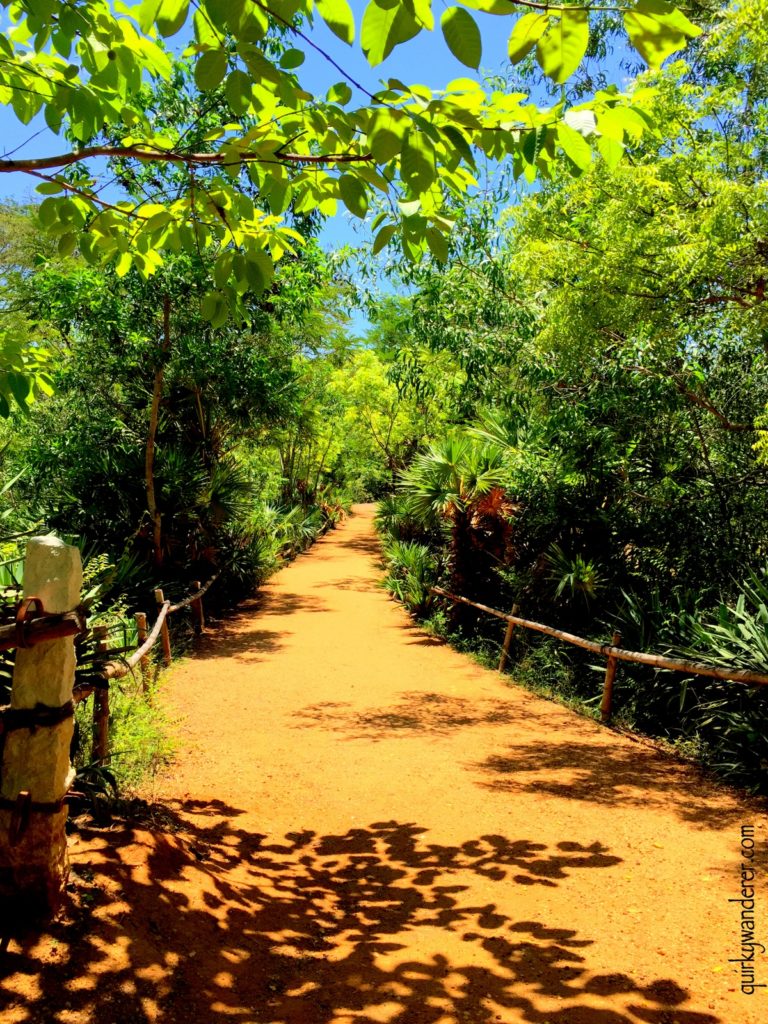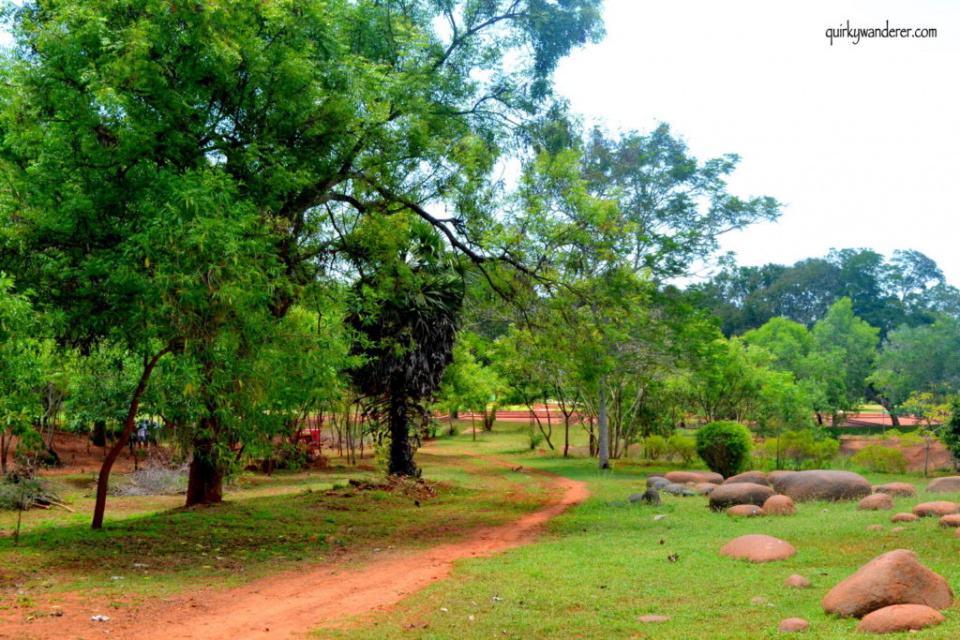 Lush green pathways, a placid calm in the air, and the gigantic Matri Mandir nestled right in the center.
Take some time off. Disconnect. Book your mediation sessions prior to your visit and totally unwind in the lap of nature.If you have extra days you can volunteer too!
10.Explore the Tamil quarters :
While a lot of people think Pondy is only about the Ville De Blanc, the Tamil quarters are often ignored.
Explore the Tamil quarters, with houses that bring alive the magic of RK Laxman's novels.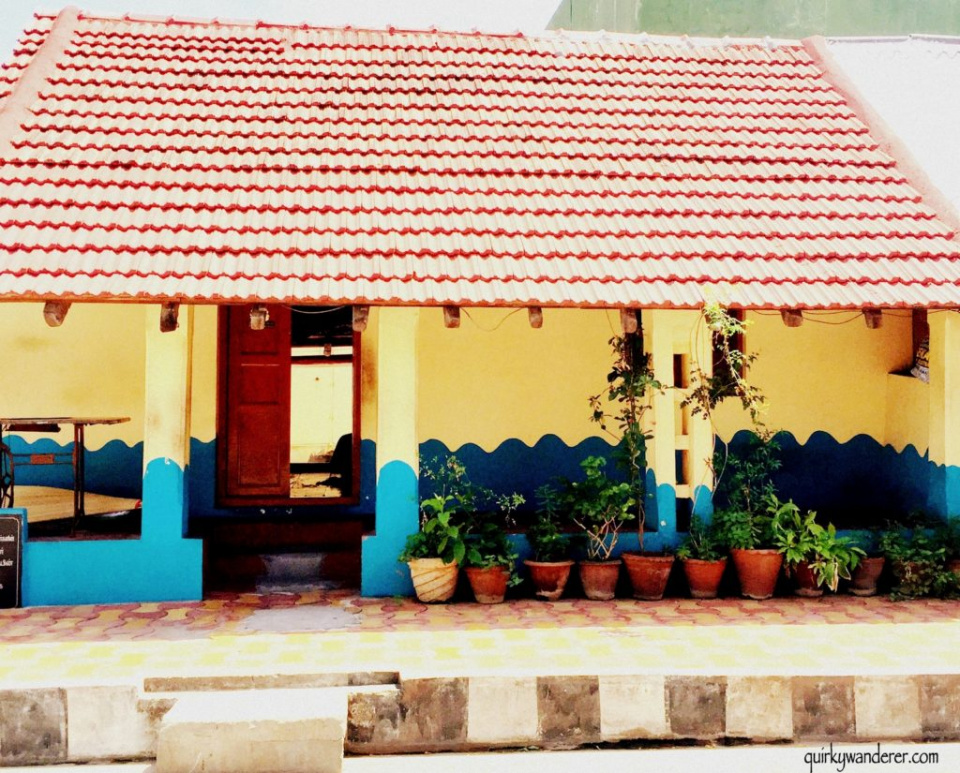 With spacious verandas and rustic windows and doors, the striking contrast between Ville De Noir and Ville de Blanc is clearly visible.
Where to stay in Pondicherry?
I have been asked this question so many times. Should we stay in the French quarters or in a Tamil Franco house? Should we stay in a hotel or in a rustic homestay? There are several quaint options in Pondicherry these days, most of them are mansions and villas which are renovated and converted into hotels and homestays. Where you want to stay depends on how long you wish to stay, your budget, and things you wish to do. I would highly recommend you to check out the platform Cozycozy that brings all these different accommodation types in one place. What I liked best about this site is that all the results are displayed on the map, so you can easily find a place to stay based on your itinerary!
What has been your favorite memory of Pondy?
For me, it has been curling my feet at Serenity beach and chasing the waves, gorging on the Opera pastry at Baker's Street, and of course losing my way a trillion times in the streets while walking with my green umbrella!