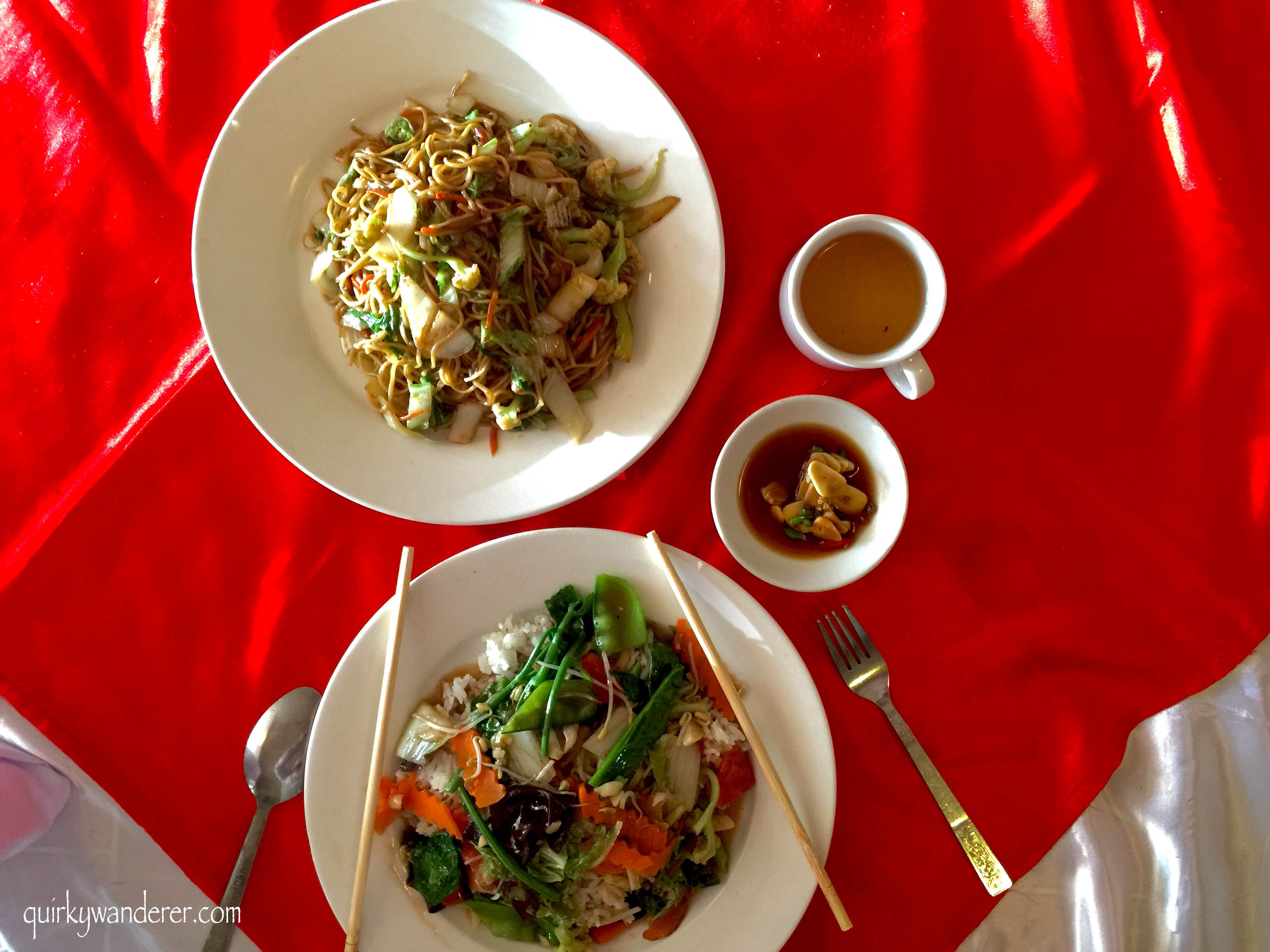 Theplas: check
Ready to eats: check
Packaged food: check
SOS words: check
I was a vegetarian traveling to Myanmar: a country predominately consuming nonvegetarian fare.
Thoroughly acquainted with the menu of Burma Burma in Mumbai, I looked forward to gorge on all that I ate under the plush decor of this restaurant, on the streets of Myanmar.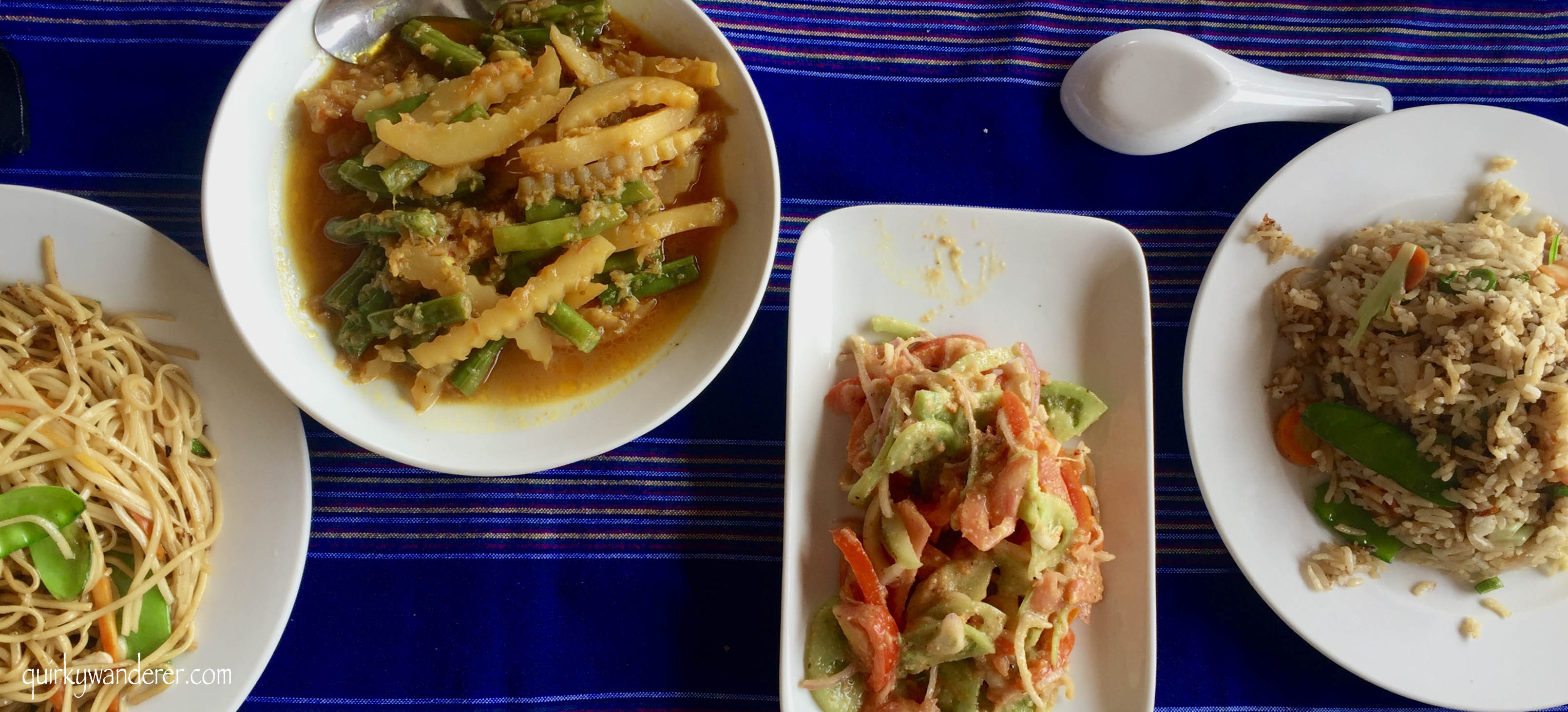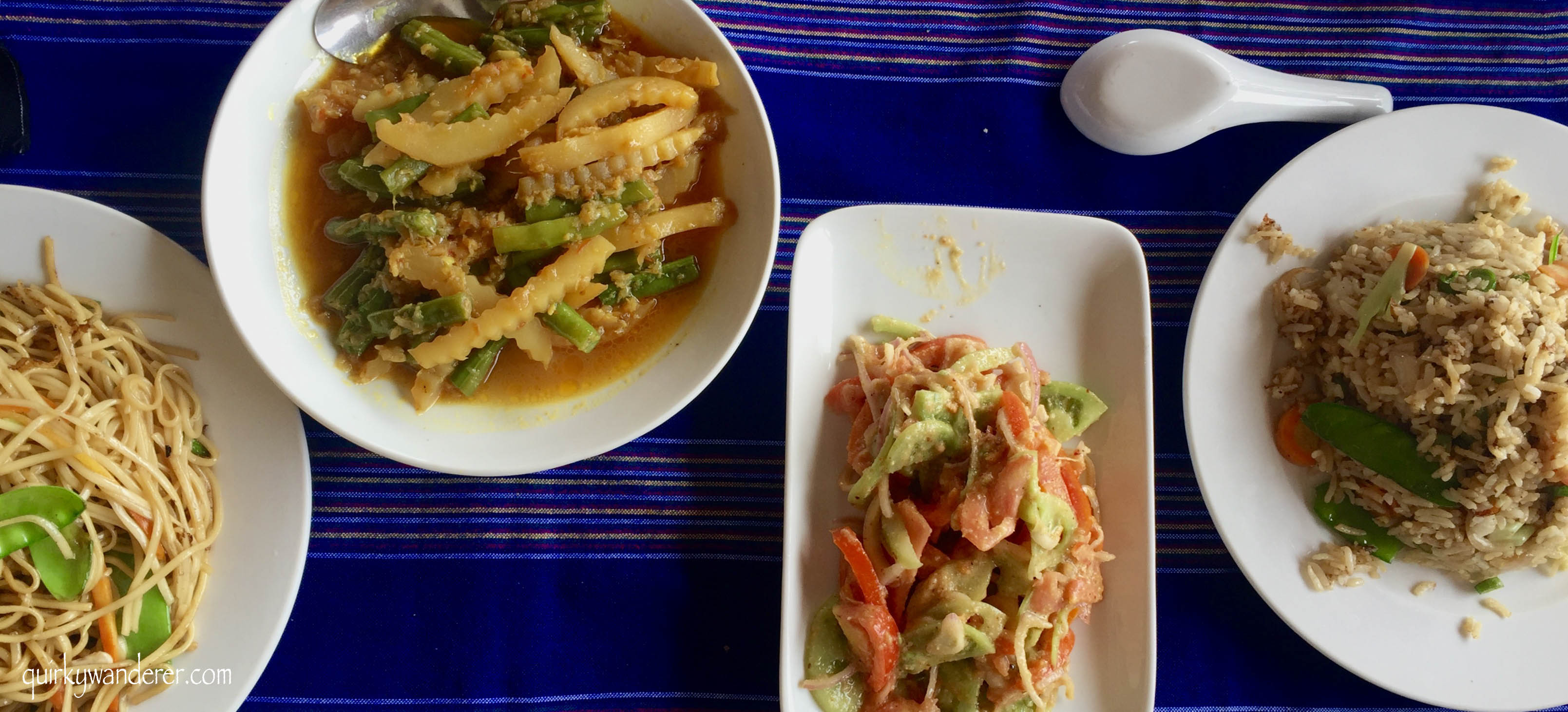 But then the food gods had other plans.
I hardly found what I ate back in Mumbai or even remotely close to it in Myanmar.
When I lost all hope, the county surprised me in tiny little ways, dishing out delicious vegetarian fare where I least expected it.
If you're a vegetarian and want to travel to Myanmar read along!
Vegetarian for them includes fish. Fish oil is extensively used in their cuisine. When you wish to ask for completely vegetarian meals you need to say "Tathaloo" this means lifeless.  As it is a Buddhist country there are 'lifeless' options available.
A quick guide:
" Teh Ta loo Shila?" – "Do you have vegetarian food?"
"Teh ta loo la?" – "Is this vegetarian?"
"Atha ma sa bu"- "I do not eat meat"
Fresh salads are the safest and best options as fresh fruits and vegetables are aplenty in Myanmar.
The Burmese eat fruits as dessert and grapes, strawberries, cherries are grown in abundance in Pwin oo lwin, known as the Cherry capital.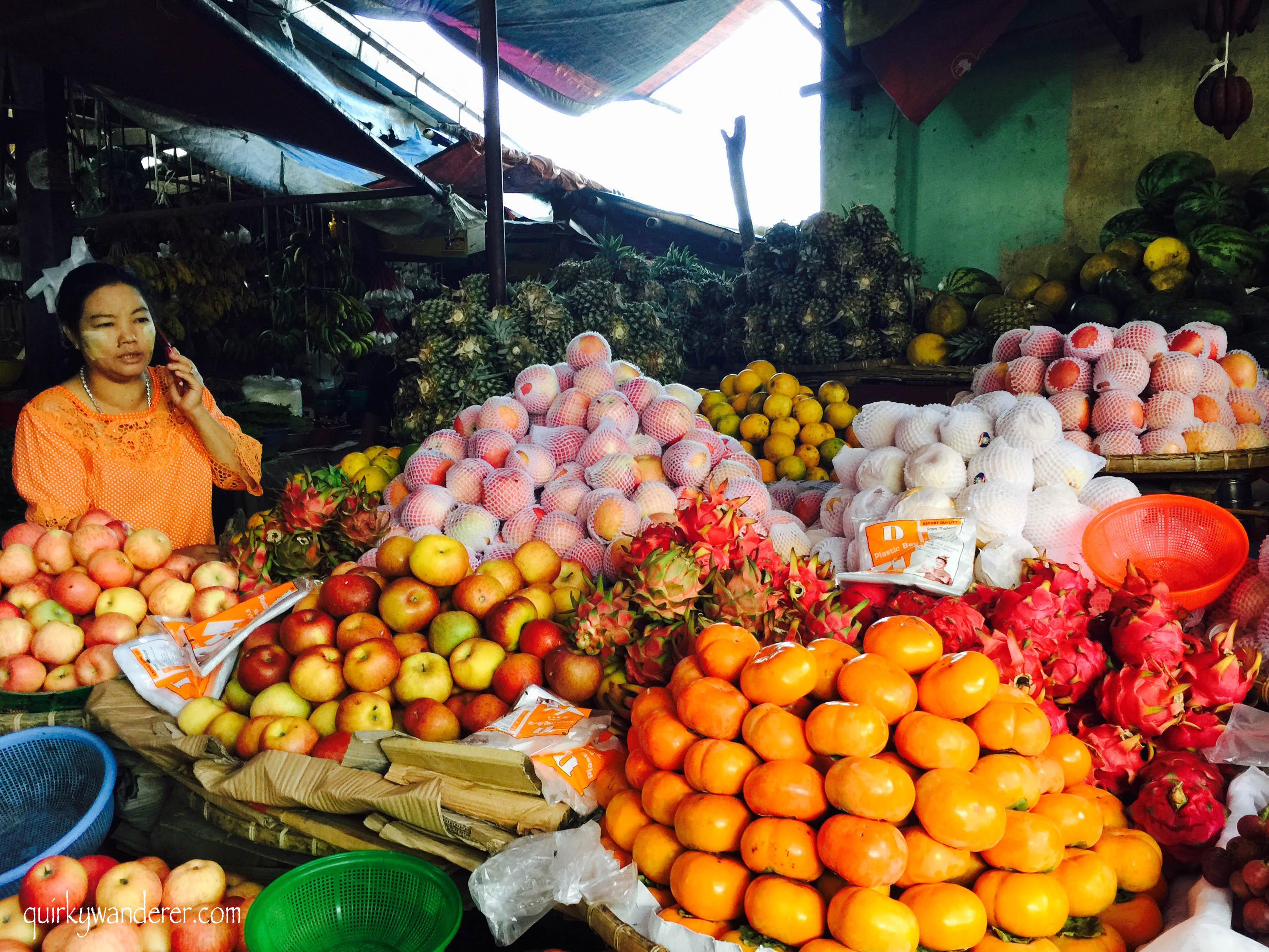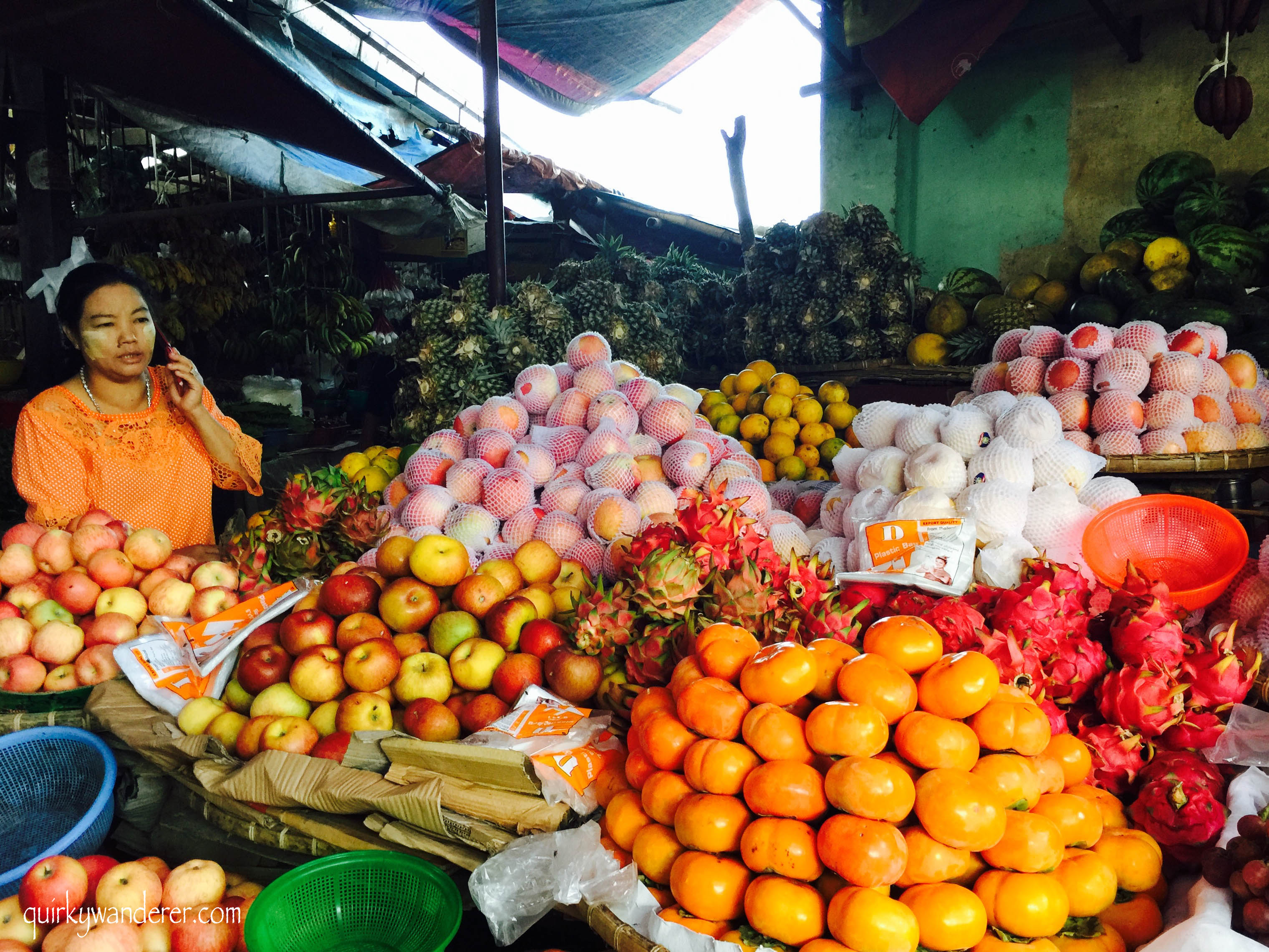 There are tomato farms in Inle Lake and Tomato salad is an must try here. Other common salads are Seaweed and carrot salad, tea leaf salad.
Burmese love tea salads. No other country consumes tea leaves in meals like the Burmese do.
Most restaurants serve Vegetarian fried rice, Fried noodles with vegetables and steam rice with vegetables.
These are easy and quicker options for vegetarians and are served with black soy sauce and chopped garlic and cost approx 2000-2500 Kyat.
The best vegetarian fried rice I had during my Myanmar trip was at the Green Tea restaurant at Pindaya.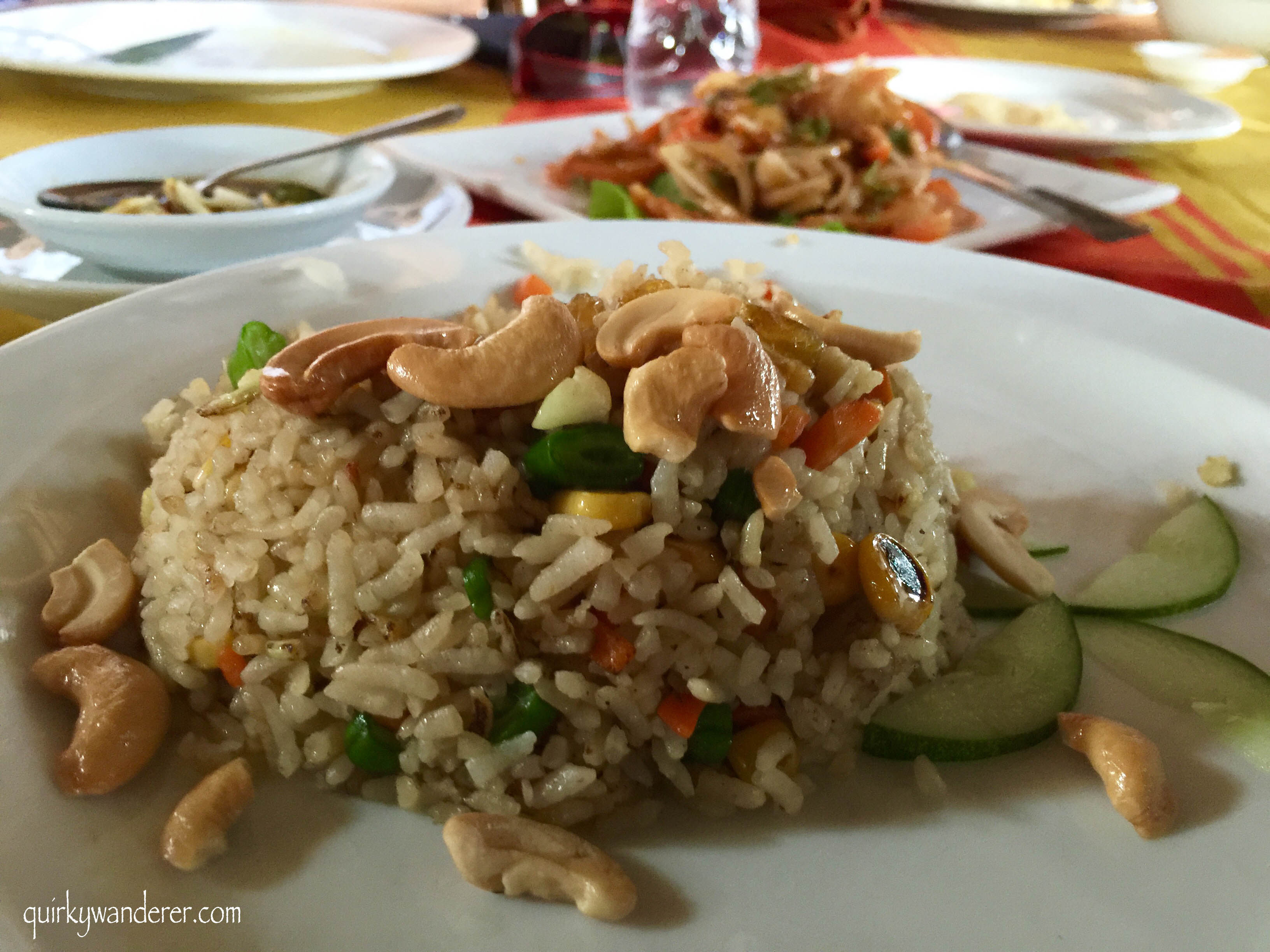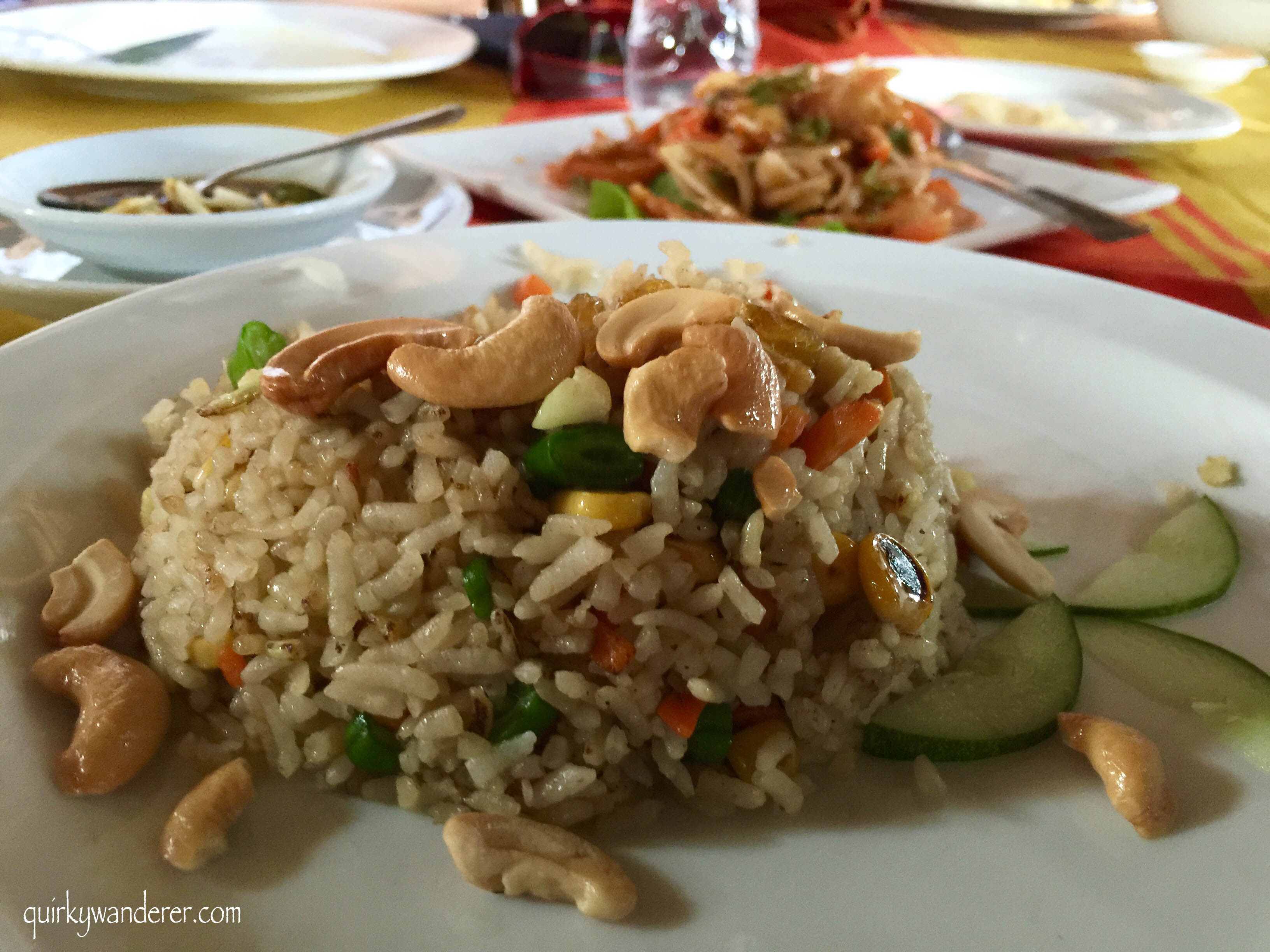 Traditional restaurants serve a thali where rice is served with a variety of vegetables. The main compartment is filled with steam rice and other compartments include vegetables, condiments and fritters. The condiments are fried peanuts, crushed coconut and dried chillies.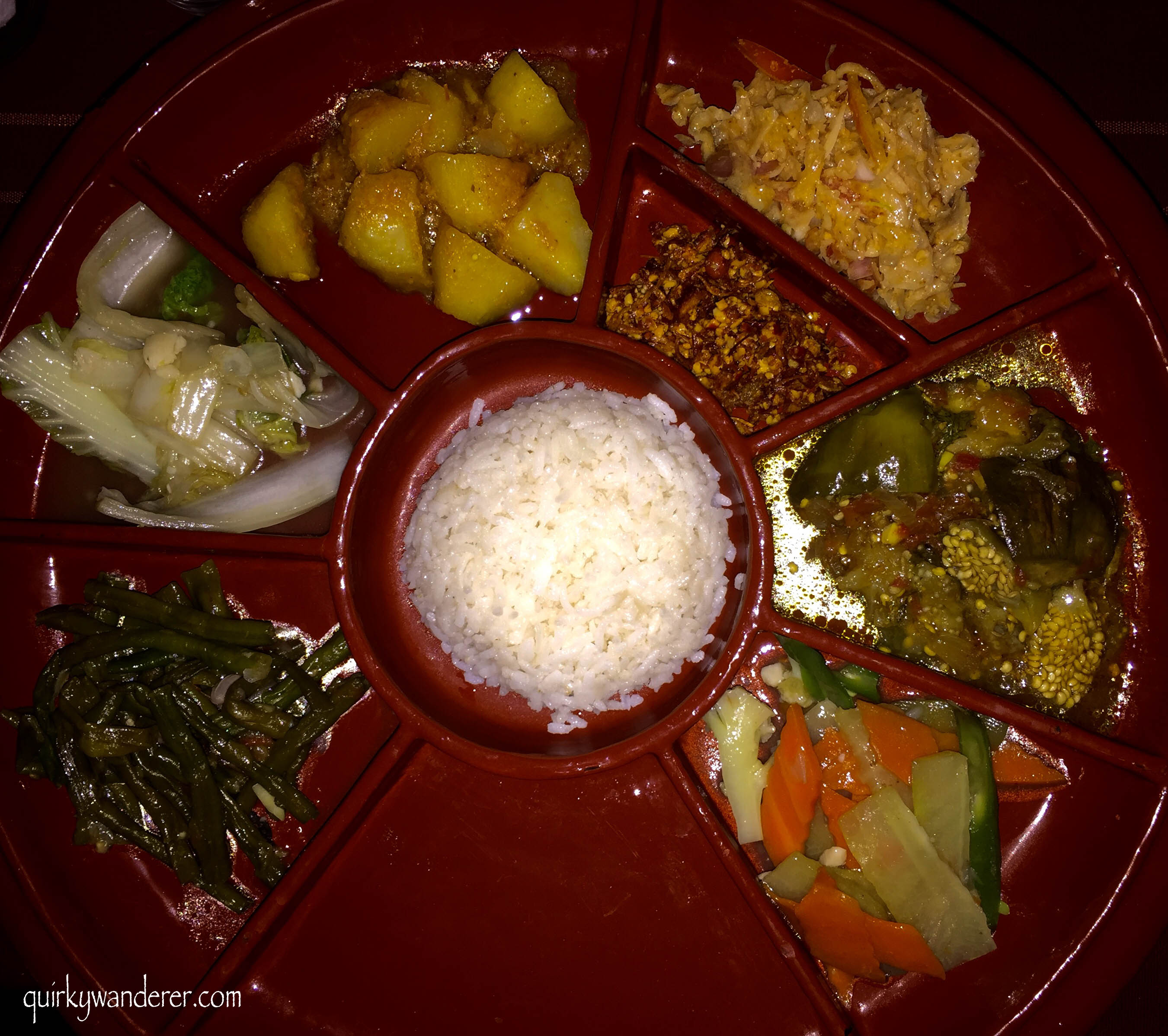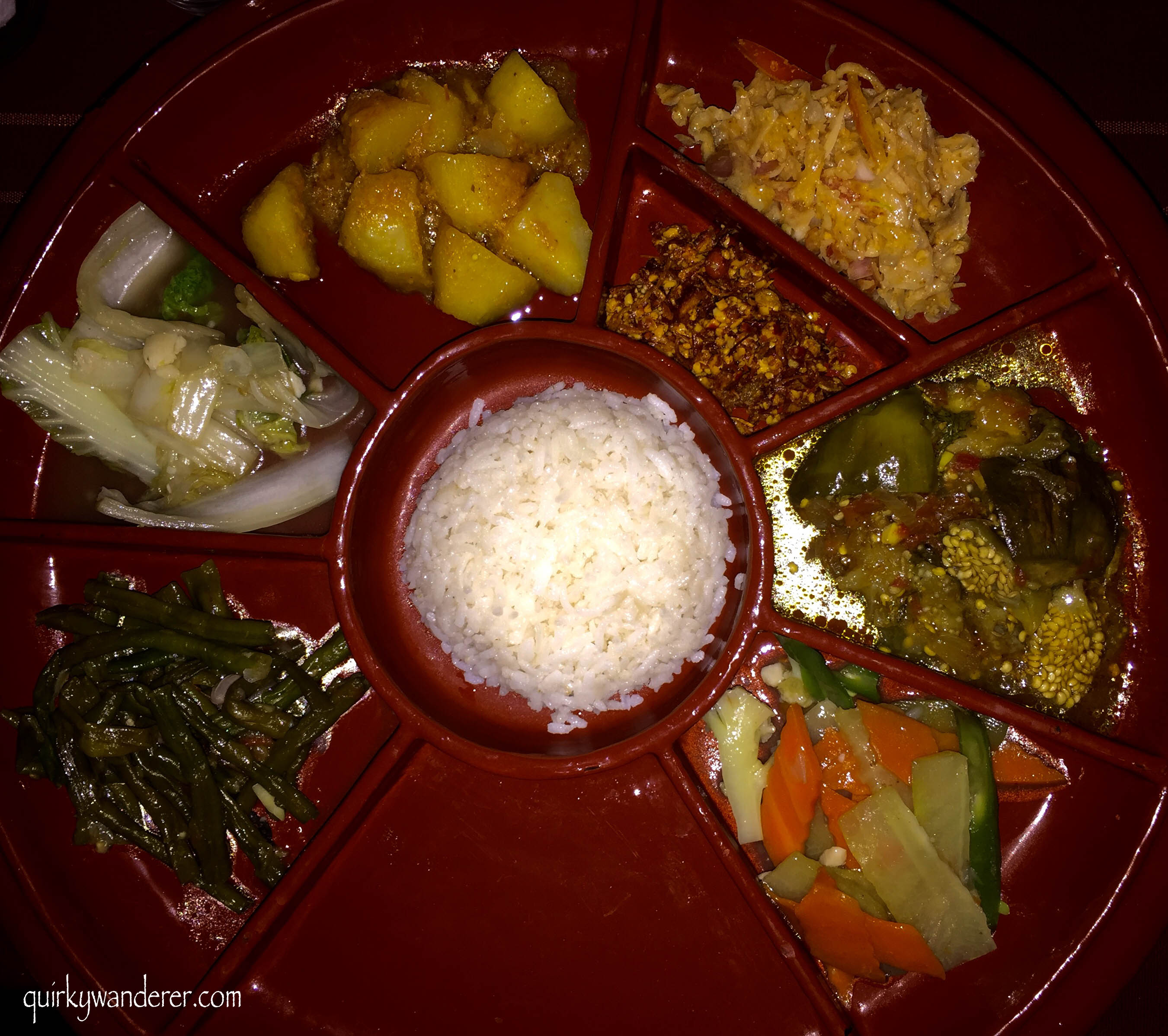 Vegetables include Marrow curry, Stir-fried grout curry, Stir fired Pokchoy and mushrooms, Bean curd curry, Potato, and bean gravy, Cheese and Tofu stew, Eggplant and black bean, Chickpea curry.
Burmese food isn't spicy: Most of their cuisine is infused with coconut and banana. But even the sweets are not too sweet. Everything is balanced and yes, flavorsome.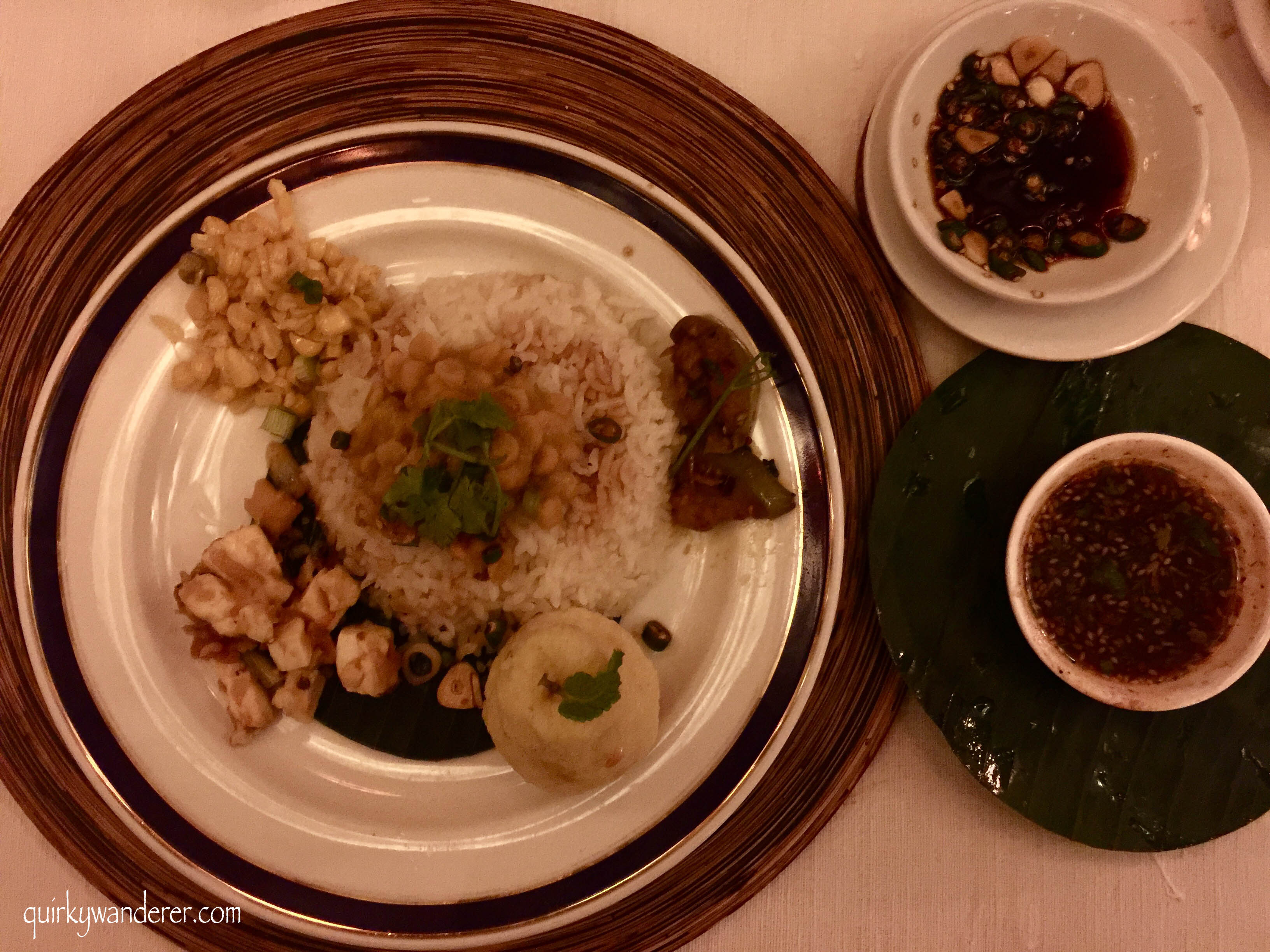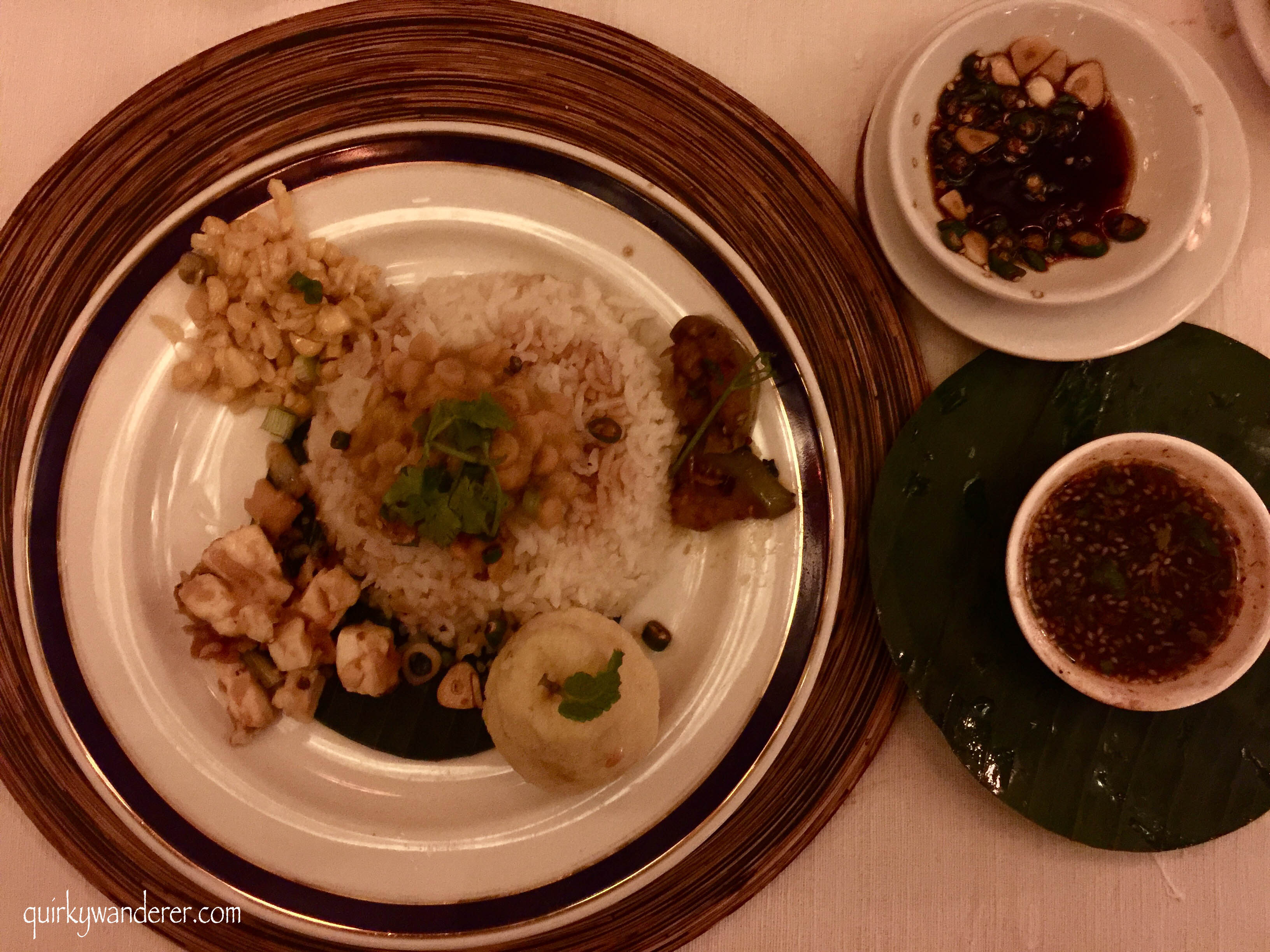 Burmese love their tea: Walk around in the streets of Myanmar and find tiny, unpretentious tea houses dishing out cups of Burmese tea, made out of condensed milk and served in tiny white cups.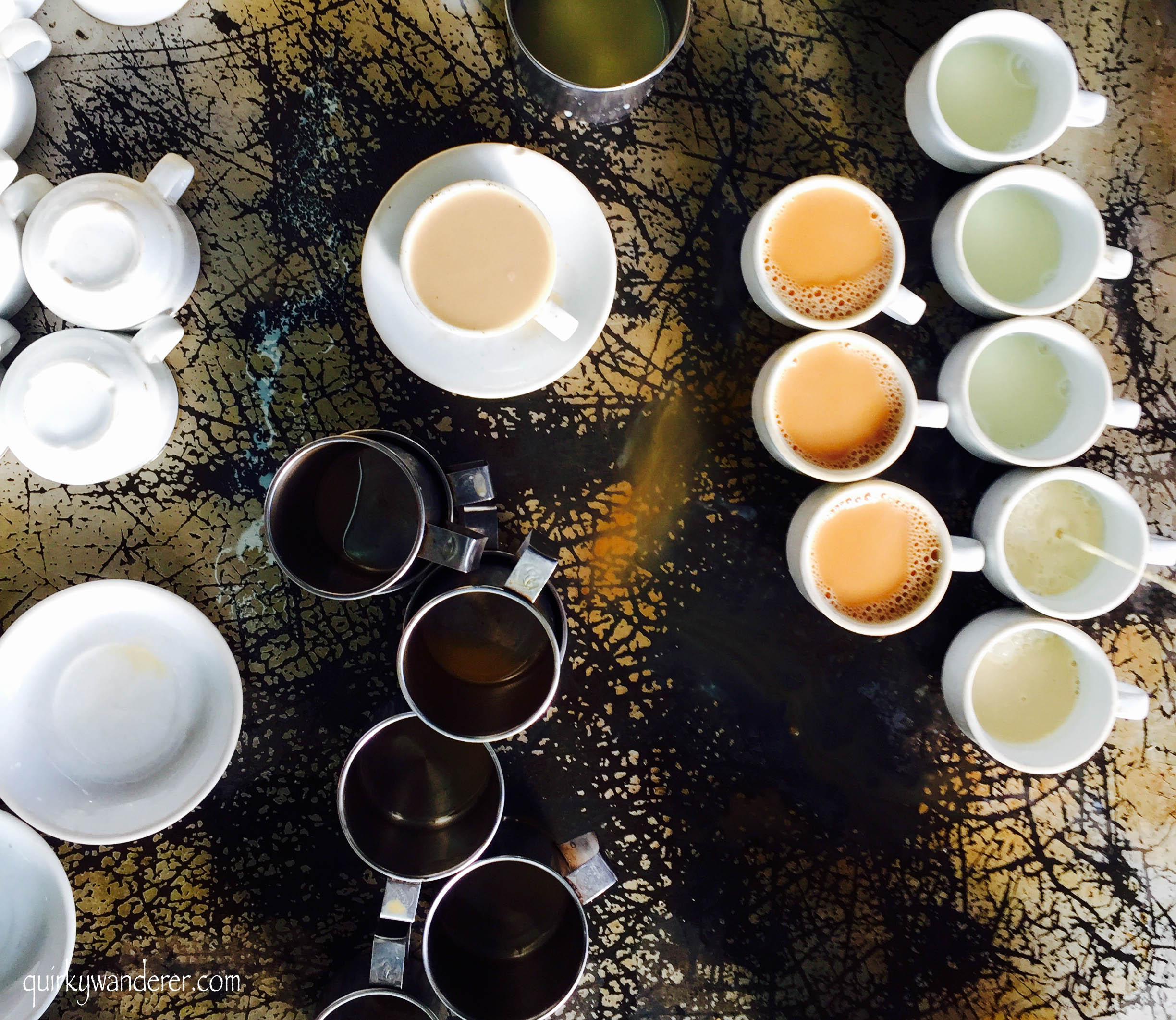 Laiphet ( tea with condensed milk) is usually served with mildly sweet pancakes.
Bagan and its love affair with Tamarind: Bagan is famous for its tamarind and jaggery sweet called 'tamarind flakes'. These are melt in the mouth layers and make for ideal souvenirs to take back home.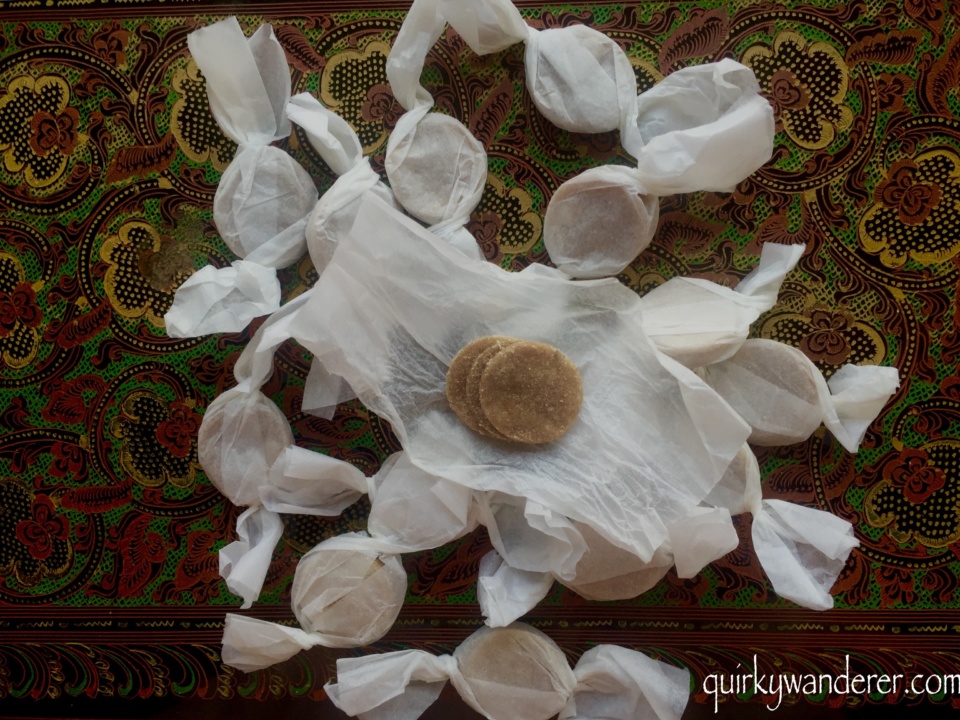 All over Bagan, loose tamarind candies are sold by vendors.
Street food is cheap and offers tremendous variety.
Vegetarian snacks and starters are available by and large. Fried assorted snacks can be found at most of the street stalls. These include Rice dumplings, pancakes and the likes.
A definite must try is the Mont Lin Ma Yar ( rice pancakes made in round moulds, fried with oil and topped with chickpeas and onions). This literally translates into the 'Husband and wife snack' 😀
Starters include Fried Tempura, Rice Crackers.
Burmese desserts aren't too sweet. Most restaurants serve Sago pudding, semolina cakes, pumpkin puddings and Banana cakes.
In-flight food is light and absolutely delectable: You are unlikely to get local food in your domestic flights in Myanmar. But because the duration is mostly less than 60 minutes, you are most likely to be served with sandwiches, smoothies and a bowl of fresh fruit.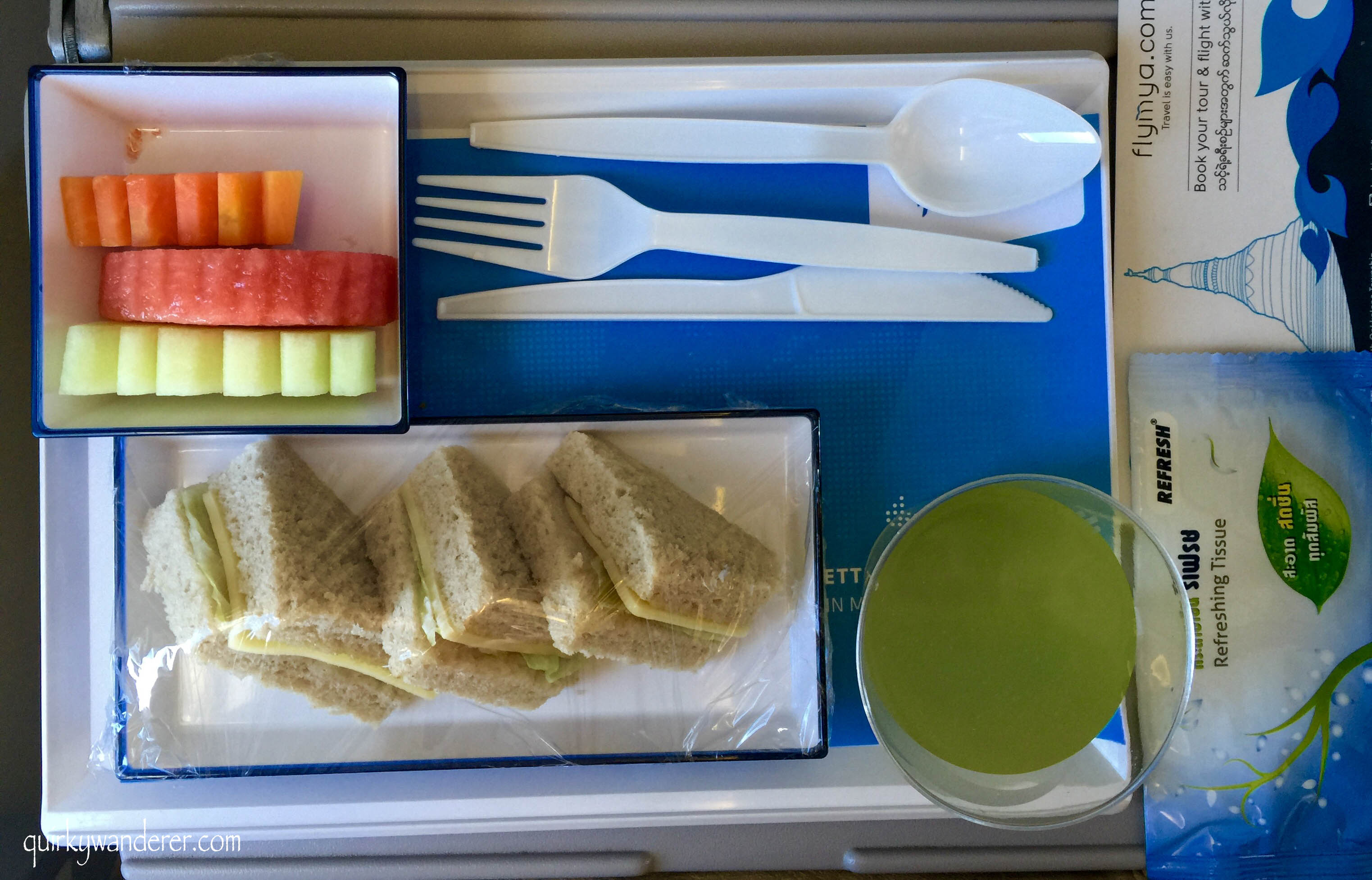 Some of my favourite restaurants across Myanmar:
Little bit of Mandalay, Mandalay : This local restaurant serves authentic Burmese cuisine with focus on local dishes from Mandalay.
My meal consisted of Mock meat: Beans Athatu, Assorted mix veg (Thi sone nut ), sweet and sour yellow tofu (Tophu Chochin), Long bean salad ( Pe taung Shae thoe), Radish potato and carrot ( Thom myo a young chel ), Moong cake (Lah mont) a Mandalay delicacy.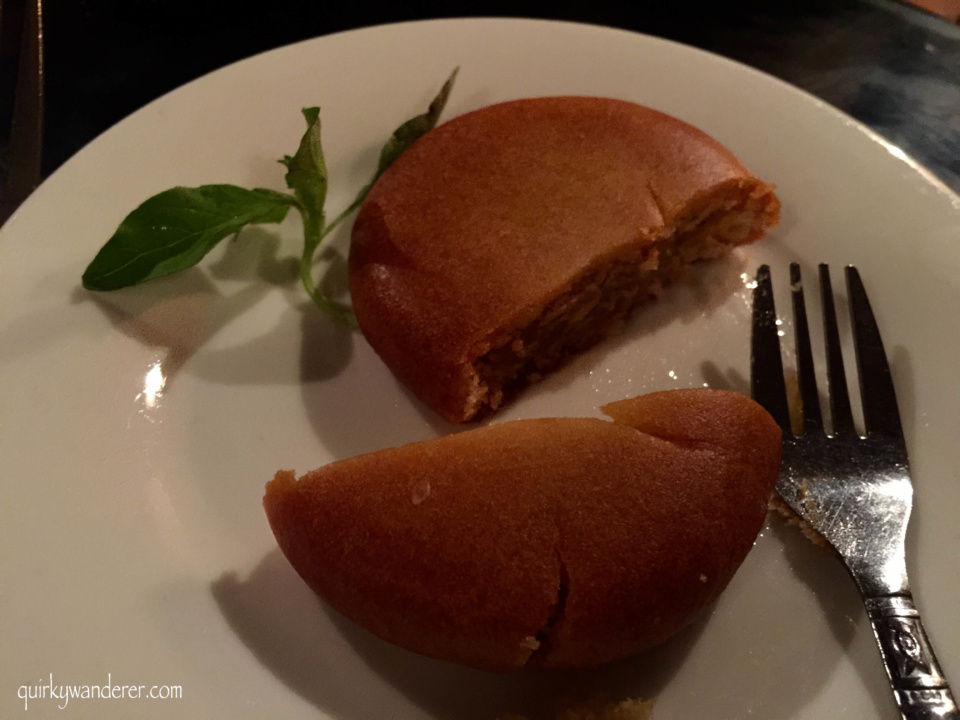 Green Tea restaurant, Pindaya:
This restaurant near Pindaya caves offers a wonderful lake view and fabulous meals.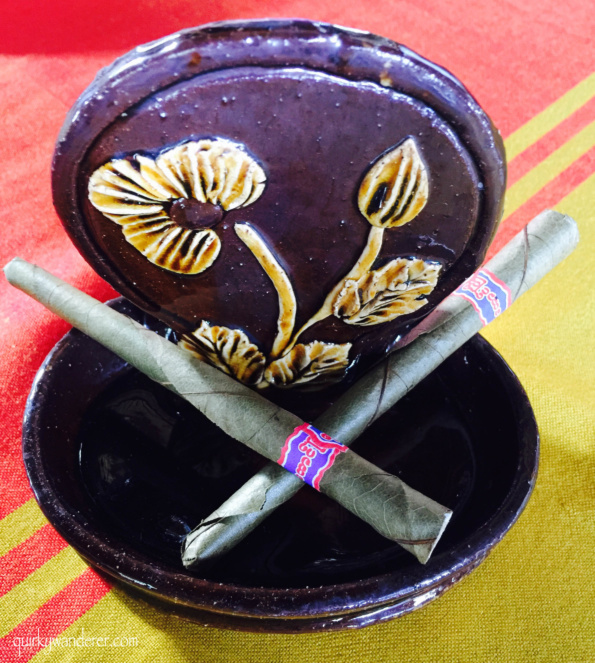 Karaweik Palace Restaurant, Yangon
A palace set up, with ornate interiors, buffet-style dinner with live traditional Burmese dance performances. Totally worth the Kyats you spend. Full post on this place coming soon.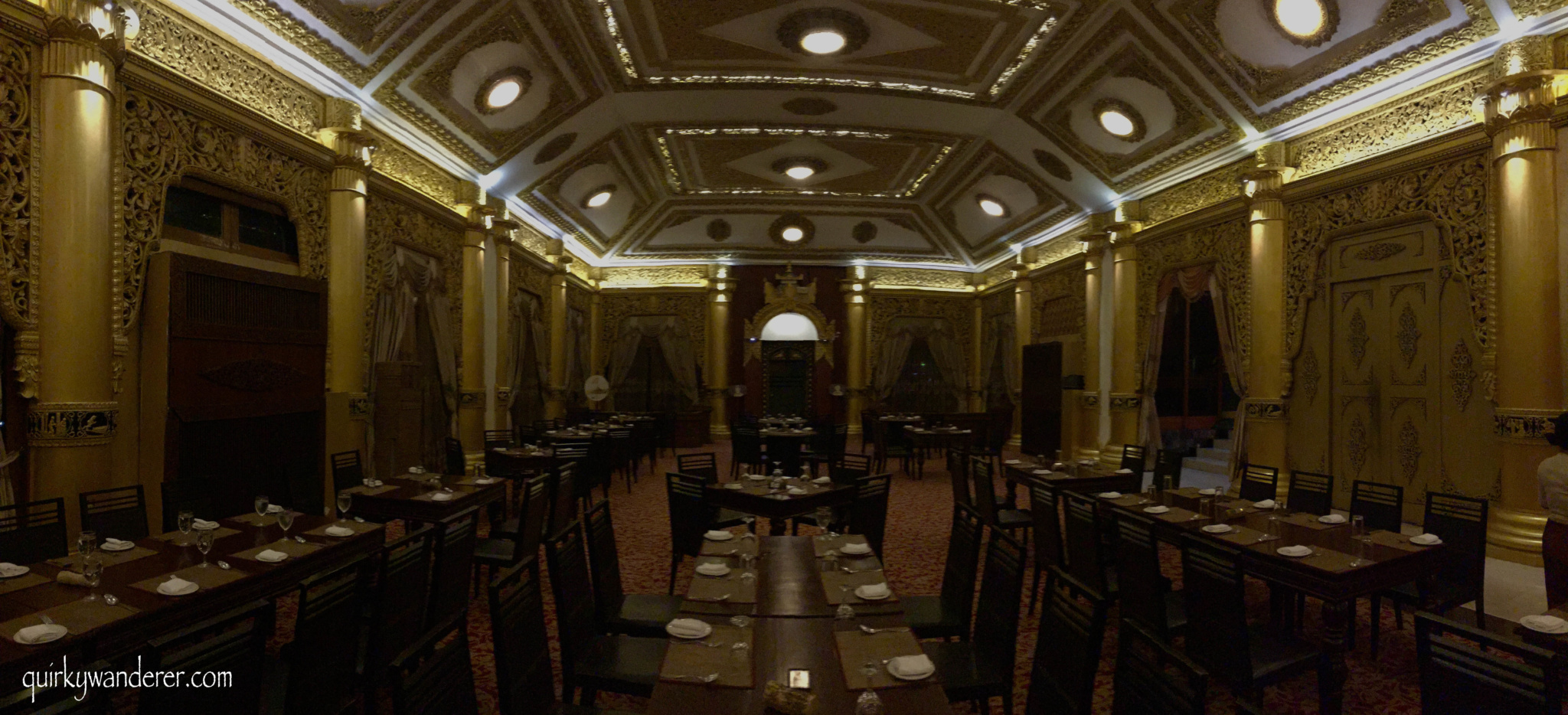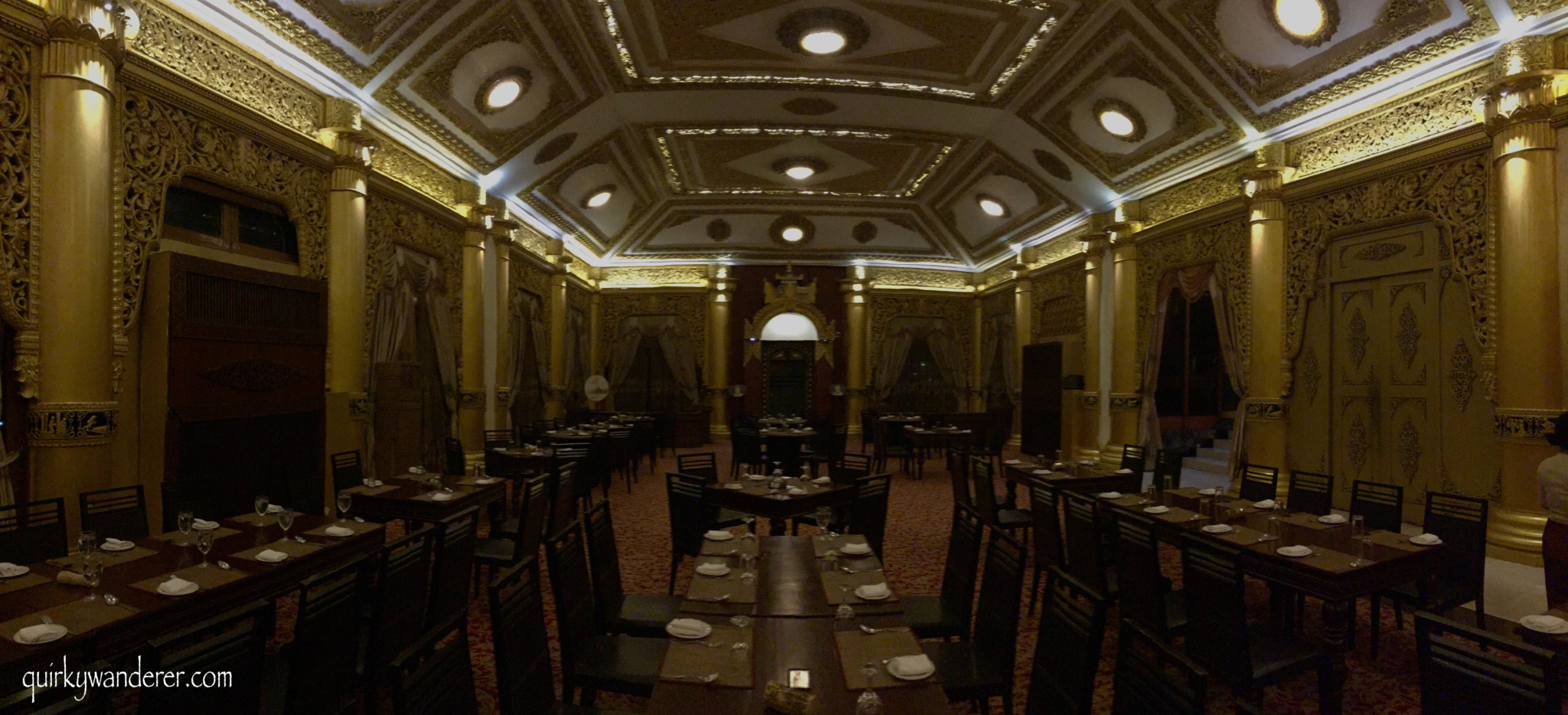 So when are you traveling to Myanmar just for the food?
Make sure you have read about the Best in Myanmar before you head out.
P.S: You can safely ditch the Theplas! 🙂
P.S.S : A big thank you to my guide in Mandalay, Mr. Minn for helping me with the Burmese names:)