A misty morning and the winter chill welcome me as I stuff my numb hands deeper in my pockets. The outline of greenery in the fog becomes clearer as I walk past the entrance of the Keoladeo National Park.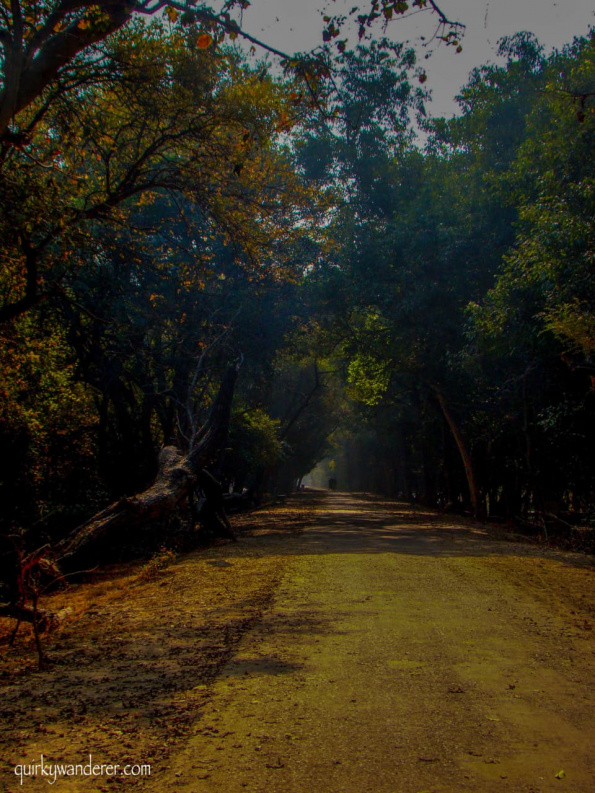 It is the month of January and the place is exceptionally quiet with the occasional chirping of birds and just a handful of tourists.
Cycle rickshaws are lined up in the compound, with each driver having a registered ID. Having done my homework impeccably well, I promptly ask for Devi Singh, the guide online reviewers raved about.
They don't bat their eyelids, like they aren't surprised at all and point to a man sitting under a tree, immersed in a birder guide book.
Ten minutes later, I am left in awe of Devi Singh's knowledge of birds.
We walked through the park with marshy wetlands on one side and dry, grassy patches on the other. Devi constantly on the look out, his eyes peering into the foliage.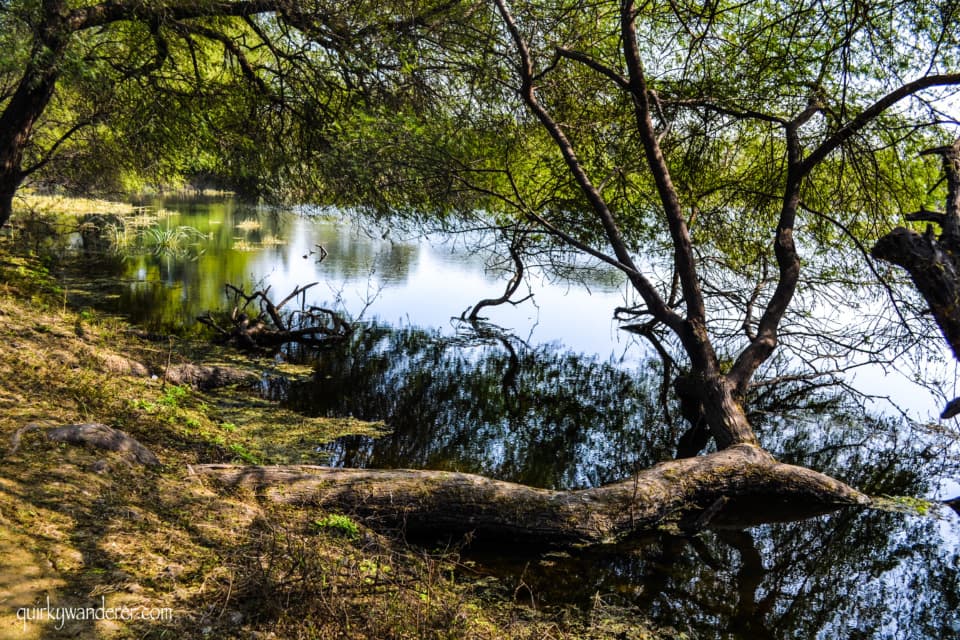 The Keoladeo National park  is a paradise for amateur birders. With over 250 bird species (resident and migratory), it acts as a great learning centre for those who wish to learn about birds and their habitat.
Our first sighting is of the White-throated Kingfisher, perched on a tree amidst the wetlands.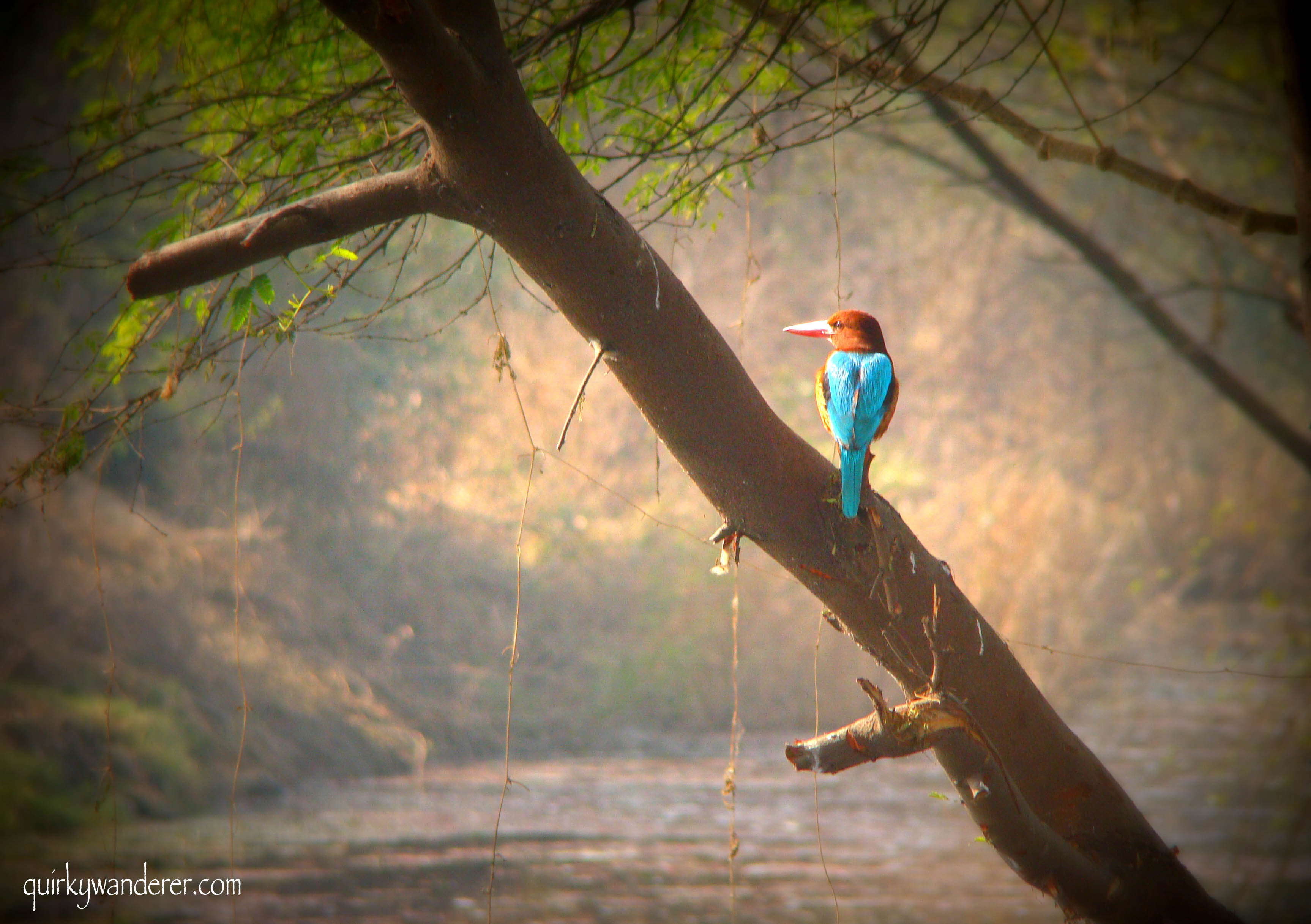 Devi walked through the foliage like a pro, calling out to the birds and explaining about the habitat.
A variety of Kingfishers:
The water in the Keoladeo National Park  is routed from the River Chambal and this park allows avid bird enthusiasts to cycle through or walk across the park in sheer wilderness.
People who cannot walk can hire cycle rickshaws where the drivers double up as guides.
There is no way one can get lost here. One straight path under tree canopies leads the way and there are several perpendicular diversions.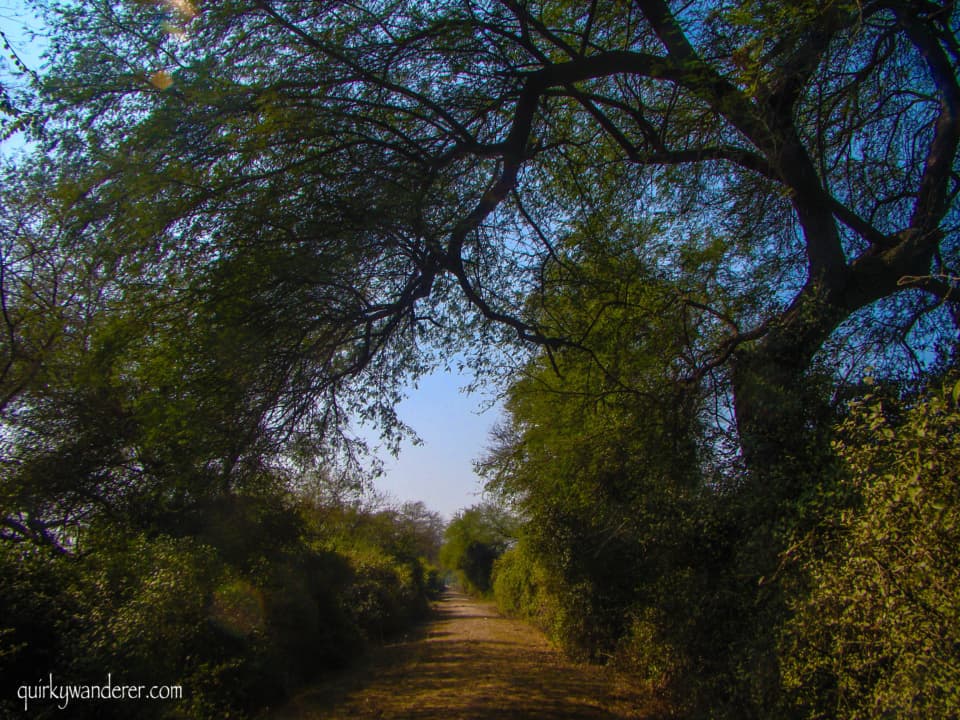 Pond herons take small flights and several grey herons can be seen in the water bodies.
The migratory season is November-February with varied species of birds flying to the Keoladeo park. I am stunned to see the enormous colony of painted storks, huddled together, perched on trees. They gave ample time to the photo enthusiasts with tripods to observe their feeding patterns and click every movement.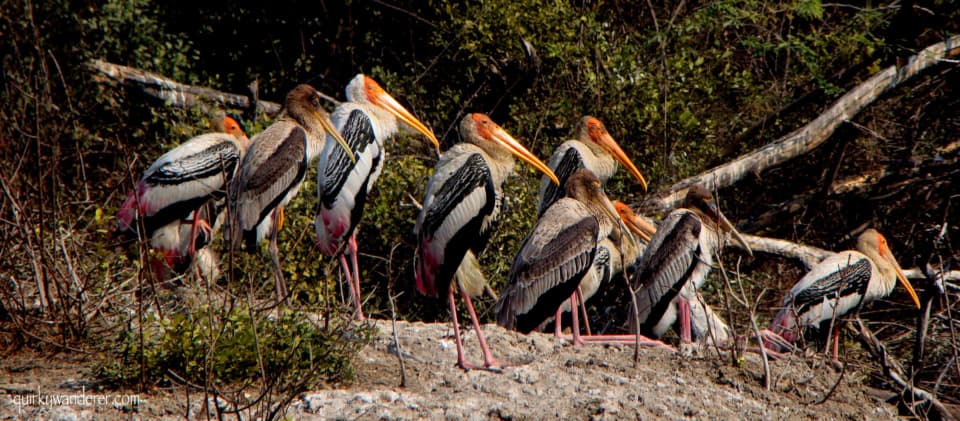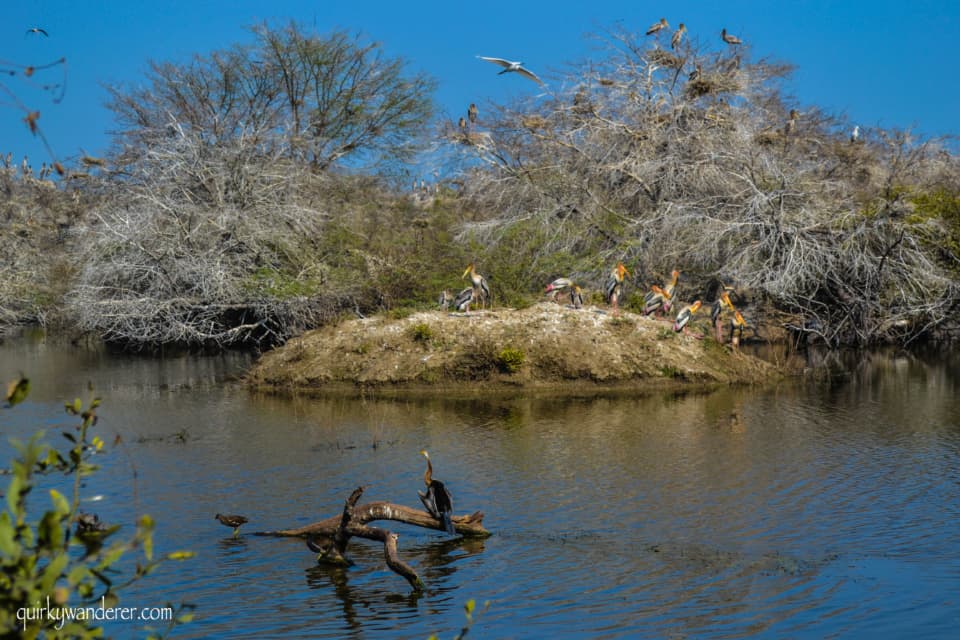 Devi seems to communicate with the birds in a language known only to him. He calls out to them and knows exactly where they reside. You cannot help but smile at this camaraderie. 
While a flock of Spoonbills frolics in the ponds, a Snakebird sunbathes with its wings left to dry and a pair of Pelicans glide away merrily, I marvel at the picturesque landscape.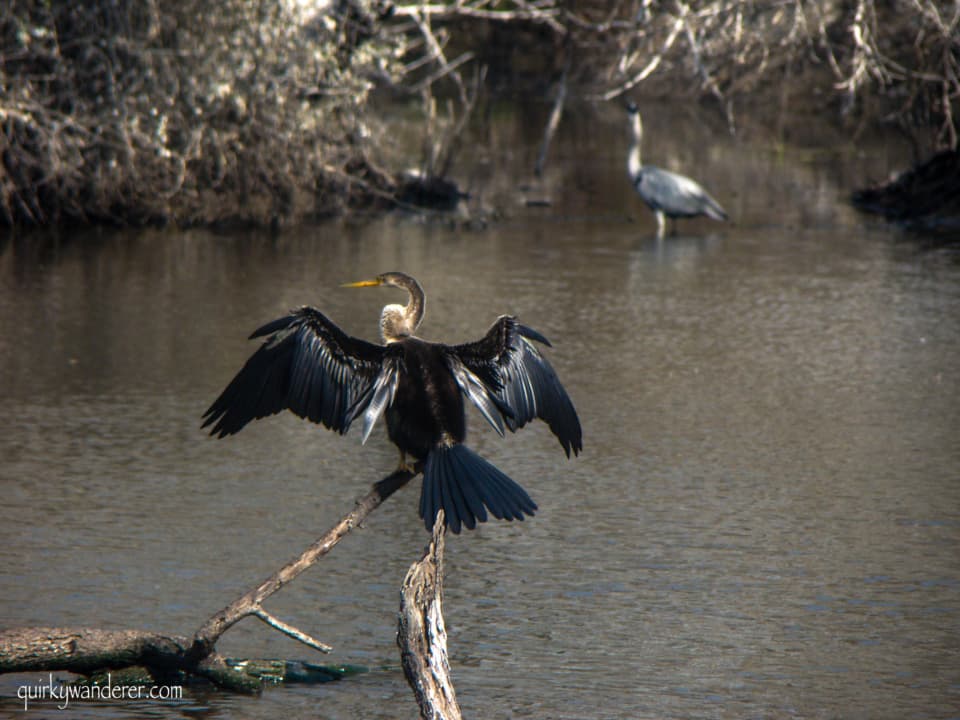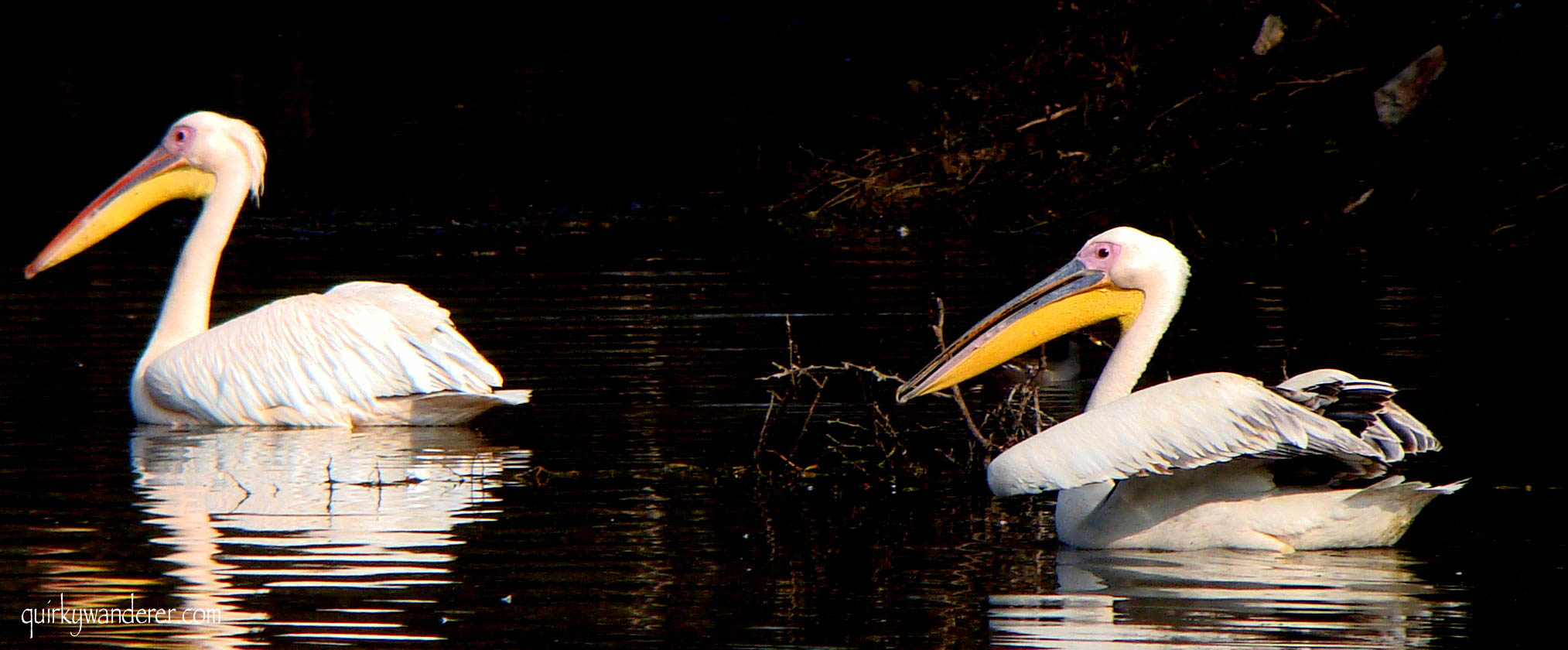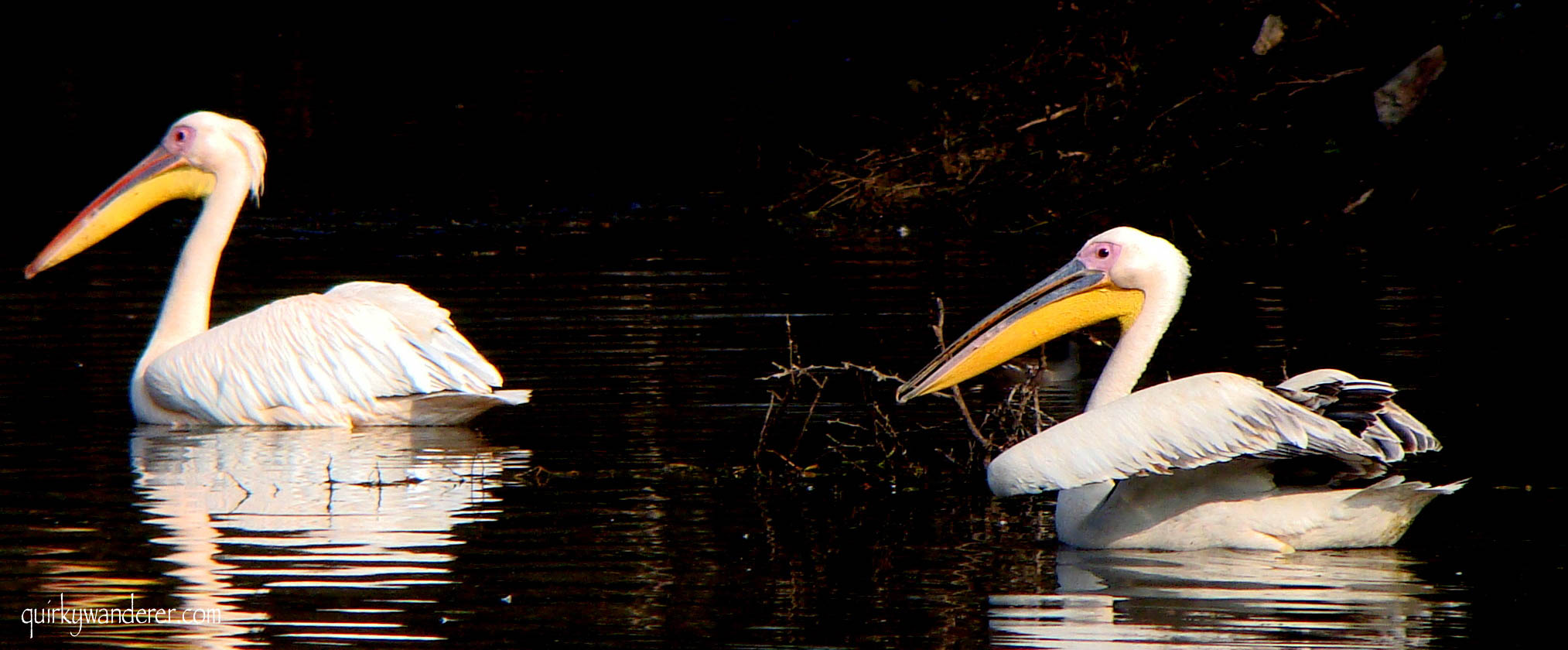 It is a different world. A mosaic of dry and wetlands. The incessant chirping of birds and the whistling of trees.  The rustling sound of treading on dry leaves completes the scene. Nature's very own playlist.
Our next sighting is a sleepy Spotted owlet, perched on the tree, watching us keenly with one eye open.
The name Keoladeo is derived from Lord Shiva's name: Keoladev. There is also an ancient Shiv Temple in the premises.
Besides the birds, Keoladeo is a treat to the eyes for nature lovers.
One can stroll around, soaking the serenity of the place, watching the mesh of trees sprawling in the water, with glistening reflections.
The next hour is eventful.
I almost let out a gasp as I see a Monitor lizard dangling right above me, lazying on a tree branch.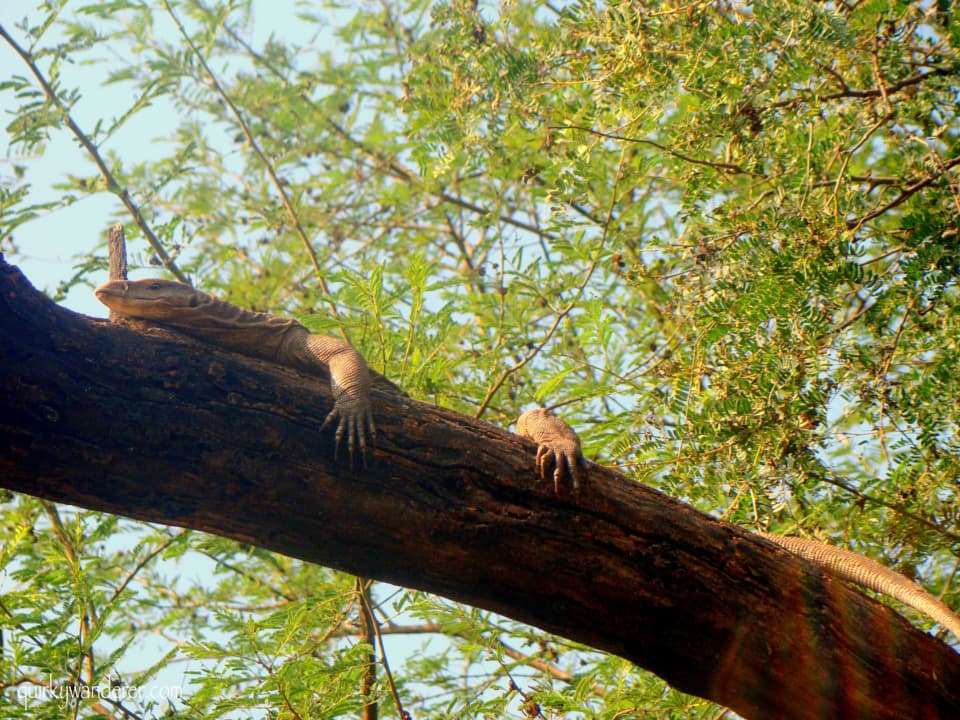 Before I recover from the shock, Devi Singh quickly distracts me and shows me a python cuddled up next to a bush.
If he hadn't pointed it out, probably I wouldn't even notice it. It was so well camouflaged!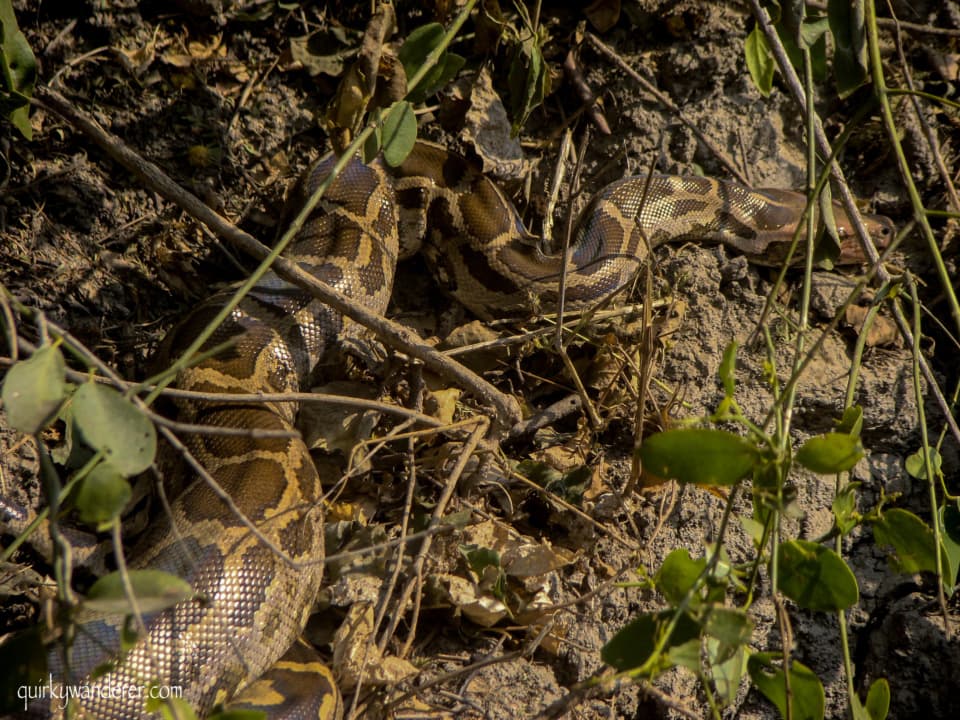 It is time to bid adieu to this wonderful landscape, the magnificent grasslands and all the flying beauties.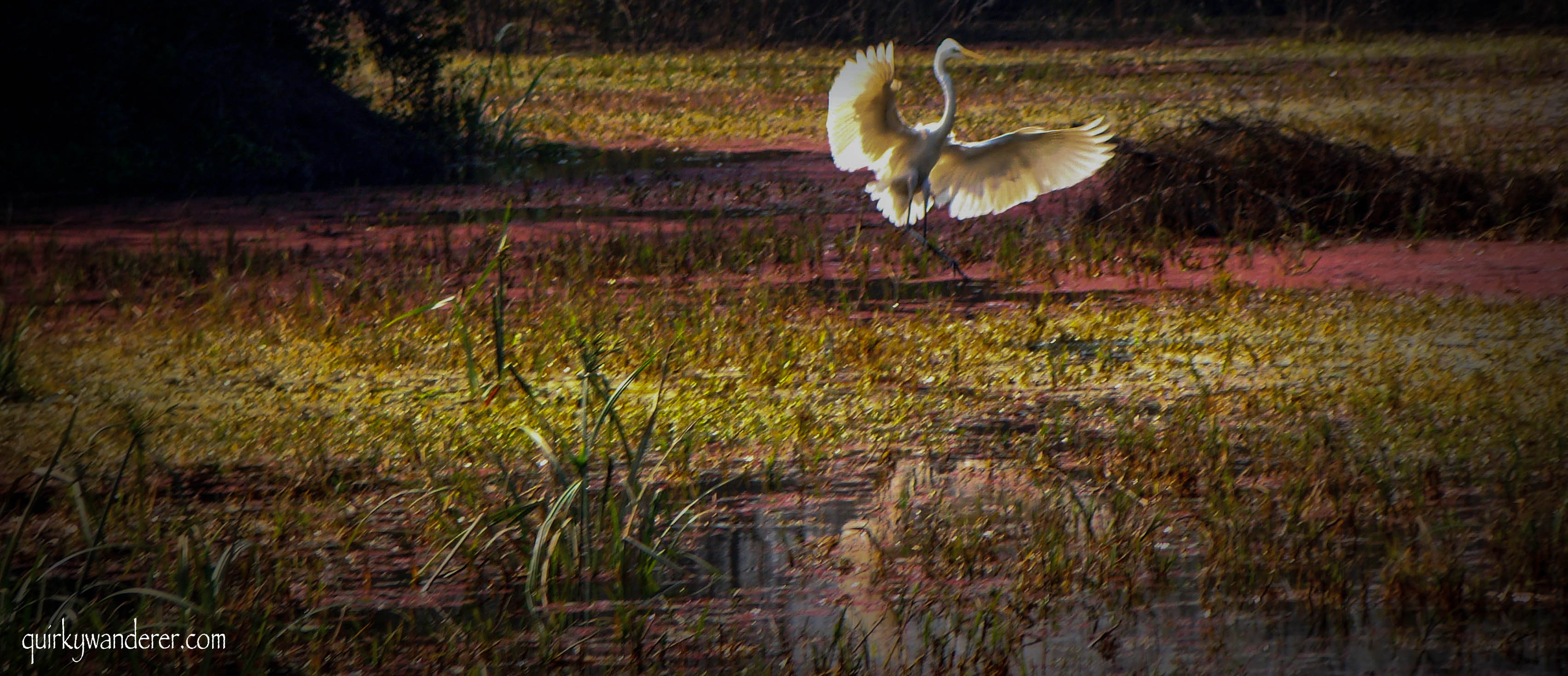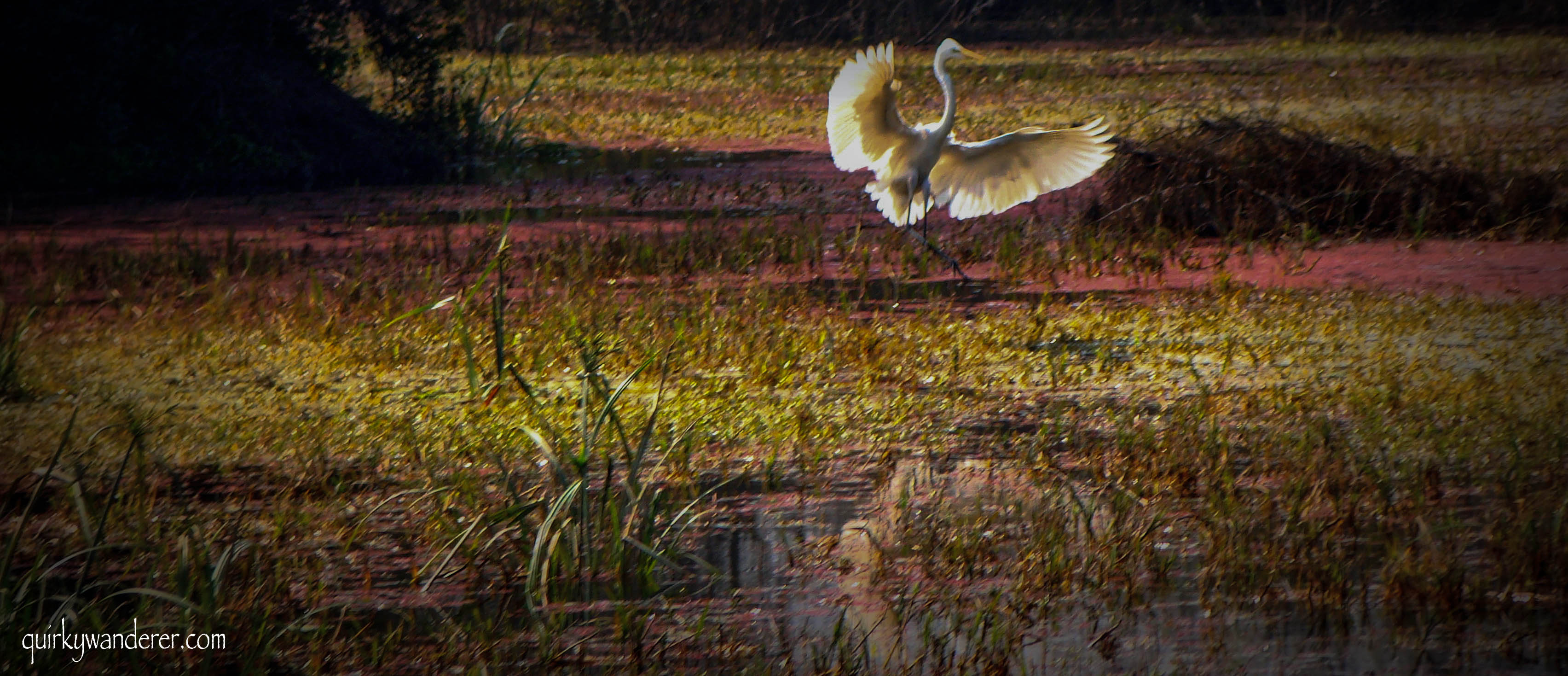 I leave with a promise to return next winter.
As they soar above me, I smile, wishing them a "Bon Voyage" to wherever they are heading.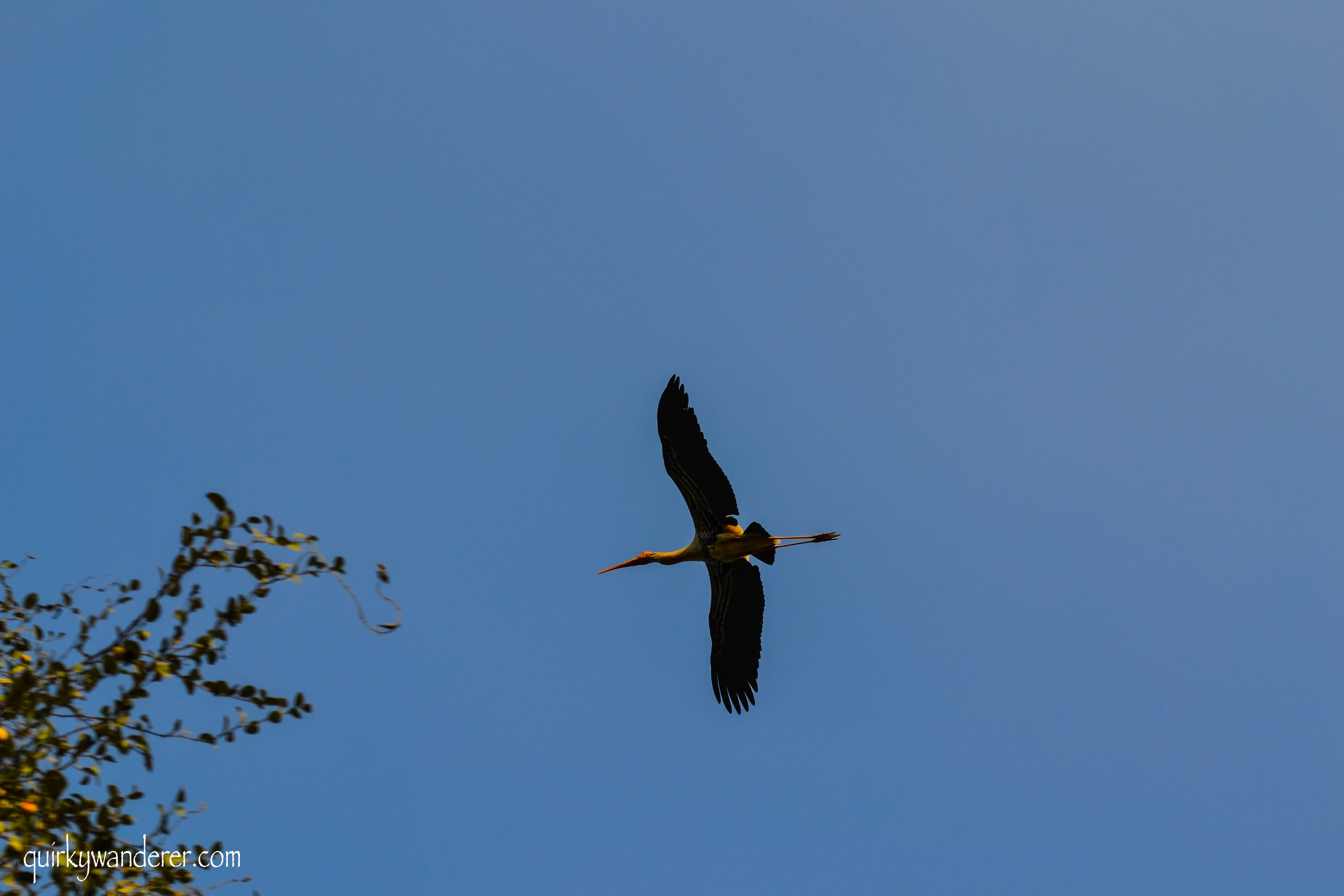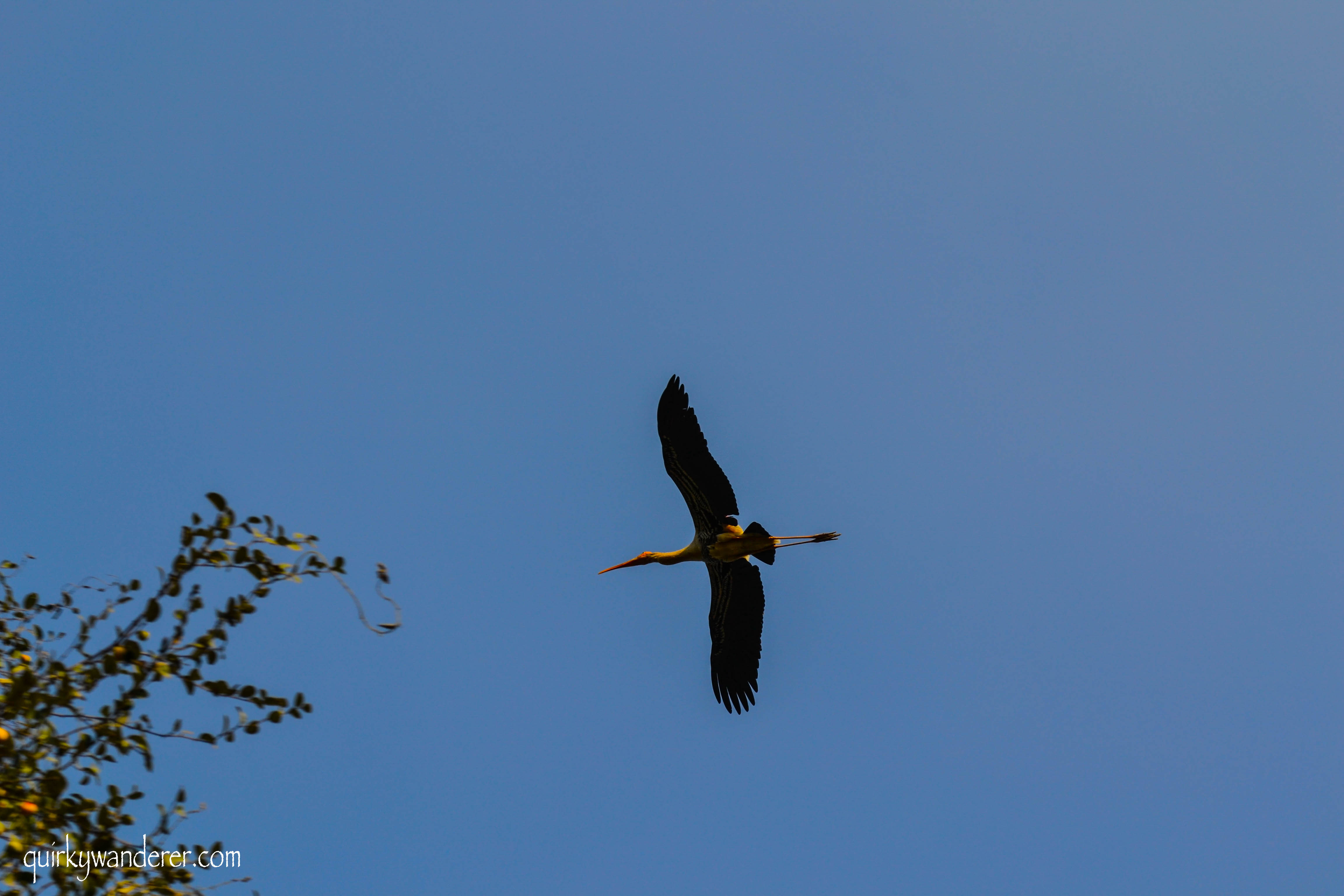 Best time to visit:
The migratory season of the birds is during winters. Best time to get maximum possible sightings is from November to February. Make sure you book your air tickets to Jaipur or Delhi in these months or train tickets to Bharatpur.
Expect to see:
Water Birds:  Varied types of Herons, storks, teals, ducks, cormorants, shovelers, sandpipers, spoonbills, Pelicans and Ibis.
Land birds: Bee-eaters, Kingfishers, Eagles, Green pigeons, Warblers, Babblers, Quails, Chats, Francolins, Owls.
Mammals: Nilgai, Sambhar deer, Bengal fox, Jackals, Indian porcupine, Mangoose, Hyenas, and Civets.
Best time for birding: Early morning and right before sunset.
Winters provide umpteen photo opportunities despite the fog.
Food: You can ask your Guide to get your family a packed lunch inside the park.
The lunch comprised of simple yet delectable Indian food: Rotis, Rice, Paneer matar and Dal Tadka.
This is extremely convenient as you can continue clicking without having to go out of the park for lunch.
How to reach:
Keoladeo National Park makes up for an ideal winter weekend getaway from Delhi.
Others can scout for air tickets to Delhi and head to Bharatpur via the Expressway: 183 KM.
From Jaipur it is 191 Km and 58 Km from Agra.
Entrance fees:
The ticket is Rs 200 per foreign visitors and Rs 75 for Indian visitors.
Clothing: It is very important to know that bright coloured clothing is a strict no no for birding and it is best to wear earthy colours to blend in the environment. Here is a list of trousers you can wear in the outdoors!