"The road to Chitwan National Park might be a little bumpy ", warned Narayan, our driver. "Last month's floods have caused quite some damage". 
I didn't mind the long ride from Pokhara to Chitwan. Chitwan National Park, known for it's Terai landscapes and sightings of the One Horned rhino and the Royal Bengal Tiger.
The nature lover in me was happy with simple joys of timely stops in green pastures, field hopping, having a meandering river for company throughout the journey and watching the sun rays flit in and out of trees as we whizzed by.
Chitwan welcomed us with an inviting silence and a room that opened up to greenery. 
As the guide explains the program for the next day, my interest is piqued when I hear a 45 minute canoe ride.
I picture myself in a narrow canoe, rowing to my heart's delight under tree canopies and with these happy thoughts, I drift off to sleep.
Next morning the delighted me is walking with a spring in her step as our guide Deep leads us to the canoes.
And suddenly I stop.
I can't believe what I see.
Six wooden canoes are stacked together. Obviously this wasn't to be done solo.
Tiny wooden stools were stacked in each wobbly canoe and it couldn't get more rustic than this.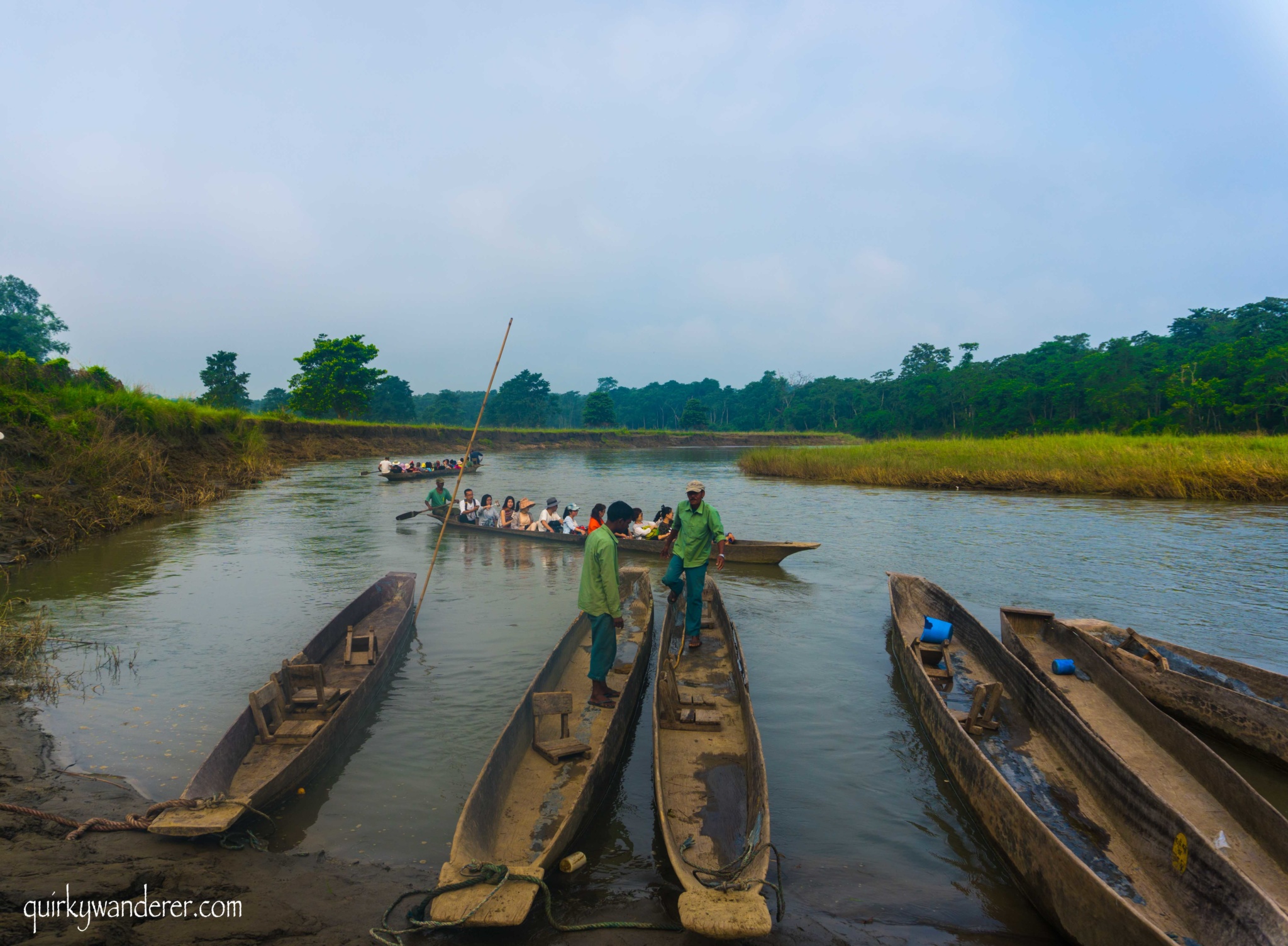 It was a wooden canoe made by villagers to cross the river. Raw, basic and a tad bit leaky!
"Err, Lifejackets? " I stutter and Deep laughs. "The river has no flow". Hesitantly , I balance precariously and manage to squat on the stool ( laughing in my head recalling what I imagined last night).
And then it began. A little bit of adventure, but lots of calm. A little bit of intrusion and so many rewards.
Six of us, led by Deep in the front and the boatman at the rear, sat in the rickety wooden canoe which slowly cruised into the heart of the Rapti river.
Approx 5 feet away, we spotted a Gharial, gliding on the parallel side.
My heart was now beating faster. This was the first time I saw a crocodile in such proximity!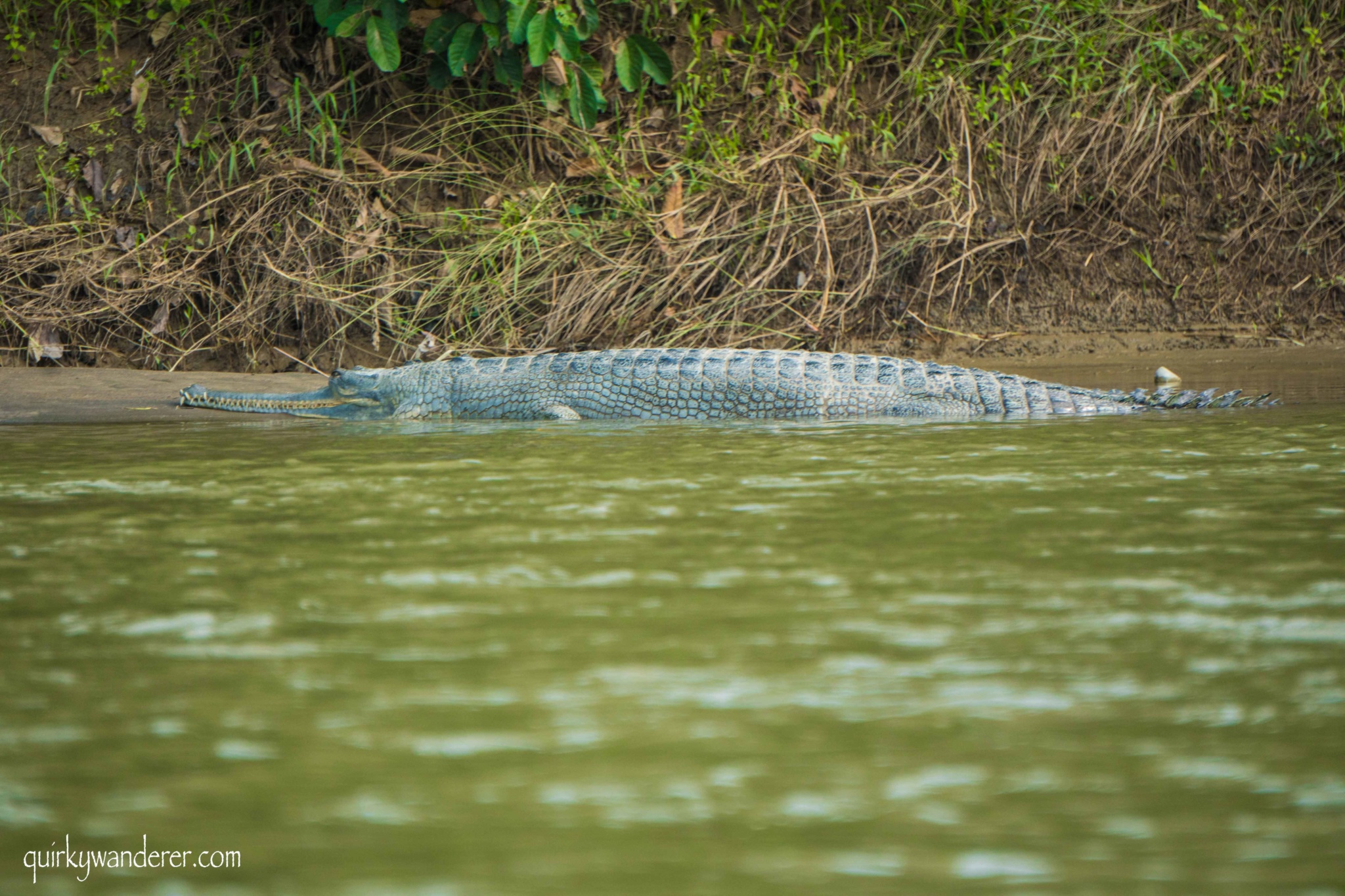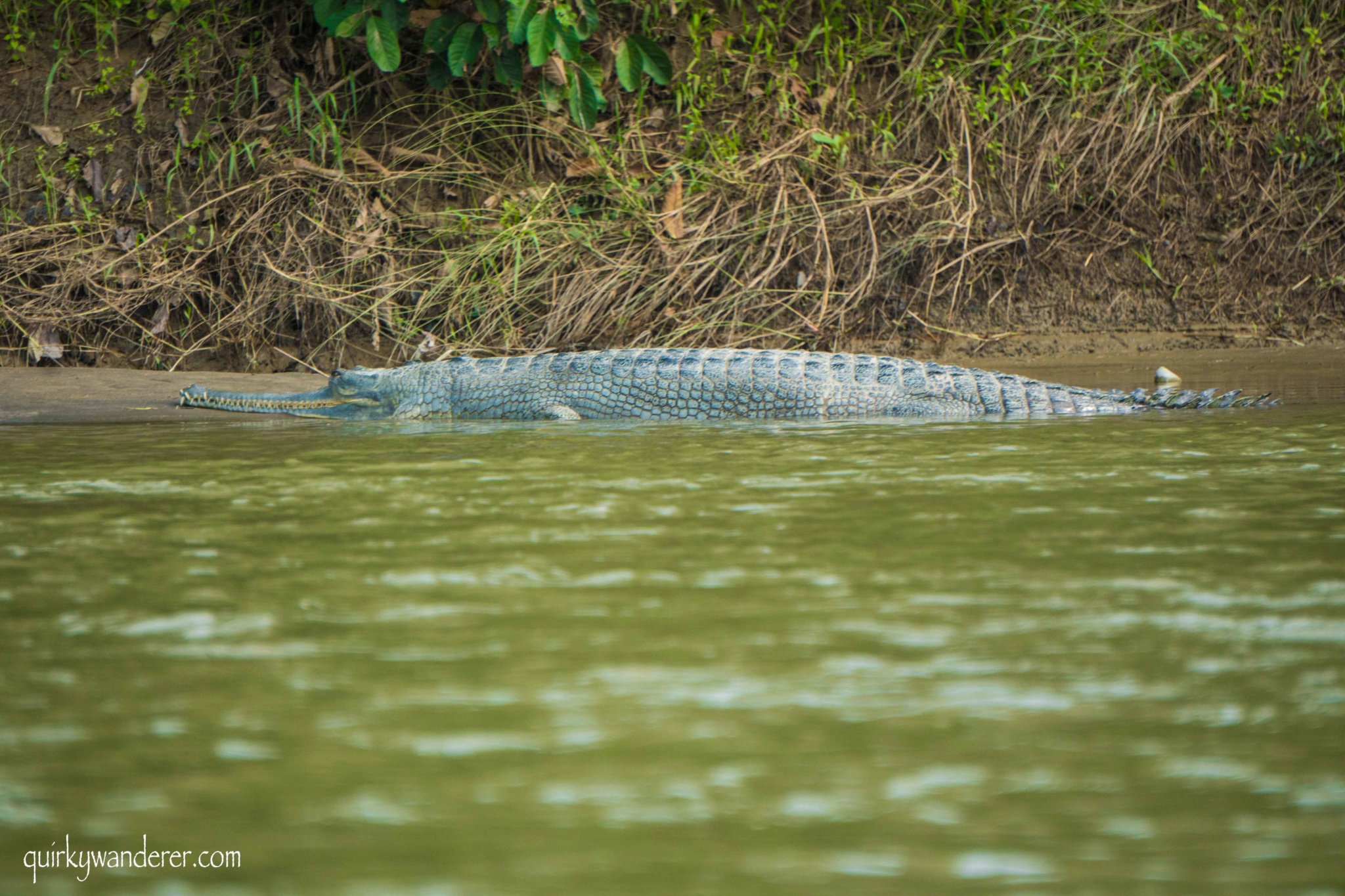 Sitting in the low canoe gave a surreal feel to the experience as we saw our second crocodile, a Mugger crocodile, nonchalantly eyeing us through its glistening  marble eyes.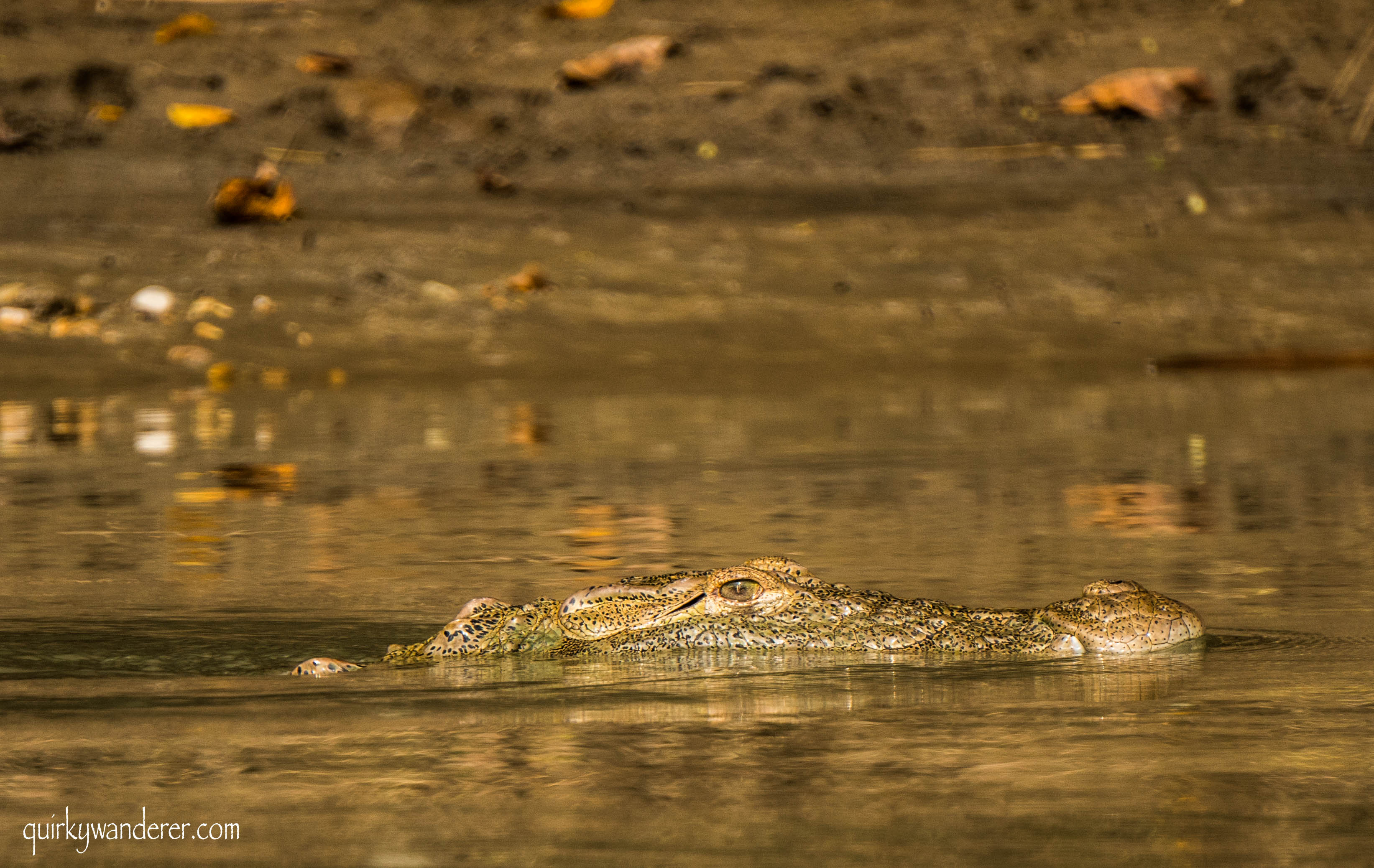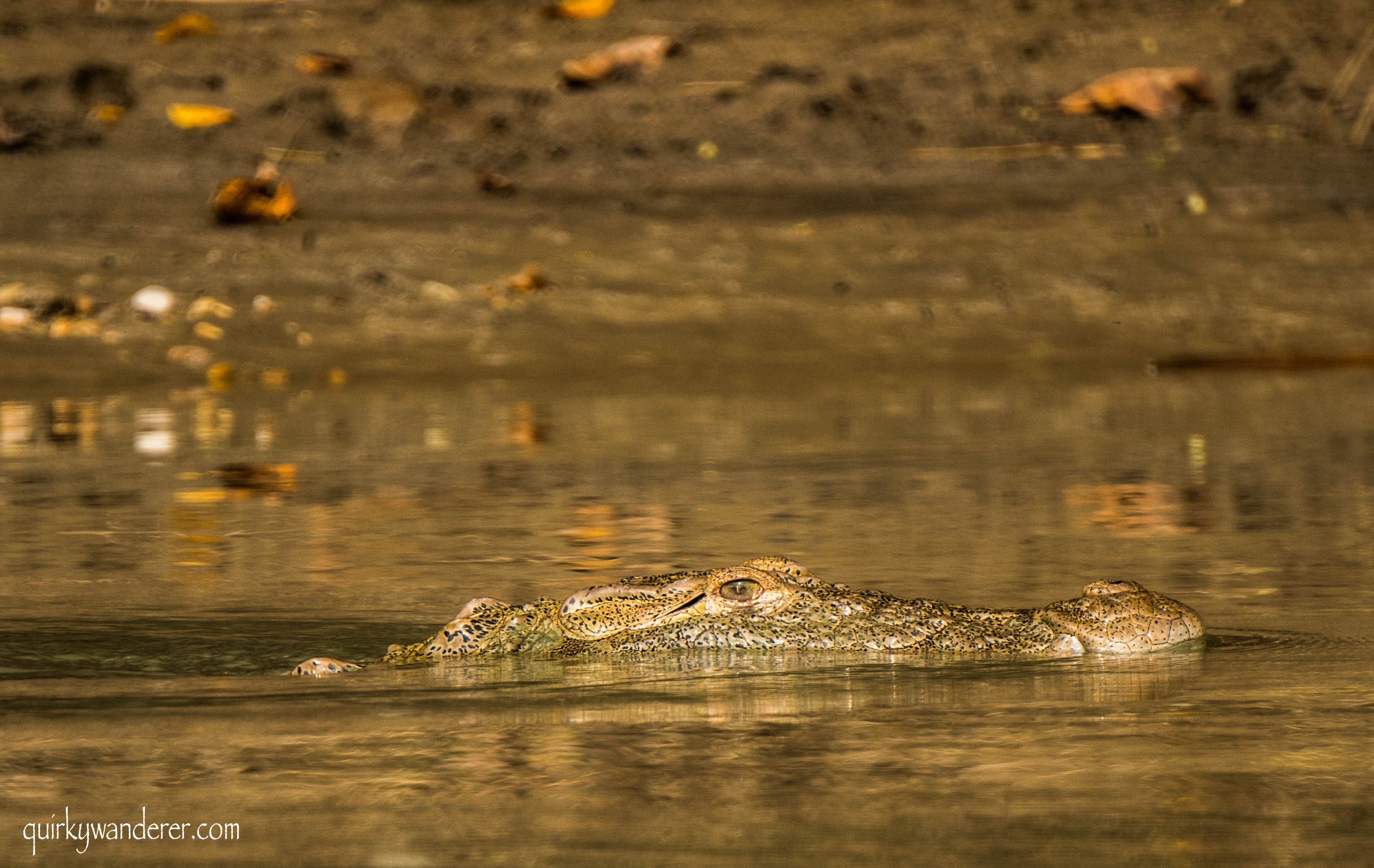 Ten minutes later I lose count of the
Gharials and the Muggers.  
The muddy waters of the Rapti river were flanked by forests where spotted deer scurry playfully and monkeys scout for fruits.
Imagine how nature welcomes its intruders. With impeccable silence, punctuated by the sounds of the oar and sights like these!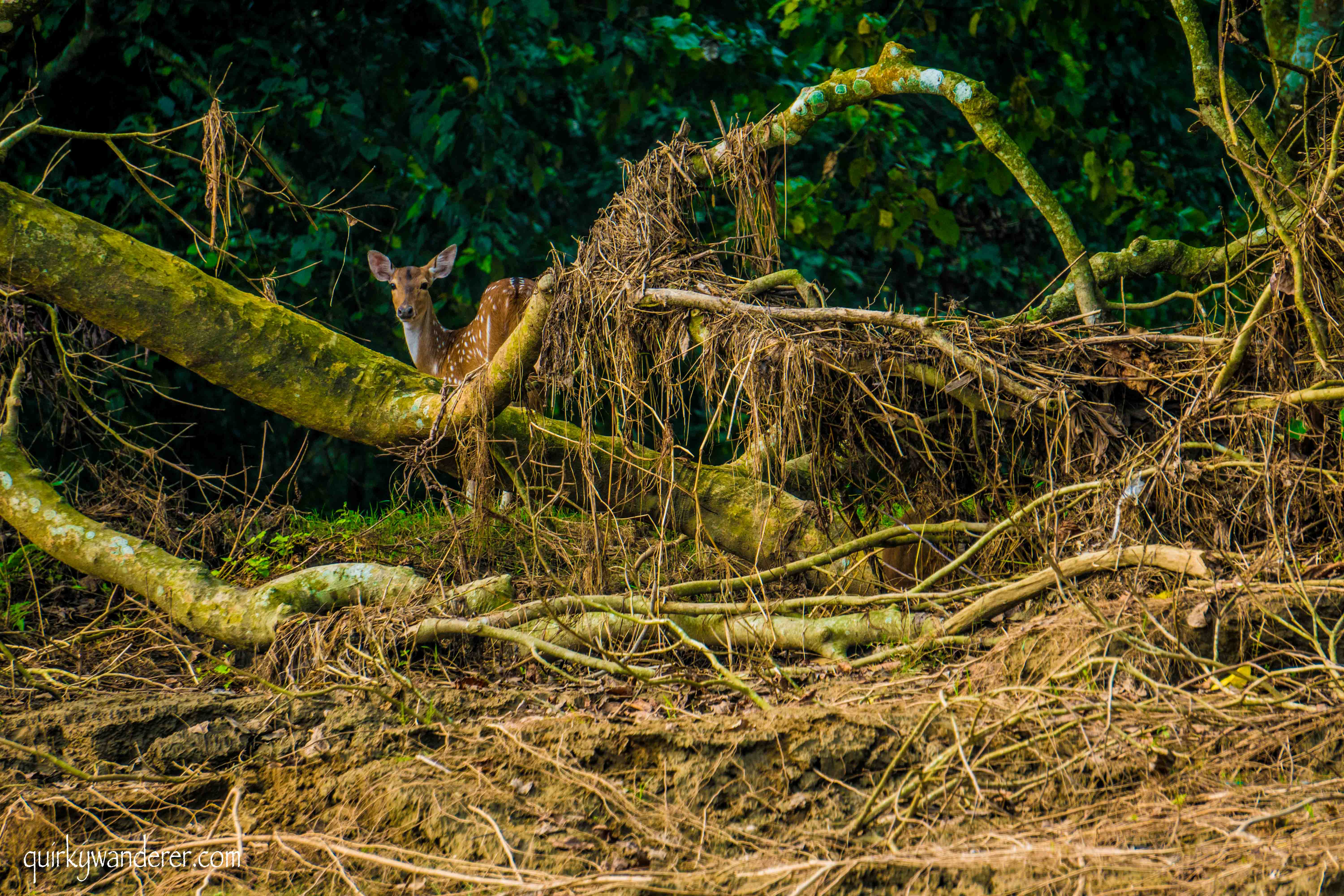 The birds weren't to be left behind. (There are 544 species in Chitwan National Park!)
Among the list of feathered beauties were a bunch of restless Sand Martin Swallows, a majestic Asian open billed stork, a gorgeous white throated Kingfisher perched on a branch, a Rufous treepie, A common greenshank, a white browed wagtail , a couple of Spotted Doves and a a lone little Heron.
It was quite a private tete a tete, with almost no other tourist canoe and occasional passing canoes of villagers.
The feeling of gliding alongside crocodiles was something else. Adventurous? Maybe. But to my surprise it was both exciting and calming.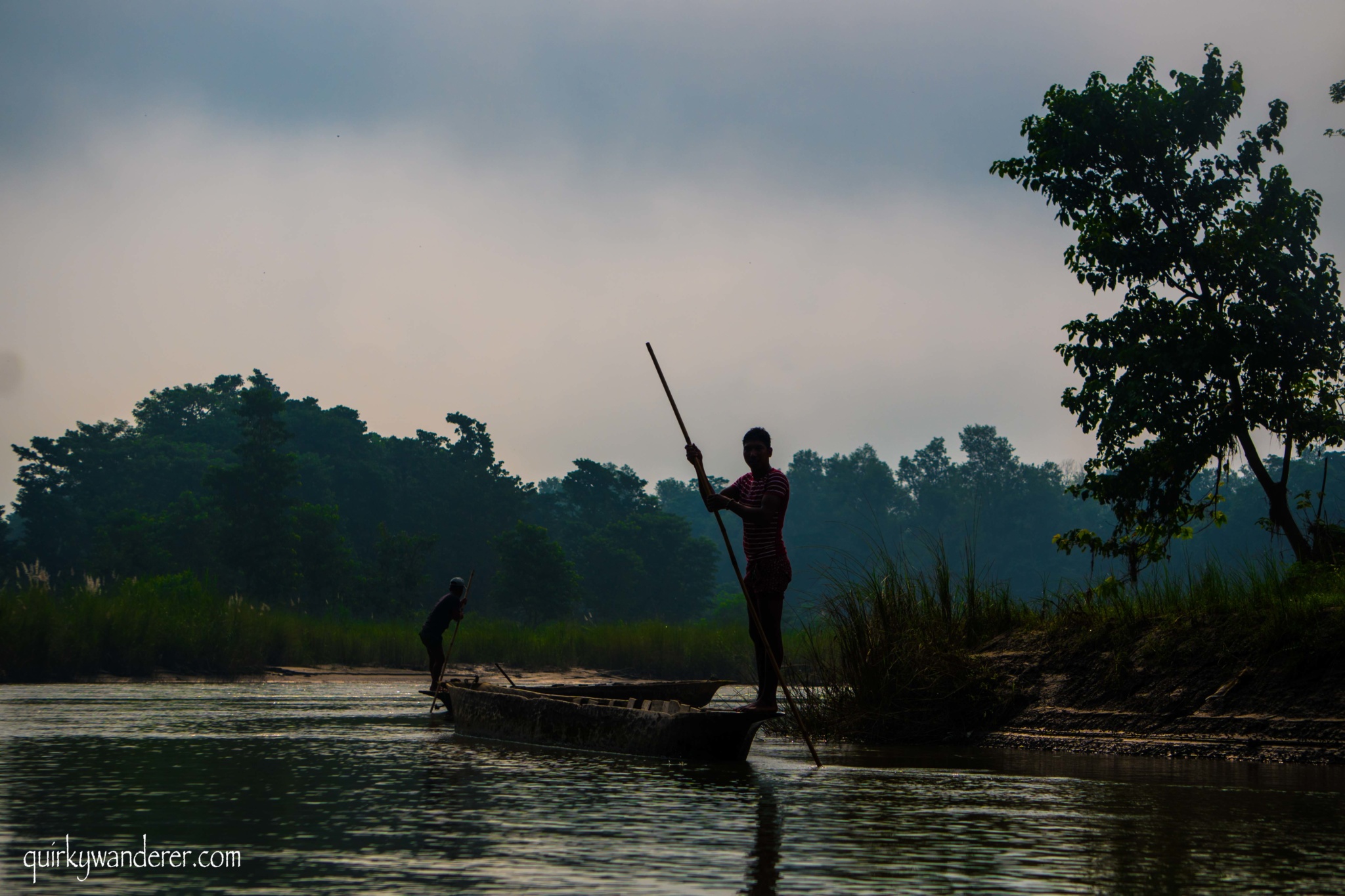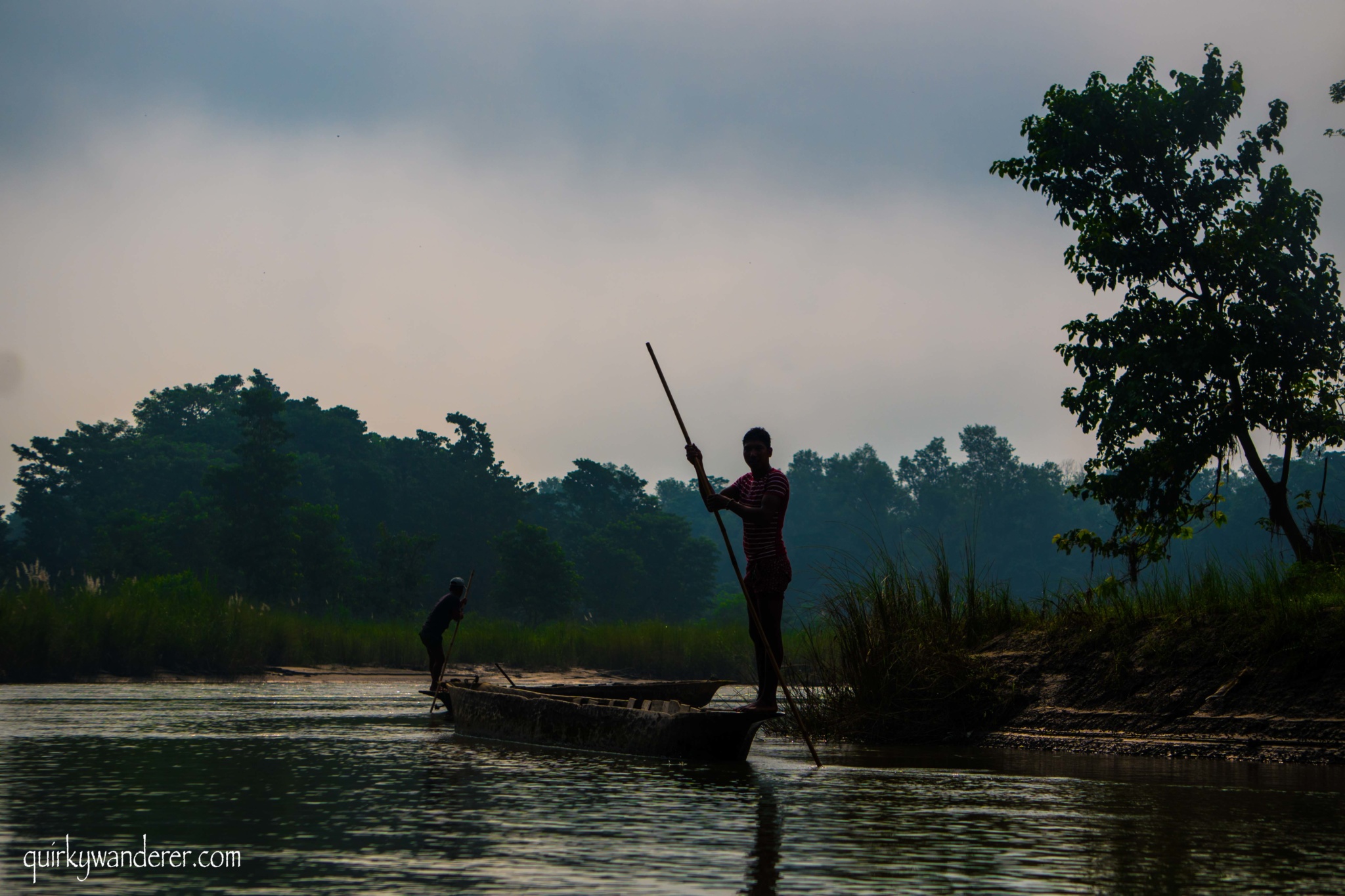 I was in awe of the beautiful scenes and lush landscapes on either side!
As the canoe reached the bank, it seemed unfair. I wanted this silence to linger, for a little more time. As I sulked, Deep grinned. "You have to see the elephants right?". On the way Deep pointed out to a tree, identifying it as the Silk cotton tree.  The bark of this tree is used to make the wooden canoes.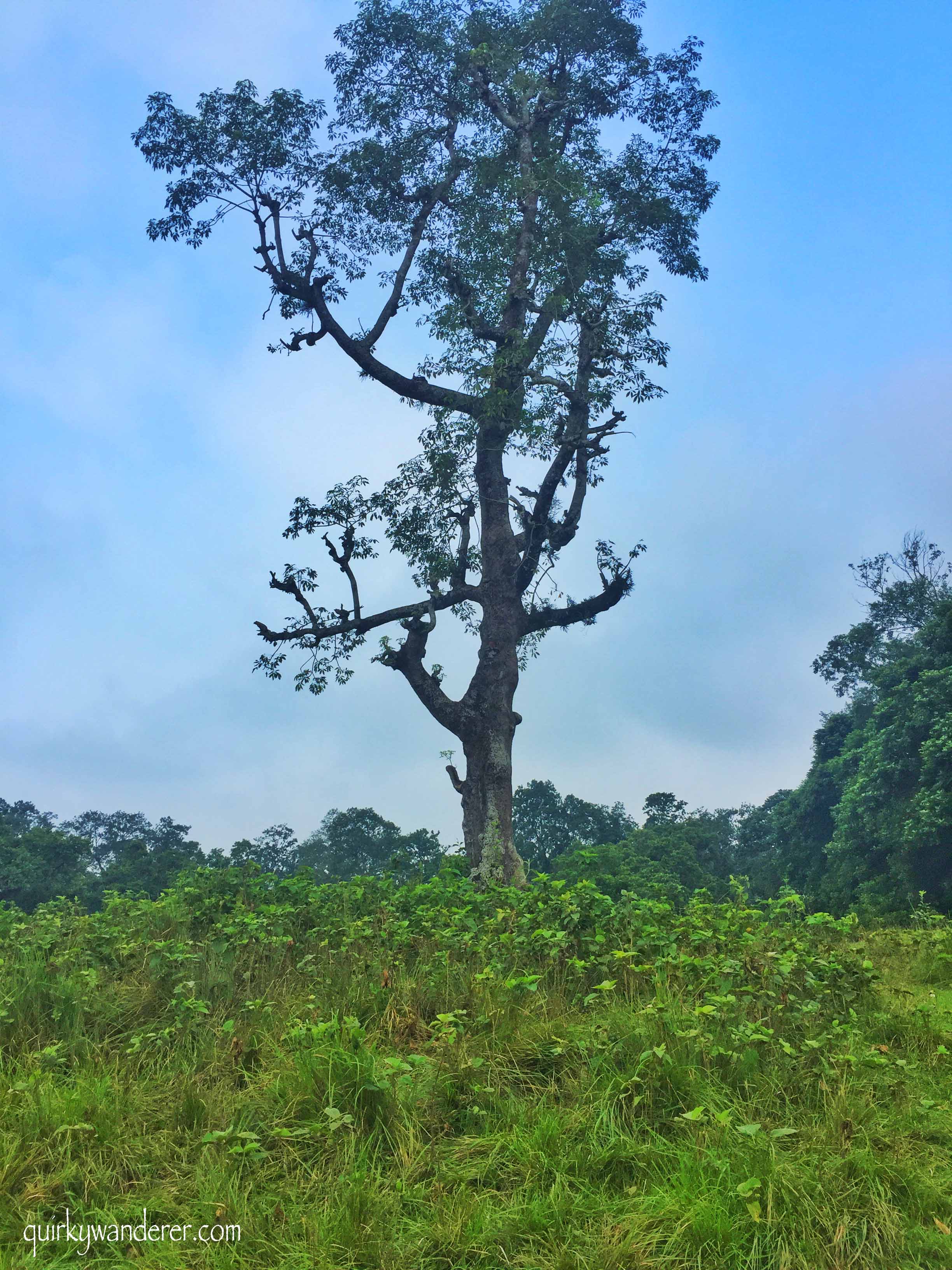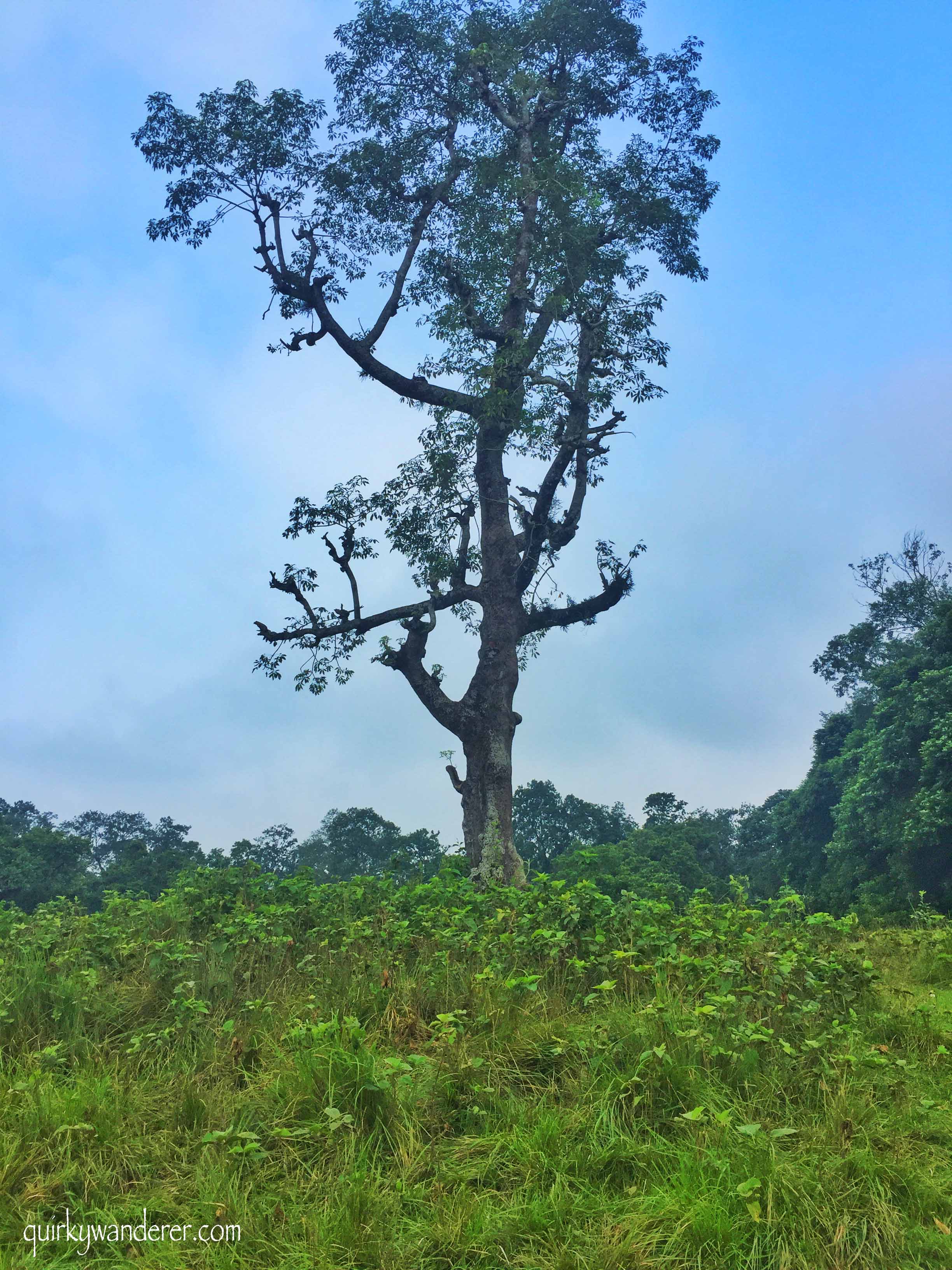 The next stop was the Elephant conservation centre but little did I know what awaited there.
I saw them at a distance. My favourite animals: swinging their trunks and tails in all possible directions. Chitwan National Park is also known for its elephant safaris but to be honest, I never had the heart to ride one. Nor will I ever. As I approached the shelter, I saw them paired : Mothers with their kids, one as young as 10 months.
These are mostly captive elephants used for safaris and the chain made my heart sink. It always does.
Standing on the fence I called out to Appu, trying to initiate a conversation.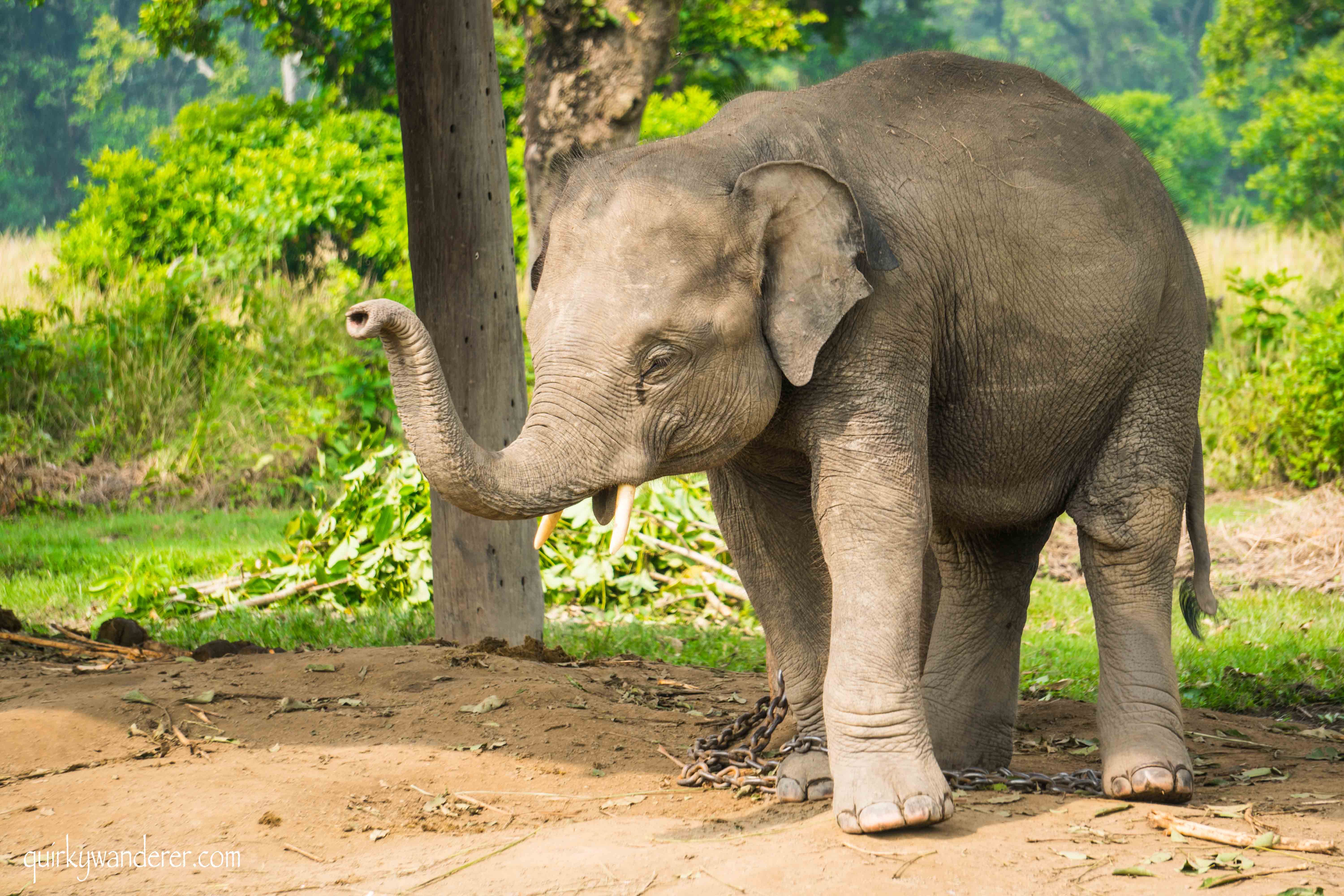 He responded my desperate queries with a fervent shake of his trunk and we talked like this for 10 minutes till I heard Ami calling.
"Hornbills!" She gushed excitedly.
I had never seen a hornbill and as I turned to see in the direction of Ami's fingers, my jaw dropped. Two majestic beauties sat on the topmost branch. By the time I focused my camera, one of them flew.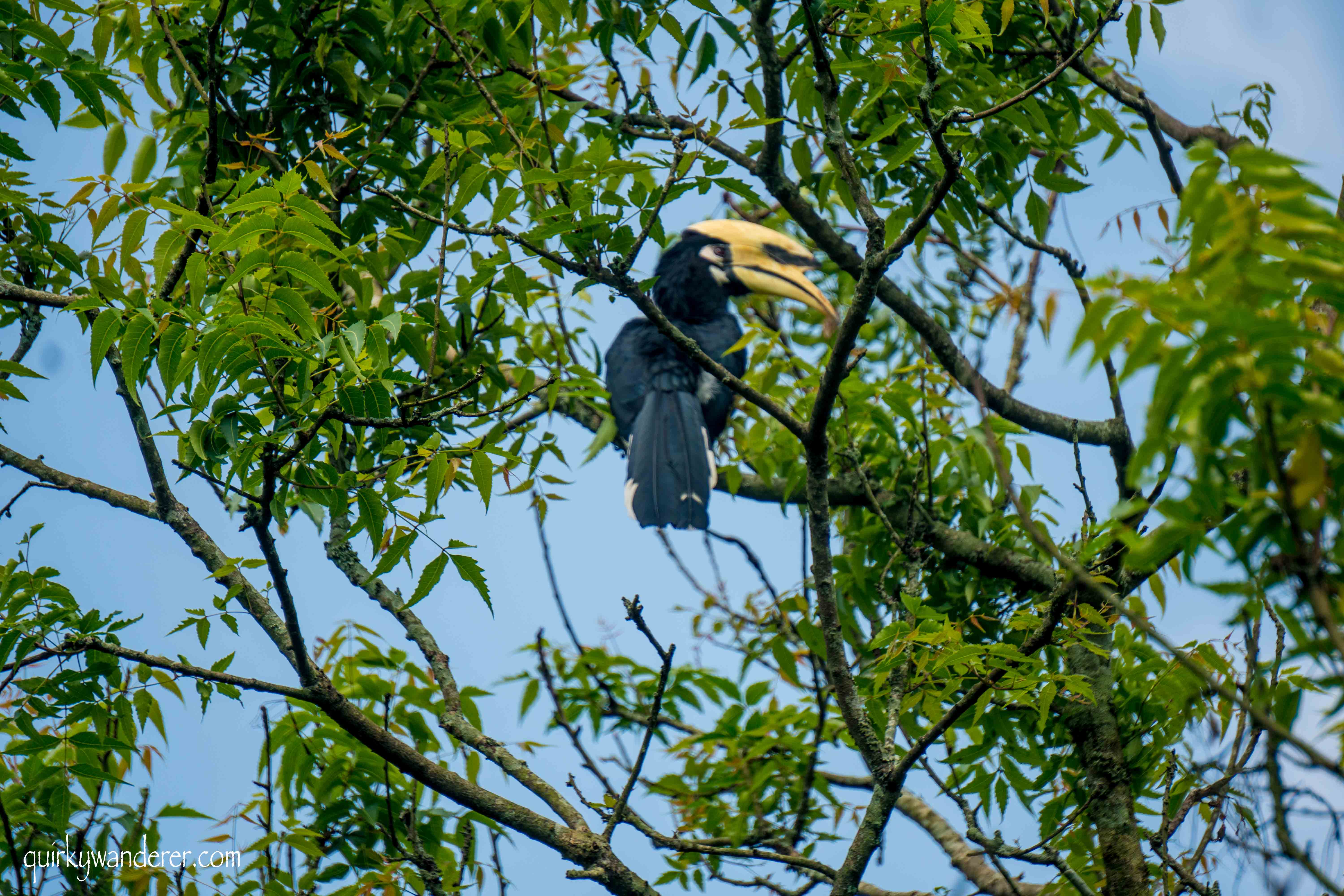 I wasn't going to give up. So I chased it from tree to tree till it nestled itself in the foliage and found me right underneath and gave me an exasperated look as if asking"
what do you want, lady?!"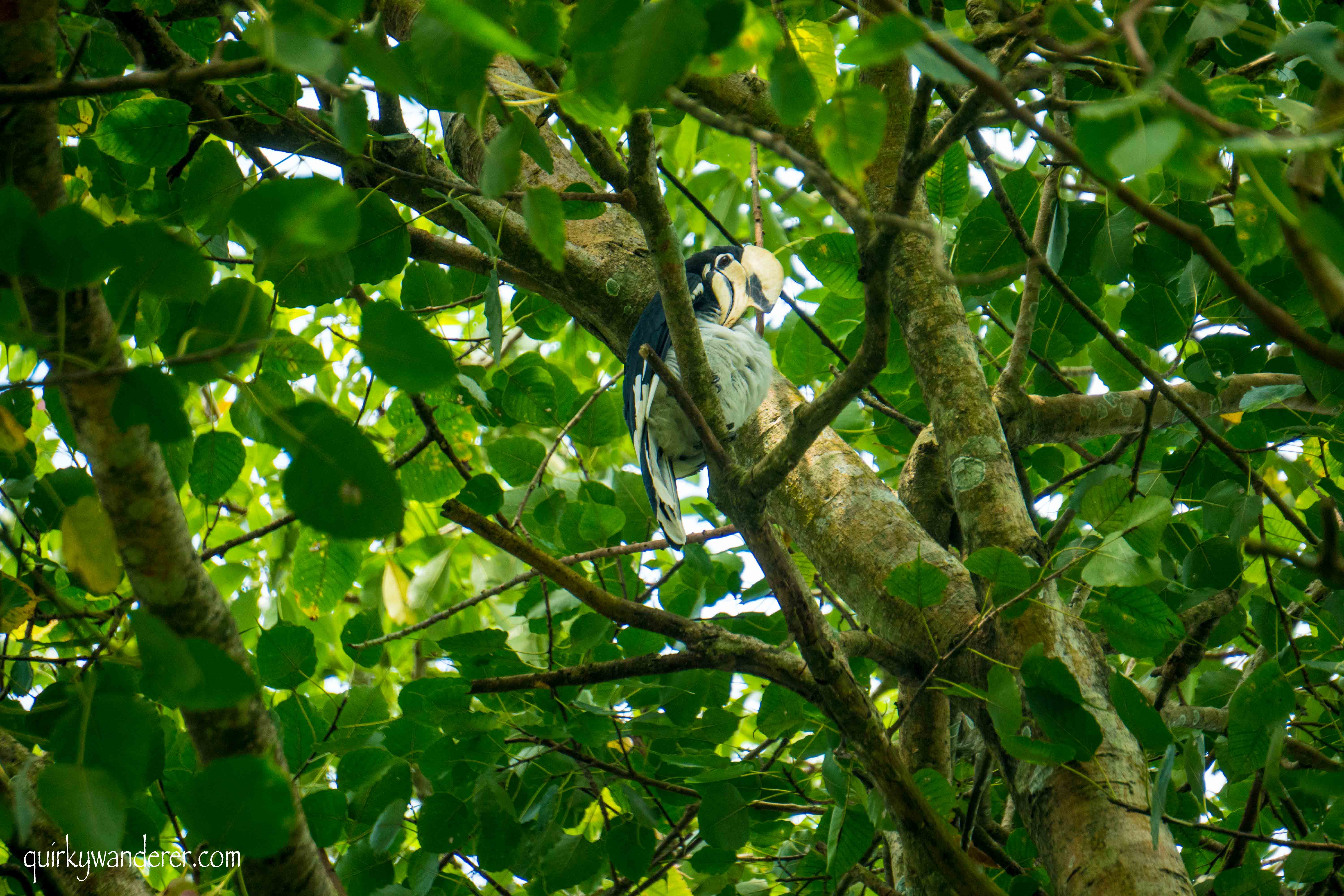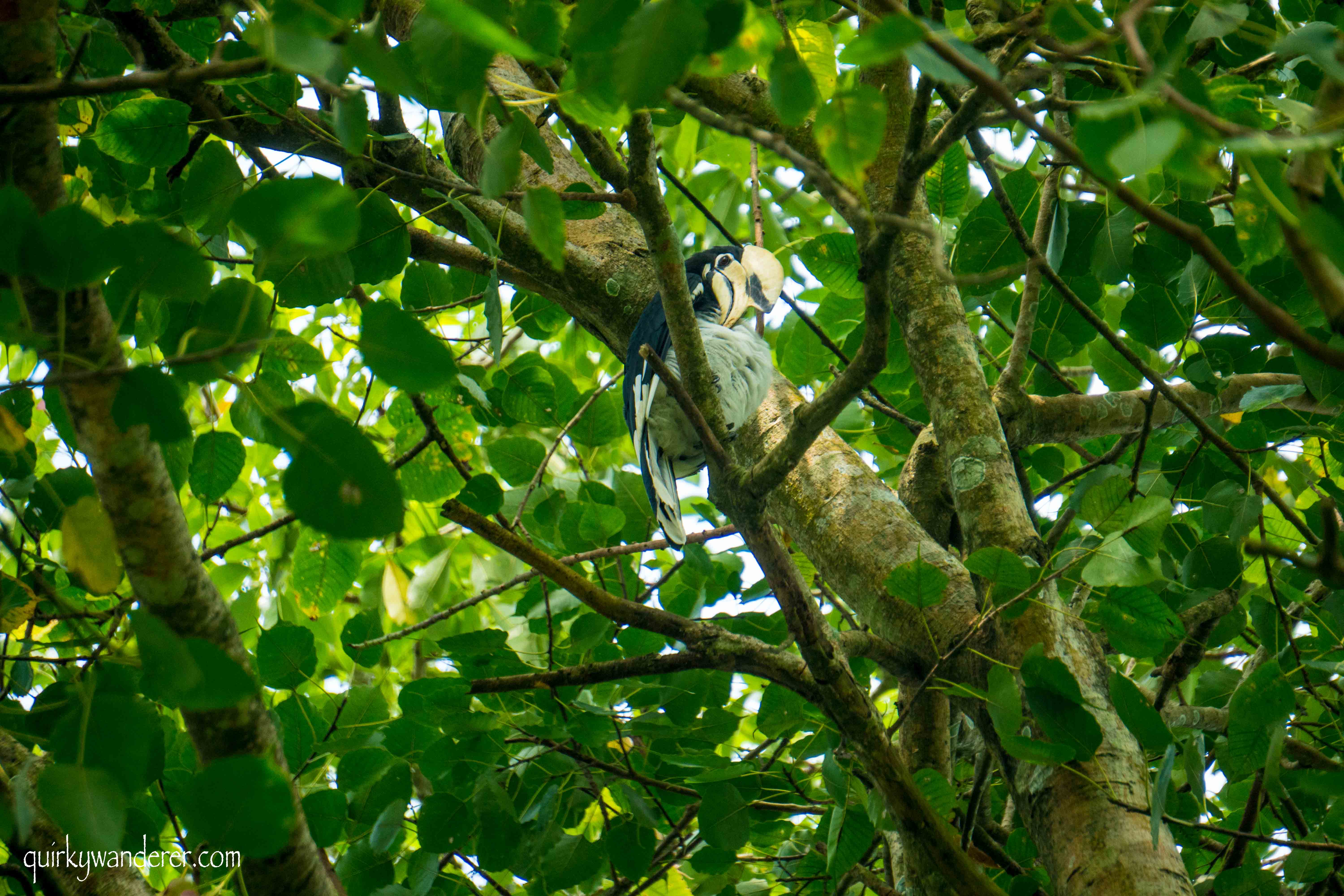 I walked back to our jeep slowly, not wanting to leave this green paradise. And Deep understood it. "
There's the afternoon safari!"
My face brightens up waiting eagerly for
3 pm
.
4 hours later I find myself squeezed into what seemed the the most uncomfortable jeep. Rattling and shaking we cross paddy fields, thatched homes and the Nepali countryside to reach the entrance of the Chitwan National park.
First a fleeting ride through a thick canopy of trees,
at a neck breaking speed.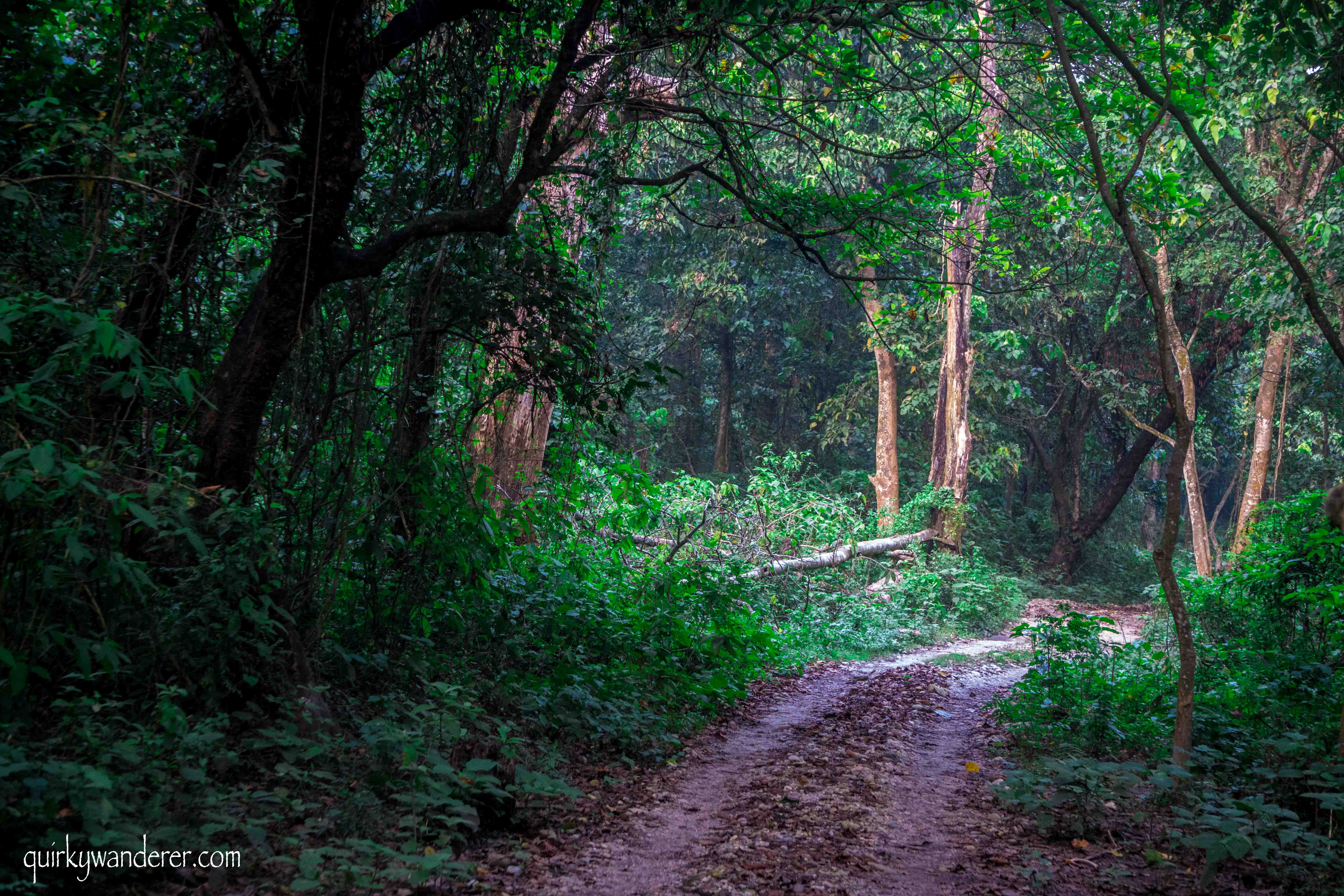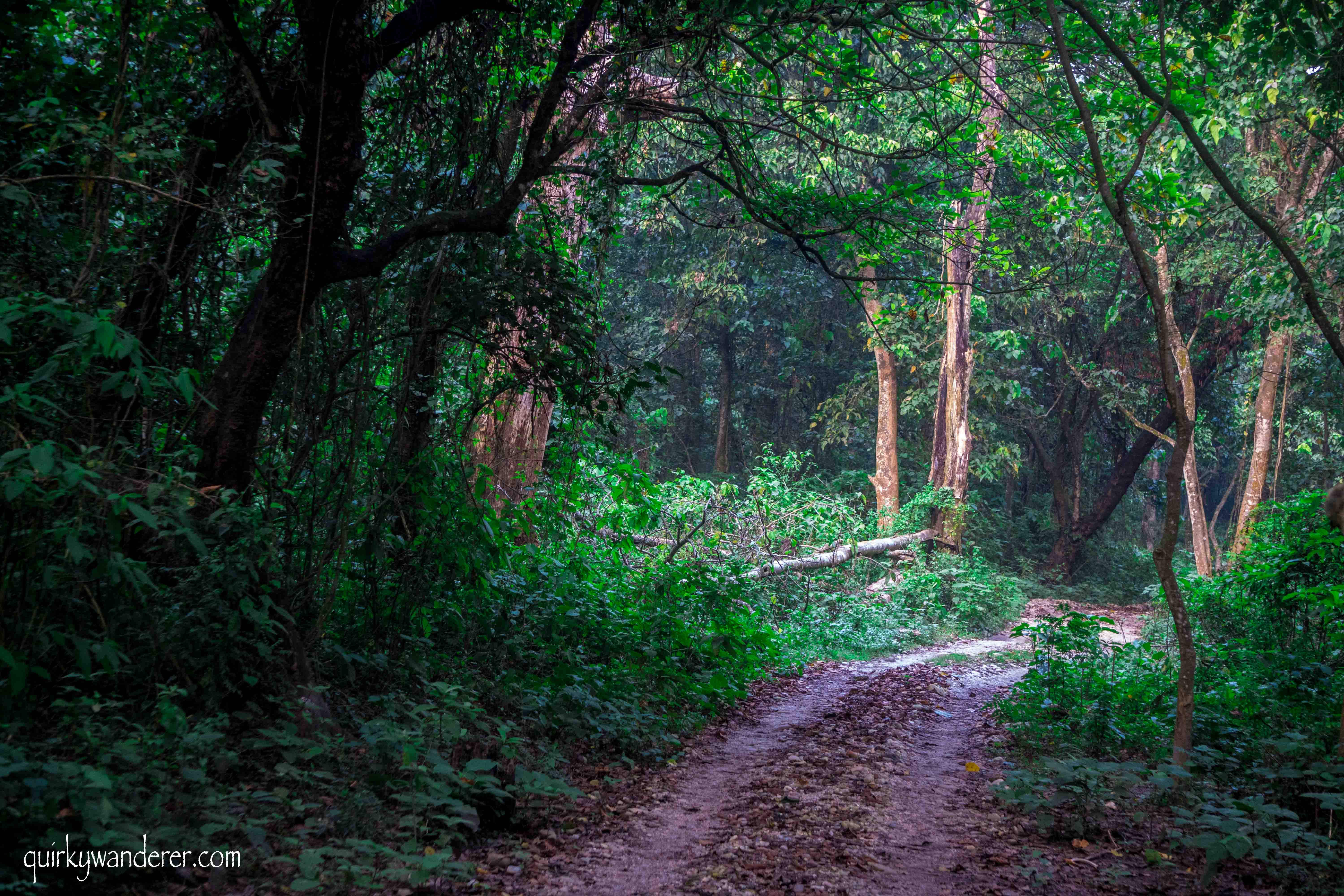 Then amidst tall grasses and into the open meadows, it traversed all along the mud tracks only to find another jeep stuck in the mud.
An adventure ensued, with everyone trying to get the wheel out while we roasted in the Chitwan sun.
Everyone almost gave up a rhino sighting when suddenly, I blurt out without thinking,
(Just like in Kanha and in Ranthambore. )
"I am sure we will see a rhino with its baby".
Deep winks at my optimism.
The trees hear this perhaps and the forest whispers in acknowledgment!
We spot a plethora of birds perched on trees, some enroute home and some flitting from branch to branch.
With no rhinos in sight, we are almost nearing the end of the safari when Deep stands up excitedly!
"RHINO!!!" Before he can even complete it, camera shutter sounds fill the air. We see the majestic creature eating, chewing the grass slowly, not battling an eyelid.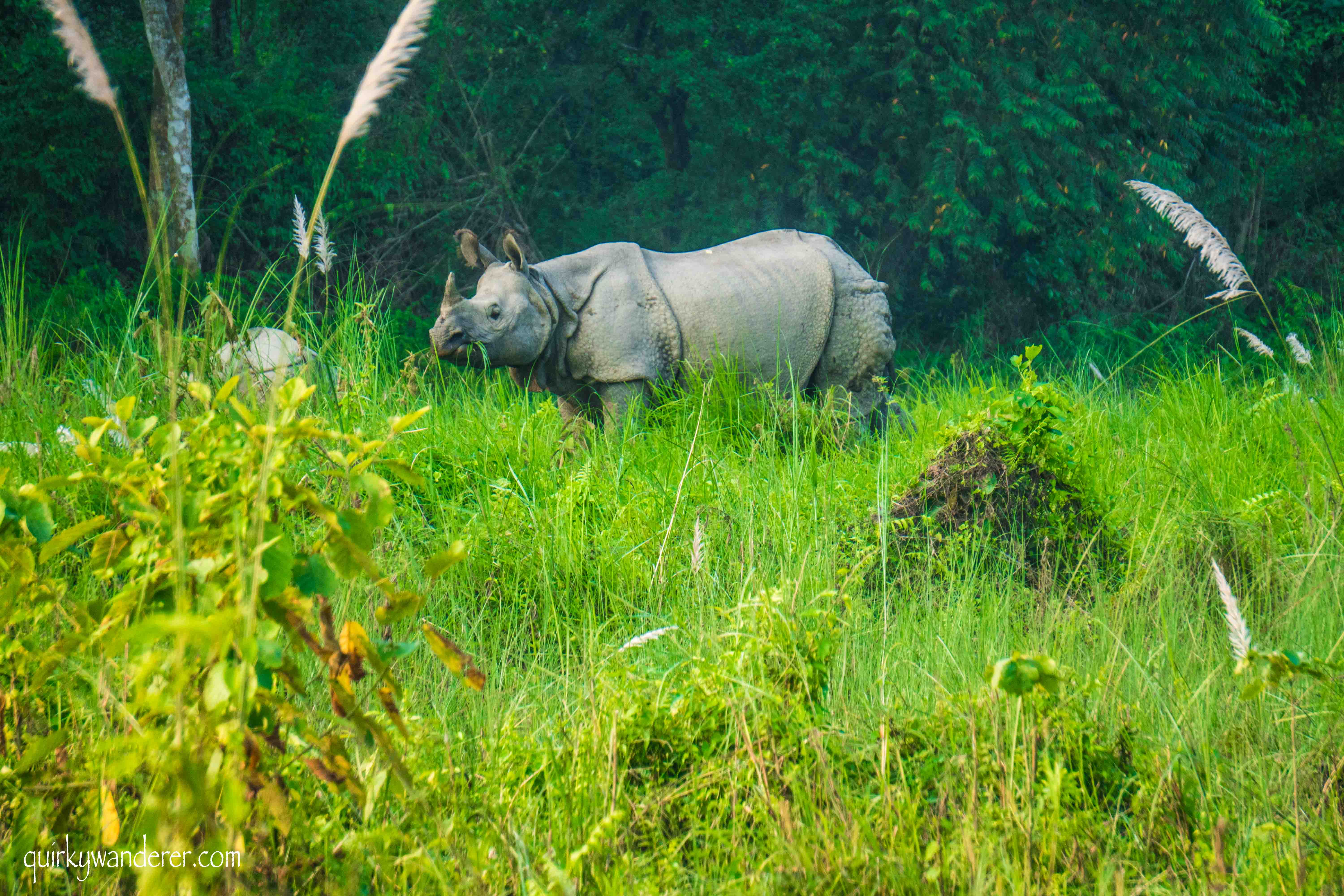 And behind it, snuggling close is none other than a baby rhino!
I am stunned.
Not that the prophecy came true for a third time, But the fact that forests indeed have a secret grapevine, passing messages from trees to leaves!
We watch these beauties for almost 15 minutes till they decide to show us their backs and scurry home.
There's a smile pasted on my face now: my first ever rhino sighting! The forest celebrated it in its own way, as dusk set in , birds chirped in harmony and forest fragrances engulfed the air.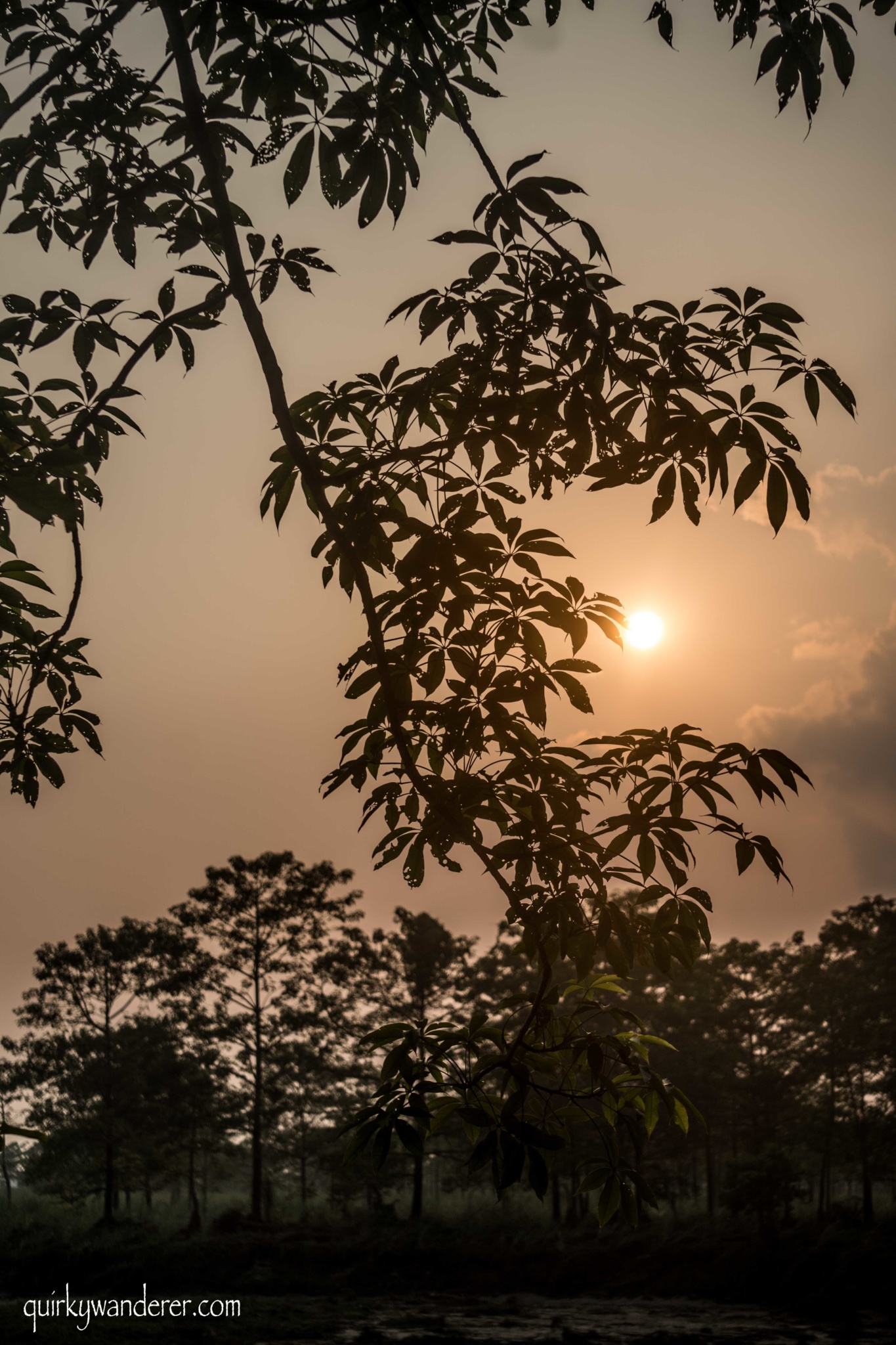 We were in Chitwan after all. Literally translated to 
"Heart of the Jungle".
The bumpy ride didn't feel bumpy anymore.
The uncomfortable jeep didn't seem so anymore.
And I am so sure that when the jeep exited the gate of the park, the Chitwan forest was abuzz with stories of the strange intruders they saw and their insane excitement.
All you need to know:
Where to stay: Most of the lodging is at Sauraha, the town at the outskirts of the Chitwan National Park.
Landmark Forest Park Hotel is a great option with modern amenities, yet scenic views.
Comfortable rooms with attached balconies, a state of the art pool and lush green gardens are a definite plus point.
The food and the service is outstanding and a double thumbs up to the guides they provide.
How to reach:
Chitwan can be reached by air, nearest airport is Bharatpur 10 kms from Sauraha the main town. The flight duration from Kathmandu and Pokhara is about 25 minutes.
By road it is connected to Kathmandu (4-5 hours) and Pokhara (5-6 hours).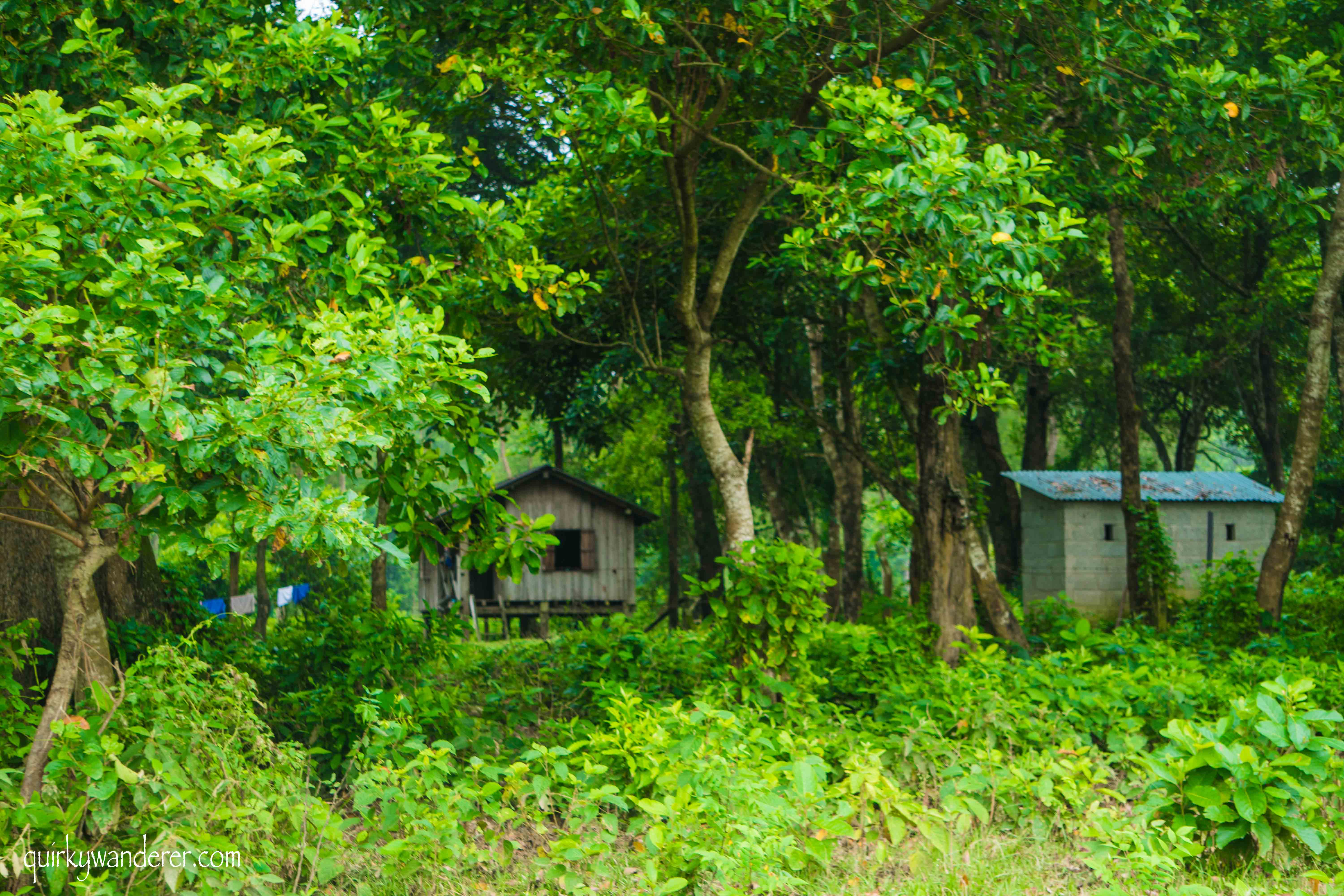 Important points: 
Like for any safari and jungle visit, it is advisable to wear earthy colours (No bright coloured apparel). Birders can carry binoculars and it's best to carry ample of water and a hat during the safari.
Park entry fee for a foreigner in Chitwan National Park is Rs.1500 per day. For SAARC nationals it is Rs. 1000 per day. Elephant safaris cost Rs. 1000 per hour per person for foreigners. For SAARC nationals it is Rs.400 per person per hr. Jeep safaris are best done through your hotel.
Best time to visit: 
Chitwan National Park is open year round. However during the end of the dry season in October to December there is a greater chance of seeing tigers and other wildlife as they come out to the waterholes.
Local guides also mention November and December as being good times though it's not that hot.
From June – to September it is Nepal's Monsoon season, making it unfavourable to sight wildlife.
Activities in Chitwan National Park include: Canoeing , Jungle walk, Elephant breeding centre visit, Jeep safari, Elephant Safari, Elephant washing with locals.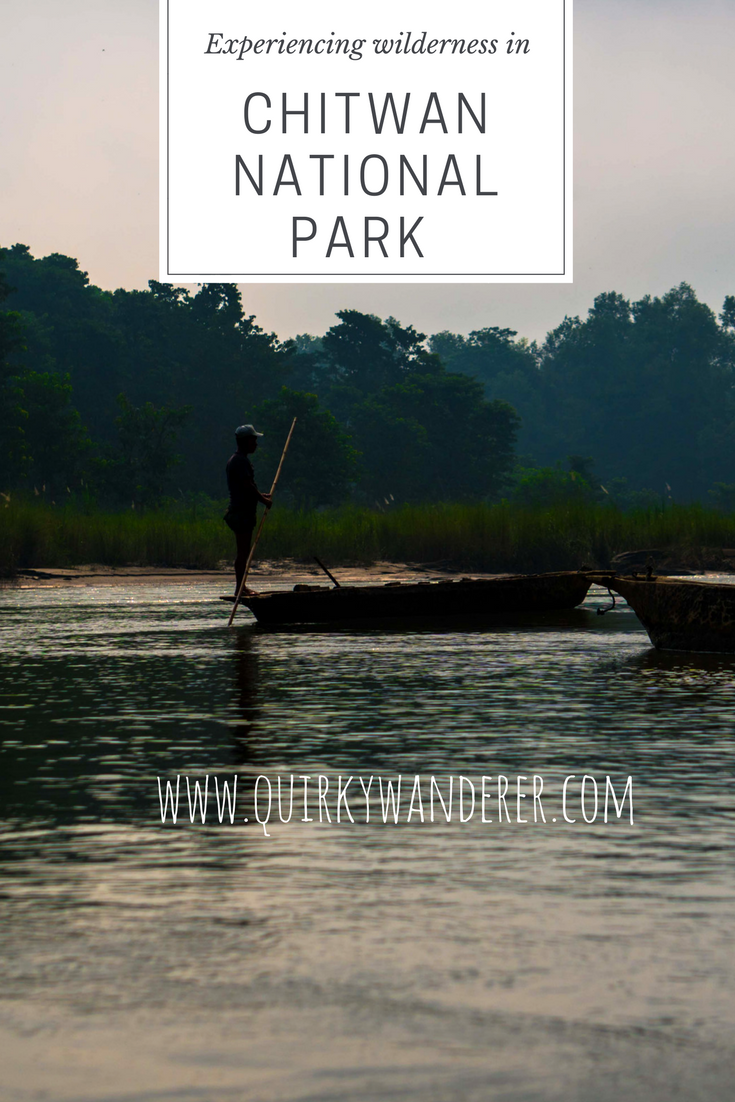 Disclaimer : I was invited by Nepal tourism Board and Explore Himalaya to discover the wilderness of Chitwan. Views, prophecies and experiences are of course my own. 
This blog has been verified by Rise: R5162fbe66d3f329609fcb42f89f7cec5