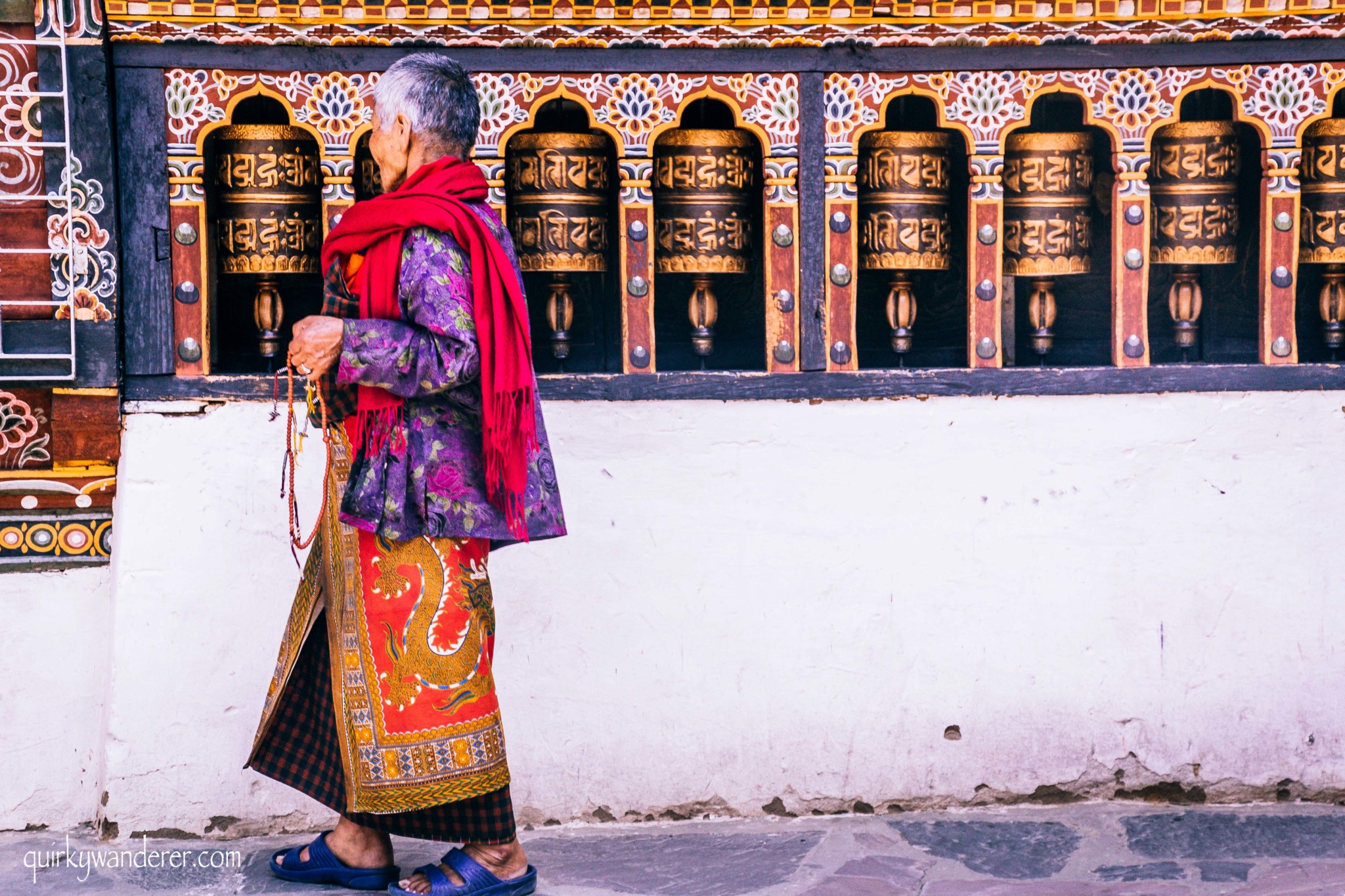 You have made up your mind. 
The temptation is too hard to resist.
There are pretty mountains, prettier people. 
So you are going to Thimphu, the capital of Bhutan: the Himalayan kingdom of happiness, the land of the Thunder Dragon, a treasure trove of simplicity and smiles and stunning architecture.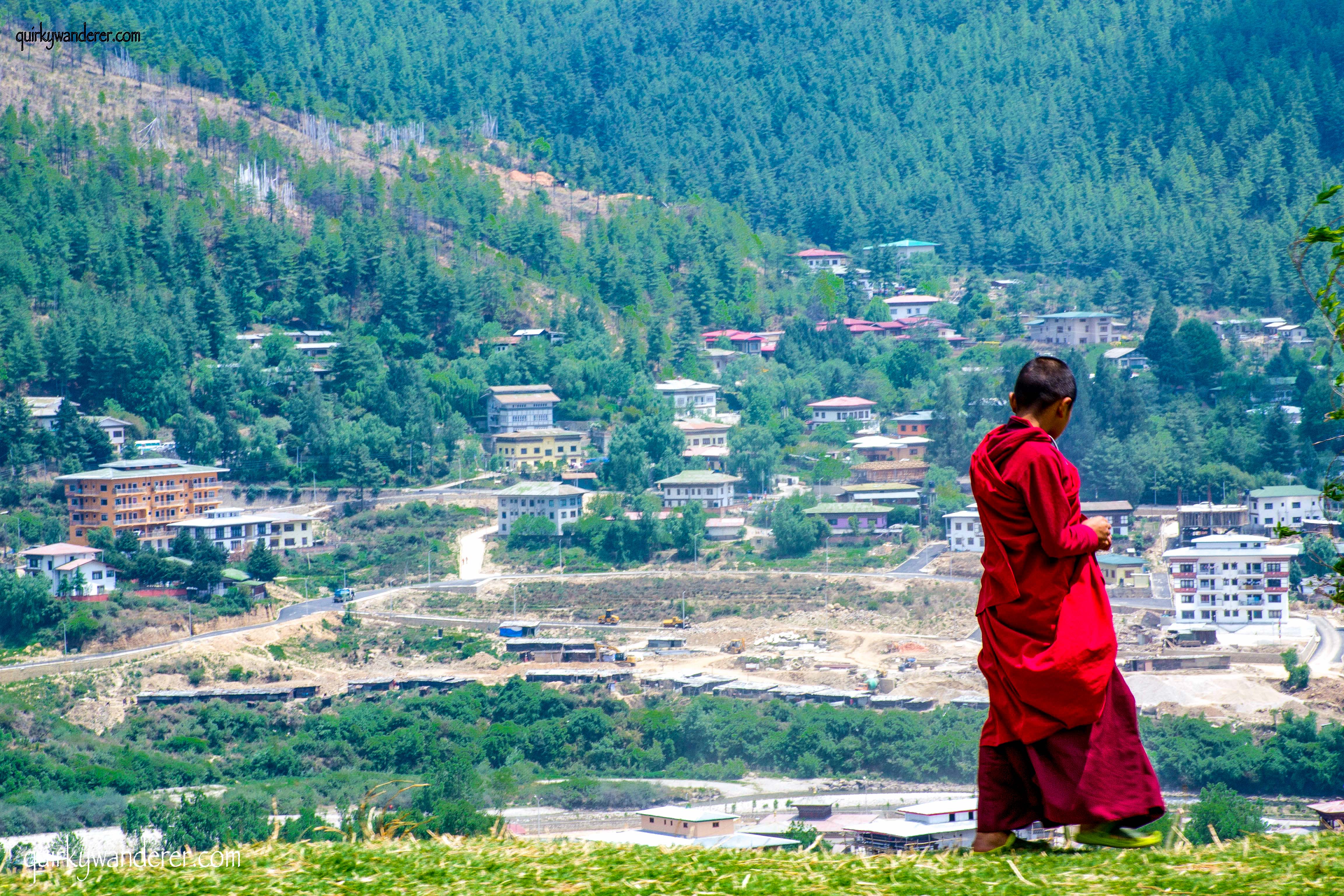 No traffic signals. 
Quaint, colourful architecture with dainty windows.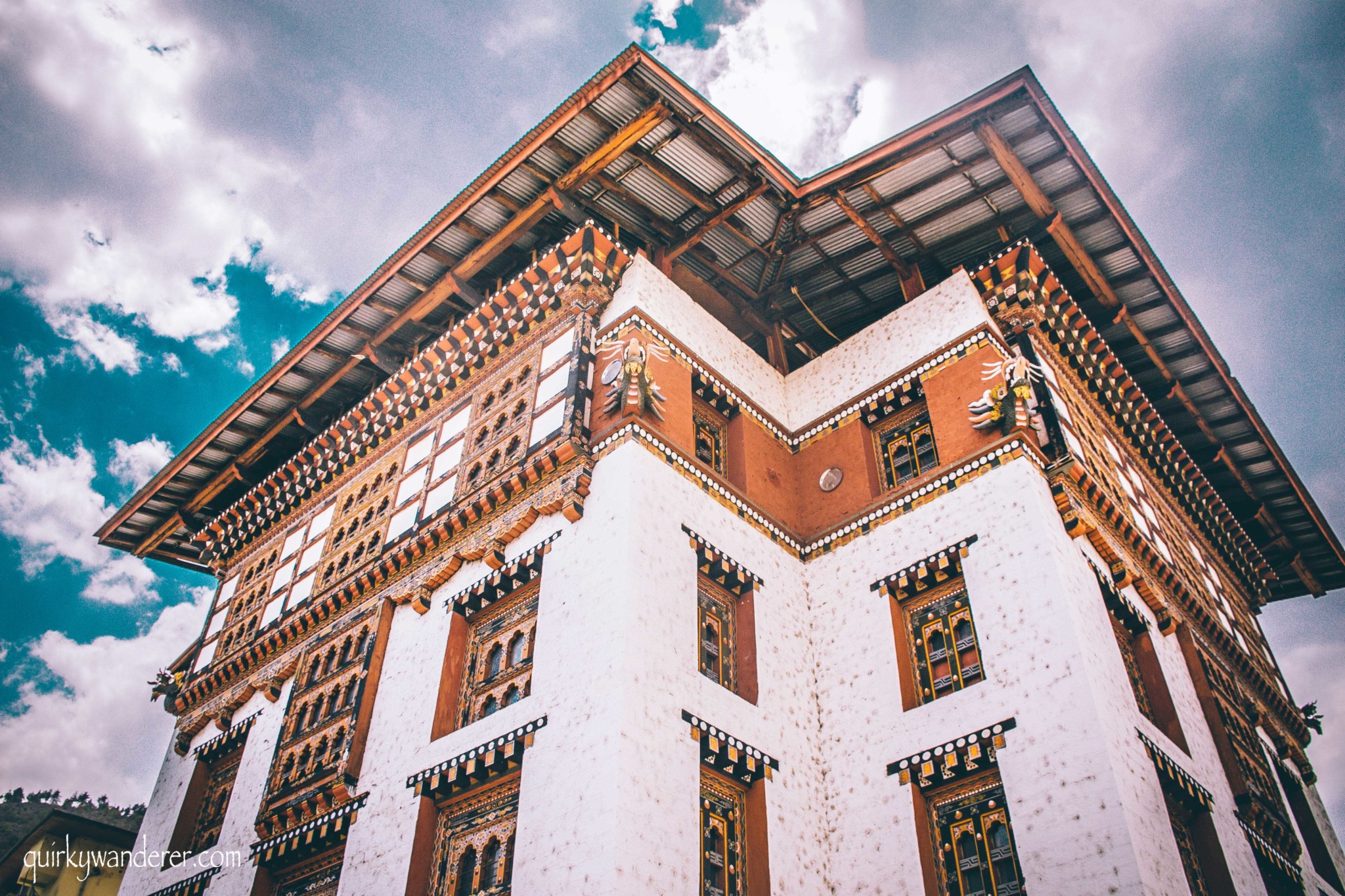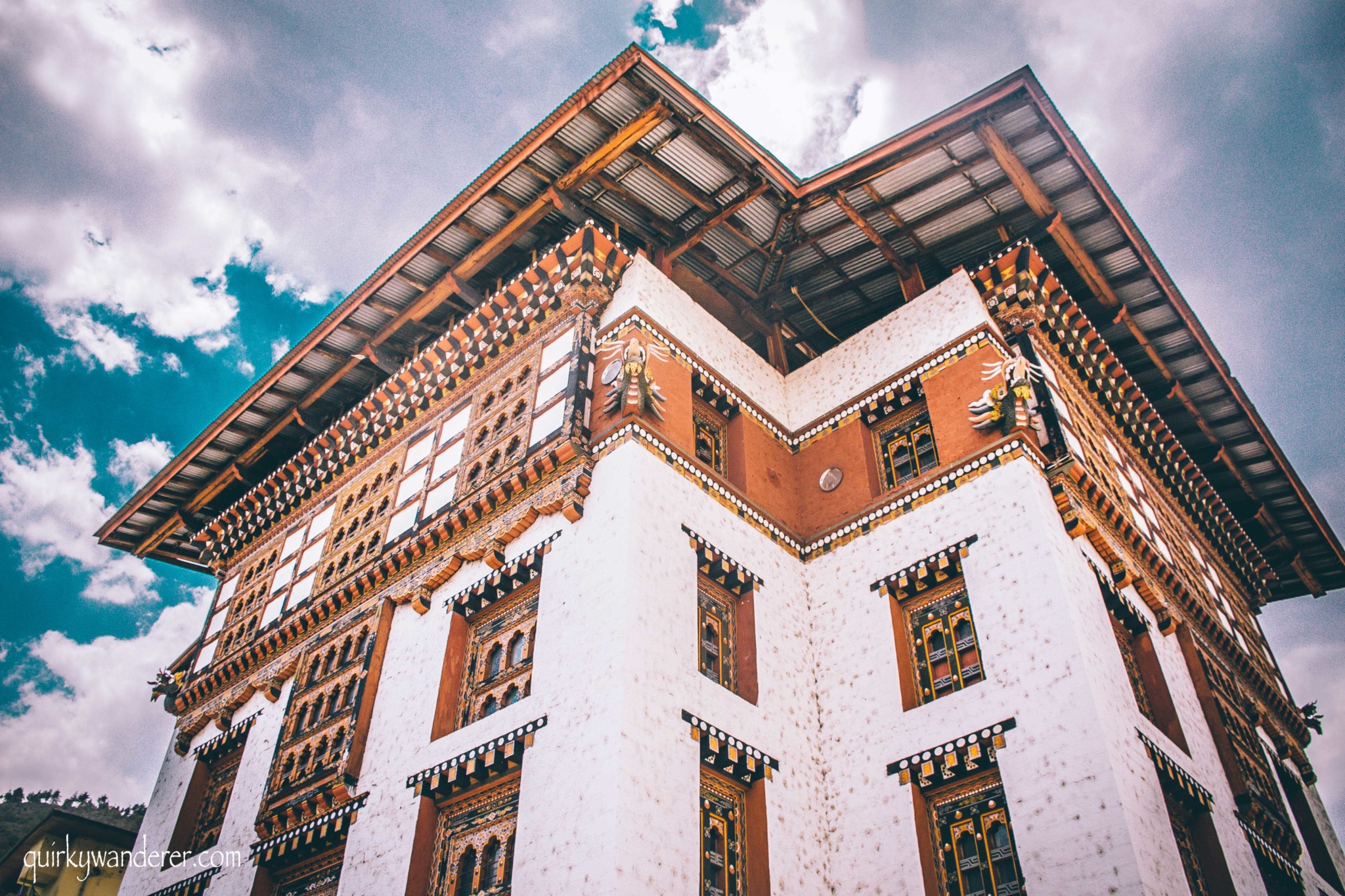 Men wearing long skirts (gho), indulging in archery and dancing in merriment.
Almost fairy tale like.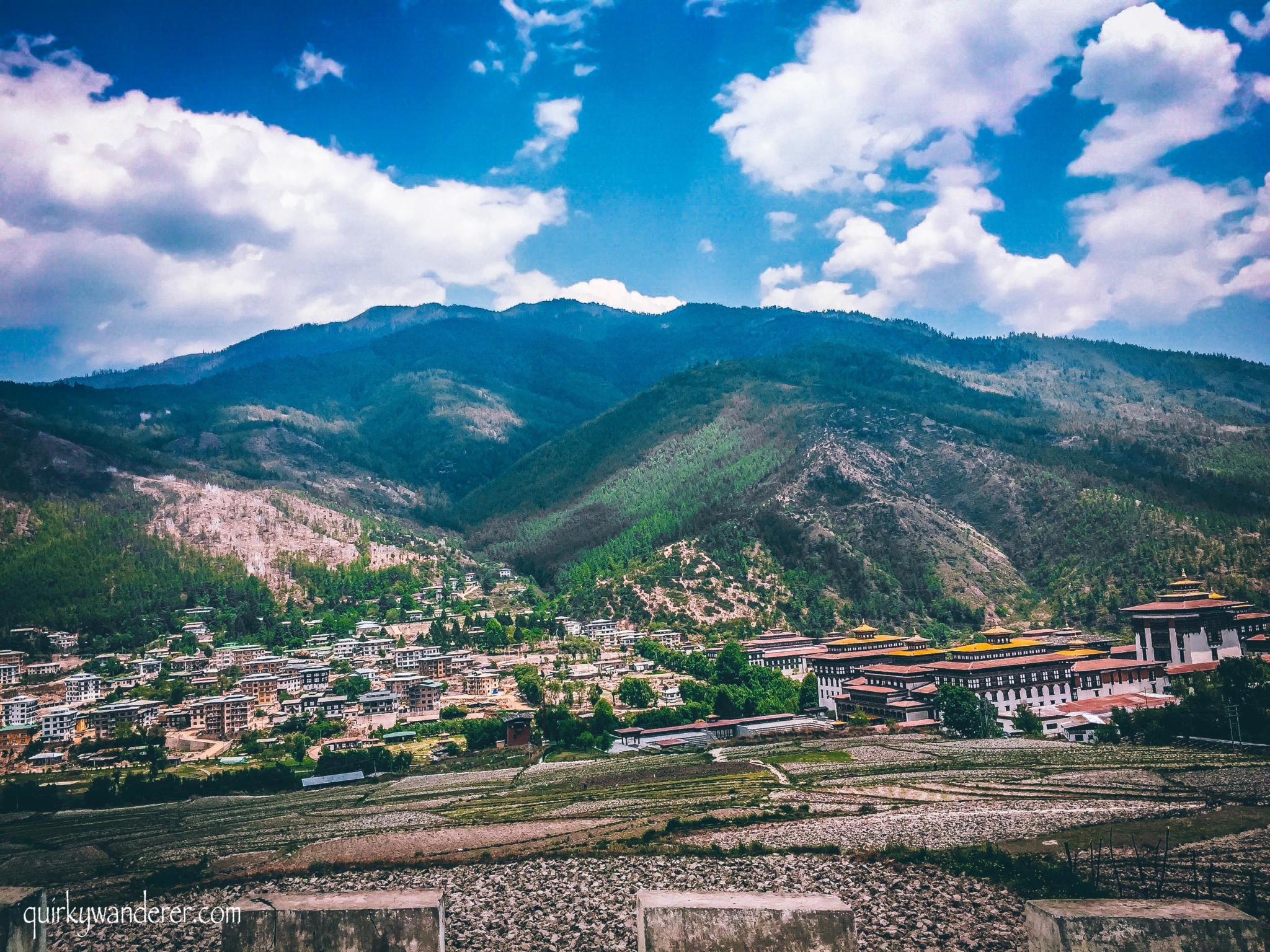 Most of the standard itineraries include just one day of sightseeing in Thimphu. However there is a LOT to see and experience and just one day hardly does any justice to this charming town.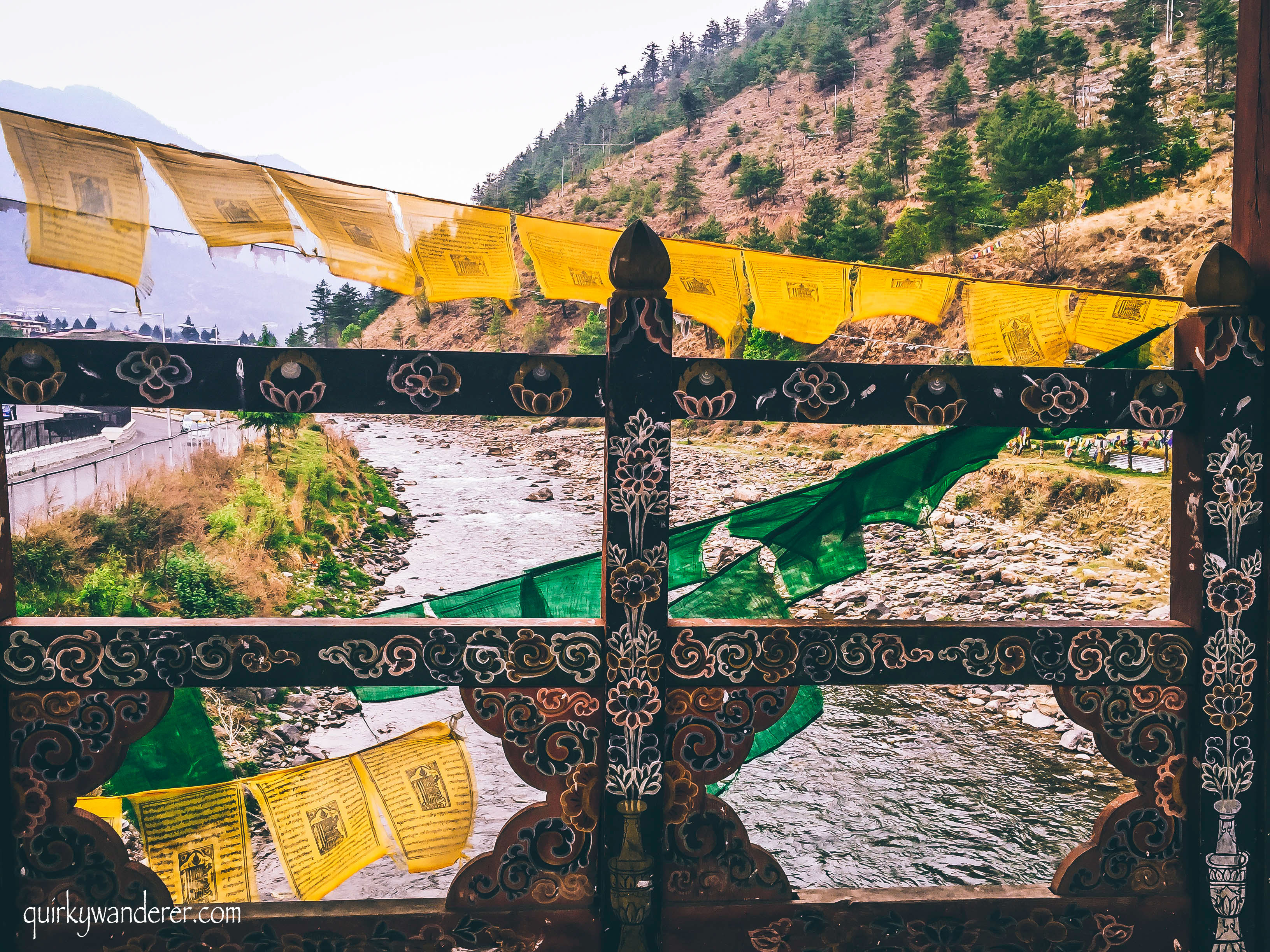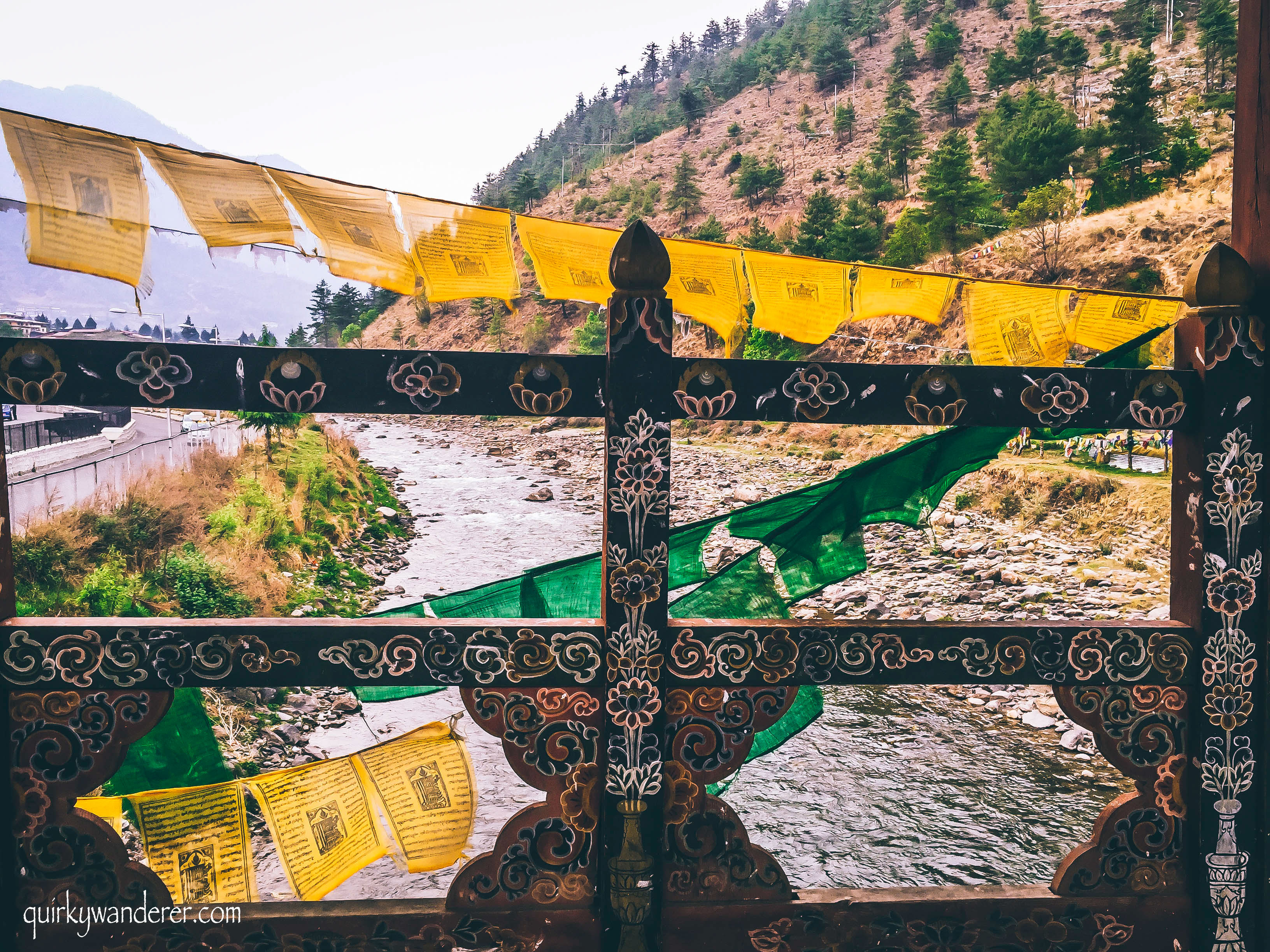 While there are certain absolute must dos (touristy places), there are quite a few simple, off beat experiences that give you a glimpse of the local Bhutanese life.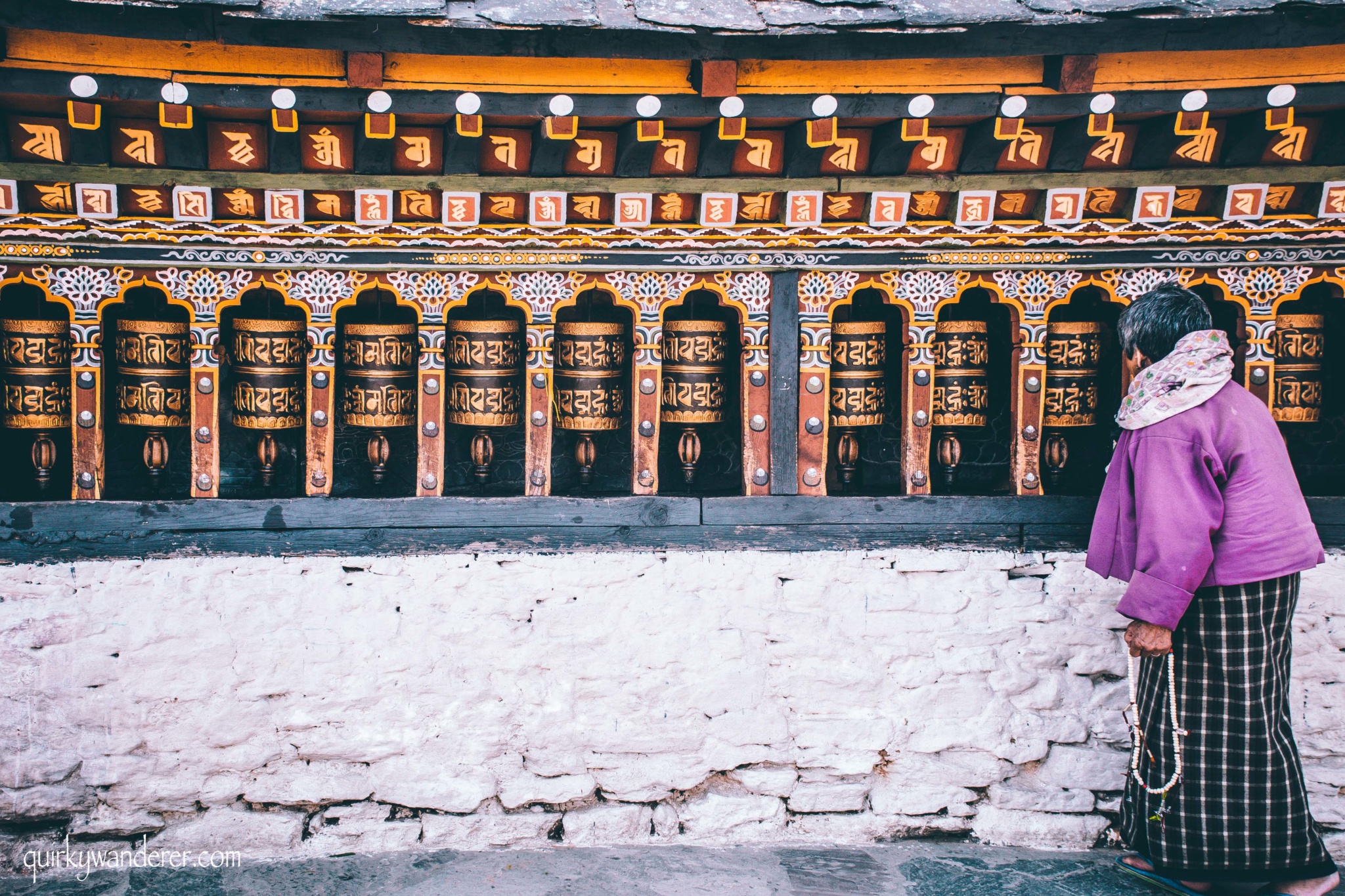 So here is a travel guide with a 2 day itinerary for Thimphu:
Day 1:
Local fare at the morning Farmer's market: 
From local vegetables like fern, asparagus to juicy Mandarin oranges, the farmer's market has it all. For the love of local markets, I ventured into this one and saw large scale purchases being made, groceries, grains, local mushrooms and cheese made of yak's milk.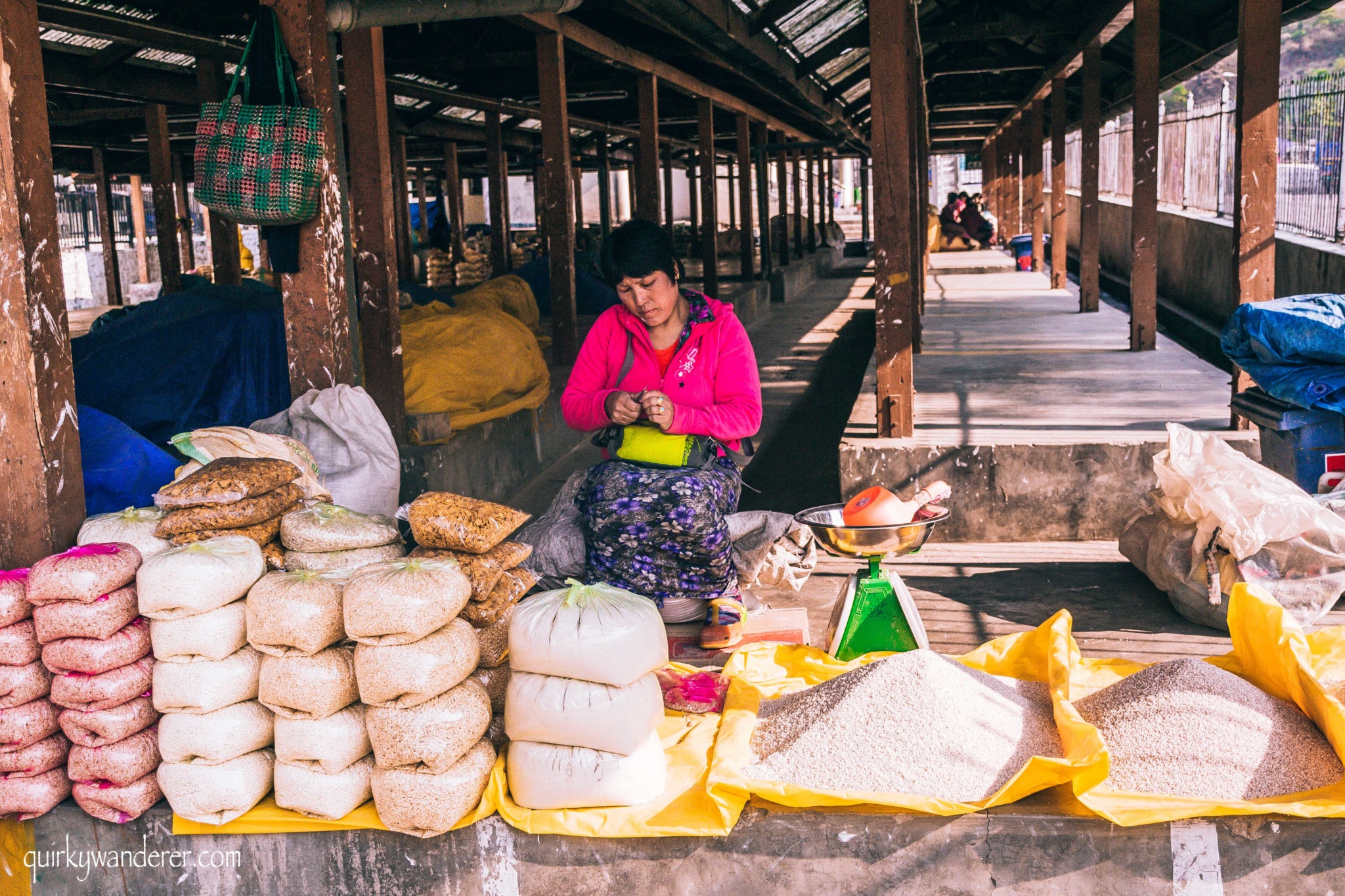 The market comes to life on weekends when vendors from outside the city arrive to sell their wares, selling incenses, handicrafts, camphor, saffron , wild honey, red rice and barley. If you are wondering what to eat when in Bhutan, head here for a complete eating guide in Bhutan.
Pray at the National Memorial Chorten: 
Watch faith in its varied forms at the Memorial Chorten, where young and old come together to circumambulate the white building with a golden crown. Most people do 108 rounds of this Tibetian styled Chorten with their prayer beads and prayer bells. Built in 1974, as a memorial to the third king, Jigme Dorji Wangchuk, this shorten is a place of daily worship.
Some will prostrate outside the Chorten on wooden planks, get up and repeat this. You cannot enter the building, but watching faith in its purest form was the highlight for me. Along with this portrait of this aged man sitting near the entrance, asking me why would I want to photograph an old man like him.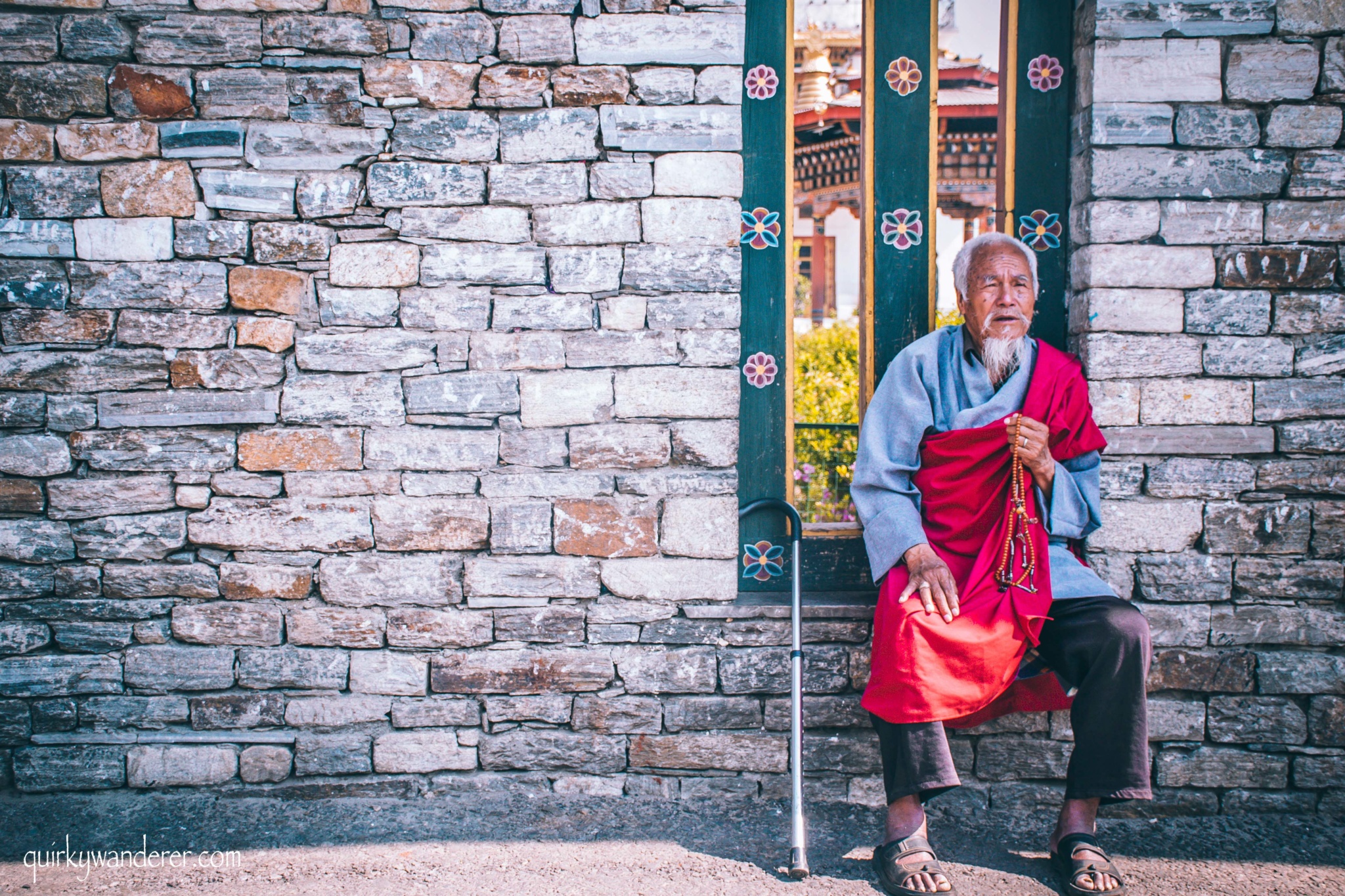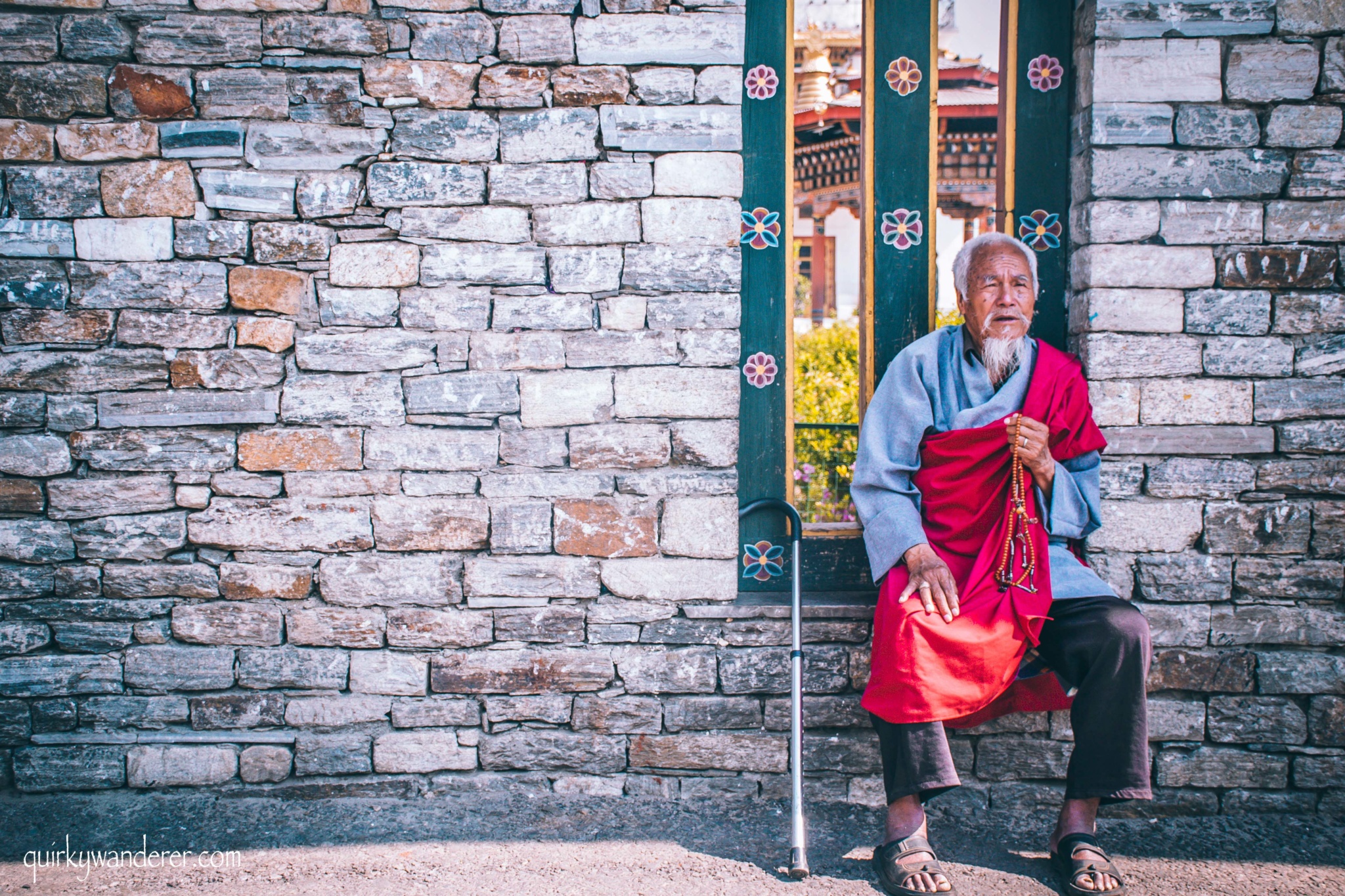 Watching faith in its different forms:
The Buddha viewpoint : for views and more: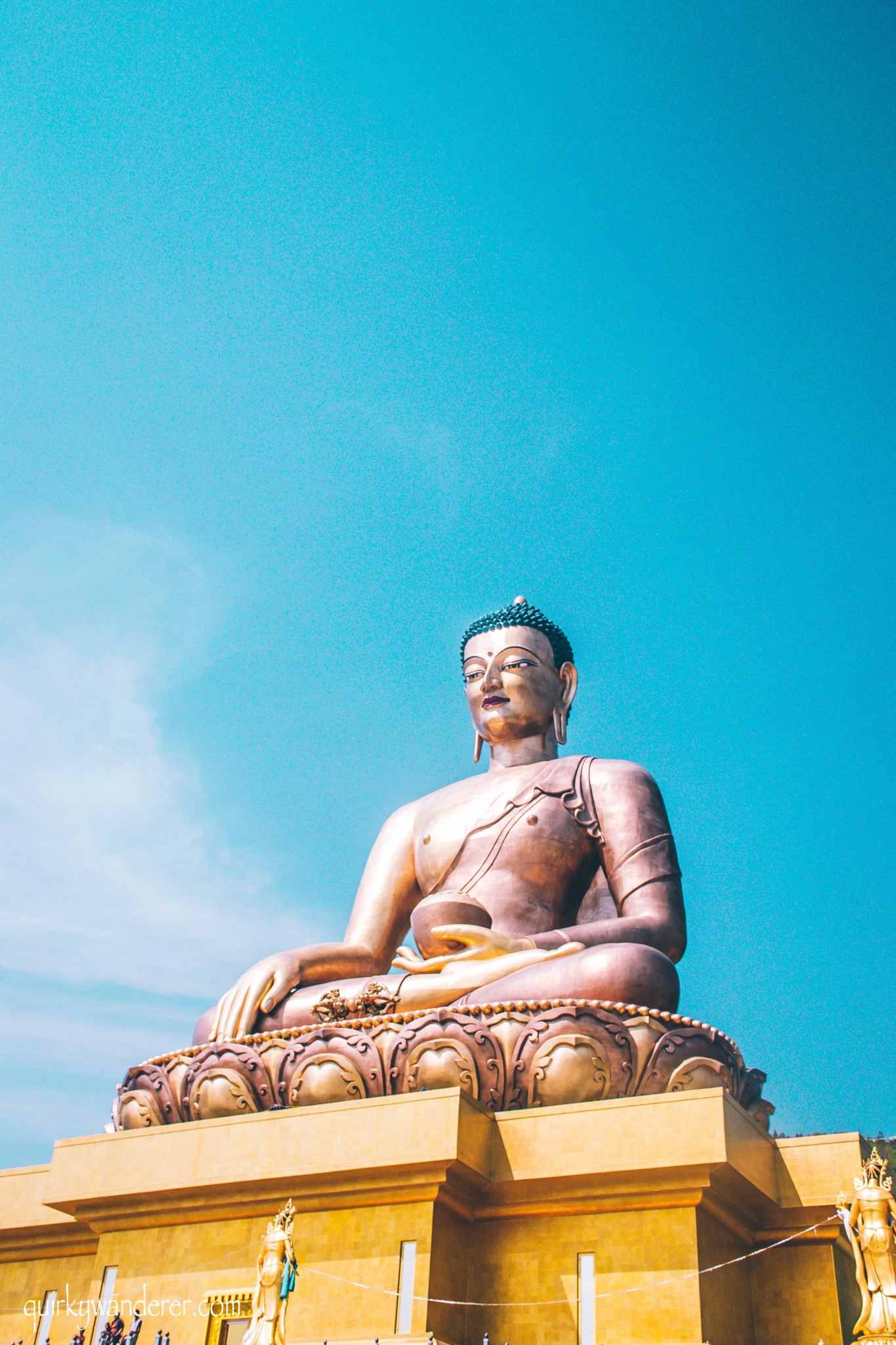 You can see the Golden Buddha glistening in the sun from almost any part of Thimphu. Perched on a hill, in all serenity and opulence, the 51 metre tall Buddha Dordenma statue stands as if overlooking Thimphu and blessing it.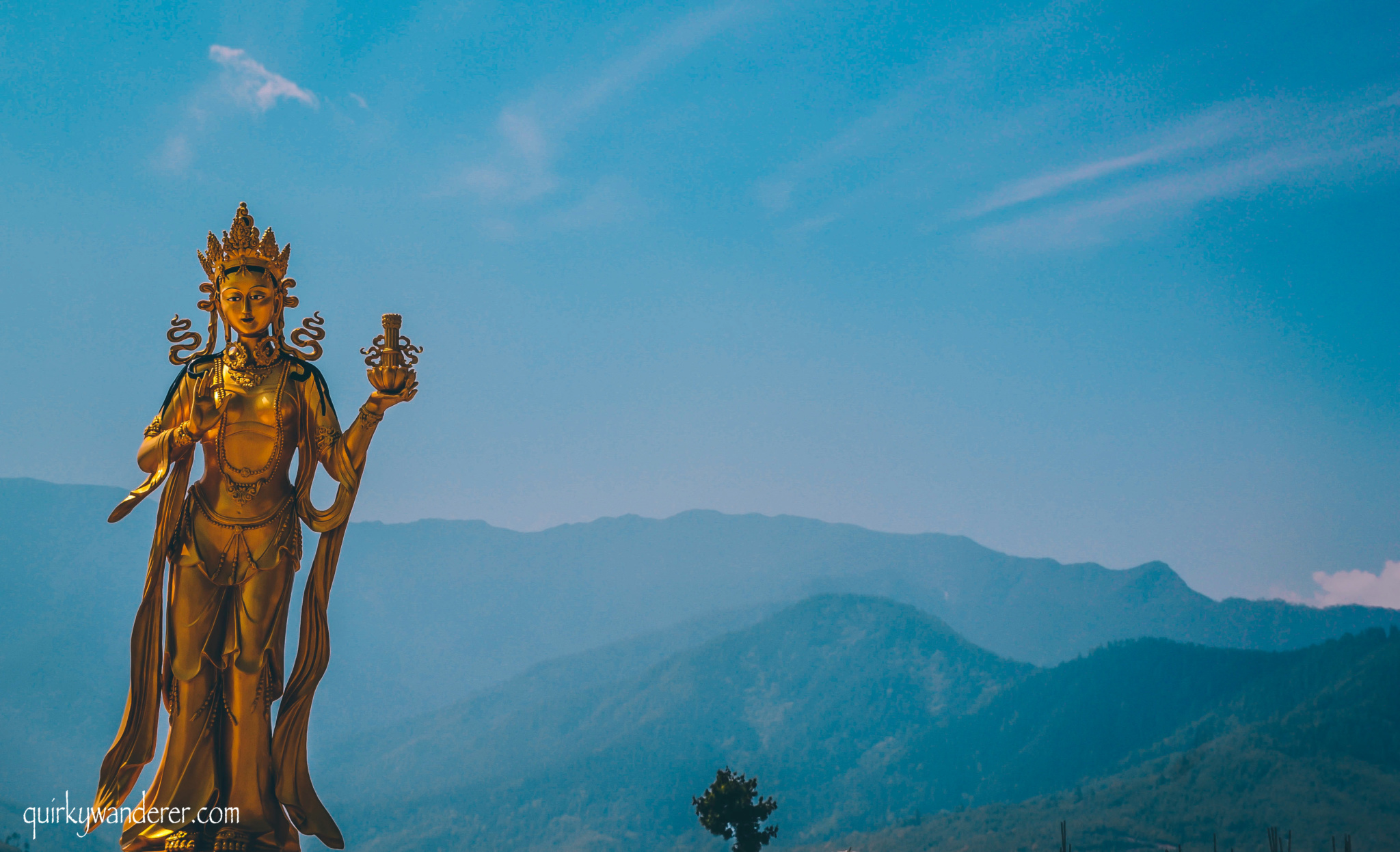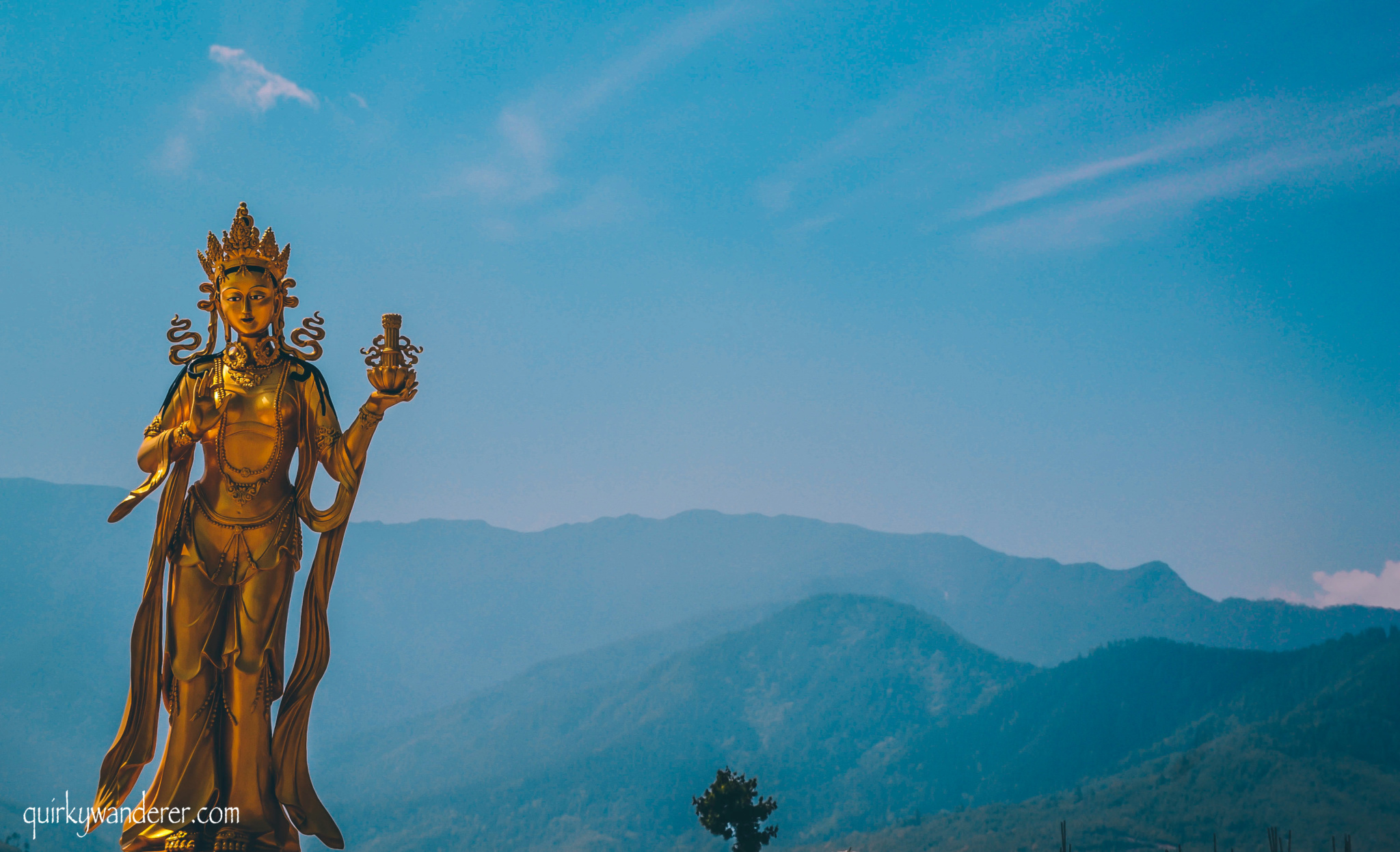 A fifteen minute journey leads you closer to the Buddha statue. It contains 100,000 8-inch-tall and 25,000 12-inch-tall gilded bronze Buddhas as well. Once on top, the views of the valley are breathtaking.
Lunch time with the young monks at Dechen Phodrang: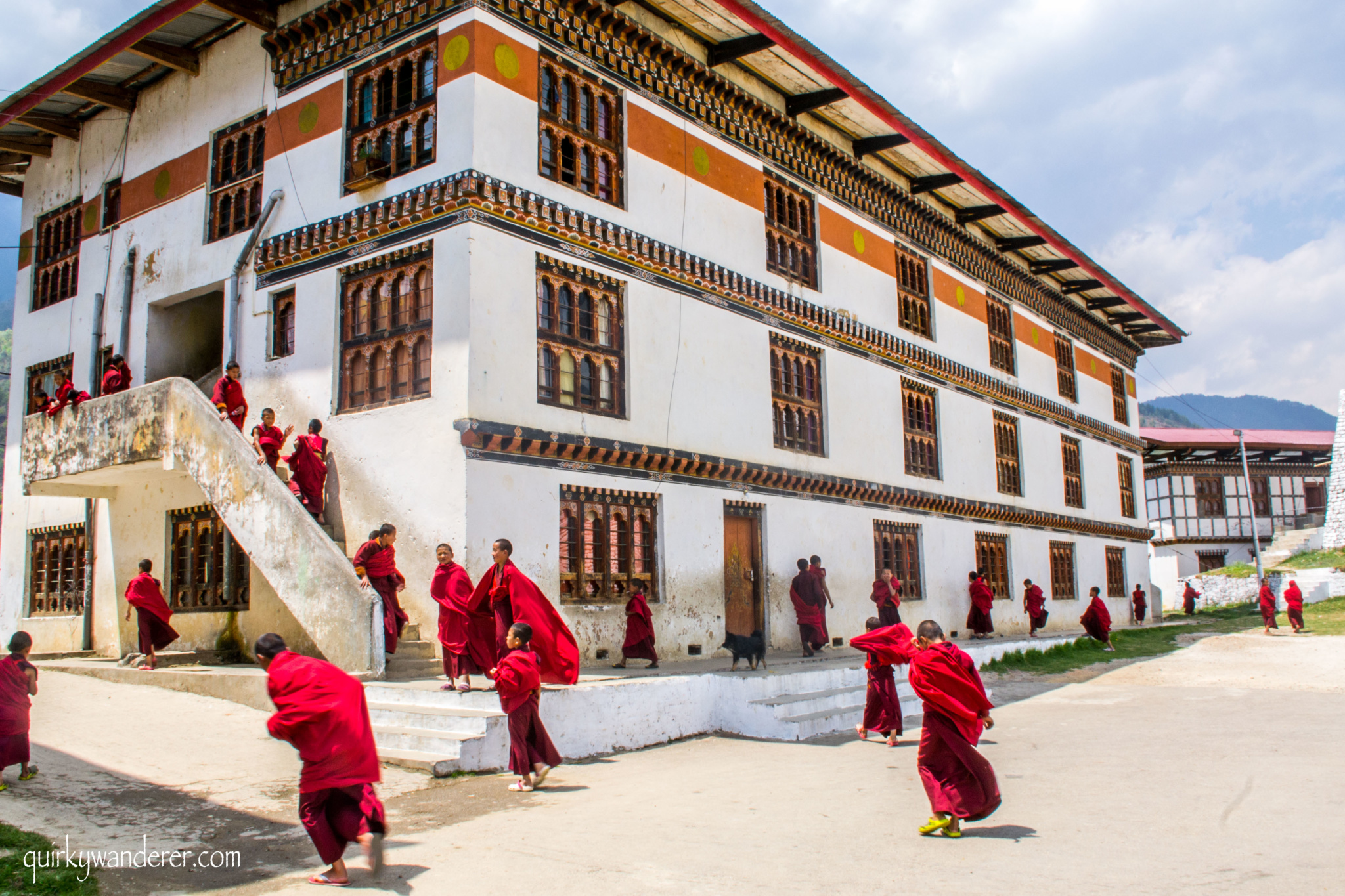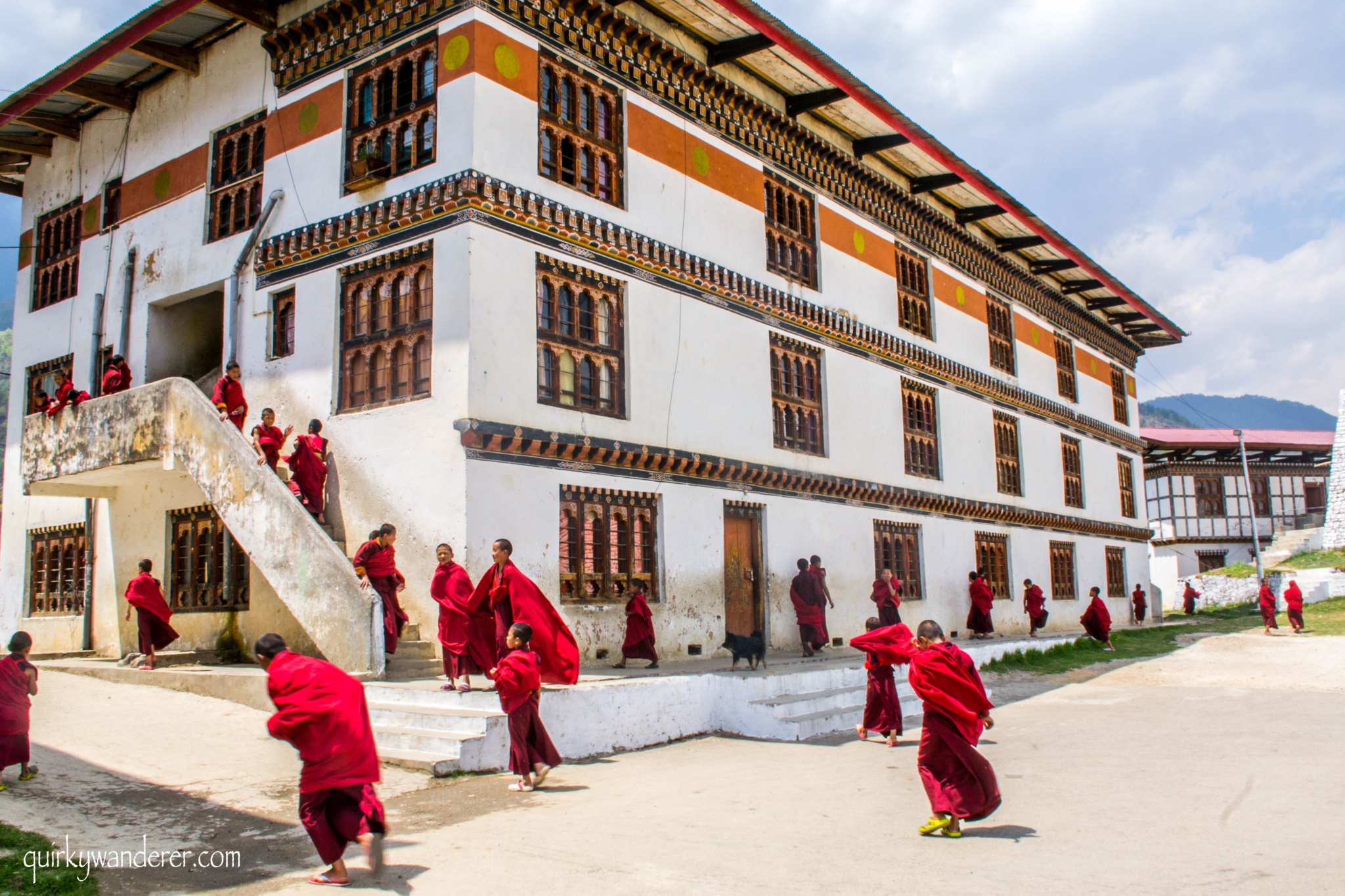 I find monastic schools to be great places for photo ops. Candid shots of young monks topped with their simplicity and coyness make my trip to the monasteries extremely fulfilling. Some of these indulge in a chat, some scurry away, some hide their faces, while others are too busy wrestling with each other to notice.
The BEST time to visit this monastery is when a senior monk rings the gong and declares a break. Walk around, watch them play, let the scene wash itself on you. This is where you discover innocence in its most candid form.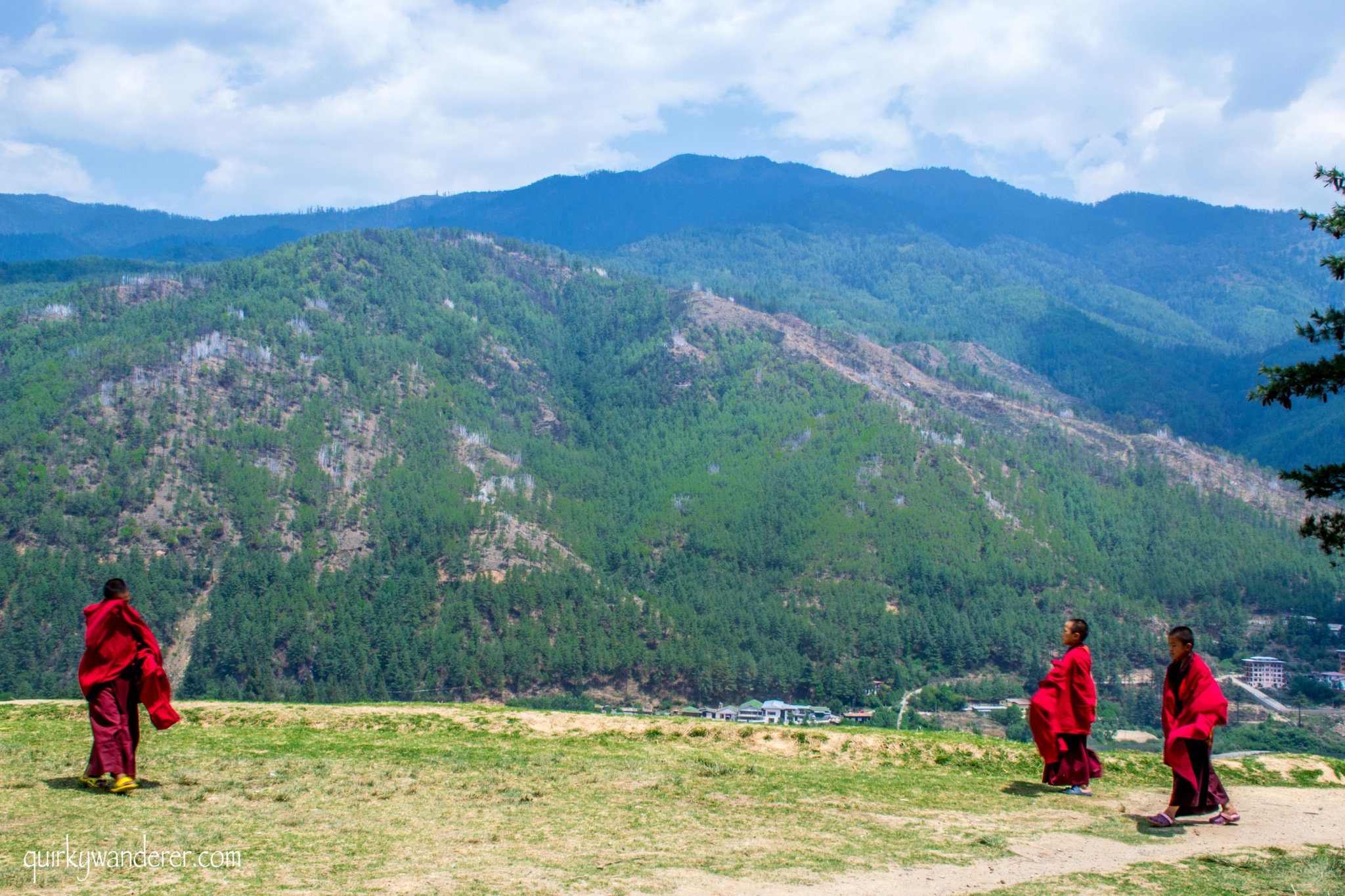 P.S: The views from here (if you decide to shift your gaze from these munchkins) are gorgeous too!
Free time with local kids: 
Post lunch I head to a local school opposite my hotel. Why?
Because I love visiting local schools in every tiny town village I go. And in Thimphu, this was probably my favourite hour spent. First I was engrossed in a football match where everyone was a Ronaldo and the din was high enough to get everyone in the vicinity to sneak in the grounds and watch. Then I was busy chasing a group of cuties who looked at me from behind pillars. And after half an hour everyone wanted to be clicked and the bye byes were never ending!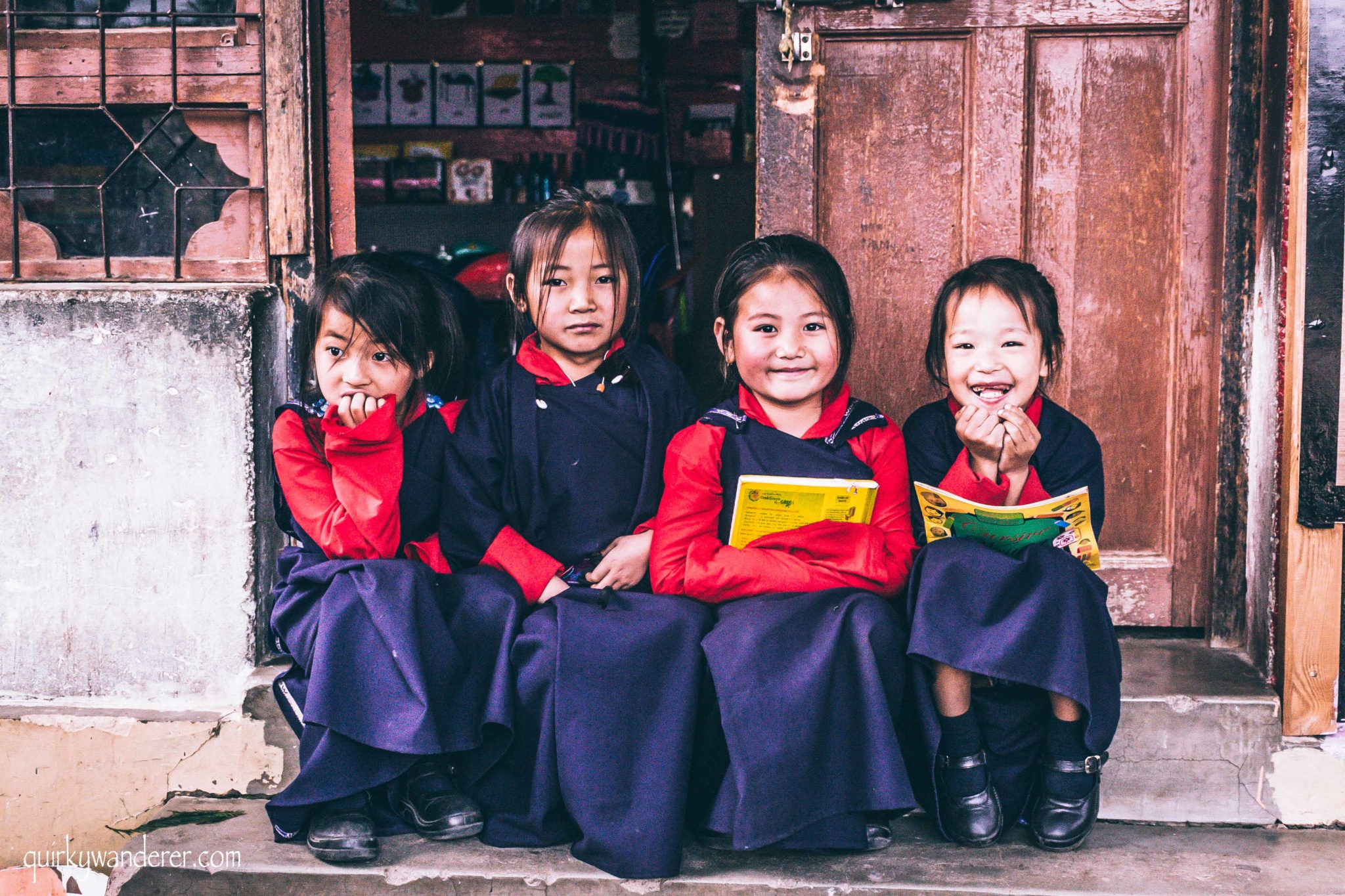 Trashi Chho Dzong:
The administrative building opens to visitors only after the officials leave. So this can be only visited post 5 pm. One of the most majestic Dzongs in Bhutan, with intricate architecture and a massive compound.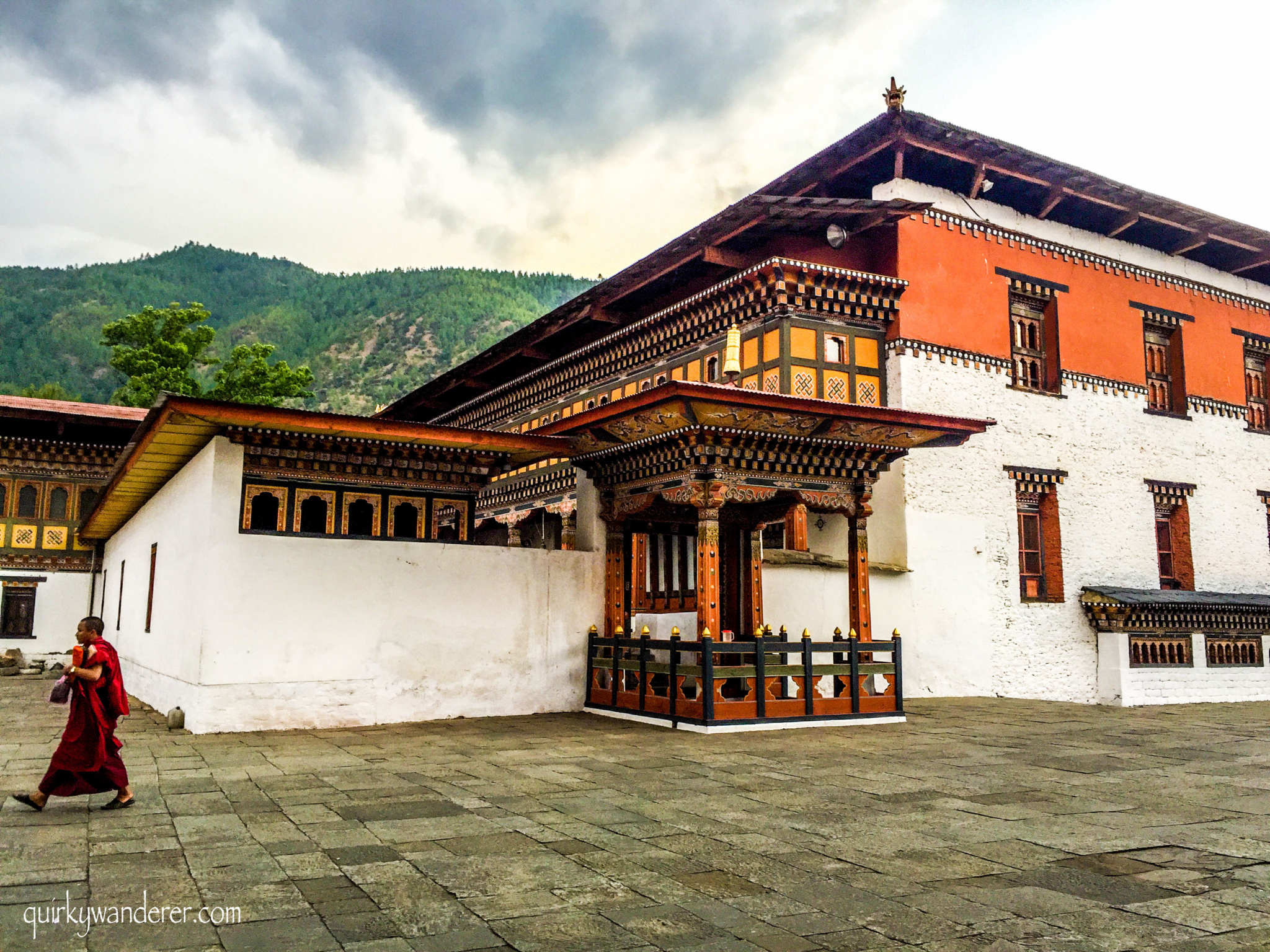 The white and red building, built by the first unifier Namang Namgyal, is home to a monastery as well the civic body, is named as the 'Fortress of the glorious religion'. The beauty of the dzong is that it was built without any nail, no architectural plans.
More pictures of the Trashi Cho Dzong here.
Catch a cultural performance: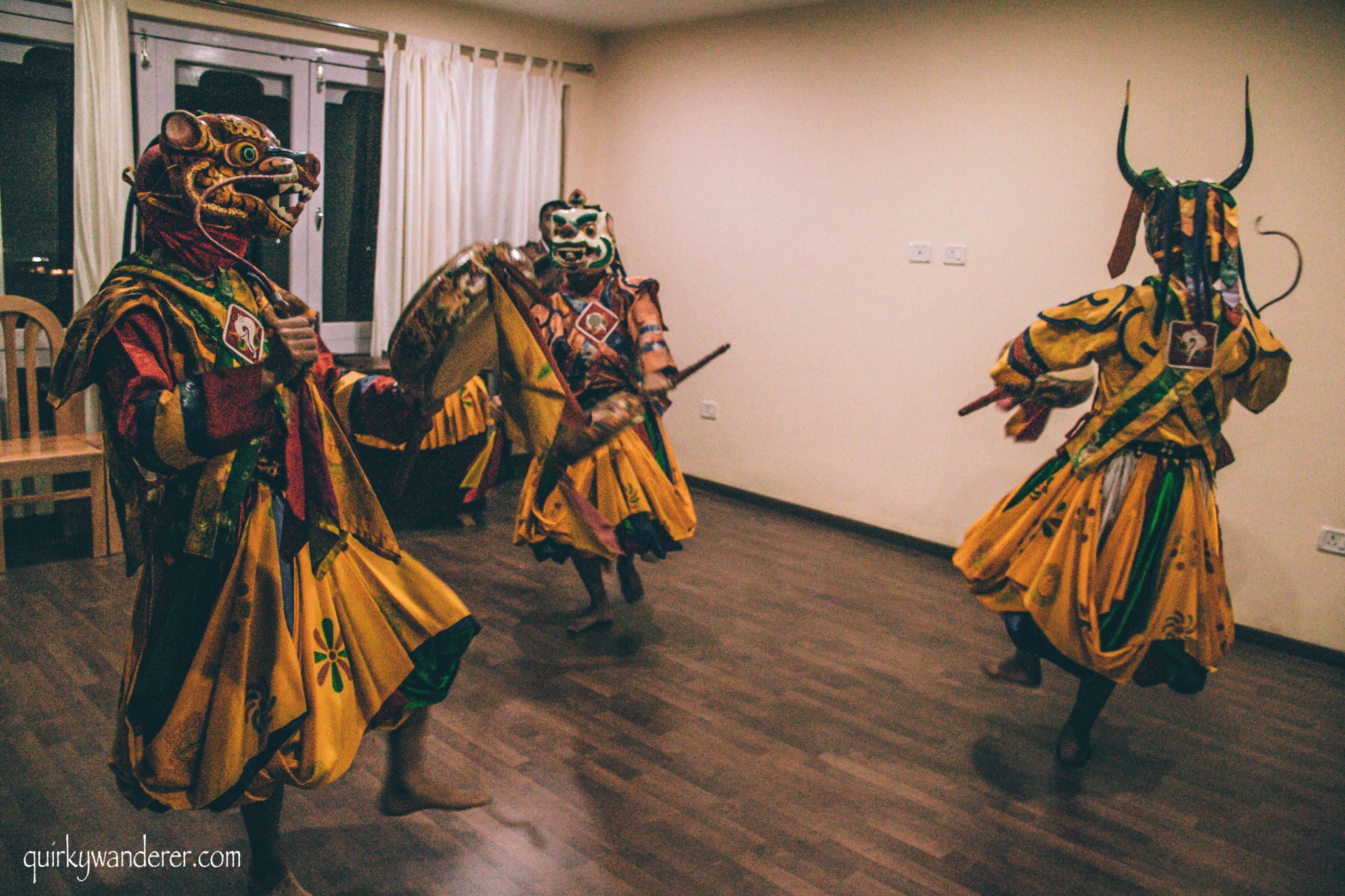 Get traditional and witness the local song and dance of Bhutan. Most of these performances can be arranged by your hotel. Settle in and get a glimpse of their masked dances (Drametse Ngacham), village dances, archery dances, dance of the pounding soil and more.
Sing along the Bhutanese tunes, strung on their wooden instruments, tap your feet on the sounds of cymbals and wooden drums and call it a day dancing away with the locals. More on the dances here.
Day 2: 
Cheer at an archery match: 
Start your morning by heading to the Changlimithang stadium. Watch the local Bhutanese men in action wearing the national dress Gho and playing their national game.
Marvel at their skill of hitting the bull's eye from a distance of 140 metres and dancing and celebrating every point.
It is nothing close to what I had ever seen. Far away, in a small Himalayan kingdom, there is still archery being played by men in skirts and you can still revel in their happiness, despite knowing zilch about the game.
More about the game here.
Football is played too in the grounds nearby and there is Football league!
Head to the Changangkha Lhakhang:
This 12th century Buddhist temple is the oldest in Thimphu, situated on top of a hill, where people bring babies for their naming ceremonies and to seek blessings from the protector deity Tamdrin. Children are given sacred yellow threads.  Inside the temple, the main deity is Avalokiteswara with 11 heads and thousand arms. The temple has many prayer wheels and the views of the valley are splendid.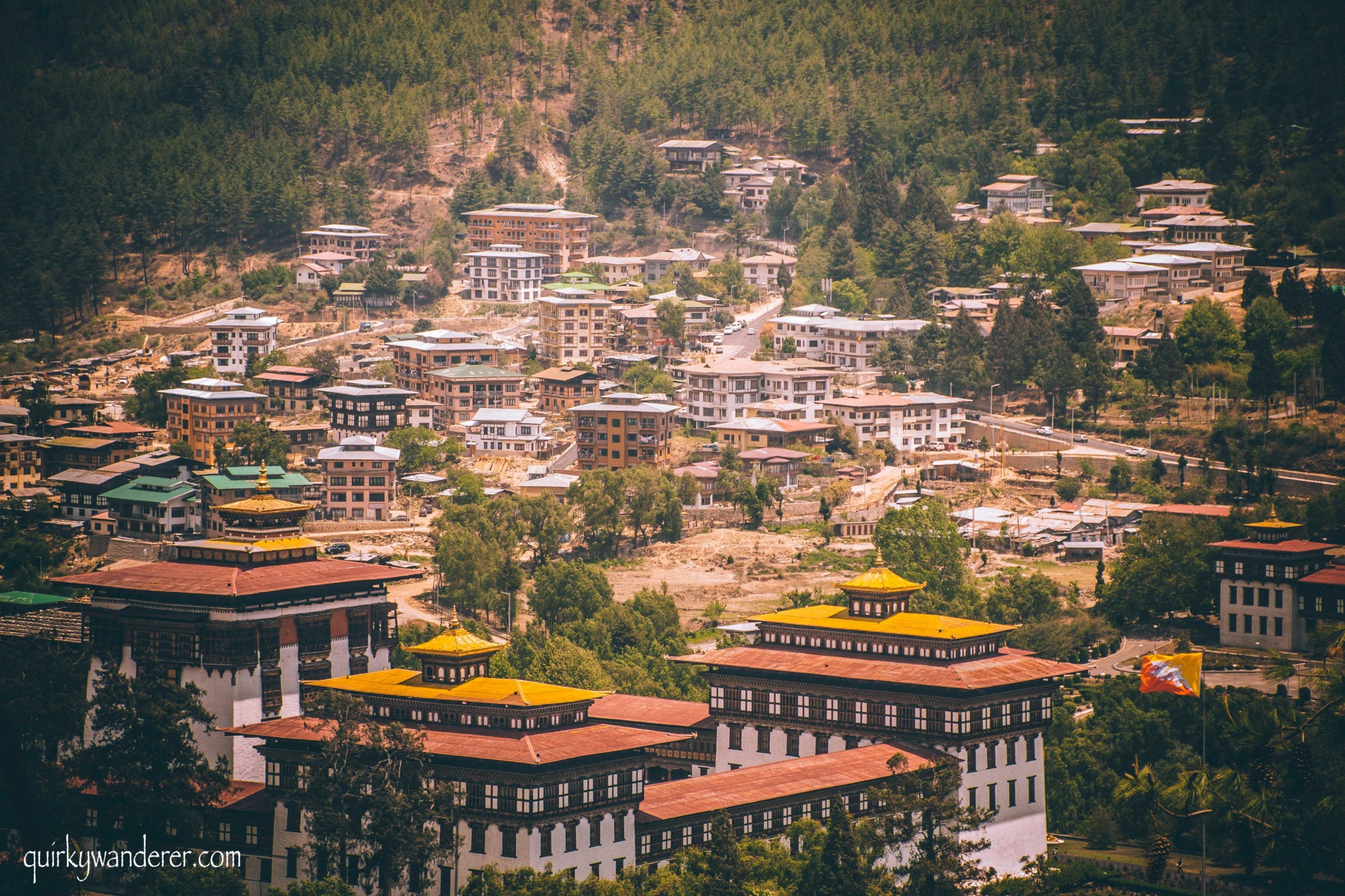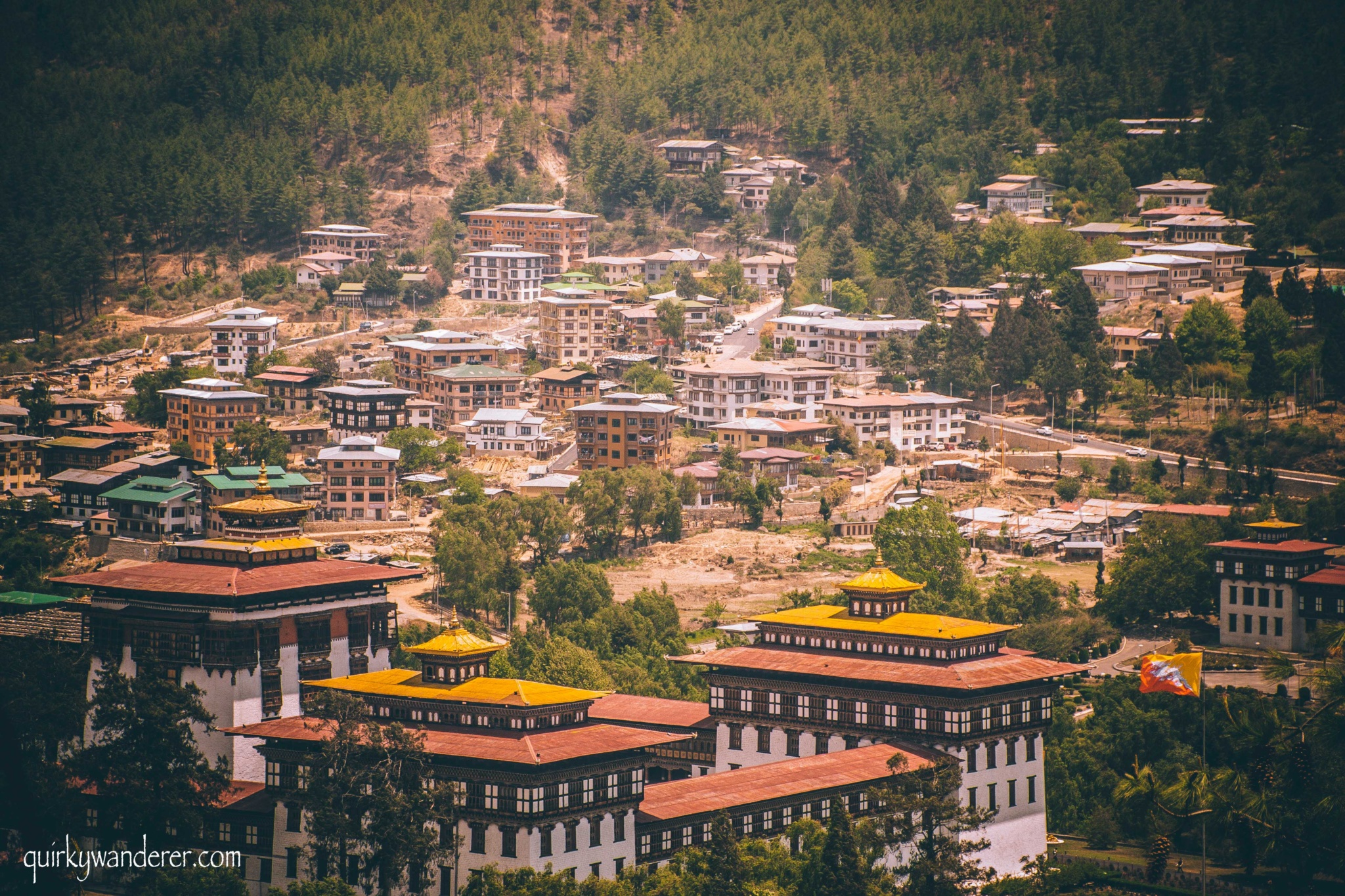 Date with the Takins at the Motithang Takin reserve:
The Takin is similar to a hybrid of a cow and a goat and is the national animal of Bhutan. The Takin reserve is where you can find them lazying around in a green enclosure. It may not be the most photogenic animal but the surroundings are serene with tall trees spread all over.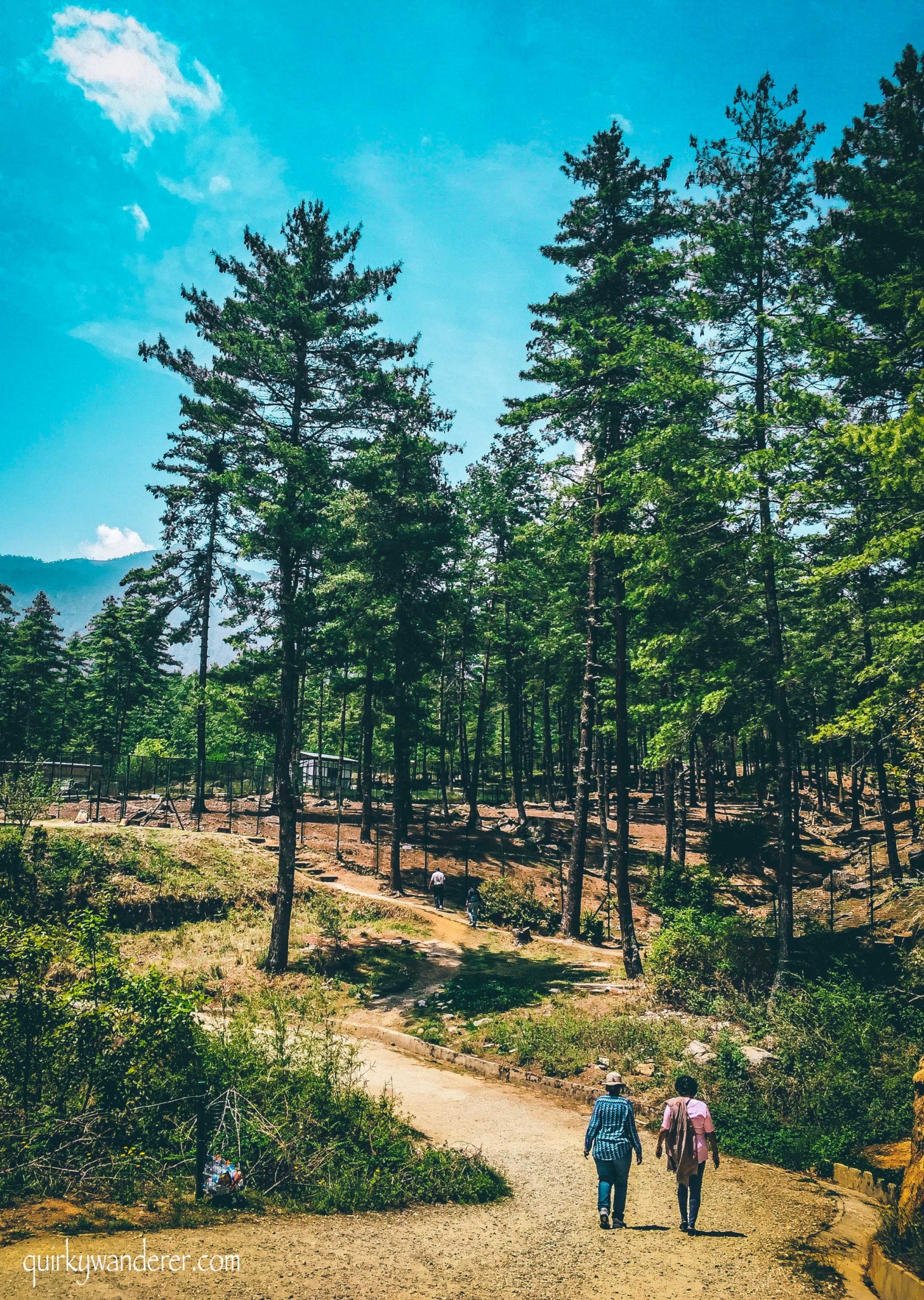 Do not miss the colourful, handwoven stoles sold at the entrance by a lady who weaves dainty stuff in front of your eyes in interesting combinations.
Folk Heritage museum and lunch: 
To know more about Bhutanese traditions and culture, head to the Folk Heritage museum and understand the nitty gritties of a Bhutanese household.
The place is magic. Once you enter the earthy building, you feel transported to another era with stone cauldrons, ornate vessels, wooden utensils and cooking apparatus, their age old storage systems and dyeing procedures.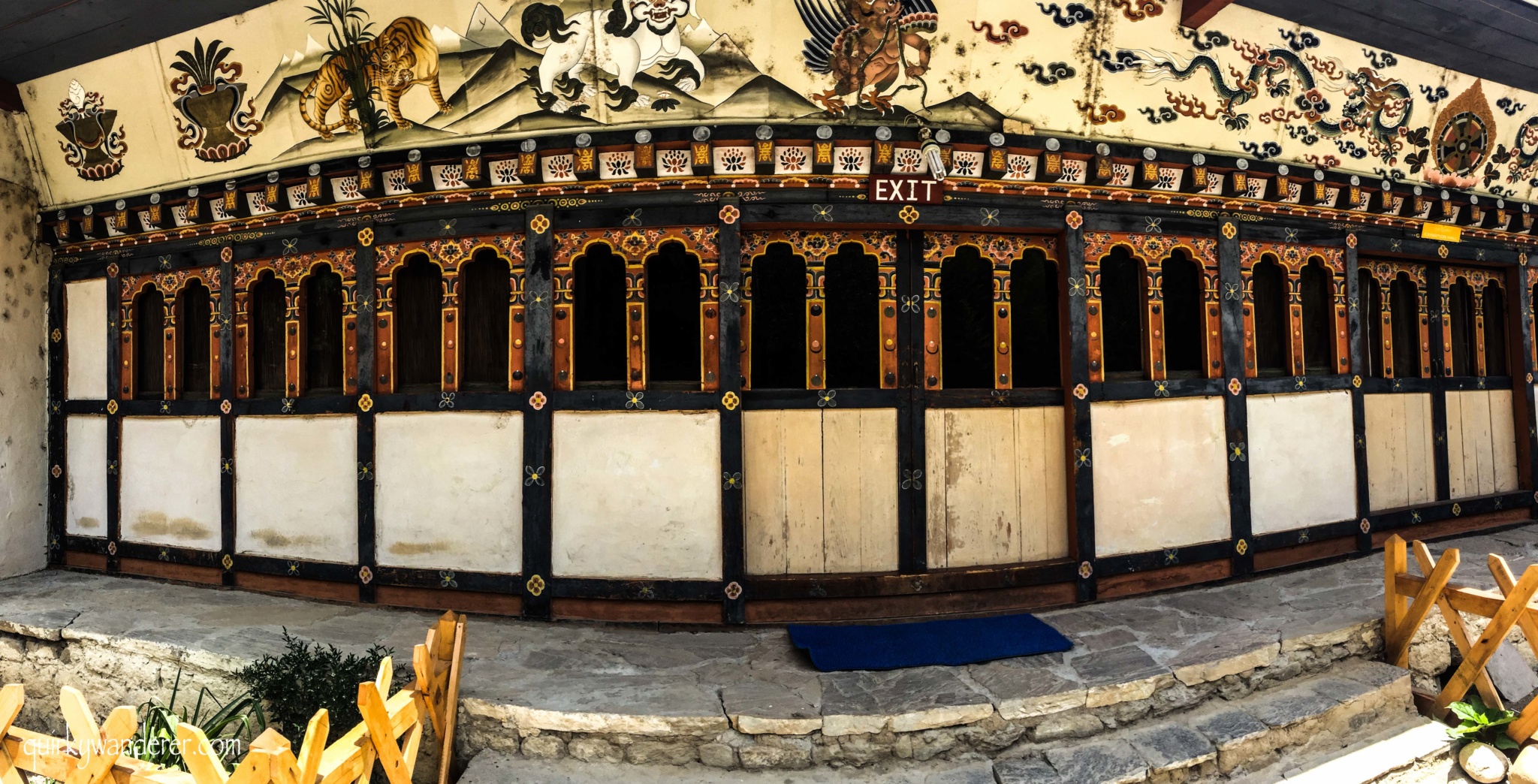 The museum is recreated and built on the lines of a rural Bhutanese house and every floor has a significance.
Have an authentic lunch (Buckwheat pancakes, Sooja and a variety of Datshi, a gravy of cheese and vegetables served with rice).
National Library :
The building is home to ancient Tibetan texts and manuscripts, some wrapped neatly in silken cloth.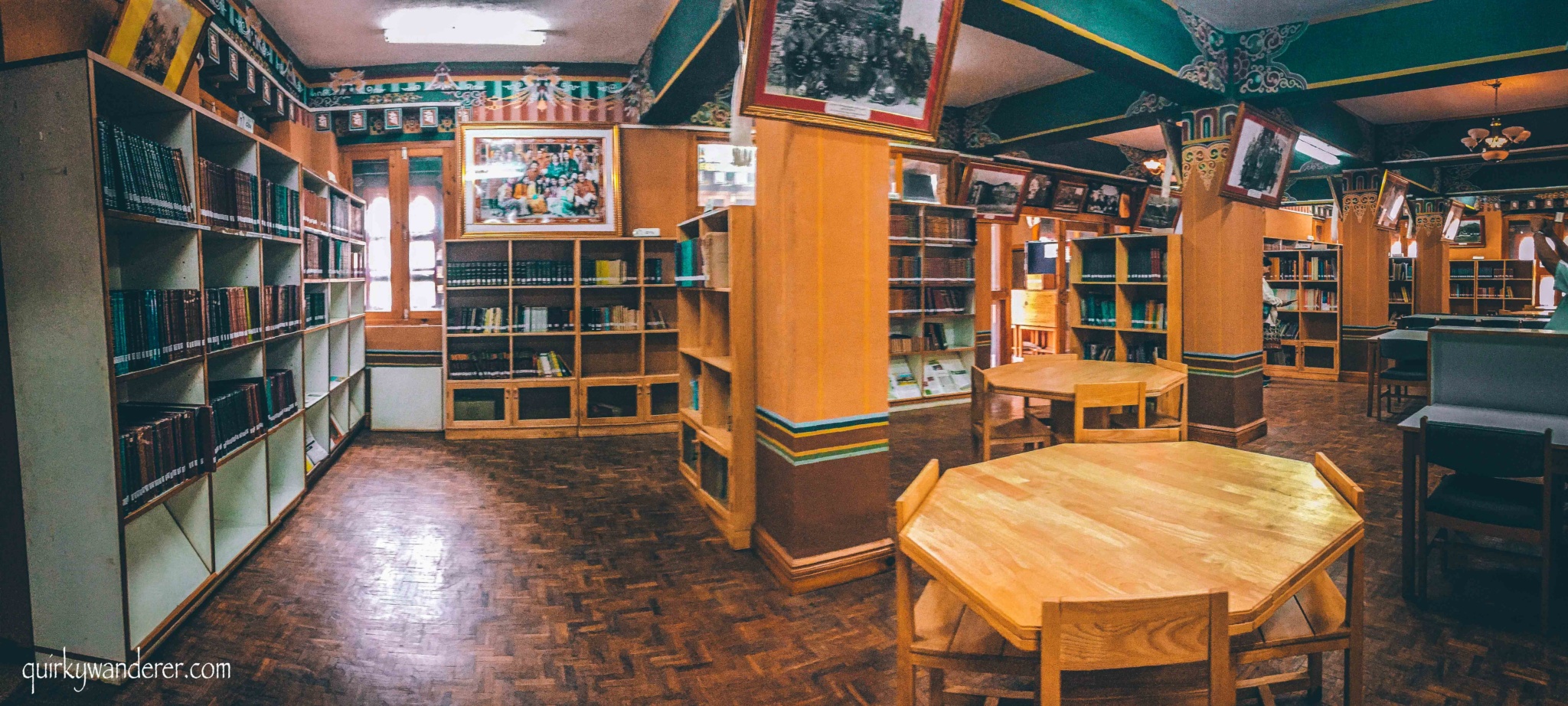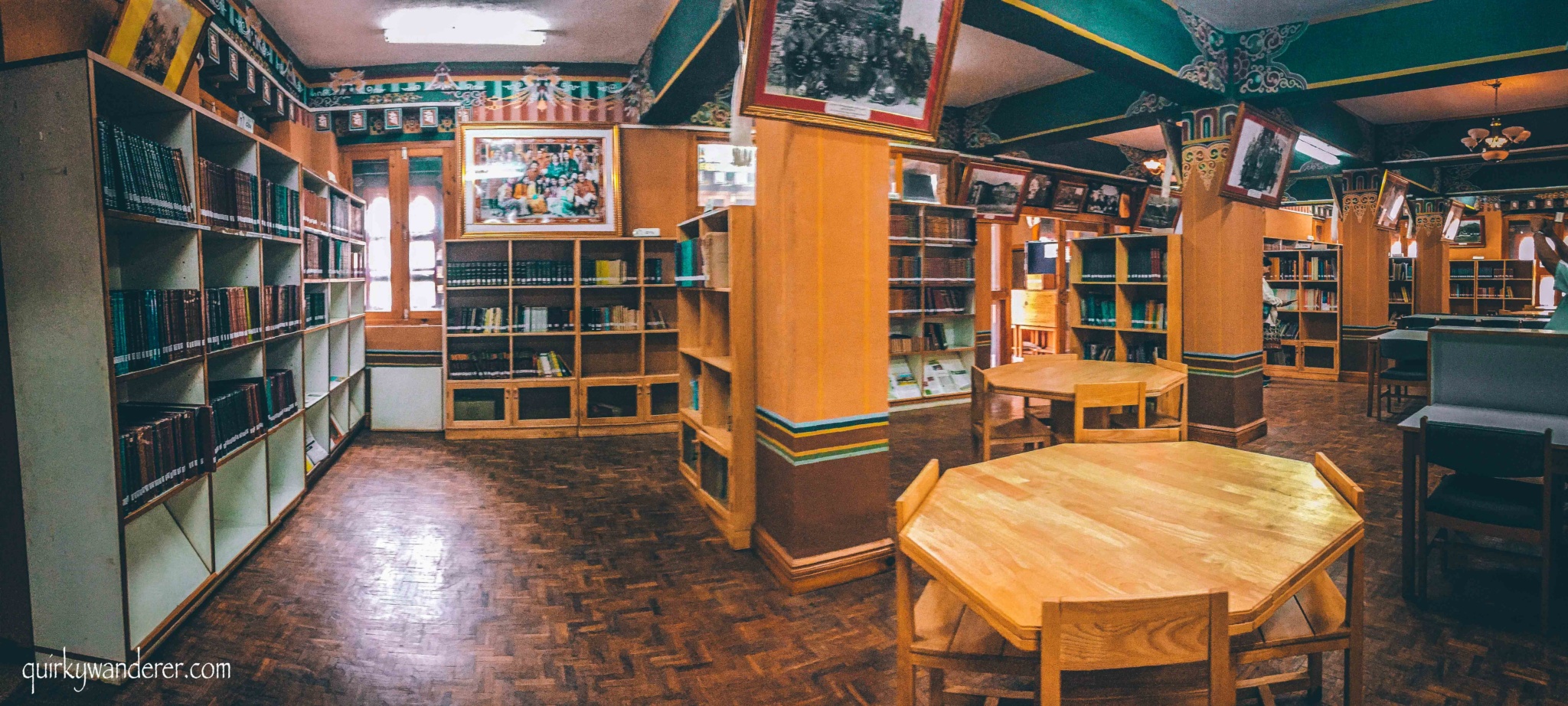 Most of these are written on hand made paper and stacked between pieces of wood.
There is also one of the biggest books in the world on display here. For architecture lovers, this building is a delight, with its unique wooden interiors and Bhutanese styled white exteriors. Do not miss the wonderful flower display in the gardens leading to the building.
Take a stroll in the Clock tower area:
You now have a fair idea of the city, its slow pace, friendly people and straight routes. Take a walk around the Clock tower area, visit the Post office and get your very own personalised 3D bhutanese stamps, walk the markets come alive, indulge in local meal interacting with locals sipping Butter tea. The taste of Thimphu is going to be with you for a long, long time.
Where to Stay: Hotel Sambhav, Chubachu, Thimphu.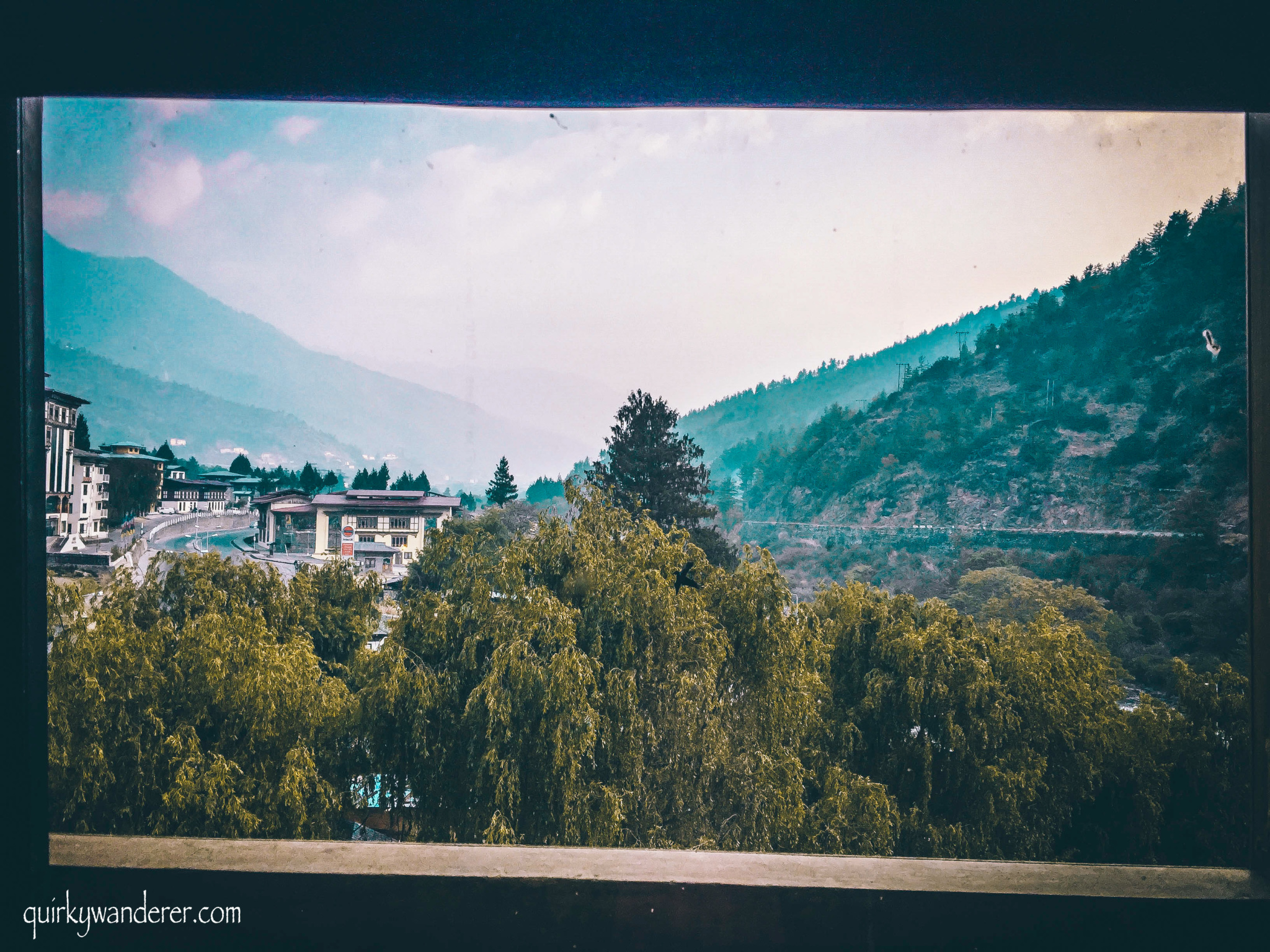 A comfortable hotel, with great views of the Thimphu Chu, wifi and outstanding hospitality of Mr. Pradhan and his team.
Local Bhutanese cuisine is served in their restaurant and they do arrange for cultural performances.
Getting around: 
While most of the attractions are walkable, there are cabs that take you around at a pre decided fare.
If time permits visit the Zanglopelri Lhakhang too, a small Buddhist temple with huge prayer bells.
Have you been to Thimphu? What is your favourite memory?