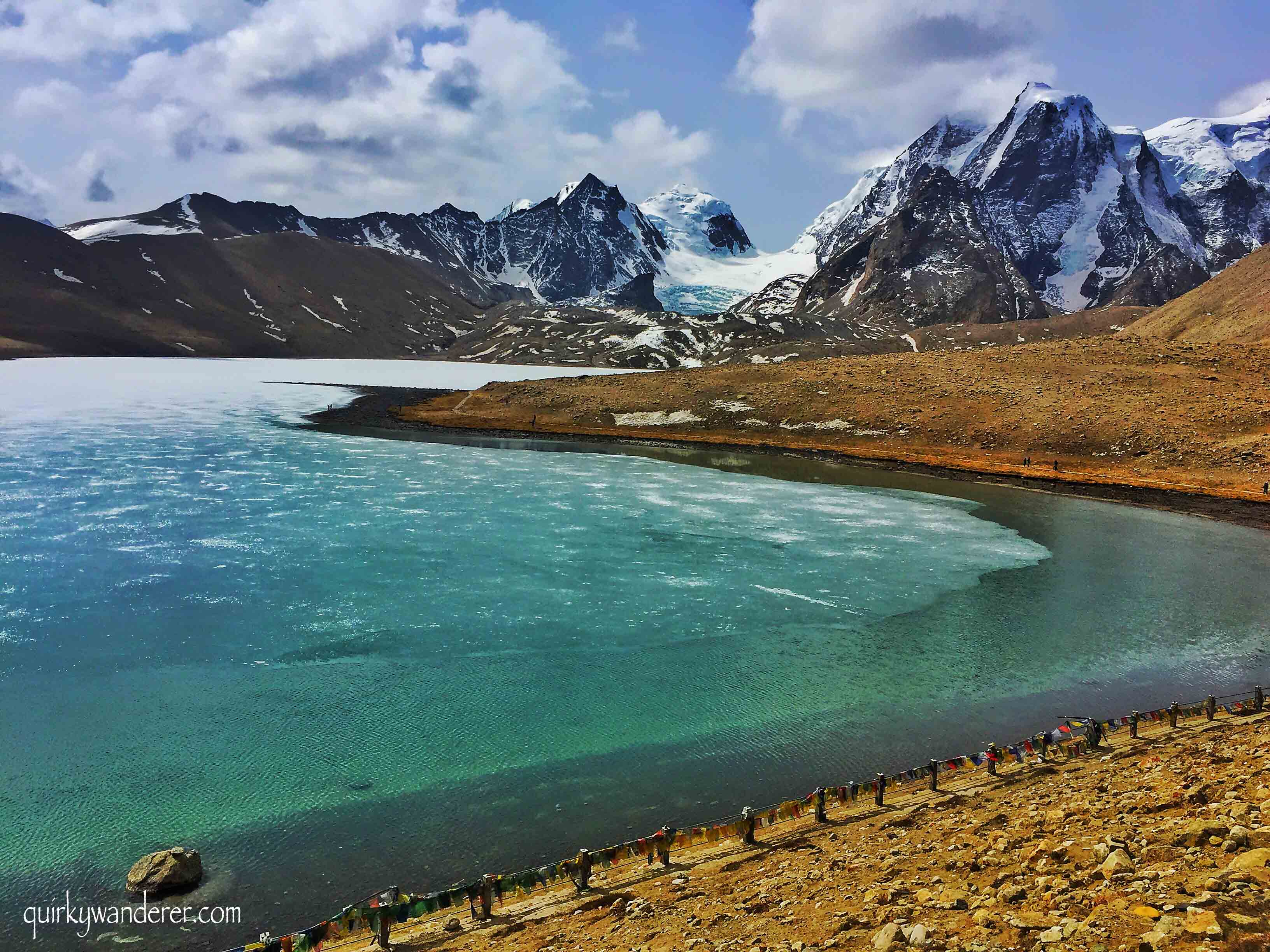 I was inching towards it. It glistened in the sun, its frozen waters reflecting the blue sky. There was no-one in sight. Pin drop silence. Just the wind blowing and prayer flags dancing on the tunes of the breeze. I look at the snow covered peaks surrounding the Gurudongmar lake, standing breathless, gaping at them in awe. Like the prayer flags, my heart fluttered too. 
Breaking this absolute silence, there was music. Loud. Unwelcome music. I look around searching for its source.
My subconscious self tells me to stretch my arm and shut it. How silly! It is the alarm. I wake up with a start, dishevelled.
It was a DREAM! I look around the dim lit room, my roomie sleeping peacefully, my things pell mell, the clock ticking away.
4.15 am.
I had 45 minutes to get ready in this biting cold and report at the reception at 5 am.
But the question was, "Was I ready?"
The four hour journey was said to be arduous. We were at Lachen, North Sikkim at 9000 ft and Gurudongmar lake was at 17800 ft. After the AMS disaster at Nathu La, this seemed daunting.
Flashbacks from the dream kept luring me while I sat evaluating all options. My brain processed bits and parts of warnings from fellow travellers, anxious 'don't gos!' and earnest pleas of thinking logically.
4.30 am. 
I am talking to myself now. "Why am I doing what I am doing?"
A part of me laughed and said "You were always this stubborn, you know right." 
The other part was silent, ruminating "Why do we do what we do?"
SPLASH. 
A bucket of cold water silenced everything and now there wasn't any why, what, how, what if, but…
The sun was out and a golden sky welcomed me as I stepped out.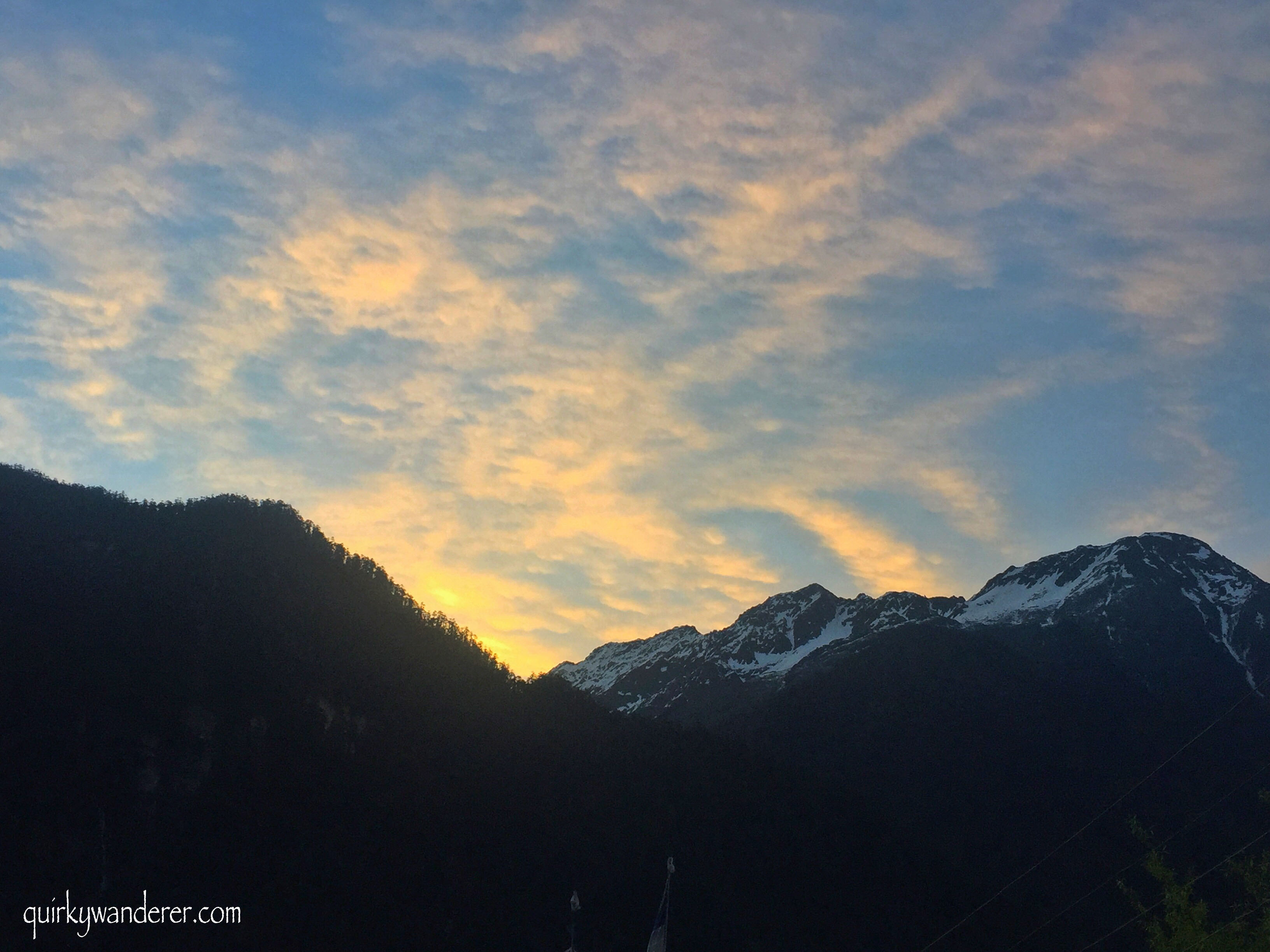 One after the other, four cars left for Gurudongmar, the lake that I had only seen in pictures. Fifteen minutes into the journey, the roads have shed all their niceties and I find myself jumping like a popcorn.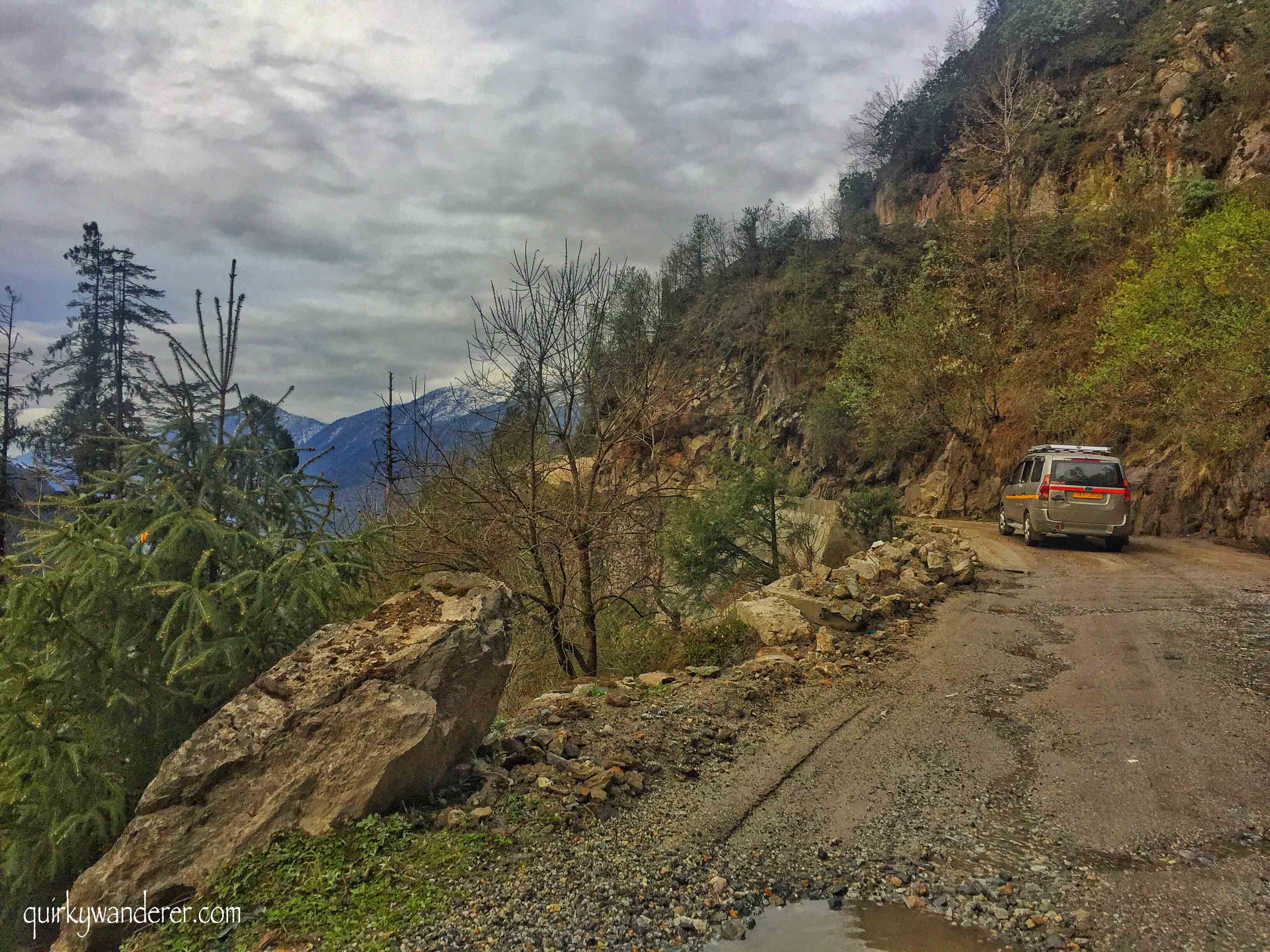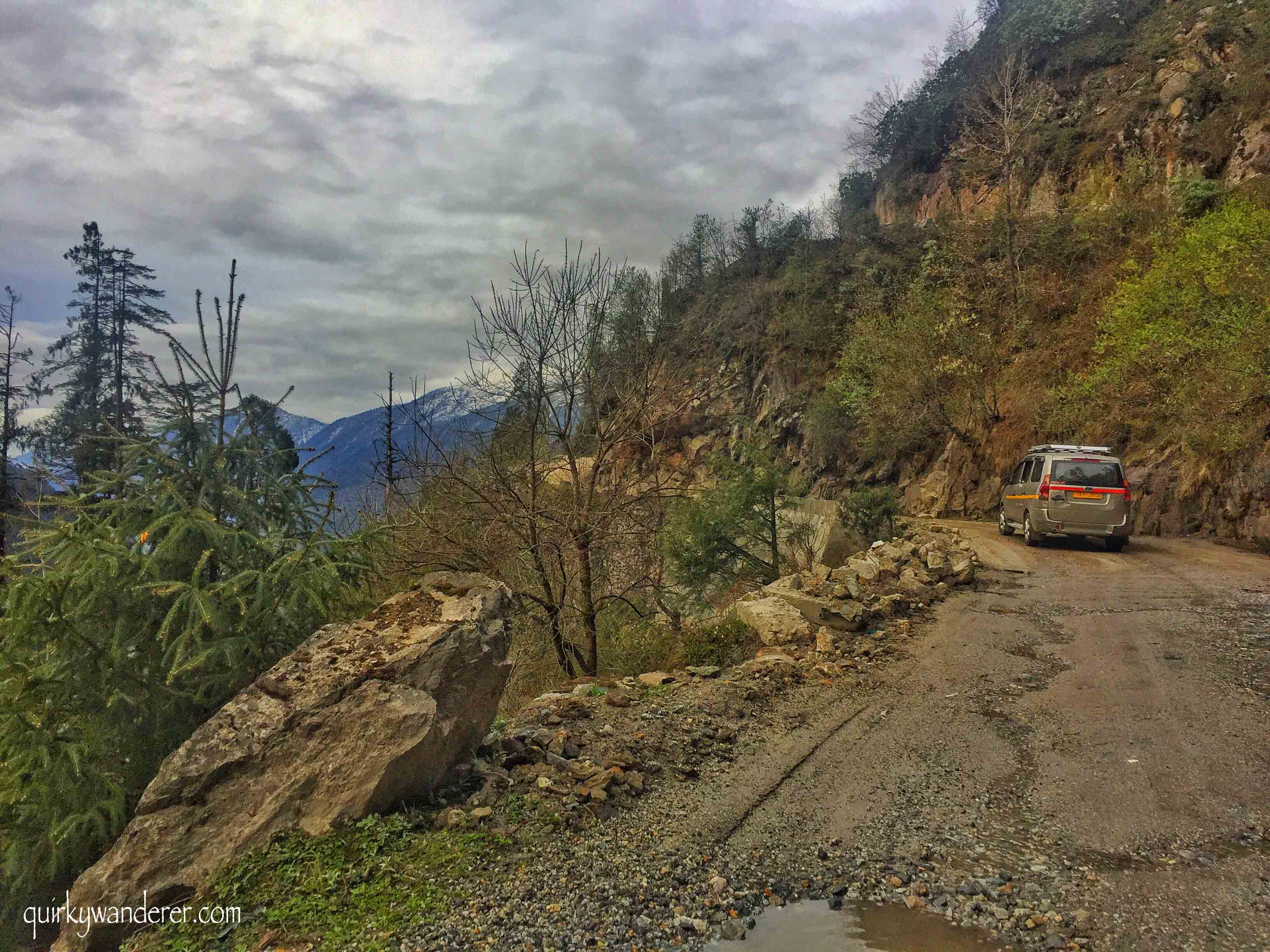 But the popcorn is happy. Because the milky Lachen Chu is flowing happily alongside, cutting through the ridges.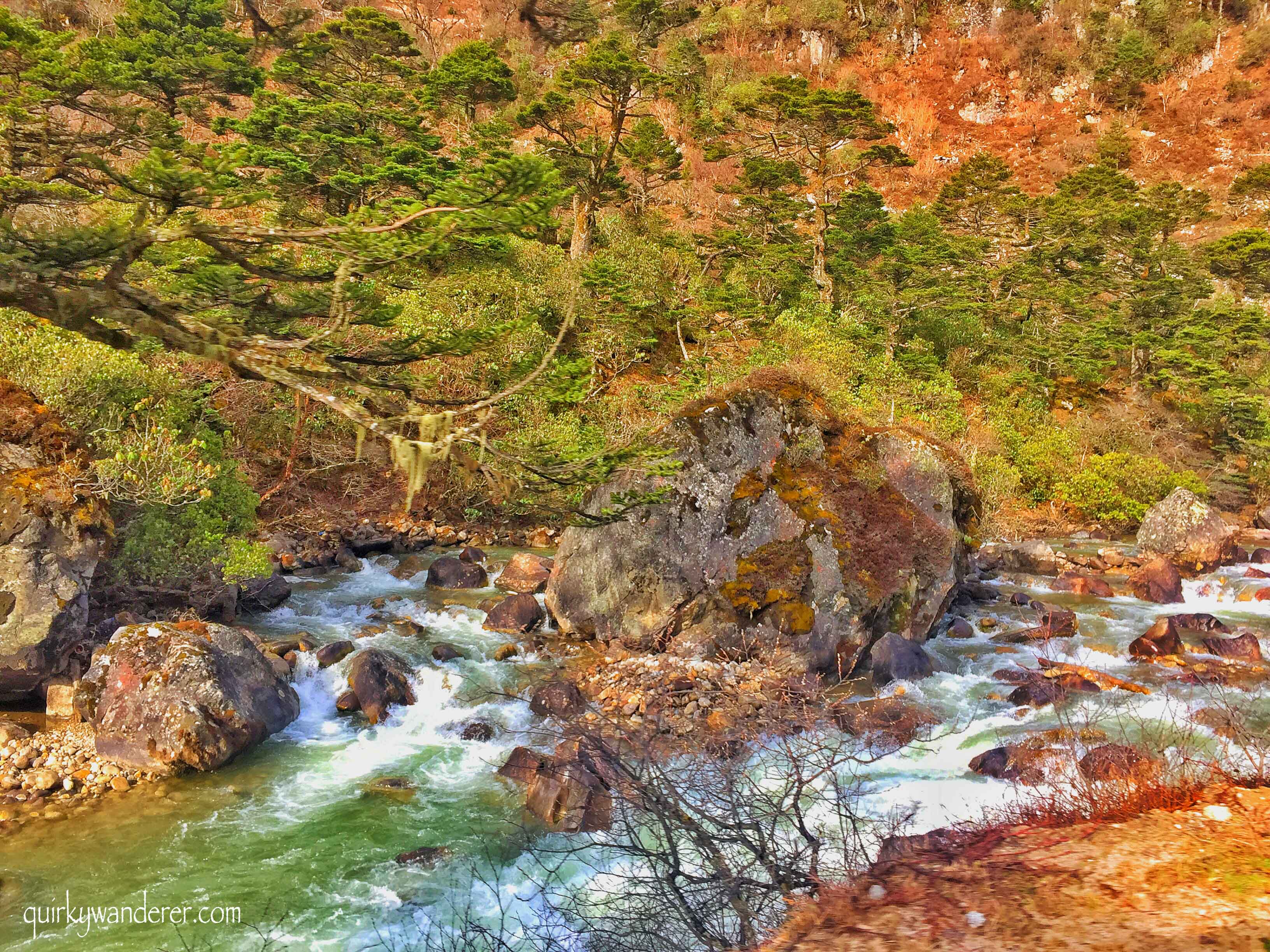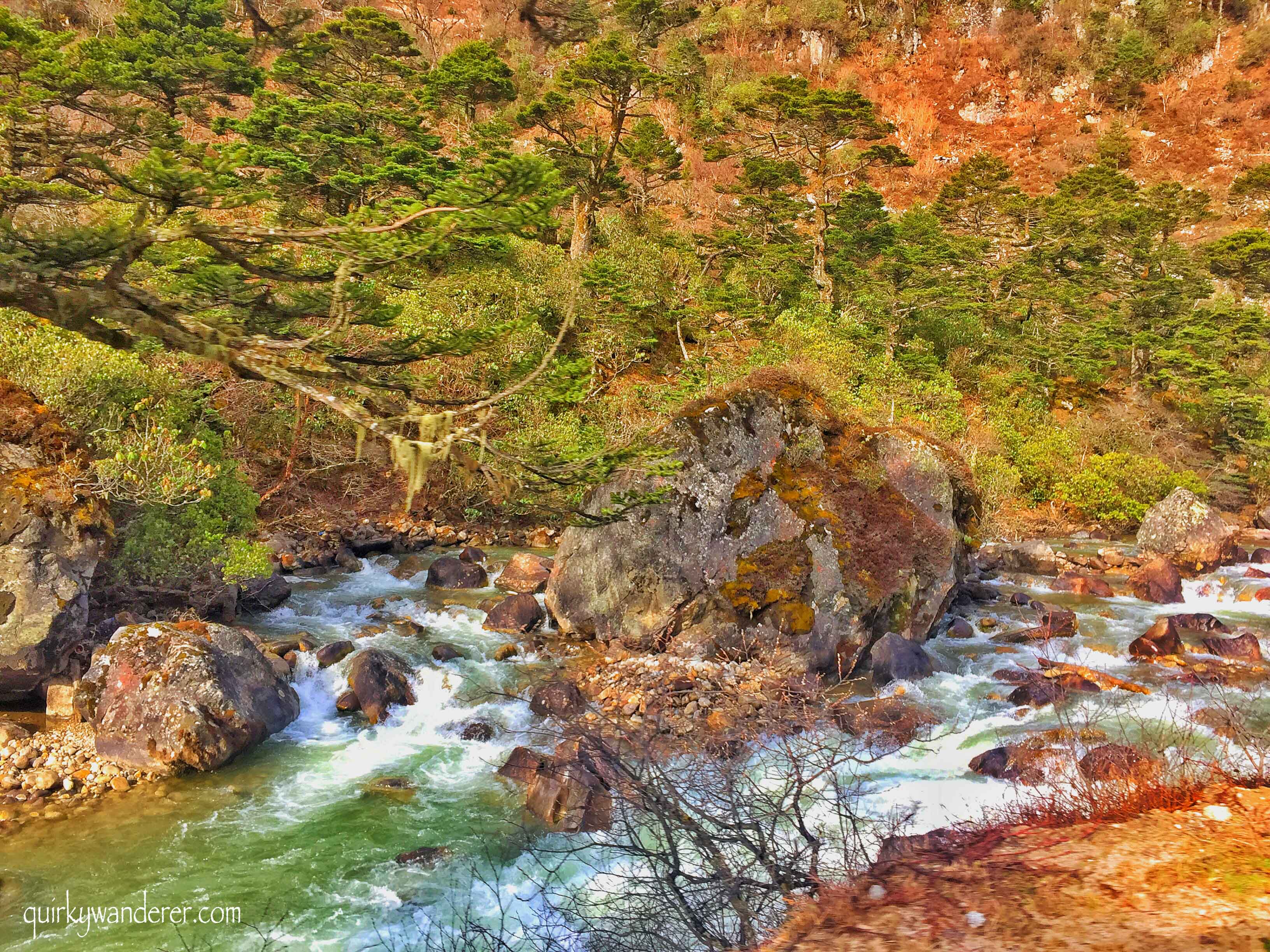 Snow peaked mountains teased at a distance and at every curve the "WOWs" got a little more prominent. Jagged mountains kept company with waterfalls pitching in every now and then. 
The road went from bumpy to bumpier. But Mother Nature was balancing it out.
For every bump, there was a carpet of purple primulas spread over. Tiny primulas looked like purple stars spread over the green, till as far as the eyes could see.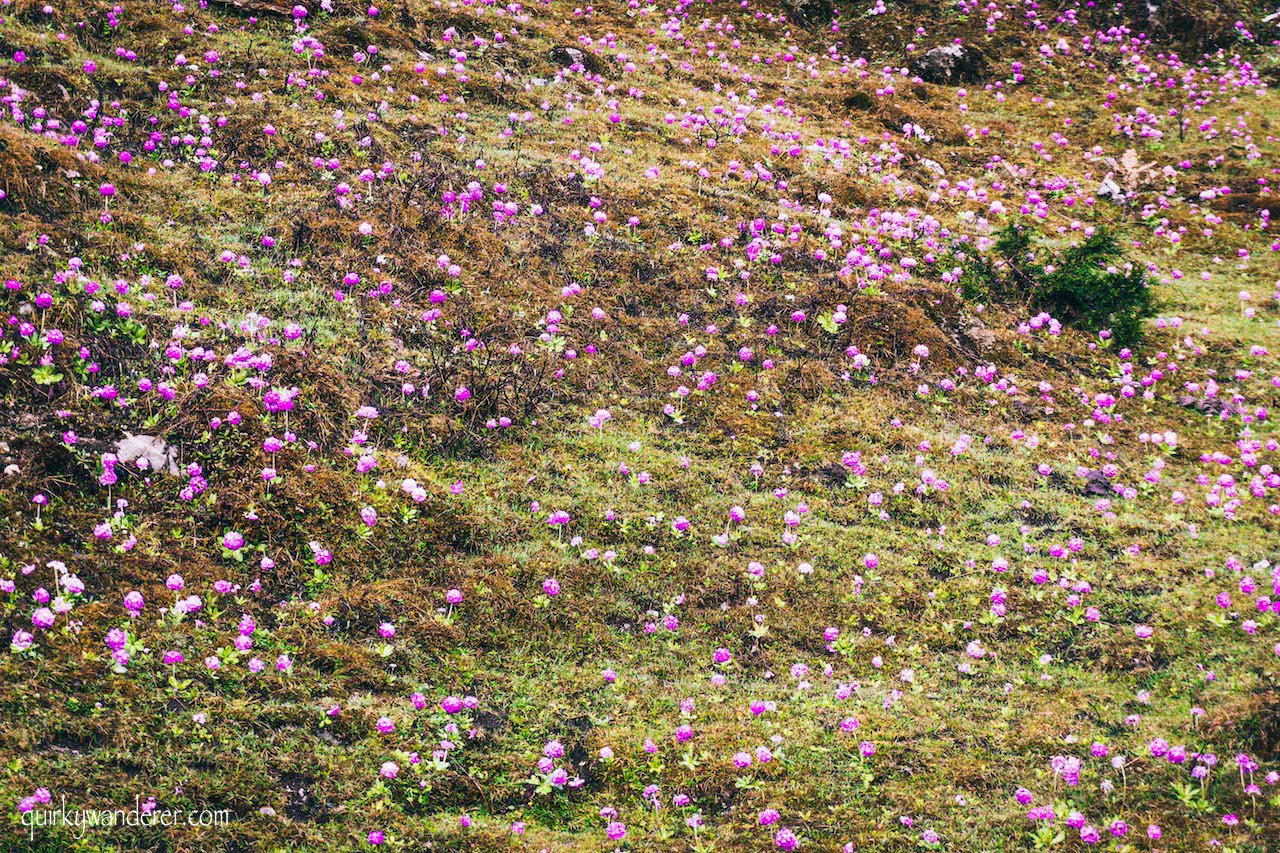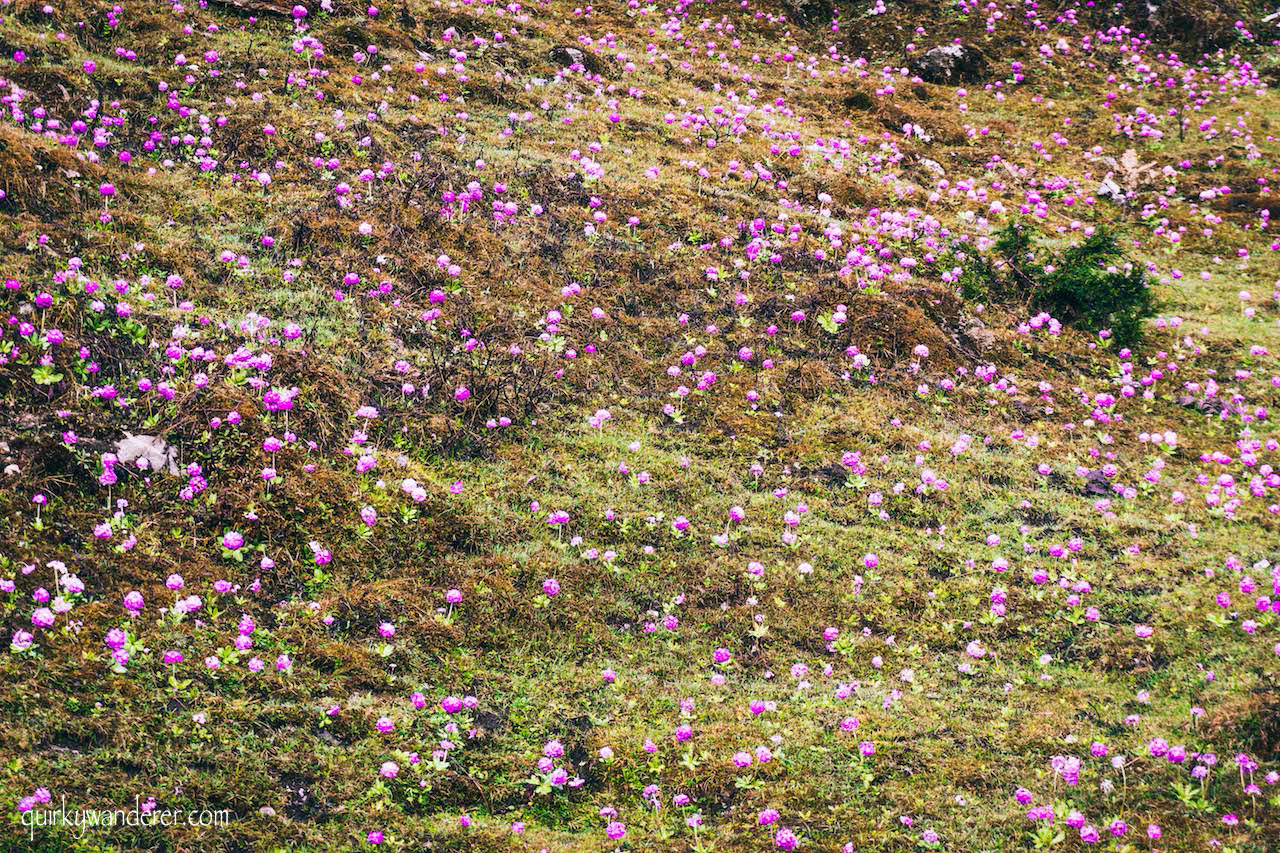 Two hours and 4000 feet higher, we stopped at Thangu for breakfast at a small restaurant run by Pema and Doma, two efficient sisters who dished Maggi, tea, omelettes to tourists.
The snow peaks appeared closer now, as puffs of cold air encircled the air we spoke.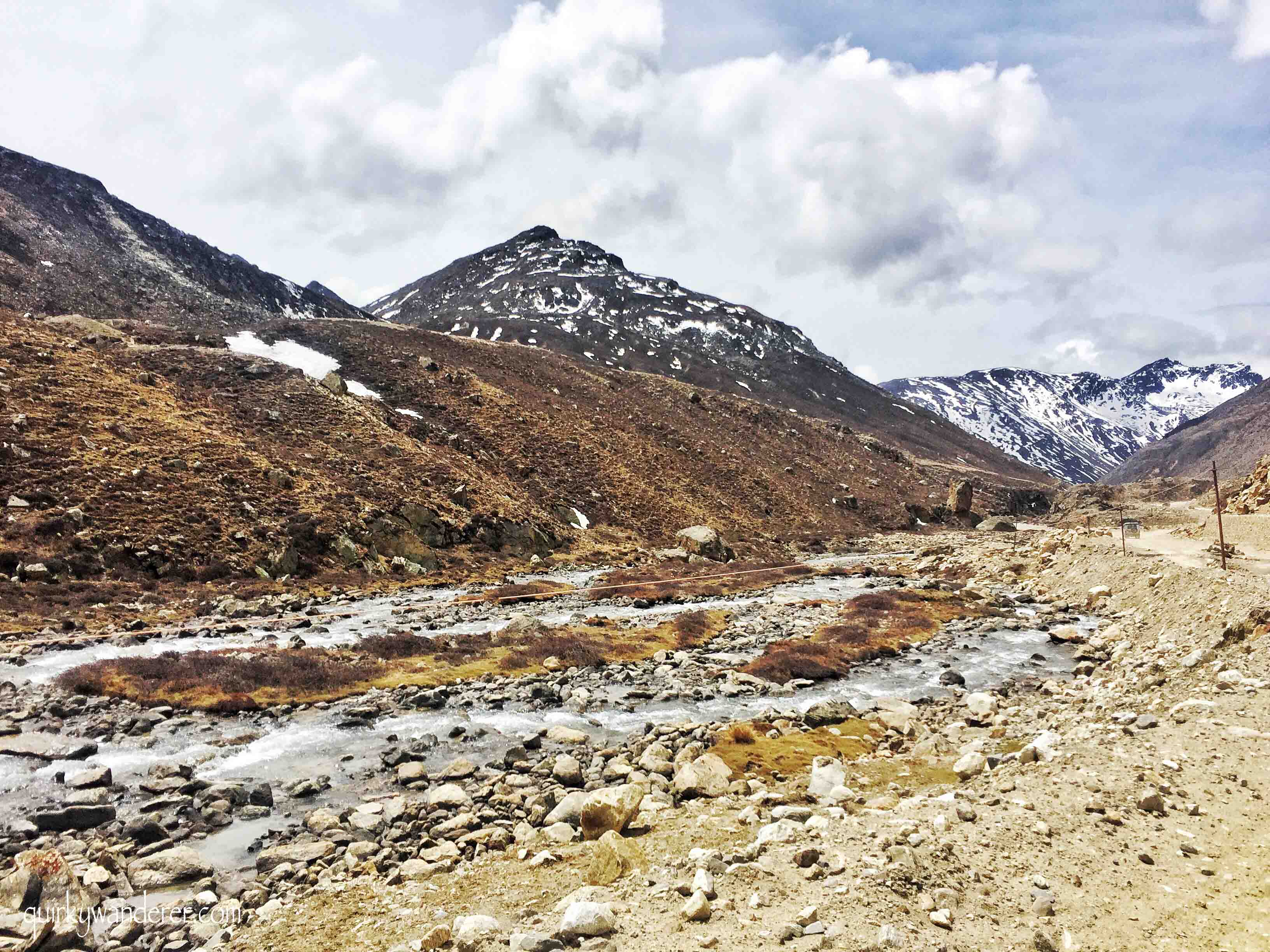 As the journey to Gurudongmar lake continued, the green cover slowly started diminishing but the river never left us, first roaring, then bubbling, then gurgling. Clouds replaced the trees and the landscape slowly turned rugged as we entered the alpine zone. 
There were hardly any people to be seen, just army jawans and check posts at regular intervals. At 15000 ft, we reached an army base camp where there were convenience facilities, a cafe, medical assistance and a bunch f enthusiastic, ever helpful jawans.
The landscape was breathtaking now, a little bit of Ladakh, a little bit of Spiti and a little bit of Sikkim. Miles and miles of  only mountains, clouds and gorgeous blue skies.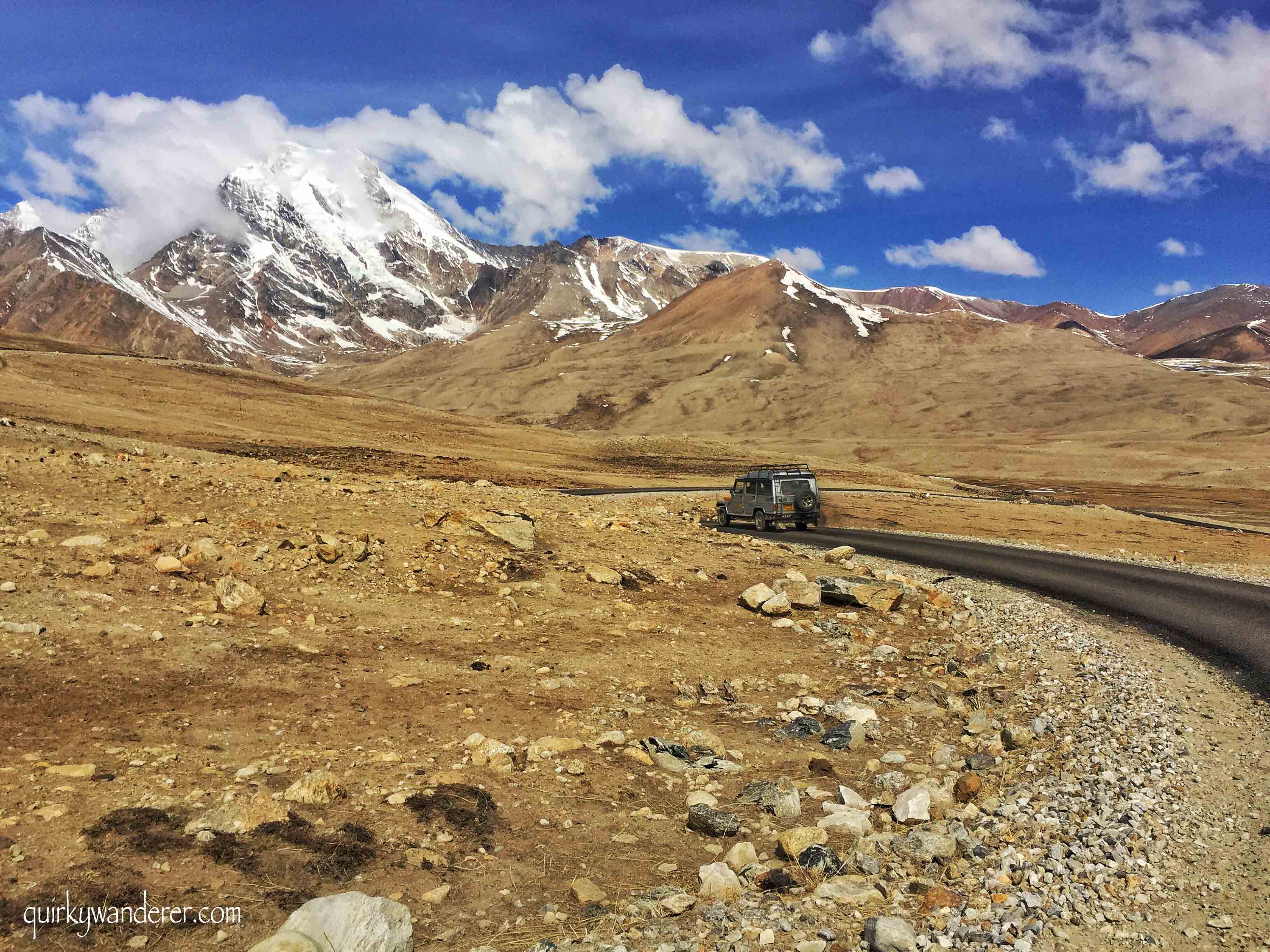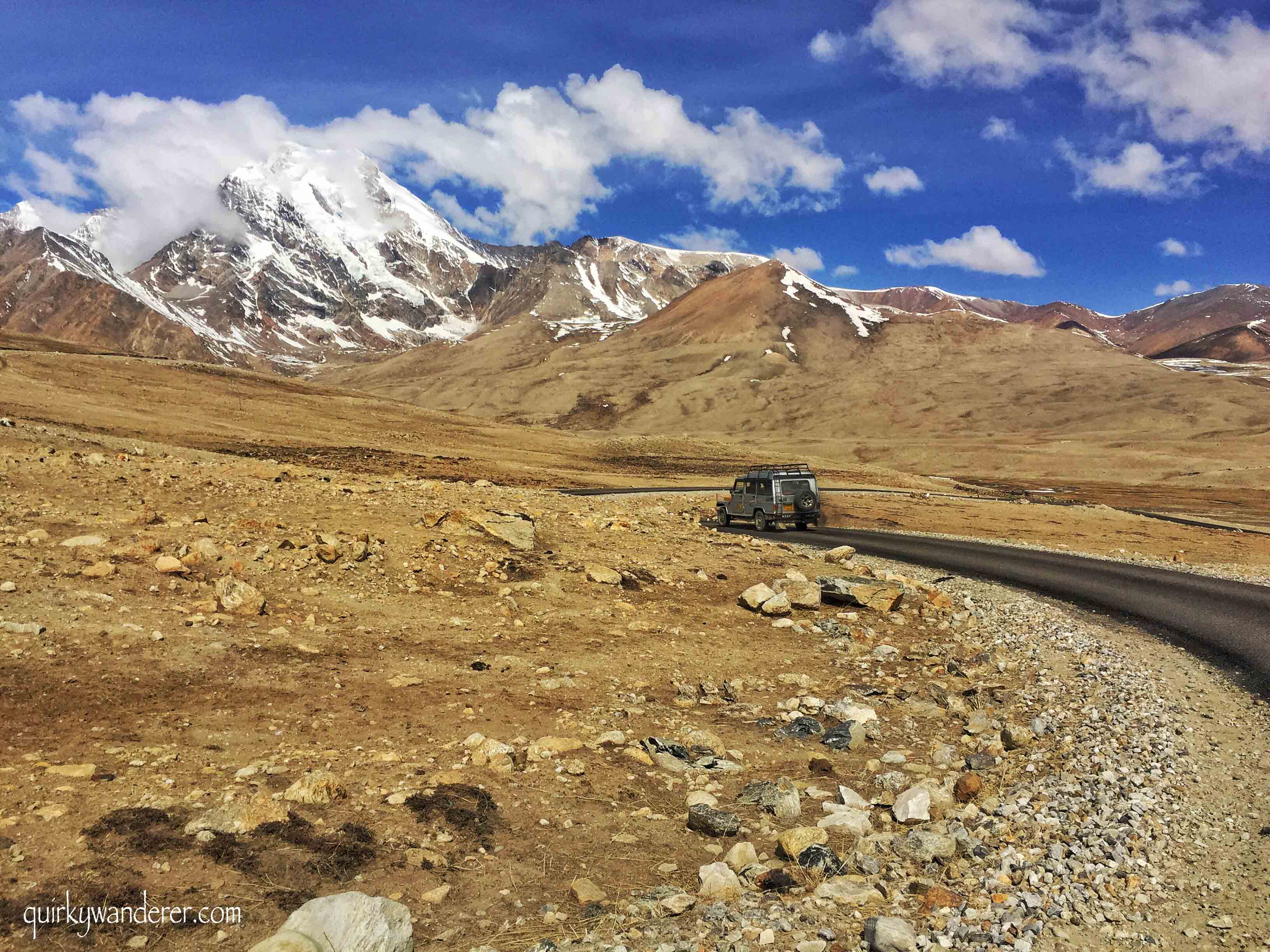 While one mountain was milky white, another was like black forest pastry and another was a brown velvet carpet.
Nature and its different hues. "This is why I came!" I tell that wicked, pessimistic voice inside me.
We were 9 km away from the lake and suddenly, the ride felt smoother. Thanks to the perfectly constructed army road. "Why couldn't the whole route be like this", I lament.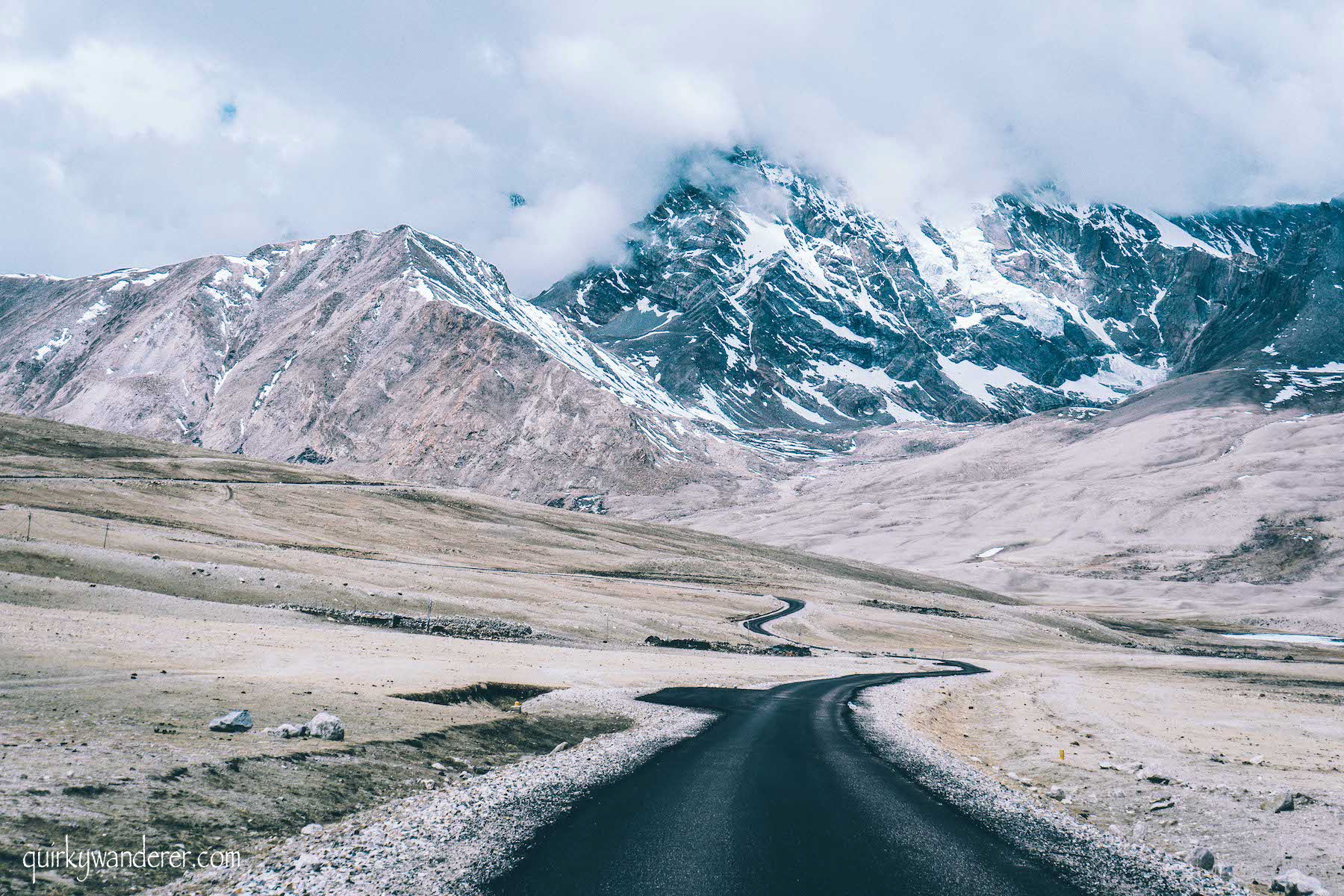 My heart was fluttering now, just like in the dream. The destination was minutes away.
The car off-roaded and started ascending on a hillock, coming to a halt after five minutes.
There it was. Behind an array of parked vehicles. Overlooked by them.


A majestic frozen beauty. Doreen cautioned us to walk slowly, no sudden movements and not to linger around for a long time.
As I stepped out, I realised why. With just 3% oxygen and gaining an altitude of 9000 ft in 4 hours, walking at a regular pace was uncomfortable. Breathing heavily, I stood on the edge, gazing at the surreal view.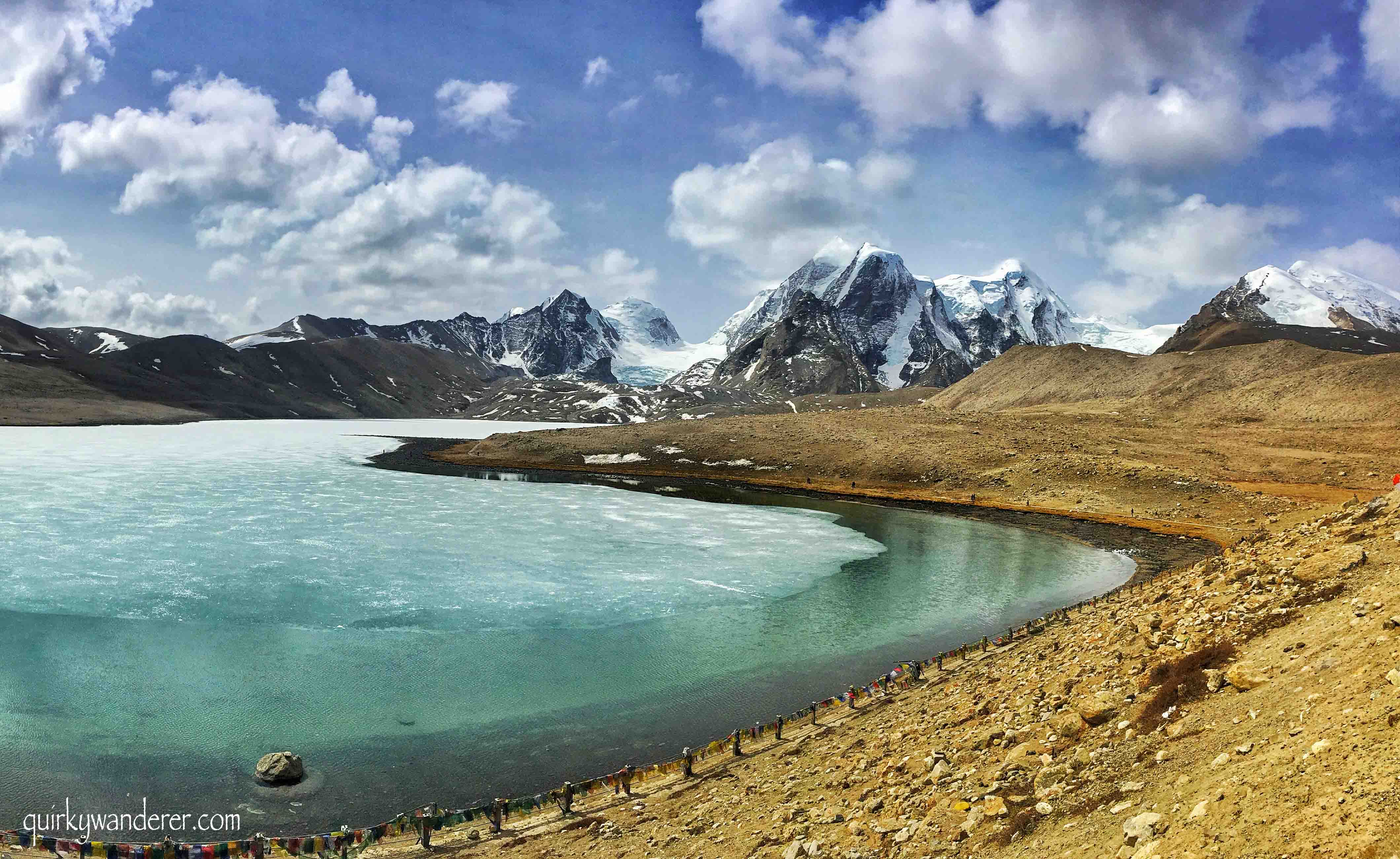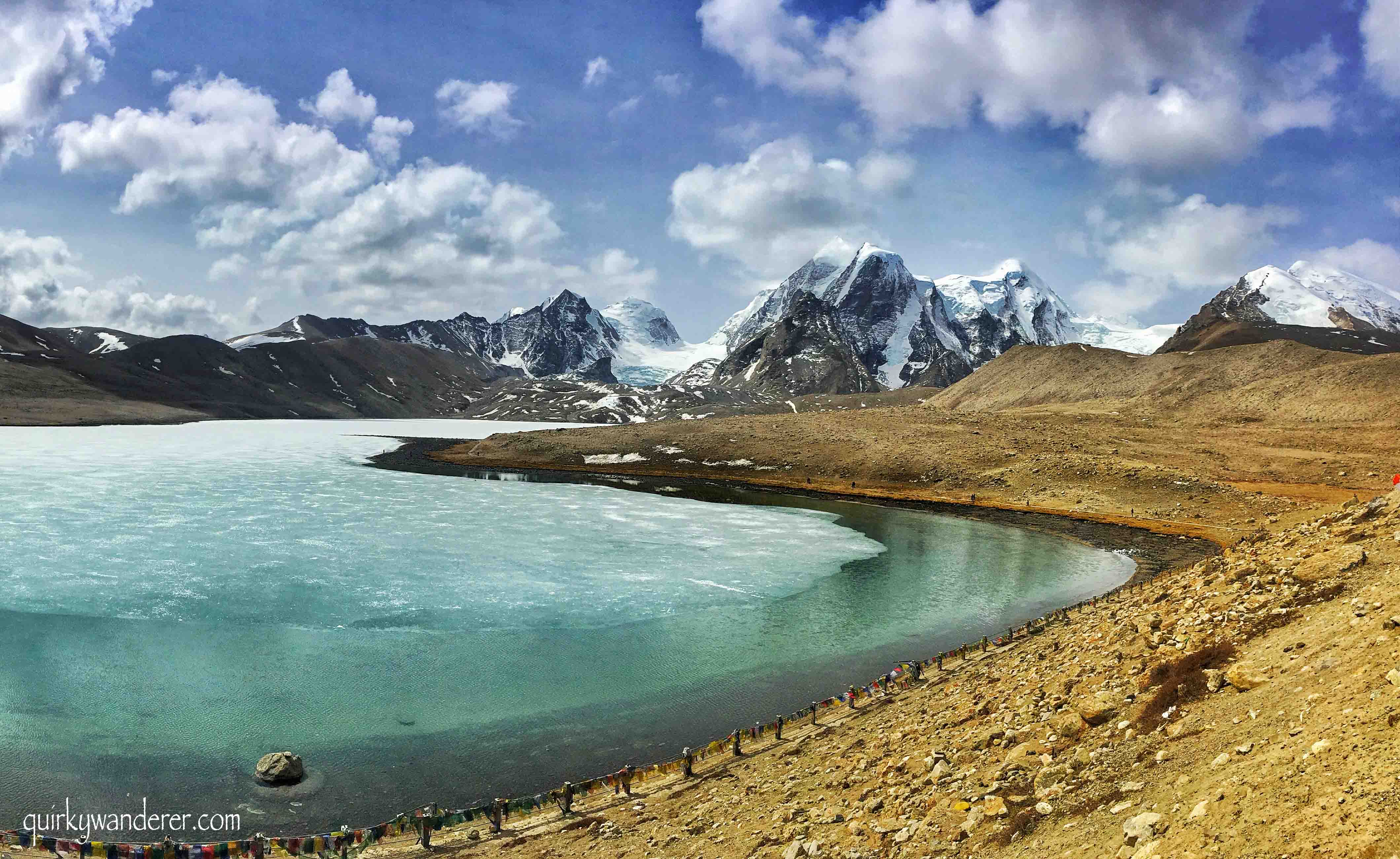 Is this for real?
80% frozen, covered with a sheath of ice, 20 % water glistening in the sun, the reflection of the sky on the lake. Unlike the dream, there wasn't pin drop silence and there were quite a few tourists, but this was my moment of bliss.
The wind blew and the prayer flags danced. Every breath was precious.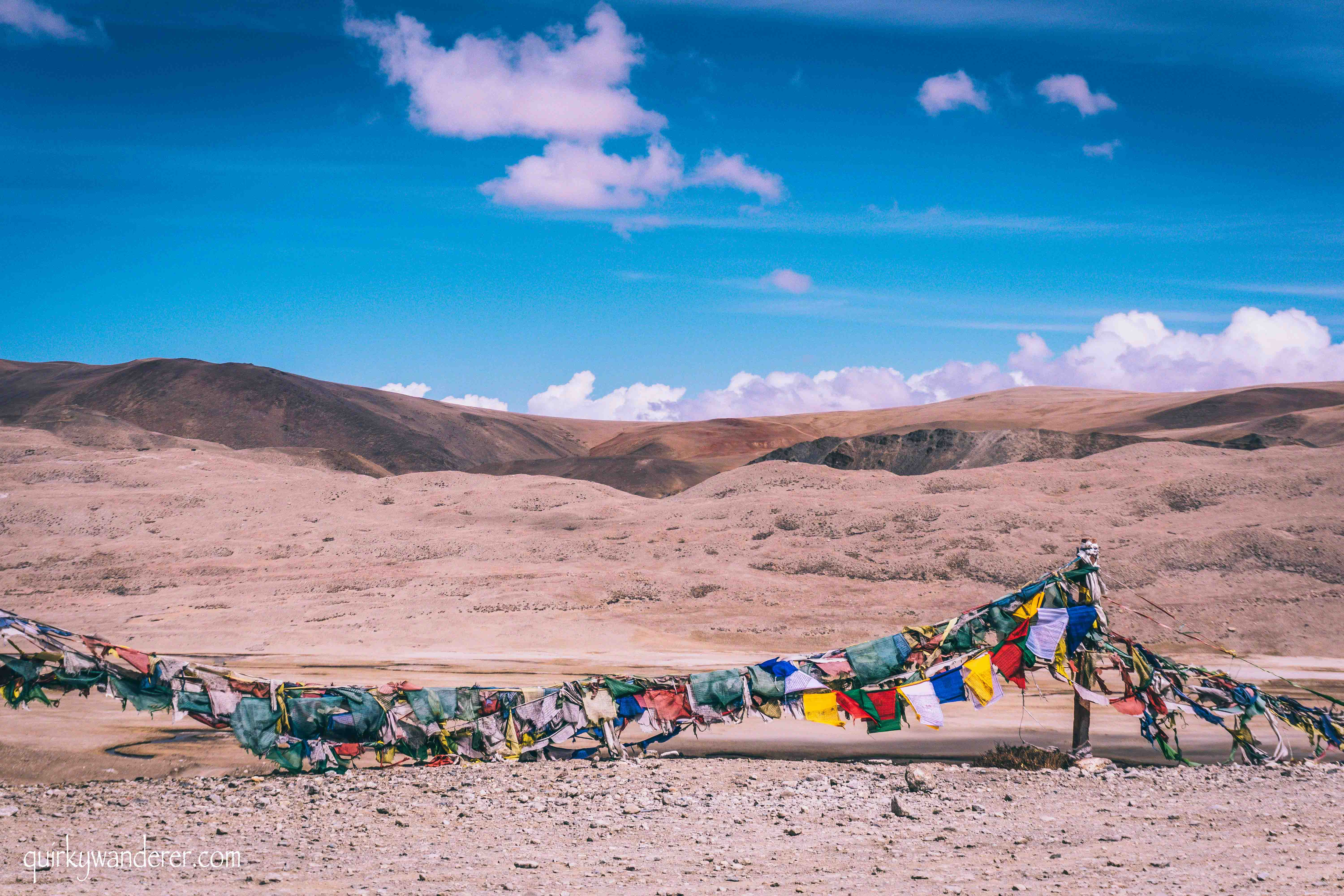 In front of me was one of the world's highest lakes at an altitude of 17300 feet.
Sometimes you are reckless, stubborn and relentless in chasing a destination, that you haven't even been to, and there it is shining in sheer magnificence, not disappointing, as if answering all your questions and lauding your stubbornness.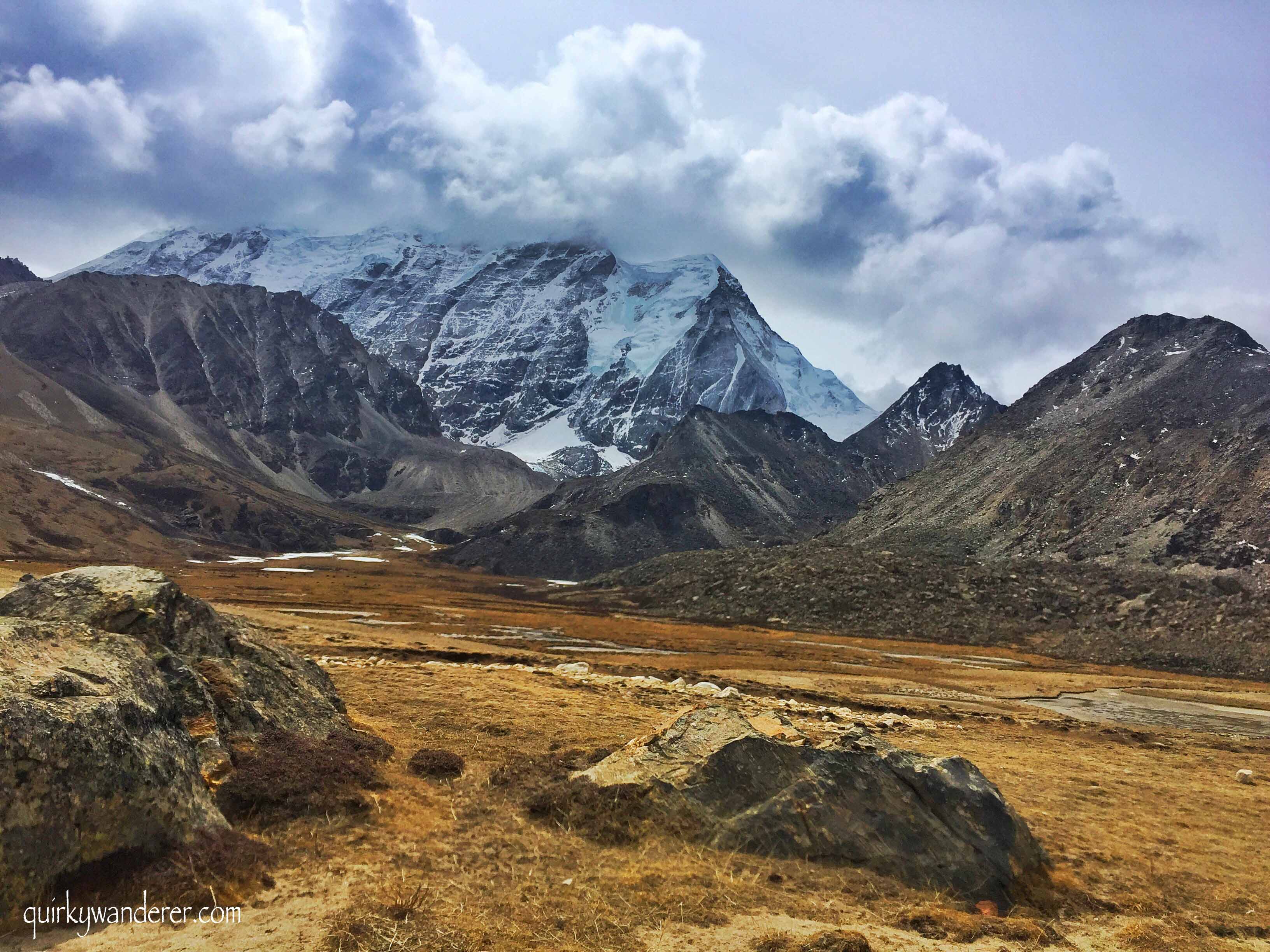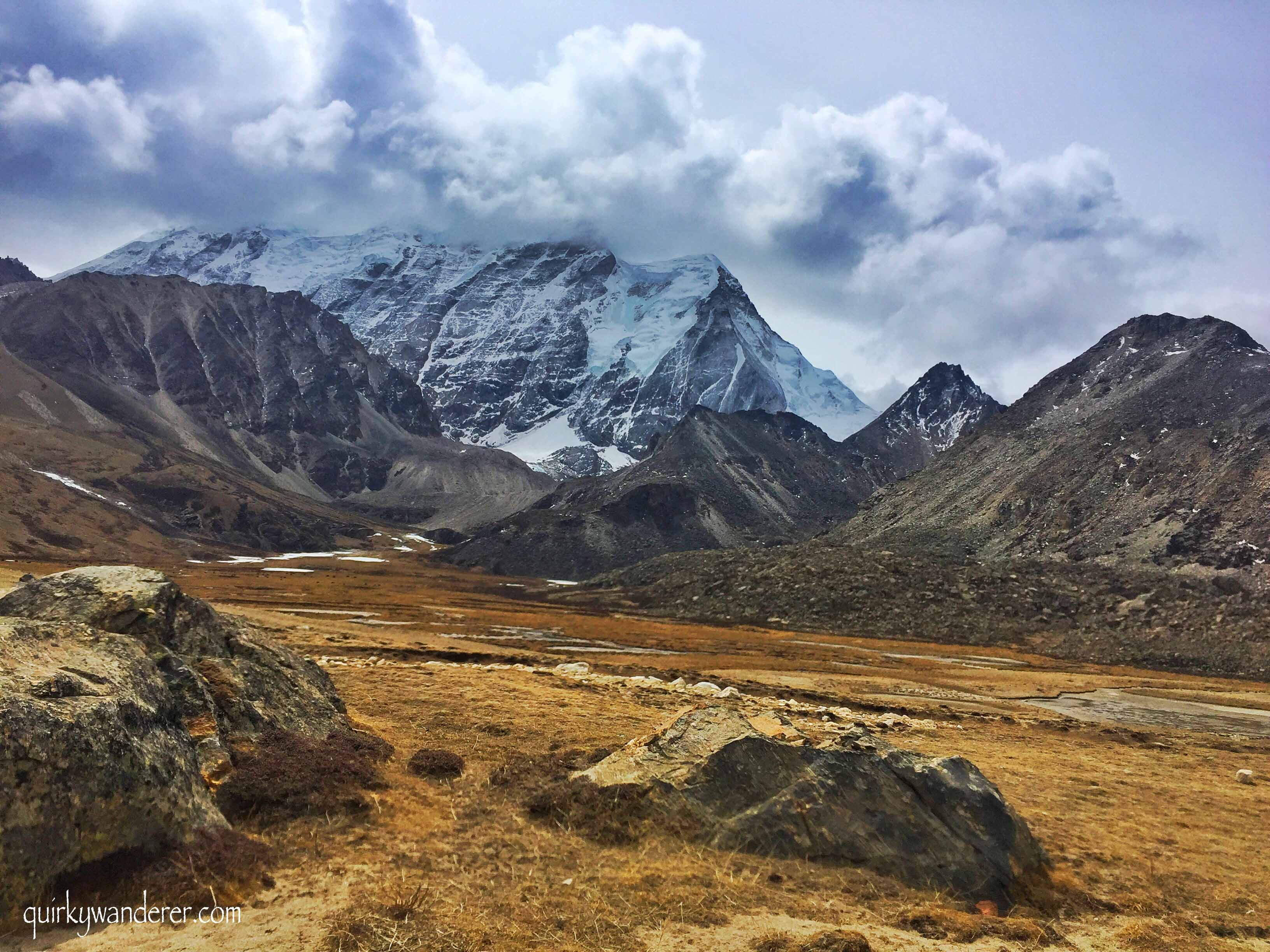 On the left was a gurudwara that is now a Sarva Dharma Sthal (House of worship of all religions) and that was the only structure there. The Gurudongmar lake is considered holy by Buddhists and Sikhs. It is believed that Guru Rinpoche or Padmasambhava (known as 2nd Buddha), meditated here before proceeding to Tibet.
Sikhs believe that Guru Nanak hit a portion of the frozen lake with his dang (stick) to ensure the people have water to drink. While the entire lake remains frozen throughout the year, there is this one portion which never freezes.
Calling it holy was an understatement. Magical would be more like it.
I was at a loss of words. Surreal? Heavenly? Blissful? Ethereal? What could possibly describe this beauty. Enveloped by snow capped mountains, it stood majestically, placid and unruffled. I am fully aware of my breath now, as talking and calling out became a task.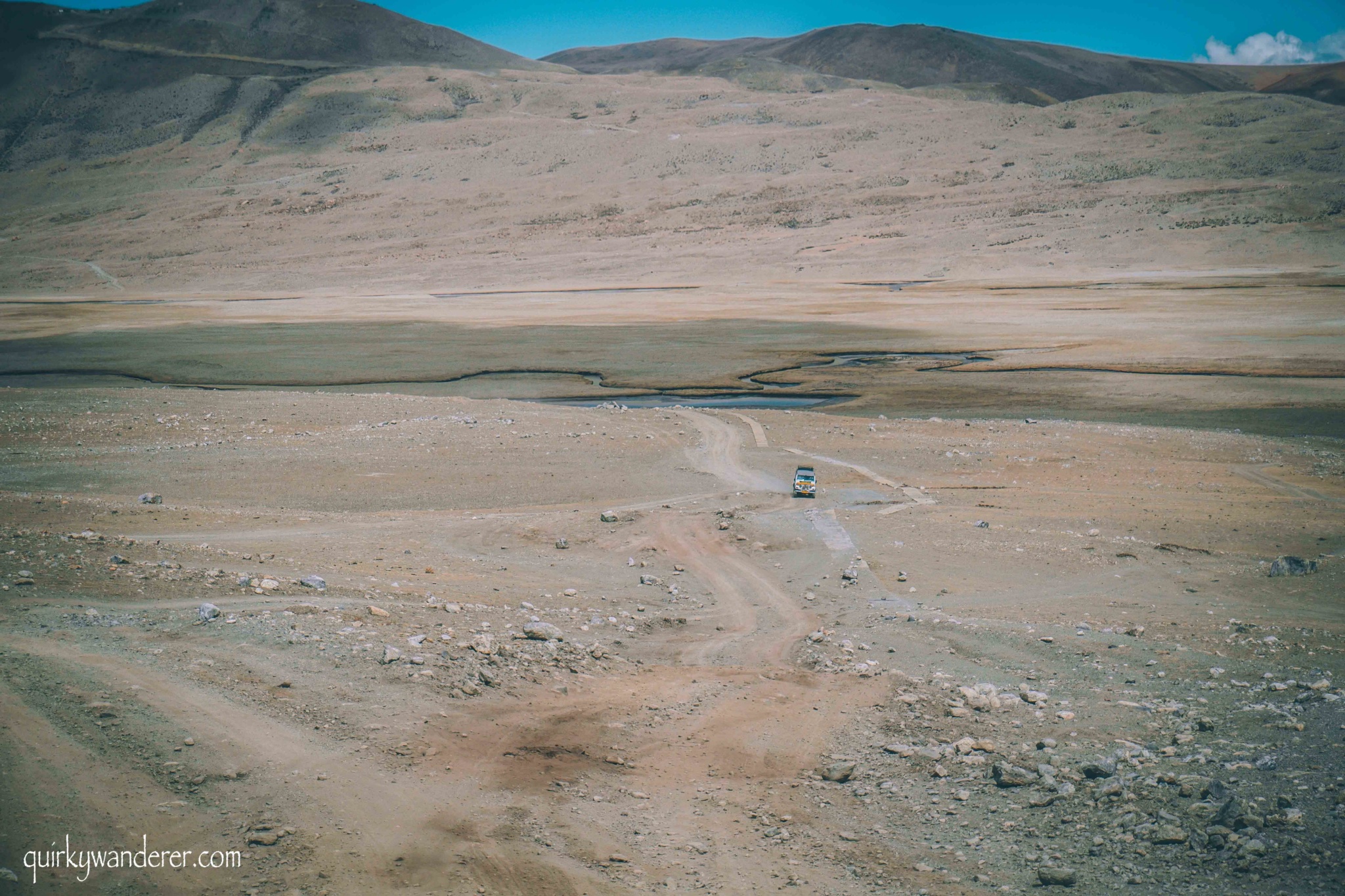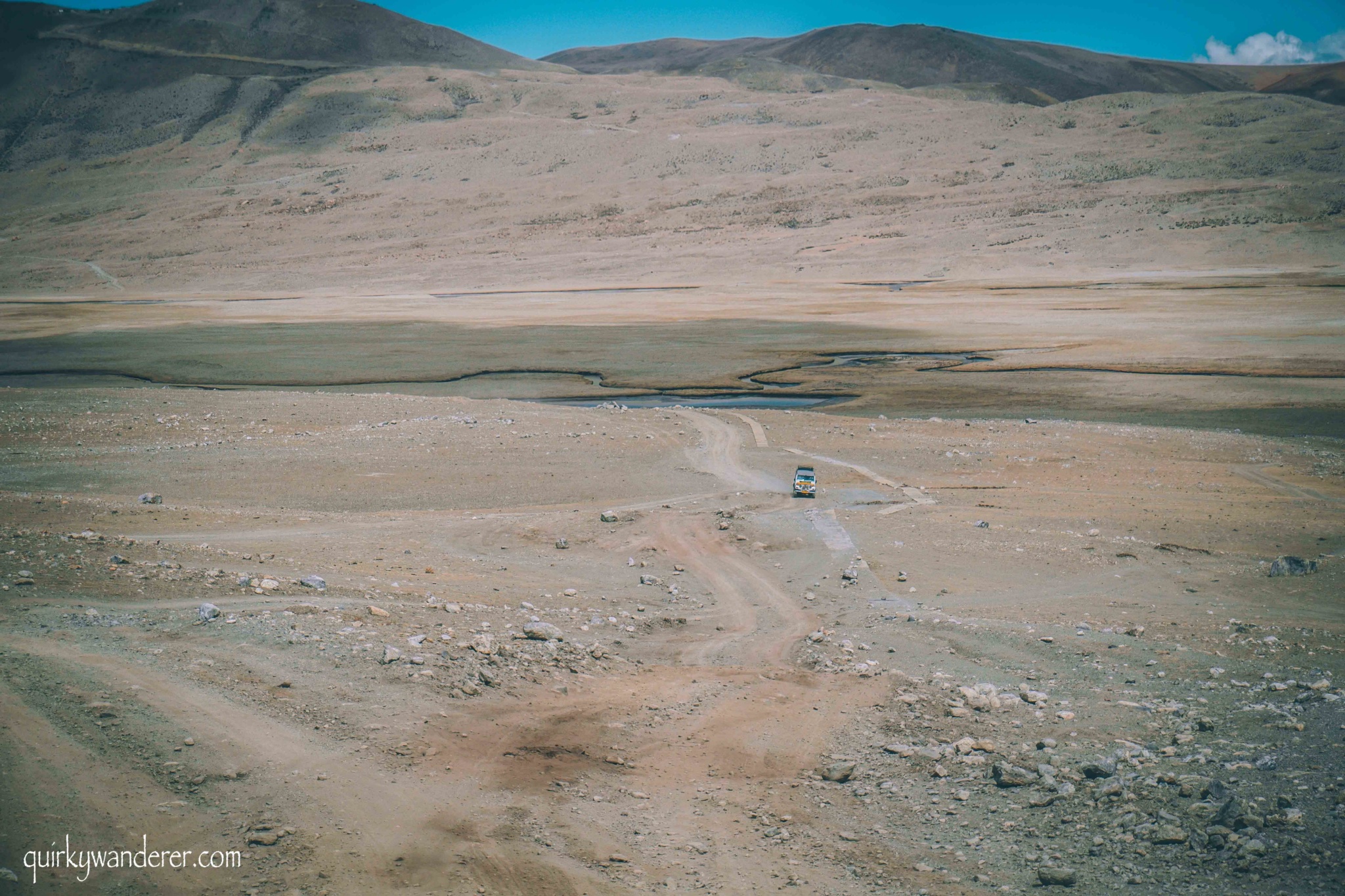 While the heart rejoiced being reckless, the mind went numb. AMS (acute mountain sickness) had started to creep in, slowly. While my breathing was normal, I felt my head was hit by an avalanche.
My hopes of going around the Gurudongmar lake were crushed as I sat in the car trying to fathom what exactly was happening to my head.
It was all worth the sights I had just devoured. We were on the road again and I wondered how Army men lived in the bunkers even beyond the lake at altitudes higher than even Siachen.
We reached the Army check post at Giagong again. With a splitting headache, here is where I was administered oxygen by the jawans and was advised to descend as quickly as I can.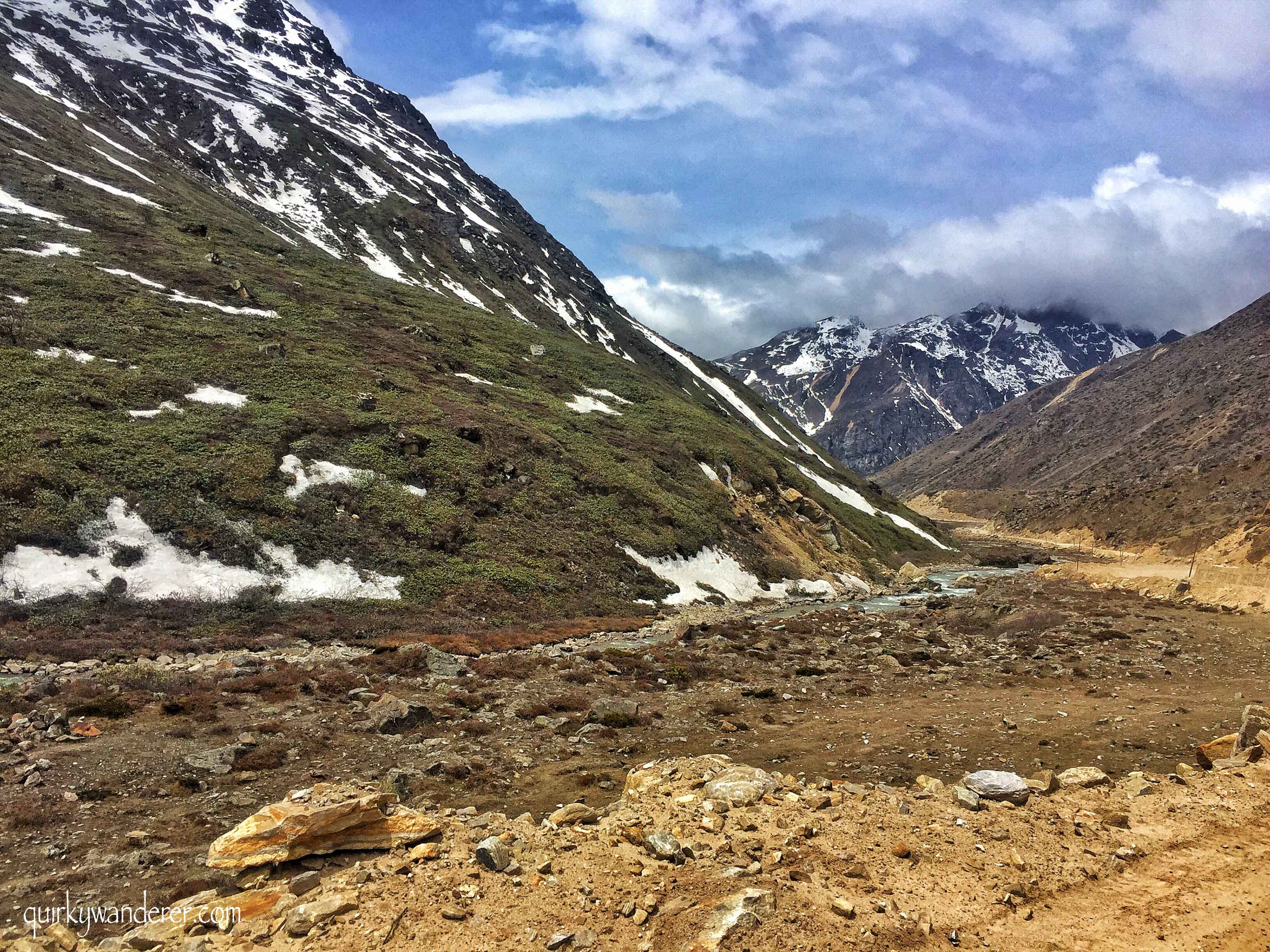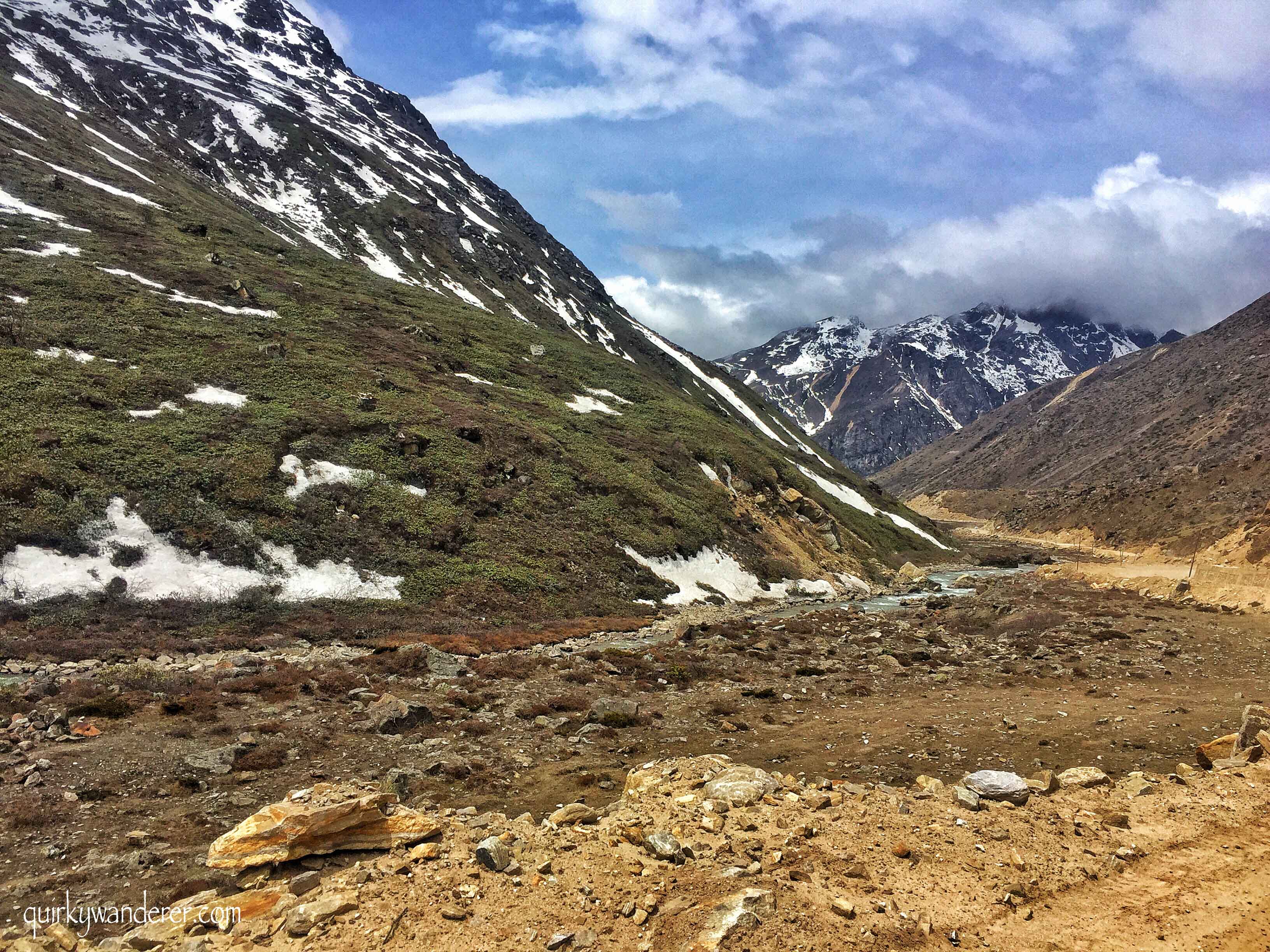 Back in Lachen, two hours and a painkiller later, life is good. I now have the answer to "why we do what we do"
Sometimes to listen to that inner voice,
Sometimes to silence it.
And sometimes just to pursue a dream you woke up with.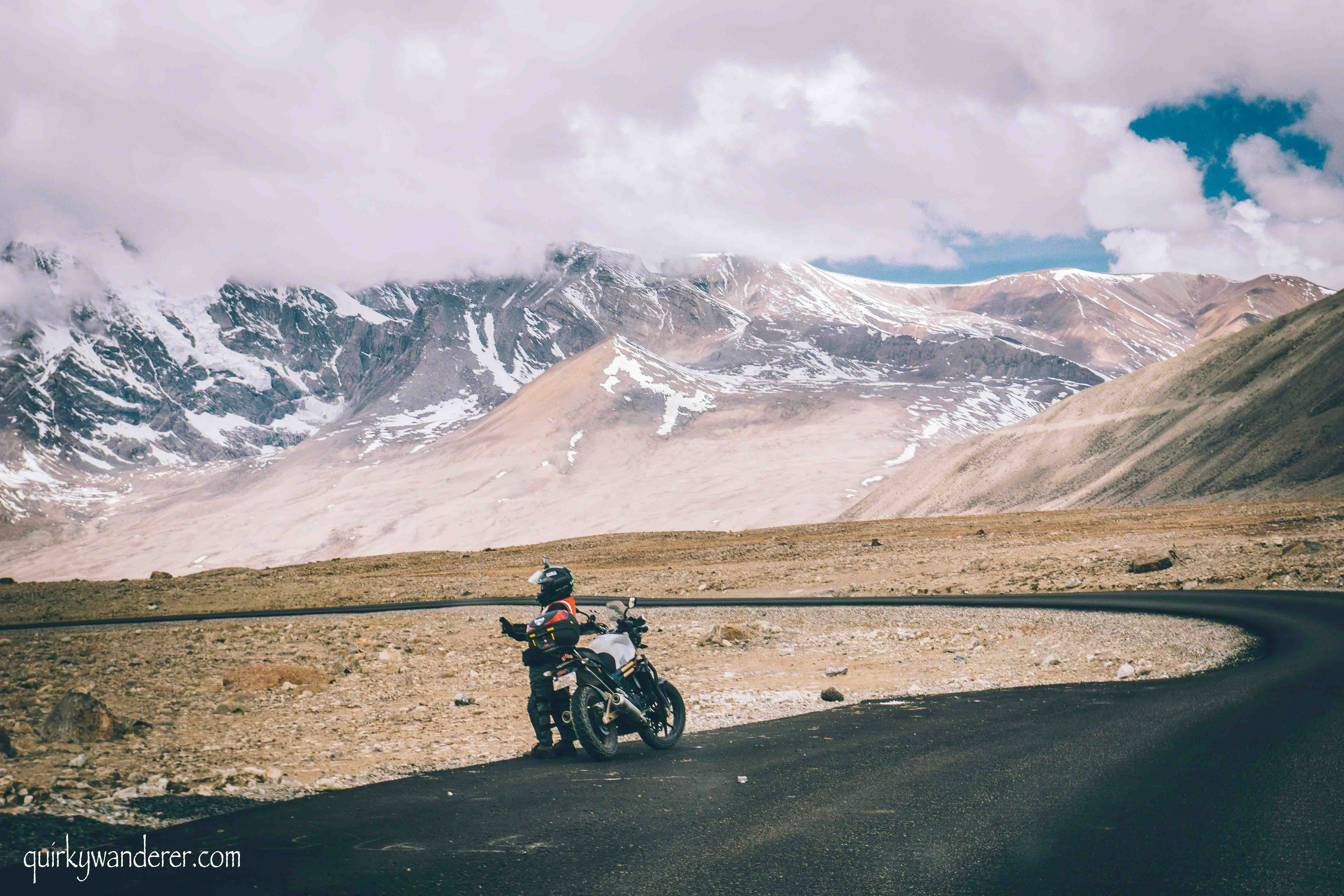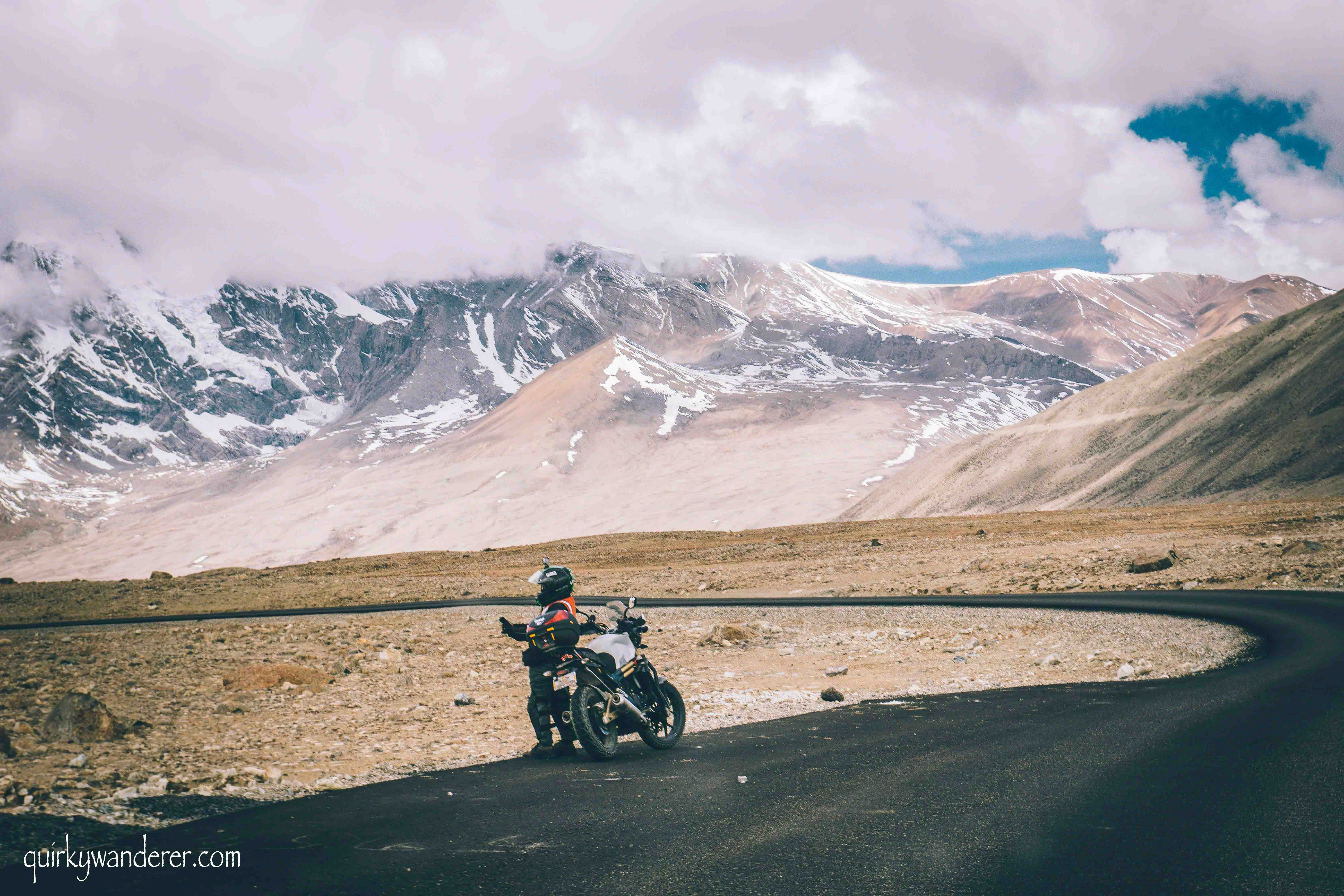 Fact file and Tips:
Gurudongmar lake is 4 hours away from Lachen, North Sikkim.
You need permits to visit it. These can be organised by any of the  Sikkim tourism tour operators in Gangtok.
It is extremely important to get acclimatised before you go. There is no accommodation in Thangu (wish there was). There are hotels in Lachen though.
Drink enough water. Carry AMS medication and do not walk fast when at the Gurudongmar lake.
It is advisable to leave Lachen early morning to reach the lake early and be back in time.
Carry packed breakfast with you as there are hardly any restaurants en route. You might halt at Thangu and once at the army check post at Giagong. Basic toilet facilities are available at these two places.
Hotel Apple Orchard in Lachen is one of the finest hotels you can stay at, with wooden cottages and top-notch service.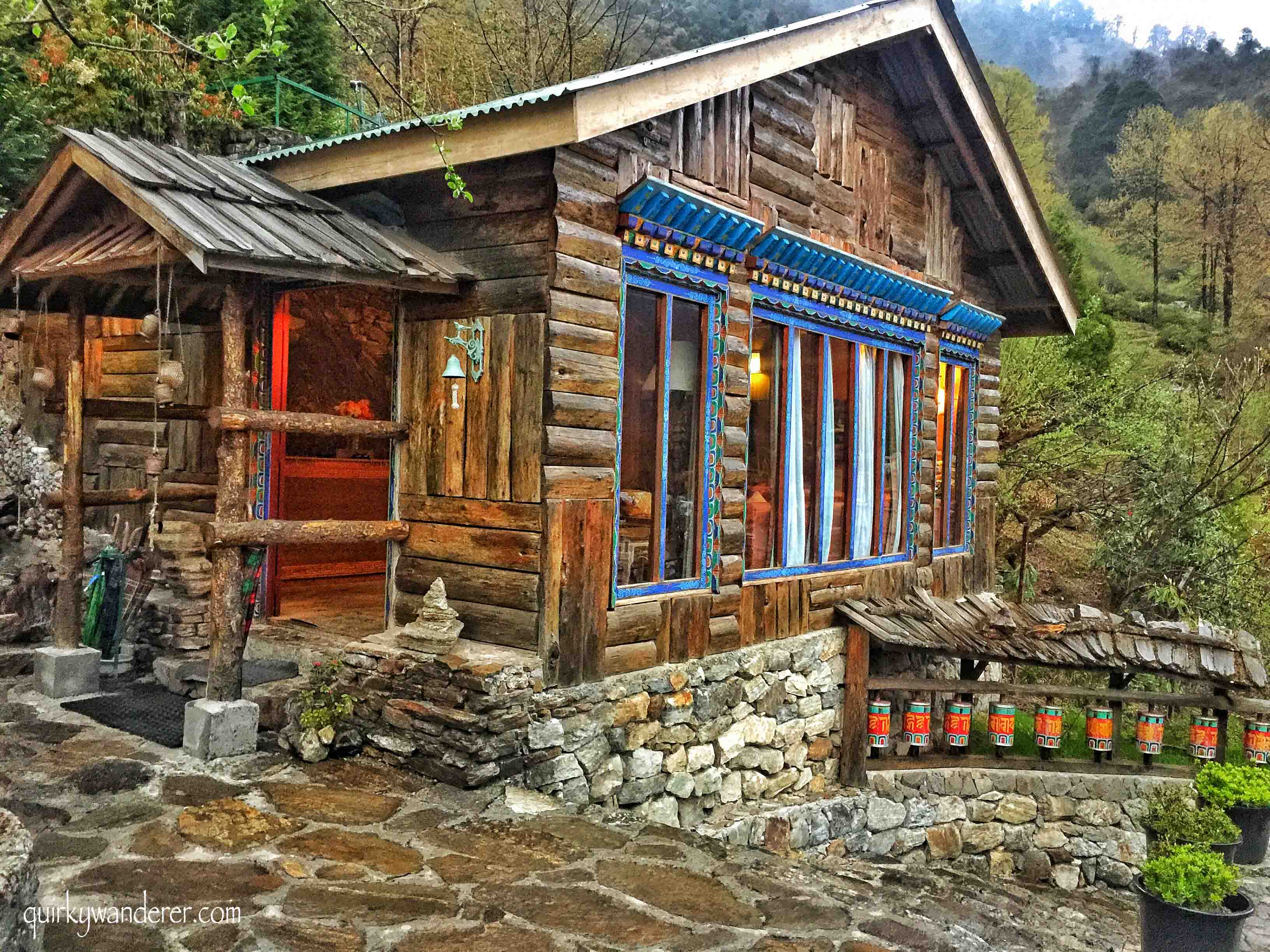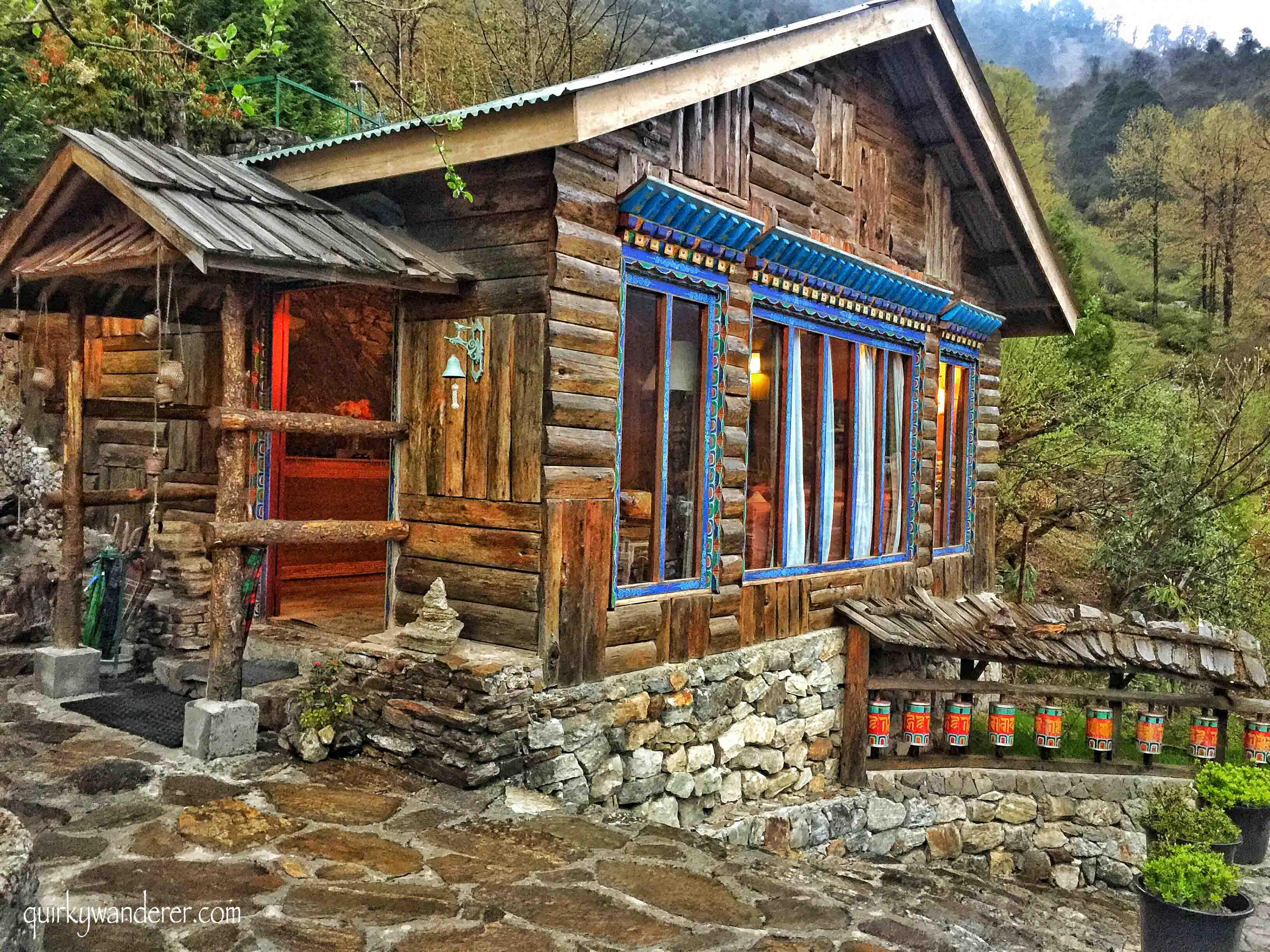 Foreigners are not permitted to visit the lake. They can make a day trip to Chopta valley known for its scenic landscapes, 2.5 hours away from Lachen.
The roads to Gurudongmar are extremely bumpy. People with sever back ailments will find the journey extremely difficult.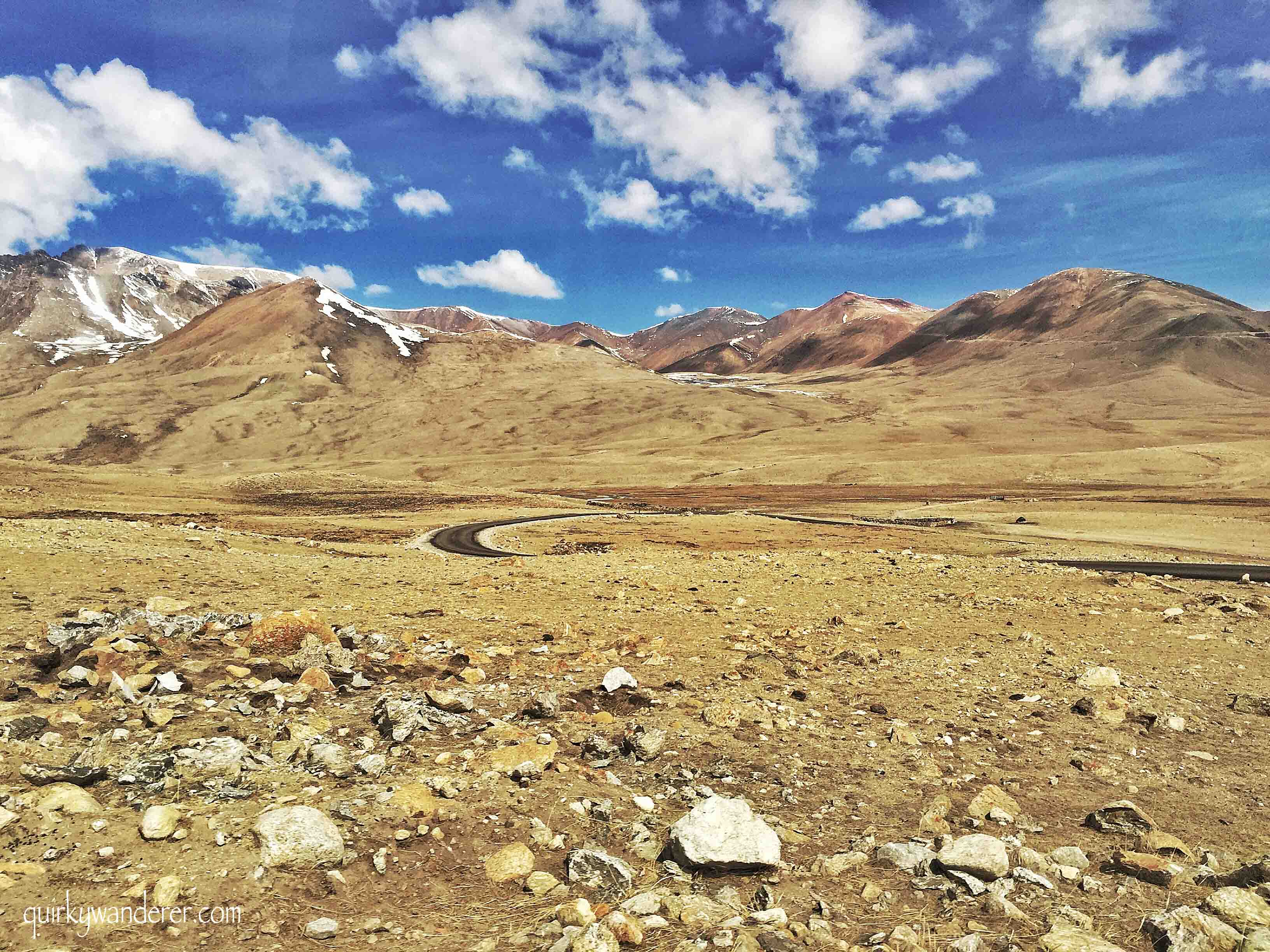 If you wish to stay longer at the lake, carry a portable oxygen cylinder.