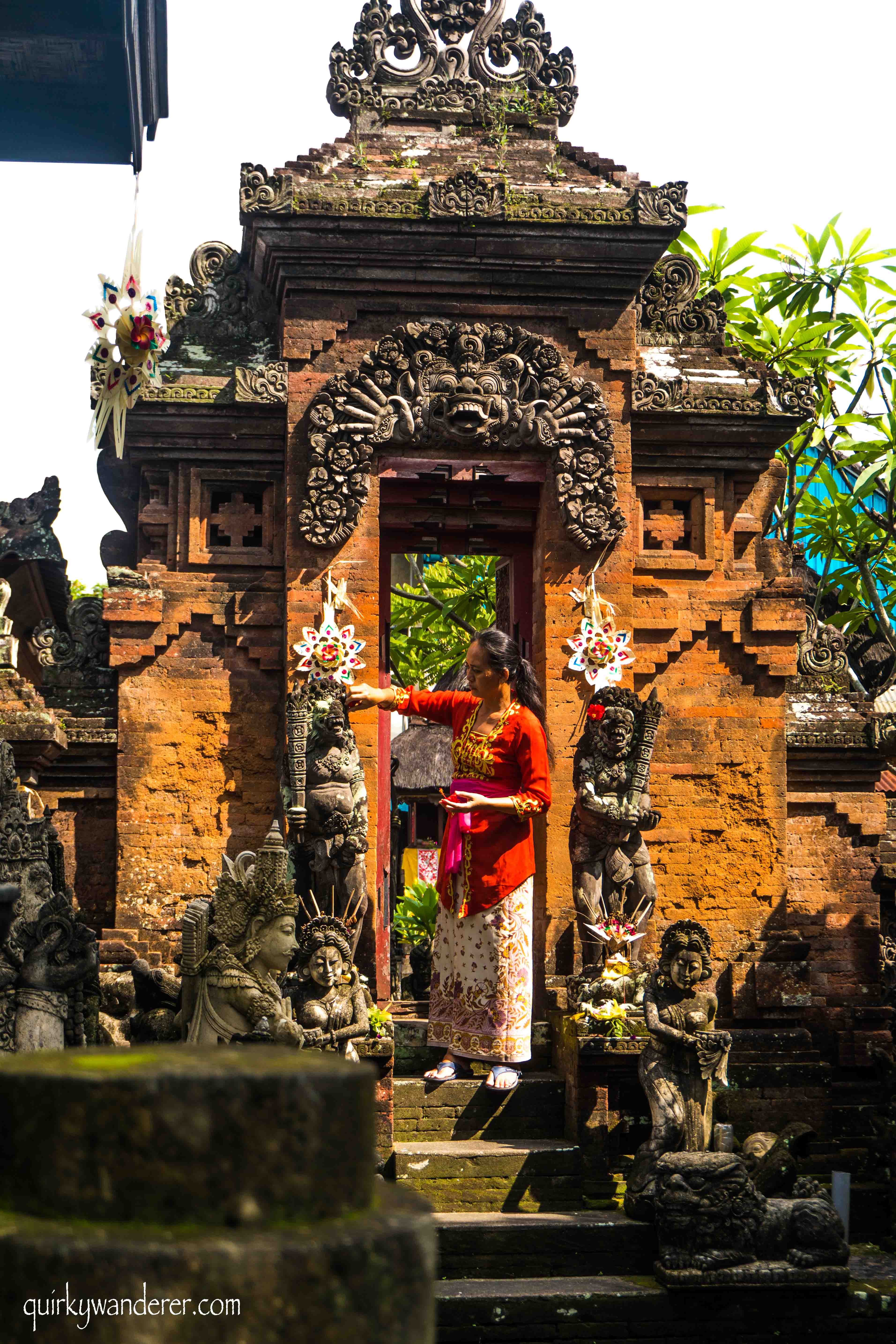 The clouds cleared and I saw a gorgeous fringed coastline with teal coloured waters.It was my first visit to Bali.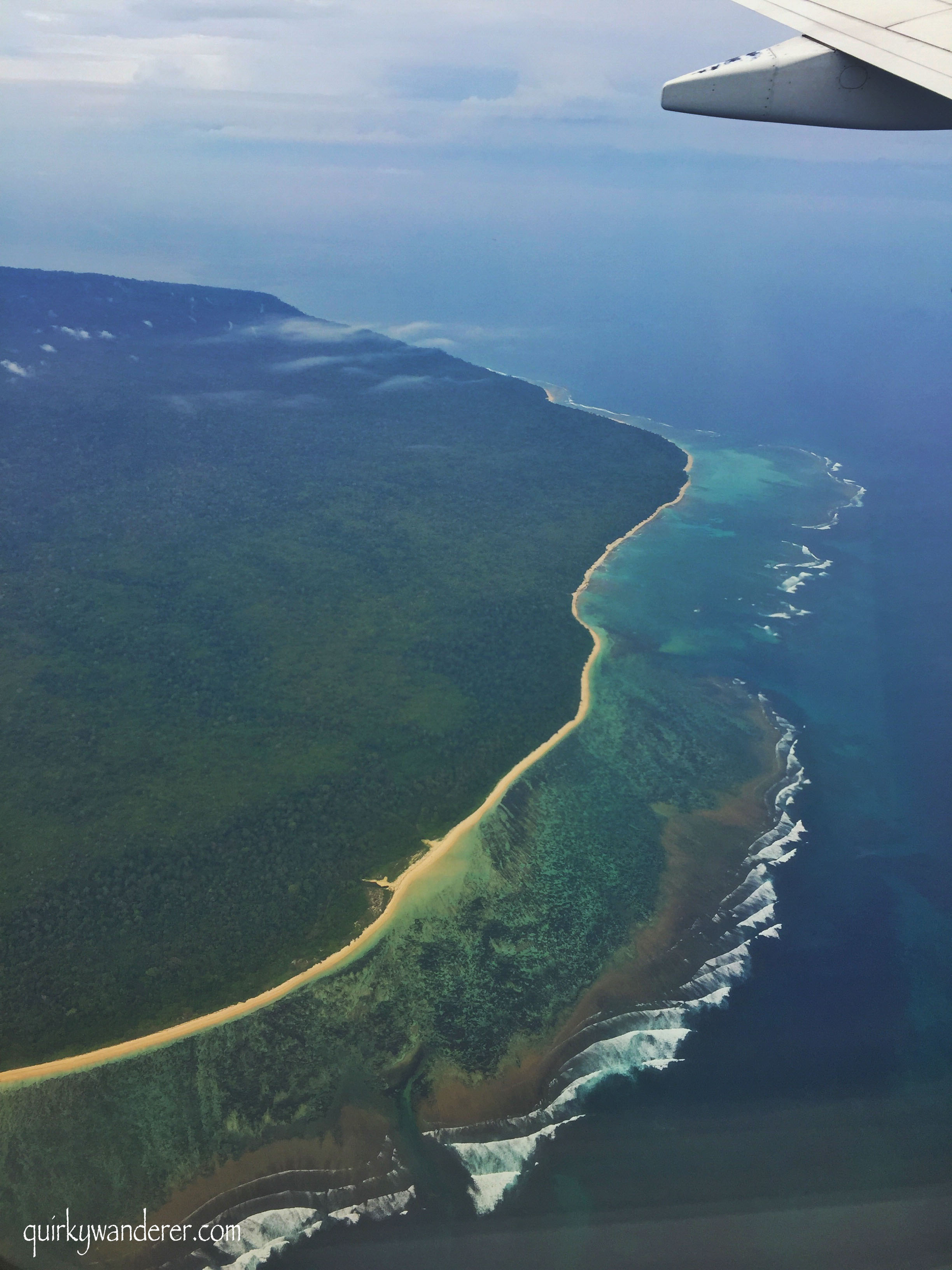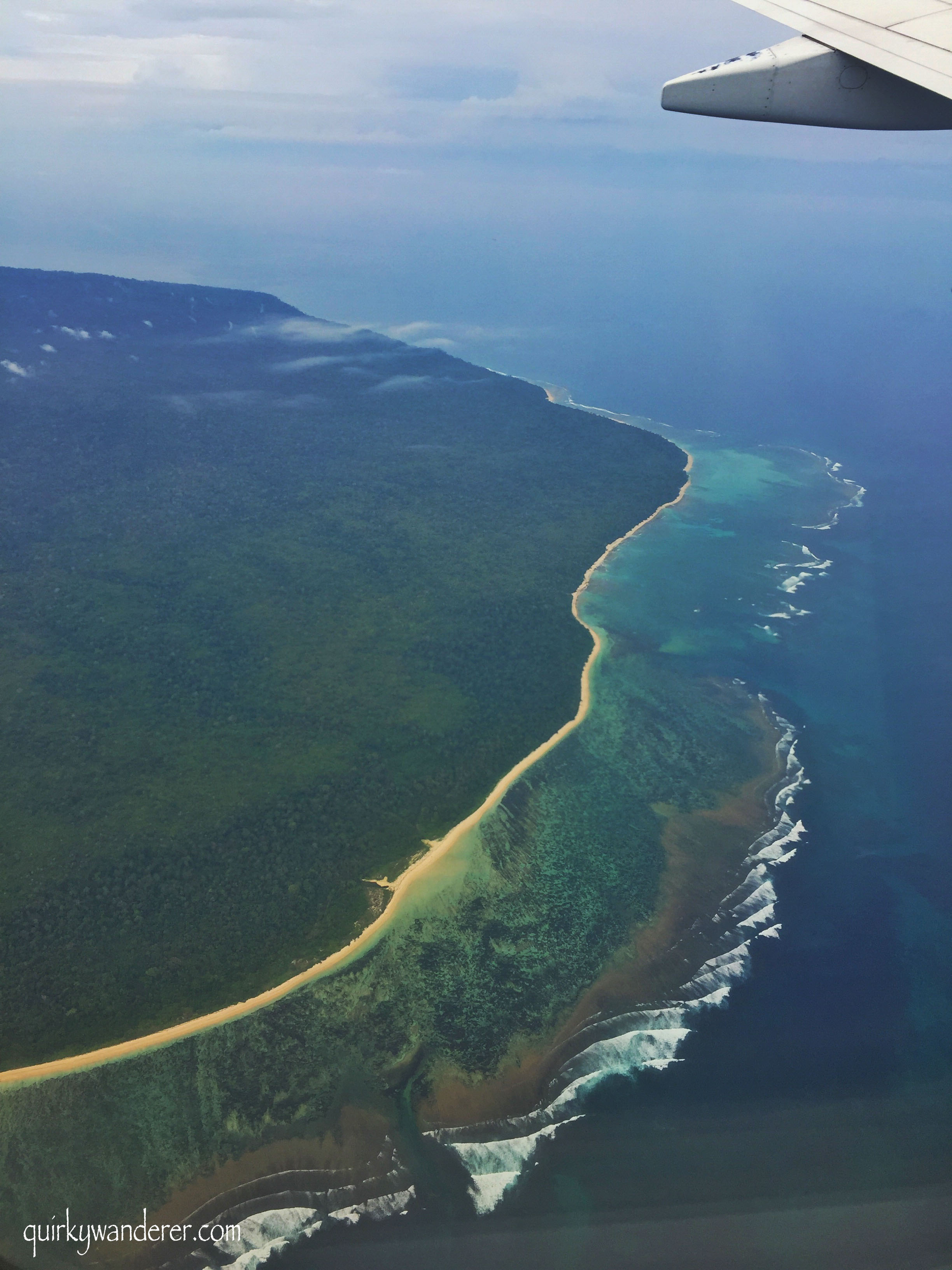 The third destination of Eat, Pray, Love was going to be ticked and the pseudo version of Elizabeth Gilbert in me was super excited as the Garuda Indonesia plane touched down Denpasar airport. With a welcome of Frangipani flowers and scenes of Mahabharata flashed crossed streets, I knew this would be a destination I would cherish. Gunk, our guide grinned as she explained how Bali got it's name.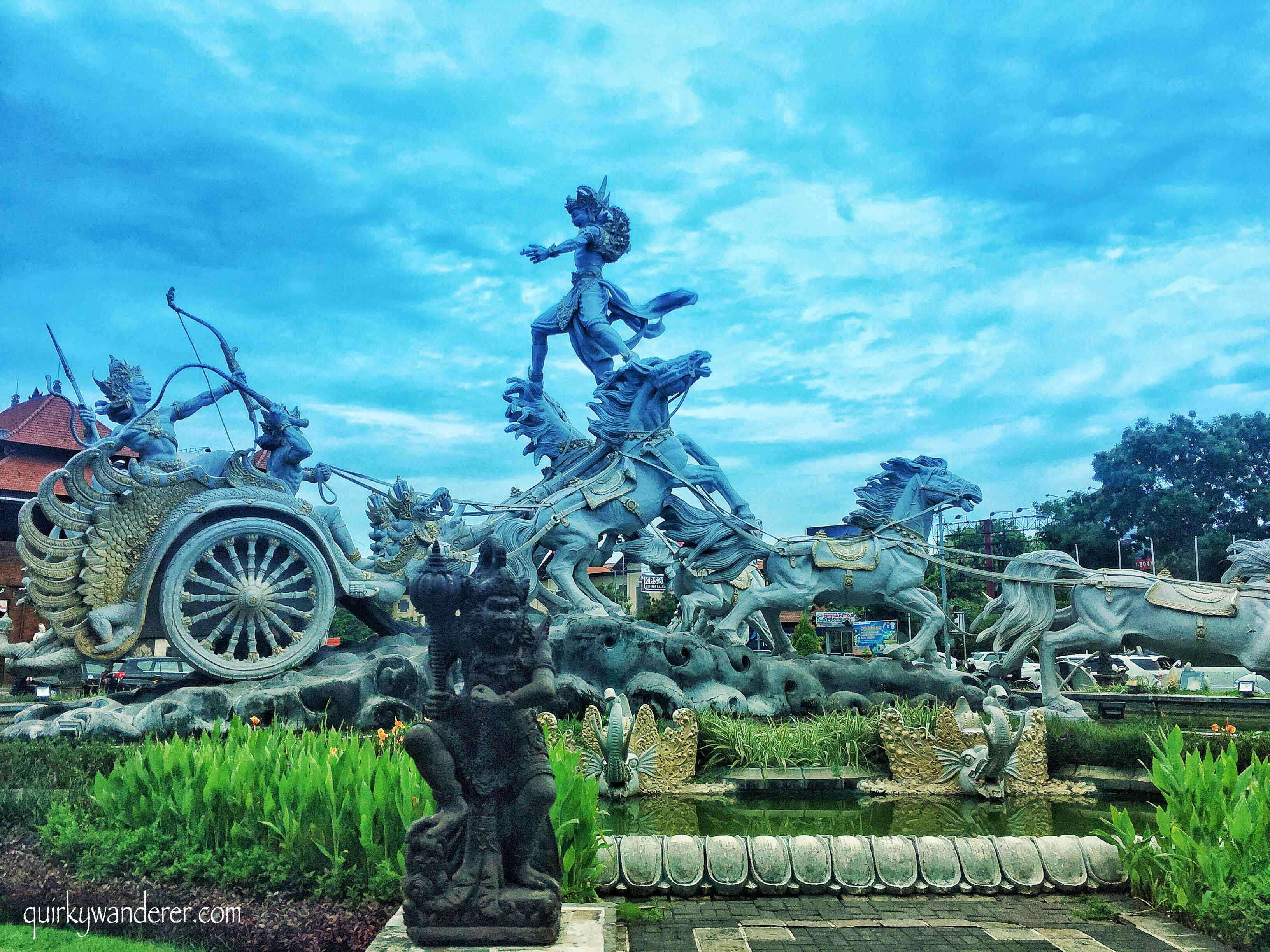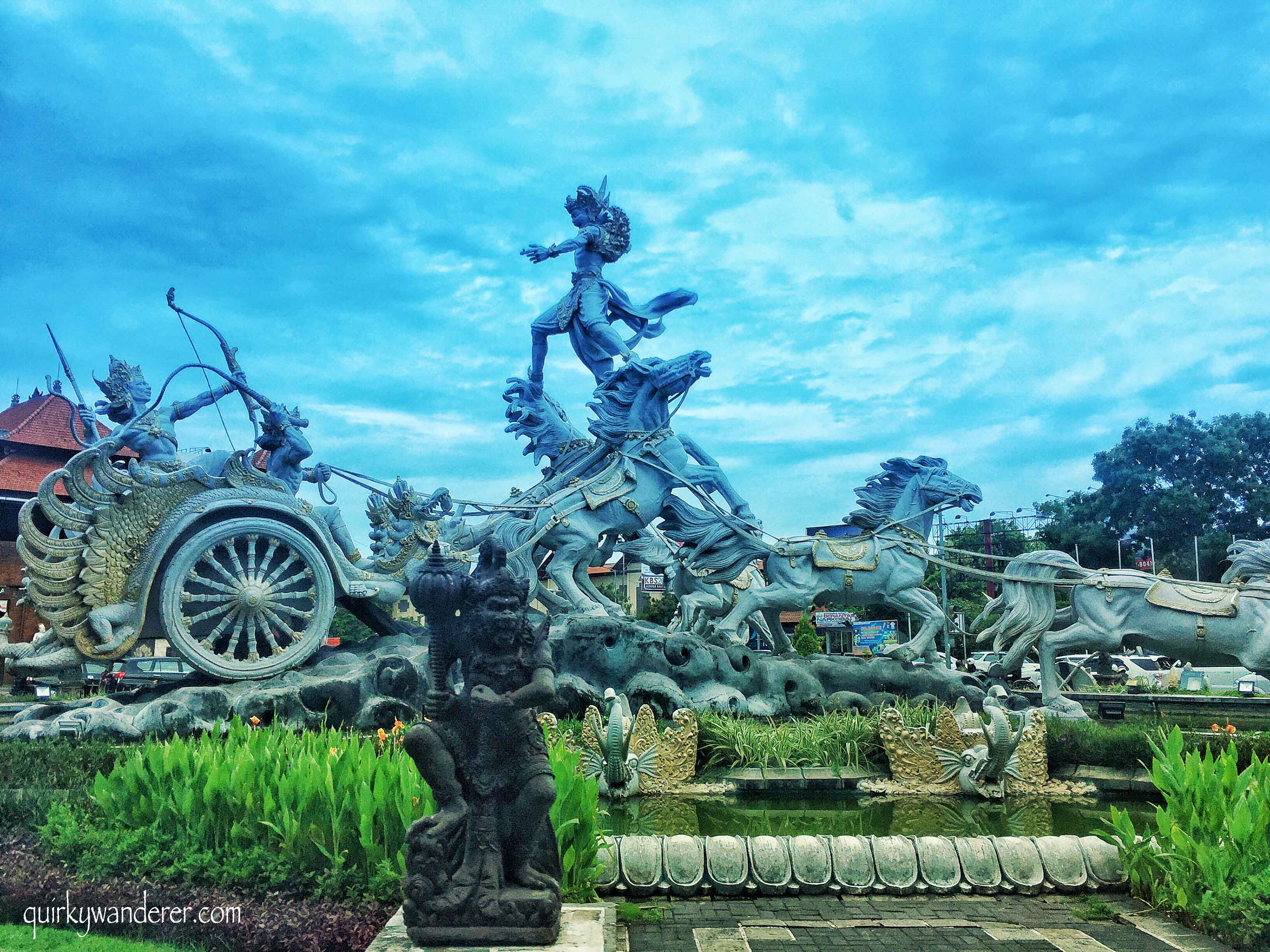 Bali came from 'Bali' or 'offering' and according to a legend, Sage Markande came to the island with 400 followers, of which half died because of evil spirits that inhabited the island. On penance, Sage Markande made an offering (Bali) to ward away the spirits and enter the island.
The storyteller that she is, Gunk gave a dramatic pause and welcomed us to the land of the thousand islands, Bali.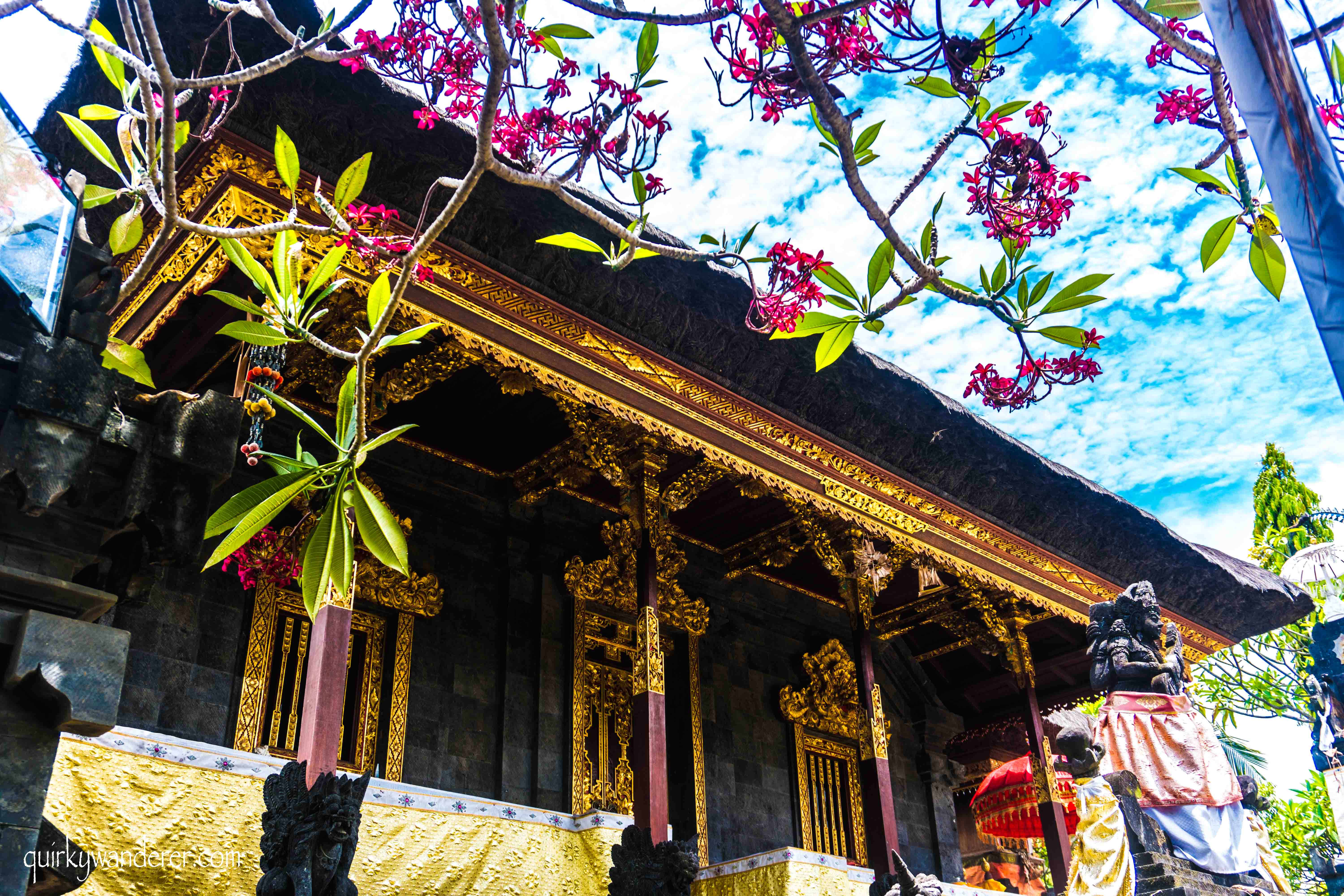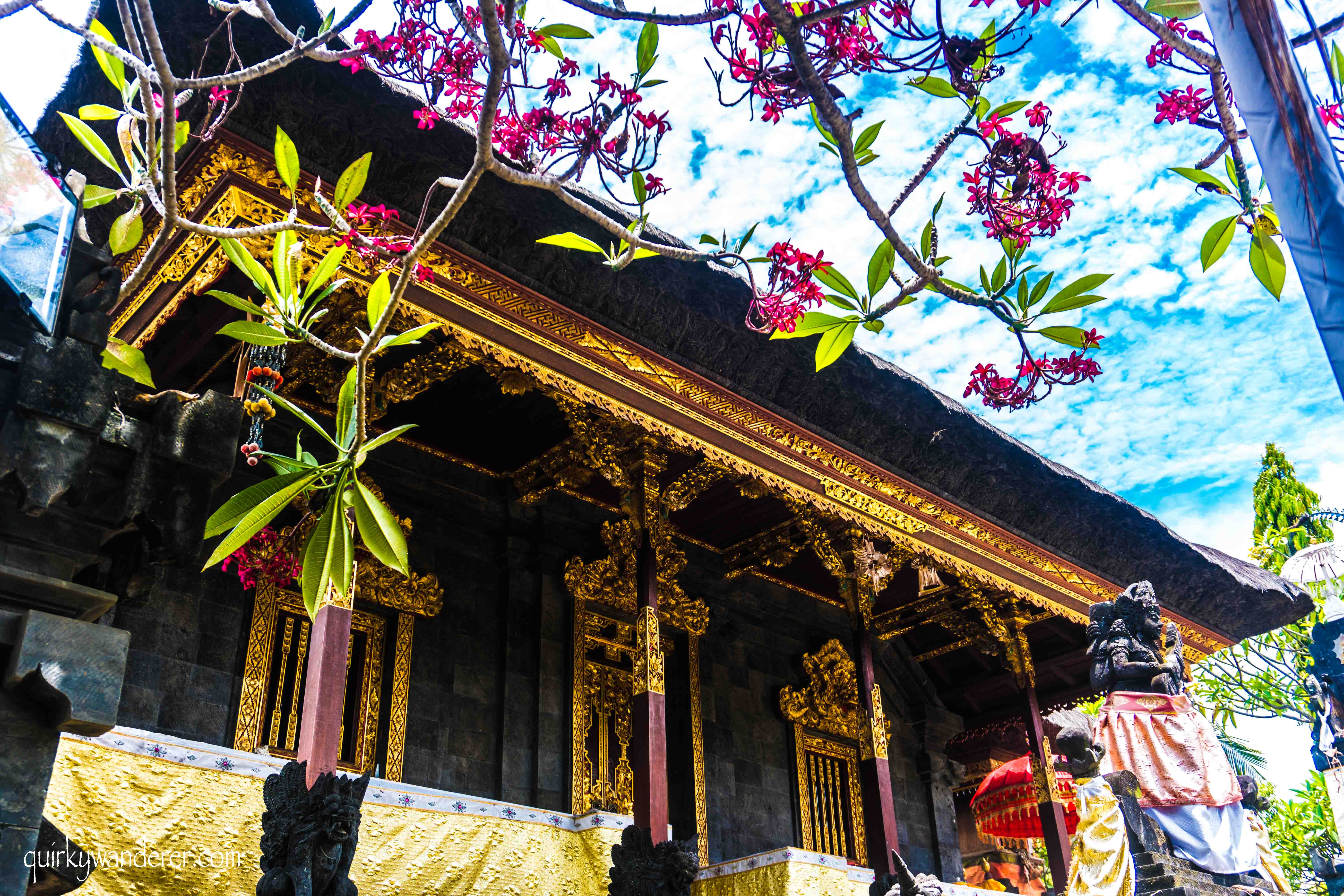 A plethora of diverse landscapes:
When I thought of Bali, I always thought of picture perfect beaches with crystal waters and powdery sands.
I read so many Bali guides and I was determined to unearth a Bali beyond beaches and it did not disappoint. It gave me an abundance of diversities in landscapes: 
Where in the morning, the roaring waves welcomed me wholeheartedly in Kuta beach, in the noon I had a rendezvous with terraced rice fields and in the evening lush, green coffee plantations wooed me.
While there were diverse landscapes on one hand, there were also uncanny similarities with the Indian culture.
Stark similarities: 
Snippets of Hinduism were on display at every corner on the streets of Bali, be it temples or bells or tiny offerings outside homes and shops.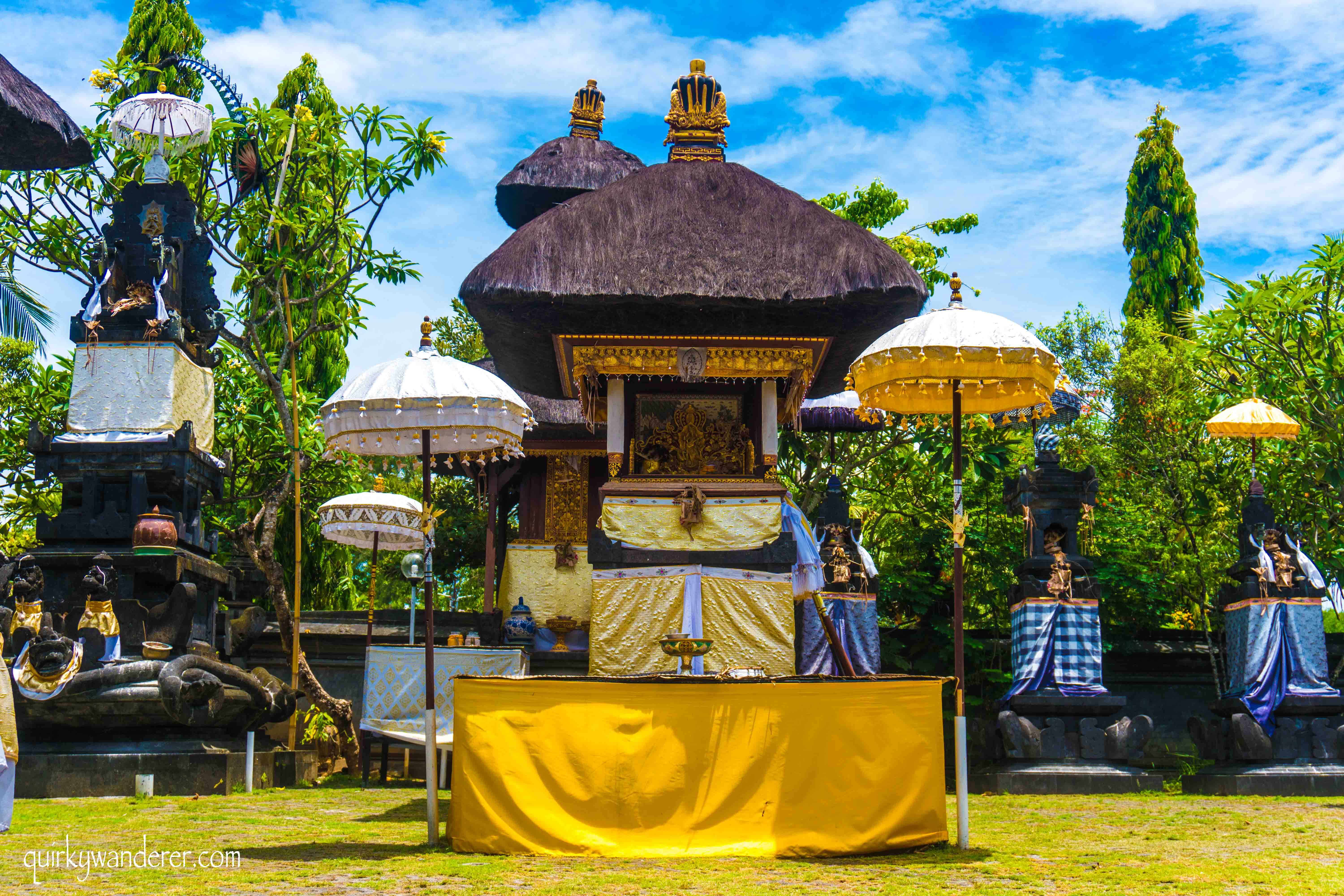 I felt strangely at home, unlike when in other international trips (where even the clouds seem foreign!). Maybe it was because I found Arjuna staring at me from the other side of the road or because I saw the Bhima's son Gatotkach engaged in a fierce battle in stone.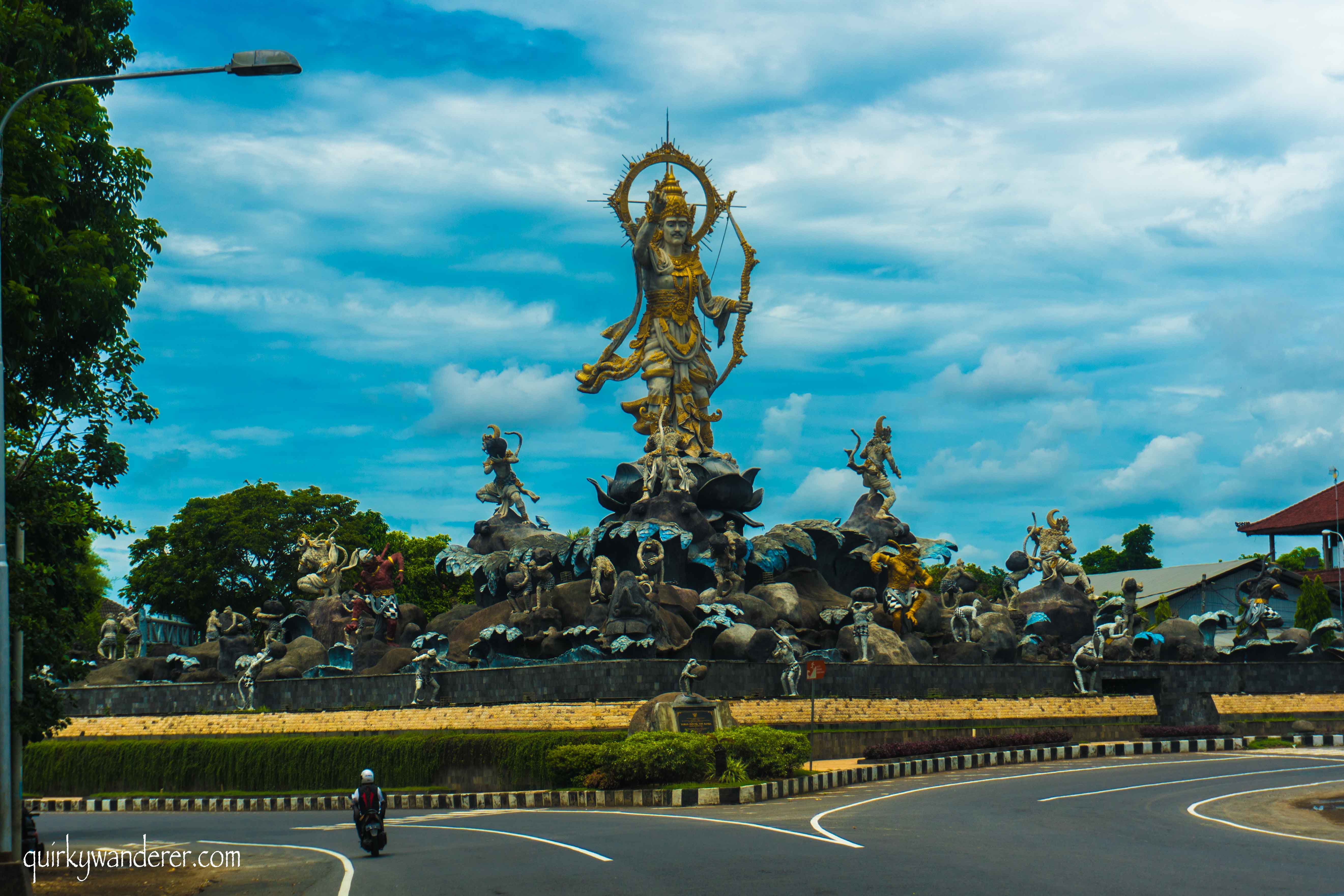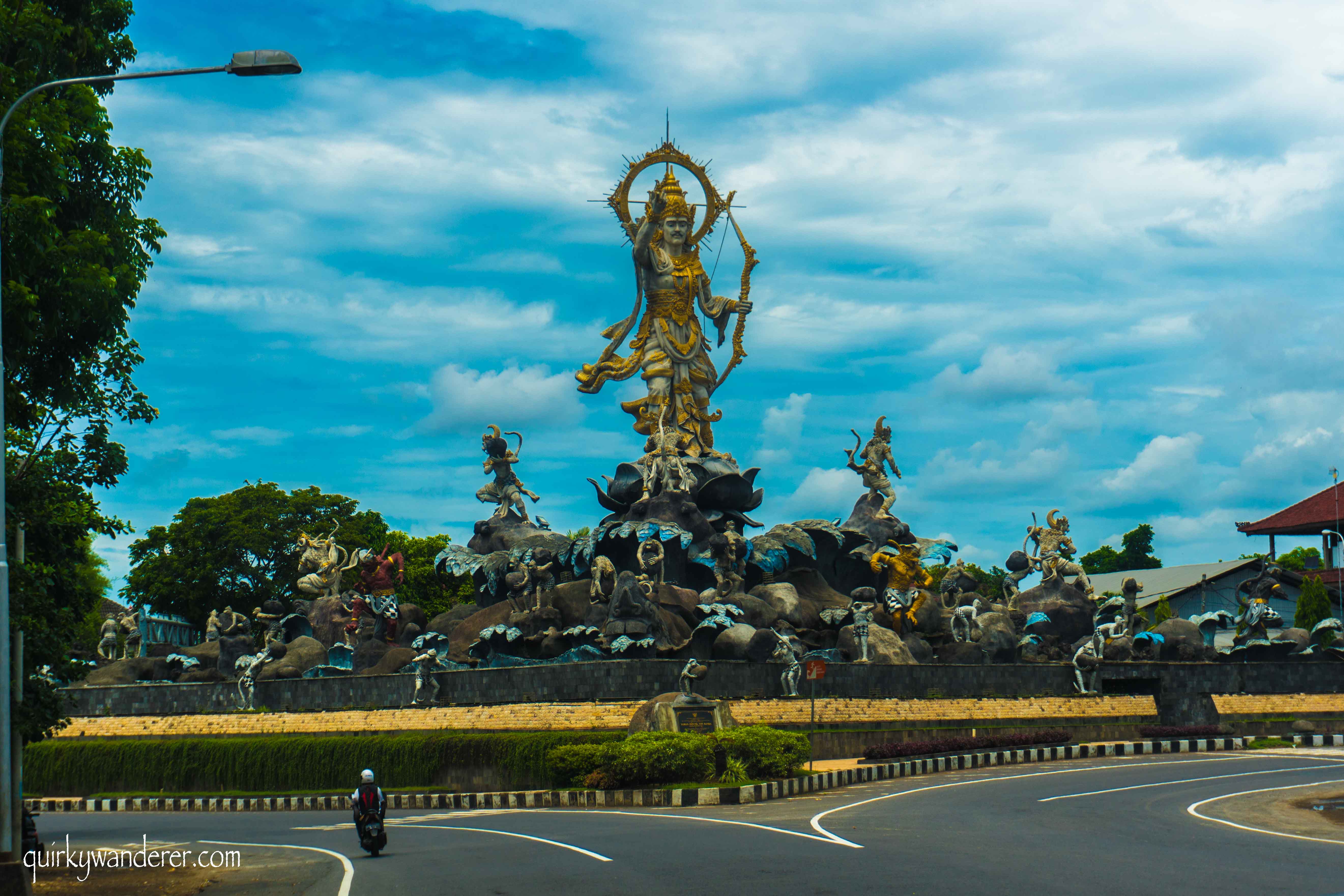 95 % of the Balinese population is Hindu and my initial impressions were, "Oh my god, this is so similar". Be it the statues of Ganesha that greet you at every nook or the fact that the Balinese believe in the concept of Karma and reincarnation.
Each Balinese house has a temple for ancestors outside their homes. Some extremely elaborate, some fairly simple but all based on the same principle of worshipping ancestors before any other supreme power.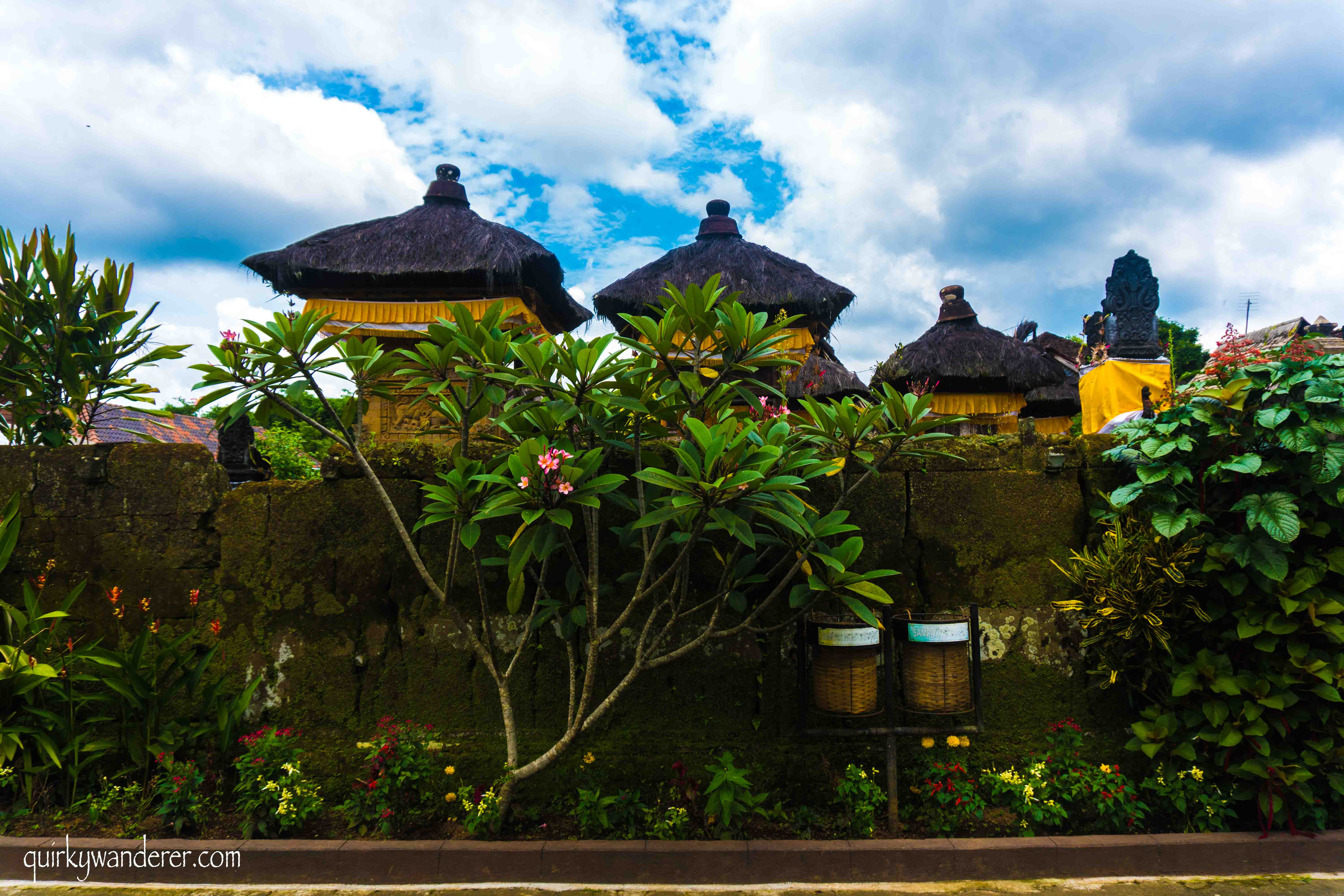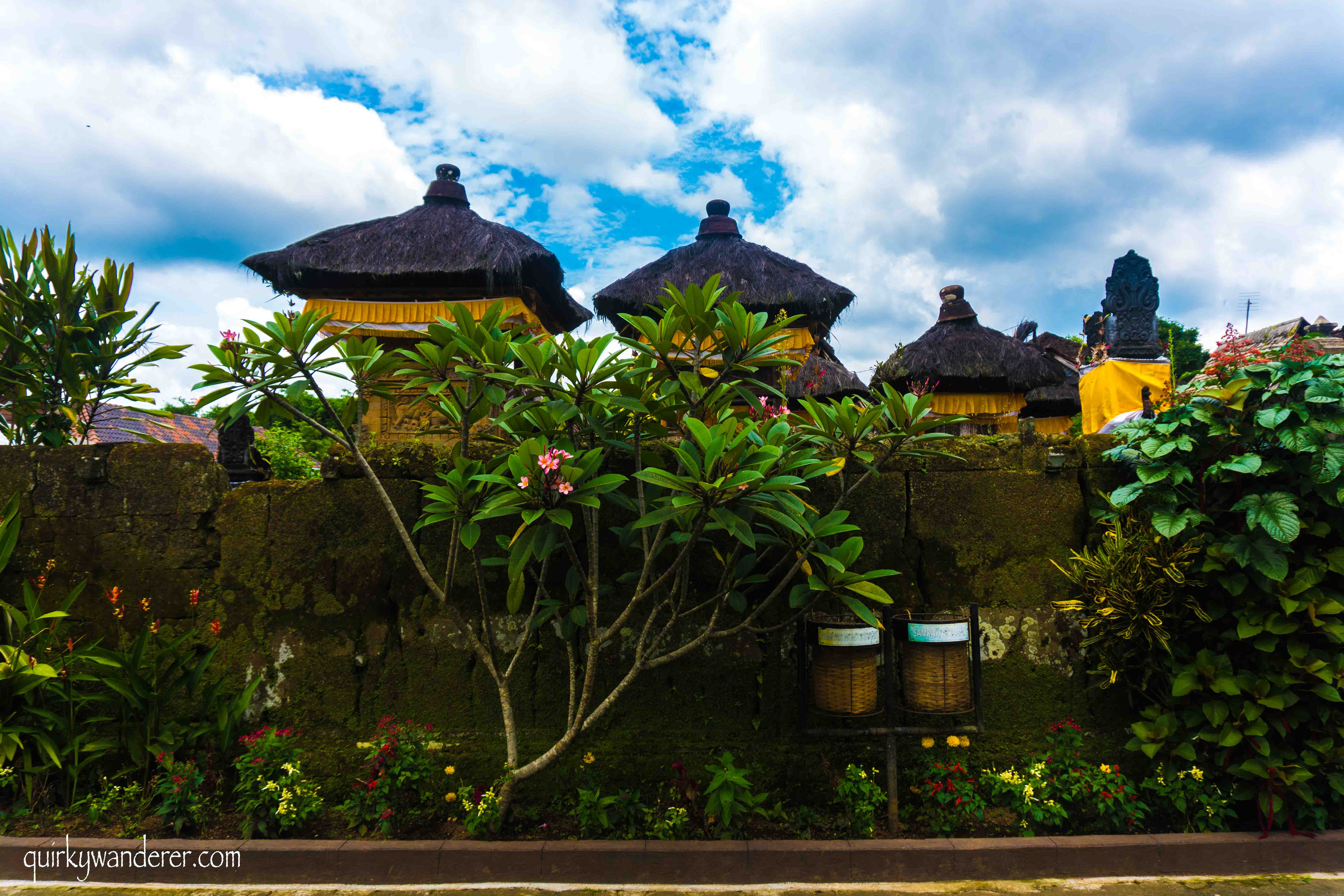 Another similarity is the belief in the Trinity: Brahma, Vishnu and Mahesh (Shiva). The Balinese believe that Brahma is the soul, Vishnu is the word and Shiva is your mind. 
When Mr. Nanang narrates about the types of priests and how one section of priests are fortune tellers, I earnestly wish I could meet one. ( Remember Ketut Liyer , the Balinese medicine man in Eat, Pray, Love?)
He then tells us about spiritual tours in Bali and how each volcano is considered to be an abode of a Hindu God. But my mind is swinging in a pendulum, to visit a fortune teller or not?
My Bali explorations begun with village hopping. Khursheed and me were accompanied by Mr. Nanang who kept us enthralled with Balinese folklore and facts.
Here are some of my best village experiences: 
Paintings on cloth: The Art of Batik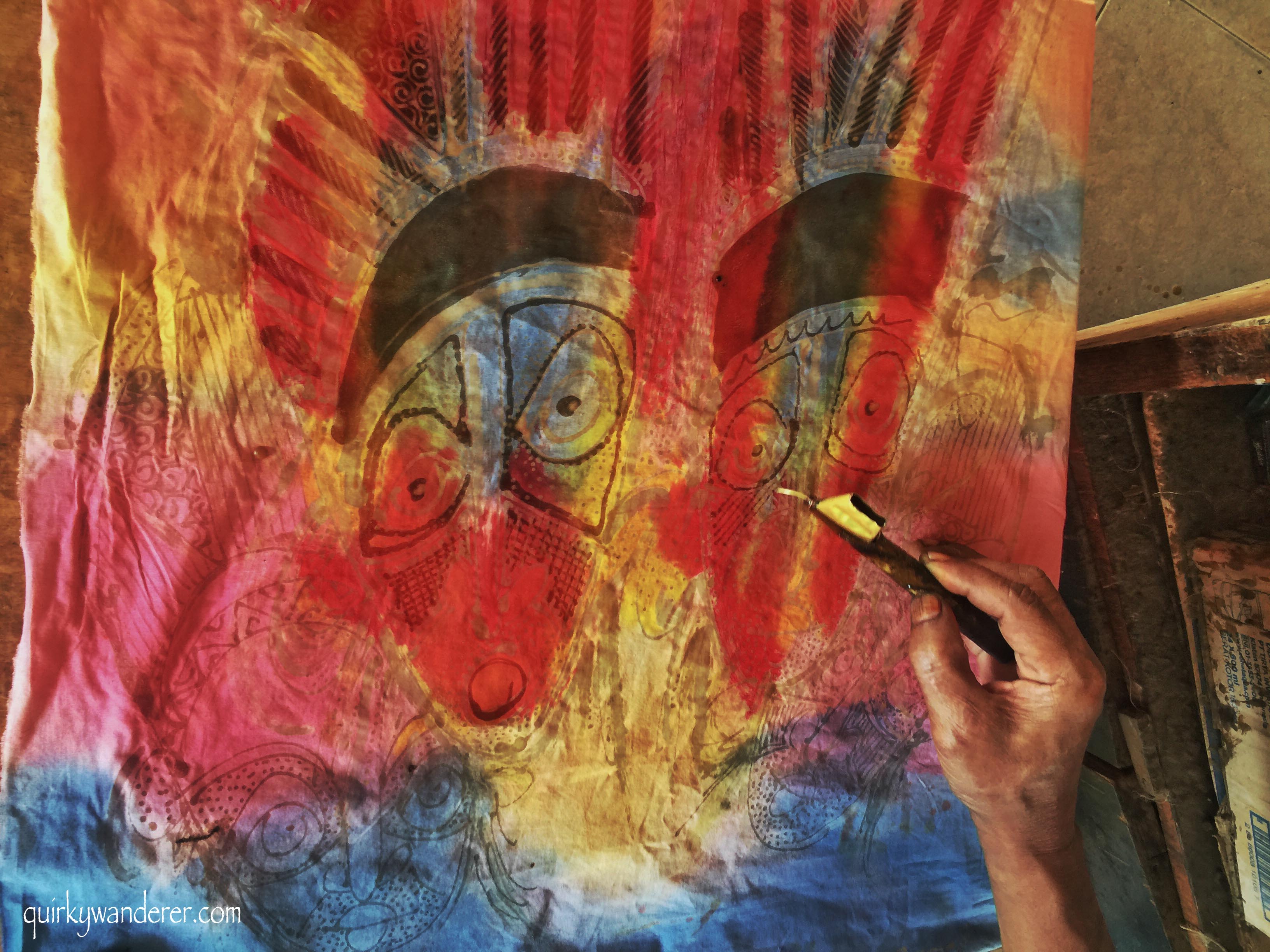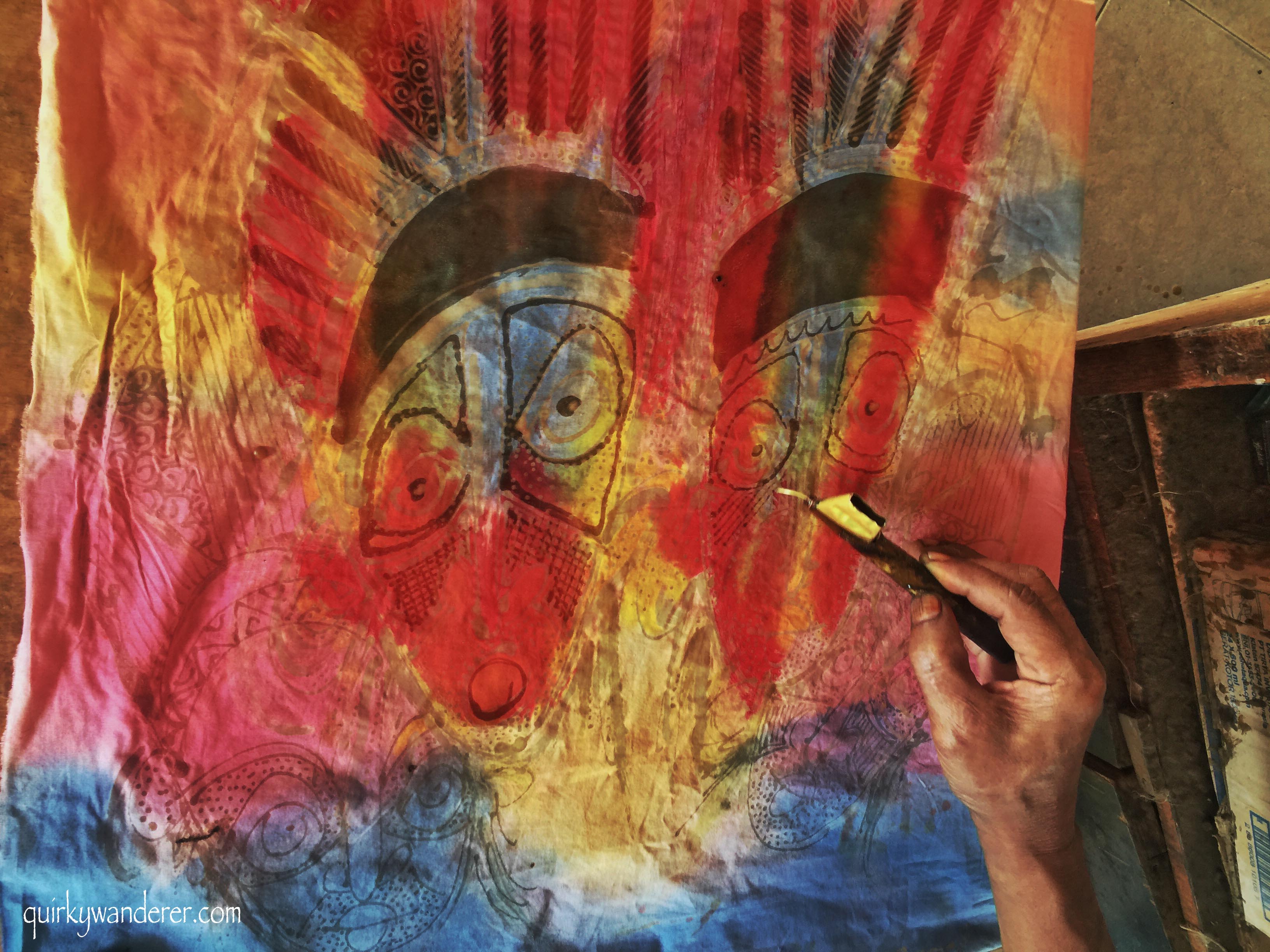 When I entered the Sari Amerta Batik centre in the village of Batu Bulan, (translates into Moon stone), the first thing that greeted me was the cluster of women working meticulously on pieces of cloth. On a closer inspection, I found them making designs on a white cloth with molten wax on both the sides.
The Batik process is very intriguing: The artists first copy the designs on the white cloth and cover them with wax. Then they fill these designs with ornaments and small dots. Colours are then added slowly in certain parts of the design. The cloth is then dyed and certain parts of the waxed design are scraped with a knife. Post this the entire wax is omitted by inserting the cloth in boiling water and then the cloth is dyed again and certain parts are reworked upon with ornaments.
I watched the ladies painting traditional designs on the cloth with traditional colours of brown, blue and light yellow and marvelled at the impeccable skill of expressing through this unique art form.
Inside the shop were a plethora of items for sale: from Batik paintings, to paper cards, to stoles, to ties, bags with batik print and what not.
Shopping tip: Some of the items are really worth a buy: these include small coin purses, unique shaped bags and Batik coasters and table mats ranging from USD 2 to USD 5 (Thank me later!) The quality of products in these centres is good and even if you get cheaper alternatives in the market, you'd love to spend a tad bit more on the quality here.
Stone statues made of Volcanic ash: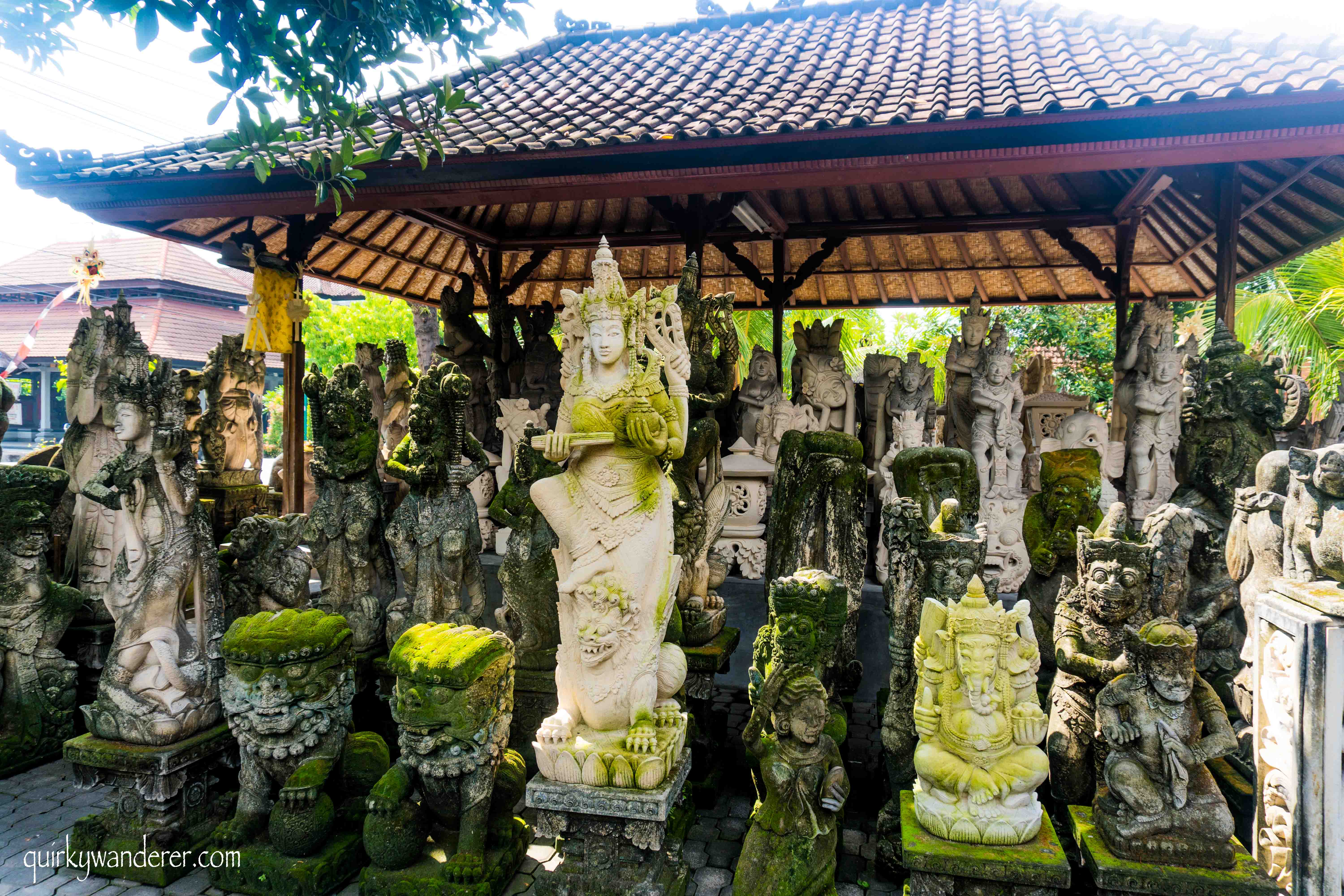 The next stop was visiting the stone ware shops in Batu Bulan.There are countless carves stone statues in a line and I curiously ask the shop owner whether these are antique or freshly made. All are freshly made. I wonder for whom. Pat comes the reply, most of these exquisite statues are exported to foreign countries: USA, UK, France, Australia in shipping containers.
Each statue weighs on 100 kg on an average and most of these are made either from limestone or volcanic ash. The grey , volcanic rock known as paras is pumice like and grainy, known to age very quickly. Most of the guardian statues in Balinese temples are sourced from these workshops in Batu Bulan.
I see an artist painstakingly chipping away a statue, as the owner shows me a serene statue of Goddess Saraswati (The Hindu goddess of learning) on display.
As I exit, it is an eerie feeling to be with all the statues, some aged, some ageing, some waiting anxiously to be whisked away and some simply content with where they are.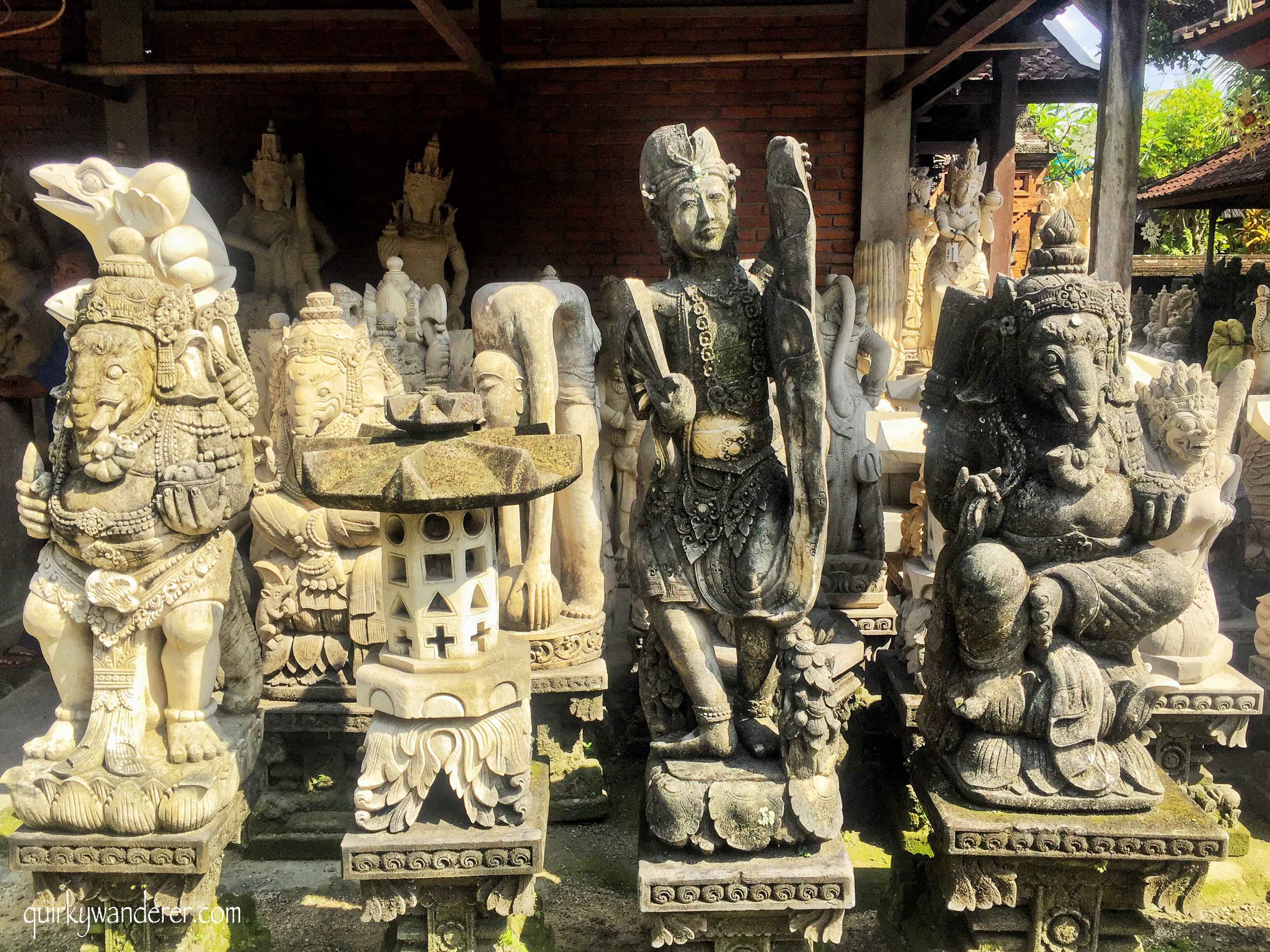 Silver and Goldsmiths of Celuk:
This was one place I looked forward to. To see delicate silver ornaments being carved carefully from blocks of silver that came from Sumatra and Java islands.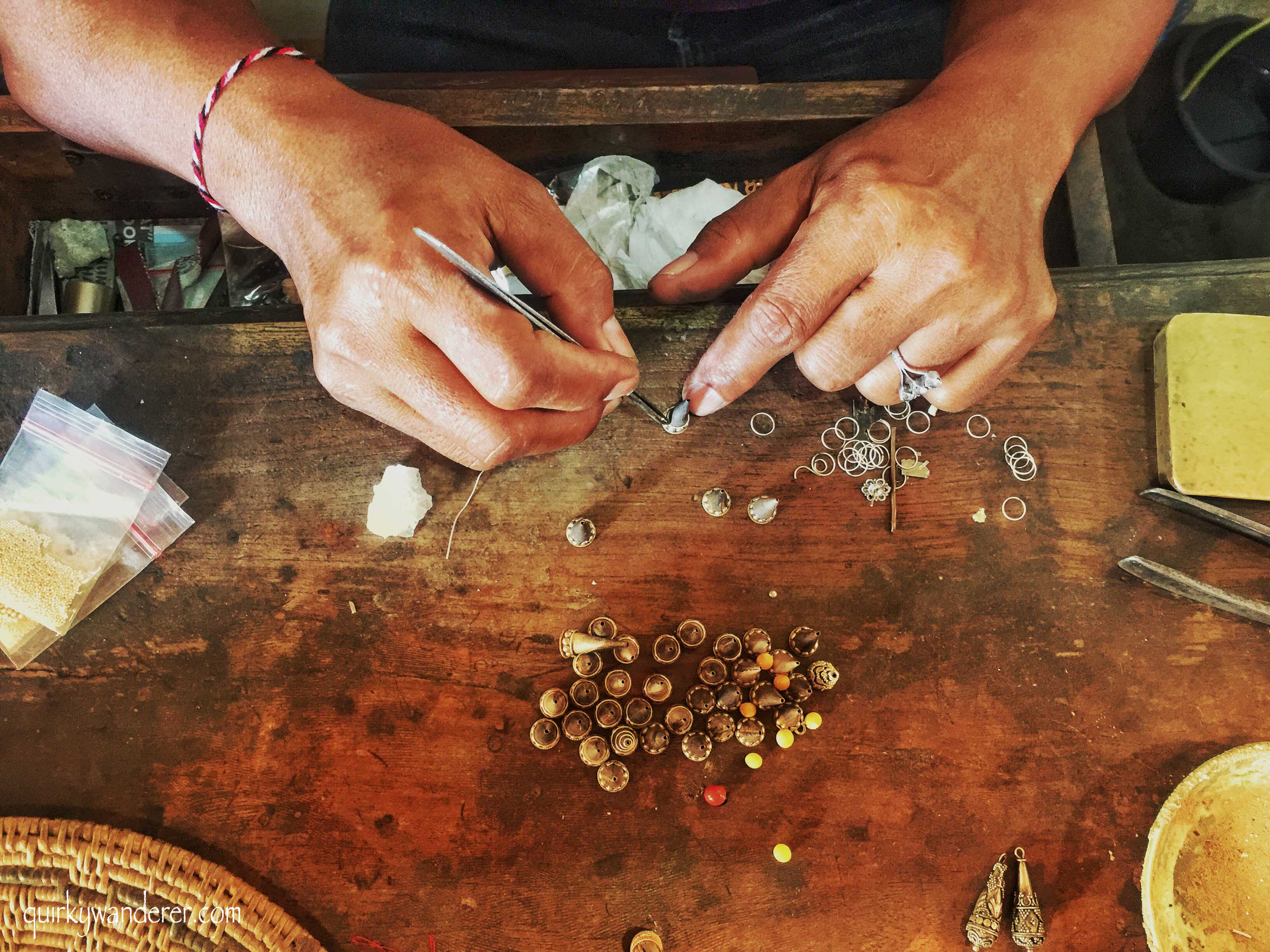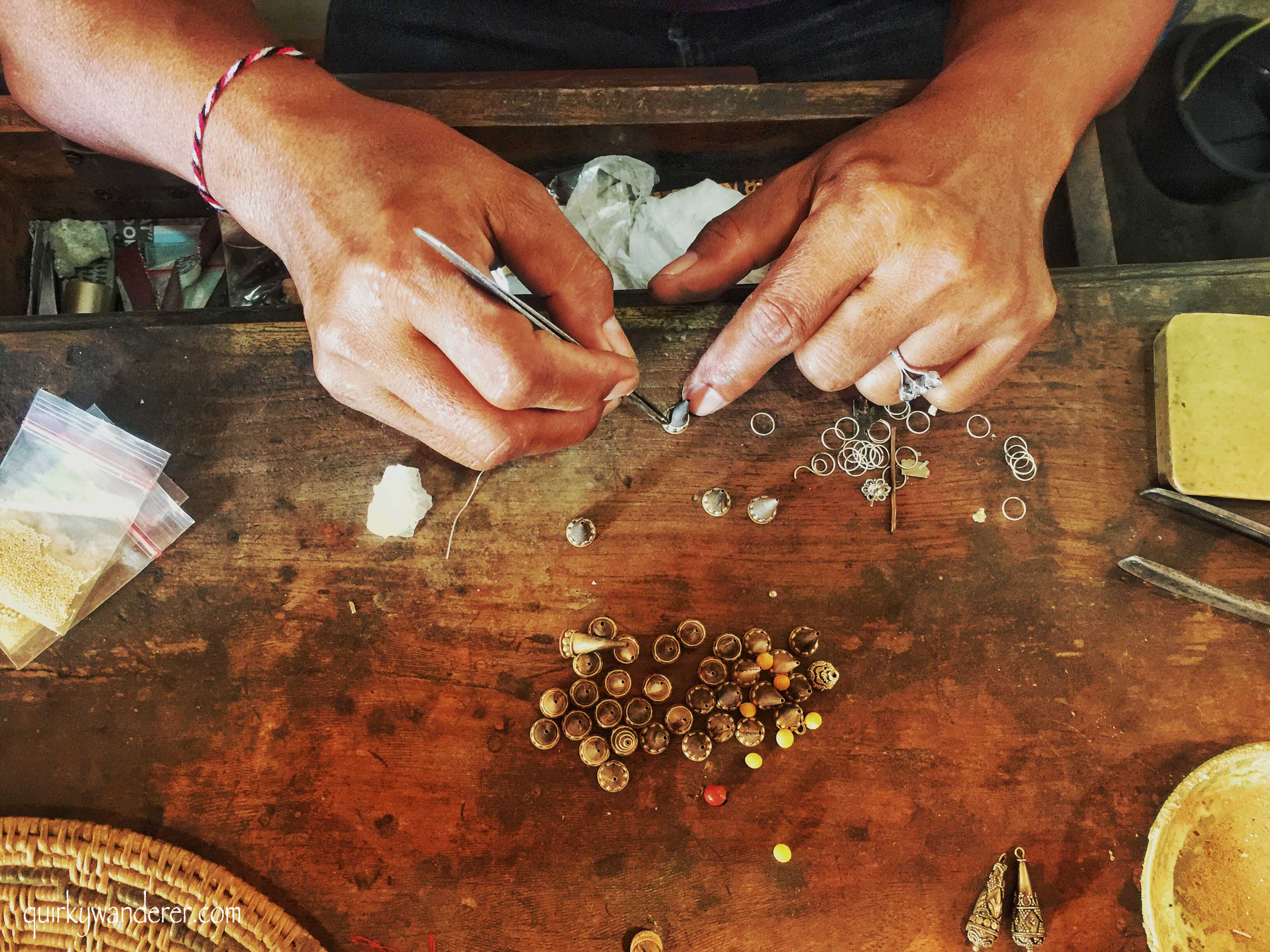 In tiny homes in Celuk, live several families of local goldsmiths who make silver and gold ornaments since centuries, boasting their knowledge of blending precious metals with the use of fire.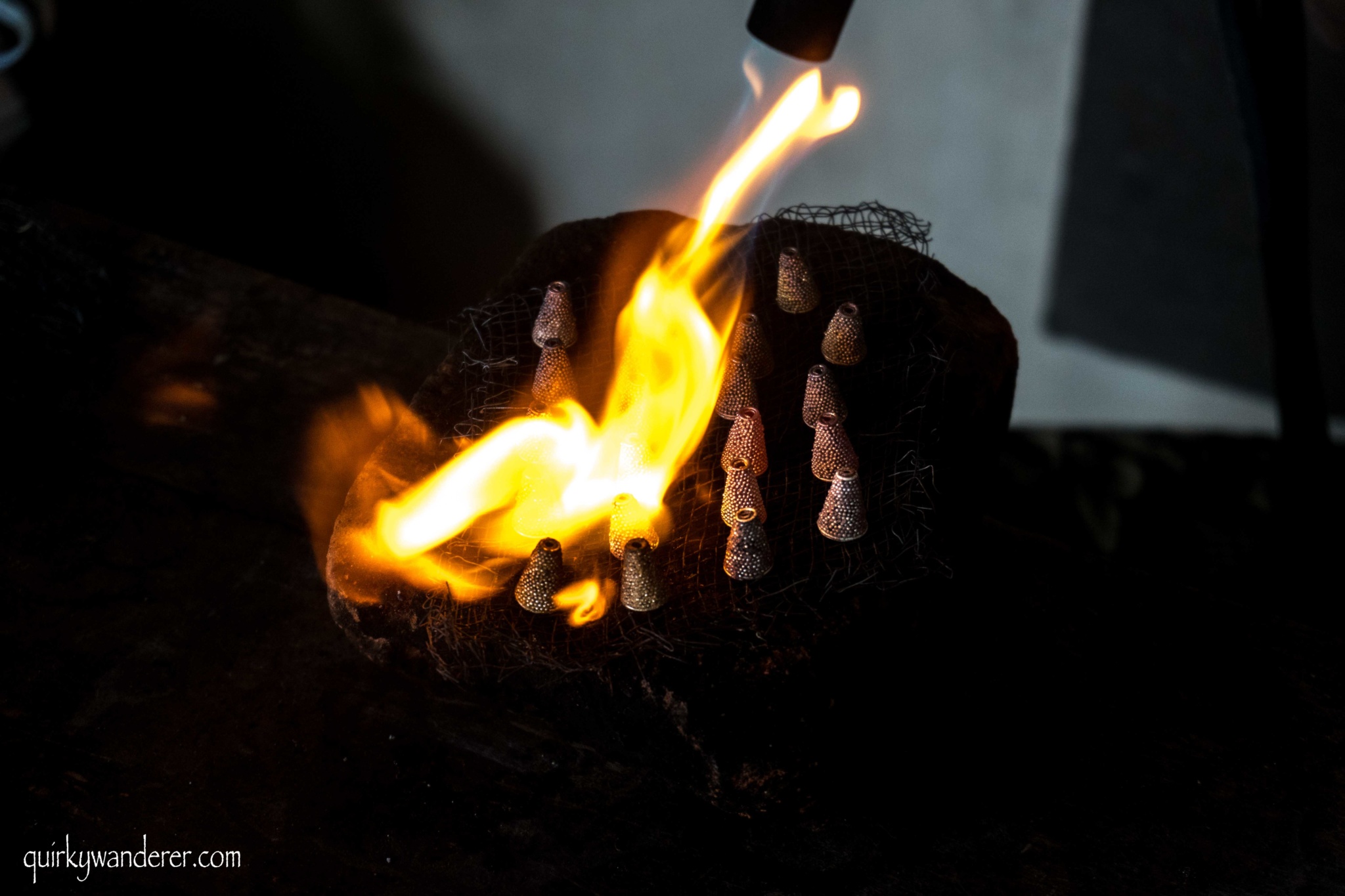 I watch the ladies, fully focused as they minutely worked on the smallest of the small piece to bring forth a master piece.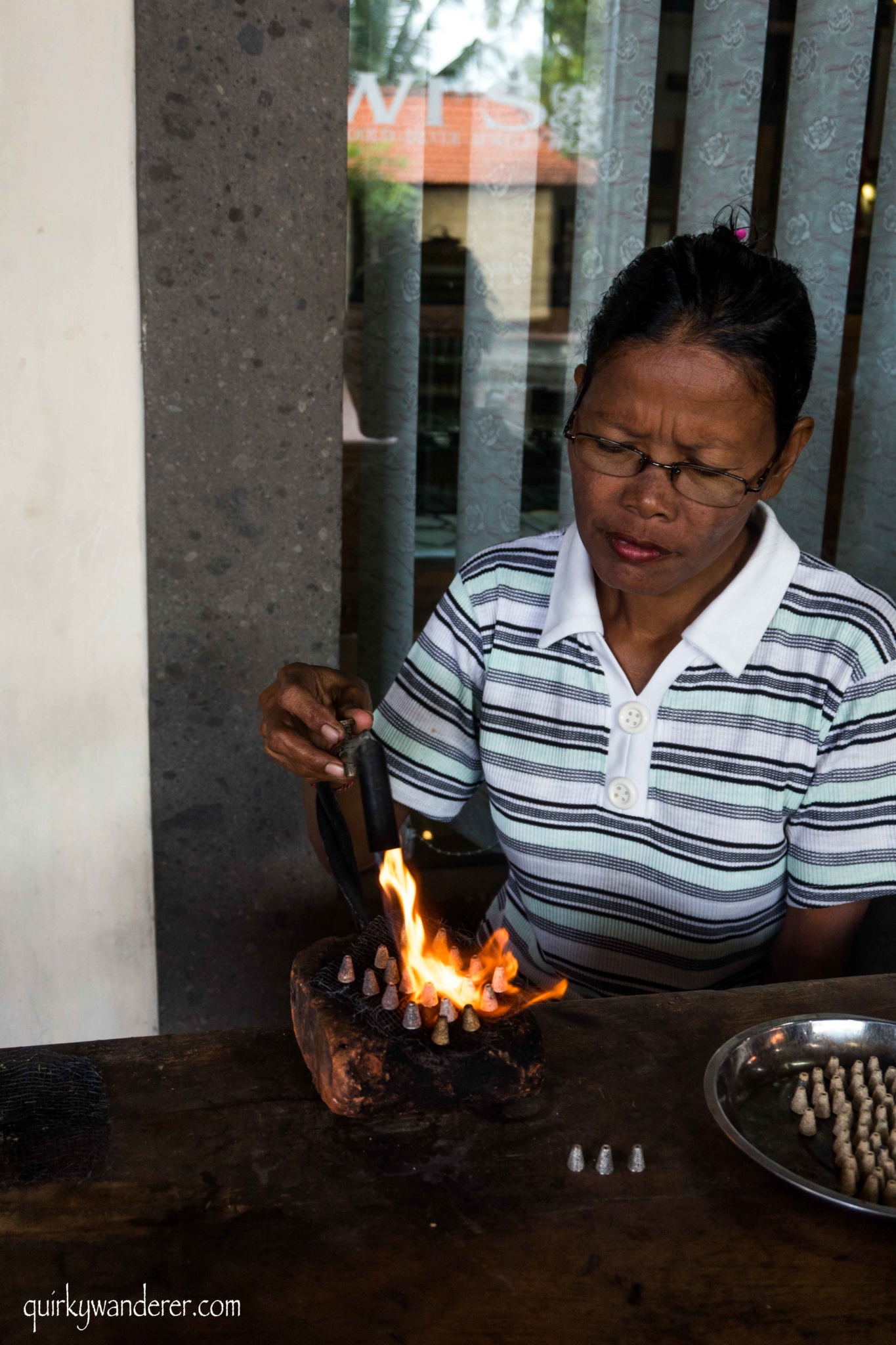 I joke with Mr. Nanang that to be able to buy all that fancy gold I will definitely have to do a spiritual tour and mediate over a volcano. He laughs, but I am in awe. Of the simplicity of these ladies, how simple they are who make 'things' worth a million dollars!
The Woodwork and antique doors!
Further ahead on the road to Tegaltamu, beyond the carved stone temples of the Gianyar regency, I saw several shops selling wooden antiques. There were showrooms and showrooms but what caught my eye was something else.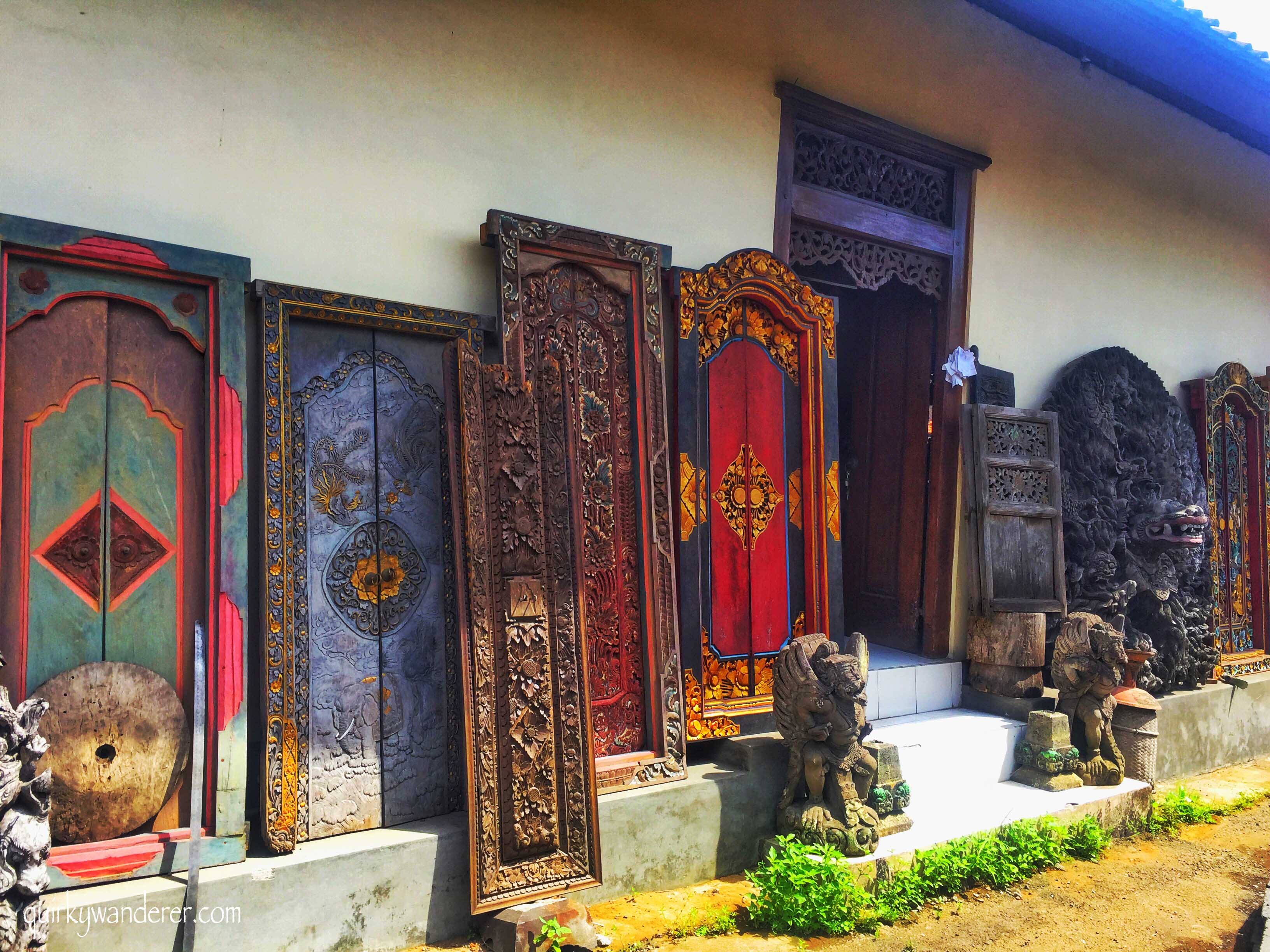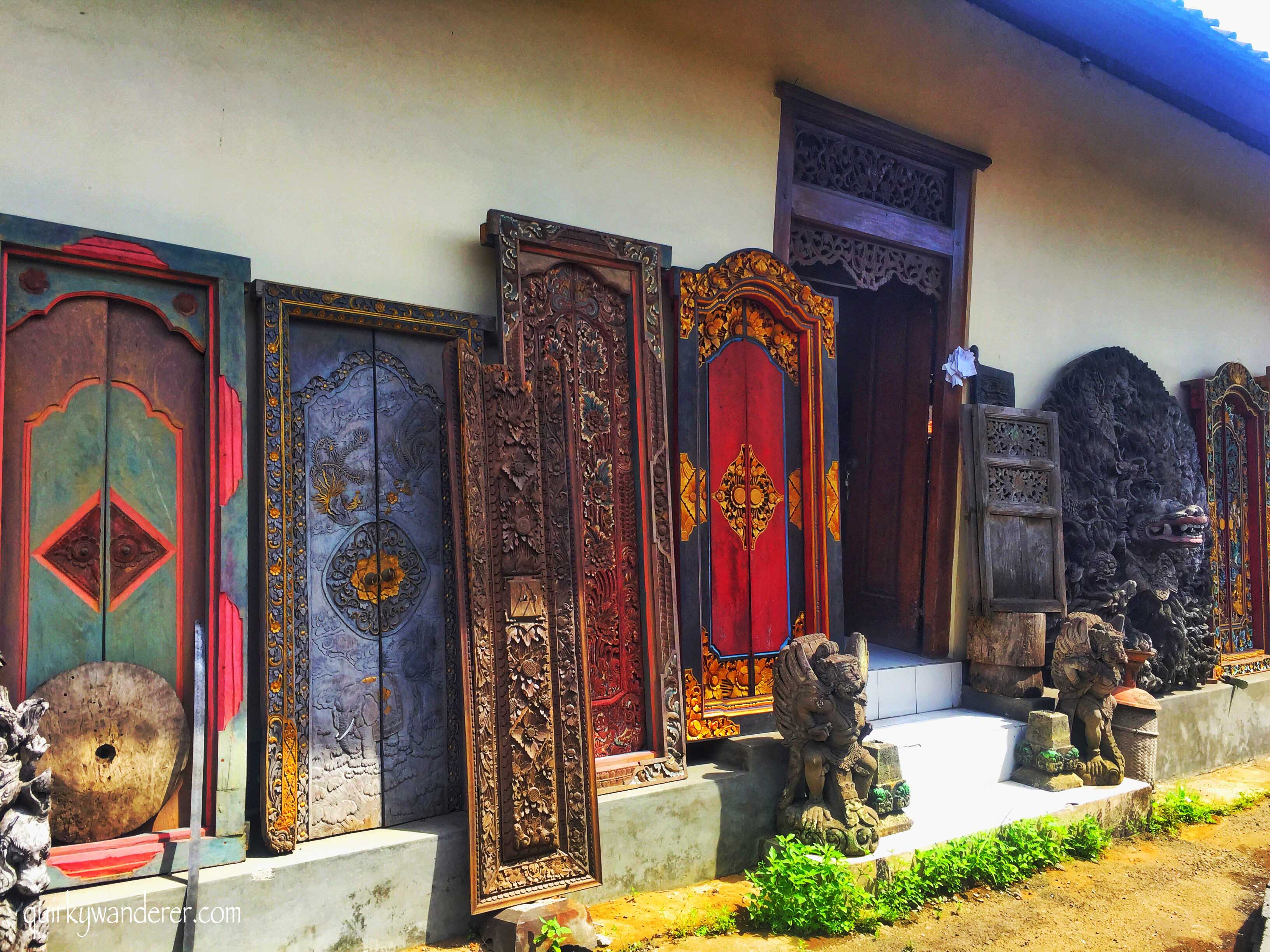 Doors!! Yes, carved and painted doors, a variety of them, stacked away in corners behind the showrooms (almost abandoned). I walked through the empty godowns, indulging in my favourite activity  – Door clicking, till I found a warehouse where doors were being actually carved out of wood.
Batu Bulan is a treasure of art and craft: from stone work to carved wooden antiques to arty textiles to precious jewellery.
The best part about this village is that you can actually SEE the process, interact with the artists and not just buy.
Next time you visit Bali and want to immerse yourself in a cultural extravaganza, take a village tour in Batu Bulan, in the Gianyar regency in Bali and watch these artists create magic with their hands.
None of them force you to buy and that is perhaps the best thing. They will welcome you, answer your queries, show you around and make you understand the art form from the scratch and if you turn away without buying ( Not everyone can buy gold!), they will smile and see you off.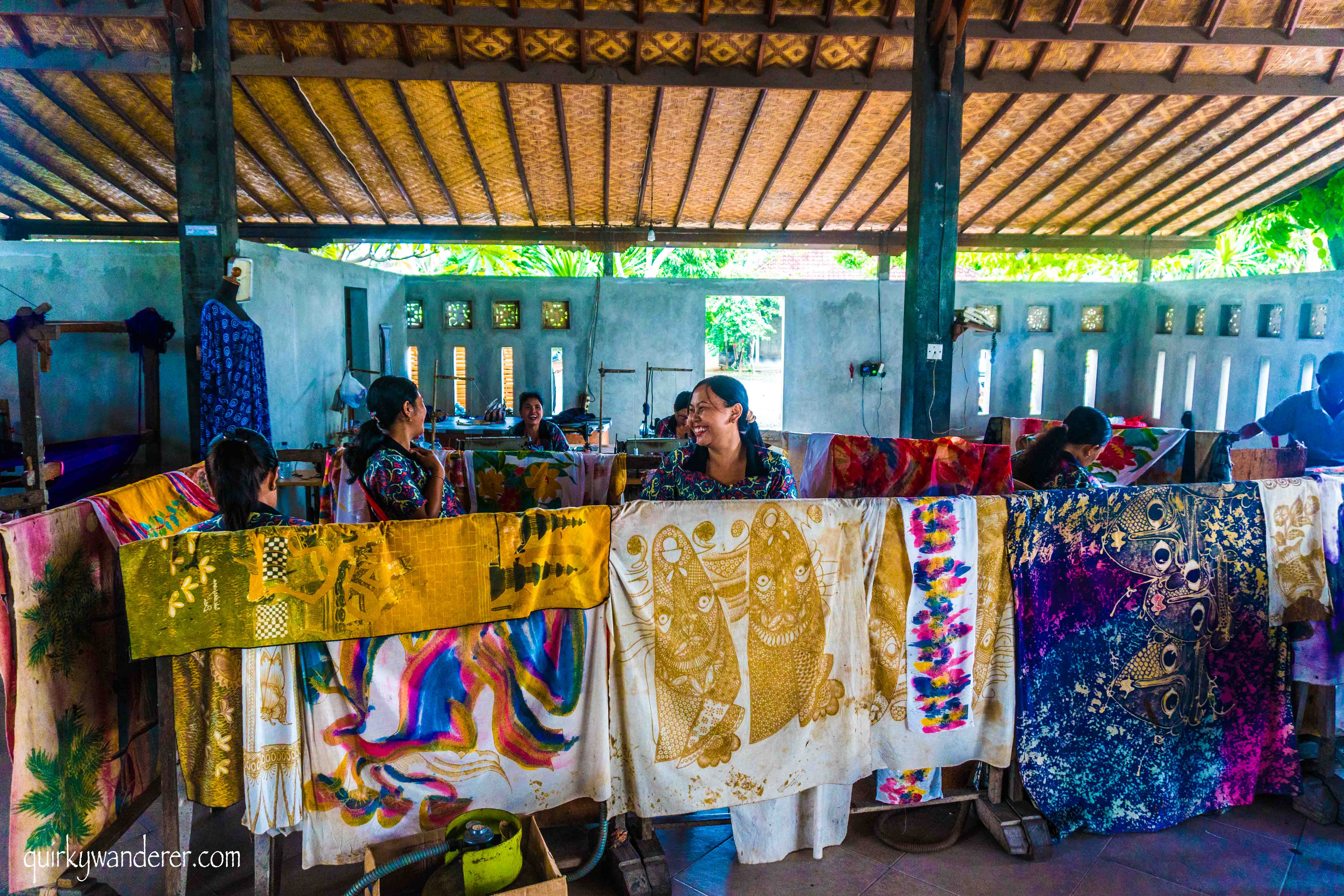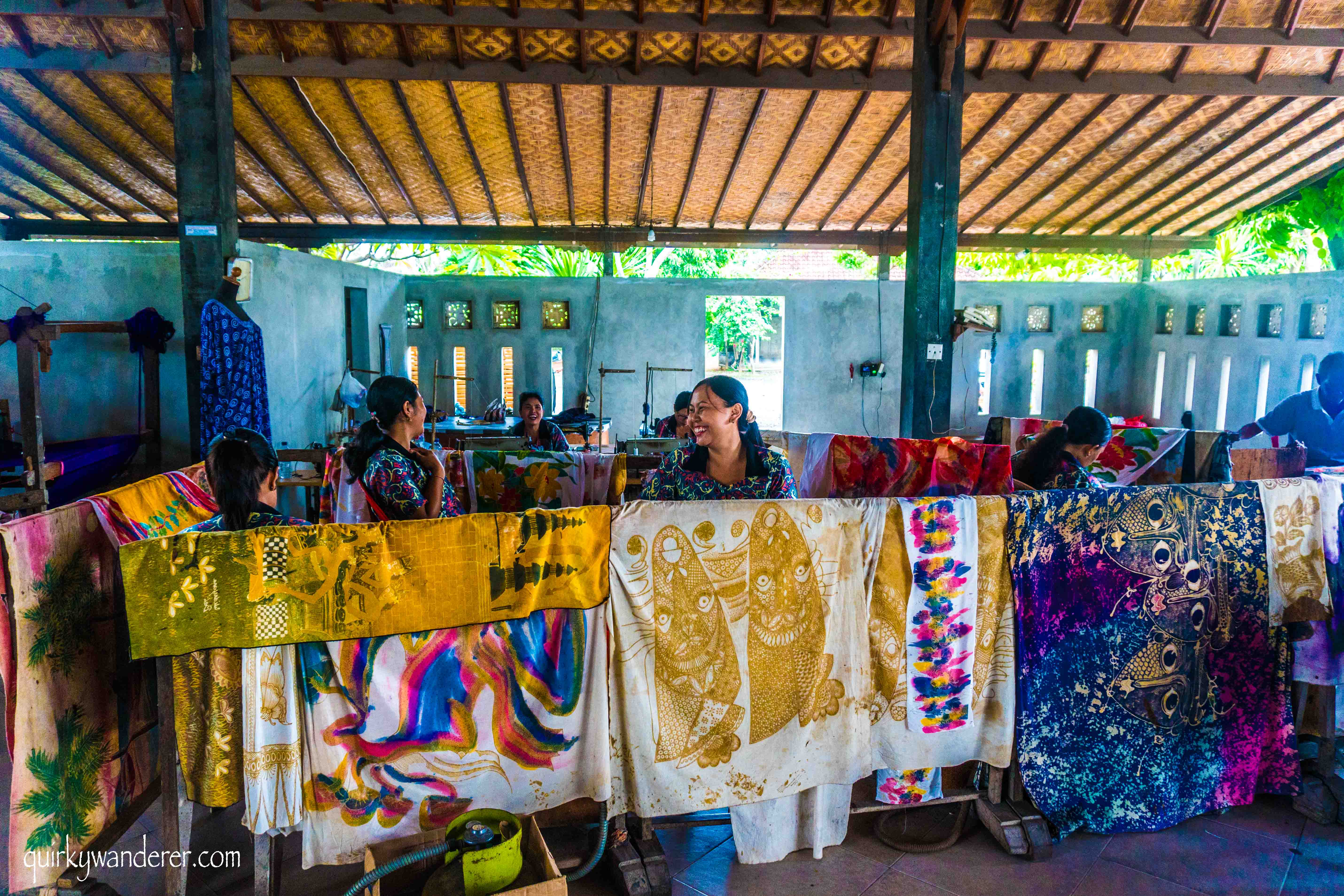 That is another striking similarity about the Balinese culture with the Indian culture: the concept of Guest is God is practiced with great fervour and my village tour in Gianyar just reinforced it.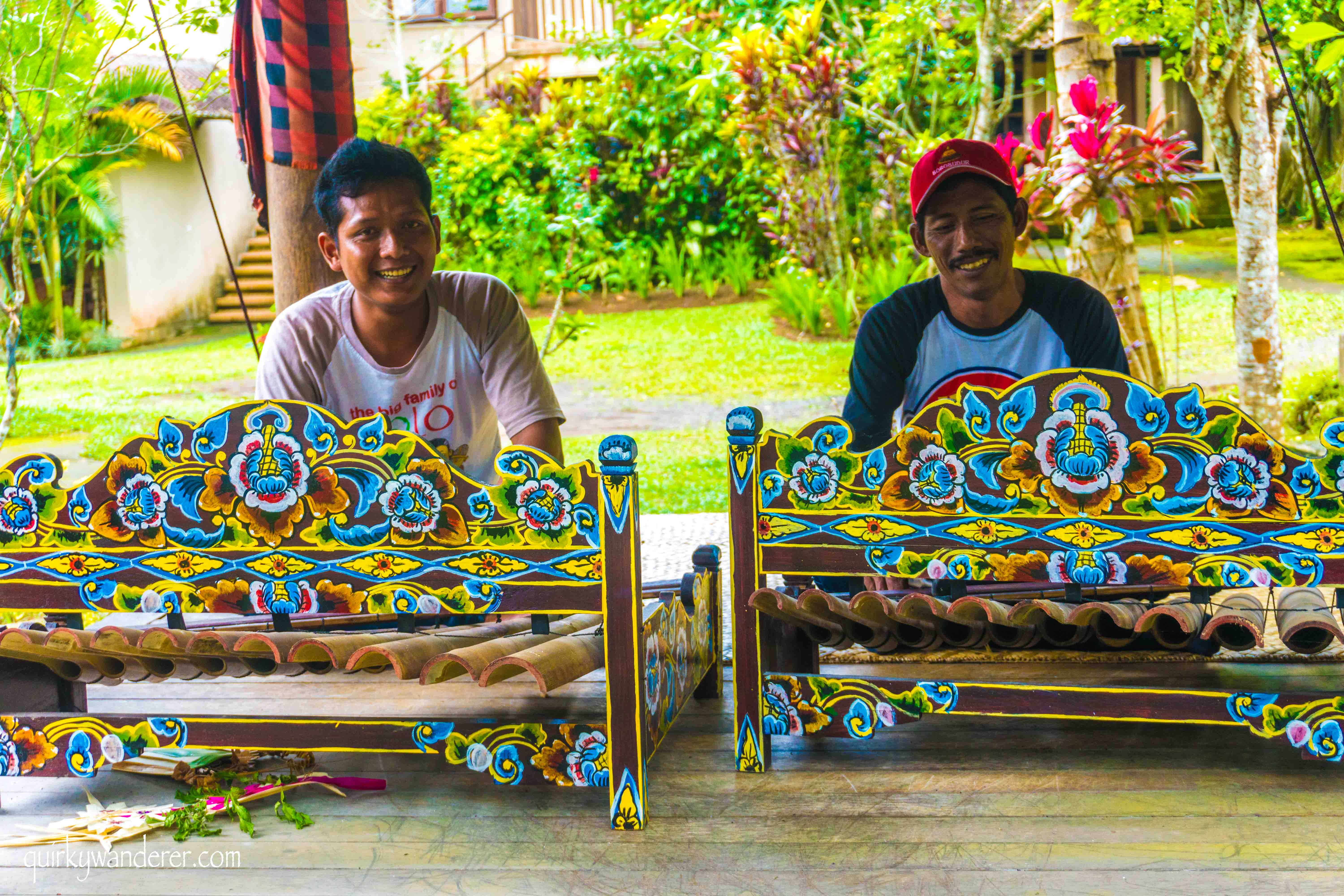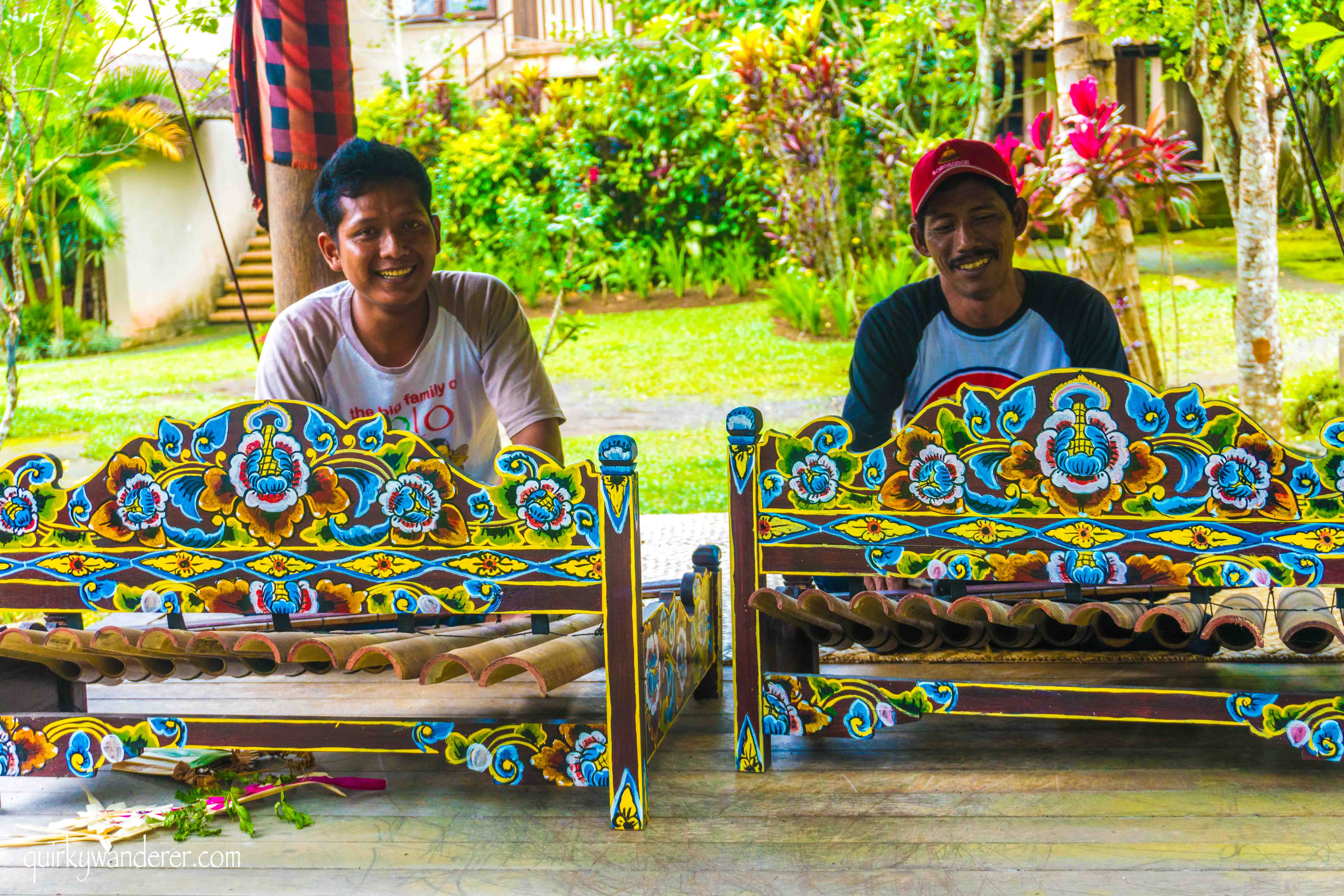 Visiting Bali as a first timer felt like meeting India's long lost cousin that sailed away to a far off land and yet maintained it's character. There were instances when I truly felt at home, with all those resemblances with the Hindu culture and traditions. The number of times I heard the mentions of Ramayana and Mahabharata in a day, were higher than I would ever hear them back in India. I was instantly fond of this place and was certain that this wasn't going to be my only visit. Certainly not. And No, I did not need a fortune teller to tell me that.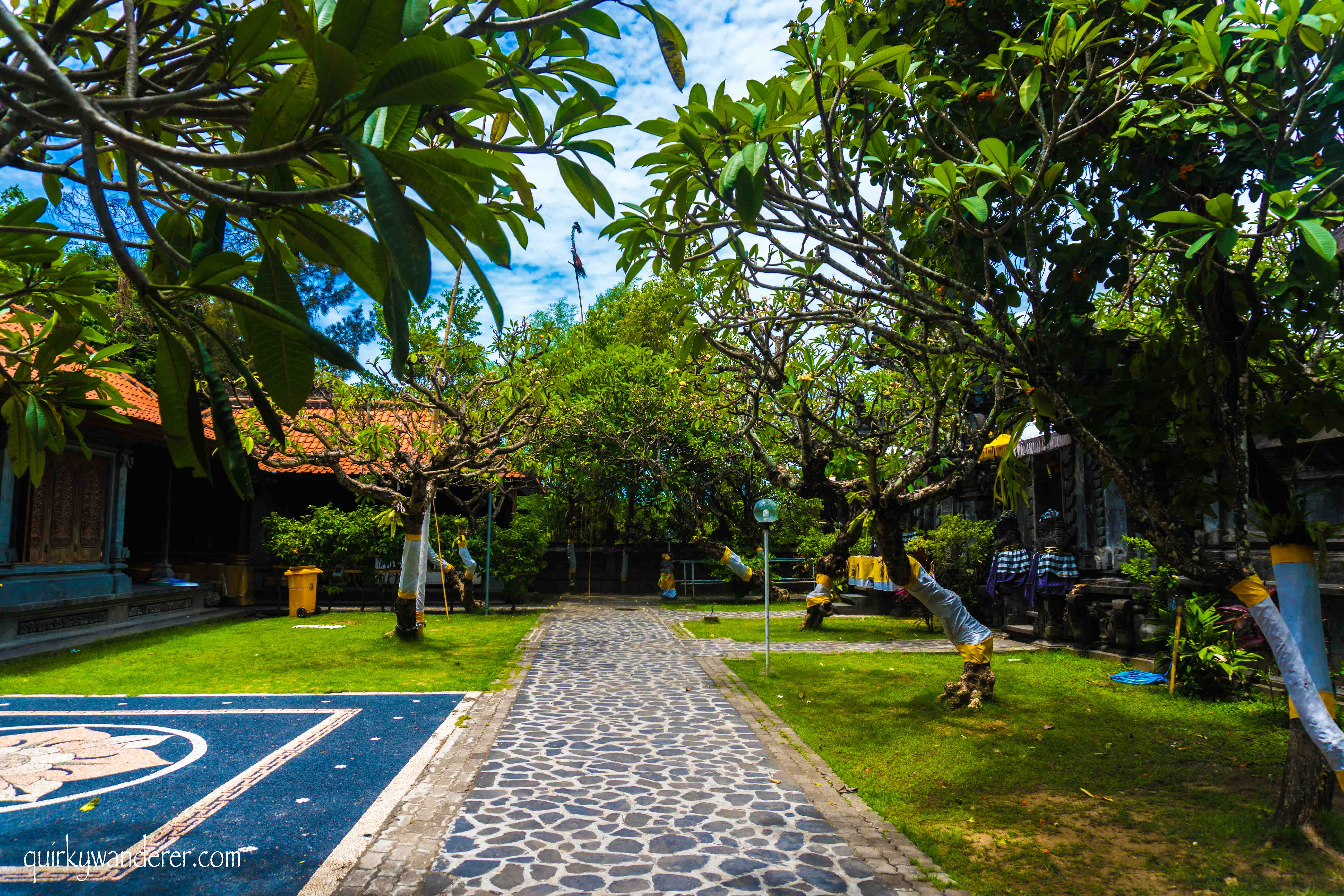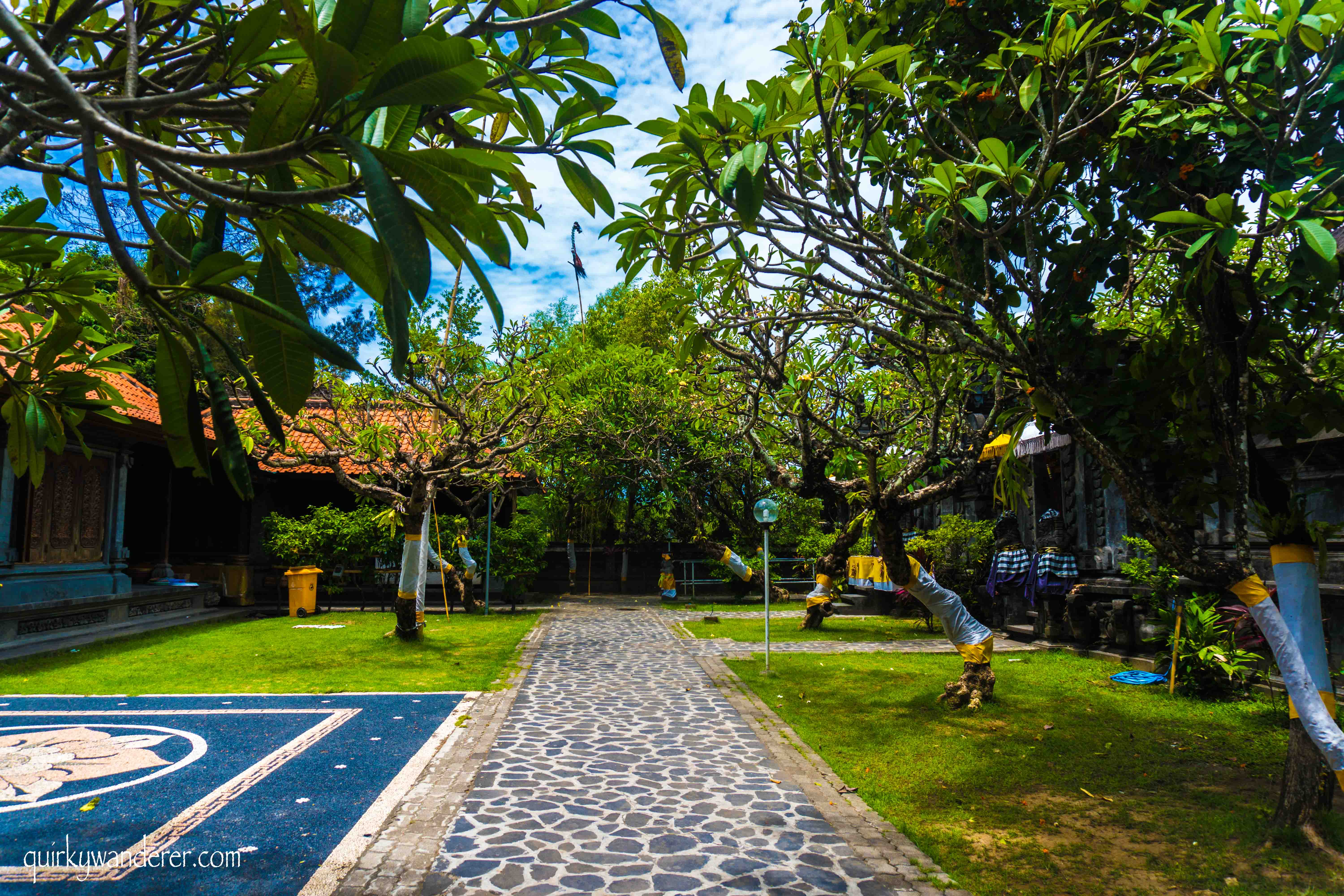 Stay tuned for the next blog post on Bali : It features the cleanest village of the world, a visit to the fuming volcano Agung and other East Bali explorations.
Disclaimer:  I was invited by Indonesia Tourism and Garuda Indonesia India for this trip to #wonderfullindonesia .