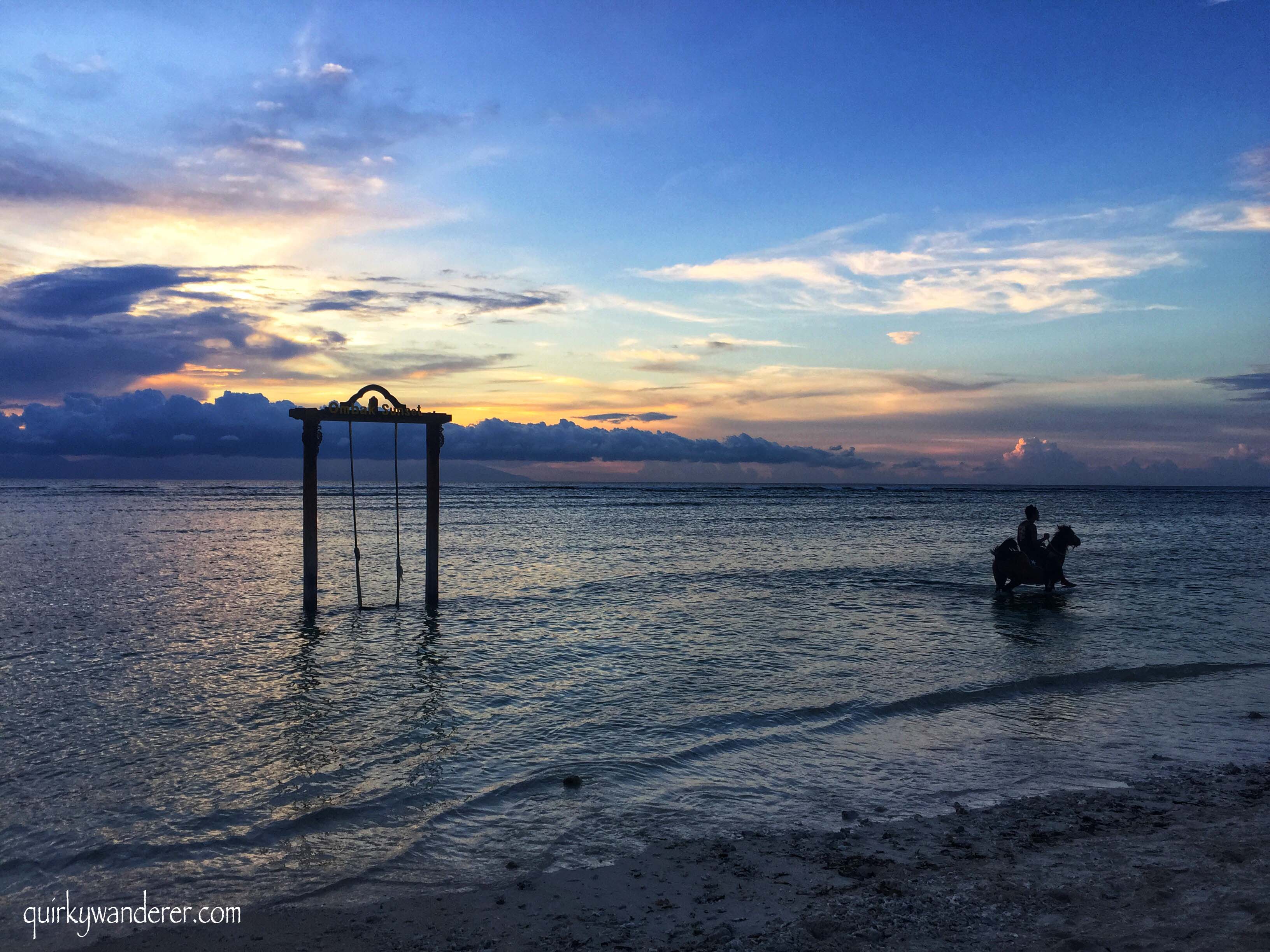 We were running against time. To get that perfect sunset shot at Gili Trawangan island we had to leave Lombok island on time, precisely 2 pm.
Lombok island in Indonesia had won my heart with its rugged scenic beauty and exquisite landscapes: one moment we drove under tree canopies, the other moment we were awed by towering cliffs overlooking endless azure beaches.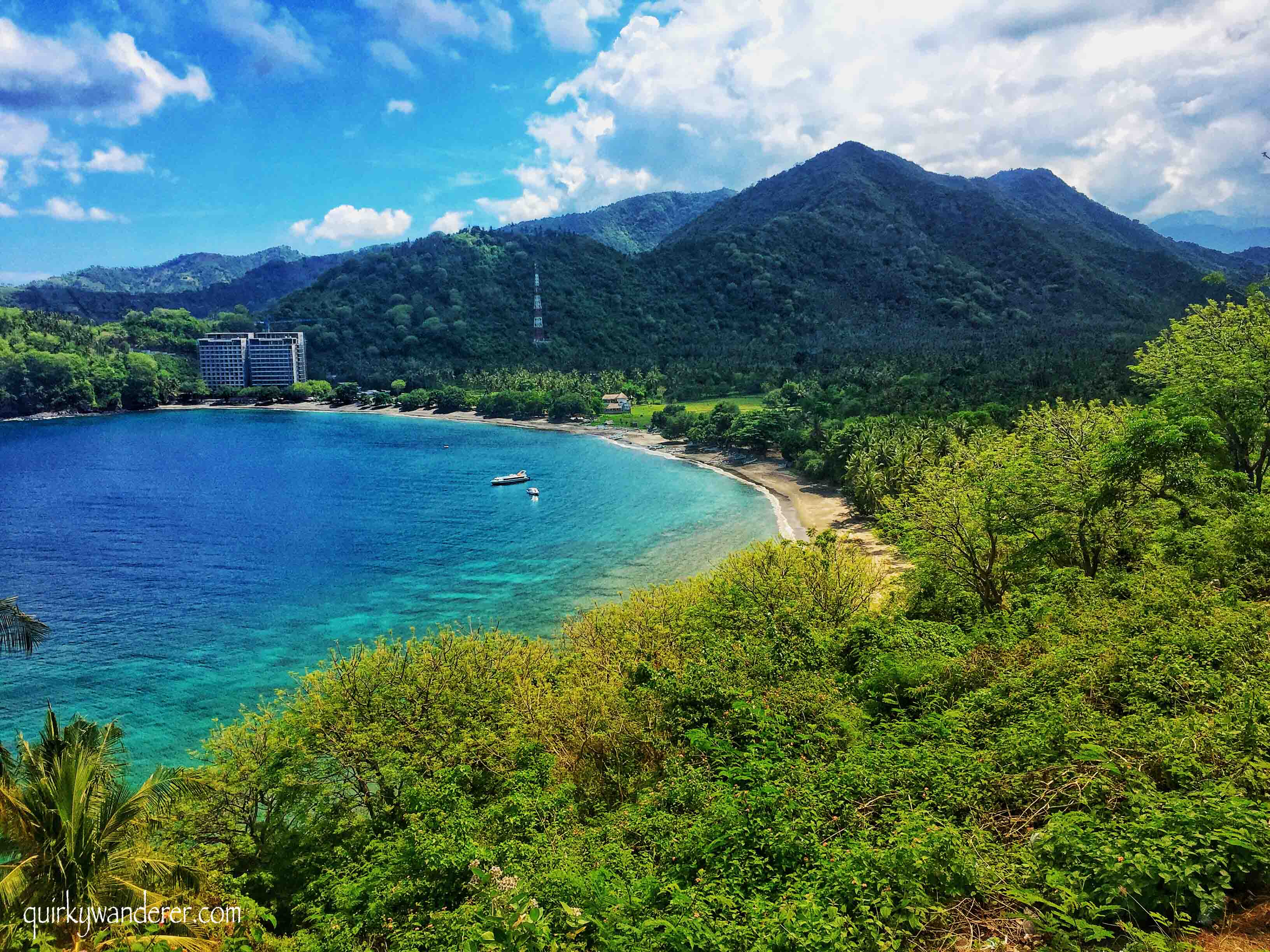 And just when I thought oh it's just about beaches, it enthralled me with its raw, earthy green fields and bountiful plantations.
But right now the highlight was to catch the sunset at Gili Trawangan.
What was the big deal? Just a sunset right?
It WAS a big deal.
Sometimes you see a frame somewhere and nurture a dream to be a part of it and to live it.
Travel throws so many such opportunities at you to create frames that you never knew existed: frames that enchant you, take you by surprise. But there are some trademark, iconic places that you want to be a part of. Those instagramabble frames (done to death) but you still want to be a part of them.
Why?
No, it isn't FOMO (fear of missing out). The frame is ready but the subject is unique, isn't it?
Mine was 1 hour away from the Lombok harbour.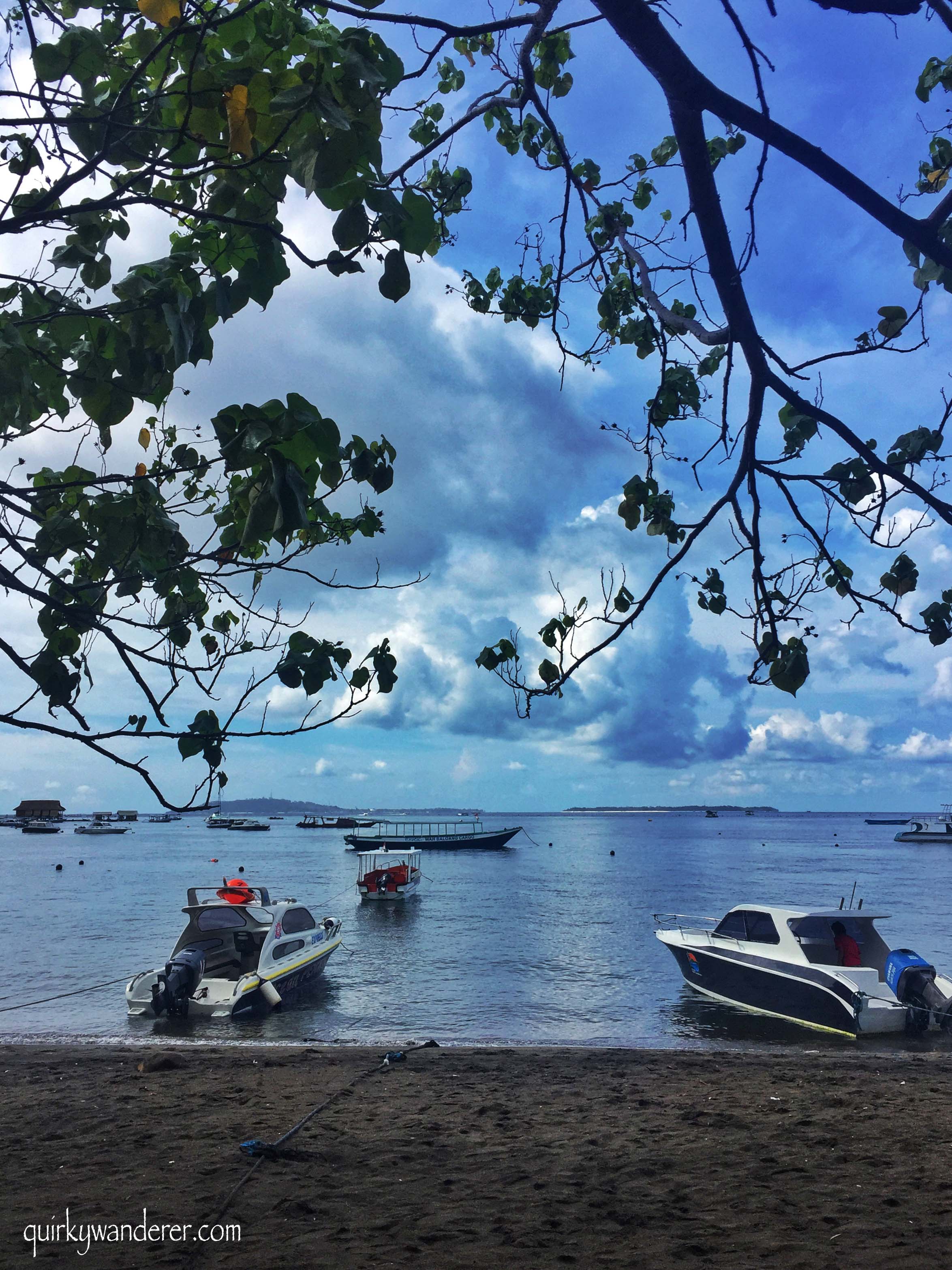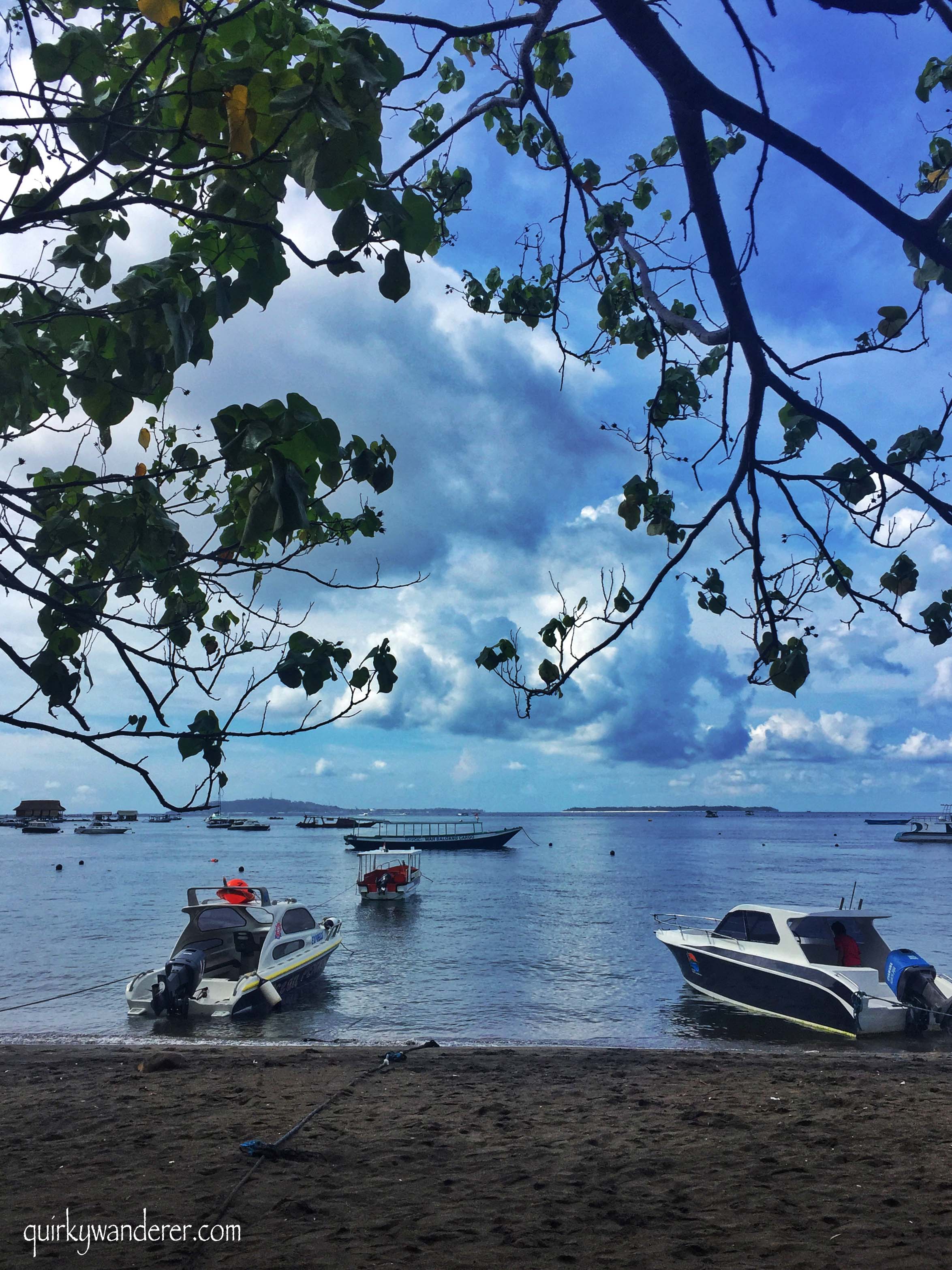 The slow boat swished along turquoise waters as the sea breeze sprayed a little bit of the sea on me.
Ferries always brought joy.
The dancing waves with music of its own, the different hues of water: cyan, teal, azure, turquoise: a lilting happiness.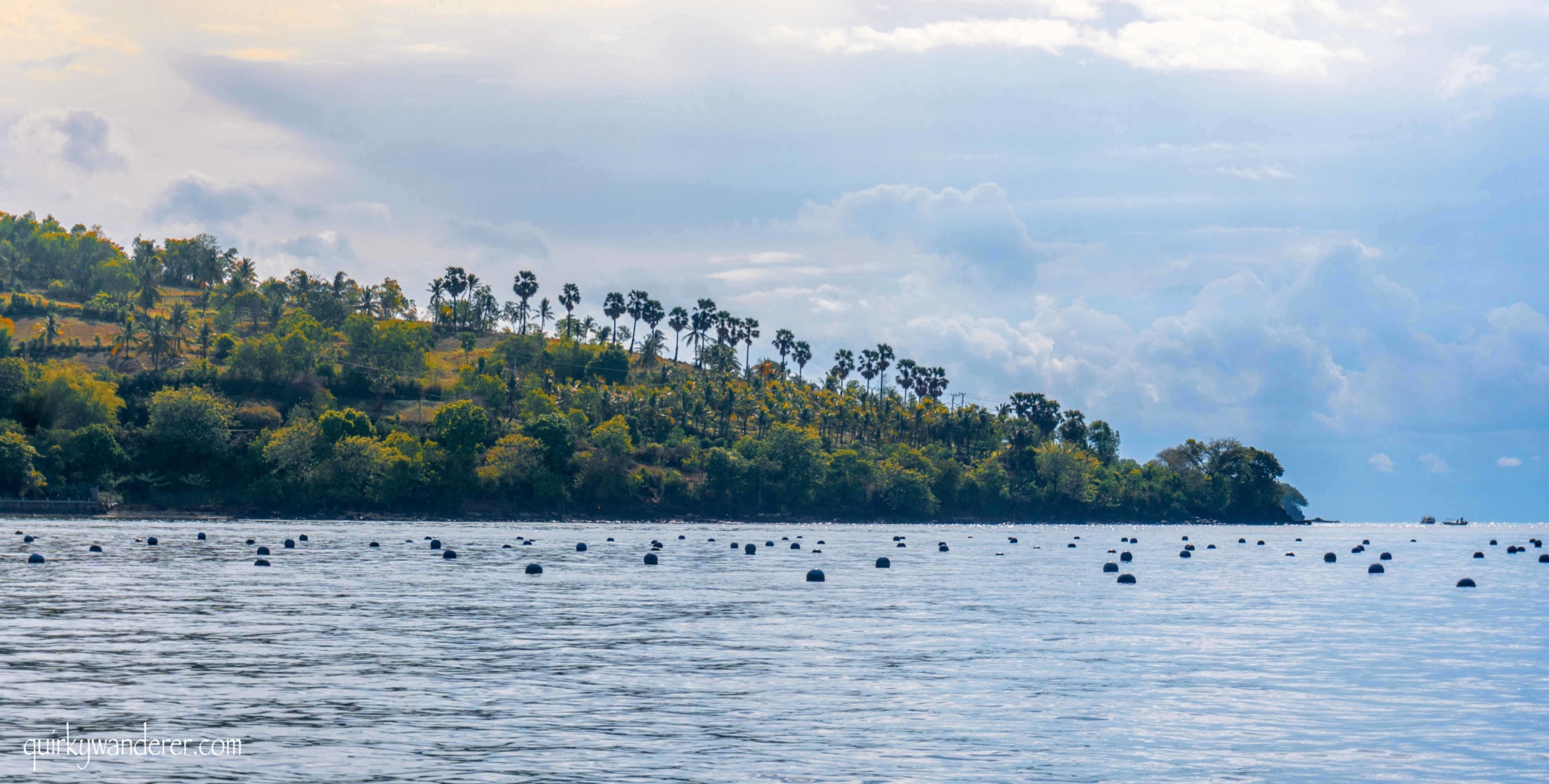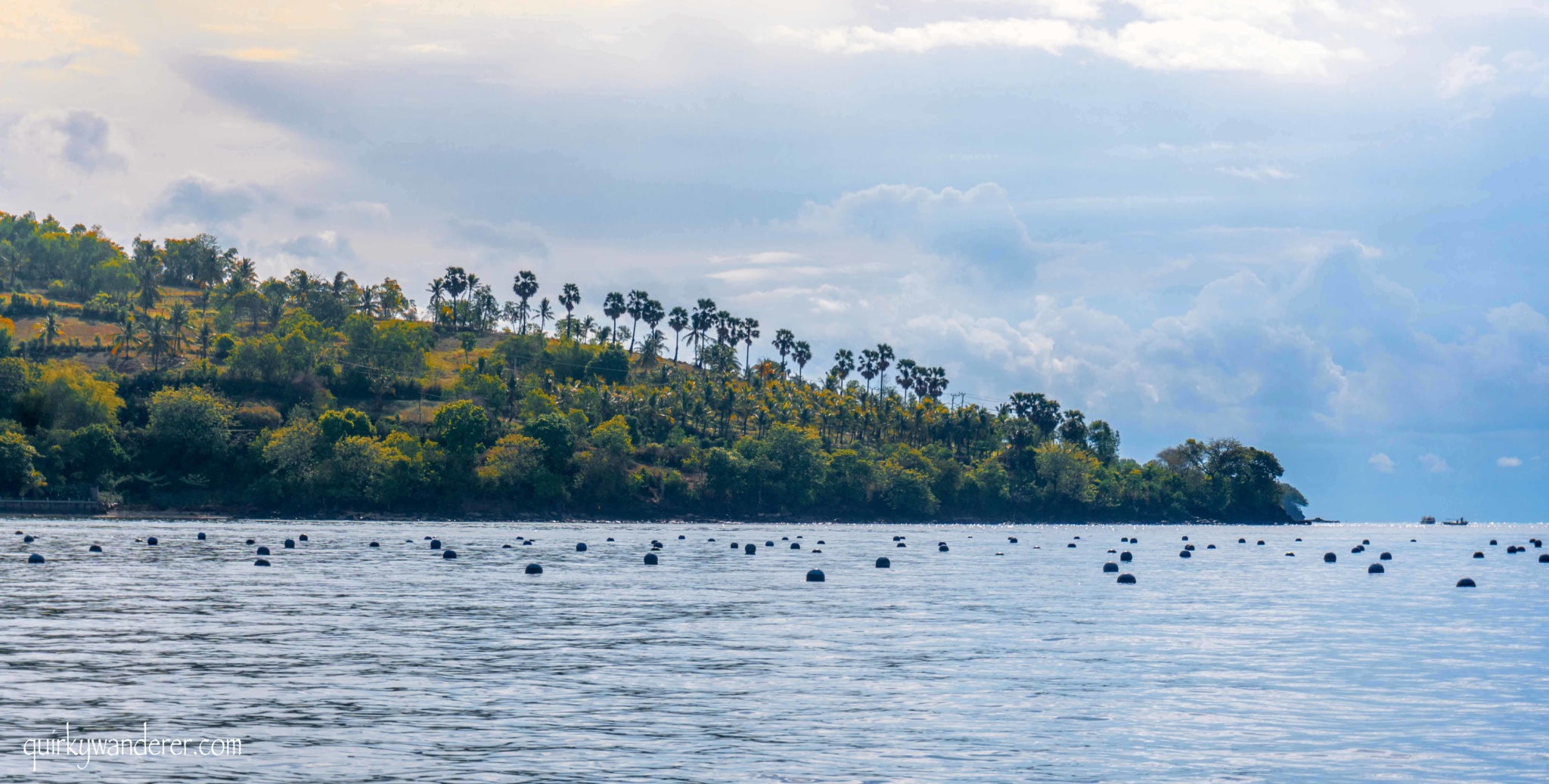 30 mins later and several photos later we finally reached the harbour of Gili Trawangan, where Sam our guide broke the heartbreaking news to me: We had to rent cycles on the island.
Memories of childhood cycling mishaps encircled my mind, as I inquired the next option. "Horse cart!" He announced, my heart sank further. I abhor animal ridden transport.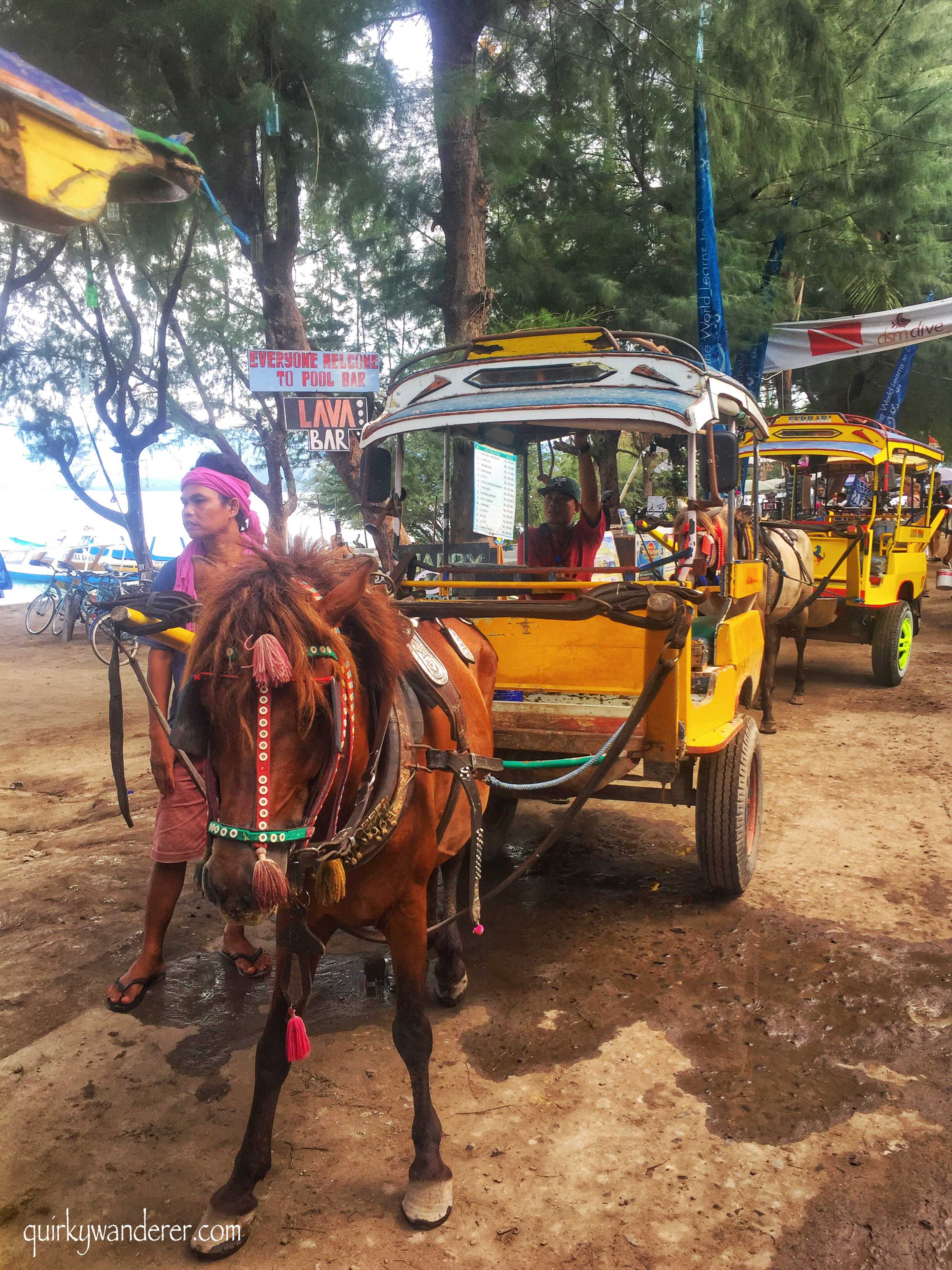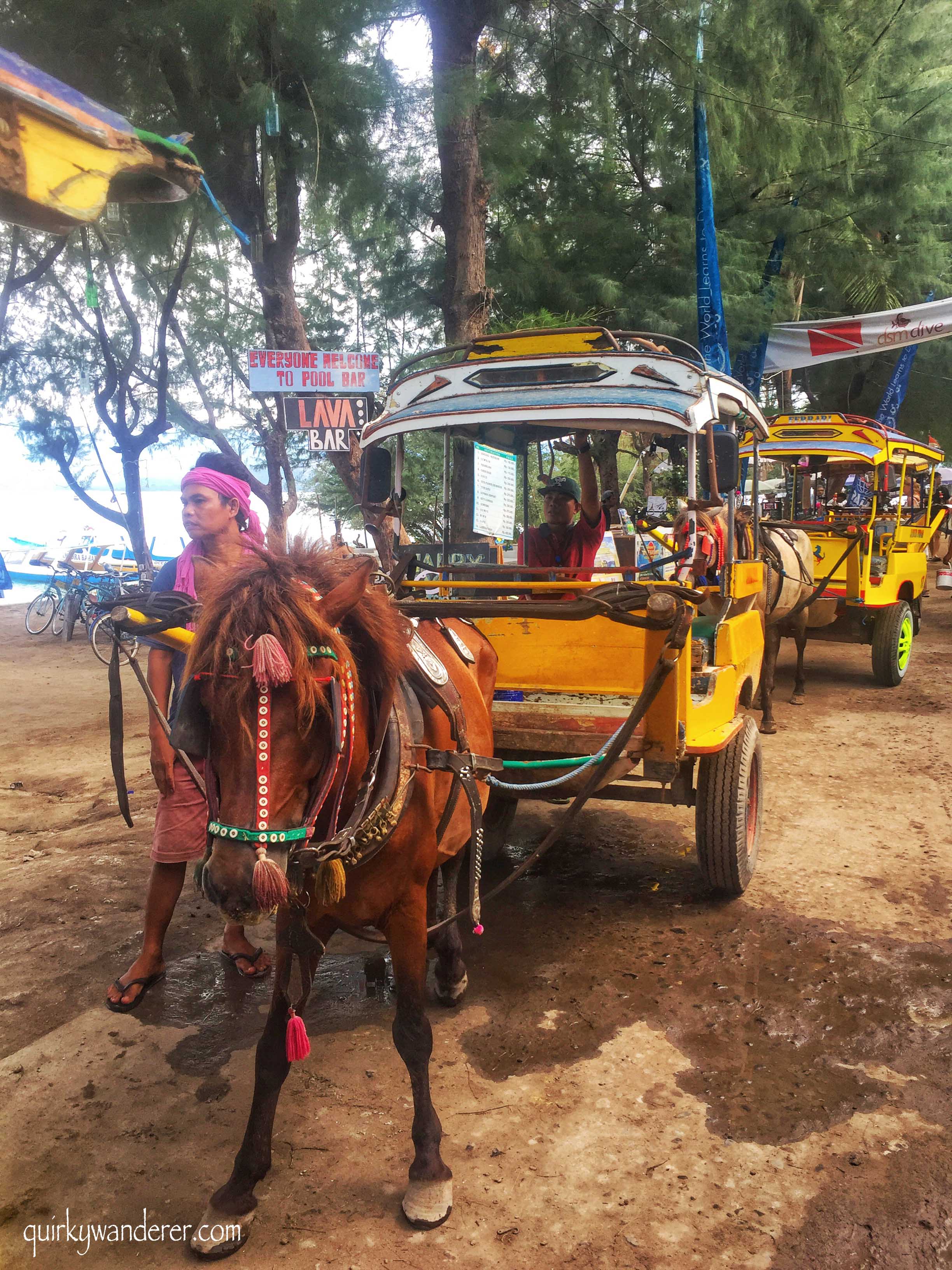 So now the choice was to risk a few broken teeth vs sympathy with the horse. And needless to say the selfish -me (remember the postcard sunset shot?) chose the 'safer' option.
Off we went, through muddy tracks, lively cafes passing by in a whirl , sea facing bars bursting with enthusiastic tourists, shops selling beachwear and providing snorkelling equipment on rent making brisk business.
Gili Trawangan is a relatively small island: it's rawness intact and the sea being it's main feature.
Most of the resorts are sea facing and a stone's throw away from the shore with practically all of them providing cycles on hire.
Time on the clock : 4.45 pm.
Pedestrians needed to leave early for the 'sunset'.  So there I was, schlepping my weary self to the shore. I decide to make the walk to my picture point : The famous Ombak Sunset Swing, along the shoreline.
There is something about solitude and the sea. Waves rushing towards you and tickling your feet for a tad bit and receding. As if vying for your attention. When you oblige, they act pricey receding further, baring the treasures of the sea : corals and shells alike.
And the show isn't over. They gush and roar like privy to your secrets and why you're here.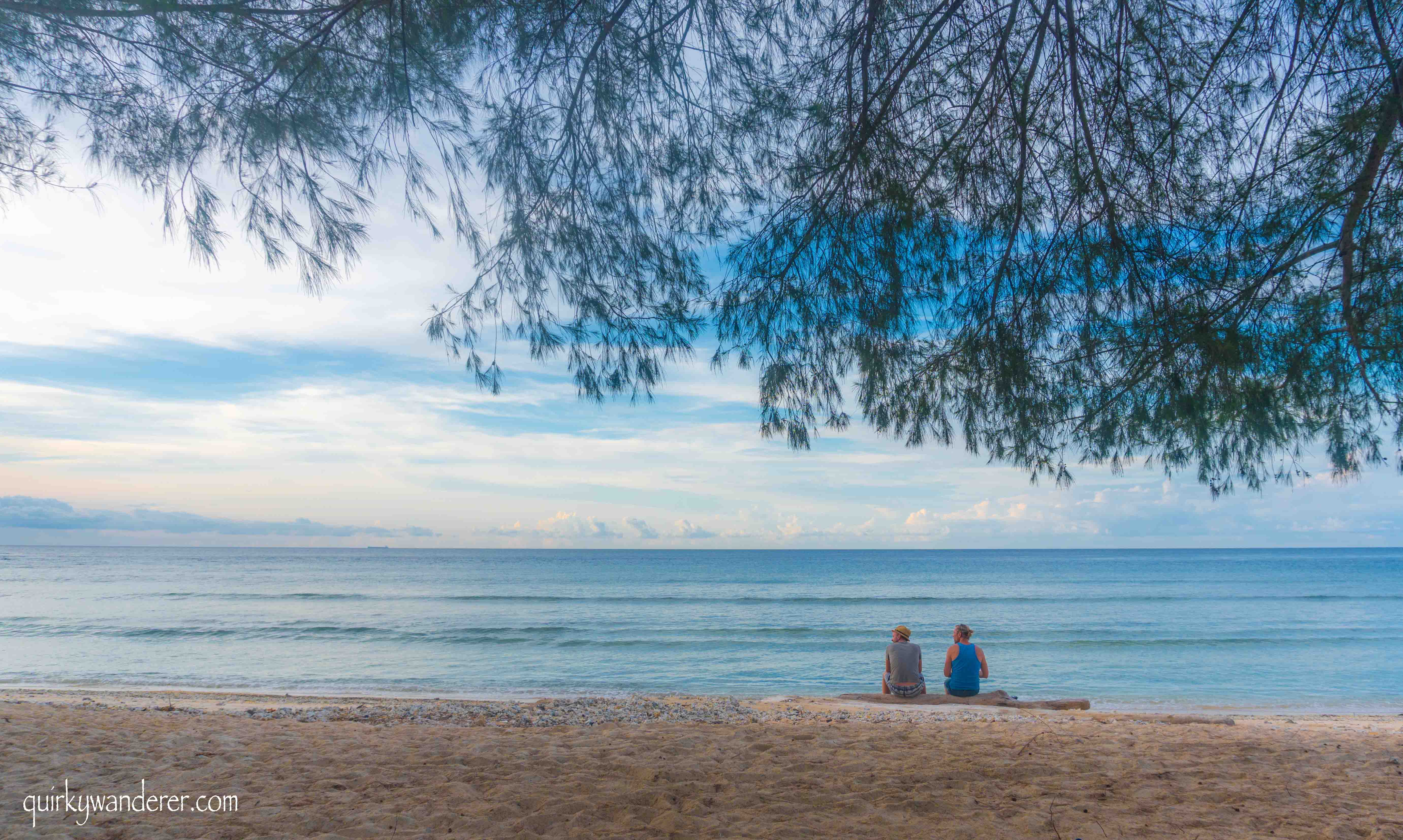 The walk continued as the sky turned dramatic: a blanket of thick clouds and colours of the sun splitting into various cloud blocks each giving a different shade: tangerine, chest-nut, copper.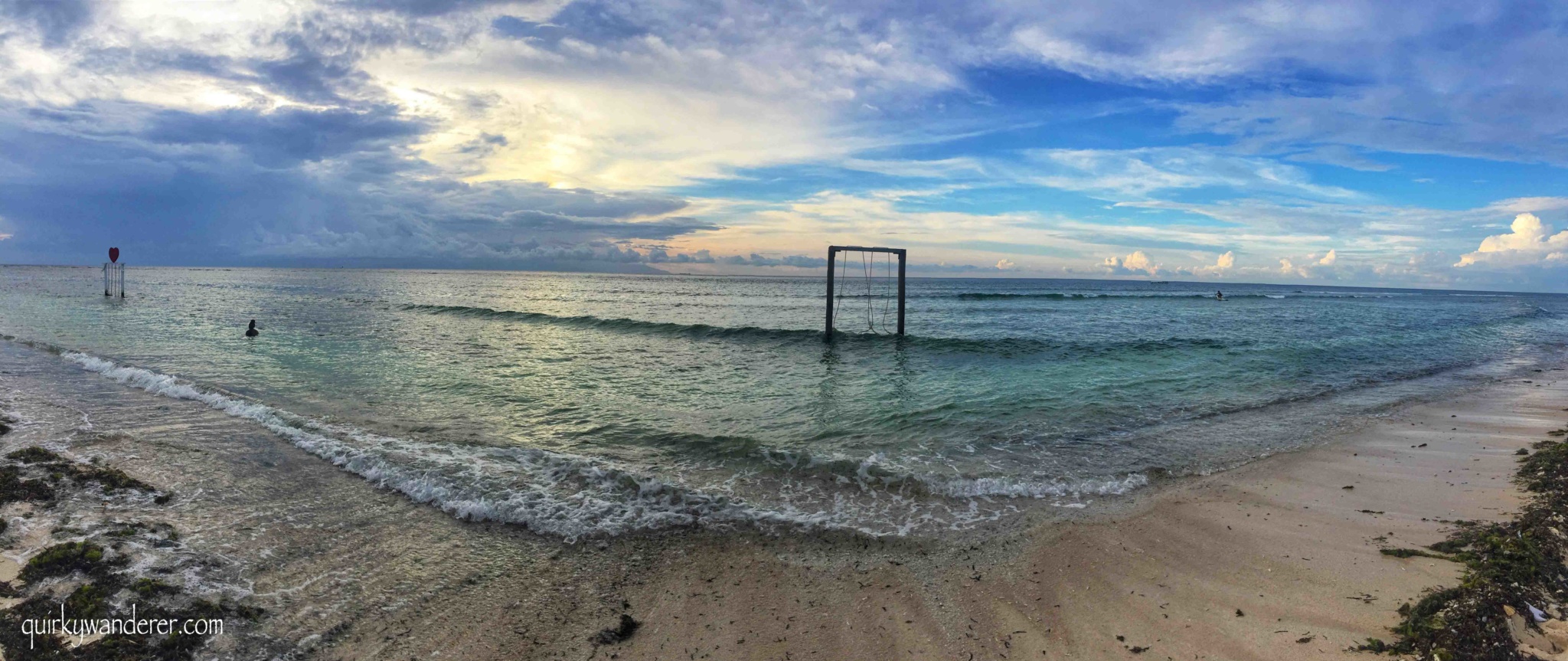 The whole stretch had close to four swings. But I trudged all the way to the one at Ombak Sunset resort.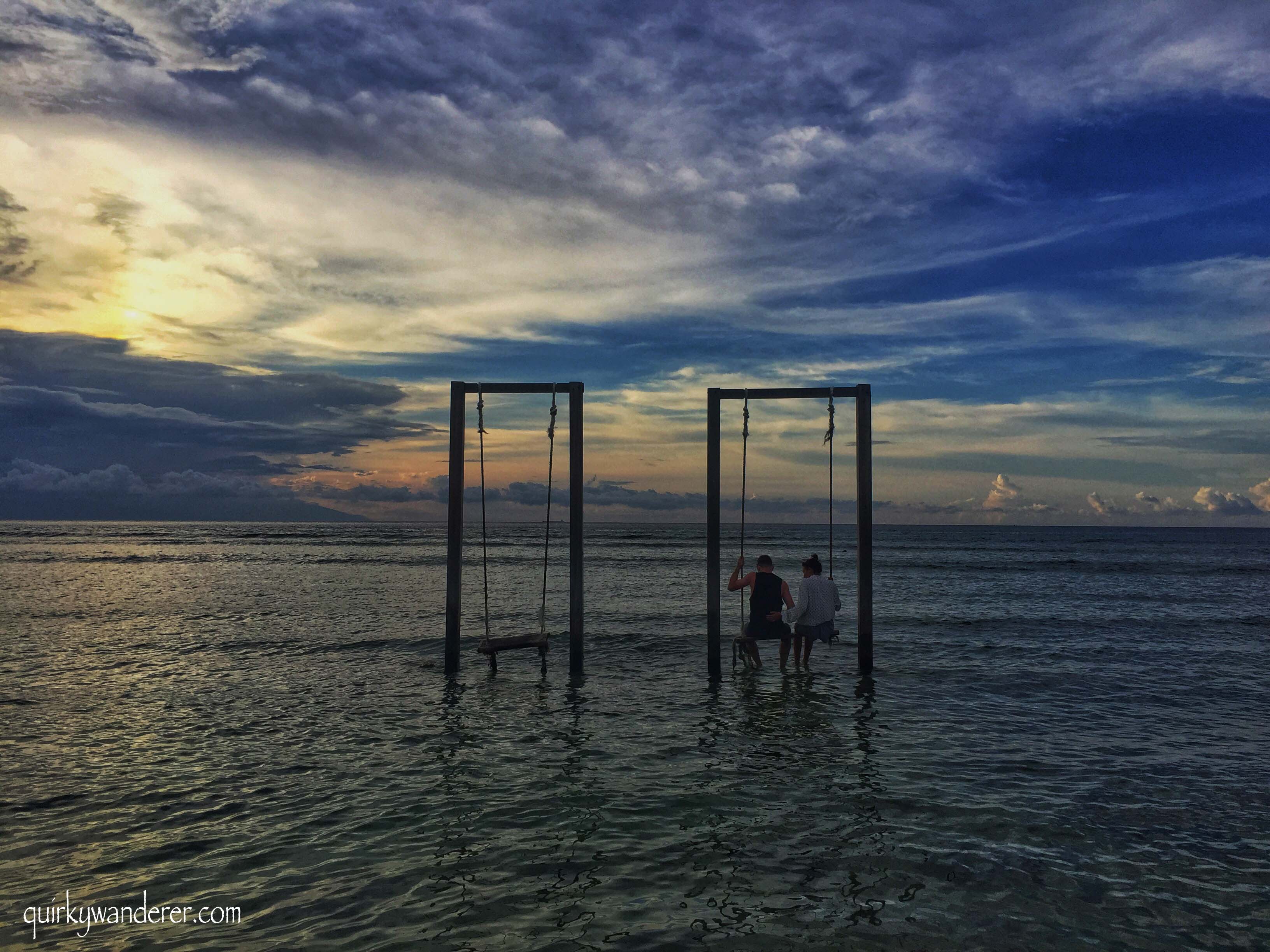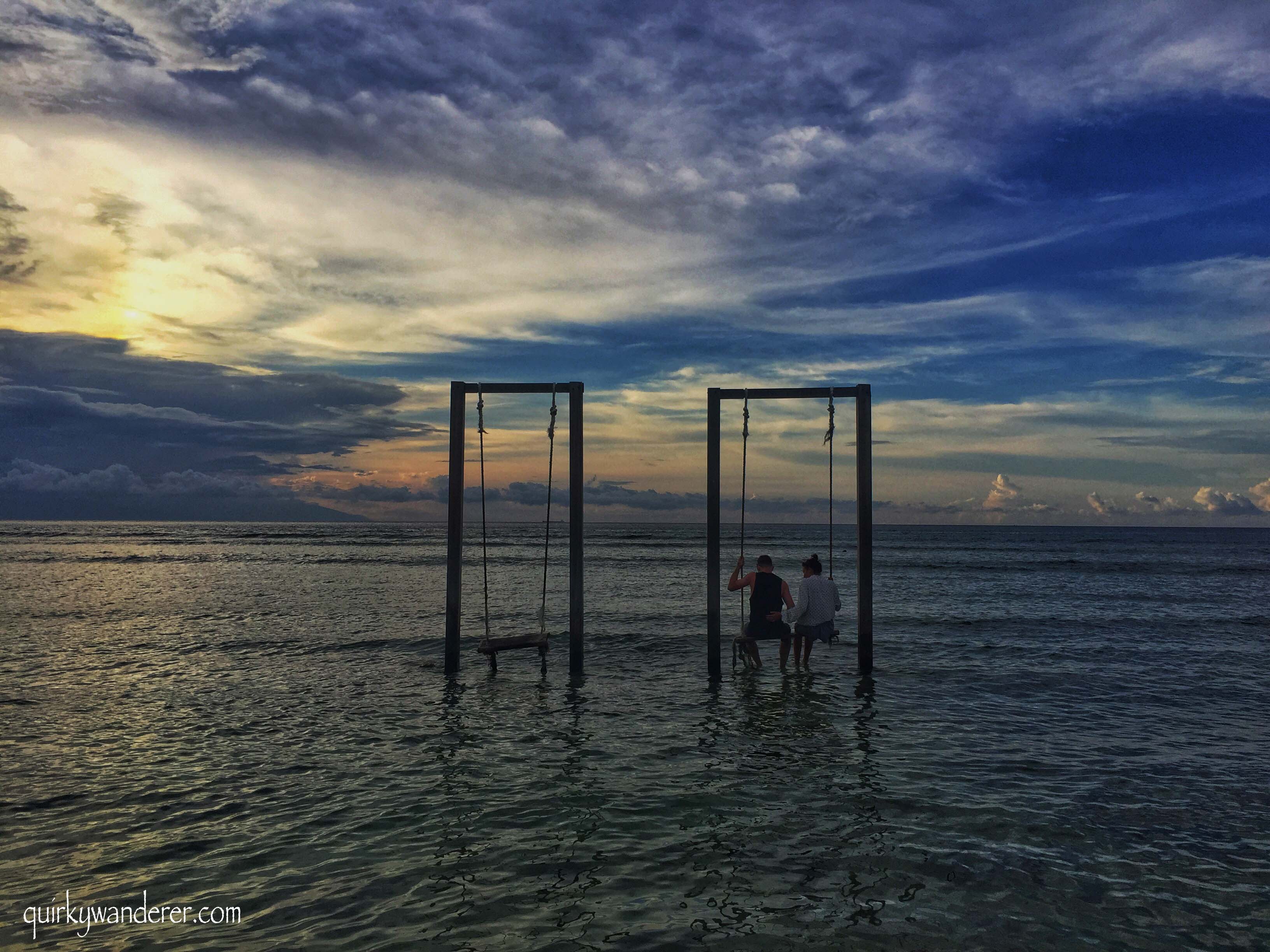 These famed swings form a trio on the beach, inviting tourists from far and wide to sit on them. My predictions weren't incorrect: There were scores of people queuing up for 'THAT SWING PICTURE'.
There was also a hammock on this stretch and several tourists riding horses in the sea (for photo ops!)
The waves were in a frenzy. With a high tide approaching, the swing was visibly submerged but no, it still did not lose it's charm.
I had to do it. The pedestrian had walked a good 3 km for this. High tide or not, this had to be done.
After patiently waiting I enter the warm waters , treading over the hard corals towards the swing. The skies resemble a canvas with strokes of brilliance all over.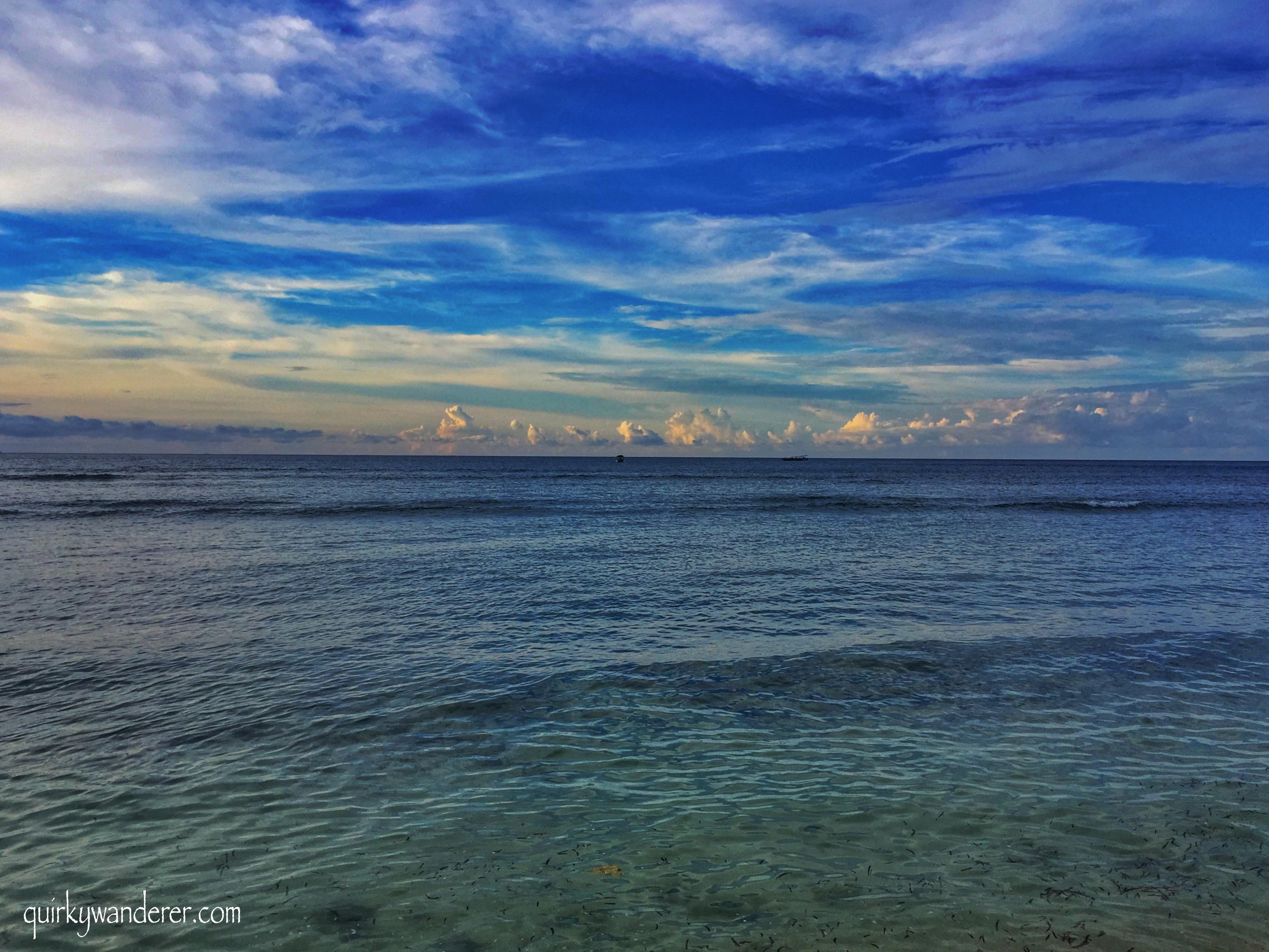 The waves that acted pricey a while ago, hugged in a tight embrace as I sashayed towards the swing. Knee length was now waist length and I realised it was practically impossible to sit on the swing, let alone swing.
So I did the next best thing.
I STOOD on the swing!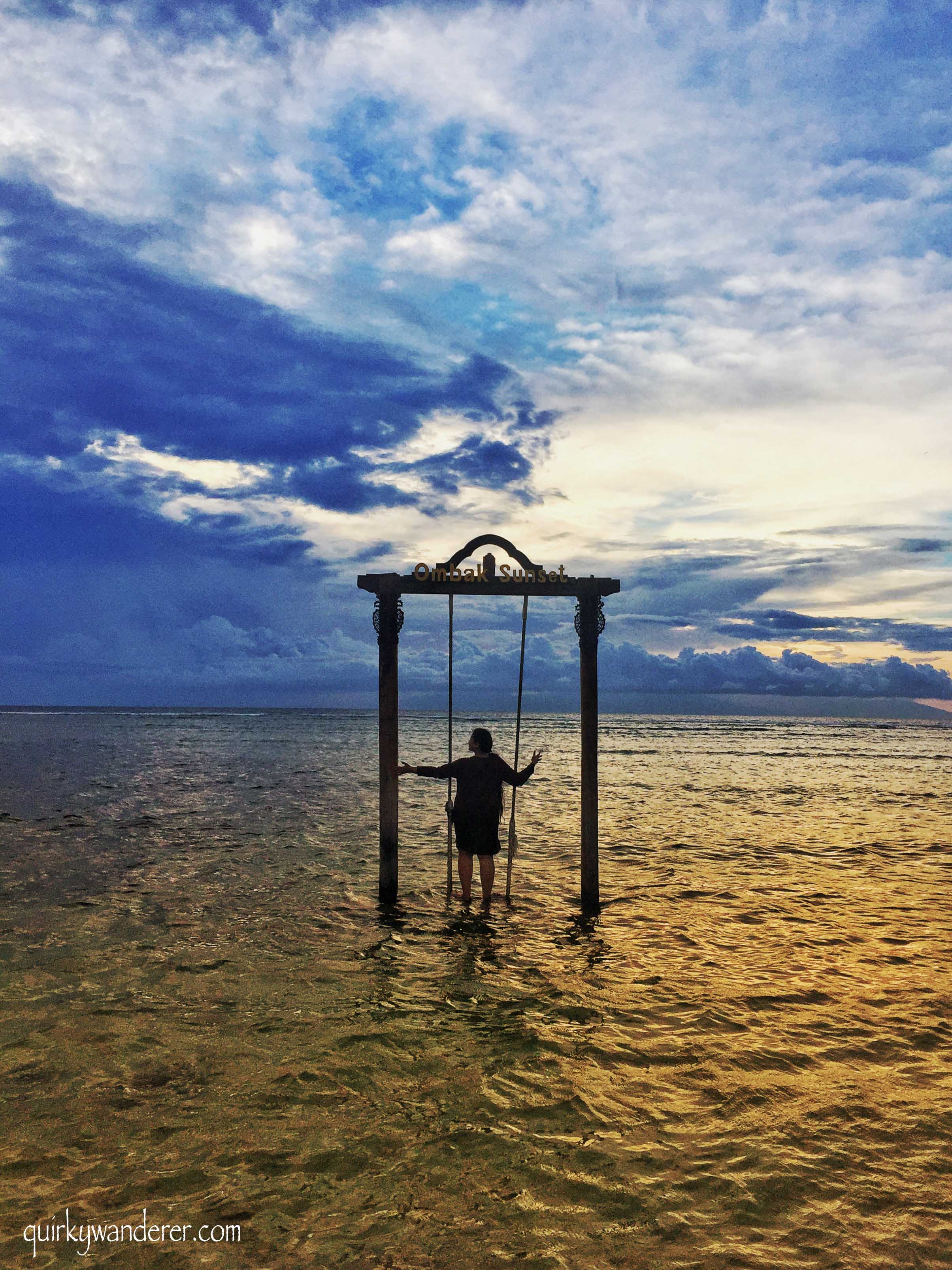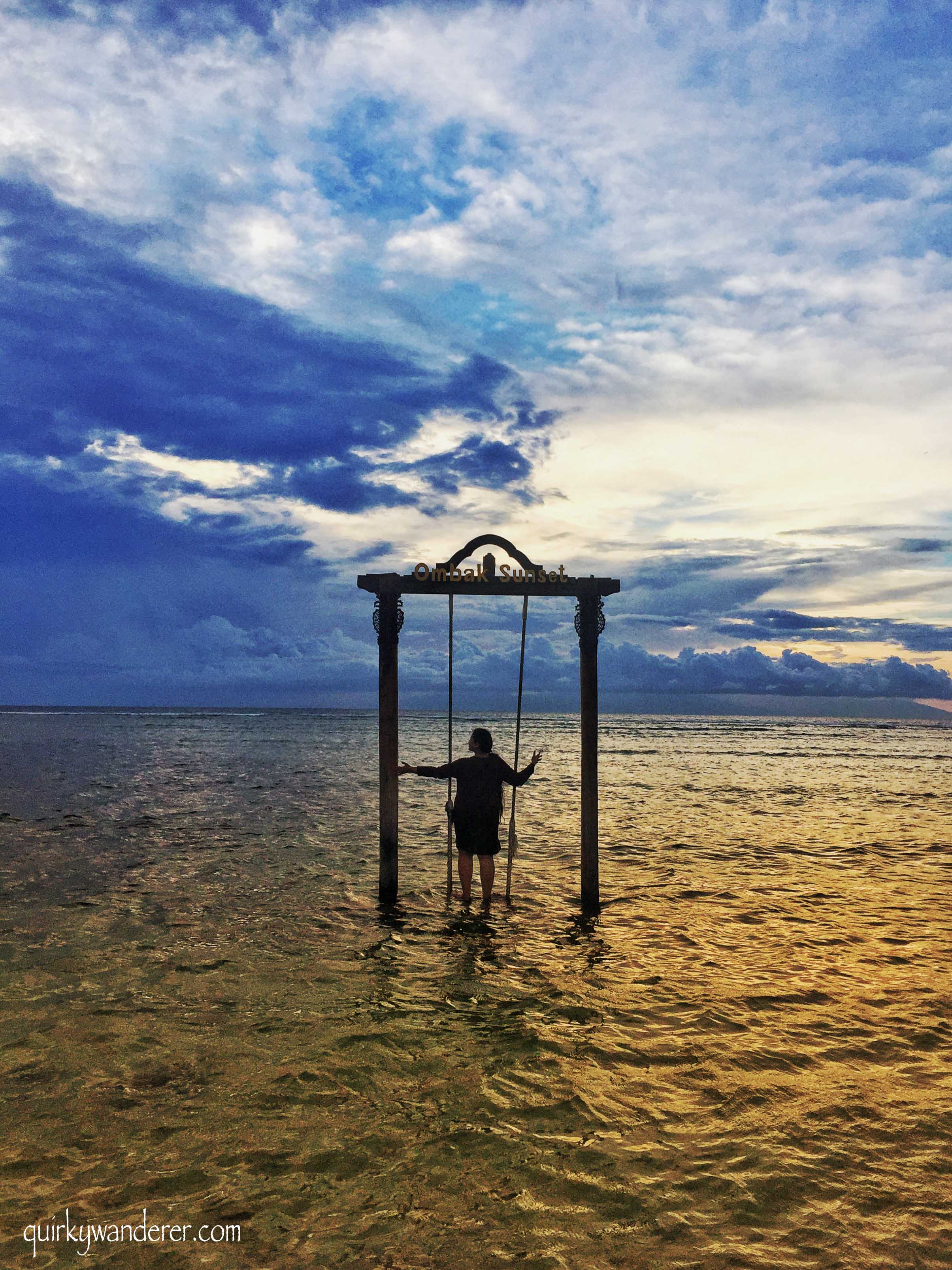 Grateful for the sturdy ropes, I climbed up and the sea breeze hit hard. I was now facing the descending sun, huddled in the company of clouds. The maddening crowds behind me: the waves taking care of them. But this moment, this very moment was mine. It was just me and the sea and the joy of standing and swinging seeing the sunset. For a fraction of a second, this felt overwhelming. Like magic. Photos were taken, the moment was frozen in frames but the joy for that one minute was blissful and left an indelible imprint in my heart.


It was almost twilight now and the party goers were tripping on music. But for me the song of the waves celebrating my tiny feat, sufficed. I walk back to Jambuluwan resort slowly, weary, exhausted but happy. That one moment of joy had overpowered all the fatigue.
Funny isn't it? A phenomenon as common as a sunset being a highlight of your to-do things.But sunsets like these are special. They happen everyday but what makes them so special is you being a part of the phenomenon. That doesn't happen everyday. Does it?
Fact file:
Gili Trawangan is the largest of three Gili islands part of Lombok. The other three are Gili Meno and Gili Air. The islands are located in the Lombok Strait, northwest of Lombok.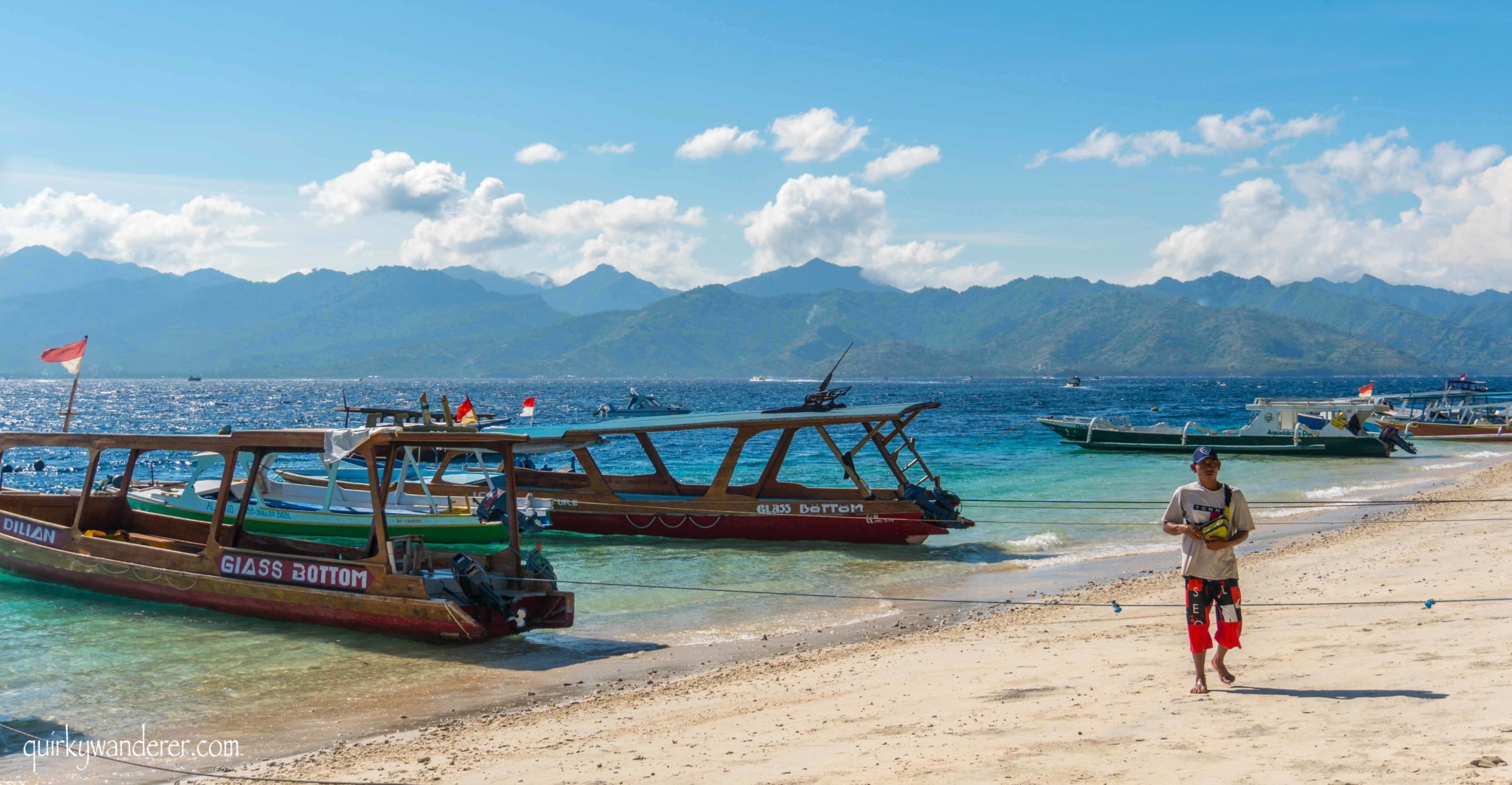 The name Gili Trawangan literally translates to Island of the tunnel. The name Trawangan originates from the Indonesian word Terowongan (Tunnel) due to the presence of a cave tunnel built there during Japanese occupation in World war 2.
How to reach:
Bali lies about 35 km to the west of Gili Trawangan. There are direct flights from Bali to Lombok (40 minutes duration) after which you can take a cab to the Bangsal harbour where there are hourly boats leaving for Gili Trawangan.
Gili Trawangan can also be reached by a 4-5  hour ferry from Padang Bai in Bali to Lembar in Lombok followed by a 2 hour taxi ride from Bangsal harbour and an onward ferry to Gili.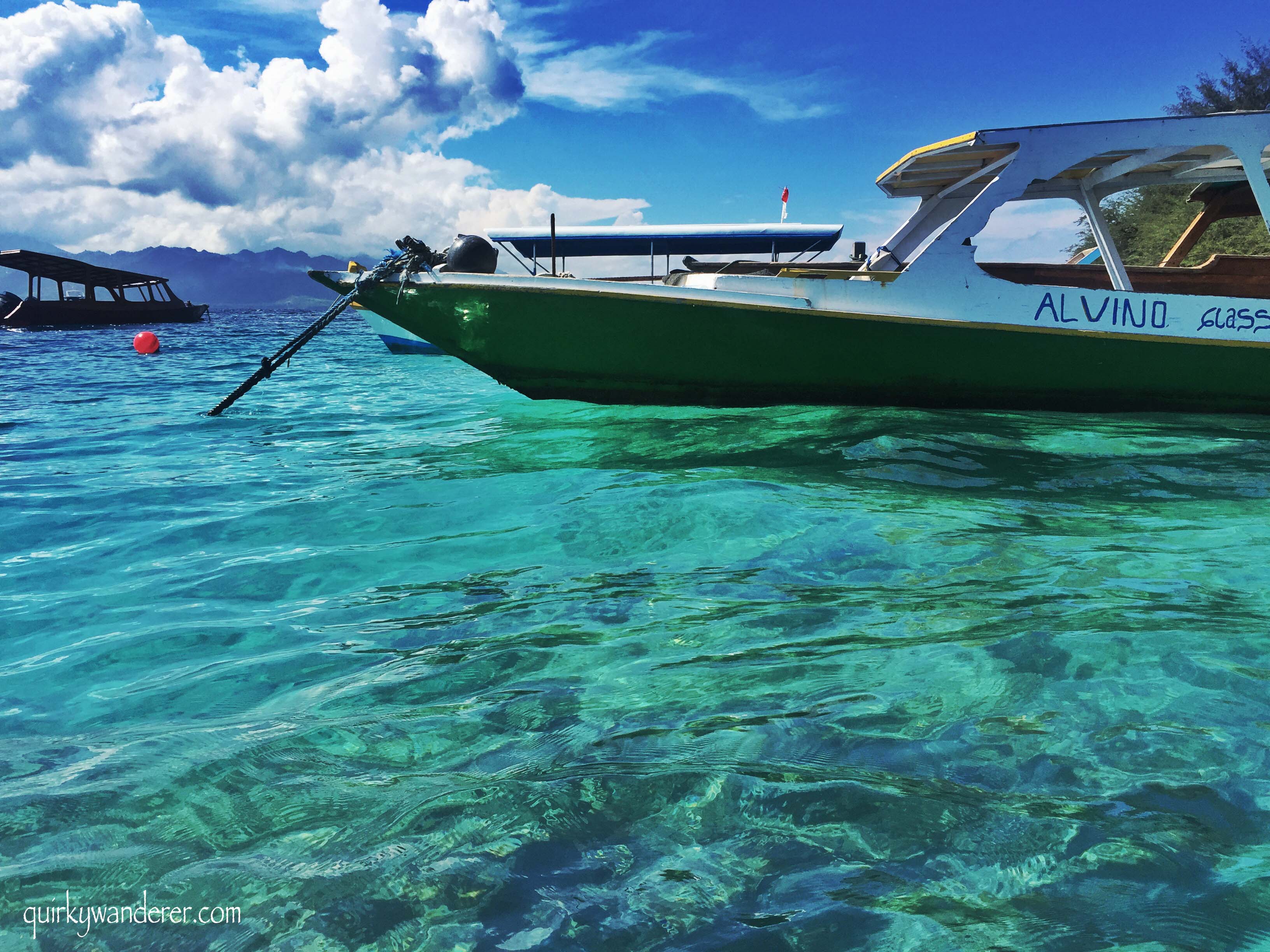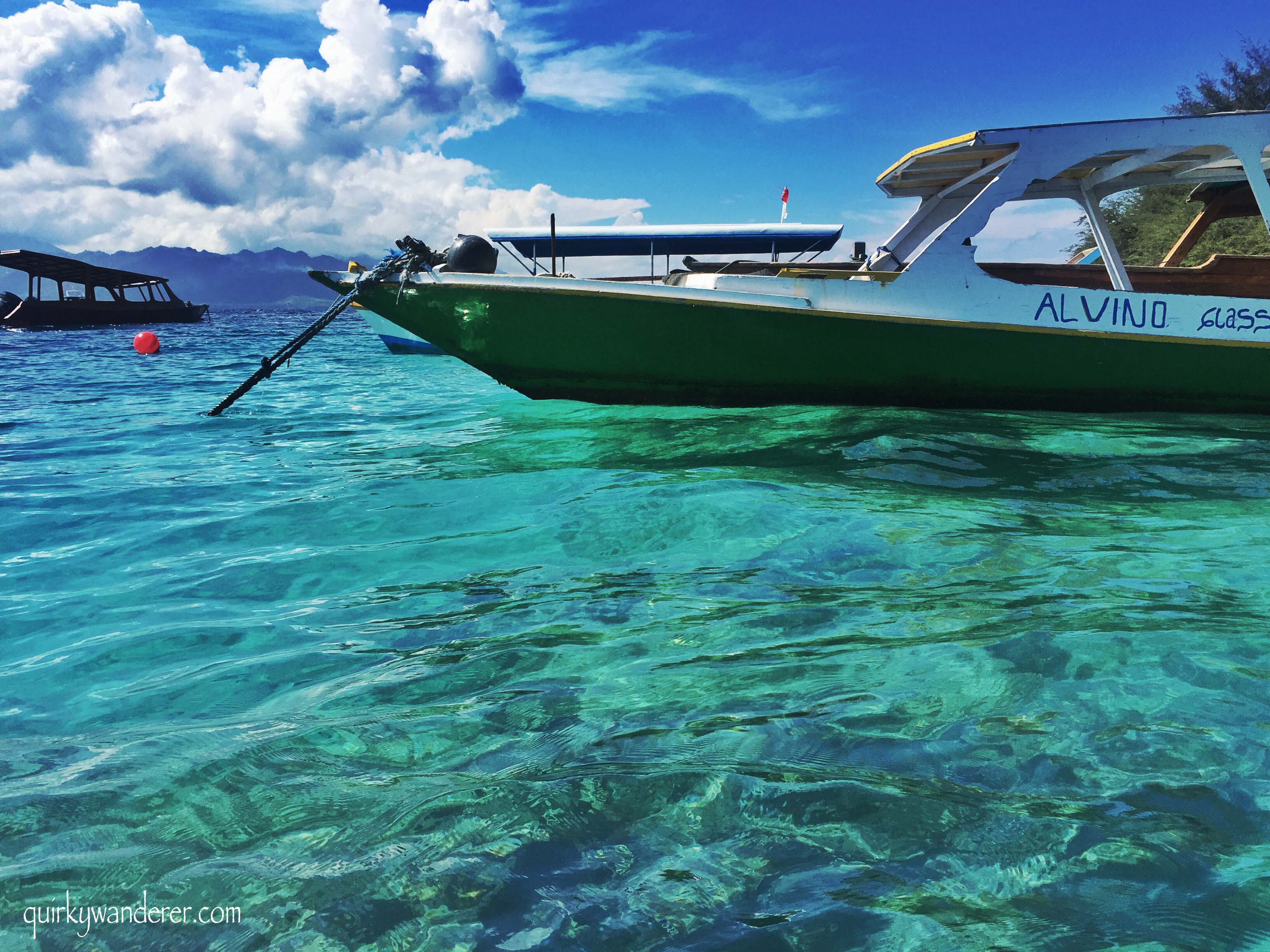 There are no motorised vehicles on the island. So tourists have to rent cycles or take a cidomo ride ( Horse cart).
All the three islands offer excellent diving, snorkelling and water sports opportunities. There are Turtles along the corals at Gili Air.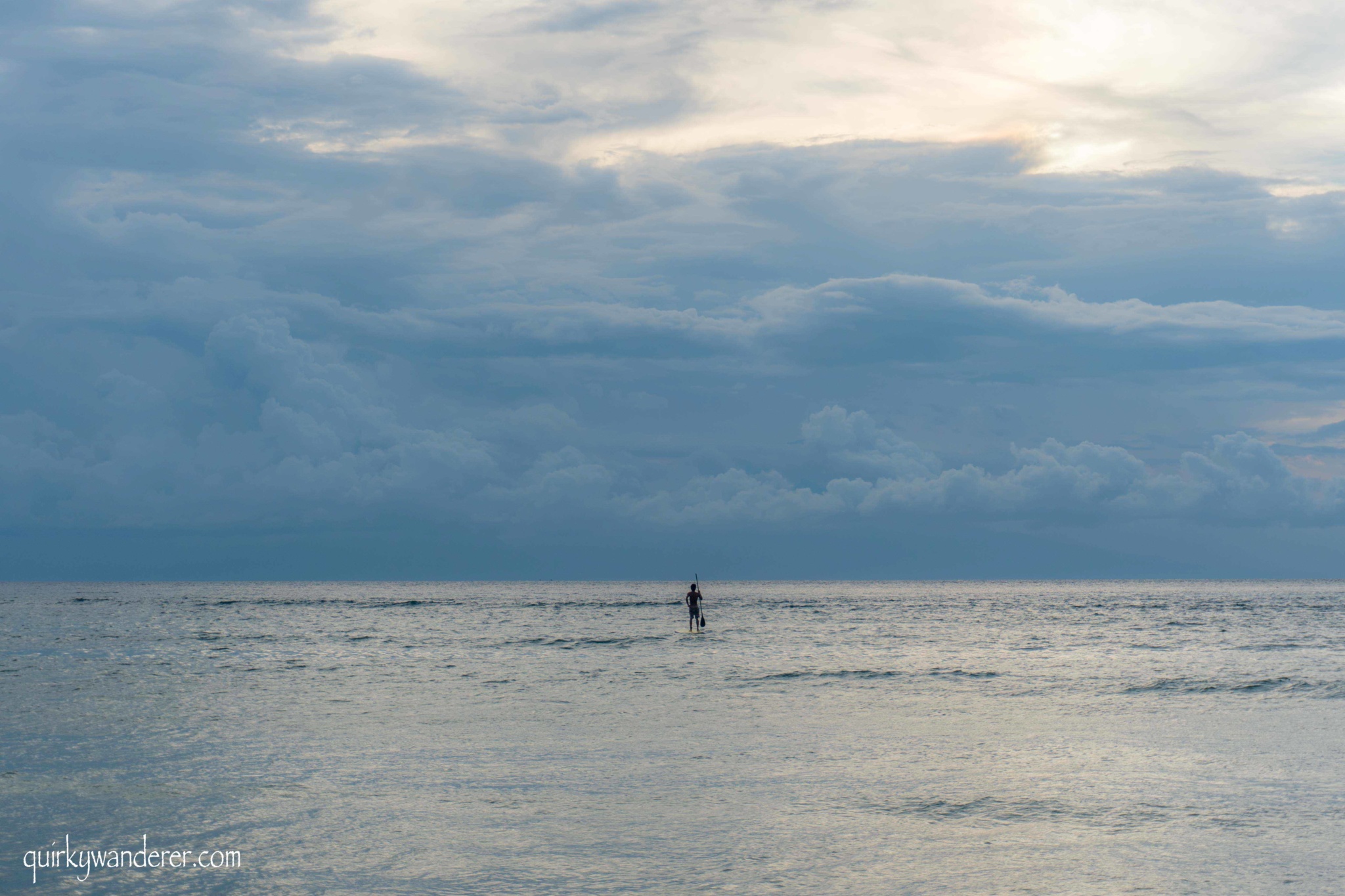 Mount Rinjani, Indonesia's second highest volcano can be seen on the ferry from Lombok to Gili Trawangan.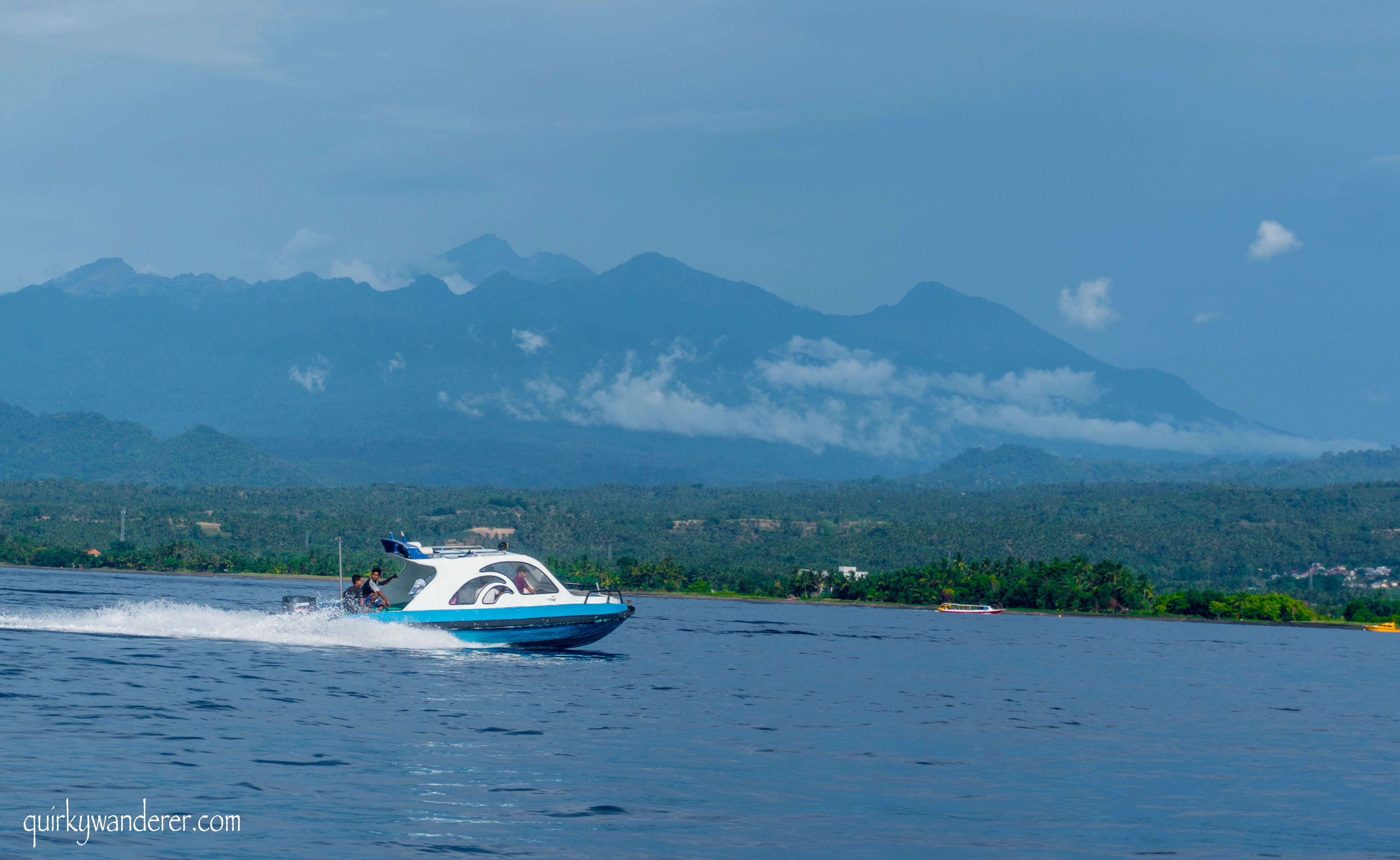 Best season to visit: The Gili Islands enjoy a warm, tropical climate and a dry and wet season.Dry Season usually lasts from May until October, with Monsoons starting in November and continuing through to April. Temperatures range between 22 °C to 34 °C, with an average annual temperature of around 28 °C.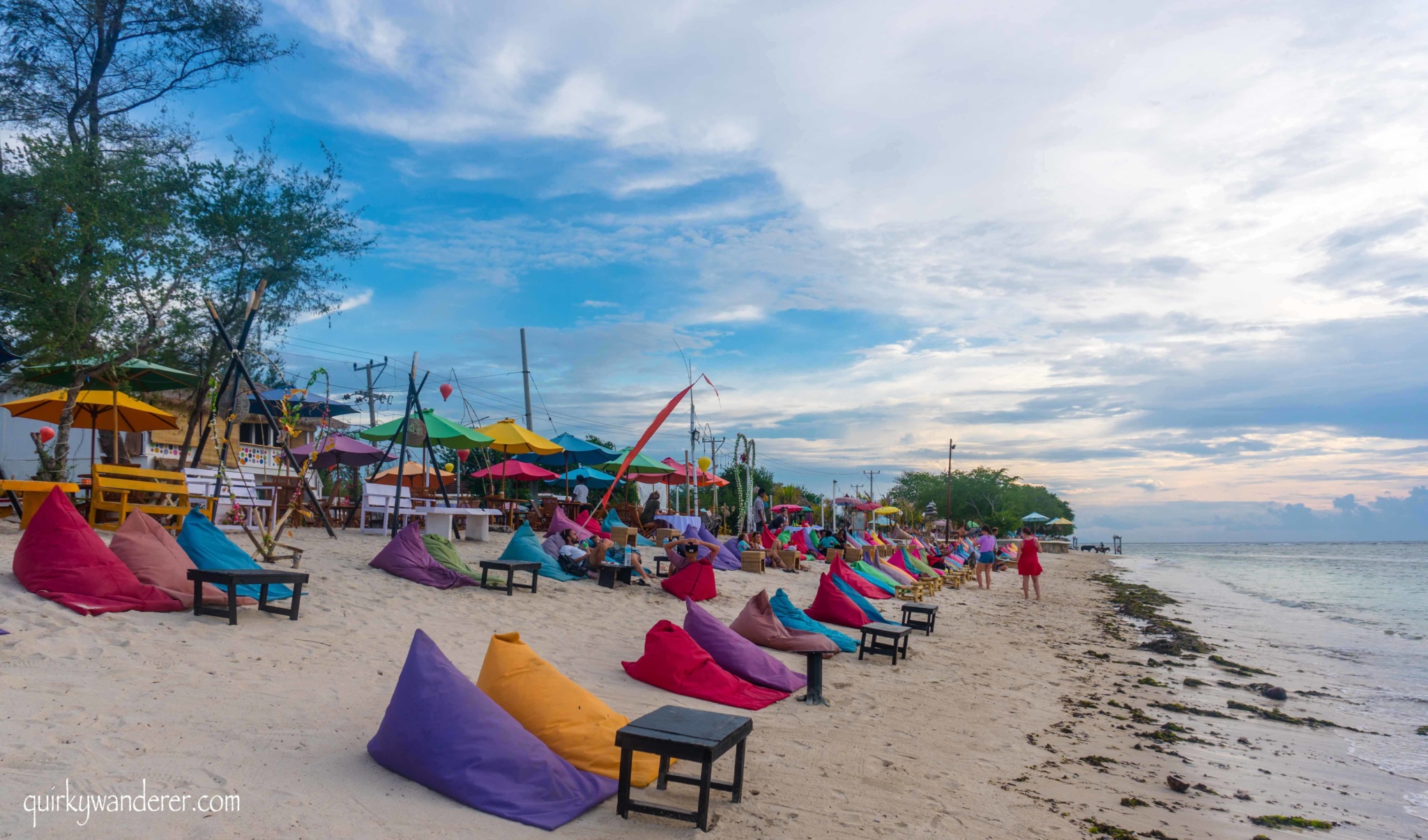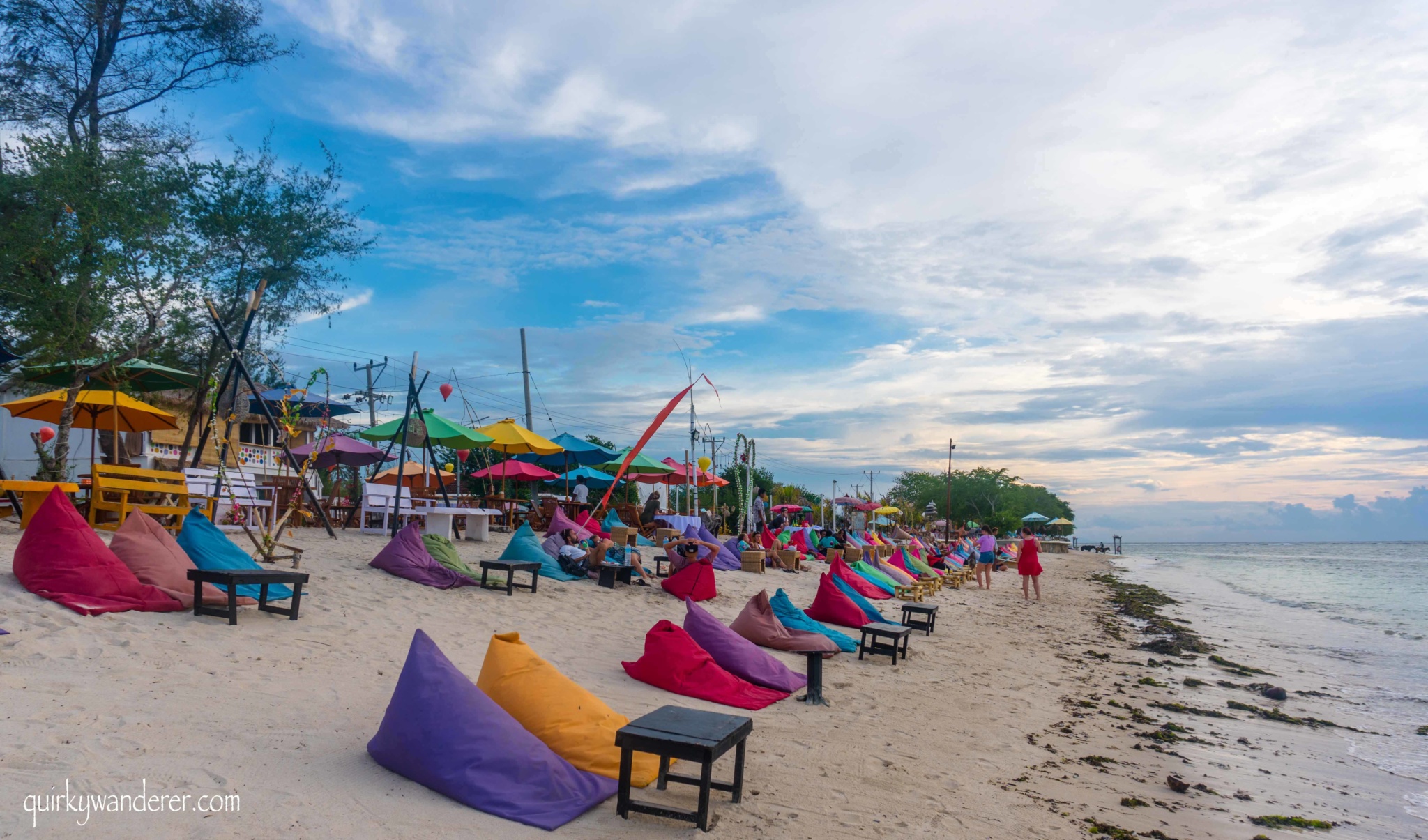 Where to stay:
Jambuluwak resort has well maintained, modern cottages with plenty of greens surrounding them. The resort has a spa as well.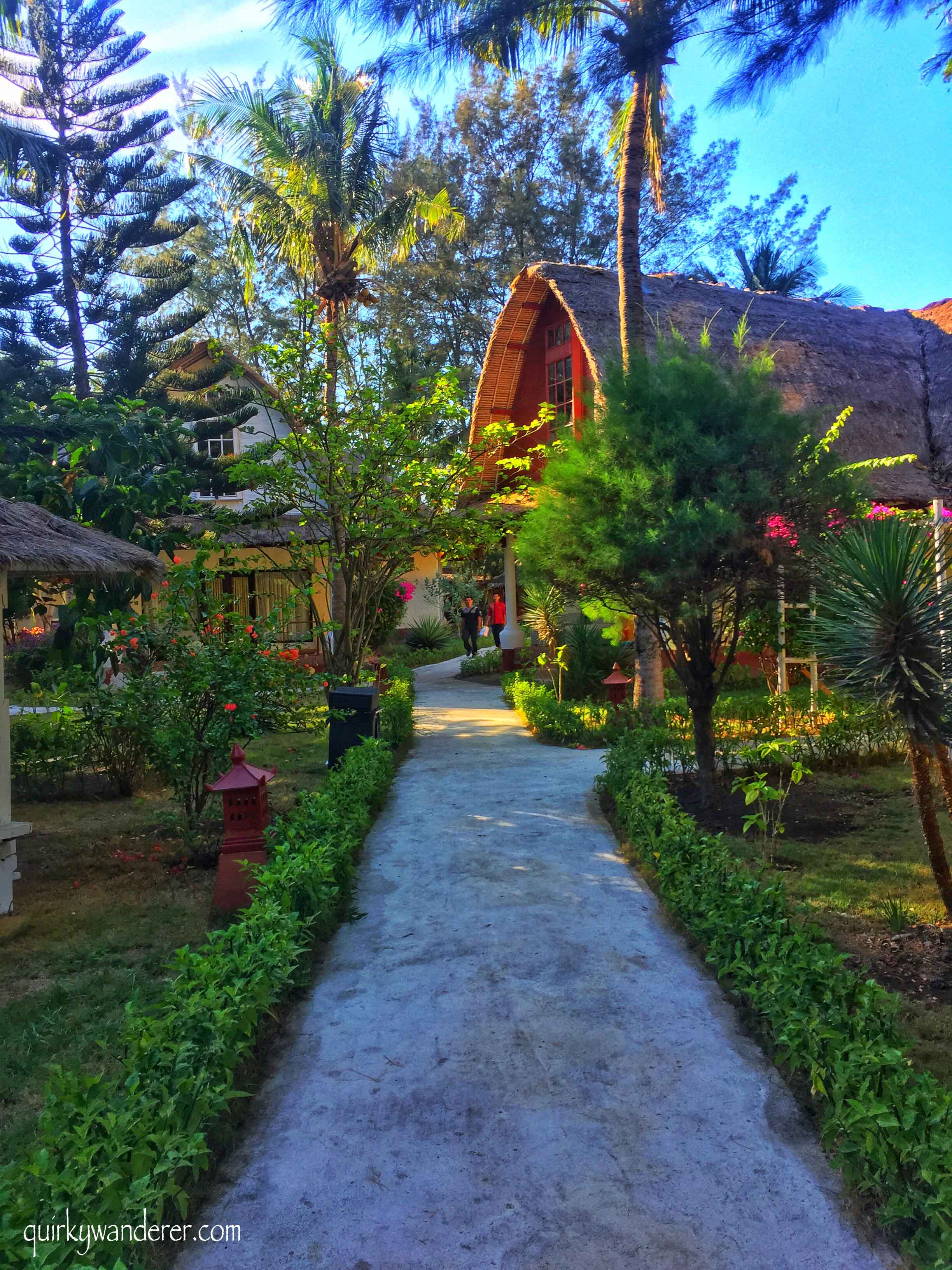 A word of caution for the vegetarians: There isn't a plethora of vegetarian options on the island ( as compared to Lombok or Bali) so be well prepared.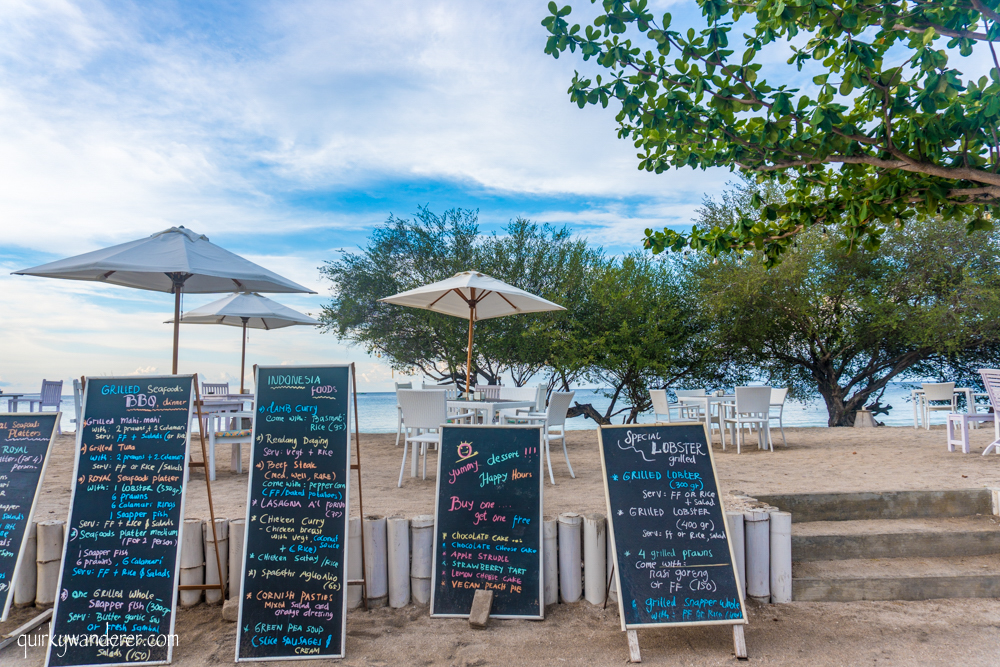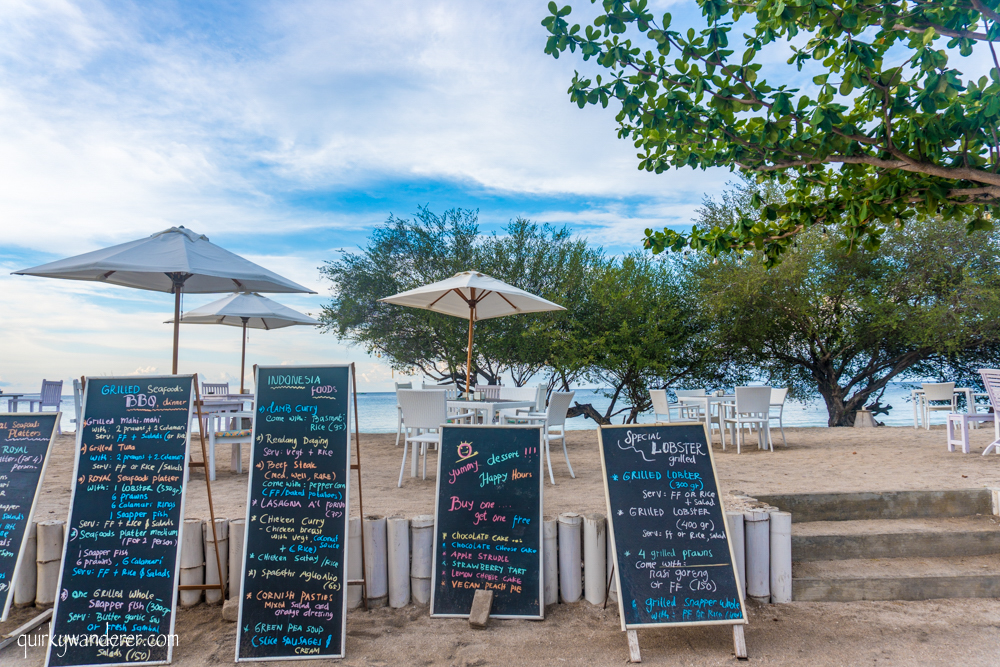 Disclaimer:  I was invited by Indonesia Tourism and Garuda Indonesia India for this trip to #wonderfullindonesia .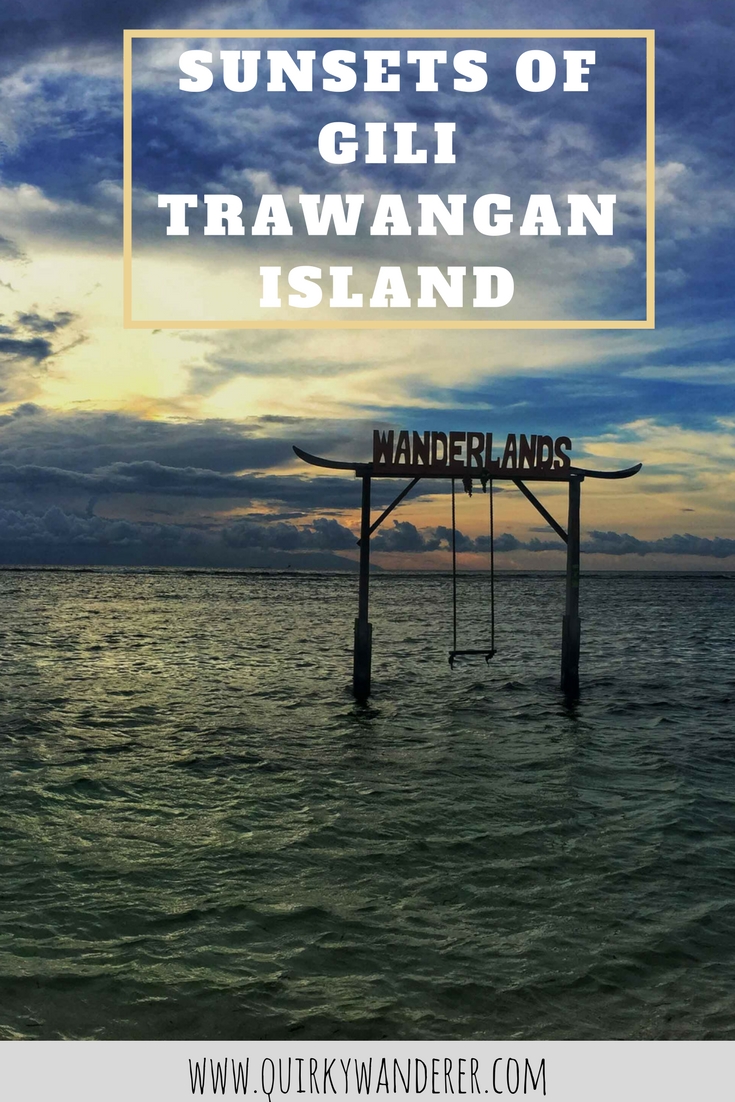 SUGGESTED READ: Bali Beyond beaches: of Hinduism and artistic villages.