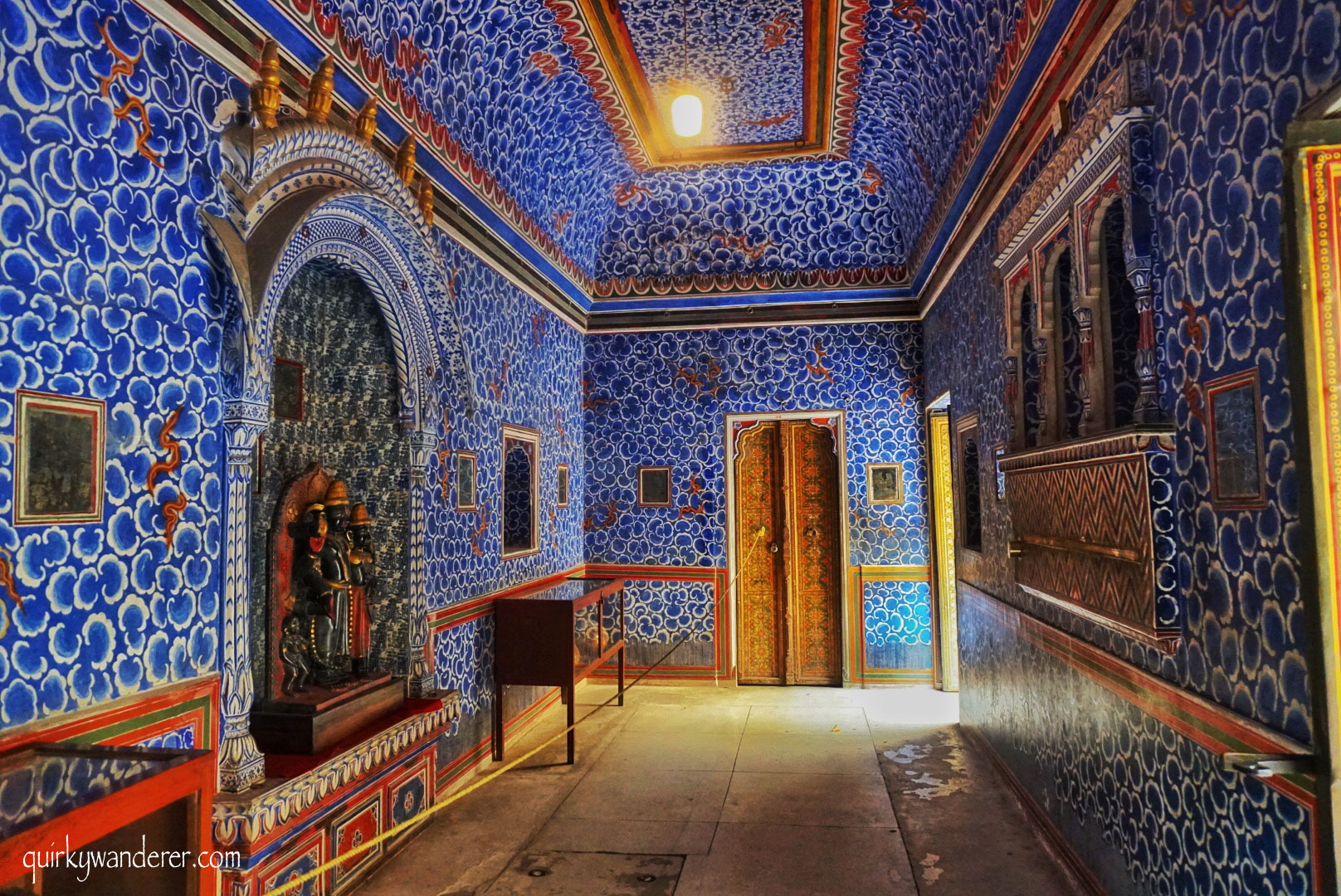 I tread with utmost caution. My eyes not leaving the ground. Petrified, wary of any sudden movement.
With each step I take, I reassure myself all will be well and then I turn and scream! A furry rat jumps on my foot and scurries away to the opposite side. Saree clad women giggle while I sweat. I am at the Karni Mata temple or the Rat temple in Bikaner in Rajasthan and no, this is not for the faint-hearted ( read: those suffering from a fear of rats).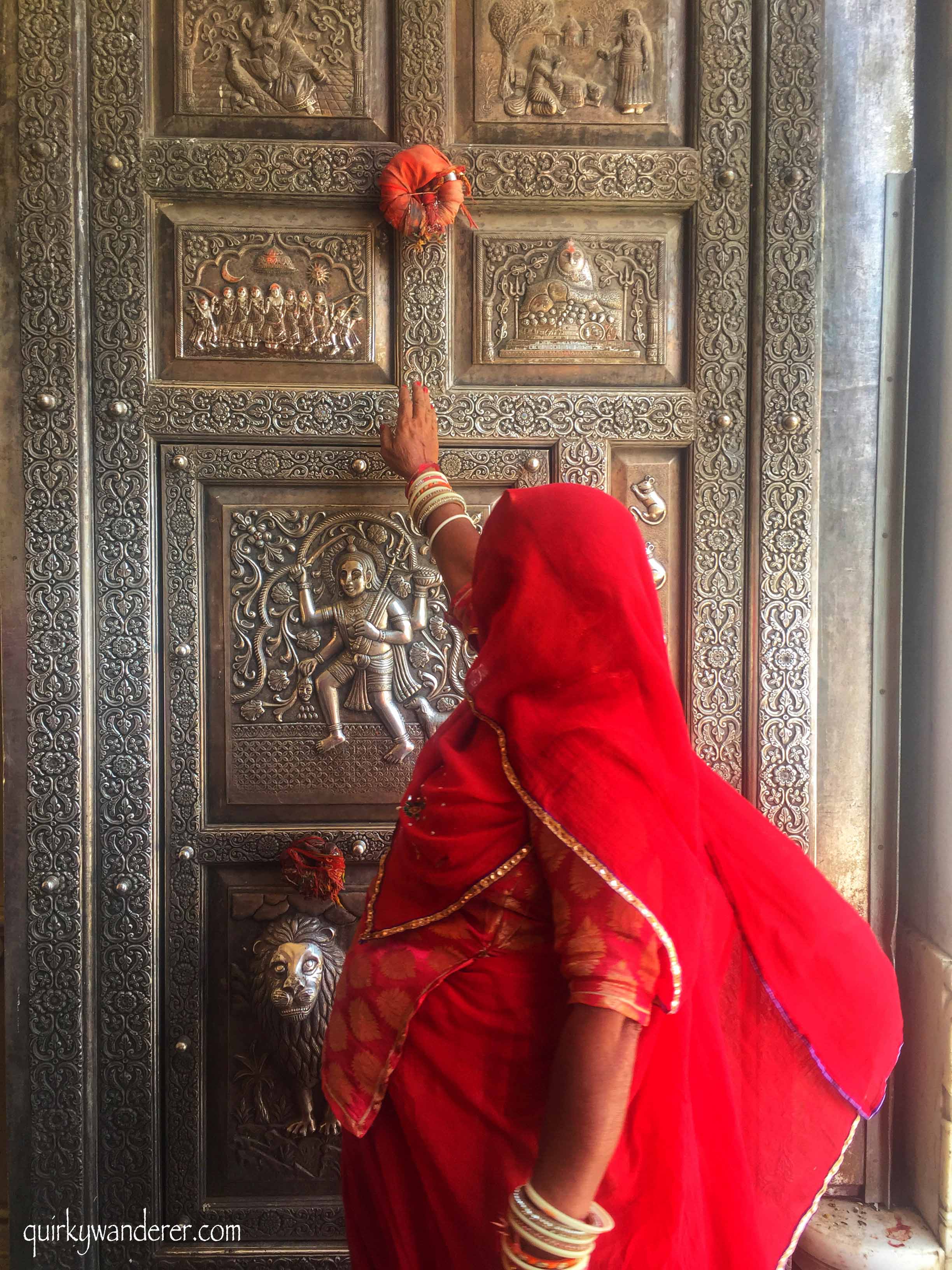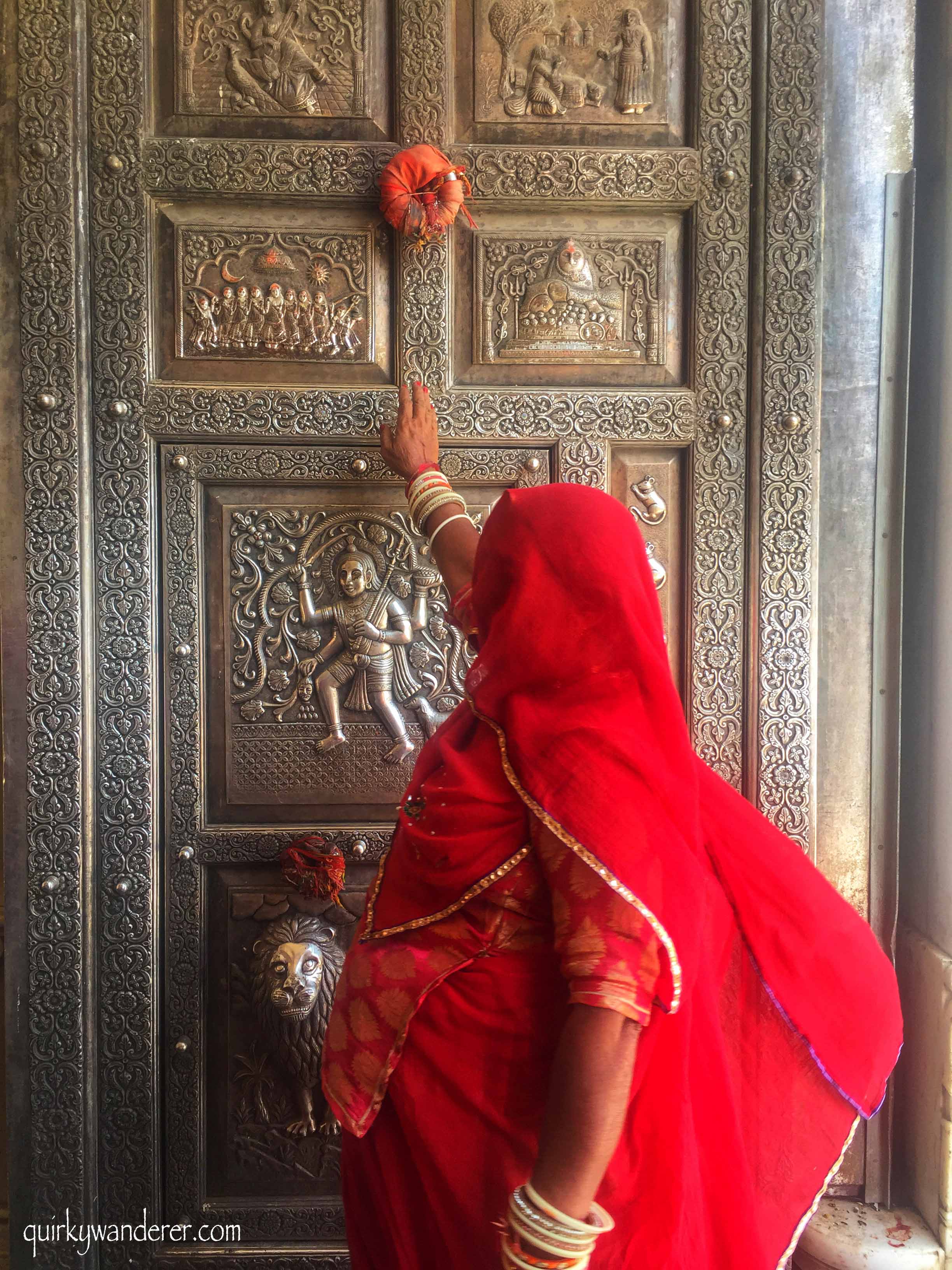 I had travelled in Rajasthan extensively, but Bikaner had always eluded me. From Bikaneri Bhujia to the famed fort to the bustling bazaars, there were several inviting aspects that put Bikaner on my wish list since eons.


Now it was finally happening, a week ago I was fretting to find flight tickets to Jaipur, just so that I could indulge in a road trip through the desert and also take a detour to Shekhawati.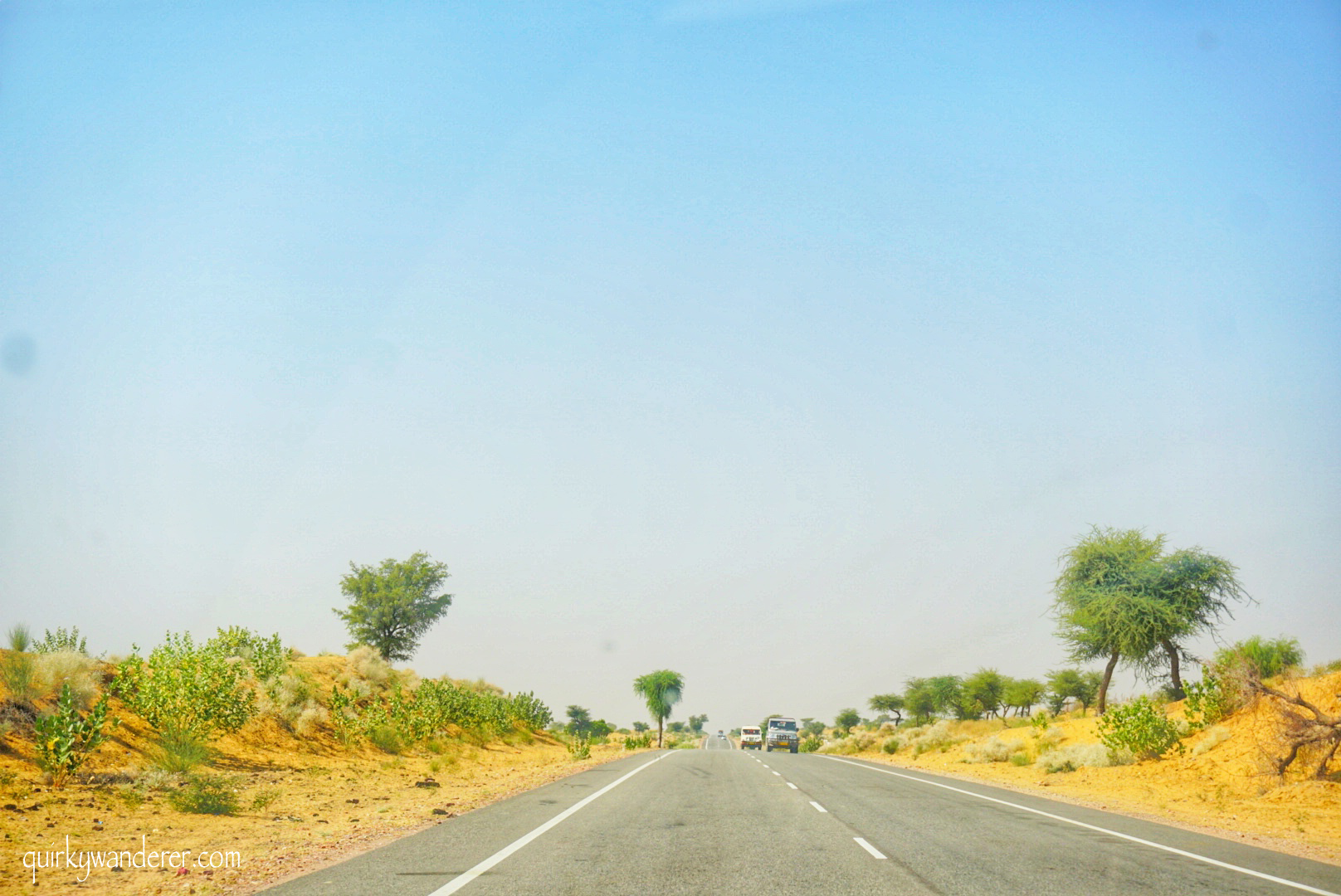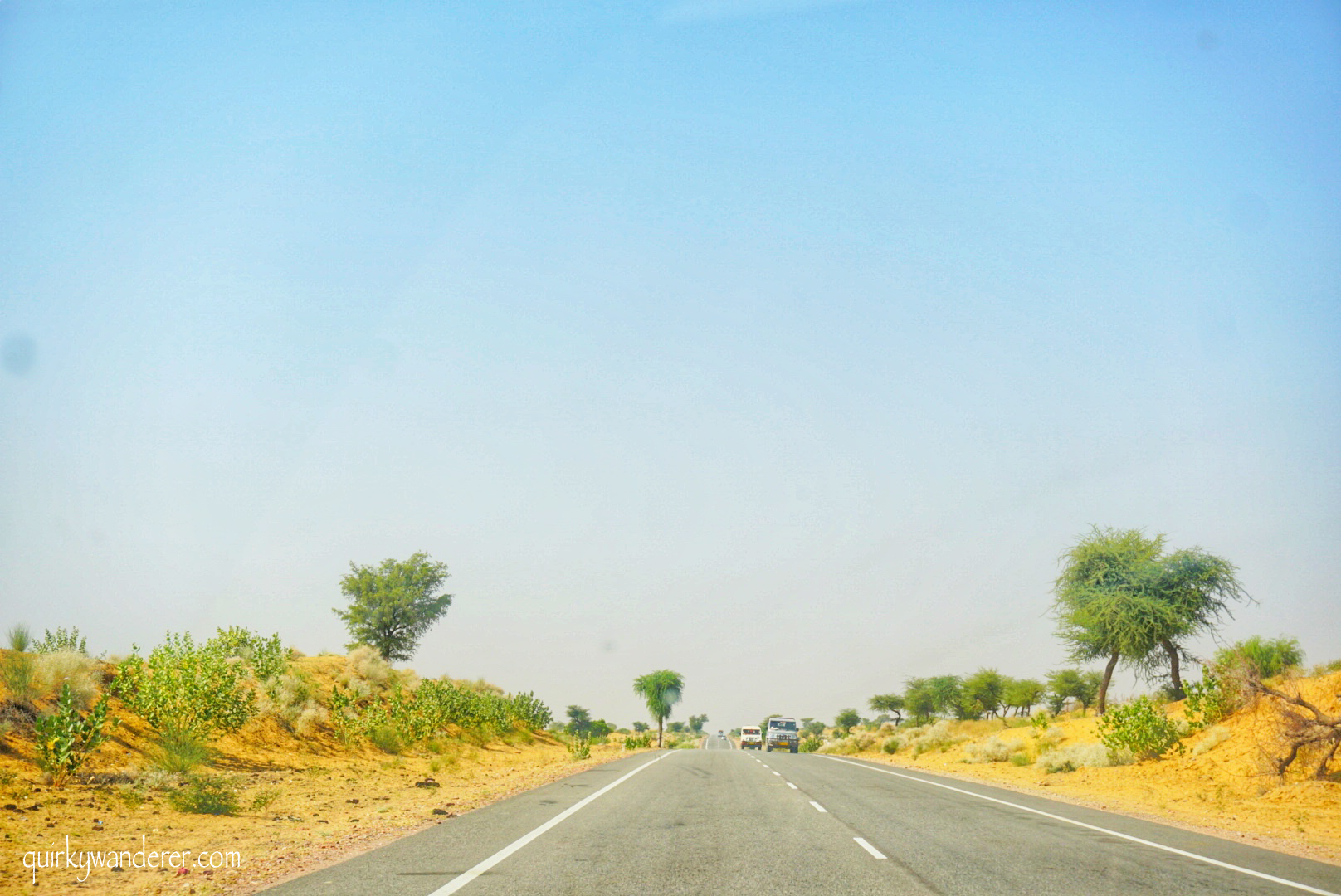 And today, I was sauntering around the fort, admiring at the Utsa art ceilings and the magnificent doors, each with an array of different colours.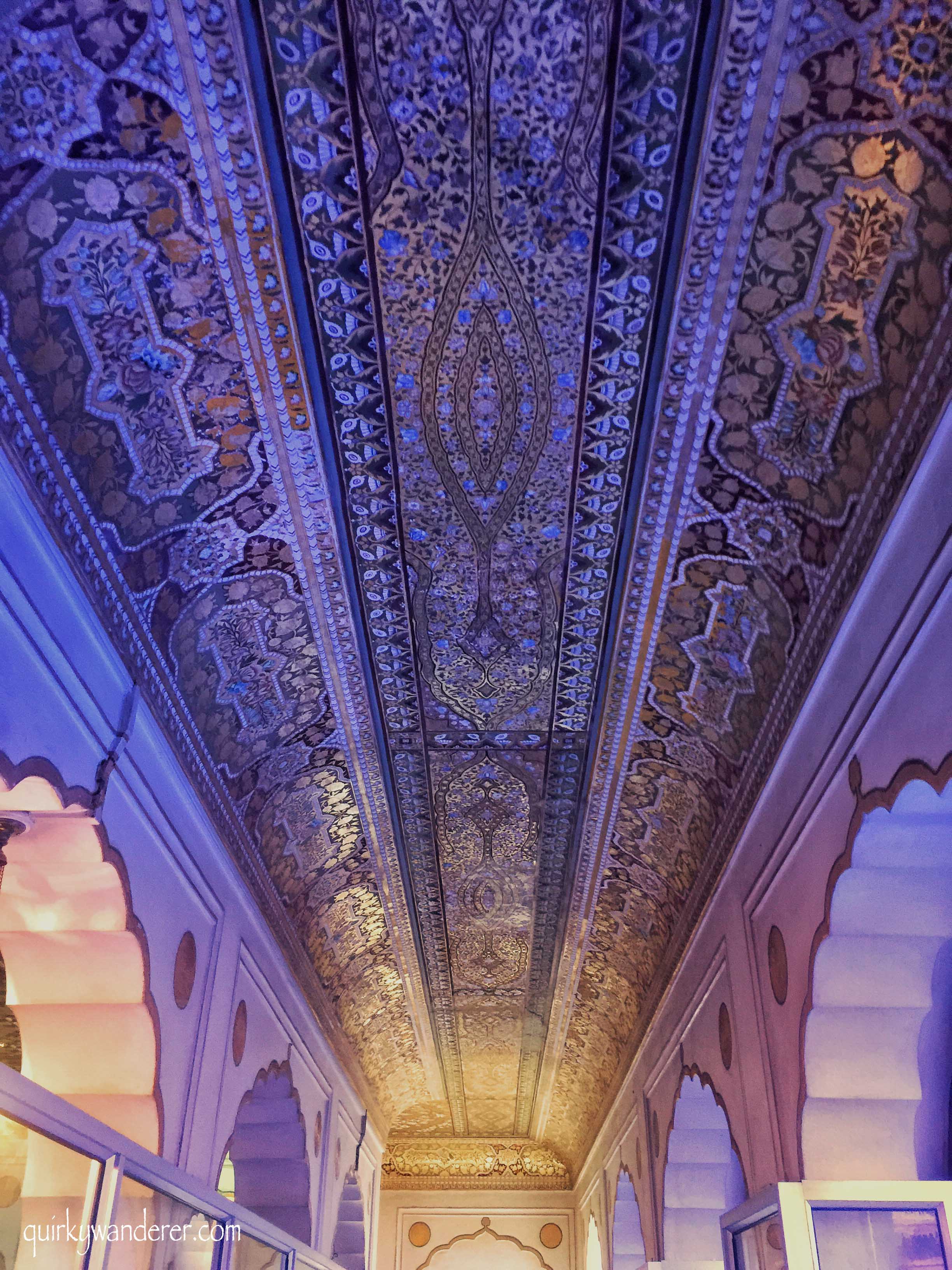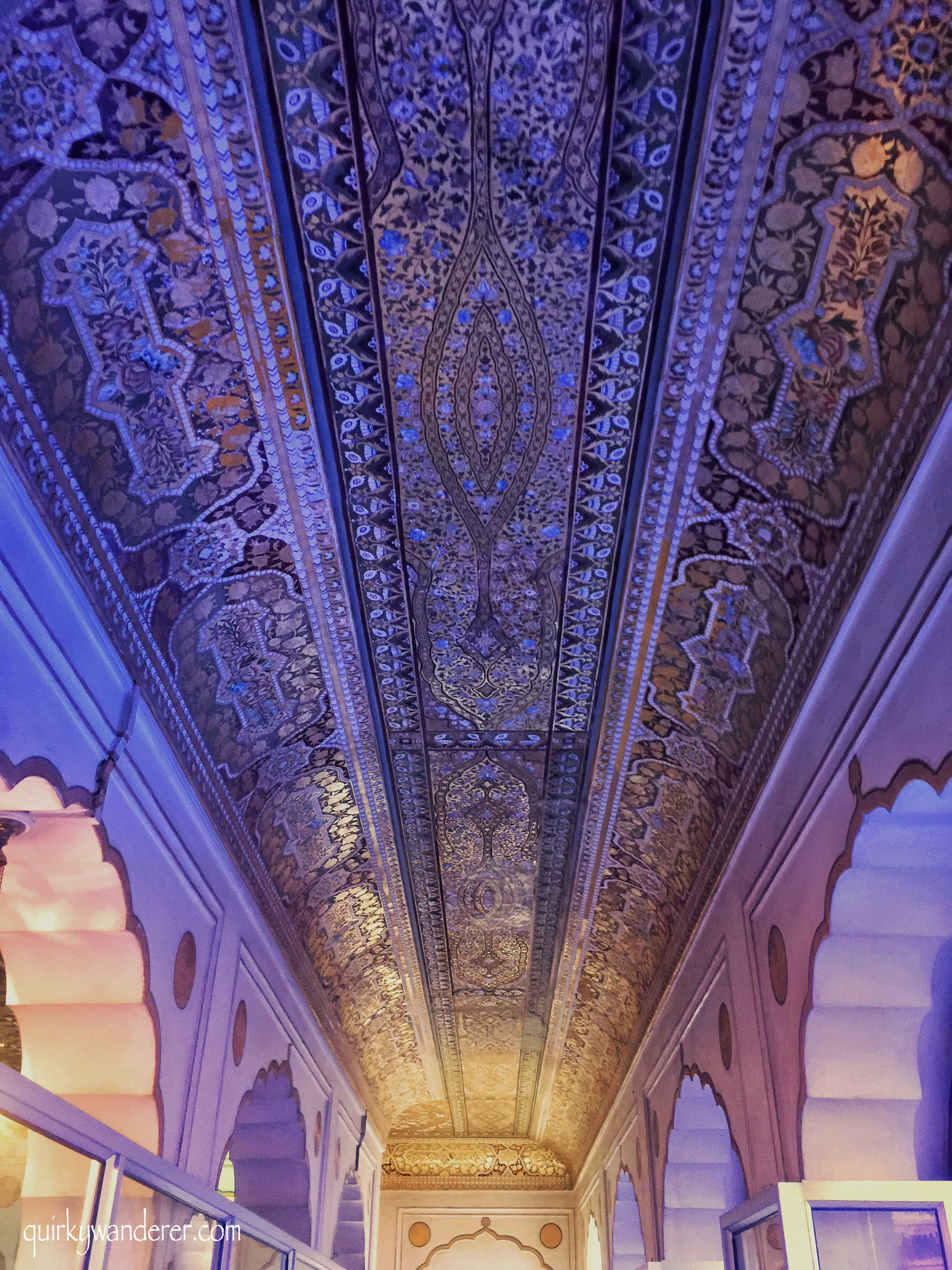 Bikaner is unlike other cities in Rajasthan. No, it isn't covered under a pink sheen like Jaipur, it doesn't have the laid-back vibes of Jodhpur. Neither does it have the fairy-tale charm of Udaipur, nor does it make you time travel like Jaisalmer. Is that a bad thing, you might ask?
NO! Bikaner is starkly different from the rest of Rajasthan, with a unique flavour of its own. The fragrance of piping hot mangodis and the whiff of freshly made bhujia, the intricacies of Kundan jewellery and royalty of an erstwhile era.


It is classy, rustic, chaotic, spiritual, regal, modern all at once.
Now how do you define all this in one word?
So what can you do if you have 2 days in hand in Bikaner? Here's a travel guide for the first timer in Bikaner.
Day 1:
The Junagadh fort: royalty at it's best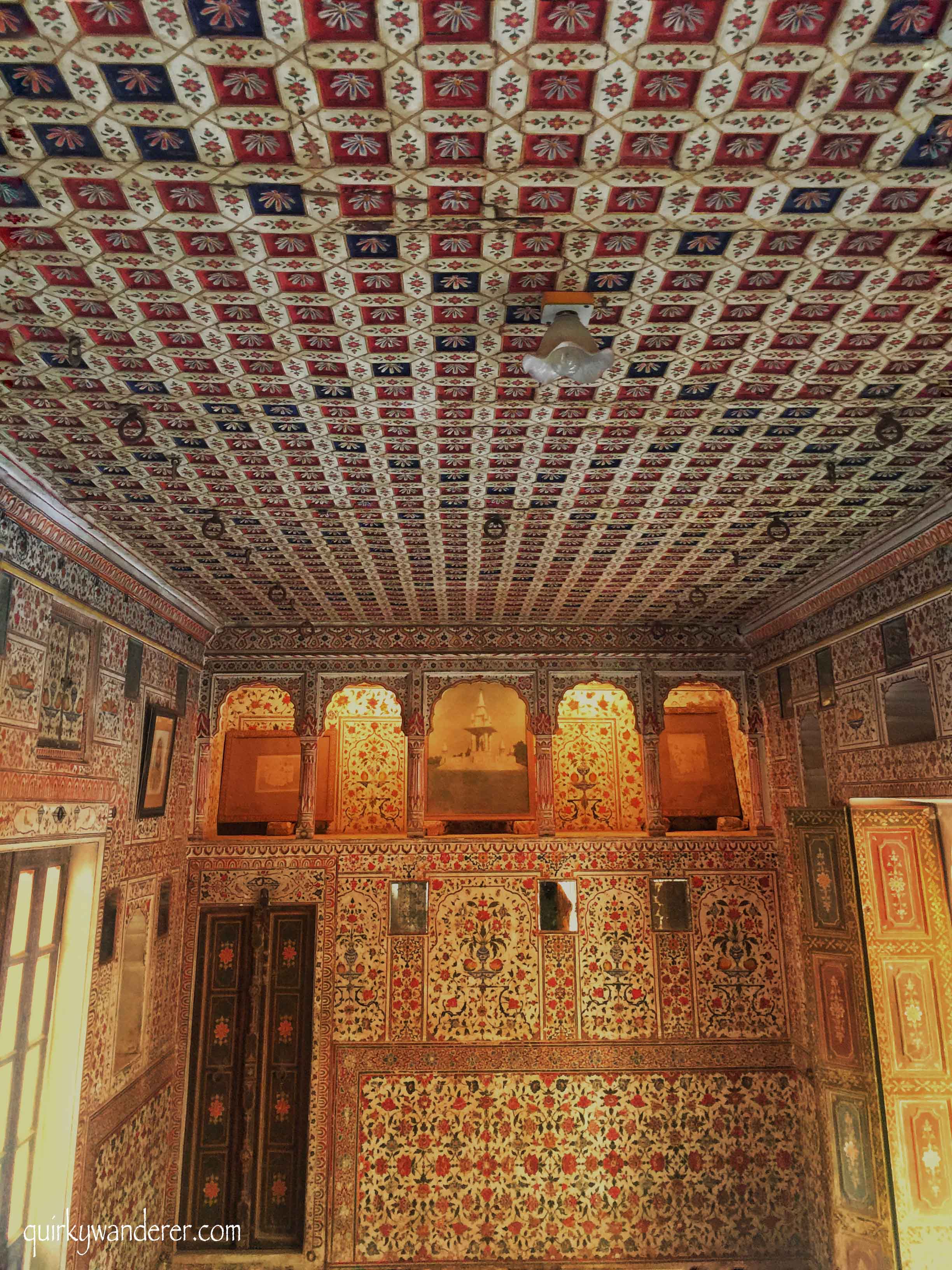 Enter the majestic 15th century Junagadh fort and the first thing that strikes your eye is the cleanliness. Easily one of the most well-maintained forts, the complex is enormous and there are guided tours every fifteen minutes.
It takes about two hours to see the various sections of the fort. I traverse through the various mahals: each with a distinct style: Anoop Mahal, Badal Mahal, Ganga Mahal, Chandra Mahal. Phool Mahal and Karan Mahal.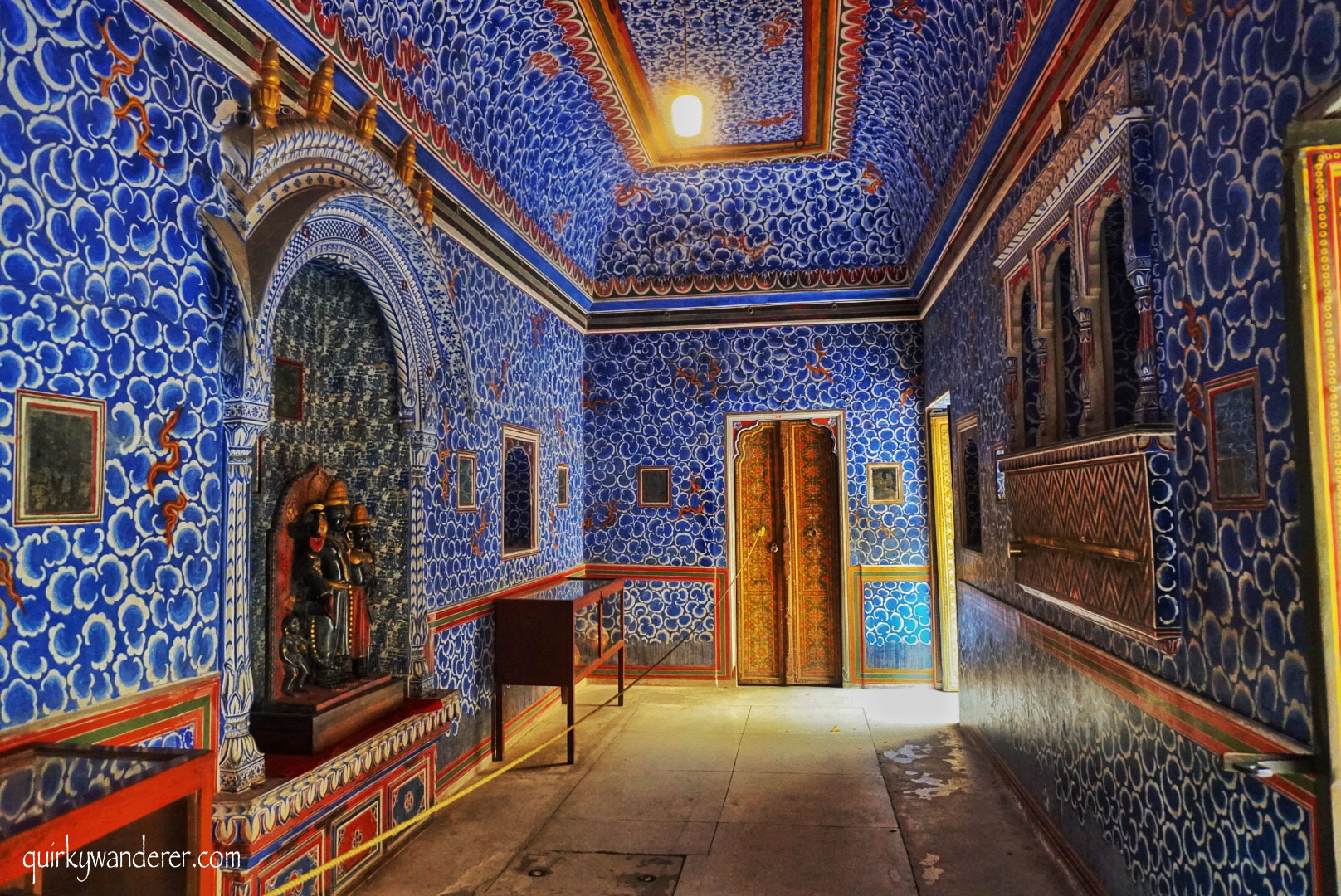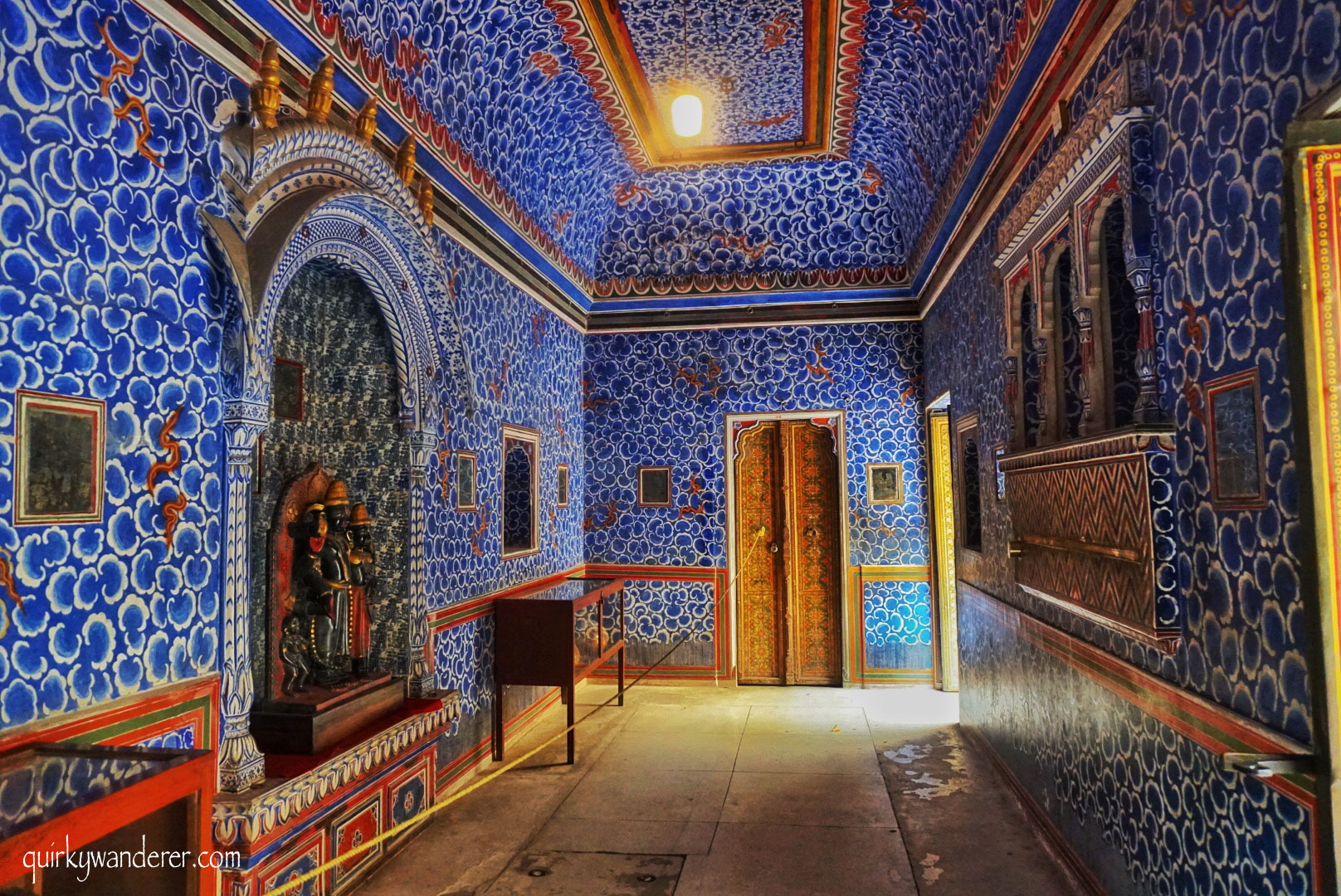 The fort is a must visit for architecture and history lovers: a walk down the regal past of Bikaner that comes alive with the stories of the guide as he leads through symmetrical gothic archways to exquisite rooms.
Do not miss the fine Utsa art on the ceilings and walls of the Mahals inside the fort. Utsa art is a traditional art form brought to India from Persia. In the present day, it is practised by national award recipient Mohammad Haneef Usta and a few others including Mr. Ayub Usta, Mr. Iqbal, Mr. Altaf who specialise in the Manovati Gold Nakkashi art form.
Timings: 10 AM to 4.30 PM
Entry: Rs. 50 per person
Karni Mata temple: An ode to rats
A thirty km drive from Bikaner city takes you to Deshnok, the abode of Karni Mata and over 20,000 rats. Behind the gigantic, silver gates are legends and bizarre stories that make the Karni Mata temple a strange yet must visit attraction.
According to the legend, it is believed that Karni Mata of the Charan clan, believed to be a form of Goddess Durga, brought back her youngest son from the jaws of death and he was reincarnated a rat. She decreed that all the members of her family will not die but be reincarnated as rats. In Deshnok, almost all families claim they are descendants of Karni Mata and believe they will be reincarnated as rats. This is why the 20,000 rodents in the temple are fed and worshipped. No wonder the temple is full of rat poop and food filled in crevices. If a rat eats the food you offer or scurries over your foot, it is considered auspicious. But if you spot a white rat, you are considered extremely lucky. Nothing happened to me. No white rat because my eyes were glued to my feet, no rat over my feet because I think they were more scared of me than I was of them and feeding a rat was simply out of question!
And yes, did I mention that if you kill a rat accidentally in the temple, you have to offer a silver or golden rat to the goddess. All my evasion effort was worth it.
P.s: You have to enter the temple barefooted.
Timings: 4.30 AM to 10 PM
Entry: Free
Bhandashah Jain temple: A temple made in Ghee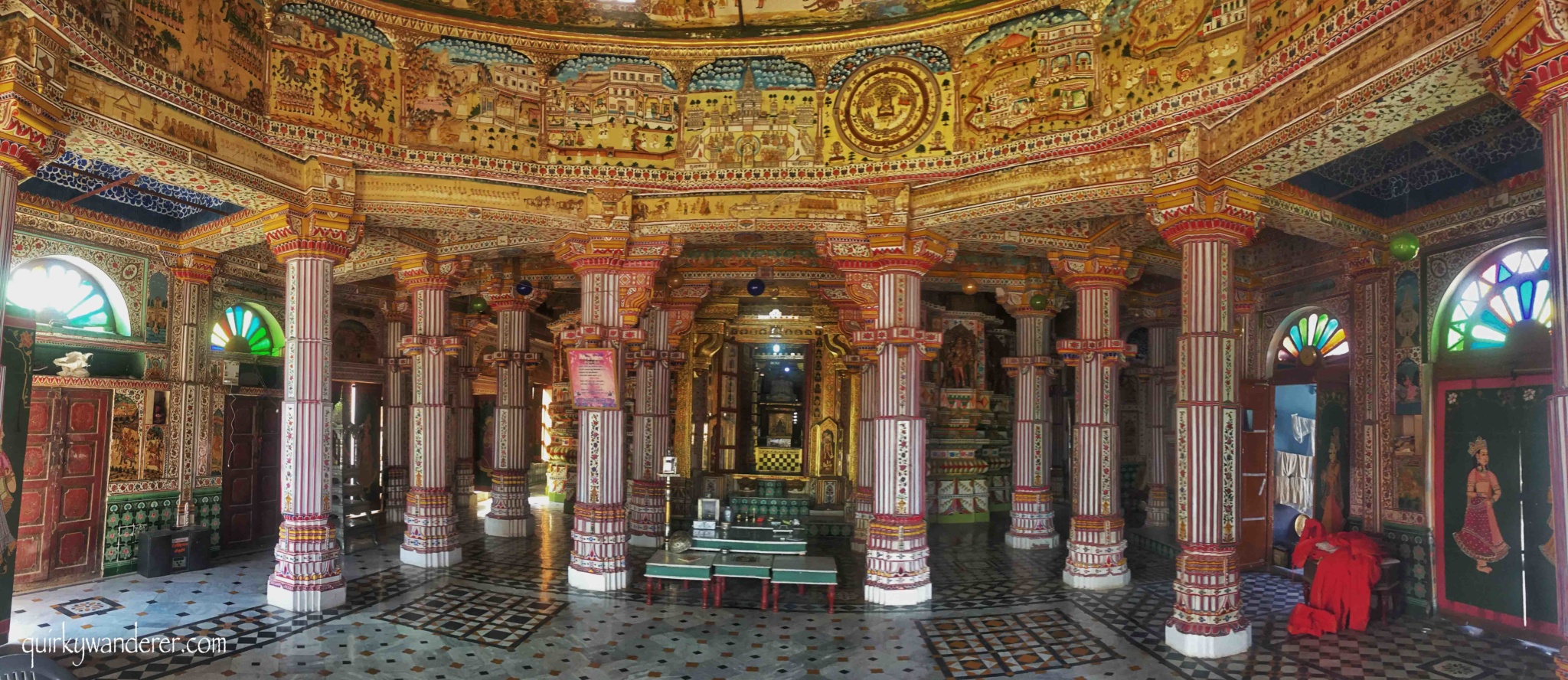 When I climbed the flight of steps to reach the Jain temple set in marble, little did I know that I am entering one of India's most unique temples. Vibrantly painted doors with figurines and ornamental ceilings welcomed me as I looked up in awe. Like all Jain temples, this one was opulent too.
With latticed marble windows and impeccable floorings, Utsa art was on display even here. Golden paint interweaved with floral motifs, green and red doors aplenty and a quiet atmosphere to soak all of this in. The priest explains the story of the temple, revealing that the foundation of the temple is built with ghee mixed with mortar.
My eyes widen with disbelief and wonder both, as he explains how yellow patches can be seen in peak summers, as the ghee begins to ooze out. Legends say that the temple was built by a wealthy Jain merchant, Bhanda Oswal in the 14th century. After his death, the temple construction was completed by his daughter. An approximate of 400000 kgs of ghee was used in the temple construction. As I circumambulate the temple dedicated to the 5th Jain Tirthankar, Sumatinath, I see the intricate gold work in every nook and corner, making it an art museum of sorts. The best part of my visit was chatting up with the priest who had immense knowledge and was so eager to share it.
Timings: 5 am- 1 pm
5.30 pm- 11.30 pm.
Entry: Free
Day 2:
Rampuria Havelis: Stories etched in Sandstone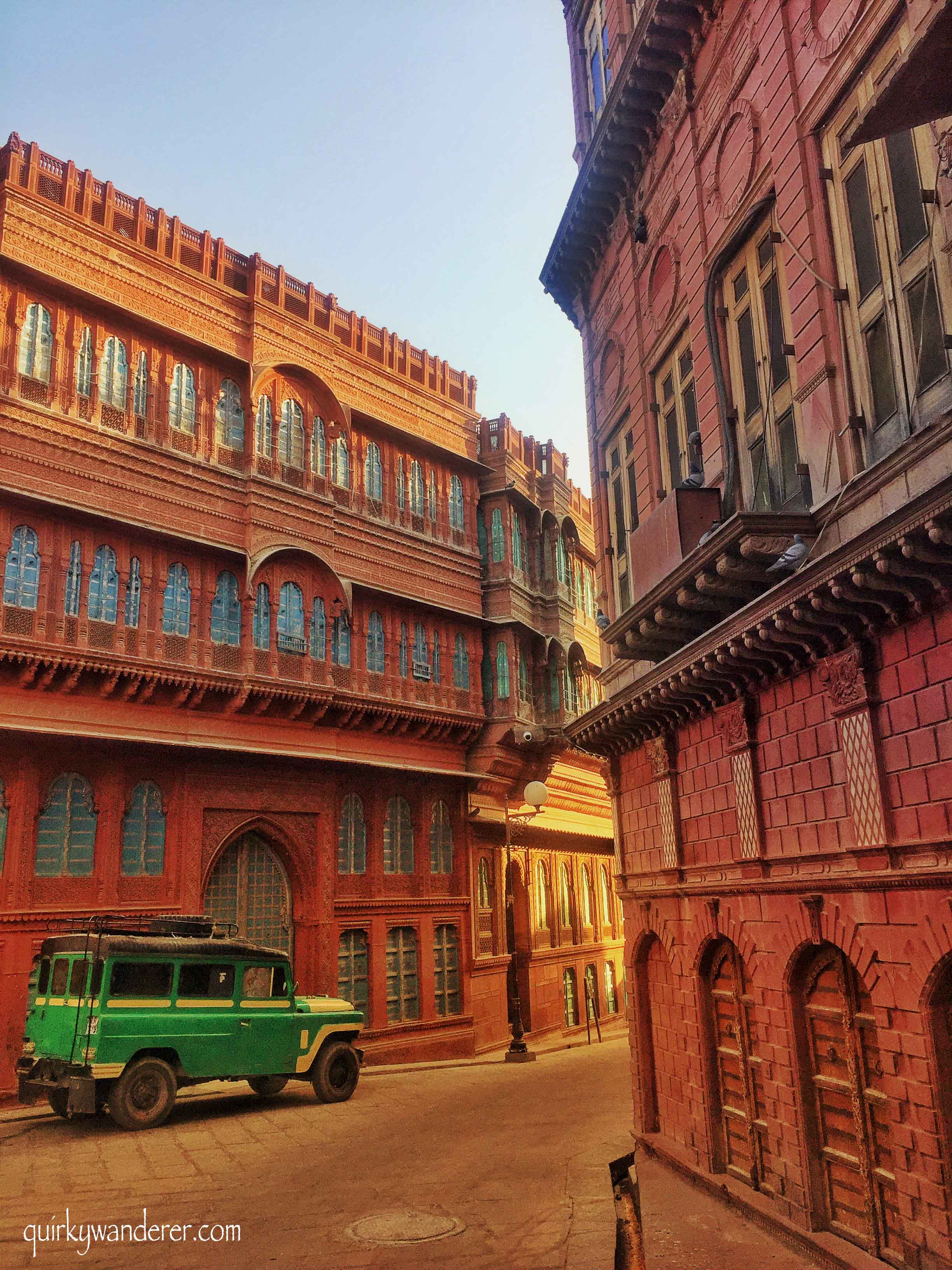 Start your day early before the hustle bustle of the main city begins. The tiny alleys and crowded lanes will be a deterrent if you wish to capture the beauty of these erstwhile havelis, which look even more gorgeous when sun-kissed with the first rays of the sun. Jharokas and jaalis adorn the sandstone facades of these historic havelis, constructed in the striking red Dulmera sandstone by the wealthy merchant clan of Rampuria in the 1400s.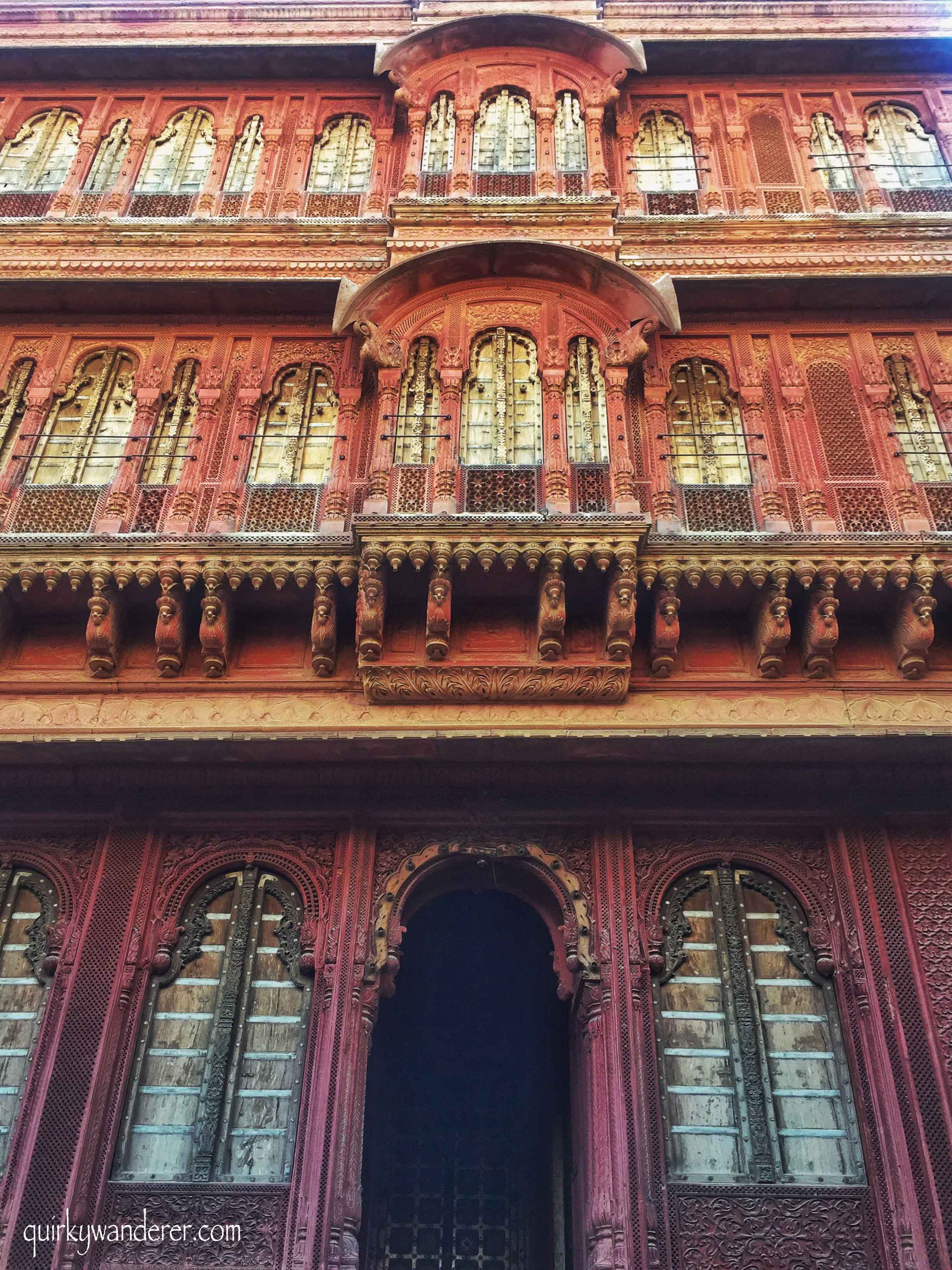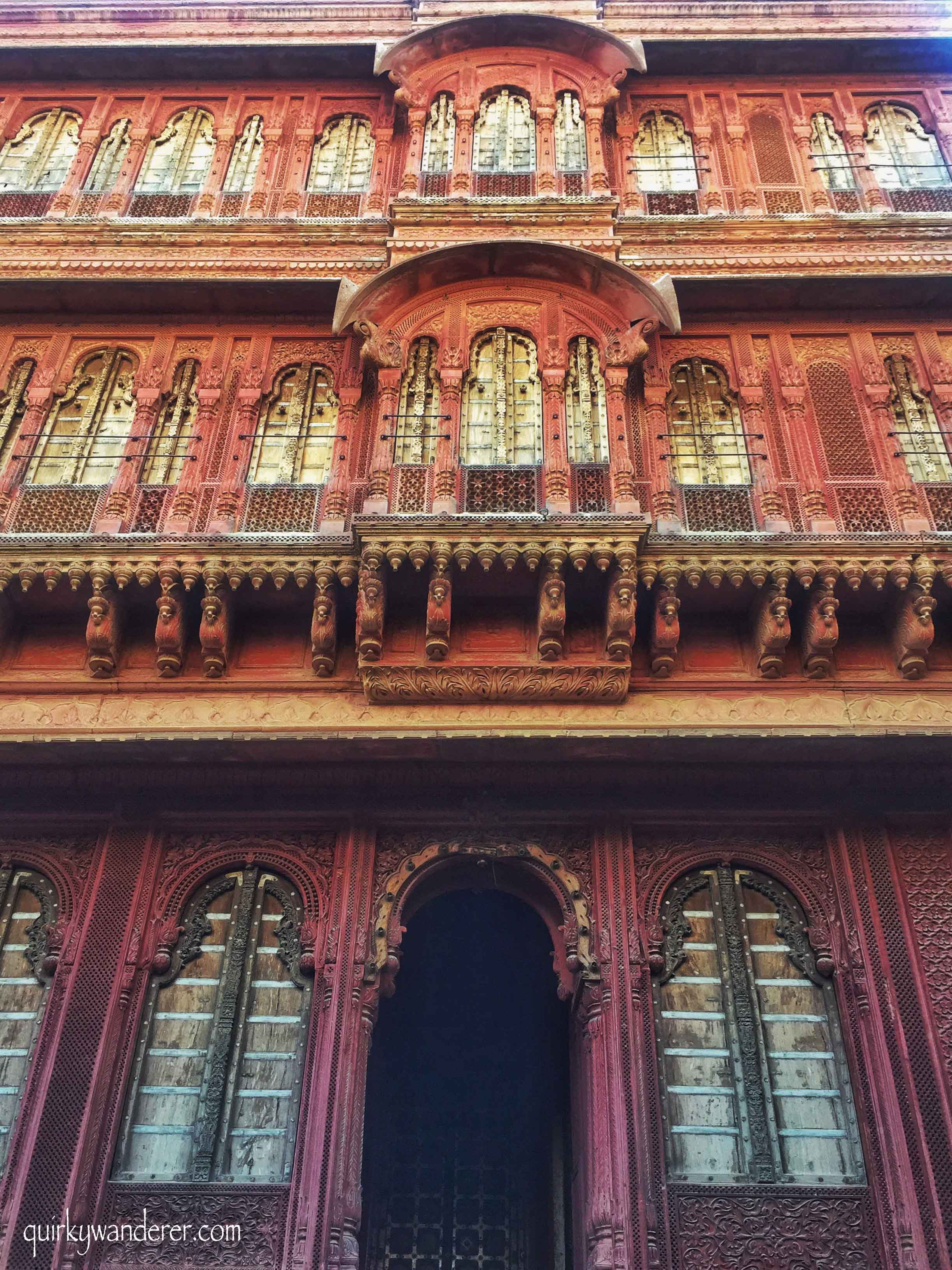 In my rendezvous with these havelis, there was hardly any intrusion. Occasionally a cow, a few passing cyclists and that is about it. I chat with one of the locals who peers out of her window to converse with me, as I walk through these glorious buildings with Rajput, Mughal and British colonial influences. There are arched doorways and delicately carved windows. But there is also a vintage air, something that evaporates as soon as you head out away from the havelis into the neighbouring bazaars.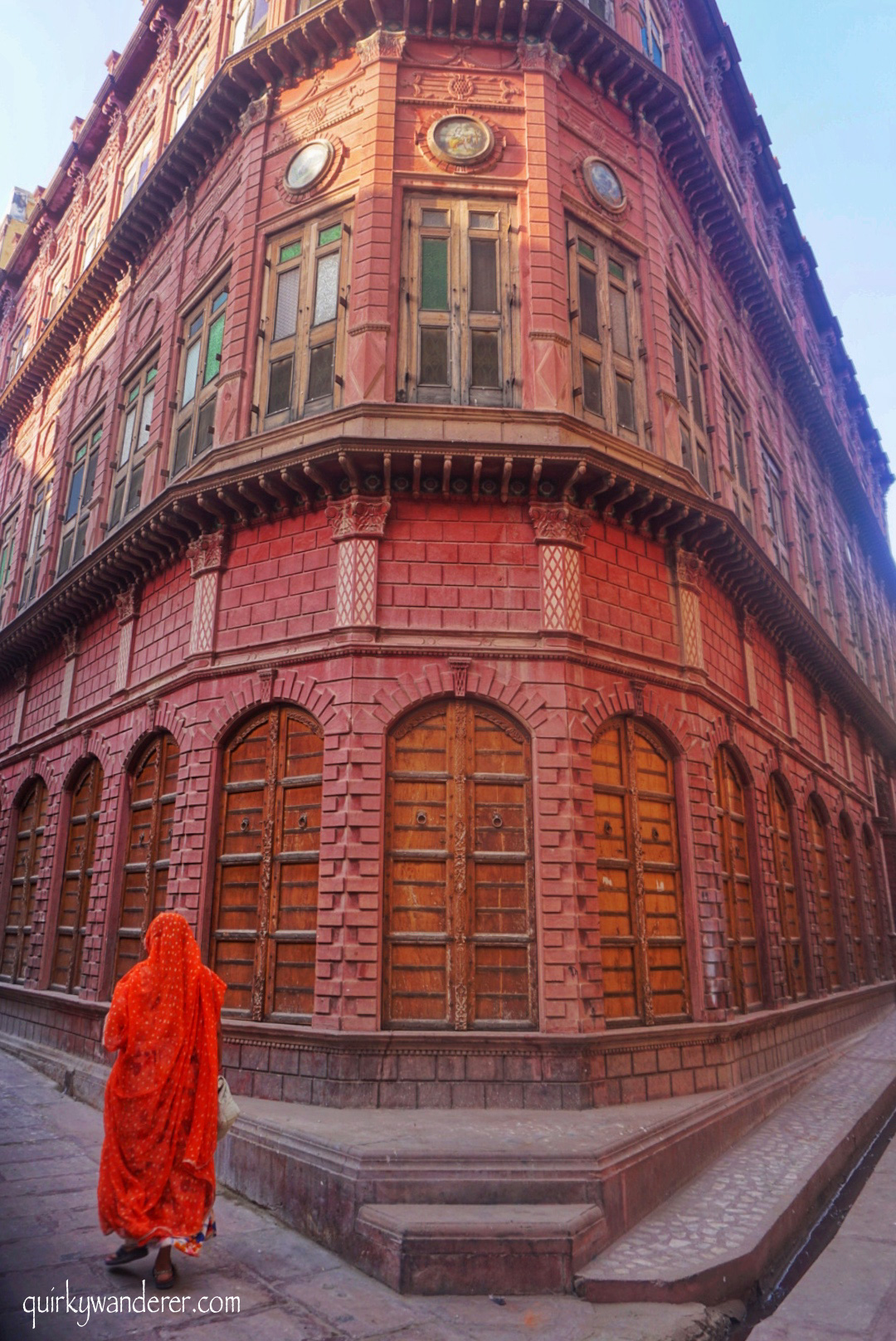 The Bazaars: Contentment in Chaos 
Incessant honking and a blend of fragrances welcome me as I enter the Kote gate market. A long stretch of local shops selling chillies, to clothes, to namkeens to jewellery.
Visit the bazaars in the noon. No kidding. If you wish to savour the delights of the markets. Saunter by the Chotu -motu ki dukaan near the station for delectable kachoris and sweetmeats or head to Chunilal Talwar sharbat Wala on jail road for your dose of Khus and rose sharbats. For those looking for impeccable imitation Kundan jewellery, make your way to the hidden BC Jain jewellers in Bada Bazaar. Bikaneri bazaars have something for everyone. Like any Rajasthani city, the markets are a delight and needless to say, a riot of colours.
 
Sunset at the Pastures: 
If you are a guest at Hotel Narendra Bhawan, the perfect way to end your day, would be a mesmerising sundowner at the pastures an hour away from the main city into desert, peppered with soothing flute tunes and a glistening water body for company.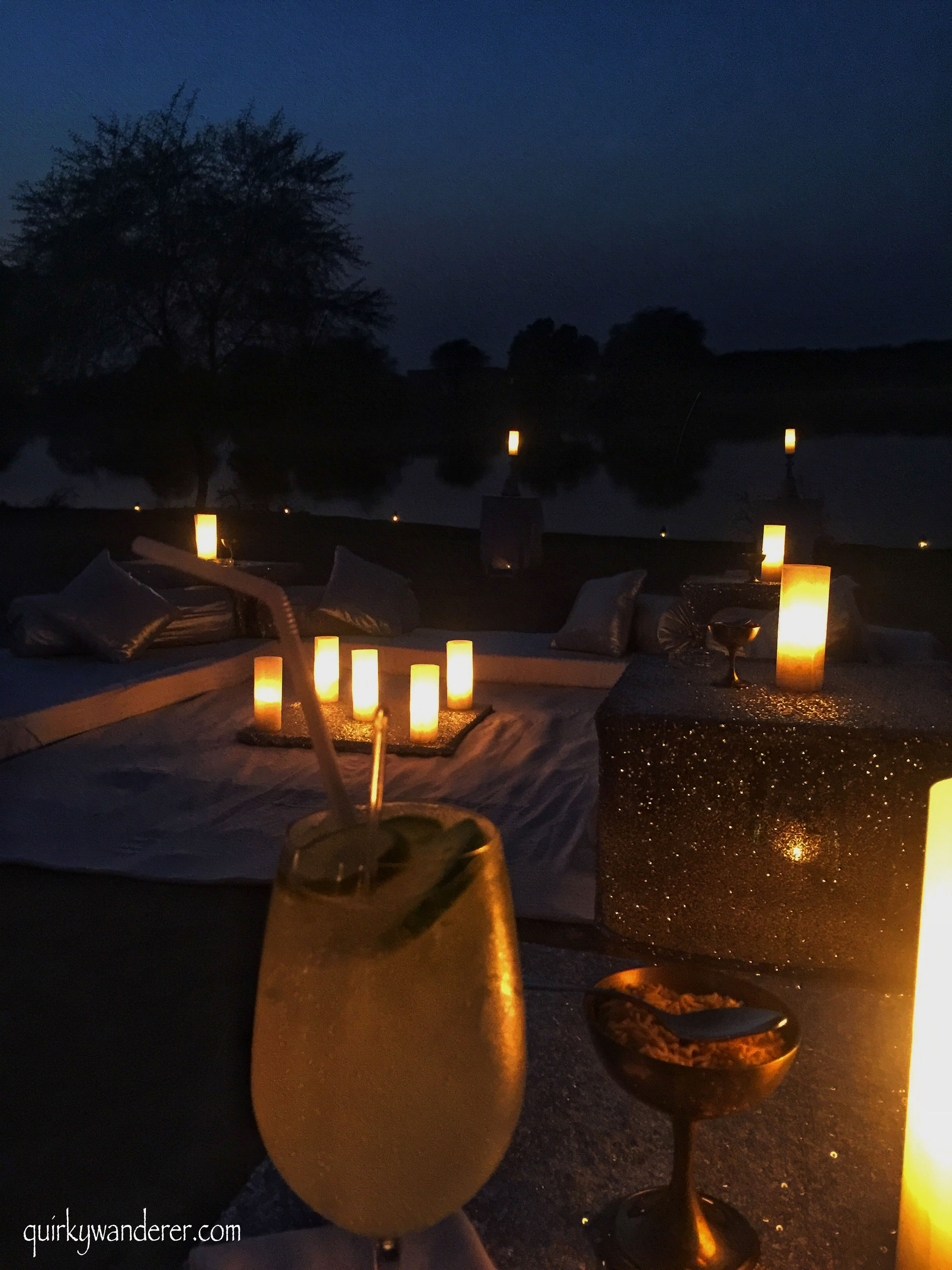 Where to stay: 
 Narendra Bhawan: unmatched luxury with elegance and warmth
 
On Balveer's insistence, I try out the Bikaneri breakfast giving the regular, contemporary brekkie a break. And as I dig into the tangy, bittersweet Methi sabzi with piping hot pooris, I realize why he has this huge grin on his face. The Bikaneri breakfast spread in Narendra Bhawan is pure indulgence. Bikaneri kachori and sago uttapams secure a narrow second place but the winner is, of course, the palatial hospitality.
Narendra Bhawan represents the lifestyle and tastes of Maharaja Narendra Singh with sophisticated interiors, chic artifacts, modern amenities coupled with a discerning sense of style.
There is vibrancy in the decor but it is not overbearing. There is heritage in every nook and corner but more vintage than traditional. While Diwali chowk transports you to a regal era, the plush interiors of the spacious rooms make you revel in modern luxury.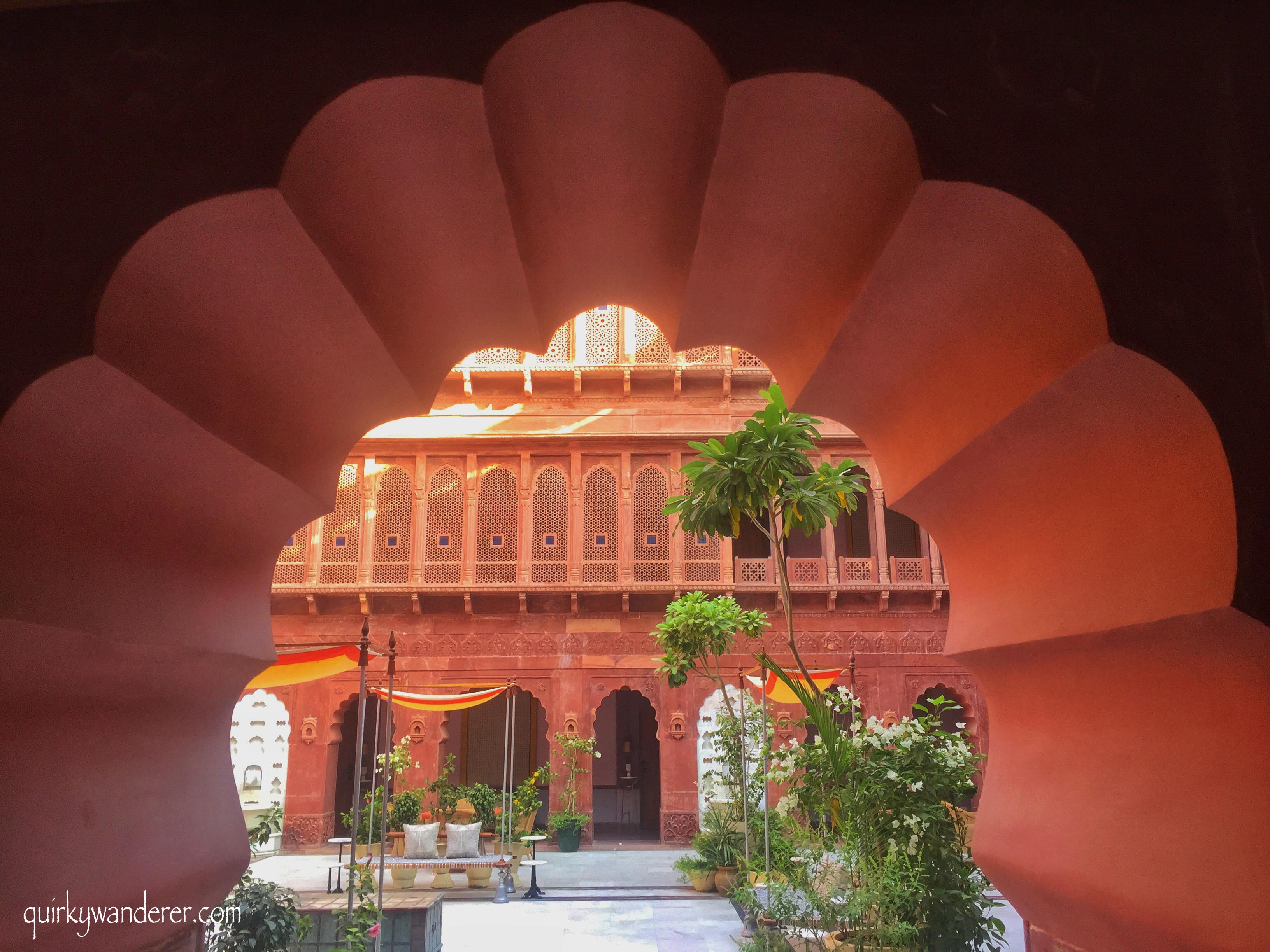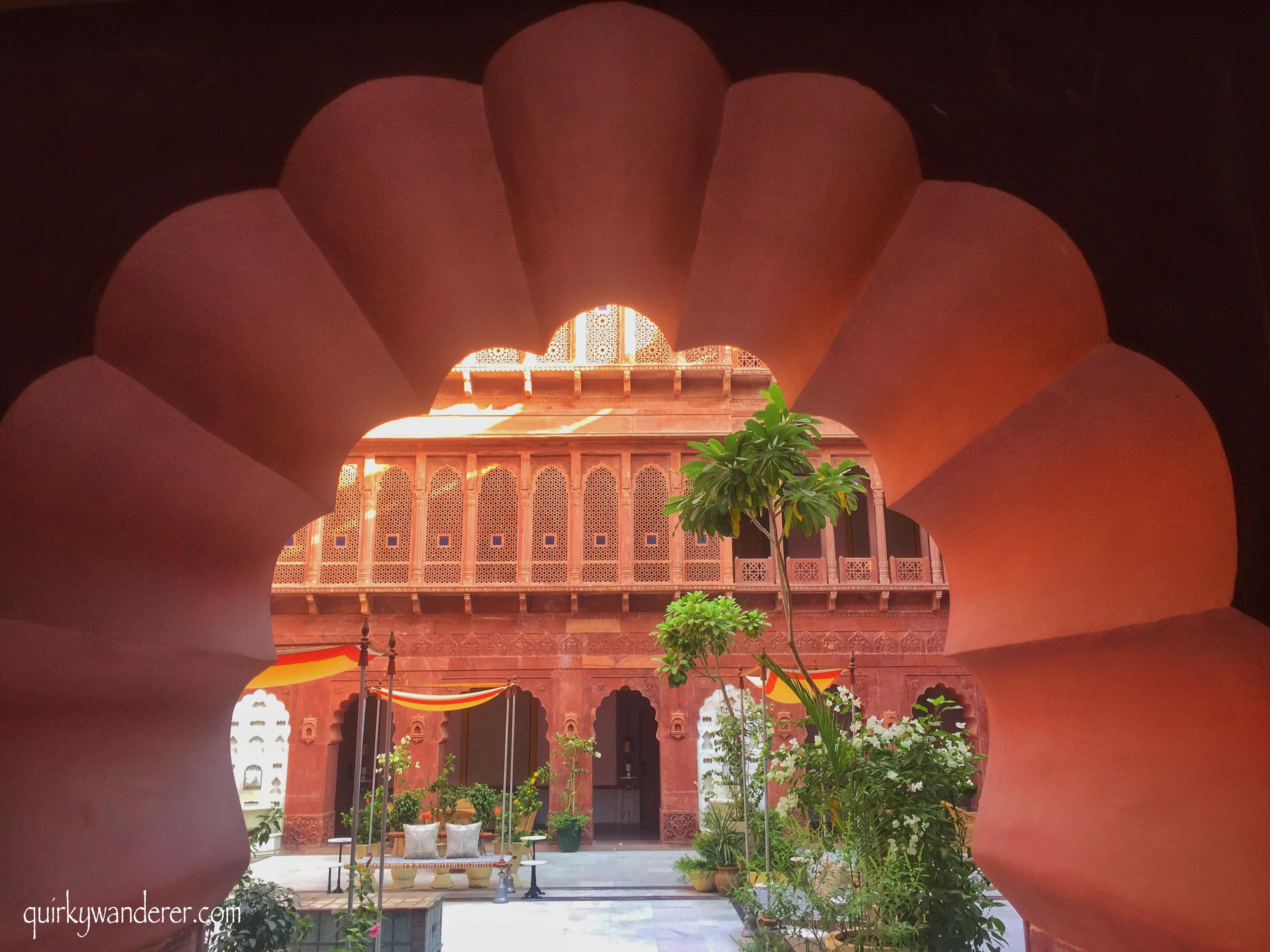 An exquisite blend of antiquity, grandeur, exquisiteness, peppered with warm hospitality and personal attention. The managers take efforts to personally look into the nuances of your stay making sure everything is in order.
Having stayed at a host of hotels in Jaipur, that were mostly on the lines of reformed havelis, I expected Narendra Bhawan to be one of those heritage hotels with a rustic charm. But they surprised me and how, with their signature style of living a Maharaja's life with a stylish demeanour.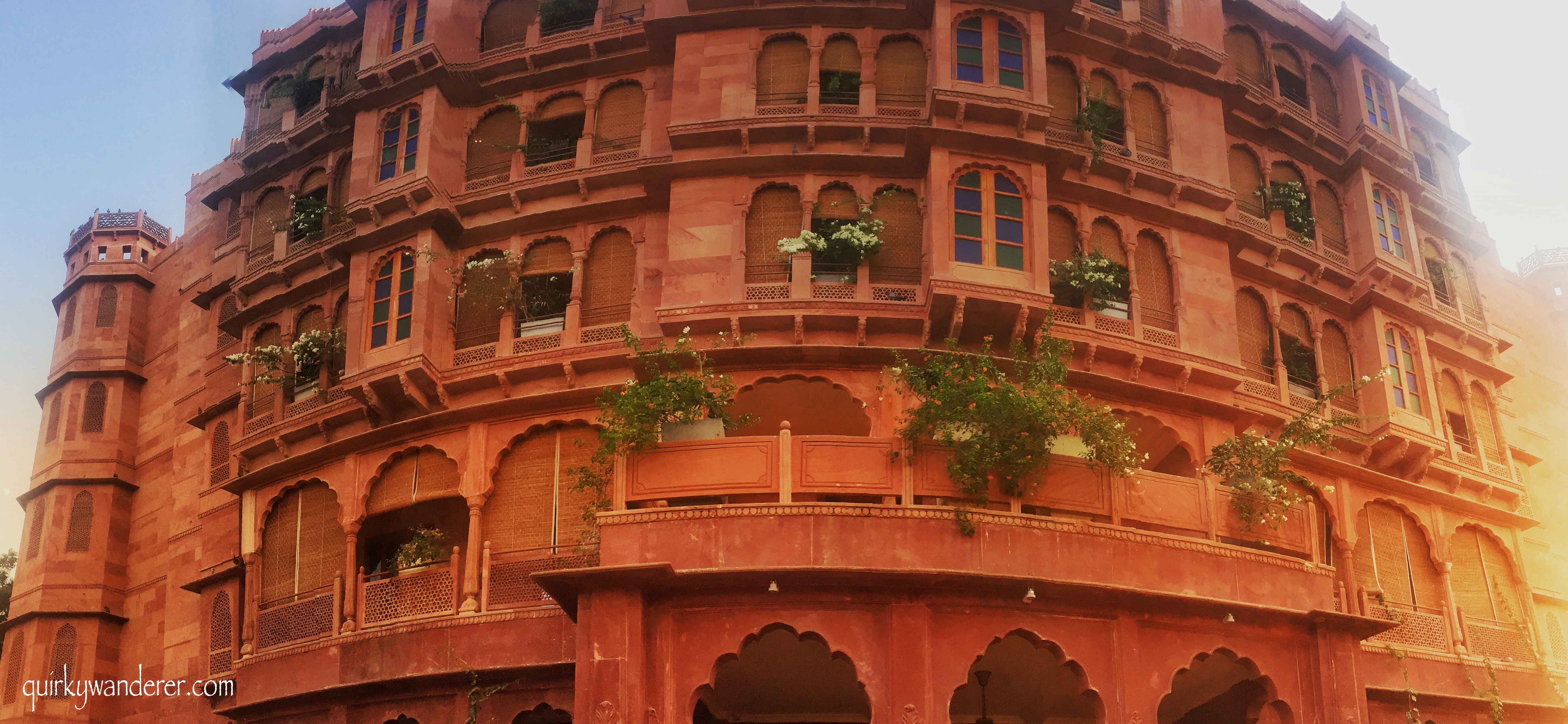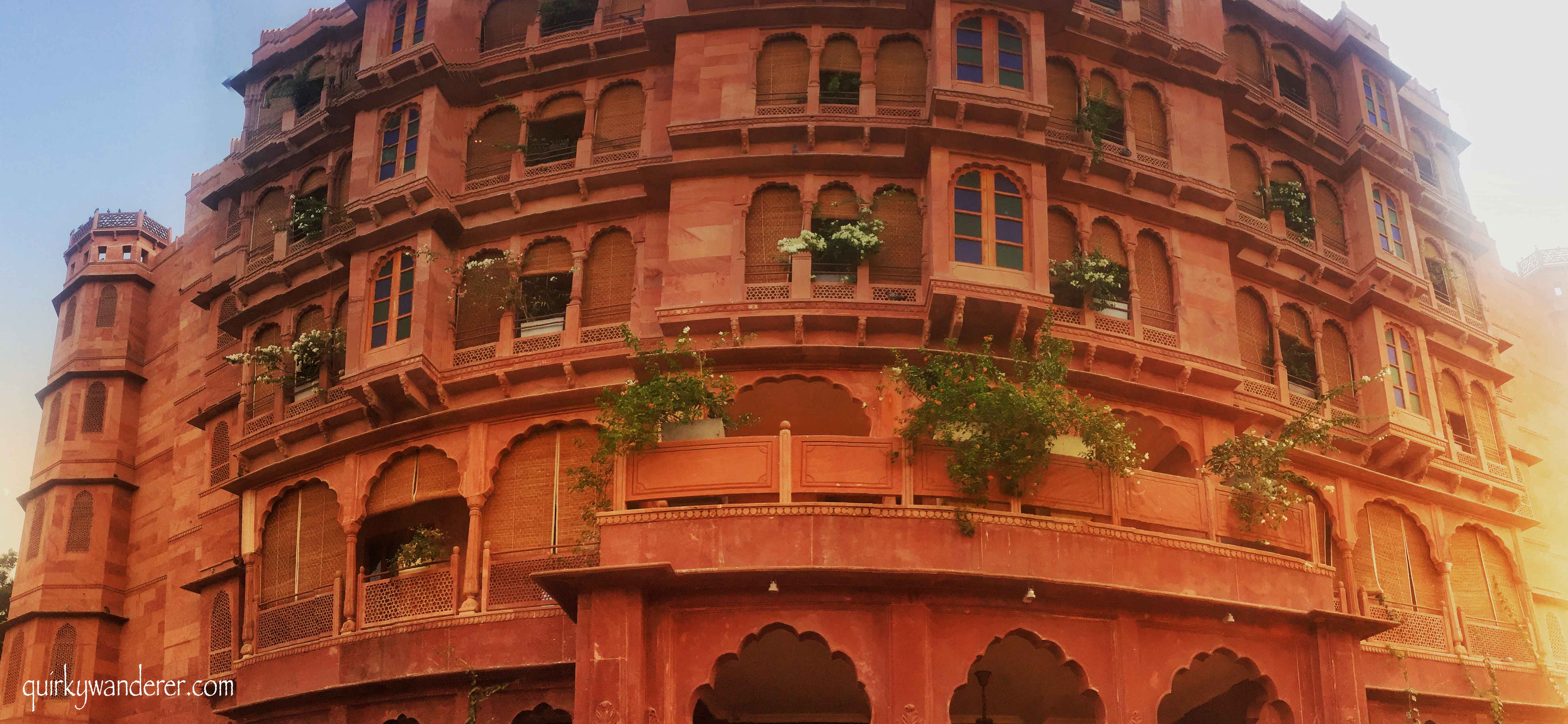 A stay at the Narendra Bhawan is an absolute must if you treasure an amalgamation of a glorious past with a unconventional present. The experience is worth all the mention.