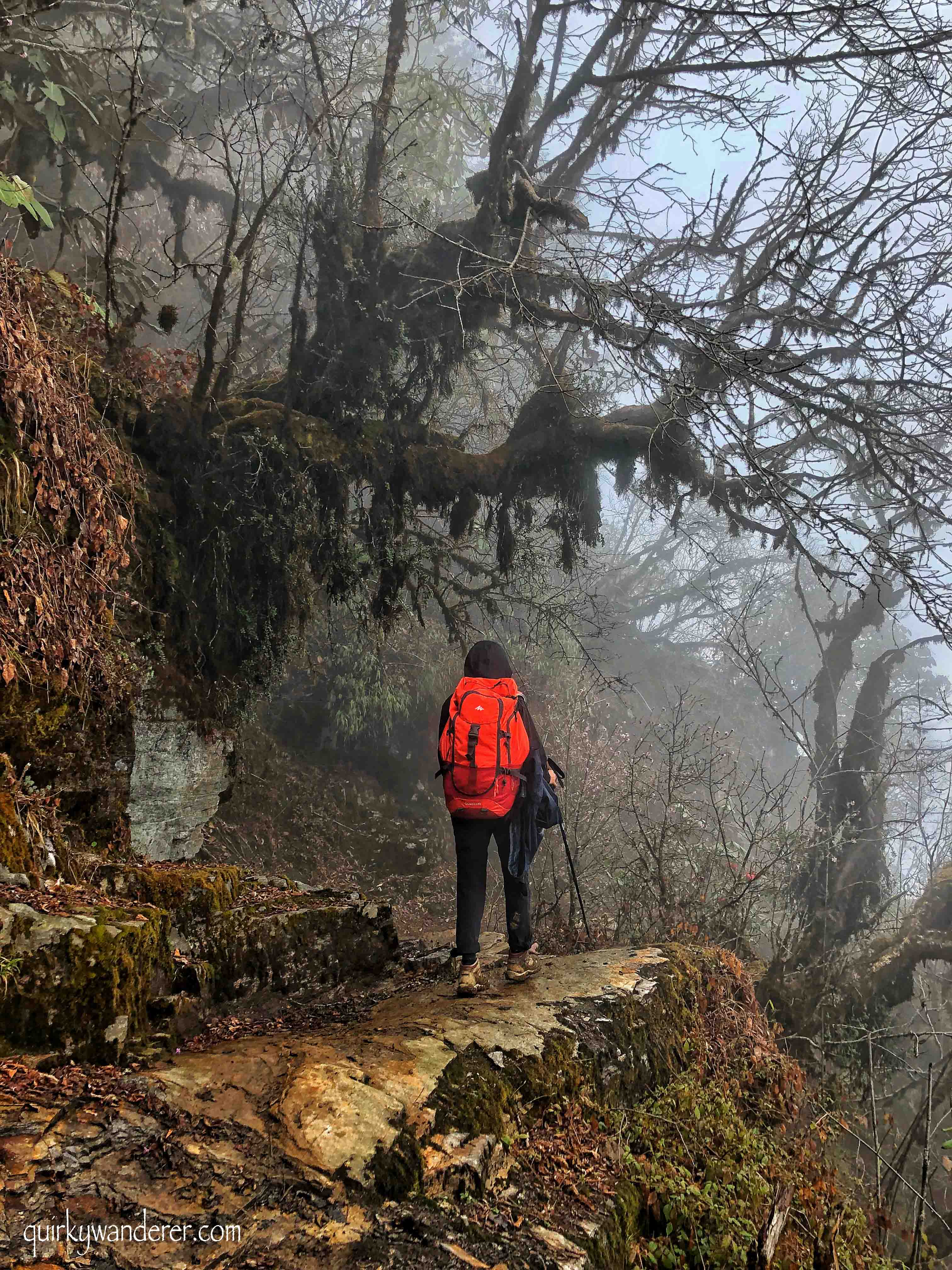 It was pouring non stop. The wind mercilessly lashing on the tents. I tossed in my sleeping bag, rather uncomfortably waiting for the rain to stop but the rain gods in the Barsey Rhododendron sanctuary clearly had other plans.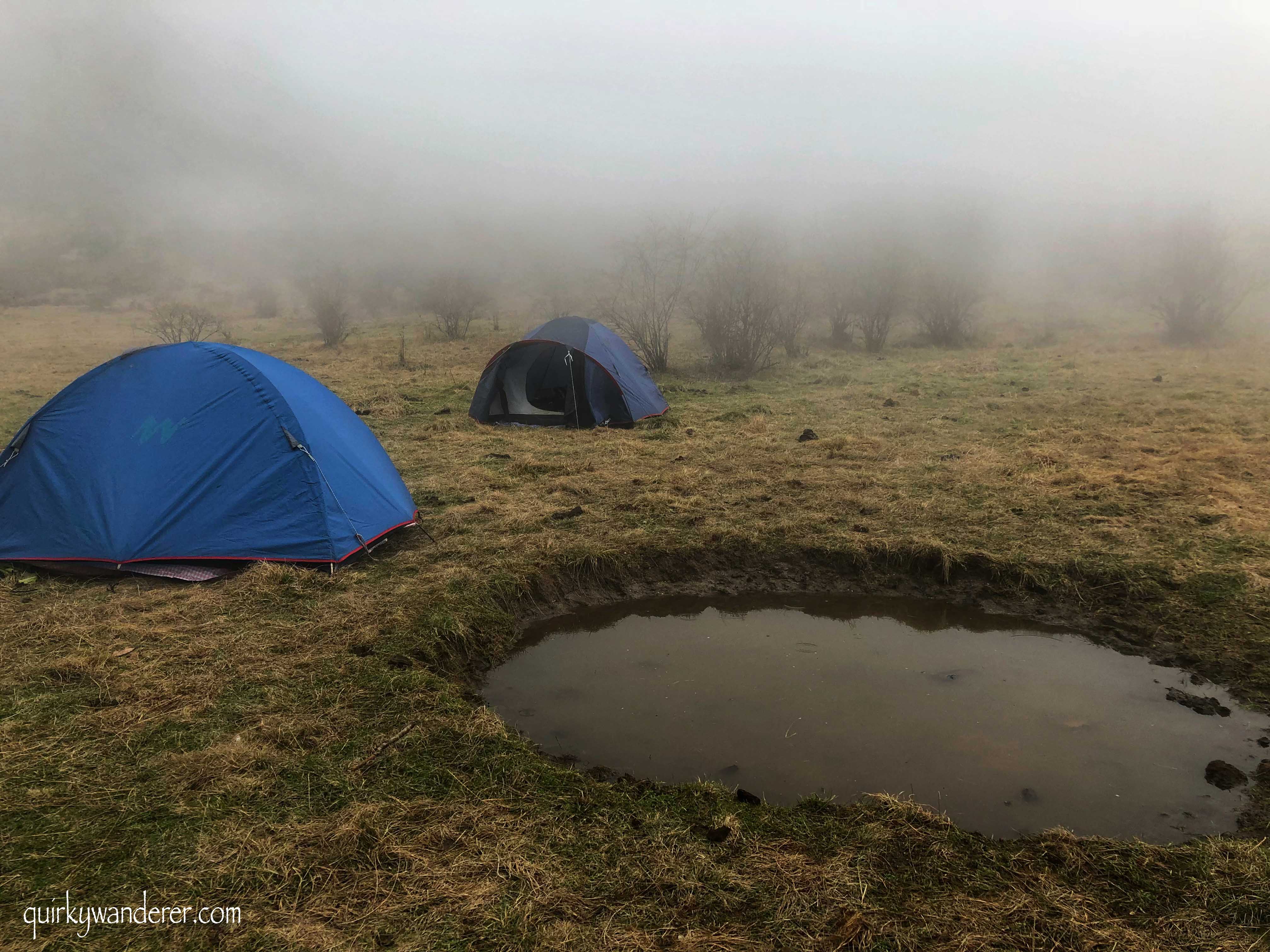 It has been one year. Exact one year since I embarked on my first ever overnight Himalayan trek, (the Tiger's Nest in Paro being my first.) But each memory of Barsey is vivid. Crystal clear. I can feel the nagging ache in my calves and hear my own loud breathing as I gasped on the steep incline. I can still smell the sweet fragrance of the Rhododendron forest and hear the crunch of dry leaves that I treaded over.
What feels like a dream right now was reality last year. One that entangles with dreams and feels so surreal that you doubt it ever happened in the first place.
The rains had stopped. I unzipped the tent and stepped out into the meadows of Lasune (our first campsite). There was no sign of any rainfall. Did it even rain last night or was I dreaming? Birds chirped in the background as the mist over Magnolia trees cleared. The Zhos (cross bread between yak and cow) were being readied to leave for the next campsite. It was going to be a long walk. 
It was my first one week long Himalayan trek at Barsey in West Sikkim. I had qualified for it in Doreen's eyes. (after having successfully and uncomplainingly undertaking the Bramble- Bush -Boulder trek in Kamarajar valley) And it was her conviction in me (coupled with my undying love for the mountains) that made me book my tickets to Bagdogra in April. We were to proceed to the quiet Kalimpong, where the group would meet Piran, our trek leader.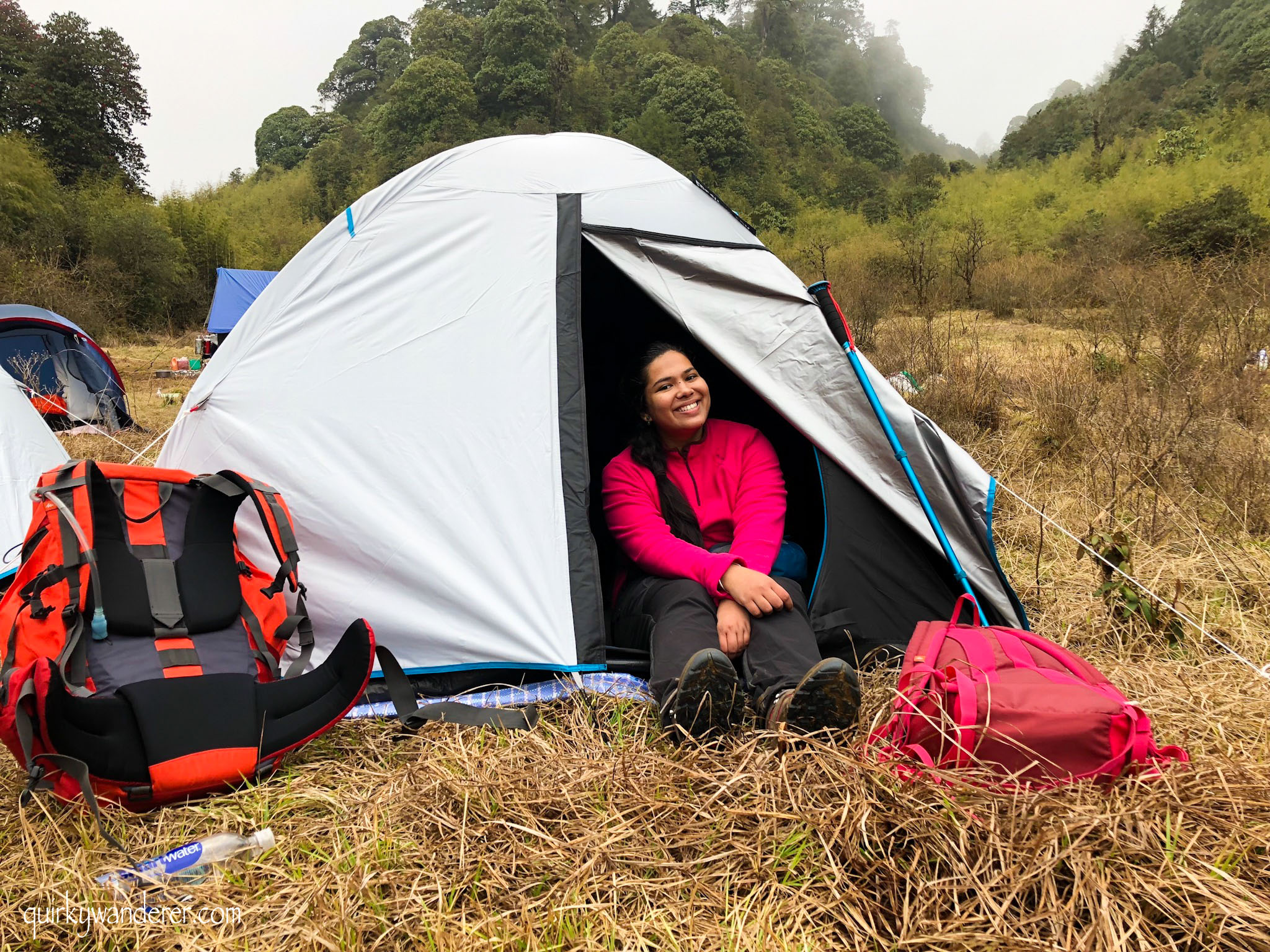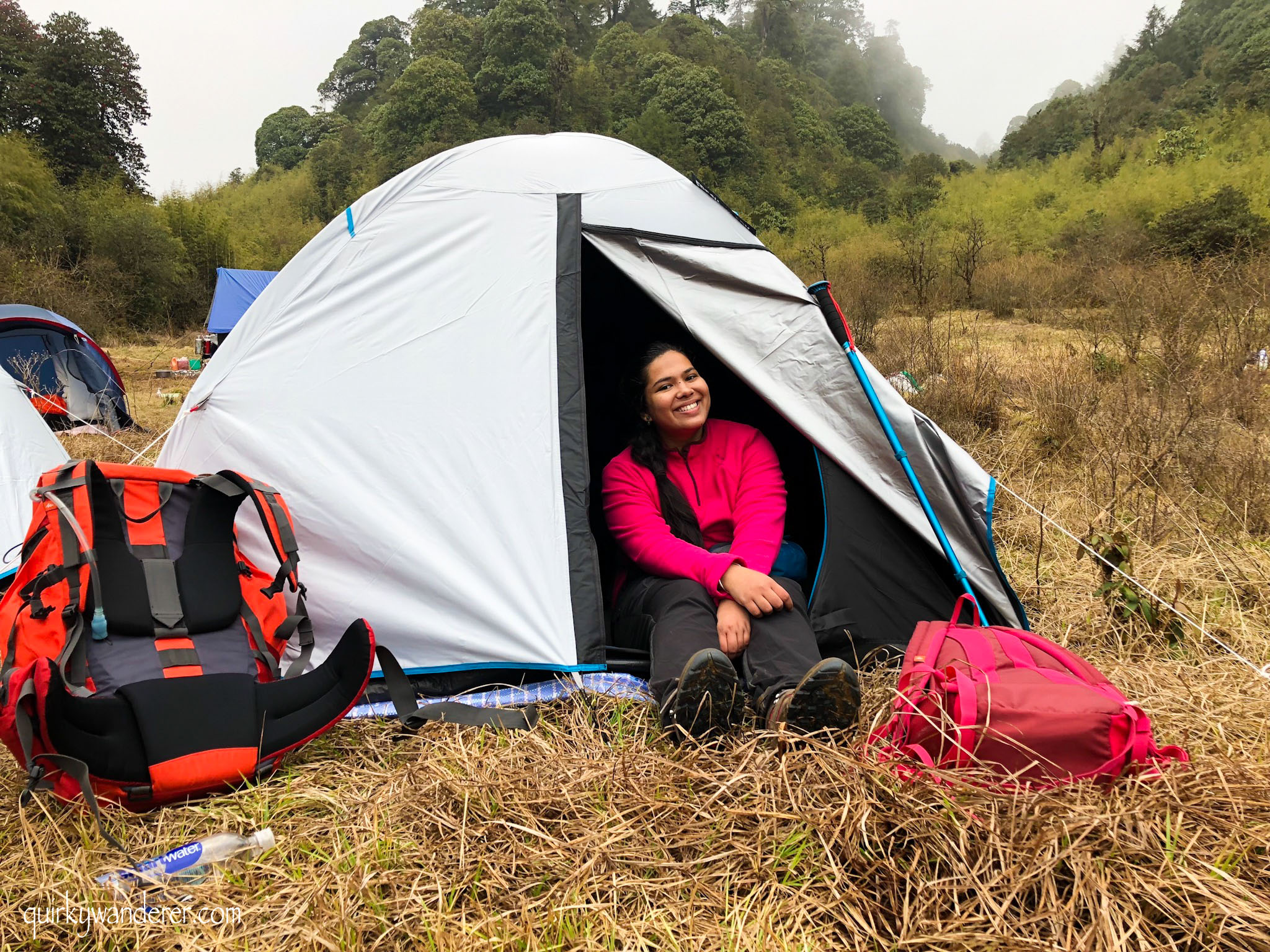 I was gazing at the mist, gulping in the fresh mountain air and enjoying this NO-network phase. Our tents were scattered across the meadows and the jovial sherpas laughed and sung as they laid down a hearty breakfast (which included peanut butter spreads and the likes) I had mentally prepared mom that there won't be any communication and I was sure she was convinced and comfortable. But was I physically prepared for this five day long journey through dense forests and valleys? Time would tell. Meanwhile my heart readily popped up an unwritten rule: Take it one day at a time.
We met Piran at Kalimpong, went for walks, drove around Kalimpong, ate, laughed and slept before leaving for Okhrey. Four hours, a Maggi and many momos later, Okhrey arrived. A village out of nowhere. Our homestay, stocked with courteous owners, sumptuous local food, dollops of Rhododenron wine was engulfed in cold and winds. The next morning we would drive to Hilley and commence our trek through bamboo and rhododendron forests. After months of anticipation, it was finally happening.
One day of walking was over. It wasn't tough at all. (Not when you have your best trek buddy Janhvi by your side).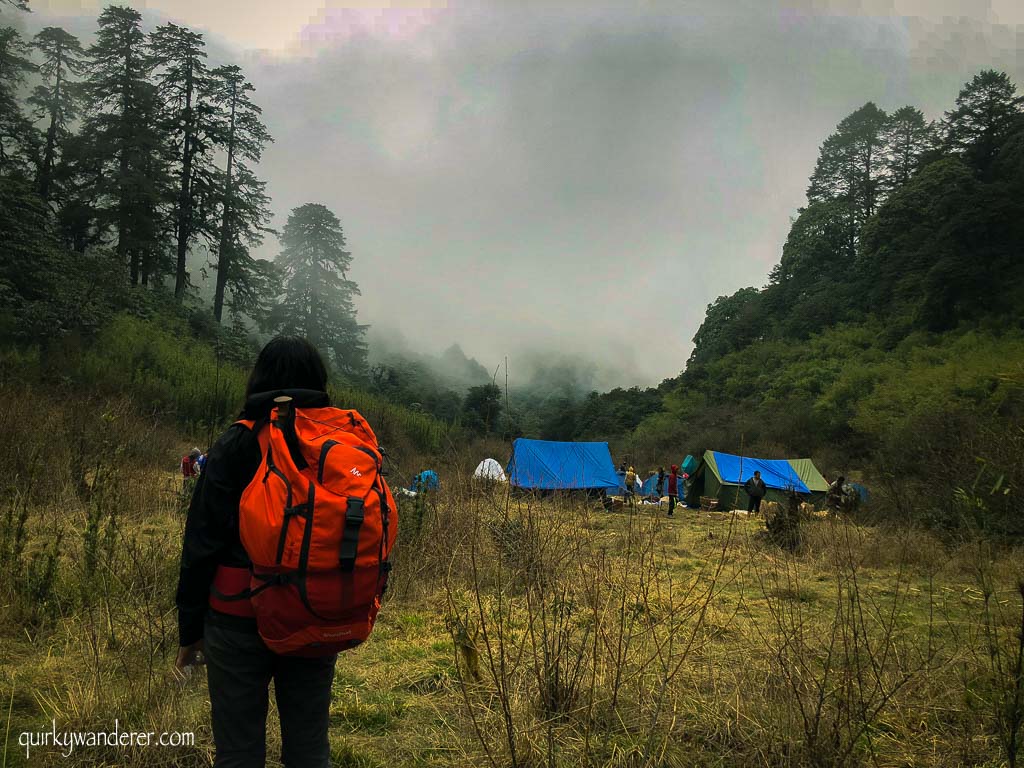 Just a dreamy walk through tall, dense bamboo forests engulfed with mist and bursts of Rhododendrons and Magnolias making an appearance now and then. Two hours into the trek, the crowds who came just to see 'Barsey sanctuary' have turned to go back, but we walk ahead, under a dense forest cover to reach a clearing overlooking the Lasune meadows (our first campsite). Thrilled to bits, I prance in and out of my tent, unperturbed by my soiled Quechua shoes. 
Brand new Quechua shoes from Decathlon. That shiny, polished untouched trekking pole. And the good old love for forests alive in my fluttering heart. These were things I was armed with as I stood on the entrance of the Barsey Rhododendron sanctuary.
Everyone had something to say before I started my Barsey trek prep.
They told me about fitness and they told me about discipline.
They told me about altitude and they briefed me about the routine.
But they didn't tell me so many things. The things that would unfold Day 2 onwards.
"One day at a time". I repeated to myself as we left Lasune on day two for Joreybotey. The trees were freshly bathed and the sky was clear. The trail had bunches of the Daphne flower on either side as we walked through a mixed temperate forest. There were Silver Firs and Oaks and several falls thanks to the slush caused by last night's rainfall. I wasn't dreaming then. It had rained and how. 
We walked a good 9 KMs, (no steep inclines) through slushy trails. My eyes darted between which rock should I step on (to avoid going down the muck) and branches on the sides, (to cling on, lest I fall again).
"Is this what a trek feels like?" I felt disgusted. It was pouring cats and dogs. I couldn't click because all my energies were spent at protecting myself and I spent all my time looking down instead of the forest. I sulked as we reached our campsite, perched on a ridge, facing the Kanchenjunga.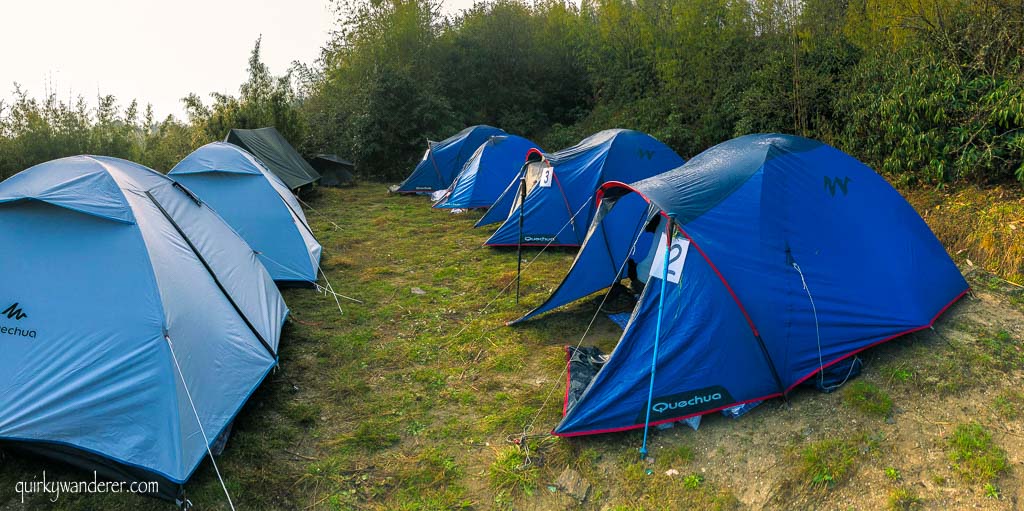 This memory makes me smile a year later. Yes, I couldn't click. But the memory is imprinted in my mind. My shoes were beyond recognition. I was cold, wet, irked and exhausted. I remember secretly wishing if I could be tied to a Dzo and sent down to the exit. But what is a trek without deafening thunder, aching muscles and a bed sick heart?
Loud excited noises woke us up on Day 3. The group had just had a blissful, clear sighting of the Kanchenjunga on a bright sunny day. Relieved smiles were scattered across the tents as our breakfast was out under the sun! The shoes were dry, bags were packed and a new "what-even-happened-last-night" me was rearing to go, sprinting across in awe of the massive Magnolia trees looming in the backdrop.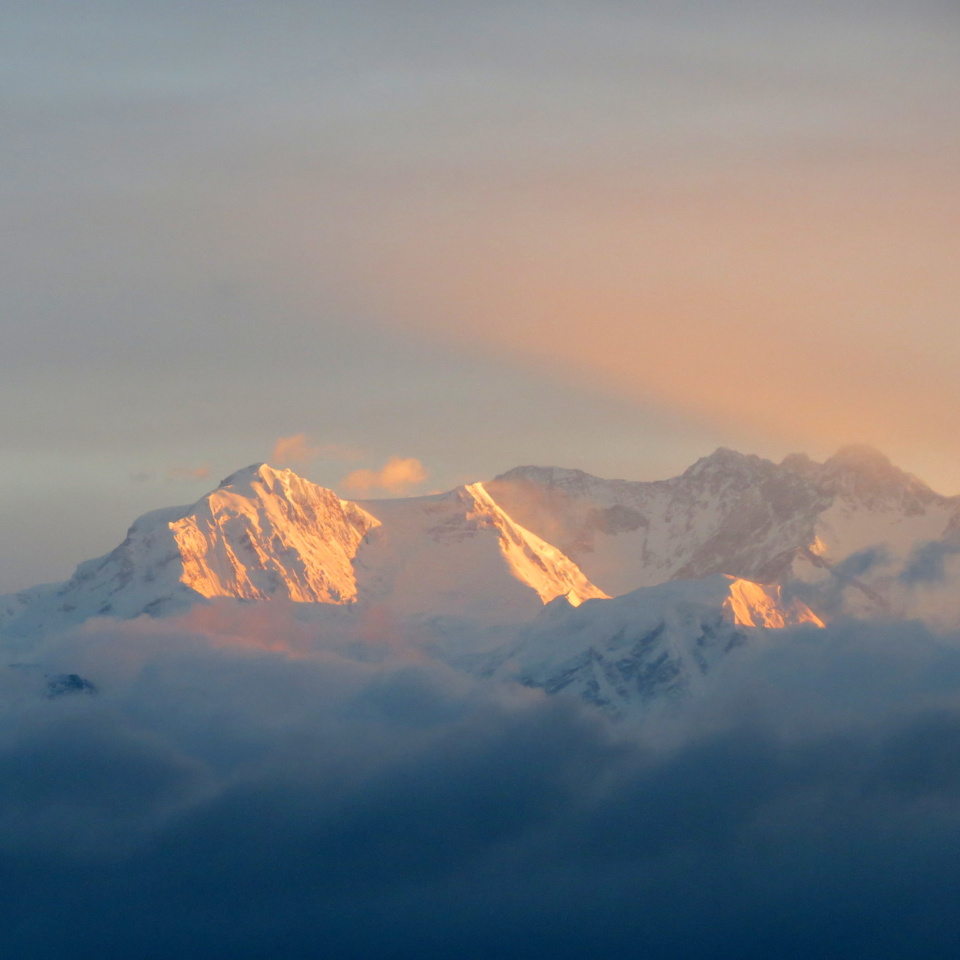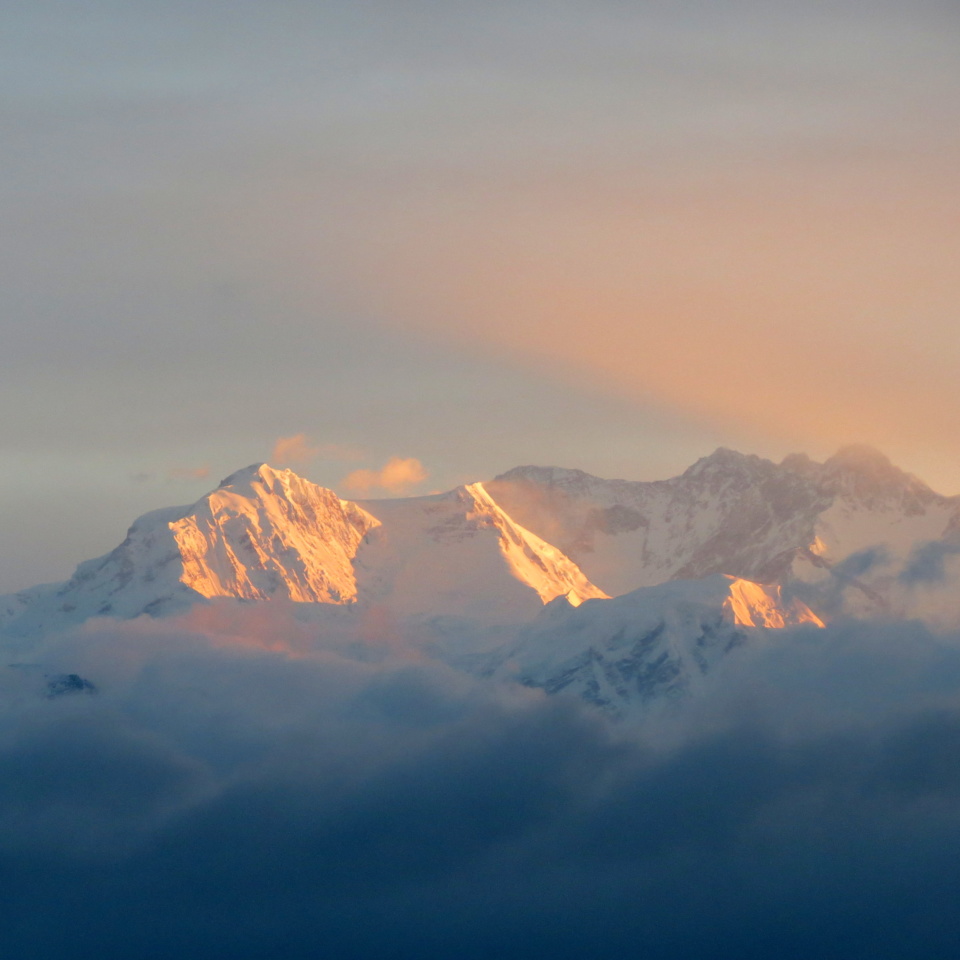 I wasn't told that the journey will give me more memories than the destination.
I wasn't told I would pause to catch my breath and hear my own breathing… and that would be the only sound I would hear.
I wasn't told I could cling to trees when fatigued.
I wasn't told that I would cry in pain, yelp in anguish, and yet come back and miss it.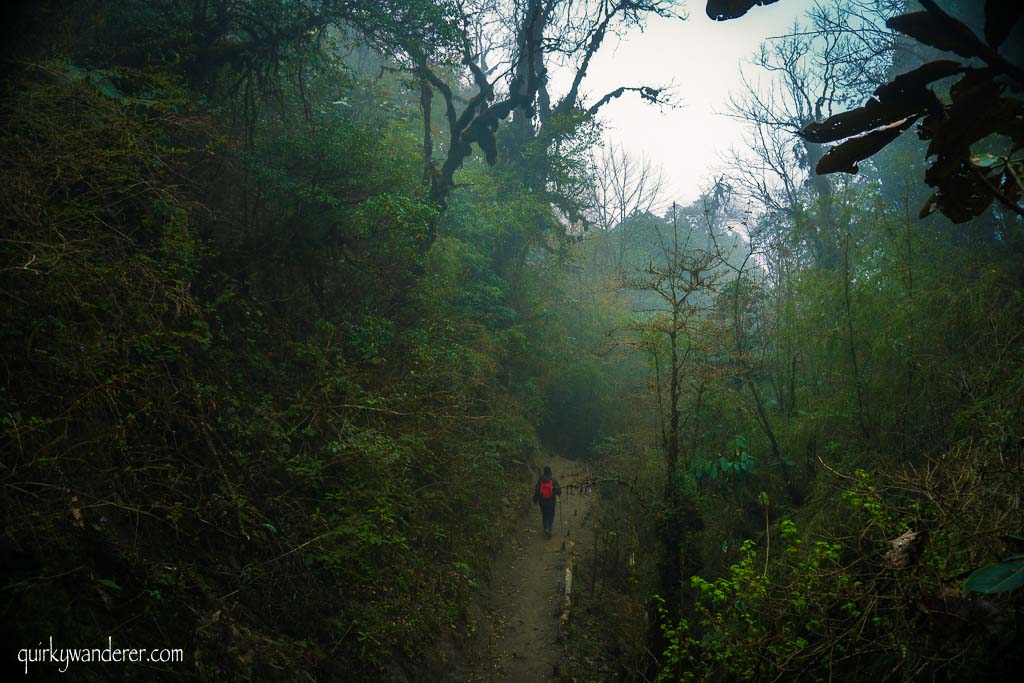 Day three was all about chasing sunbirds flitting in trees, walking through dense forests with no sunlight, over a carpet of dry leaves and sitting on moss laden tree trunks. It was also about posing with fresh, crimson red rhododendrons, hugging a tree, and breathing into its crevices, watching a Darjeeling Woodpecker pecking away and then finding ourselves in the middle of Thulo Dhap, an open meadow with criss cross streams. I could breathe forests today.  A happy happy day. 
Birds seen in our trek: Pictures clicked by Prameek Kannan.
You have to earn rewards in a trek. That breathtaking view, those forest fragrances, that meditative silence. It has to be earned. There is no gain without pain, And when you finally earn it all, the pain is worth it.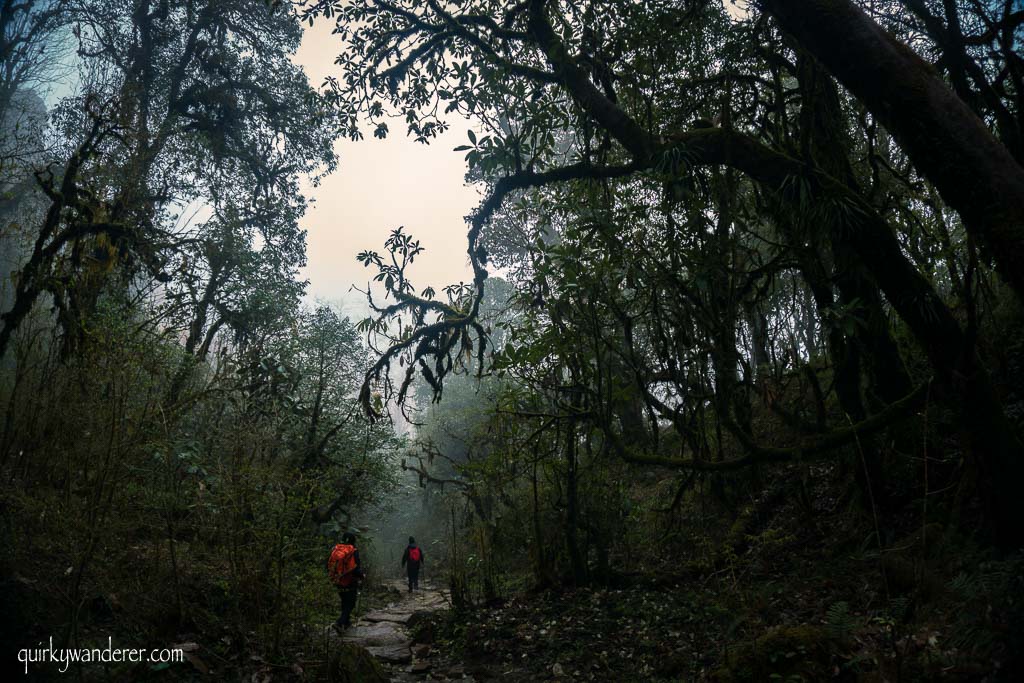 Day four was believed to be the most crucial. A steep, continuous ascent to get atop a ridge and minimal stops. I was the last (as usual) with Janhvi and NB ji (the local guide) egging me on. This was my biggest weakness. 
Ascents. Four steps up and a halt. NB ji looked at me with an unfathomable kindness. He took my backpack. After several staggering steps and "I-might-just-die" laments, I make it atop the ridge. We are now above the tree line. I am struggling to breathe but the U shaped valley is filled with specs of red and pink rhododendrons. It is nothing short of magic. I feel terrible for holding up Janhvi and NP. And when both of them ask me to celebrate my feat by posing under a lush rhododendron tree, I burst out crying. 
Treks bring out our best and worst. For most it is a race to reach the campsite. For some it is means to linger a little longer in nature. For some, it is a battle to trounce one's weaknesses. To transform their I cannots to I can.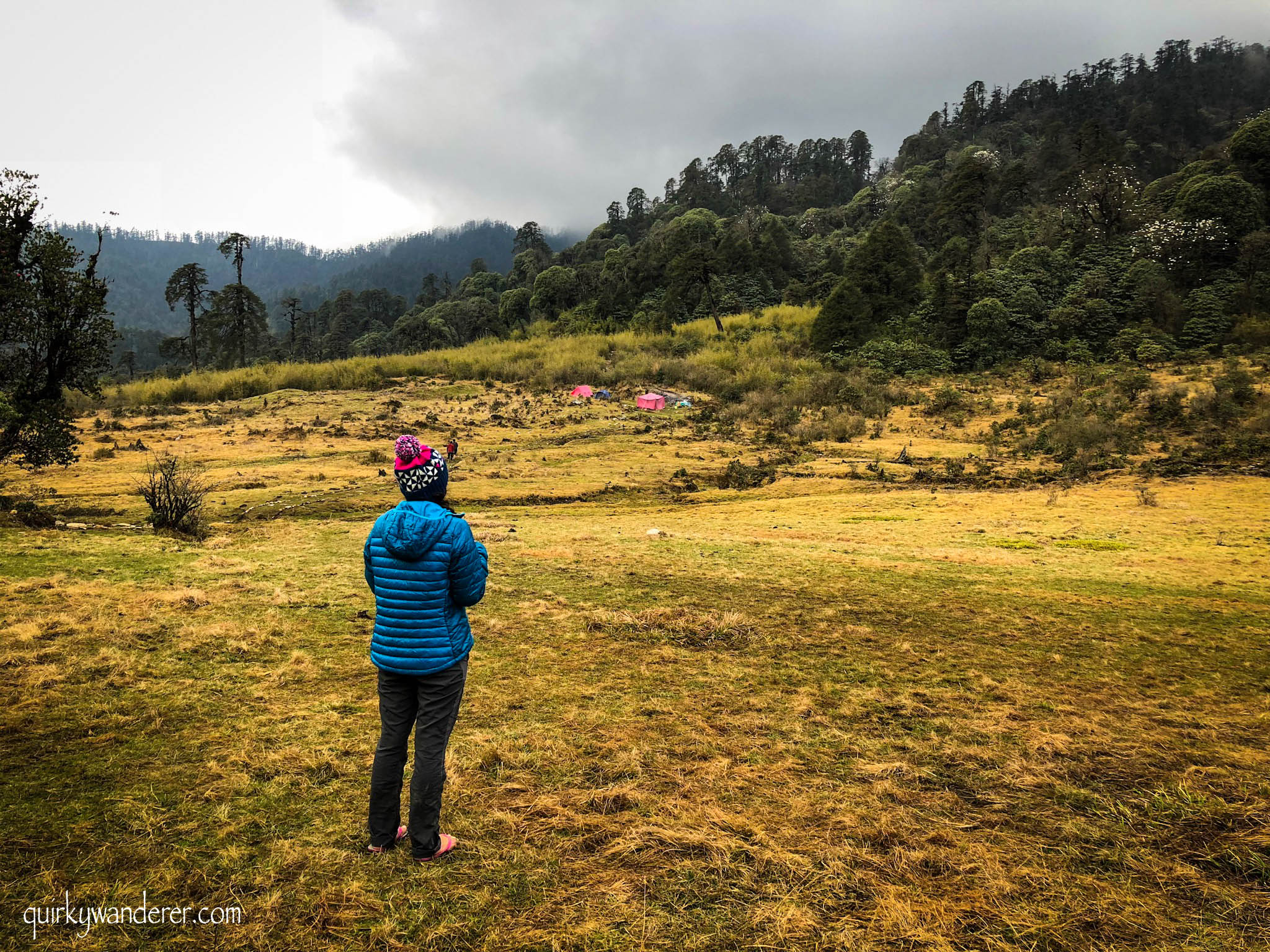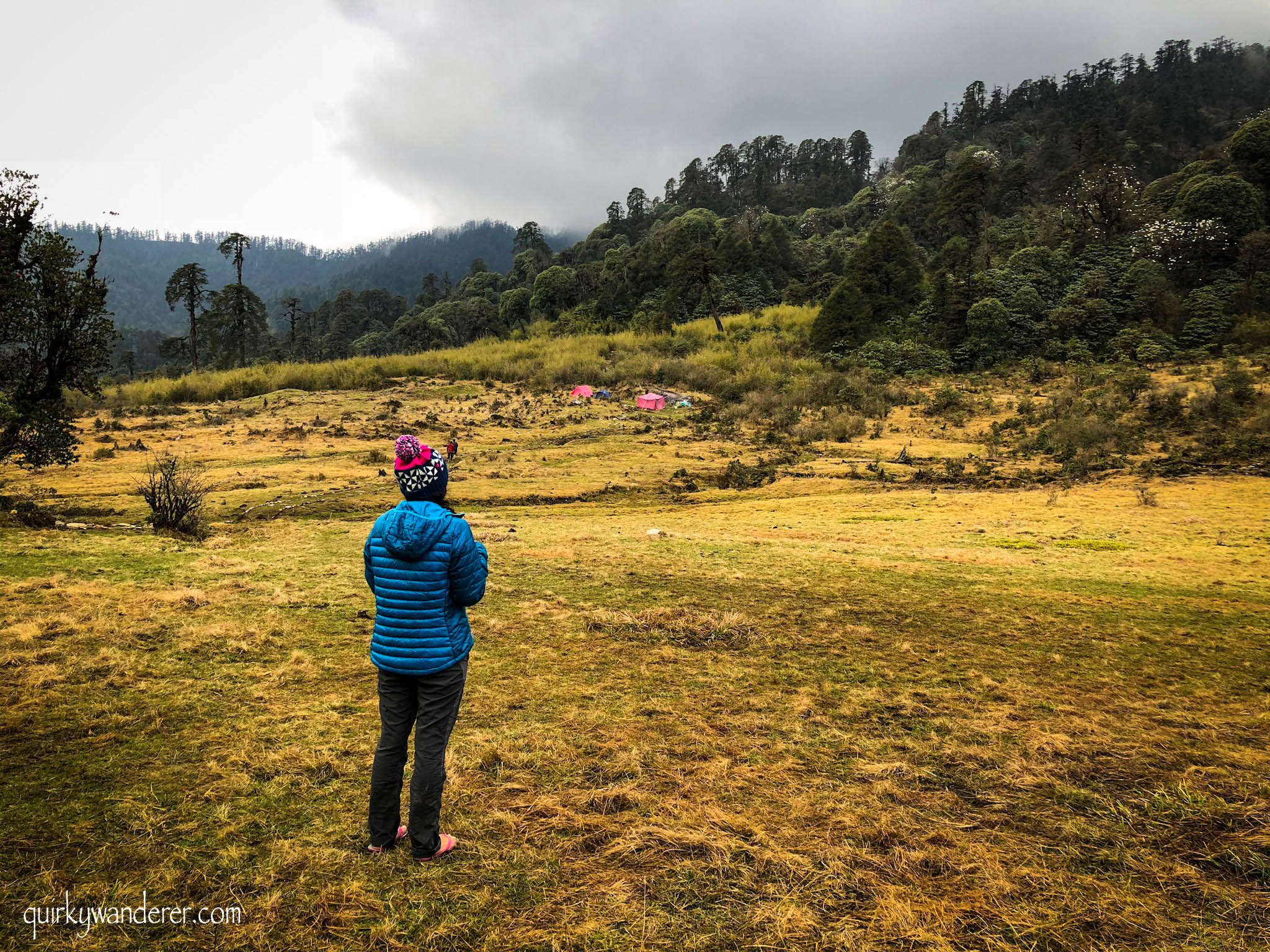 Even though we were way behind the group, after the ascent, the walk wasn't tough. This was the best and thickest rhododendron sighting in the entire trek and that made it so so special. We were now almost near our campsite at Chewa Bhanjyang which was right next to the Indo-Nepal border.
As soon as we reached our campsite, a vibrant rainbow greeted us, spreading gleefully over the Kanchenjunga. What was the toughest day in the entire trek came to an end on a happy note and as I crawled into my sleeping bag, I realised: I was now growing fonder of my tent with each passing day.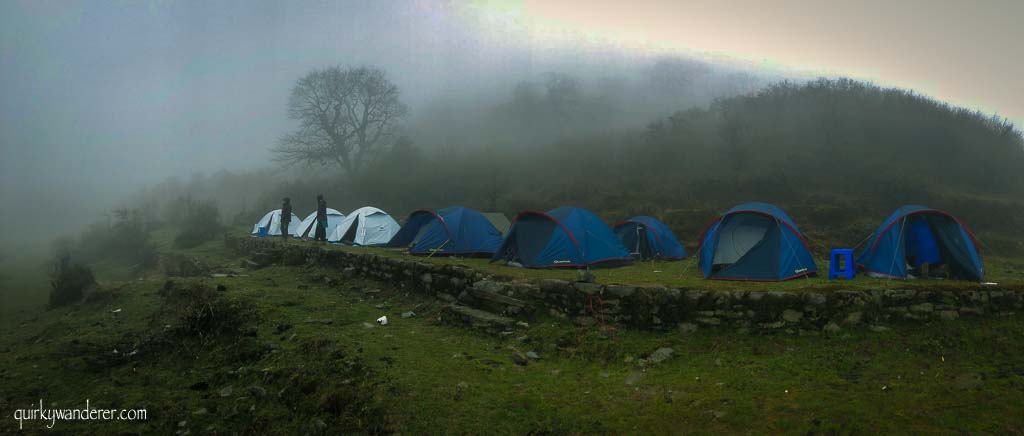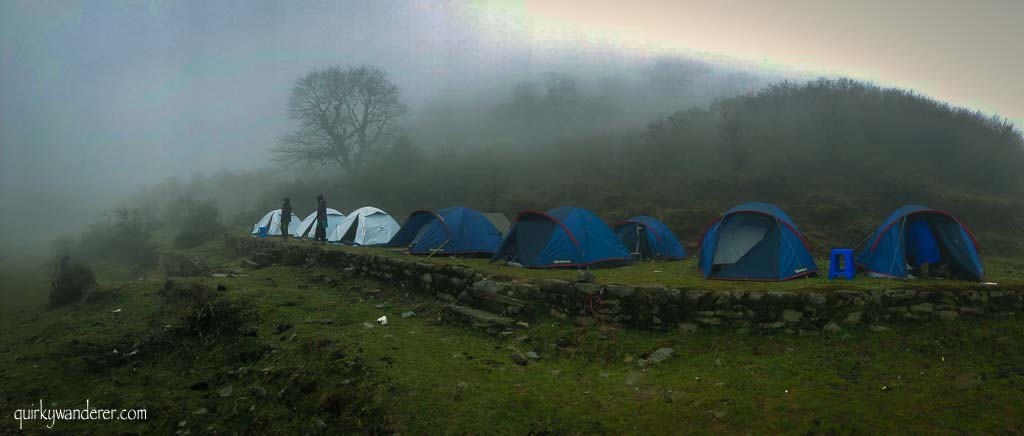 Back then, I was making mental promises to myself that I will never trek again. There are alternatives to enjoy the mountains. Aren't they? Better than horrific ascents and make shift loos. A year from that one, I am longing to go again. Go through it all: the challenges, the complaints and even the crying bouts under the Rhododendrons.
The final day had arrived. The day of descending through these forests on a 10 KM trail to reach the tiny village of Uttarey. It is a mixed feeling: a feeling of holding up the best forest finds tightly in my fist, a feeling of slowing down the process of going down and then speeding up thinking of a hot water bath.
But this walk was therapeutic. I walked most of the stretch alone: a part of the group way ahead and the other way behind. There was just one trail, so there wasn't any chance of losing my way. It felt special. Just me and the forest. An occasional sound of a roaring stream nearby and the constant chatter of birds. Just me and my foot steps. Could have I asked for a better end?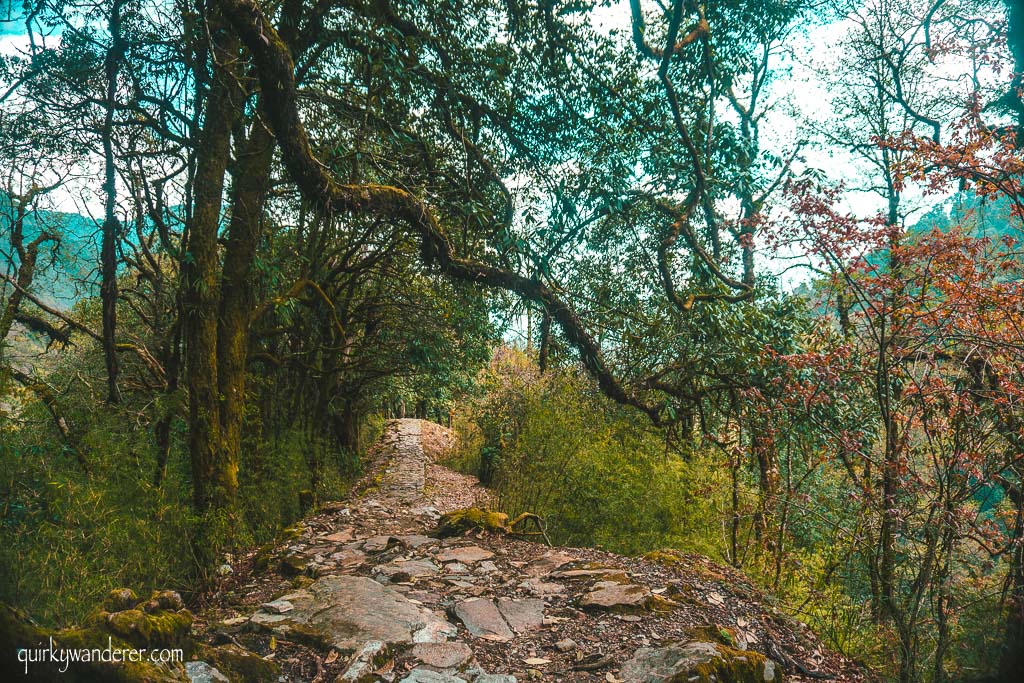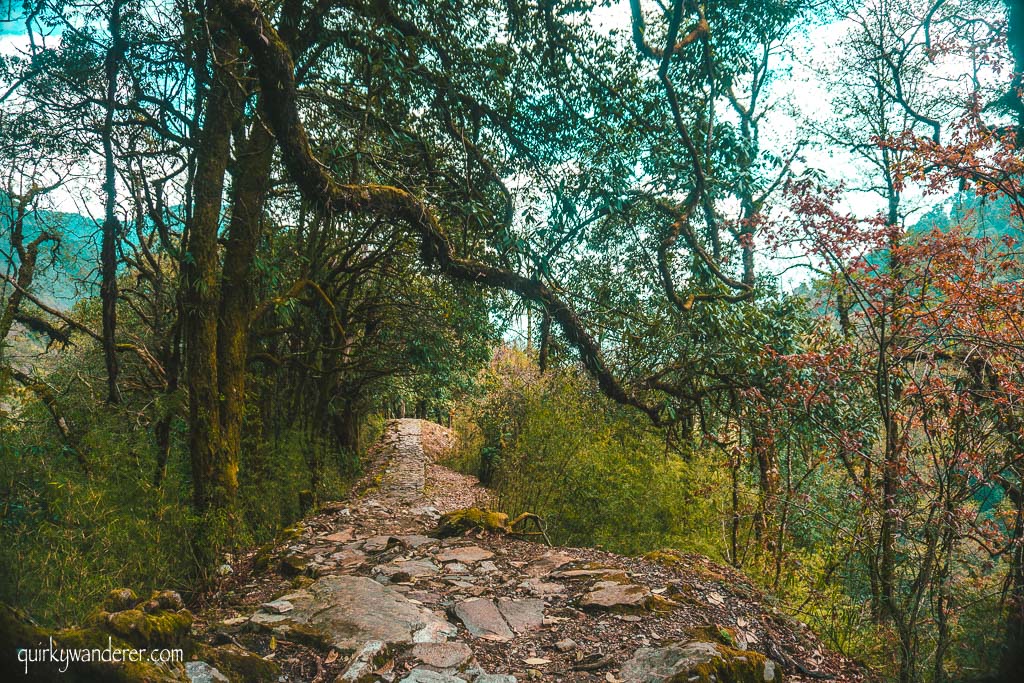 As we reached the village and civilisation hit me, I suddenly realised it was over. In a snap. I had walked out of magic into the honking of cars.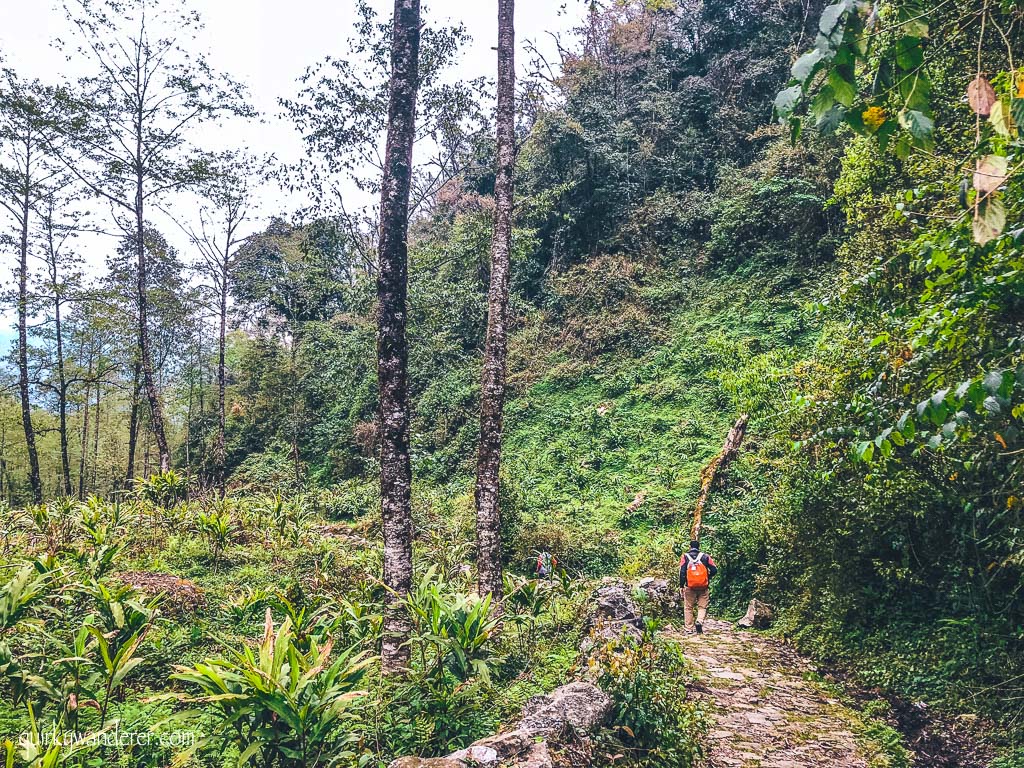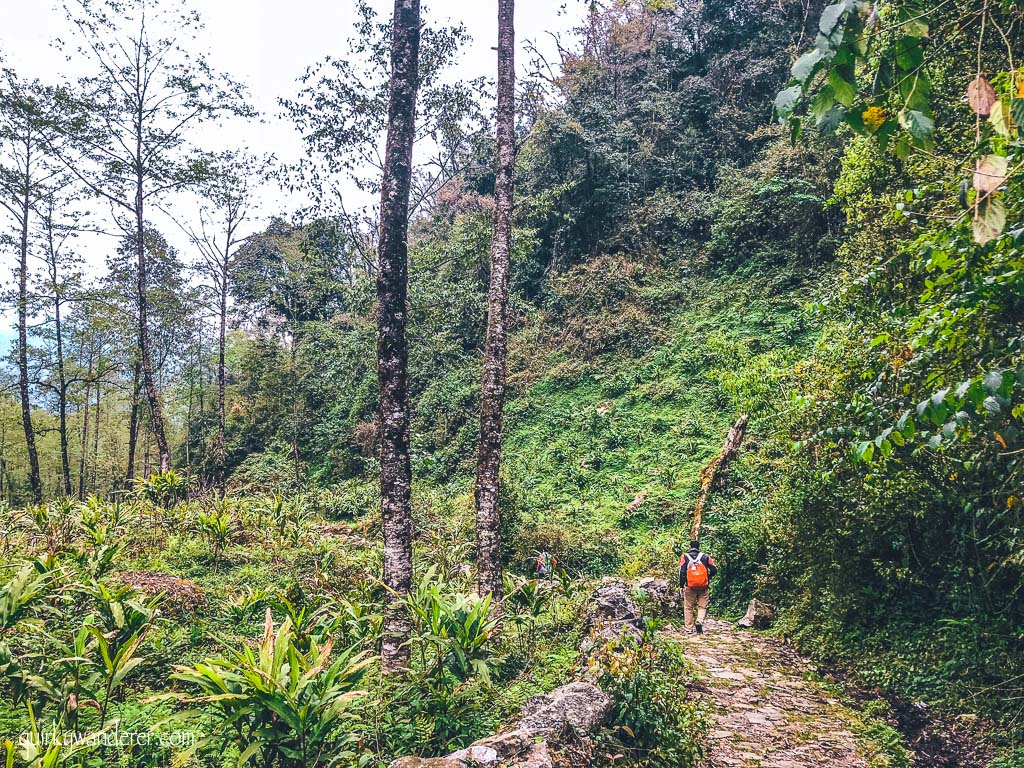 While everyone had briefed me about the Dos and Don'ts in the Barsey trek, there was so much untold.
They didn't tell me I would be happiest , calmest and most at peace when I walked in the forest alone.
They didn't tell me I would love my shoes more at the end of the trek when they were soiled and damp.
They didn't tell me I would hate the sound of my phone ringing when I bid adieu to that special place where I dirtied my shoes and left a piece of my heart.
Acknowledgements: 
A big thank you to the entire Barsey trek group: Piran, Doreen, Usha Tai, Renee, Rajesh, Rajen, Vibhuti, Zaver aunty, Freya, Giselle, Beena, Meena, Prameek, Patrick and back benchers Janhvi and Ritika for always being around.
Kudos to NB ji and his entire team of cooks and porters who worked relentlessly in the cold.
Fact file:
I did the Barsey trek with Piran who runs Kipepeo, a travel agency specialising in the North East tours.
The trek is a 5 day easy-moderate level trek, ideal for beginners. However you must work on your stamina and fitness and prepare like you would for any Himalayan trek.
The best time to visit is during the flowering of Rhododendrons from April to May.
AMS ( Acute Mountain Sickness) did not affect anyone in our group because the trek altitudes weren't very high BUT AMS can strike anytime, so it is BEST to be hydrated at all times and drink a LOT of water throughout.
It is a trek, so please be mindful of what you carry: your  backpack should ideally not weigh more than 8 kgs.
Be a responsible trekker. Carry back all your trash and leave none in the hills.
The Barsey trek route:
Take a flight to Bagdogra airport- reach Kalimpong (optional) for a day of rest and acclimatisation. Drive to Okhrey and spend a night there.
Start your trek from Hilley and end it through Uttarey.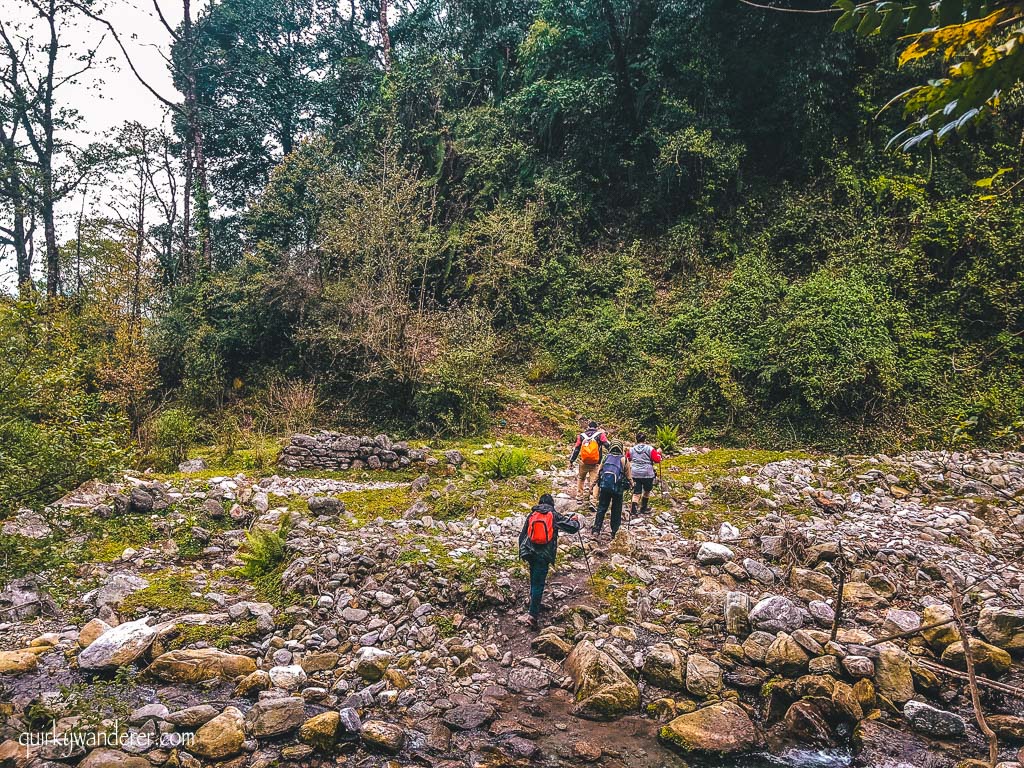 Rewind at a homestay at Darap and enjoy a sightseeing tour of Pelling before you catch your return flight from Bagdogra.