You can truly delve deeper into a place when you dive into it's local food and markets. I have been collecting these local flavours, scents, fragrances during my culinary travels, that remind me strongly of a place and takes me back to it in a whiff. This is exactly why I opted for Greeking.me's Athens for Foodies tour.  A Greek gastronomy tour, taking you through the neighbourhoods of Athens to sample more than 15 local delicacies. Who wouldn't be tempted?
After researching on offbeat things to do in Athens, I found Greeking.me offering experiences not just in Athens, but also several other Greek destinations. This foodie tour in Athens was a best seller and I was very keen to know why.
So on a bright sunny morning, we met Max, our tour guide from Greeking.me at the Syntagma square where the best culinary trail in Athens began. My mind was abuzz with questions : is Greek cuisine vegetarian friendly? Did they really mean it when they said skip breakfast and that there won't be any room for lunch? Which are the best places to have local Greek food in Athens?
Max interrupts my mental banter with a bagel. We had walked barely 10 steps from our meeting point to a roadside vendor dishing out soft and crunchy bagels. This one was big round Bagel, laden with sesame seeds. We were told not to finish all of it and keep some for later. ( suspense!)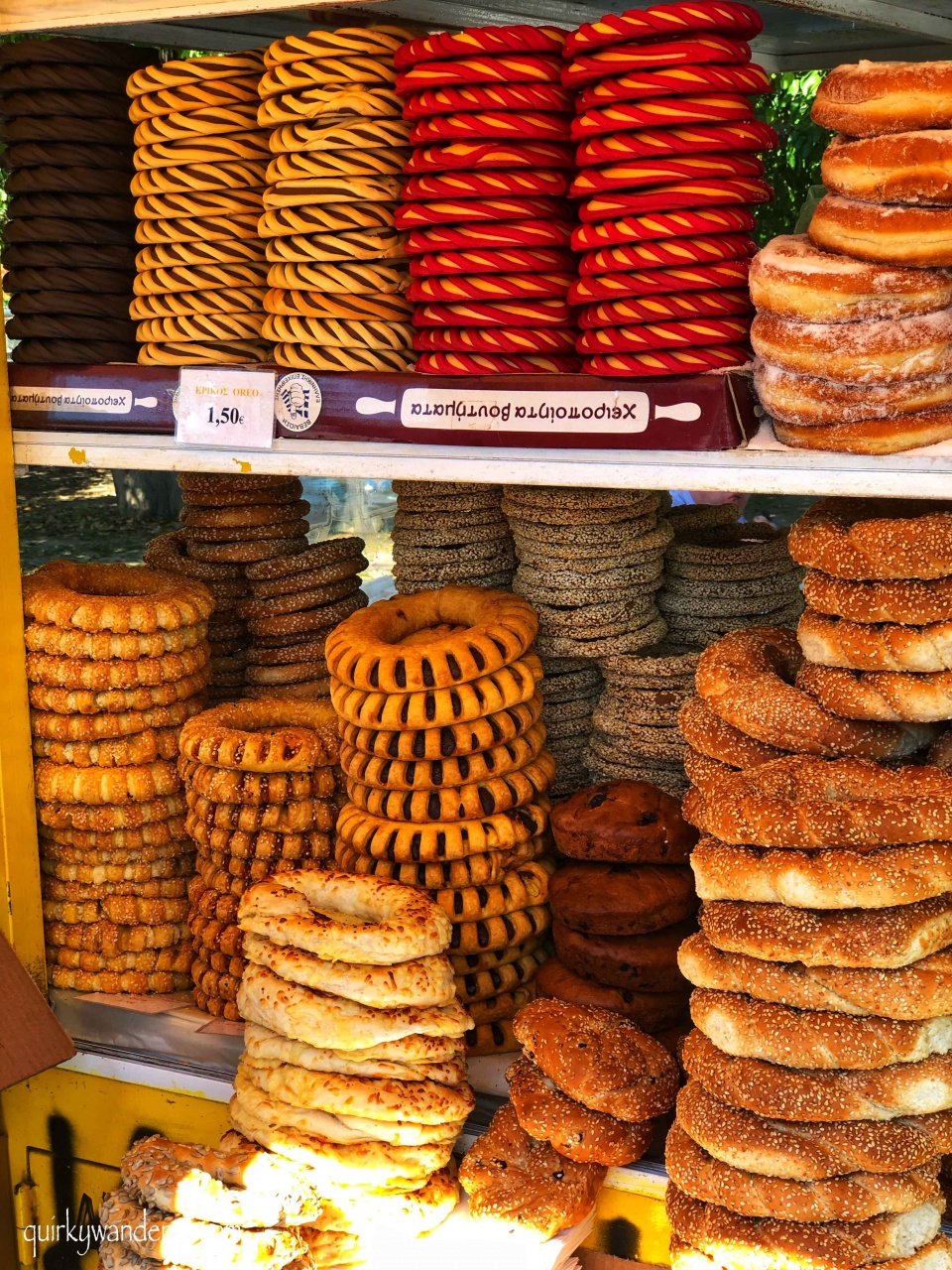 The Greek Bagel or the Koulari is a breakfast bread, brought to Greece by refugees. A fun fact is that one tiny bakery in the neighbourhood of Psirri , operates 24 hours, making these bagels and supplying them to all the city vendors! (In my neighbourhood explorations in the following days, I did stumble upon this bakery as well).
With a half eaten, half saved bagel, we continue as Max takes us through the commercial streets of the city, as well as back in time, explaining how Greek food evolved over centuries. The story of a Turkish refugee bringing a recipe of a cheese pie brought us in front of an unpretentious store. It looked busy and was teeming with locals. Max jumped in as we looked around the store that looked bore an uncanny resemblance to a bakery.
We were now handed Greek pies (Kouros) : traditional pastry pies filled with feta paste. These were piping hot and oh so yummy!  Pies are ubiquitous in Greece and you get so many variants : Spinach, meat filled and so on. We even found them served in our hotel breakfasts. We were explained how the Agrarian farmer community introduced the spinach pies also known as Spanakopita and how in early archaeological finds, women were found carrying baskets filled with pies. How intriguing is that.
And the best food tour in Athens continued. We passed several orthodox and byzantine churches, some right in the middle of busy squares and even peeped into them (No photography allowed), only to be awed by the wall paintings and frescos.
Athens has certainly many quirky and offbeat things to do. Here is why Athens is one of the best European cities to visit.
Max led us to the street famed for textile shops and an old square which once hosted a flower market. I pictured blooming flowers and bustling calls of vendors while Max had other plans.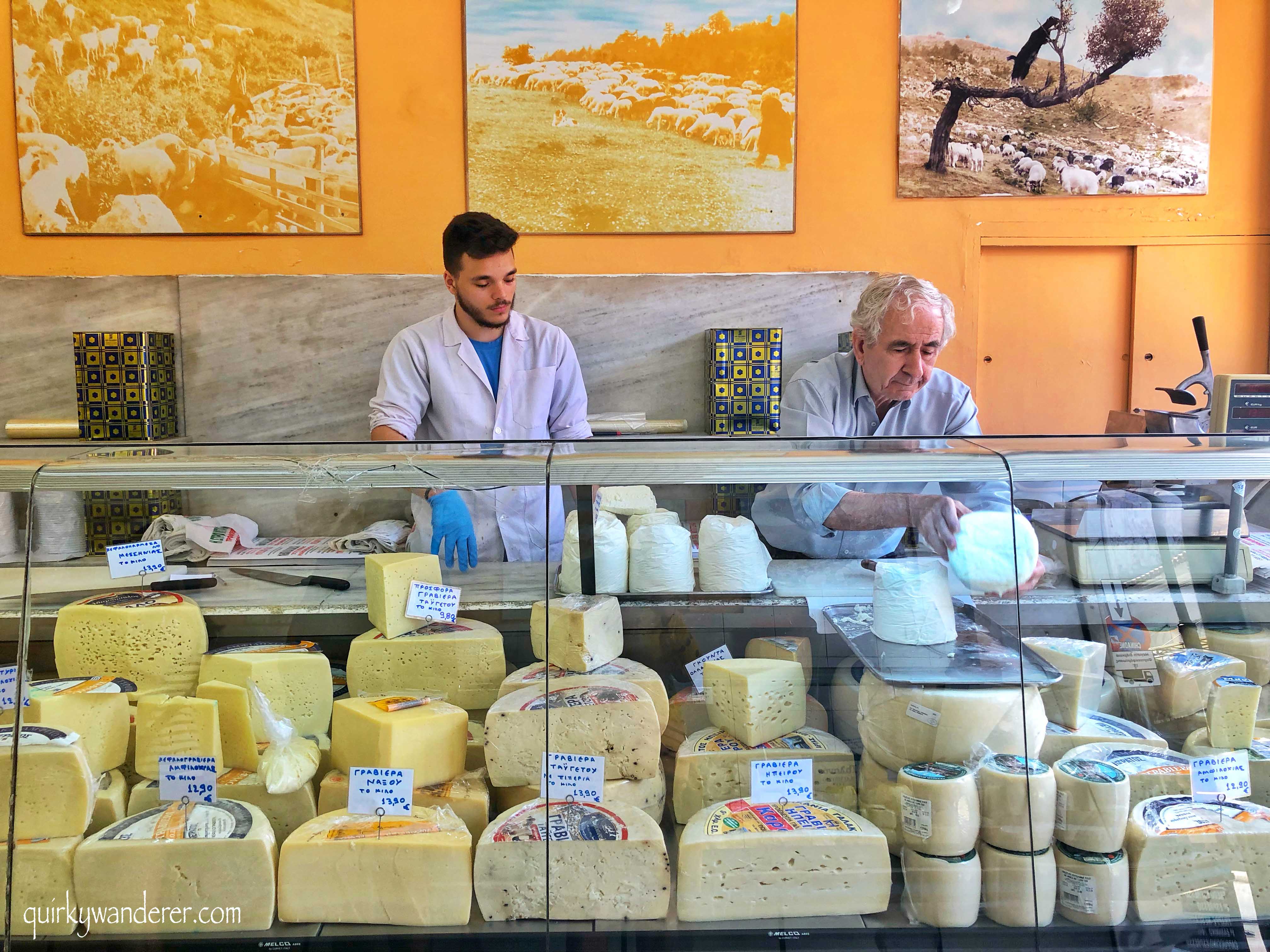 The left over bagels in our bags would resurface as we were going to a traditional diary for some delicious cheese tasting! In a country where an average person consumes 25 kg of cheese per year, cheese is a BIG thing and this was confirmed when we saw the variety of cheese in this specialised dairy. From soft Feta to hard feta, from Graviera from Naxos to Graviera from Crete, from oil cheese to sheep milk butter to Greek yogurt from sheep's milk: this was hands down one of the best Greek cheese introductions.
P.S : The Koulari with Feta combo was heavenly.
Next up on our Greeking.me culinary trail was a street full of speciality shops: from olives, to spices, to teas, to dry fruits: the fragrances were tempting and the arrangements in these shops were needless to say, very instagrammable.
We stopped to take a whiff of Mountain tea and traditional herbs, before entering Miran, the famous meat shop. Being a vegetarian, this wasn't exactly for me but meat lovers would like to know that, this place is famous for it's Pastourma (beef dish). While the others gorged on this and salami, the vegetarians sampled the Dolmathakia (stuffed vine leaves) which had a lovey tangy taste, cretan rusks with oregano, which went perfectly well with the two types of cheese on the table: Metsovone smoked cheese and Samothrakis (Sheep and Goat Cheese).Here the group also tasted the local Greek spirit Raki.
What made this 4 hour food tour by Greeking.me fun,(other than the food), was the conversations we had, not just with Max but the other participants from other countries. Our food tastings were punctuated with anecdotes, stories and laughter.
No, we weren't done as yet. A hop, skip and jump away, an olive tasting session awaited us. Honestly, I never thought of olives so seriously till this point. In my head there was just black and green and that's about it. But now that we had several varieties in front of us, I was baffled. Almond shaped, small, wrinkled, cracked, juicy : there was an olive for every taste. I left the shop with several olives in my tummy and a higher olive IQ than ever before.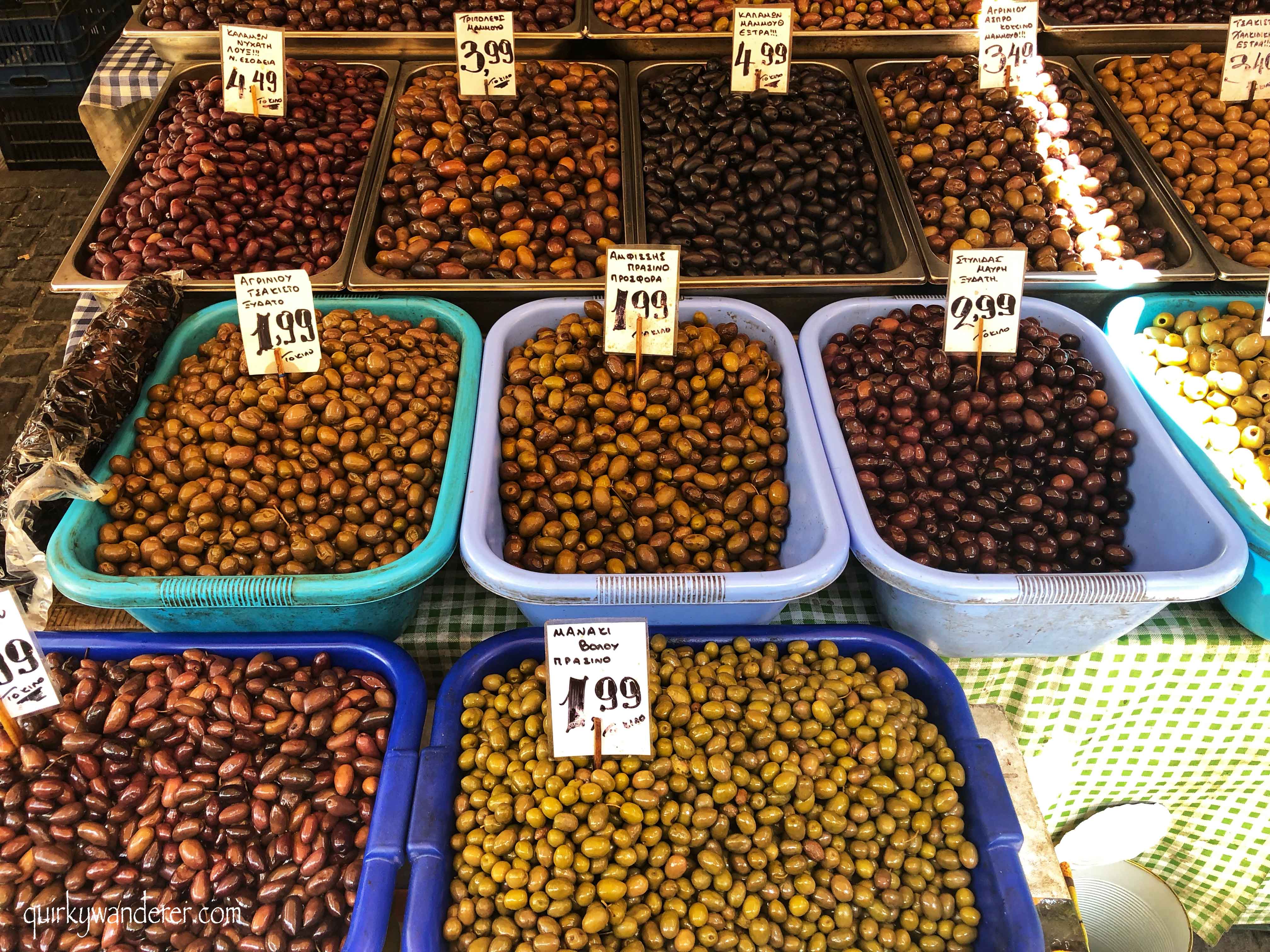 It was now time to visit one of the biggest markets in Athens: the Central market, locally known as the Varvakios. This market was home to several varieties of fresh fruits, vegetables, antique shops, and also a very big section of fish and meat. And when Max told us we were going to have our meal inside the fish and meat market, my heart almost sank.
By now, I had trusted him enough with vegetarian options and lo behold! An hour later, I was gushing a thrilled thank you to him for bringing us to this tavern. We were treated to a flavoursome Gemista (oven baked stuffed peppers and tomatoes with rice), Fava ( a chickpea dip from Santorini) served with bread and Arakas (a mix vegetable dish that looked like the Greek brother of the Indian dish Aloo Mutter). For the non vegetarians, there was Sotzoukakia (Greek meatballs in tomato sauce) and the traditional Moussaka.
With our tummies full, we were on the streets again, with a special compartment for dessert! And what other than slurrpy, sugary loukoumades ( donuts) with honey and cinnamon and a cup of traditional Greek coffee on the side?
So here we were, six of us, in a cafe in Monastaraki, laughing, talking about food and the ancient Greek art of coffee reading ( there are certain Greeks that read your future based on the sediments in your cup).
All this with satiated stomachs and the view of the majestic Acropolis, through the window, looming in the distance, blessing this culinary fiesta courtesy Greeking.me. A knowledgeable, fun filled tour: undoubtedly, one of the best local experiences in Athens!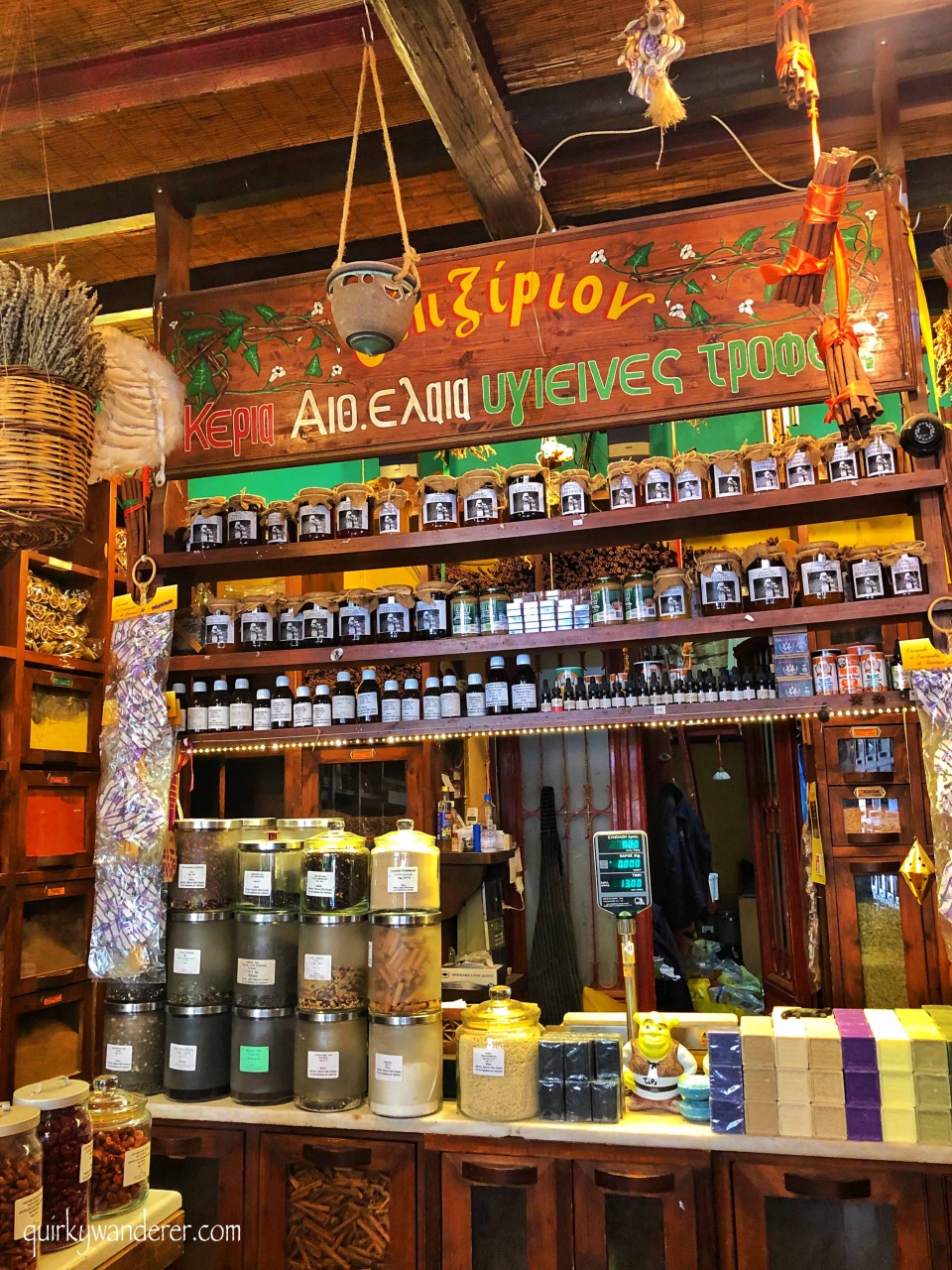 Disclaimer: I was hosted by Greeking.me on this epic walk, but all the views and opinions as always are mine.